HSA/FSA Eligible Massage Gun – How to Buy It And Which One To Choose?
Note: Our content is non-sponsored and fact-checked. If you buy via our links, we may earn a commission. As an Amazon Associate, we earn from qualifying purchases.
---
A massage gun is a worthy investment if you know what it can do for you. In fact, massage guns are natural remedies for some health conditions.
If you have muscle tension and need deep tissue massage, massage guns are perfect for the job. They are also great for helping to improve blood circulation, which in turn helps in healing and injury rehabilitation.
However, you often need a couple hundred dollars to afford a decent one. Wouldn't it be nice if you had a way to pay for them without breaking the bank or overstretching your budget?
This article will tell you about the HSA-eligible massage gun and the FSA-eligible massage gun, including Theragun.
---
---
Are Massage Guns FSA Eligible?
To be honest, it's not very straightforward that you can purchase a massage gun with your FSA card.
Flexible Spending Account (FSA) lists certain medical expenses (1) that can be reimbursed; a massage gun is not on the list.
How, then, can you get a massage gun using your FSA funds? You'd have to prove that your massage gun is a medical purchase rather than a recreational expense.
Since a massage gun costs a pretty penny, you'll have to get a recommendation letter from a doctor listing your massage gun purchase as a medical necessity.
Getting a Letter of Medical Necessity (LOMN) shouldn't be a huge concern. You can ask your doctor or primary care physician to draft one for you. A massage gun is recognized as therapy (2) and shouldn't be difficult to prove as a medical necessity.
However, your doctor or physician has to indicate:
Whether massage therapy is necessary. Massage guns are used for personal massage therapy. They help with easing muscle stiffness, helping with blood circulation, and alleviating pain. Your physician can list any of these in your letter explaining your condition that necessitates the use of a massage gun.
Whether it's more beneficial to have a personal massage gun rather than let the physician prescribe physical or massage therapy. This may not be needed, but it's okay to include it as one of the reasons for using your FSA card on a massage gun. 
Your LOMN will help you qualify a massage gun as purchasable using your FSA card. However, not every massage gun is FSA buyable (as we will see shortly). You need to remember this even as you try to buy a massage gun using an FSA card.

---
Are Massage Guns HSA Eligible?
The same thing applies to HSA cards. You can buy a massage gun if your Health Spending Account (HSA) fund covers it.
Since massage guns are already listed as medical items (many already are because of their enormous impact on easing muscle tension and relieving pain), you can purchase one using your HSA card.
You need to ask your insurance provider for this information. In case there is no clear answer, you will need a LOMN from your physician or doctor to explain why you need a massage gun.
Again, remember that the kind of massage gun you need has to qualify as an HSA massage gun.
---
Can I buy a Massage Gun with FSA or HSA Card?
If you have an FSA card, you should definitely look to purchase a massage gun using the fund in it. This is because the money on your card expires after the plan year.
Unless your employer gives you a grace period, you will not have that money in there for long.
So, make use of it if you can. Just remember to offer proof that you are buying one as a medical expense.
For an HSA card, you don't have to worry about the funds expiring. The HSA card can hold more loot than the FSA one.
Since a massage gun costs a pretty penny, the funds can come in handy and save you from spending your own money.
Again, if a massage gun is not listed under your plan, get a LOMN from your personal care physician.
---
Where can I buy HSA or FSA Approved Massage Gun?
---
Other Things to Consider
When trying to buy an FSA or HSA approved massage gun, remember that:
Your FSA card can only carry a certain amount (usually up to $2850) per plan year. This money must be spent within that plan year. Your employer can allow a grace period of up to 10 weeks, within which you must spend the money. For rollover cases, only up to $550 can be used for the following year.
The HSA amount is slightly higher – you can contribute up to between $3650 and $7300. These funds don't expire and can easily be used at any time. If you are thinking of getting a Theragun, this is probably the money you should use. 
Not all health expenses qualify as HSA or FSA-eligible expenses. You can interrogate this by finding out whether the ailment is physical or mental, and whether the expense is only beneficial for your general health.
You may pay a 20% tax penalty if you spend your HSA funds on non-qualified items. However, for dependent care (that is, if the person receiving the care is 65 or older, the penalty does not apply.
---
HSA/FSA Eligible Massage Guns – What Options do You Have?
For this article, we inspected HSA/FSA eligible Theraguns, as well as popular massage guns available on fsastore.com and hsastore.com. We also sampled some devices from zarifausa.com to find out whether they were worth the money. We also sought to find out if they have any unique features we haven't seen before.
Here's what we gathered:
Devices from these stores aren't cheap. If you hope to get an under $100 massage gun here, you will be disappointed. The cheapest gun here seems to go for at least $200.
Many of these devices are FDA-approved Therapeutic Class I and II medical devices (3). This is probably part of the reason they are so expensive (certification costs and whatnot).
The good news, however, is that these massage guns aren't so strange from what we already know, and they have the unique features we like.
Take a look at the ones we thought are worth recommending…
---
Aura Revive – Best HSA/FSA Eligible Massage Gun

This fsa massage gun caught our eye, not because it's special (it's actually pretty basic), but because it has some pretty neat features other than the core massage function.
Even though it's slightly over the top price-wise, it's for a good reason. Also, it's FSA/HSA eligible.
The interesting function that we liked about this gun is its heated massage mode. It also has other dynamic modes.
We know that heated massage guns take the experience of using percussion massagers a notch higher. The heat helps to soothe the muscles and provide a relaxing feeling. You also get benefits such as peaceful sleep and reduced symptoms from conditions like rheumatoid arthritis.
In our heated massage guns review, we looked at one of the top guns, Urikar Pro 2, which provides a soothing, relaxing feeling.
For the Aura Revive device, the therapy goes a notch higher. They claim to have patented the infrared technology – we couldn't verify this, but we tested the heating function, and it works alright.
How does the heating work? You'll have to first mount the heated attachment (it's the one with a shiny top), and the heated mode will be available – you will see an icon indicating this. There are 7 other attachments that work the normal way.
Even so, the attachments work in 3 different speed modes:
Standard or constant mode – Here, you can change the speeds of which there are 5 settings.
Ascending mode – Here, the percussions (not pressure as they describe it) increase from slow to high setting in short intervals.
Fluctuating mode – Where the percussions fluctuate between low and high settings.
Our thoughts on these features: Dynamic modes are often available on high-end devices. A case in point is the Ekrin B37S, which costs $274. When you add the heating feature to these modes, you have a robust device.
We also love that it's very well equipped with 8 attachments and a carrying case.
What about the other performance aspects? Think stall force and amplitude.
Here's where the Aura Revive feels pretty ordinary – entry-level stats. Even though it still does the job, it will not feel like a Theragun because the amplitude here is low. With a 10mm amplitude (advertised as 12mm), you should expect slightly gentler, vibrational hits rather than a hard-hitting, deep percussive ones. We'd still argue that it probably fits this kind of device.
The stall force isn't spectacular, either. The device might slow down under pressure and feels like it can only comfortably handle about 30lbs. of pressure.
We believe bodybuilders, pro athletes, and people who prefer an aggressive massage will have to look elsewhere. For the rest of us, ordinary folks, this is probably okay.
It's a quiet device that won't disturb your peace when you are using it. However, it doesn't have rubber on the handle – you may experience sweaty hands when using it.
We also aren't really excited with the so-so ergonomics here. There is no angled handle – it's the T-shape that can be pretty hard on your wrists. On the flip side, the gun is reasonably light. We would've also like a USB-C charger, but we'll take the small wall plug provided.
We are not sure how well this device can stand the test of time. We will keep testing it to see how far it holds.
We believe the Aura Revive is worth the $199 price tag, especially since you are getting it using the tax benefits. It's available here on fsastore.com and here on the HSAstore.com.
RELATED: For more details, read our Aura Revive massage gun review.
---
Zarifa Mini – The Only HSA & FSA-Approved Mini Massage Gun
Since mini massage guns are popular (they are portable and relieve muscle soreness on the go), it would be great to get a decent one with HSA or FSA benefits. This is because many minis simply under-deliver in terms of performance – we know, we've tested more than 20 minis.
But this Zarifa Mini is pretty decent.
For starters, it's pretty light and weighs just 1.25 pounds. That is not the lightest we've ever seen but still pretty good if you consider the metallic body. The aluminum body is nice to touch and feels top-quality.
It's also well-equipped with 4 attachments – bullet, fork, ball, and flat. The ergonomics aren't so bad, either. Even though it's T-shaped, the protruding part at the top can act as an extra gripping point.
Since we missed the USB-C charging feature with the Aura Revive, this one gets more points for having it. It's convenient, and you can even charge your device vis a power bank.
What about the performance of the Zarifa Mini?
Well, it has a ~8mm amplitude (despite the advertised 12mm) – which is lower than Theragun mini (12mm confirmed), and Hypervolt Go and Ekrin Bantam (10mm, also confirmed). This makes the Zarifa Mini feel highly vibrational.
But that's OK! You won't get punchy hits, but you will get plenty of hits – up to 3200RPM. Zarifa advertises the range as 1600-3500RPM, but the real range is closer to 1800-3200RPM – still great.
The stall force isn't so bad either. However, too much pressure and you will notice the percussions slow down considerably. It's probably enough stall force to massage the neck, shoulders, arms, hands, and feet. Don't expect Ekrin Bantam-like stall force, but we think it should be enough for most people.
We also love the 5-speed setup here. Most minis have 3-speed settings. With 5, the percussions are spread out well. Overall, this is a very good mini gun – we like it a lot, and can recommend it.
ZarifaUSA's mini retails for $199.99, but with the MGA coupon you will get 10% discount, which means $179.99. Not a bad deal for a HSA or FSA approved massager. Buy it at Zarifa store here.
RELATED: For more details, read our Zarifa massage gun review.
---
Other Zarifa FSA Percussion Massagers – Our Thoughts
There are 2 other full-sized massage guns at Zarifa USA – the Smart and Health+. They are similar in appearance but have different features.
Zarifa Smart and Zarifa Health+
The Smart model has 20 speeds – ridiculous, to say the least. We have done over 70 hands-on massage gun reviews and know that 5-6 speeds are optimal. We can live with 7-9, but 20 is a stretch too far.
The more expensive Health+ has 9 speeds, which is acceptable. The main features of the Health+ model are the built-in Heart Rate, Calorie counting, and Temperature Sensor. These are unique features that we haven't seen with other massage guns.
But are these features needed in a massage gun? It's like a computer turned massage device. We highly doubt the practicality of this, let alone the viability of the standalone sensors. They might not be as accurate as the ones in your smartwatch. 
We would've preferred more percussive therapy features like the ones on the Aura Revive (dynamic speeds and a heated mode). We tried to find something worth liking on the Health+ device, but we just couldn't. We don't believe it's worth the $449.99 price tag (or even $404, with the MGA coupon).
We also don't believe it can rev up to 3500RPM as advertised – we'd think it's 3200RPM max and nothing more. We also believe that the amplitude is overstated.
Even though both Smart and Health+ are advertised as having 16mm stroke length, we believe it's much lower – probably about 10mm for each.
---
Which one should you go for between these two, if you have to?
We'd say go for the cheaper Smart model. It's $100 less nominally and does the job well. You get the same feeling as the Aura Revive. If you decide to go for it, make sure to apply the MGA coupon to save an extra 10%. You will pay $314.99 instead of $349.99.
Does the Smart or Health+ have the edge over the Aura Revive?
We don't believe they do. Aura has a more modern look and is sleeker. It feels lighter and easier to hold. Zarifa's full-sized guns look bigger and heavier. We like Aura Revive's features more – the heated and dynamic modes are superb. Aura is also more affordable at $199 compared to any of the two Zarifa products.
---
Our Advice

We recommend you pick the Aura Revive if you have to buy a full-sized FSA/HSA-approved massage gun (other than expensive Theragun). For a mini device, definitely go for the Zarifa product – it is a good mini.
---
What about Theragun – Is Theragun FSA or HSA Eligible?
Theraguns are great percussion massagers – expensive but effective. So…
Is Theragun FSA or HSA eligible?
Yes, but the same conditions apply as any of the other massage guns. You will likely need a LOMN to claim it as a medical expense.
Can I use FSA to pay for Theragun?
Yes, but you can only do it in FSA or HSA-approved stores. These stores allow you to use your FSA or HSA card to buy a massage gun. Theragun's official store won't accept any of the cards. Instead, we recommend you buy a Theragun using your FSA or HSA card on RecoveryForAthletes.com.
They are authorized dealers and sell all Theragun models. They also offer a nice price-match guarantee – the prices aren't inflated.
---
But do we Recommend Theraguns?
Yes, Theraguns are fantastic devices, but they might not be perfect for everyone. For starters, they are punchy devices with 16mm amplitude. Their intensity emanates from their long stroke lengths.
However, they have fewer percussions per minute – often not exceeding 2450RPM.
Compared to Aura Revive, Theraguns are punchier and more aggressive, thus likely more effective for most people. Even the Theragun mini will be punchier than the Aura Revive or any of the Zarifa devices.
Besides, Theraguns, especially the new 5th Generation (the newly released Pro, and soon also the mini) have some great features like build-in routine presets, bluetooth connectivity and more.
Here are our in-depth Theragun reviews for further reading: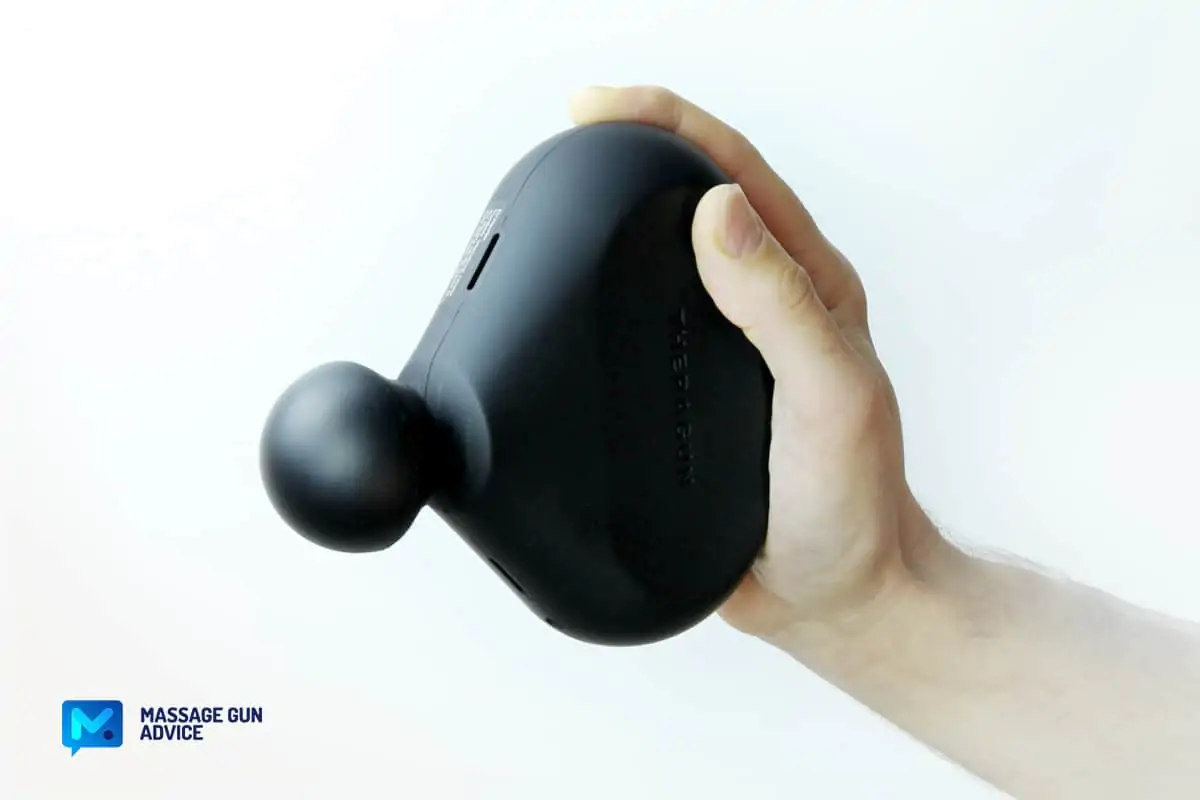 ---
HSA/ FSA Approved Massage Gun – Bottom Line
We hope we have sufficiently answered the questions you had, and provided a good overview FSA or HSA eligible massage gun options currently available.
Remember that certain conditions have to be met to buy a massage gun with an FSA or HSA card. Also, only a few stores sell FSA and HSA-approved massage guns.
Look out for the right massage guns to buy under these conditions. You can even buy a HSA/FSA approved Theragun with your FSA or HSA card, but you must fulfill the specified conditions.
Good luck with your purchase!
---
References
Imtiyaz S, Veqar Z, Shareef MY. To Compare the Effect of Vibration Therapy and Massage in Prevention of Delayed Onset Muscle Soreness (DOMS). J Clin Diagn Res. 2014 Jan;8(1):133-6.
doi: 10.7860/JCDR/2014/7294.3971. Epub 2014 Jan 12. PMID: 24596744; PMCID: PMC3939523.
Classify Your Medical Device, www.fda.gov
---
NOTE: We only use high-quality sources and rely on peer-reviewed studies, academic research institutions, and medical associations to support the facts within our articles.
Disclaimers
The views and opinions expressed on this website are those of the authors. Any content provided by our bloggers or authors are of their opinion and are not intended to malign any religion, ethnic group, club, organization, company, individual or anyone or anything.
All product names, logos, and brands are property of their respective owners. All company, product and service names used in this website are for identification purposes only. Use of these names, logos, and brands does not imply endorsement.
It is our policy to make every effort to respect the copyrights of outside parties. If you believe that your copyright has been misused, please provide us with a message stating your position and we will endeavor to correct any misuse immediately.
Some of the links in this post are affiliate links. As an Amazon Associate, we earn from qualifying purchases. This means if you click on the link and purchase the item, we may receive an affiliate commission, at no extra cost to you. This helps us keep this website alive. Learn more here.
Amazon Disclosure
massagegunadvice.com is a participant in the Amazon Services LLC Associates Program, an affiliate advertising program designed to provide a means for sites to earn advertising fees by advertising and linking to Amazon.com. As an Amazon Associate, we earn from qualifying purchases. Amazon and the Amazon logo are trademarks of Amazon.com, Inc. or its affiliates. Please refer to our Privacy & Affiliate Policy for details.