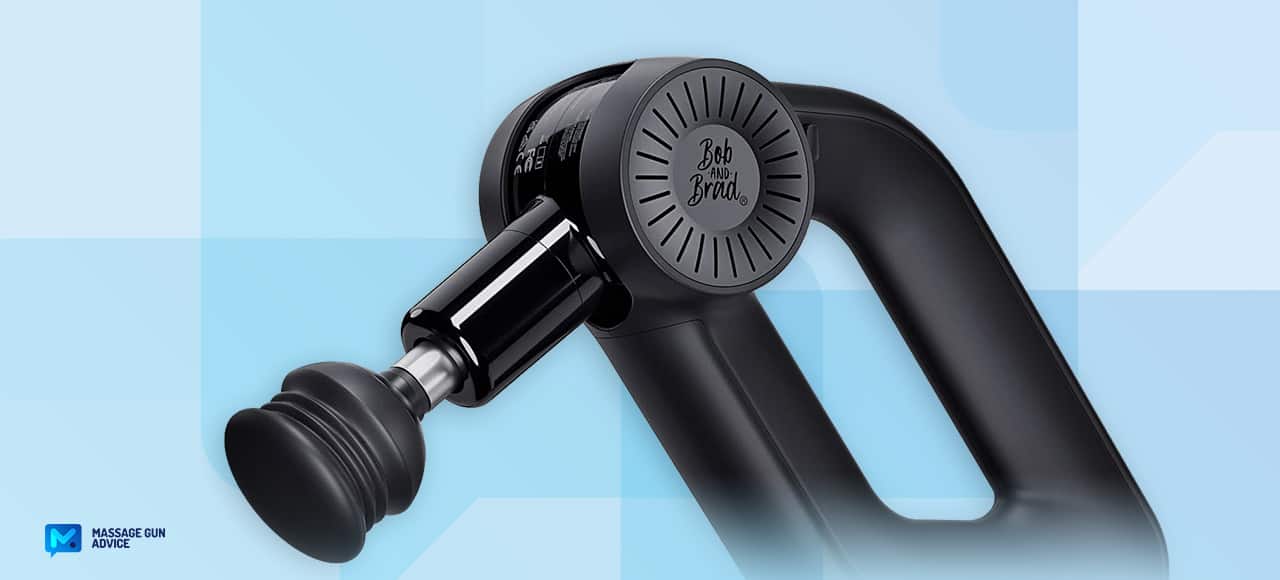 Bob and Brad D6 Pro Review – More Than Just a Theragun Pro Knockoff?
Disclaimer: Our content is unbiased, non-sponsored and fact-checked. If you buy via links on our site, we may earn a commission. As an Amazon Associate, we earn from qualifying purchases.
---
Welcome to this Bob and Brad D6 Pro review.
This is another Bob and Brad massage gun we are reviewing this year. But this one may be the most interesting one of the Bob and Brad guns we have seen yet.
TIP If you haven't heard of Bob and Brad, they are perhaps the most famous physiotherapists on the internet. They have close to half a billion viewership on YouTube.
We'll be looking at whether this thing is a worthy massage gun. Or is it the Theragun Pro knockoff that it uncannily resembles?
---
---
Bob and Brad D6 Pro Review
Bob and Brad D6 Pro Specifications
Feature
Bob and Brad D6 Pro Specs
Stall Force
~60 lbs (advertised: 80 lbs)
Stroke Length
16 mm
Speeds
6
Percussion range
1460 – 2460 RPM (advertised: 1500 – 2500 RPM)
Weight
2.86 lbs (measured with a flat attachment)
Dimensions
10.5″ x 7.6″ x 3.1″
Attachments
7 included
Noise (decibel)
~67.1 dB (on top speed)
Battery
2500 mAh
1.5 – 2 hours (advertised: 3 hours)
Pros
Very powerful
True to specs
USB-C charging
Adjustability
Nice Attachments
Good Ergonomics
Cons
Heavy
Non-removable battery
So-so warranty
Too Theragun-ish? (lack of uniqueness)
Warranty
1 year
Base Price & Discount
$249 before coupon
Apply the

MGADVICE

code for the extra 10% off*
Where to Buy
Check at Amazon
Bob and Brad D6 Pro specifications.
*apply the code at Amazon checkout
---
What Is Included?
We have to talk about the carrying case first, which is reminiscent of all other Bob and Brad massage gun cases. It's a hard case, single zippered bag.
Perhaps the first real difference from Theragun Pro gen 5. The Pro's case is softer and perhaps better, but we like this one too. It looks sturdy and likely to last a while.
We also like how compact they kept it – just enough to fit the gun and whatever else needs to fit in there.
There is a smaller case that carries the attachments – awesomely convenient.
There is also the manual that includes the device's specs. It has very well-written "how to use" information – probably the best we have seen in a while. It's 86 pages with lots of info and pictures.
We also found a USB charger and two spare gaskets for the attachments.
Now, back to the device itself.
---
Design
If we didn't know better, we'd say this design looks similar to Theragun Pro.
Maybe it's not quite the triangle that is Theragun Pro, but there's no mistaking that someone was referencing Theragun Pro as they designed this one.
Either way, it's not that bad. We'd say the quality is excellent and almost close to what Theragun Pro has.
It's nicely built with decent-quality materials. The body is all plastic, but good quality plastic. We love the sleek finish with rounded edges – it looks very modern.
Another thing we noticed (put that in the differences bucket) is that there is no aluminum plating as on Theragun Pro – the motor covering. That aside, there is no denying that this device could be a copy of Theragun Pro (a classic case of "copy everything but don't make it obvious"). What are we talking about?
The OLED display is located in more or less the same place as Theragun Pro. Even though the ergonomics have been slightly tweaked, the arm is painted glossy black, even as the rest is matte black. The same thing as Theragun Pro.
As you will see in other sections of this review, there are even more similarities.
Our Take
This is a highly impressive massage gun at first glance.
The build quality and everything else is on point (if you like). If you have seen the Theragun Pro gen 5, then you might have an idea of what we're on to here. But is this a good thing?
Well, this is likely awesome for customers. But we're not overly impressed by how uncannily similar it is to one of the most popular massage guns.
We know that Therabody has patented​1​ the overall design of their massage guns, including some features. We know that even the attachments design and features are patented. It helps to keep them unique, something we like to applaud whenever we mention Therabody.
The D6 Pro looks like a copycat of the Theragun Pro. We'll give them credit for not making everything similar. But we have mixed feelings about this.
Nevertheless, we are not expert designers and didn't take part in making this gun. We can only give our honest assessment based on the experience we have gathered using massage guns.
No doubt other customers will want to buy this affordable Theragun Pro knockoff.
---
Size and Ergonomics
This is a large device that measures 10.5 inches high, 7.6 inches wide (without the attachment), and 3.1 inches thick.
It weighs 2.86 pounds (or 1299 grams) with a flat head mounted. This is about the same as Theragun Pro gen 5, which weighs 2.82 pounds with the ball head mounted.
If we consider the massage gun weight standard, this is one of the heaviest devices on the market. This means your arm will be fatigued if you hold it for longer.
But Bob and Brad ensured you get an ergonomic device that sort of mitigates the extra weight problem. Talking of ergonomics, yet again we have to mention how similar it is to Theragun Pro – but the devil is in the details.
Bob and Brad avoided Theragun's signature triangular shape and opted for a D-shape with two handling areas – should we call them handles? Even then, Theragun's shape is better because you have 3 handles. Even the angling is better.
This D-shape adopted by Bob and Brad D6 Pro doesn't offer plenty of angles to work with. In fact, the two handles feel pretty similar. However, we noticed that the distance between the handles makes one better for massaging the front muscles, while the other is better when you want to massage the back muscles.
The bottom and upper handles work the same way but are not as versatile as Theragun's handles. That said, for such a large and heavy device, these ergonomics are great.
But why didn't they go for Therabody's patented triangular shape? Your guess is as good as ours. We'll refer to what we alluded to earlier; a case of copying but not making it obvious. Even so, you can't help but see the similarities.
That said, we know that Therabody furiously fought against imitators, including against guns that had the D-shape. Remember once-popular Kraftgun Force and Lifepro Pulse FX? Both devices no longer sell as a result of Theragun's legal action. We'll watch out for how long this one lasts.
That aside, we lobe the material used on the handles; slightly rubberized plastic. But we don't like the shape of the handles. Instead of round, they opted for plain oval with edged sides. The edges feel slightly rounded but not enough for our liking. When you hold the device for a few minutes, you begin to feel discomfort coming from those edges.
Adjustability of the arm is another key feature that we noticed here. The gun's arm is adjustable, again, just like Theragun Pro.
But they made it slightly better. Instead of 4 lockable positions, they added one more. There is a push button that allows you to adjust the arm from 0 to 90 degrees.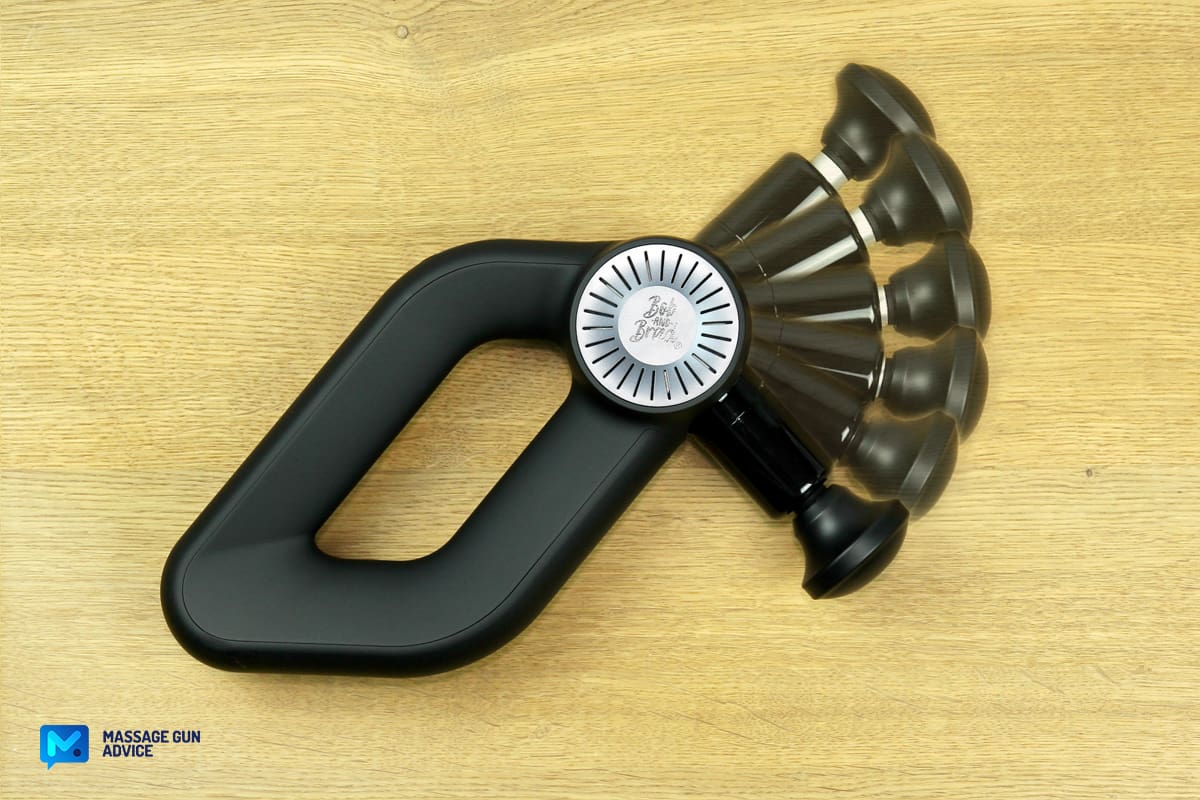 Our Take
We like the ergonomics here, but we'd go for Theragun Pro's – it holds better. The Bob and Brad D6 Pro massage gun is heavy and may be tough for small people to hold for long.
However, you can adjust the arm and hold it at multiple angles. Bob and Brad worked on making the ergonomics better.
---
Controls
They are different – perhaps the part where they didn't want to make it so obvious?
There are two buttons here. The top button turns the device on or off – press and hold to switch it on or off. You can also use it to increase speeds by quick-pressing.
If you quick-press the lower button, the speed decreases. Long-pressing it changes the massage mode – we will discuss the modes later in the article.
---
Attachments
There are 7 attachments included here. This is another similarity with Theragun. Even so, the set is well-varied with superb quality. We felt the material used to make the attachments resonates with Theragun Pro. The attachments are soft.
The set includes, per Bob and Brad's naming:
Large ball head: It's reasonably large and made of standard EVA foam. It feels hard with a little give to it. You can use it to massage large muscle groups. We are not huge fans of it though.
Standard ball head: This one looks and feels almost the same as Theragun's dampener.
Damping head: It looks like Therabody's standard ball head. It feels exactly like the standard ball above. The difference is that this one has a smaller surface area than the standard ball.
Air Cushion head: It's the softest of the bunch. It's air-filled and has a large contact area. It's good for bony areas and when you need a delicate massage.
Flat head: unlike most flat heads, this one isn't made of hard plastic. It has some give to it. Unfortunately, it's also smaller than other normal flats out there. We would've loved a much larger contact area. If you need a more aggressive massage, this one is great for treating both small and large muscle groups​2​.
Bullet head: This one looks very similar to Theragun's Cone attachment. It's great for treating trigger points​3​ and targeted massage. It's also good for treating feet and other smaller muscle groups.
Spade head: This one is reminiscent of Theragun's Wedge attachment, albeit slightly softer. Most wedge-type heads we have seen tend to be hard plastic. They are often good for muscle scraping (shoulder blades, IT bands, quads, and more). This one feels too soft for our liking and bends too much.
Our Take
The value here is awesome – you get 7 amazing heads. The quality of the set isn't bad either.
But they also look very Theragun-ish. We had some negative things to say about the Theragun set, remember? Some of the heads feel the same.
For instance, the damping and the standard ball. We would've also loved it if they included a fork attachment – Theragun too doesn't have it.
That said, we like this set anyway. We are only wondering why they had to make them very similar to Theraguns attachments?
We obviously cannot know what was going through Bob and Brad's designers' minds when making this gun, but this will be interesting going forward, given that Theragun has patented some of their attachments. We guess Therabody's lawyers may be busy now trying to earn their pay – we'll see how things unfold in days to come.
---
Performance
It would be such a shame if a Theragun knockoff didn't have stellar performance features. We checked the amplitude, stall force, and percussions per minute – collectively known as "power."
---
Amplitude
Also known as stroke length, it's the distance the head travels as the gun percusses.
The advertised amplitude here is 16mm – surprise! Surprise! Indeed it's 16mm. We confirmed it with our digital caliper.
This is only the third gun with 16mm stroke length. The other is Achedaway Pro, and of course, Theraguns: the Pro, the Elite, and the Prime.
TIP This high amplitude can deliver heavy punches and deep muscle penetration. It may feel too aggressive for some people. If that's the case, you can take advantage of the air-filled attachment.
Related Highest amplitude massage gun recommendations.
---
Stall Force
It's the amount of pressure it takes to stop a gun's motor.
We have seen most guns imitate Theragun in all other aspects but fail miserably when it comes to stall force.
We thought this Bob and Brad massage gun would be the same. Going by other Bob and Brad massagers, we had reason to feel pessimistic about this one. We were wrong!
The D6 Pro is a real monster. We think the 80lbs. max stall force is exaggerated, but it sure is a very strong gun.
We pitted it against our Theragun Pro, and the stall force felt the same. If we translate that into figures, it means you should expect a robust 60lbs. stall force for this gun.
Believe us, it feels almost impossible to stall. Even at the first speed, the gun doesn't slow down when applying pressure. Expect a powerful device!
---
Percussions, Speeds, and Modes
Given the high amplitude and powerful stall force, we wondered what the percussions would be. We like the percussion range allocated here. The advertised range is 1500-2500RPM.
We used our laser tachometer to confirm this – we measured 1460-2460RPM, so very very close to what they say it is. Again, this is reminiscent of Theraguns.
There are 6 speed settings. For comparison, Theraguns have 5 speed settings.
The other thing they couldn't include with this D6 is Bluetooth connectivity. Unlike Theragun Pro, this one doesn't have an app with customized massage speed settings.
If we compare it to the other gun with a 16mm amplitude, Achedaway Pro, this one has about 300RPM less at maximum speed. Even so, this doesn't diminish what this gun can do. We believe it's a real monster gun.
---
Dynamic Speeds
Even though you won't have access to connectivity and app assistance, you still get 4 massage modes. You can select a massage mode by long-pressing the lower button indicated with an M. You then choose the mode you want by pressing either the upper or lower button.
The modes are as follows:
Mode M1: The regular mode where you can manually change speeds – speed 1 through 6.
Mode M2: It's the incremental mode where the gun revs between 1500RPM to 2500RPM every 5 seconds and repeats.
Mode M3: The decreasing mode – as above, but goes from high to low.
Mode M4: The triangle wave mode. The speed goes up every 2 seconds and then starts to go down before going up again.
The M4 mode impressed us the most. It's the best for an everyday mode. It's great for warm-up sessions before a workout.
---
Pressure Sensor
It has a pressure sensor too.
Yes, just like Theragun Elite and Pro, there is a built-in pressure sensor. The OLED display shows a bar scale with the corresponding pressure level when you exert pressure. You guessed it, just like Theragun! But…
They could've done with a much better execution here. Unlike what Theragun has, the sensor here detects the first level of pressure later than normal.
It records when more pressure is applied rather than sensing the slightest bit of initial pressure. The more you press, the more the device shakes, and the screen is unreadable. You will need to have a sharp eye focus to capture the accurate reading. In practice, it barely works.
---
Our Take on Performance
This is absolutely one of the most powerful guns out there. It matches Theragun Pro and is way more powerful than Theragun Elite, even though it costs much less.
If you need a super-aggressive massage, this is the gun for you. The percussions won't slow down when you apply pressure.
The long stroke length hits deep but not as fast as lower amplitude guns. Even so, 2500RPM for a high-amplitude gun is decent. We like the dynamic modes, too.
They could've done better with the pressure sensor, but it doesn't hurt everything else.
It's superb!
---
Noise
Despite having the highest amplitude in the business, it's a relatively quiet device.
We know Theragun struggled to keep their devices quiet. But their new Theragun Pro 5th gen is quiet than the D6 Pro. The D6 maxes at 67.7dB compared to Theragun Pro's 66dB.
When we used it, it sounded okay. We noticed that the sound is similar to Theragun pro gen 5's (at this point, the surprise muscle is exhausted!) We didn't hear any rattling or creaking noises, even when pressure was applied.
We figure that all has to do with the good build quality. We left it running to see if it heats up or if the attachment pops out (it happened with our T2 model), but it worked okay.
---
Battery
It has a 2500mAh capacity battery, which is about the standard size for most massage guns today.
It's a non-removable battery. Theragun Pro has a removable one. The same as Achedaway Pro.
It comes with a USB-C charging cable – just like Theragun Pro gen 5. It also comes with a charger. This is great because you can do 5V to 12V charging with it.
Can you expect 3 hours on the battery as they promise? We believe they were being too optimistic. You'd have to use the device on speed 1 and not apply any pressure to get 3 hours.
We believe realistically it should do 1.5 to 2 hours on average. Even when you use pressure and the dynamic modes. This still means at least a week before you can charge it again.
Talking of charging, it takes 210 minutes to fully charge the battery. The battery indicator is visible on the OLED screen. It has overheating protection. You will see an icon on the screen. You will then have to let your device rest for 30 minutes.
We are not sure how long the battery will last. We've had it for about 3 weeks now. We wait for time to judge it.
---
Warranty and Price
Given how it performs, we'll say it's wonderfully priced.
It currently retails for $249 but you can get it cheaper. First, tick the coupon box on Amazon. Then, apply our MGADVICE code at the checkout to get a 10% discount extra. The price should be below $200 – great value. Buy it on Amazon.
We are not sure about the device's long-term reliability though. There is only a 1-year warranty. We'd say Theragun Pro and Achedaway Pro feel safer – they both have a 2-year warranty, albeit more expensive.
---
Bob and Brad D6 Pro vs. Theragun Pro – Summary
What Bob and Brad D6 Pro has that Theragun Pro doesn't:
1 more attachment
1 more speed setting – 6 vs 5
1 more arm lock position – 5 vs 4
3 dynamic modes in addition to manual mode
Hard case — more protective but perhaps less practical than Theragun's new, excellent soft case.
Where Theragun Pro G5 beats Bob and Brad D6 Pro:
The triangular shape feels more practical than Bob and Brad's D-shape
Quieter: 66dB vs. almost 68 dB at top speed
Better warranty (2-year vs. 1-year)
Better handle shape – more comfortable to hold
Removable battery
Higher capacity battery: 3200 vs. 2500 mAh (time on battery is similar though)
Bluetooth connectivity + Therabody app
Visually guided routines (on-screen)
Custom speeds (via the app)
Bright color accents (e.g., the aluminum motor cover); D6 Pro is all-black
Lots of extra accessories available in store.
Similarities:
Look & feel almost the same
Overall quality
Size (Theragun's tad smaller at 10" x 7.1" x 3", versus 10.5" x 7.5" x 3.1")
Weight (both 2.8 lbs)
Performance:

amplitude – 16mm
stall force – 60lbs (advertised 80lbs — we're unable to confirm precisely but it feels the same)
percussion range (~1500 to ~2500 hits per min)

Same (or very similar) look and feel of some attachments
Pressure sensor (although Theragun's is better executed)
Glossy arm (looks identical)
Adjustability
OLED screen
Makes a similar sound when revving
USB-C charging (only 5th generation Theragun Pro)
Both have an extra pouch for attachments
Price
Theragun Pro 5th Generation: $599, or slightly less with the

X8YZF10

promo code.
Bob and Brad D6 Pro: $249 before the discount, slightly below $200 after the Amazon coupon and our extra

MGADVICE

code — more than two times cheaper.
Our Two Cents
This new D6 Pro massage gun is very similar to Theragun Pro. So similar, we don't know what to think of it.
That said, some customers who can't afford Theragun Pro will just be happy they get an affordable Theragun Pro-like gun.
But it could also be ethically wrong. If Theragun has spent so much energy and resources making a unique device, and here you have a competitor who just clones the best features. And then sells it at half Theragun Pro's price.
From what we have seen in the past, Theragun may not sit this one out. This D6 Pro may soon follow in the way of Kraftgun Force and other copycats. For now, however, all we can do is speculate. Maybe there's a uniqueness to this D6 that is all Bob and Brad – even though most features look copied.
But one thing is for sure, the value for money on this thing is simply hard to beat. We don't know about the long-term reliability of this device, but it will hold for now.
---
Best Alternative – Achedaway Pro
In Achedaway, you have a proven brand with an equally powerful device.
Achedaway Pro is a powerful Theragun Pro option that is way cheaper than Theragun. It has the powerful features as those on the D6 and Theragun Pro.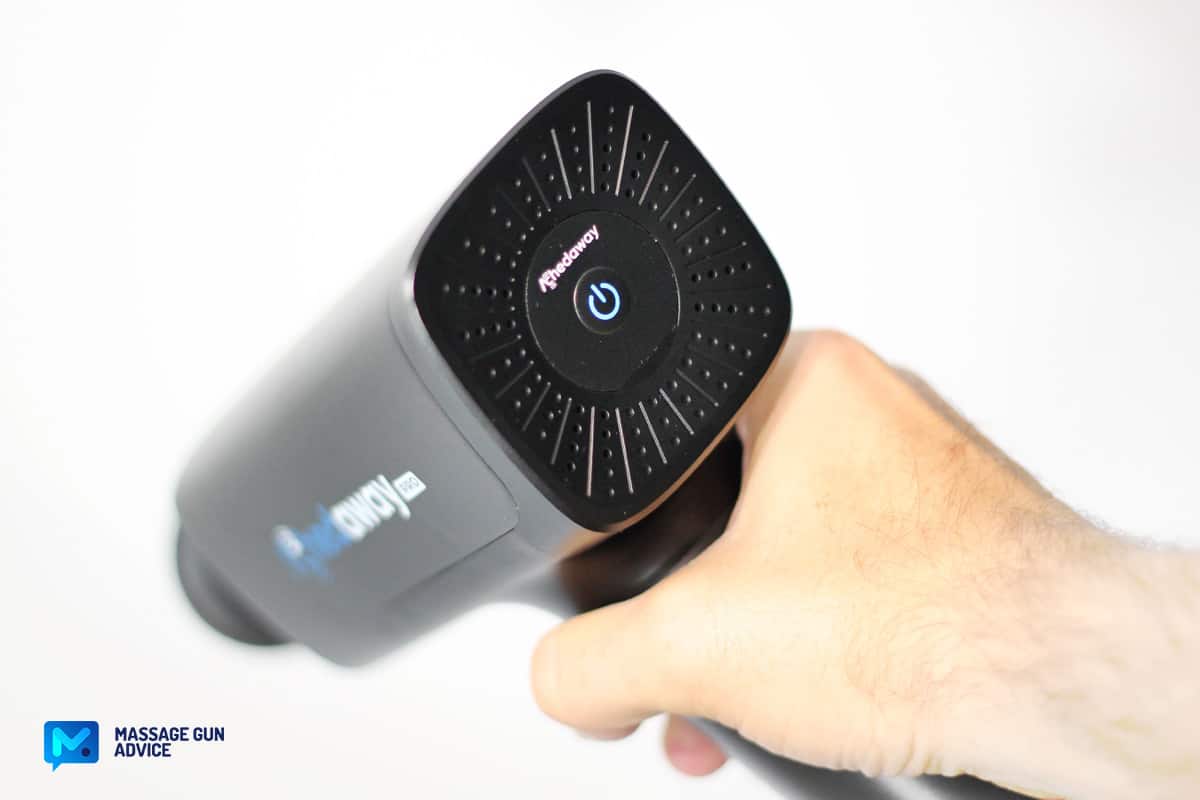 If you like a high amplitude gun, Achedaway Pro has a 16mm stroke length. It's backed up by a powerful stall force of up to 60lbs.
We don't think the D6 has the 80lbs. it's touted to have, but it feels a tad stronger at lower gears compared to Achedaway Pro.
Achedaway Pro is also one of the few high amplitude massage guns that rev fast. It can rev up to 2800RPM – 300RPM more than the D6 Pro.
It comes with a non-adjustable arm but has a removable battery instead. The battery is juicier than D6 Pro's – 3200mAh vs. 2500mAh. Even with the large battery, it's lighter, weighing 2.7 pounds.
You won't get the multiple grips like the D6 Pro, but the angled handle works just fine. You also get 4 "unique" attachments – two are aluminum coated.
It's probably the quietest high amplitude massage gun out there. Expect no more than 66dB at high speed. The sound is smoother too.
It has a 2-year warranty. The D6 Pro only has a 1-year warranty.
DEAL ALERT Use the special HOLIDAY60 code at checkout to get $60 off Achedaway Pro. Pay $239 instead of $299. Apply the coupon here.
Its price is slightly higher. It sells at $249 with the MGA50 code. The D6 Pro is around $200 when you apply the Amazon coupon and our MGAADVICE discount code.
READ MORE In our hands-on Achedaway Pro Review.
---
Bob and Brad D6 Pro Review Conclusion
We will say a few things at the end of this Bob and Brad D6 Pro review.
This is an awesomely powerful device. It's well-designed, with amazing quality all around. It's one of the best guns for a penetrative deep tissue massage.
But the resemblance to Theragun is appalling. Its value for money is amazing, one of the best at the moment, but we don't know how it will hold in the long run (i.e., noise, battery, and motor performance).
There is one similarly priced alternative with the same features (the Achedaway Pro). It looks and feels different, but worth the money. Plus, it's not such a knockoff!
And if you decide to opt for the Bob and Brad, you can buy it at Amazon right here.
---
Bob and Brad D6 Pro Rating
Quality

Effectiveness

Usability

Accessories

Price Value
Summary
An amazingly powerful, and well-equipped massage gun with an impressive performance specs. It's one of the best guns for demanding users, and those who need a punchy, penetrative massage. However, the resemblance to the new Theragun Pro gen 5 is baffling.
---
References
2.

Konrad A, Glashüttner C, Reiner M, Bernsteiner D, Tilp M. The Acute Effects of a Percussive Massage Treatment with a Hypervolt Device on Plantar Flexor Muscles' Range of Motion and Performance.

J Sports Sci Med

. 2020;19(4):690-694.

https://www.ncbi.nlm.nih.gov/pubmed/33239942

3.

Lavelle ED, Lavelle W, Smith HS. Myofascial Trigger Points.

Anesthesiology Clinics

. Published online December 2007:841-851. doi:

10.1016/j.anclin.2007.07.003
Disclaimers
The views and opinions expressed on this website are those of the authors. Any content provided by our bloggers or authors are of their opinion and are not intended to malign any religion, ethnic group, club, organization, company, individual or anyone or anything.
All product names, logos, and brands are property of their respective owners. All company, product and service names used in this website are for identification purposes only. Use of these names, logos, and brands does not imply endorsement.
It is our policy to make every effort to respect the copyrights of outside parties. If you believe that your copyright has been misused, please provide us with a message stating your position and we will endeavor to correct any misuse immediately.
Some of the links in this post are affiliate links. As an Amazon Associate, we earn from qualifying purchases. This means if you click on the link and purchase the item, we may receive an affiliate commission, at no extra cost to you. This helps us keep this website alive. Learn more here.
Amazon Disclosure
massagegunadvice.com is a participant in the Amazon Services LLC Associates Program, an affiliate advertising program designed to provide a means for sites to earn advertising fees by advertising and linking to Amazon.com. As an Amazon Associate, we earn from qualifying purchases. Amazon and the Amazon logo are trademarks of Amazon.com, Inc. or its affiliates. Please refer to our Privacy & Affiliate Policy for details.