Best Massage Gun for Runners – Expert Advice From Fellow Runners
Disclaimer: Our content is unbiased, non-sponsored and fact-checked. If you buy via links on our site, we may earn a commission. As an Amazon Associate, we earn from qualifying purchases.
---
Today we'll be diving deep into best massage gun for runners, naming our best picks in a few different categories and explaining our reasoning in detail. Plus, we'll also provide a bunch of useful, practical information for runners like you.
---
---
Massage Guns For Runners
You're probably aware of the fact that literally everyone in the fitness industry has bought or is looking to buy a massage gun. In fact, much of the hullabaloo about these devices has mainly come from the athletes' corridor.
Some have even decided to throw their money behind them; and why not, it's wise to put your money where your muscles are.
Now massage guns have been around for quite a while. However, they started turning heads sometime in 2019.
From that point on many brands have jumped on the bandwagon and if you've not been keen, you may have been dragged along the road of confusion when deciding which device to buy. Knockoffs and refurbs are in plenty. Recently runners have been getting confused as well.
We know this because we've been getting a lot of inquiries from runners about this. We chose to do a post covering all we know about massage guns for runners. Not that you asked, but we are also a group of amateur runners ourselves.
In fact, Greg participated in the 2019 ACEA Maratona Internazionale di Roma (Rome Marathon) as a challenge for his 40th birthday.
He ran the whole race in a fairly decent time for a first-time marathon runner.
Speaking from experience, massage guns have been a great answer for tight calves and glutes after a run. At first we used them as compliments to manual deep tissue therapy but now they're pretty much our primary method for muscle recovery and myofascial release​1​.
We thought we were overreaching until we checked out Reddit comments on the topic. Looks like a lot of runners are into massage gun therapy.
---
TL;DR
If you are pressed on time and would rather go running than read through the entire post, go for the strong and versatile Ekrin B37S or even more powerful Achedaway Pro. If on a budget, Lifepro Sonic might be worth looking at. Read on to find out why we think so. Ps. We share discount coupons below.
---
What Should Runners Look For In a Percussion Massager?
As runners we have found that there are two main occasions when massage guns have been helpful for us; the first and obvious one is after a run when deep tissue massage is needed, and second, just before a run, when you need to warm up and ease the tight muscles.
For the warm up phase, you'll probably only need a simple device. We've heard of runners also needing a quick massage mid-racing to dispel lactic acid and get rid of fatigue before they can continue. Even then you'll require a less intensive massage.
After a run, however, you will likely need something more powerful for treating your legs​2​, and this is where all the nitty-gritty details start to matter more.
Here are some things you'll want to be keen on as you prepare to find something suitable for you.
---
Stall Force
Stall force just means the amount of pressure a massage gun can withstand during a massage. We often recommend a higher stall force for anyone looking for a good massage.
But what about runners? Now we know that most runners – especially long distance runners​2​ – have fully developed lower body muscles as a result of many years of training. That means that even though these muscles can be easily reached, it may take a bit of intensiveness to get into them.
So if you have large quad or glute muscles you'll probably need a strong device for an effective massage.
However, you may not necessarily need the most powerful massage gun out there. We're talking forceful guns like Theragun Pro that exceed 66lbs of stall force.
Provided a massage gun has 12mm or more amplitude and 40-45lbs stall force (or slightly more for a full-sized gun), you might not need more.
We will, however, caution you against going for cheaper and weaker guns ($100 or less) that will not even give you 30lbs. of stall force at the highest gear.
As a runner, you need a deeper penetrating massage and such devices will not aid you in this. But just to make it clear: it is not about hammering the muscle with heavy punches.
It is actually more about the fact that low stall force will result in fewer percussions per minute under pressure exerted on the skin. In practical terms, instead of e.g. 3200 hits per minute, you will get much less, like half of that, which might not be enough to ease muscle tensions.
Therefore, look out for devices that sacrifice too much of either the stall force or the amplitude.
Runners Massage Guns – Stall Force Comparison
---
Amplitude
The amplitude is how far the massage gun head travels back and forth as it hits the skin. This is what tells you whether a massage gun can actually perform percussive therapy.
As a runner, you need a deep tissue massage and the more amplitude a device has the better it will serve you. We don't recommend anything less than 12mm stroke length.
Again, if you get a device with a longer amplitude then by all means go for it. However, this is only a good deal if the stall force is reasonable enough. Don't be fooled by devices that promise 16mm amplitude but have less than 30lbs. of stall force.
In some instances however, you may see a device that has a higher stall force but with a slightly shriveled amplitude. In such cases, even though the amplitude may not hit deep, you can still get an intensive massage by pressing it hard on the skin.
Best Massage Guns For Runners – Amplitude Comparison
Conclusion
Only Achedaway Pro matches Theragun's industry-leading 16mm stroke length. However, device like Ekrin B37s has plenty of stall force to compensate for the lower amplitude. It's just a difference in characteristics. Bantam has only 10mm but it's a mini massage gun.
---
Percussion Range
The amount of hits per minute you get from a percussion massage gun will determine how intensive a massage you can get. Here again the more hits (percussions) per minute the better.
As a runner, go for a gun that delivers at least 3000rpm on the highest speed level and has enough stall force to maintain that speed when you press the device hard to your skin.
The above rule does not pertain to high-amplitude massage guns, though.
It's not uncommon to find percussion massagers with far less hits per minute. For instance some high end guns like Theraguns or Achedaway Pro will deliver just 2450-2800rpm.
This is absolutely not a red flag, it usually just means the amplitude is longer, therefore, justifying the lowered percussions.
In fact, we are yet to see a device able to rev higher than 3000 rpm with 14 or 16mm stroke length. It is either a high amplitude or high frequency, not both.
PRO TIP Beware of devices that promise up to 3800 percussions per minute only to hit you with 5-8mm amplitude. This is nowhere near percussive therapy level – it's a vibration therapy.

Vibrations can be super effective too, but usually not with low-frequency massage guns. Effective vibration devices rev well over 10,000rpms (e.g. Rapid Release Therapy).
Massage Guns for Runners – Max Percussion Comparison
Conclusion
Opove Apex and Theragun Elite rev up to only 2400 and 2300 ppms, respectively, but it's due to high amplitude (less frequent head movements). Still, Achedaway Pro reaches 2800 with the same stroke length which is impressive. Models with 12mm amplitude rev faster instead, providing higher intensity.
---
Programs and Speeds
We have included this because it can sometimes get confusing especially when a device promises too many speed gears.
We get questions about this frequently. Does it mean that a device with more speed gears offers better intensity? Not necessarily.
We have seen good devices with 4-5 speeds that have served us well. We've also seen devices that promise up to 20 speeds.
To be honest, these are a nightmare to work with. There's no real value in having that many speed gears.
There are devices that have pre-programmed modes where the intensity changes over time. These are great as well.
There are high-end massagers that come with a pressure sensor, meaning you can have a more consistent massage.
As flashy as this may sound, it's not something you must have.
---
Other Factors Worth Checking Out
Build quality
A well-built massage gun with high quality materials will go the distance.
Noise level
We shortlisted devices with a maximum 65dB of noise. You can have a conversation without having to raise your voice.
Weight
There are way too many heavy massage guns out there. The heaviest on our list weighs 2.6lbs. The rest are lighter.
Size
Bigger is not always better. We prefer compact devices. Apart from the full-sized guns, we picked one mini massage gun for those who want a travelling companion.
Ergonomics
The industry has struggled in this respect for a while now. We reward massage gun brands that try to be innovative here.
Accessories included
We check for the number of attachments – usually 5-6 is enough for a whole body massage – travel case or pouch included.
Brand Trustworthiness
We love brands that are willing to stand behind their products.
Battery capacity & Time on Battery
This shouldn't worry you so much because most devices have batteries that can last 1-2 weeks on a single full charge. Besides, bigger batteries mean heavier guns.
Warranty
Cheaper models will offer nothing at all, a few may give a 1-year warranty. We take our hats off for brands that offer lifetime warranties.
Value for money
Some devices offer more at a fair price, and some share generous discount coupons.
---
Best Picks
Here are our best massage guns for runners plus a Theragun for runners. First, a handy comparison table showing the key parameters we discussed above:
Massage Gun
Stall Force
Amplitude
Category
Percussions
Achedaway Pro

60 lbs.

16 mm

high amplitude,
medium rpm
1700-2800 ppm
Ekrin B37S

56 lbs.

12 mm
medium amplitude,
high rpm

2000-3200 ppm

Lifepro Sonic
40 lbs.
10.5 mm
low amplitude,
medium rpm
1200-2700 ppm
Opove APEX
45 lbs.
14.5 mm
high amplitude,
low rpm
1800-2300 ppm
Theragun Elite
40 lbs.

16 mm

high amplitude,
low rpm
1750-2400 ppm
Ekrin Bantam
35 lbs.
~10 mm
low amplitude*,
high rpm
2000-3200 ppm
Best massage gun for runners: performance specs compared,
*Bantam's amplitude is actually high for a mini gun
---
Ekrin B37S – Best Overall

This is the quintessential runner's massage gun just to let you in on a secret. The B37S delivers more than enough for any kind of running that you may be engaged in.
It's the sequel device to the B37 that got Ekrin up and running as a massage gun producing brand. Ekrin made a few awesome modifications that have made the B37S even better.
For starters, even though this new gun has a similar stall force (56lbs.) as its predecessor, it feels slightly more powerful in comparison.
The older B37 gun had progressive stall force depending on what speed you chose. The B37S is still progressive but 30% more power for each speed gear. To put it into context, the B37 will deliver deep percussive therapy at any speed.
The powerful stall force is complemented by a more-than-enough 12mm amplitude. Now, even though more is better here, the 56lbs. stall force will more than make up for any shortcomings of the stroke length.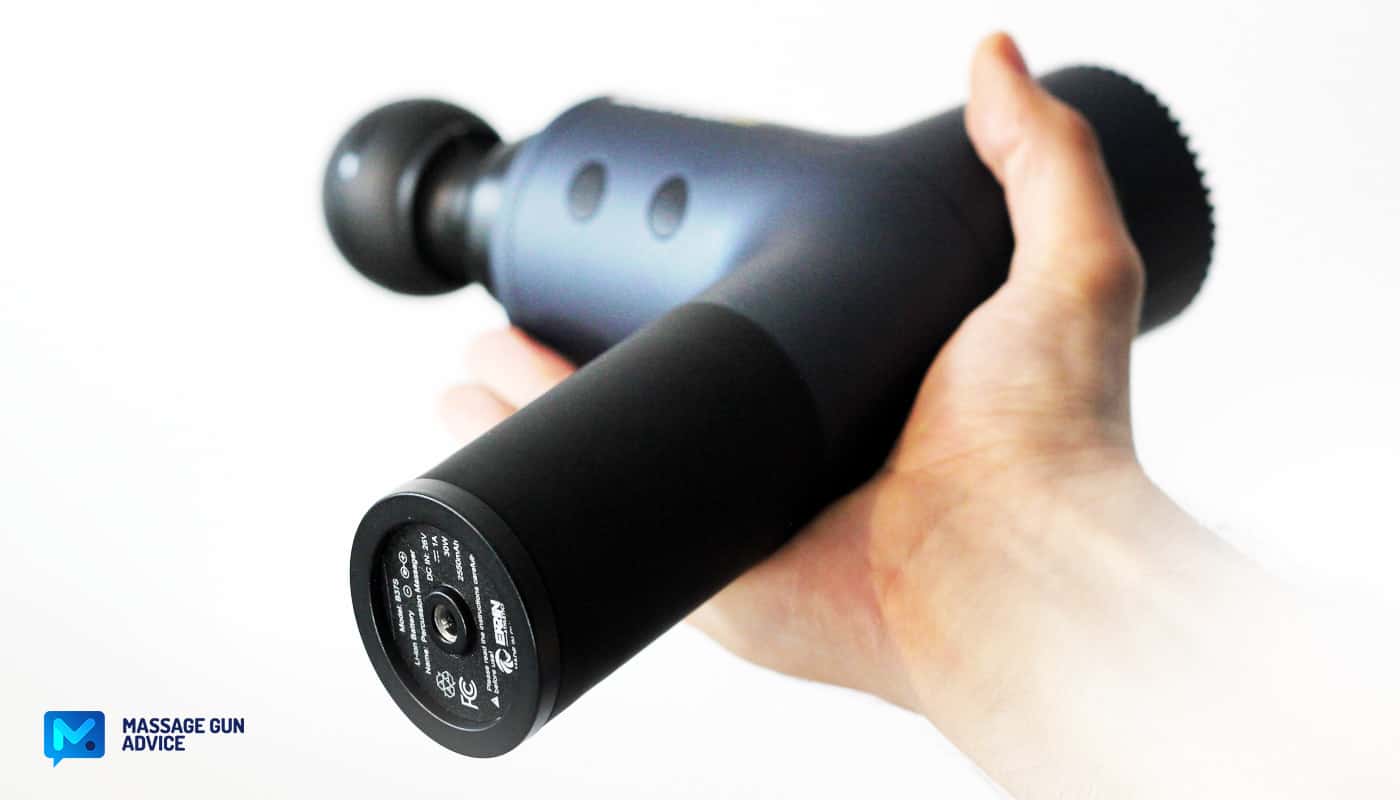 The percussion range is top-level as well, revving in at 2000-3200rpm. This is slightly similar to the original gun, the only difference being the lowest speed – the older B37 starts revving at 1400 percussions per minute.
It has 5 speed gears just like the original device but there's a slight tweak on the 5th gear which has a pre-programmed dynamic mode that cycles between the highest and lowest speed.
Apart from the more than convincing performance specs, the B37S is a reasonably light gun, weighing in at just 2.2lbs. The angled handle makes for great ergonomics ensuring that you can reach more body parts.
It's very easy to use as well. It also comes with 6 attachments which is two more than the previous device. It also has the "push and twist" locking mechanism for the attachments. It's quiet, advertised as just 35-55dB but goes from 50dB to slightly over 60dB.
Other features include a force reactive meter that tells you how much pressure is exerted on the gun. It also has a Samsung branded battery just to let you know that it's a quality product with quality accessories.
Their customer support is top notch and they'll also throw in a lifetime warranty. 
You can use the promo code MGA20 to get a 20% discount that slices the price from $329 to just $263.99. You can get the B37S right here.
MORE INFO: Read our detailed, hands-on Ekrin B37S Review.
---
Achedaway Pro – Best for Professional Runners
Achedaway Pro is the second gun from Achedaway and we think it's the best massage gun for professional runners.
The Pro is a powerful gun and we'll recommend it for those who want something that will really dig into the muscle. It will serve you well if you have big, well developed muscles.
You could also purchase it as a cheaper alternative to the Theragun Pro. The performance features are pretty much the same except for the fancy additions on the Theragun.
Talking of performance, this gun has an advertised 80lbs. stall force. We saw that and were amazed. However, when we got our hands on it, the stall force felt like 60-65lbs. which is still impressive to say the least.
The amplitude is 16mm, which puts it in the same caliber as Theragun Pro. We are yet to see anything longer than that in the massage gun world.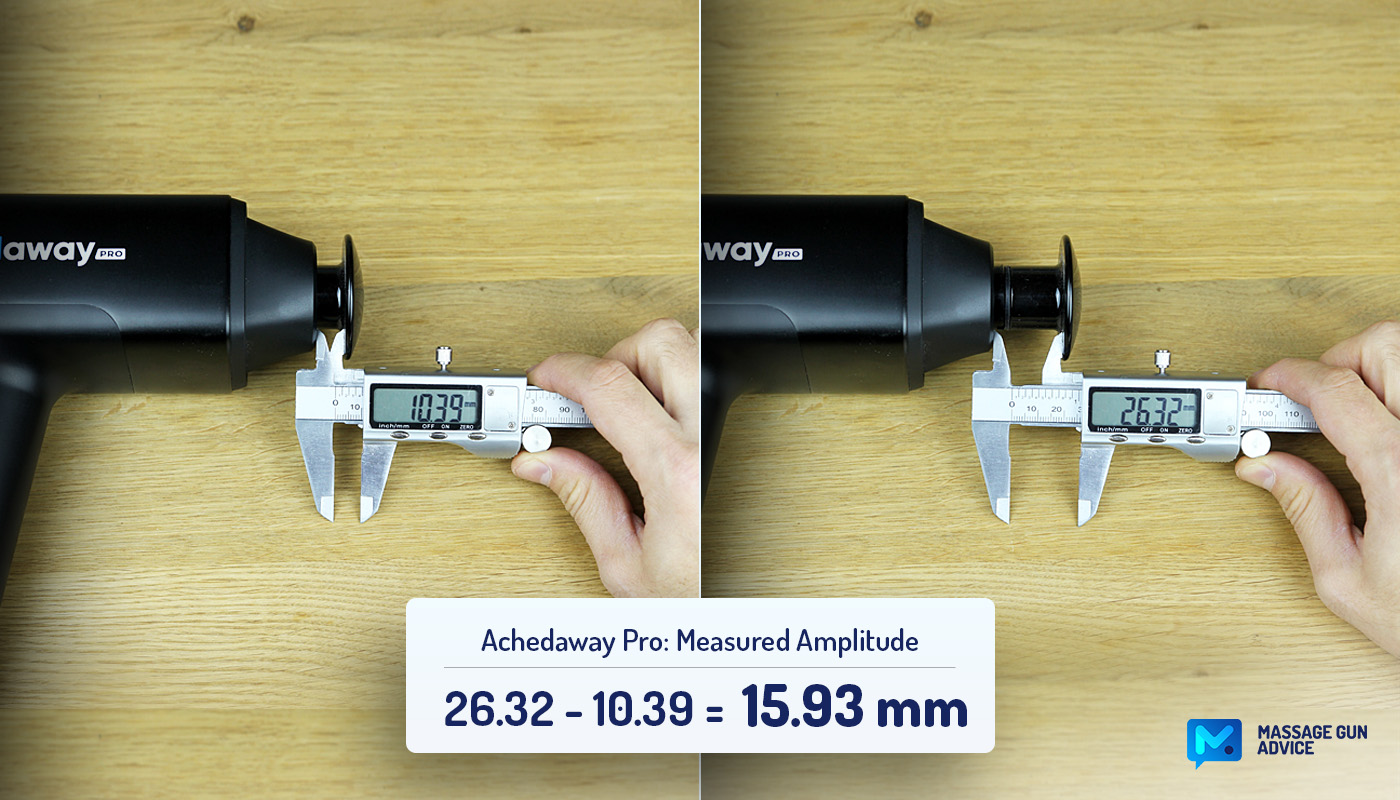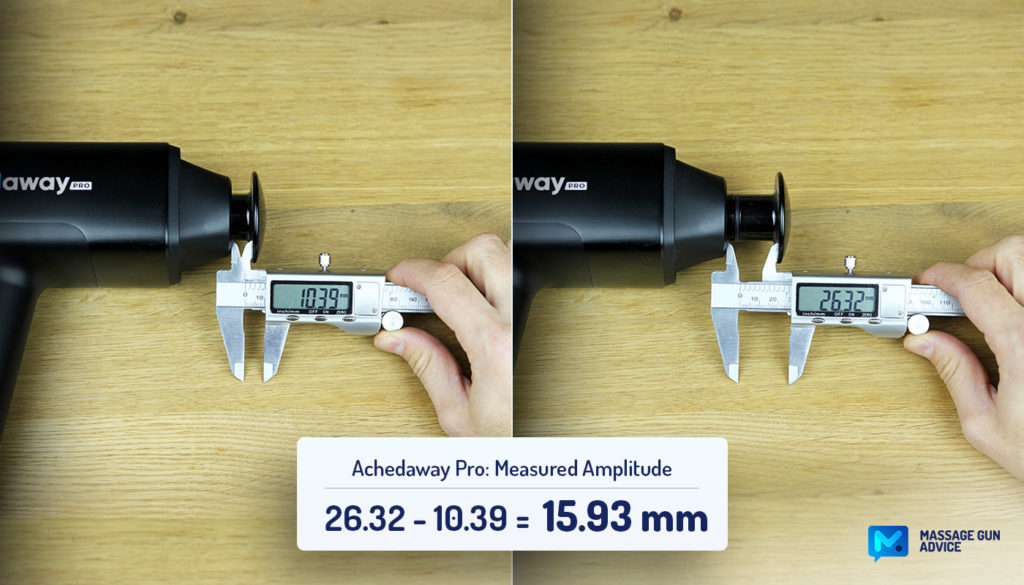 With that kind of power and punch, you can be sure the Achedaway Pro will deliver a deep percussive massage.
The percussion range is 1700-2800rpm with 5 speed gears to go with it. You don't get the extra fancy mode as the one on the Ekrin B37S though. However, you do get a powerful 3200mAh capacity battery.
The only problem is that it drains away a bit quicker. Whereas Ekrin B37S gives you up to 8 hours of continuous use on a single charge, the Achedaway Pro will last for 2-4 hours only. The advantage, however, is that the battery is removable and you can purchase the gun with a spare battery if you need to use it extensively.
It's quieter than the B37S though – 45dB to slightly over 60dB. Because of the large capacity battery, the Achedaway Pro is heavy – 2.6lbs. It's the heaviest gun on our list.
DEAL ALERT Use the special HOLIDAY60 code at checkout to get $60 off Achedaway Pro. Pay $239 instead of $299. Apply the coupon here.
It costs $299 but you can apply the promo code MGA50 to get a $50 discount. That cuts the price down to $249 for a single-battery version. The same gun but with a spare battery will cost you $319 after the discount.
MORE INFO: Read our hands-on Achedaway Pro Review.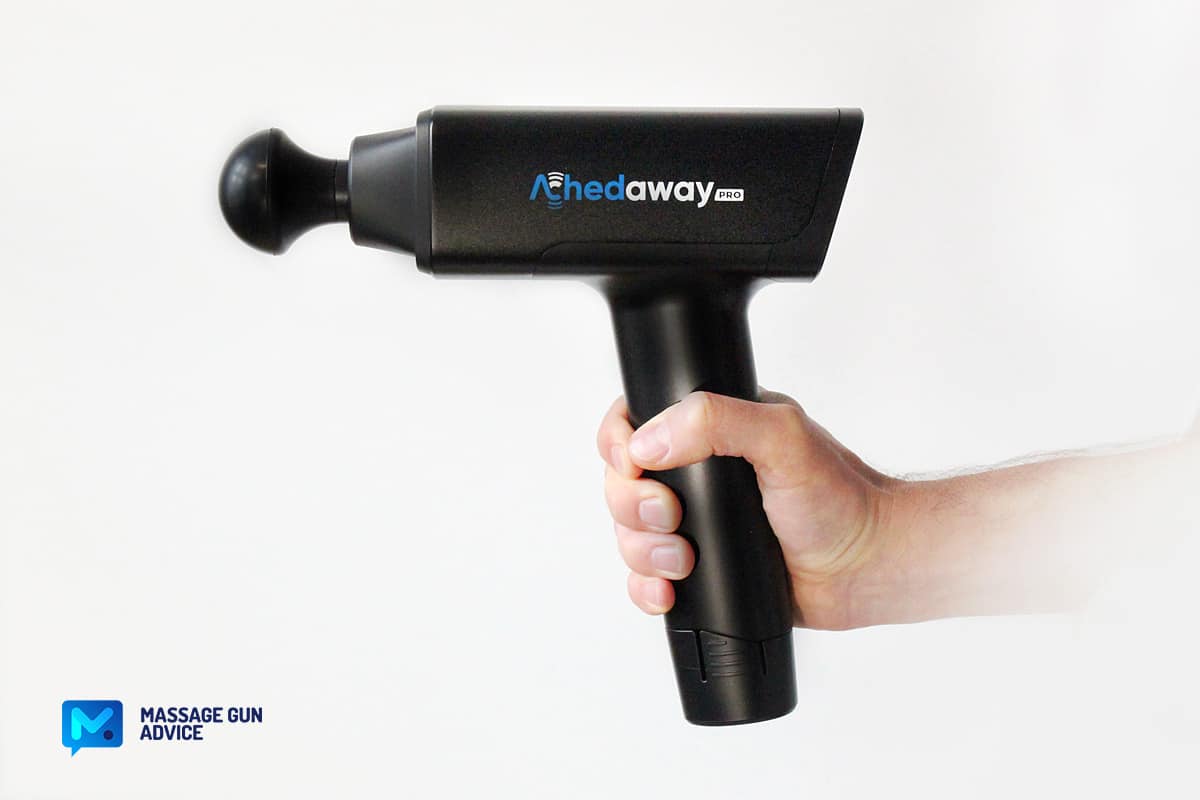 ---
Lifepro Sonic – For Runners on a Budget
We picked the Lifepro Sonic because not only does it pack some interestingly powerful features, it's also cheaper than our top two picks. So if you need something reasonably powerful and are a few bucks short, we've got you covered with the Sonic massage gun.
This runners' massage gun is nicely and somewhat uniquely looking. It does follow the original T-shape kind of design with a straight handle, and looks a bit retro.
While it is a relatively old product, it has a reasonable stall force in the upper 30s lbs., which is not bad given it's not the biggest gun (9.8"h x 8"w.). The amplitude is 10.5mm (advertised is 12mm), which is slightly less than in our beloved Ekrin B37S. But this is enough with a stall force like that.
The advertised percussion range is 1300-3000rpm, although our laser tachometer did not show more than 2700. This may not sound very impressive but we like how low you can start with this device.
We believe this is a good gun to use for a warm up massage before you start running. It has 5 speeds to go with this as well.
It doesn't have any pressure sensor but it does come with 8 different attachments, which is insane. It obviously doesn't hurt to have that many, but 5 of them would likely be enough – some of them are just a slightly different variations of other ones.
Unfortunately, it's not the quietest device we've – 49-66dB, but as we already said, it is not the latest generation percussion massager.
However, the battery can be easily detached, and the capacity is 2600mAh of juice, so it will go to work for 2-4 hours, depending on how you use the gun.
Lifepro is a trusted brand and will give you a lifetime warranty if you decide to purchase this device.
The price was recently reduced to $129.99 but you can still get a 10% discount if you use the code MGA10. You can then get it for only $116.99.
MORE INFO Here is our full Lifepro Sonic review.
---
Opove APEX – Affordable High Amplitude Runners' Massager

The Opove APEX can be a great companion for runners who are looking for a punchy massage gun tailored especially for them. We recently tested it and we must say we had fun with it.
What makes it different from the Sonic above is that it's the latest tech – it's super quiet, ergonomic, and surprisingly well made. It is a tad more expensive, but has better specs.
Whereas Ekrin B37 gives you that balance, high stall force and great cover from the manufacturer, the APEX gives you more amplitude. It doesn't have any bells or whistles, but it does what it's meant to do.
You will love the 14.5mm amplitude if the 12mm on the Ekrin B37 isn't enough. If you want the Achedaway Pro's 16mm but can't afford the extra bucks, this one will handle the business just fine.
About the stall force, the two guns above (Ekrin B37 and Achedaway Pro) already have more than you will need as a runner. They're great devices that will not let you down when you want a deep tissue massage. But the Opove APEX isn't so bad either.
Remember how we said that mid 40s stall force is good enough? This device has that kind of stall force. It doesn't easily stall. Another cool thing with this device is when you apply too much pressure, it doesn't shut off completely. It simply halts and continues to rev when the pressure is eased.
For accessories, you get everything at a very affordable price. There are 6 nice attachments and a nice carrying case. Opove made the device with a premium feel and branded it nicely so it looks professional and high-quality.
MORE INFO Read our full Opove Apex review.
It retails for $199.99, but the last time we checked, there was a 20% discount on – you'll only have to part with $159. Great deal given all the specs it has. Buy it at opove.com.
---
BANTAM – Best Portable Massage Gun for Runners
The Bantam by Ekrin was designed for runners who need something that can easily fit in their bag. You'll appreciate its size if you're the kind of runner that travels a lot. This gun, even though small, surprised us with its top notch features.
For starters, the advertised stall force is 35lbs. which is huge for a mini massage gun. To our surprise, it turned out to be accurate when we used it and reviewed it.
It gets even more interesting because the stall force is pretty good at all speed gears.
This is very impressive because most mini massage guns tend to be very easy to stall on first speeds, and only the top gear has the advertised stall force.
The amplitude is almost 10mm, which is perfect and more than enough for such a small massage gun.
It revs at 2000-3200rpm across 3 speed gears. Despite its solid body, it only weighs 1.1lbs. If you're an active person and always on the go, you'll love this gun.
It does come with a carrying case and 4 attachments, which is just about enough for runners. It has a super battery that will last for over a week. It's USB-C compatible for convenient charging.
You can get it for $149.99 but if you apply the MGA20 coupon at checkout, you will buy it for $119.99 – translates to 20% discount. Get the little Bantam right here.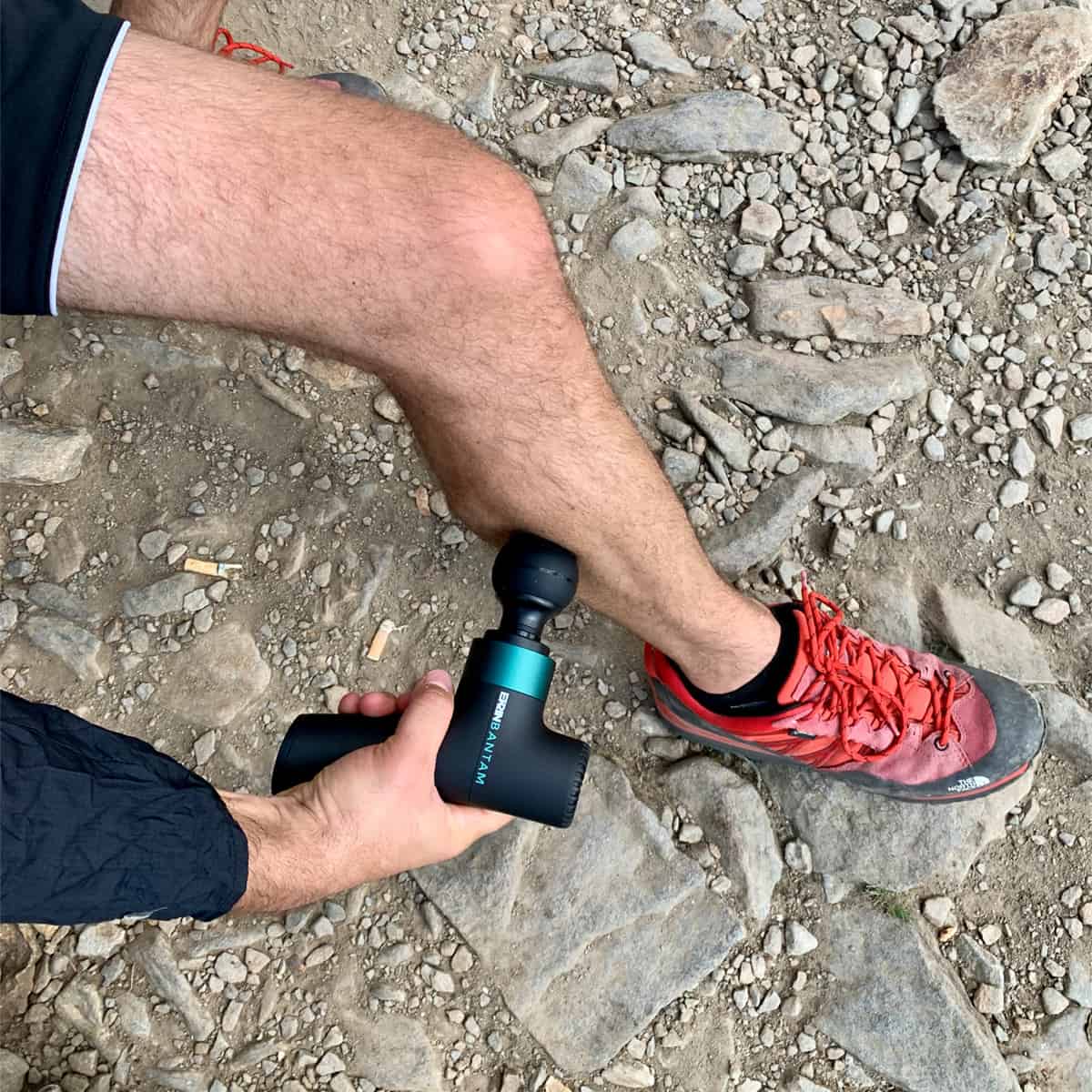 ---
And What's The Best Theragun for Runners?
Theragun are the industry giants with their premium quality products. Runners who can afford a highly priced massage gun will be pondering over which Theragun to buy.
Theragun Pro is obviously the most advanced of the bunch but there's a chance you won't need its rotating arm or the removable batteries.
We chose to go with Theragun Elite because it's 30% cheaper yet still quite powerful. Theragun Prime doesn't meet our criteria for at least 40lbs. of stall force.
Elite has precisely 40lbs. stall force. It also has the industry high 16mm amplitude. This means it can deliver both intensity and punch for a post-run massage.
It will serve you well even if you are a heavily built runner. It has a percussion range of 1750-2400rpm. This is fine because of its longer stroke length.
It has an OLED screen and a built-in force meter. It has 5 speeds that can be adjusted via a dedicated app. It comes with 5 attachments and a carrying case.
But the main reason we included a Theragun is because of their innovative approach. We appreciate their unique designs and wonderful ergonomics (multiple grip options). We prefer them to the T-shaped Hypervolts.
Cons
Elite is too loud for our liking. It's over 70dB which is not that bad, but compared to the other guns, it's the loudest. The Achedaway Pro is almost hush in comparison.
The battery is so-so. One charge will only last 2-3 hours on continuous use. However, under normal circumstances, it should last up to 4-6 days.
It's pricey. With $399 you can get the Achedaway, a spare battery and still keep $80 (if you use the promo code

MGA50

).
Just a 1-year warranty. At its price point we think it should have a lifetime warranty.
For more details, head over to our Theragun Elite Review or check it out in the store.
---
How to Use a Massage Gun on the Achilles Tendon
Most runners have been wondering if a massage gun can be used on the Achilles tendon. Studies​3​ have shown that pressure massage can be used to take care of Achilles tendinopathy. However, each case may be different and the best thing may be to consult a professional.
But from what we have been told, and even practiced ourselves, using a fork attachment can lead to good results.
We've also heard from people who have found the bullet head to be useful in this case. Whichever head you choose, we encourage you to use caution and avoid pushing into pain, as this may be painful and even cause more harm.
The most effective, and safe way to manage your achilles tendon would be to take care of your calves​4​. This is important because a tight calf will add strain and stress to the Achilles tendon. Here are the steps:
Try and relax as you relieve tension in your calf which leads all the way down to the Achilles.
Use the flat head. Or alternatively use the ball head if the flat head feels too intense.
Slowly move the massage gun up and down the calf muscle. Apply moderate pressure and release the gun as you get closer to the Achilles.
Keep it gentle. It's better to go longer and lighter than too quick and too intense.
Massage other muscles around the bottom of your foot. Use the flat head. Massage the front part of the leg (shin). The shin is often ignored by most people who don't realize that if not taken good care of it may cause imbalances in the body. This especially relates to the Tibialis Anterior which is the most relevant muscle of the shin for runners.
TIP You can use the soft ball head if the flat head proves to be too intensive.
---
Best Massage Gun for Runners – Bottom Line
With that we end our post on the best massage gun for runners. We believe the choice will be a little easier now.
The Ekrin B37S is the best and most versatile option in our opinion. It is nicely designed with impressive features, plenty of power, awesome buying experience, and a lifetime warranty.
The Achedaway Pro is a great gun for pro runners with its top tier features, a viable alternative to top-tier Theraguns or Hypervolts.
If you want a good massage a gun for runners at a good price, you have two options in Lifepro's Sonic and Opove Apex. The Bantam is a portable option you can bring anywhere with you.
Good luck in your purchase!
Ps. If you need a personal recommendation, feel free to ask us a question. Bye!
---
References
2.

Sulowska-Daszyk I, Skiba A. The Influence of Self-Myofascial Release on Muscle Flexibility in Long-Distance Runners.

IJERPH

. Published online January 1, 2022:457. doi:

10.3390/ijerph19010457

3.

Stefansson S, Brandsson S, Langberg H, Arnason A. Using Pressure Massage for Achilles Tendinopathy: A Single-Blind, Randomized Controlled Trial Comparing a Novel Treatment Versus an Eccentric Exercise Protocol.

Orthop J Sports Med

. 2019;7(3):2325967119834284. doi:

10.1177/2325967119834284

4.

Chang Y, Chiang H, Shih K, et al. Effects of Therapeutic Physical Agents on Achilles Tendon Microcirculation.

J Orthop Sports Phys Ther

. 2015;45(7):563-569. doi:

10.2519/jospt.2015.5681
Disclaimers
The views and opinions expressed on this website are those of the authors. Any content provided by our bloggers or authors are of their opinion and are not intended to malign any religion, ethnic group, club, organization, company, individual or anyone or anything.
All product names, logos, and brands are property of their respective owners. All company, product and service names used in this website are for identification purposes only. Use of these names, logos, and brands does not imply endorsement.
It is our policy to make every effort to respect the copyrights of outside parties. If you believe that your copyright has been misused, please provide us with a message stating your position and we will endeavor to correct any misuse immediately.
Some of the links in this post are affiliate links. As an Amazon Associate, we earn from qualifying purchases. This means if you click on the link and purchase the item, we may receive an affiliate commission, at no extra cost to you. This helps us keep this website alive. Learn more here.
Amazon Disclosure
massagegunadvice.com is a participant in the Amazon Services LLC Associates Program, an affiliate advertising program designed to provide a means for sites to earn advertising fees by advertising and linking to Amazon.com. As an Amazon Associate, we earn from qualifying purchases. Amazon and the Amazon logo are trademarks of Amazon.com, Inc. or its affiliates. Please refer to our Privacy & Affiliate Policy for details.