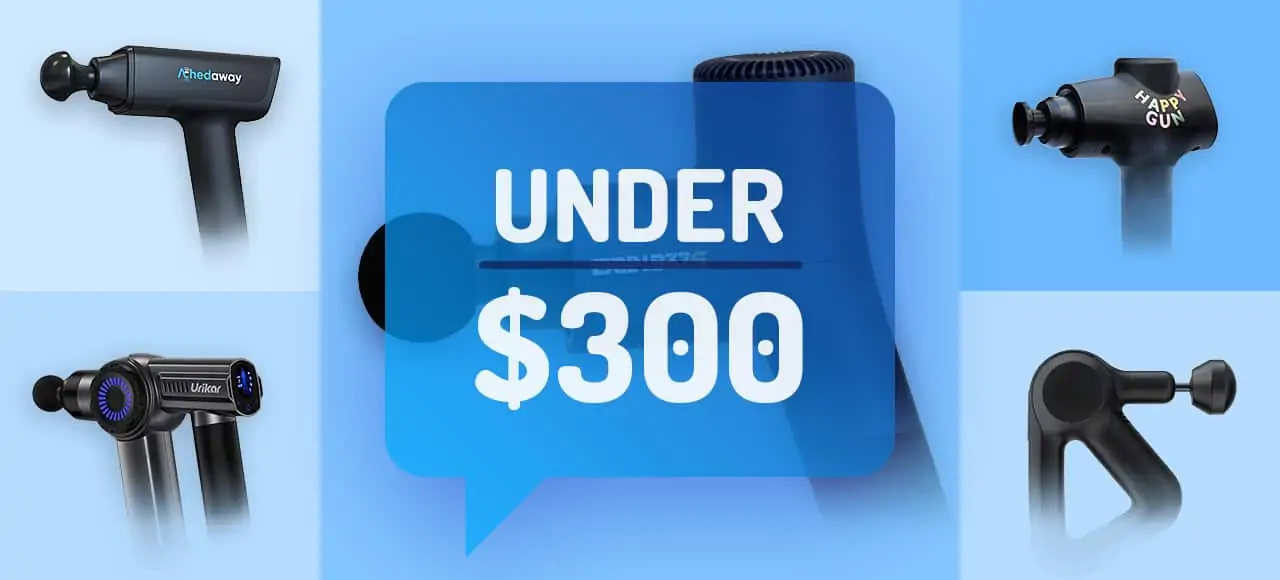 Best Massage Gun Under $300 – Our Top Picks, Explained
What to Know: We independently review products we recommend. If you click on links we provide, we may earn a commission. Learn more.
---
Today, our focus is on finding the best massage gun under $300. In the world of massage devices, this budget now opens the door to top-tier machines with outstanding features and capabilities.
Which of these devices deserves our recommendation? How do they differ, and what should you pay attention to? Finally, is it possible to find a valuable option from Theragun within the $300 range?
We'll answer these questions based on our comprehensive testing of numerous guns within this budget.
Key Takeaways
When you invest $300 in a massage gun, you can you should expect top-notch quality and exceptional features.
Within this price range, you'll find options from leading brands like Theragun and Hypervolt, although not their top-tier models (Theragun Pro, for example, is priced at $599).
Our top picks offer EVERYTHING you need in a massage gun, and even more, all within your budget.
One standout option is the Ekrin B37s – it combines power, ergonomics, quality, plus comes with a lifetime warranty. Using the code MGA20, you can snag it for just $264 on ekrinathletics.com
---
---
What Kind of Massage Gun Can $300 Get You?
Perhaps you only looked at Theraguns or Hypervolts and concluded that you can only get a decent massage gun if you have more than $300. Yes, Theragun and Hypervolts are the giants of the percussion massagers, but there are other brands with decent or even better massage guns.
To make it even better, there has been a recent drop in prices for most massage guns even from some of these awesome brands.
To be entirely honest though, some of these superb massage guns still cost more than $300, but with our coupons, the price falls below that threshold. But that shouldn't take away the fact that $300 can get you a pretty decent massage gun these days.
However, $250 – $300 is still not pocket change for most people – it's a lot of money even to us. That is why you need to know what to look for before you spend your hard earned money on any massage gun.
That's why this post is here!
---
What To Look For In A Massage Gun Under $300
We know that different people look for different things in a massage gun. Depending on what you need, there are things you need to look for.
However, for $300, it's understandable that you will be looking for serious aspects only. There are aspects we insist on ourselves and now even more for an expensive device. We especially insist on performance aspects more than anything else.
We gave a pass to massage guns under $100 and $200, but we believe that $300 should get you a device that ticks all important boxes.
Here are some things to look out for…
---
Stall Force
This is the amount of pressure it takes to stall the motor of a device. Sometimes when you need to get a deep tissue massage pressing the massage gun head against the muscle is needed. Depending on pressure exerted, sometimes the motor of the massage gun stops, consequently shutting off the device.
Some devices can take a considerable amount of pressure to stall, while others easily stall. A good device should be able to withstand a decent amount of pressure.
Certainly a $300 massage gun should withstand a lot of pressure. You should think of Theragun Pro kind of stall force – 50lbs. stall force or more. With enough stall force (50lbs. or more) you can get a deep tissue massage. People with demanding needs like pro athletes and bodybuilders will enjoy a device with a good stall force.
However, if you have $300 and need a device, you can still use it for your delicate massage and save the hard-pressing for when you need a deep percussive massage.
Even so, enough stall force is needed when you want to massage parts with large muscle mass. These include the hamstrings, quads and glutes.
Best Massage Guns Below $300 – Stall Force Comparison
Our Take
$300 is a perfect budget for a powerful, versatile, and premium-quality massage gun, as long as it's not an exorbitantly expensive Theragun. When it comes to stall-force, you can get about the same power from Ekrin B37s or Achedaway Pro like you would get from the twice as expensive Theragun Pro.
---
Stroke Length
Also known as amplitude, this is the massage gun head travel distance. It's also a very important aspect of any massage gun. The longer the amplitude, the better the device can be at giving you a percussive massage.
If you have been reading our massage gun reviews, you know how we have always insisted on getting a device with a better amplitude. We've fallen in love with brands that make the amplitude their selling point.
When we looked at the best massage gun under $100 and under $200, we had to look really hard to find a device that had a somewhat enough amplitude.
For the under $300 category, we don't expect this to be an issue at all. With that budget, you should be able to get a percussion massager with an amplitude between 12-16mm.
However, don't always think that because a device has a better amplitude (16mm), that it is a good enough device. Look for the combination of good amplitude and enough stall force.
A device with a 12mm amplitude but decent stall force will work better than a device with 16mm amplitude but with a very meager stall force.
Fortunately there are no shenanigans with massage guns under $300.
Massage Guns for Under $300 – Stroke Length Comparison
Our Take
$300 can get you a massage gun with an industry leading stroke length of 16mm. Only Ekrin B37s has an lower amplitude. While its 12mm feels less aggressive, it actually has lots of stall force allowing you to push the device against your skin for an intensive, deep-to-the-bone massage (if you only want it)
PRO TIP Check out our highest amplitude massage guns recommendations →
---
Percussions
With percussions, there is a bit of freedom. Most devices have a similar percussion range. It's not uncommon to find most ranging between 1800rpm and 3200rpm.
However, some guns with a long amplitude tend to have lower percussions, if you would. In other words, we would take a maximum 3200rpm as the highest number of percussions needed for a device.
Devices with less percussions aren't so far behind from this number. Theragun for example has a percussion range of 1750-2400rpm.
There are devices that can rev up to 4000rpm. We always have our reservations towards such devices. Because what that tells you is that it's a vibrational therapy device that probably has a very short amplitude. The many hits per minute are to compensate for that. That means all you are getting are surface level hits that don't go deep into the muscle tissue.
Our Advice
In our opinion then, percussions aren't as important as the right combination of stall force and amplitude. Most massage guns have a decent percussion range and you will probably not need anything extra.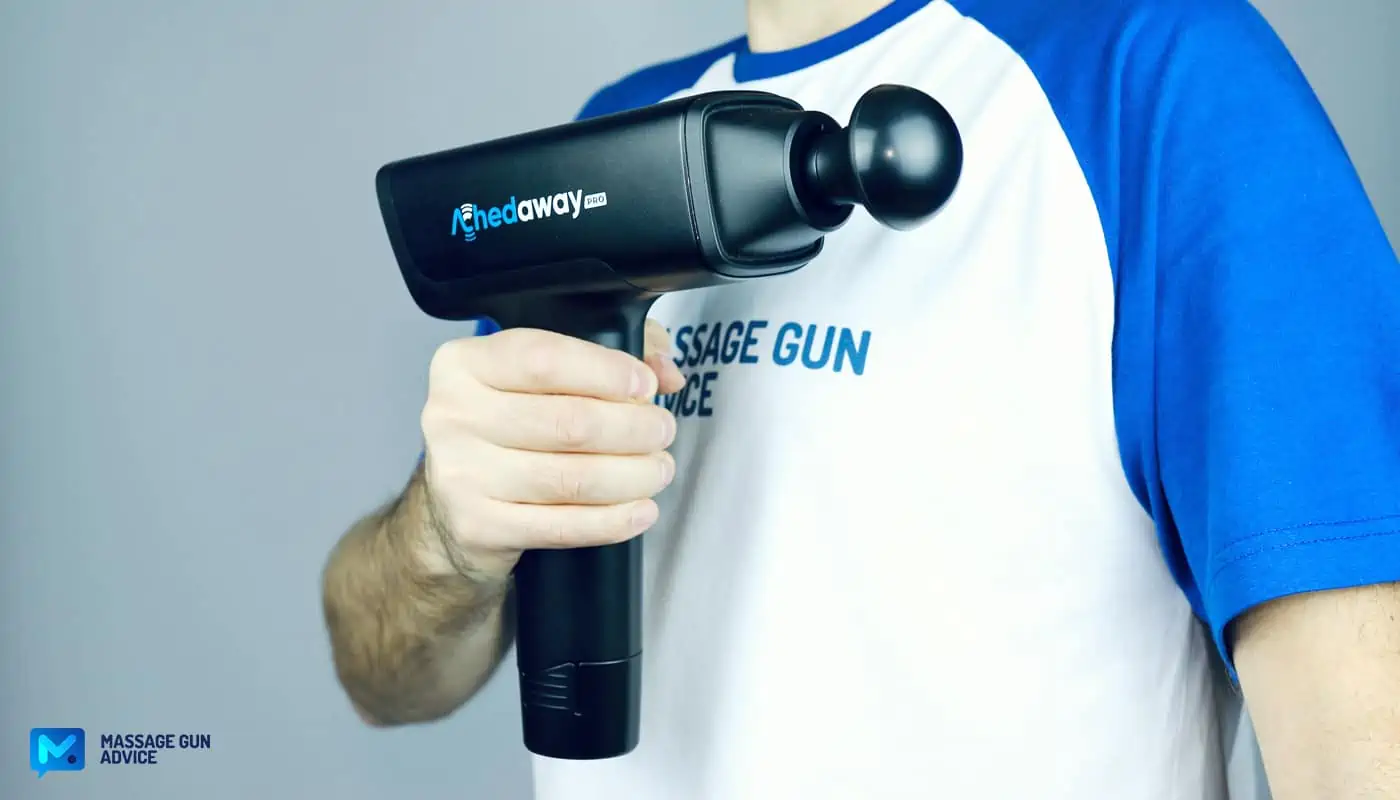 ---
Other Features To Look Out For
Number of speeds: If a device has 4-6 speeds then they are good to go. 3 speeds is still okay, and so is 7 or 8. However, anything beyond that is simply not as practical as it may seem.
Pre-programmed massage modes: These are modes that allow the device to change the intensity automatically.
Extras like pressure sensors: You will often find these in guns under the $300 category.
Materials and build quality: Since $300 is no pocket change for most of us, you'll want to make sure the device is built to perfection with top notch materials. That means you will have it for a while before you think of spending on one again.
Noise: we love massage guns that try to stay hushed. Even a strong and powerful gun shouldn't always be loud.
Weight: Some devices tend to be heavy and bulky, which will make any massage cumbersome. We tried to find guns that are not heavier than 2.6lbs.
Ergonomics: We reward any attempts to improve ergonomics and brands that try to stay innovative get more points from us.
Accessories included: Try to look for things like the number of attachments included- 4-6 attachments is fine for a whole body massage. Look for any carrying case or pouch included.
Brand trustworthiness and reputation: We focused on devices from top notch brands.
Battery capacity and time on battery: Some devices have removable batteries (Achedaway Pro) which means if you have an extra one you can use one as the other charges.
Warranty offered: Best brands, like Ekrin, offer a lifetime warranty or at least something more than 1 year.
Value for money: Obviously the list is narrowed down to massage guns under $300, but we tried to suggest best value devices, those that offer the best bang for your buck.
---
Best Massage Guns Under $300 – Our Top Picks
Here are some devices that are worth every bit of the $300 price tag:
---
Ekrin B37S – Top 1
Our testing impressions:
Versatile and powerful massage gun
Variety of attachments, including a cushioned one
Excellent quality overall
Lifetime warranty
We've featured this massage gun before in many of our other posts (like one of Theragun's alternatives).
It's a perfect blend of all the right ingredients. It has all the power, best ergonomics, build quality, warranty and the brand is very customer-friendly.
Ekrin has been our darling for massage guns for a while now. Everyone else is running to Hypervolts and Theraguns.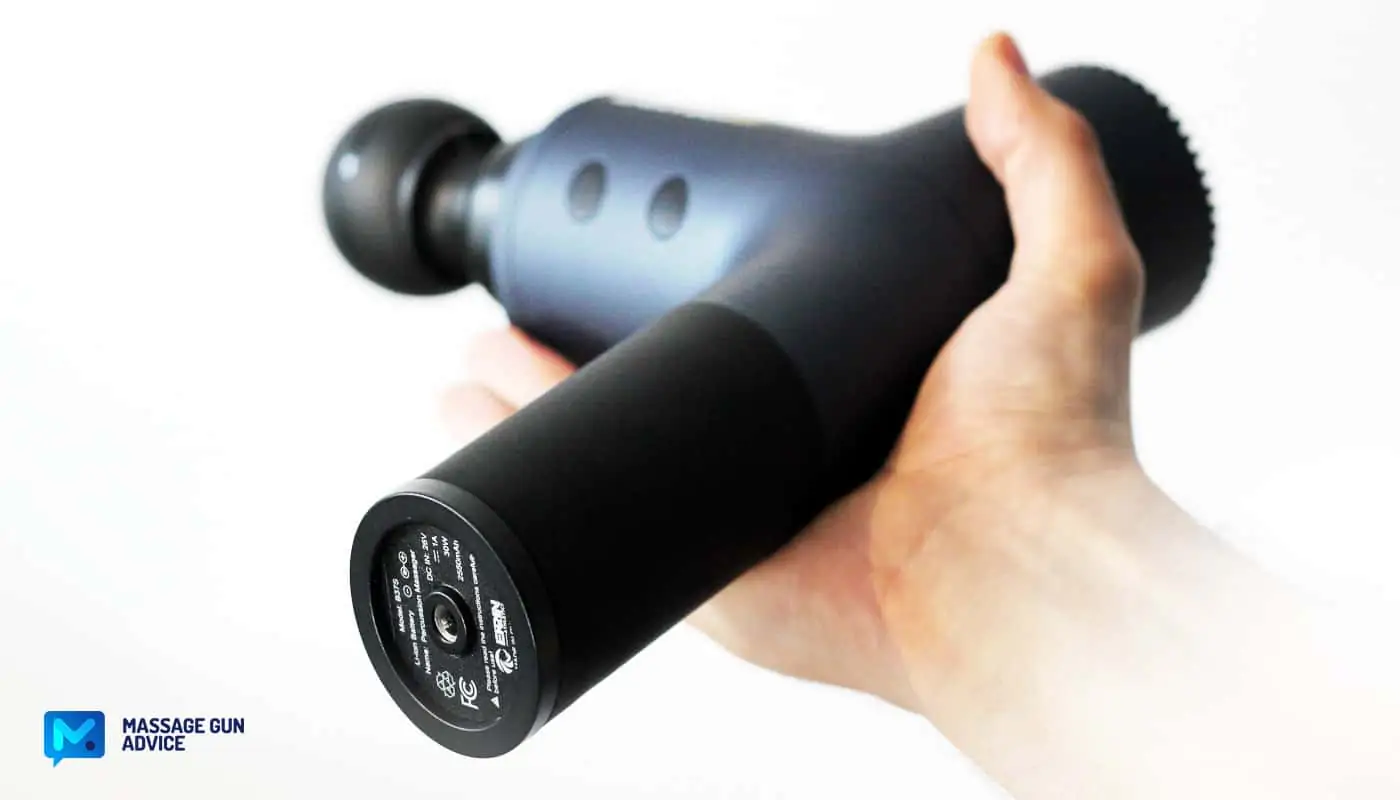 This massage gun has the best ergonomics. The 15-degree angled handle ensures that your wrist is not fatigued easily as you massage away. It's also just the right size and weight to be used by most people – it weighs just 2.2lbs. 
It's the only massage gun in our list with a 12mm amplitude. But that's not a bummer by any means. This gun is perfectly set up to be a massively impressive percussion massager. It can be very powerful when you need it to be. With up to 56lbs. stall force on top speed, it can be pressed hard against the skin no problem!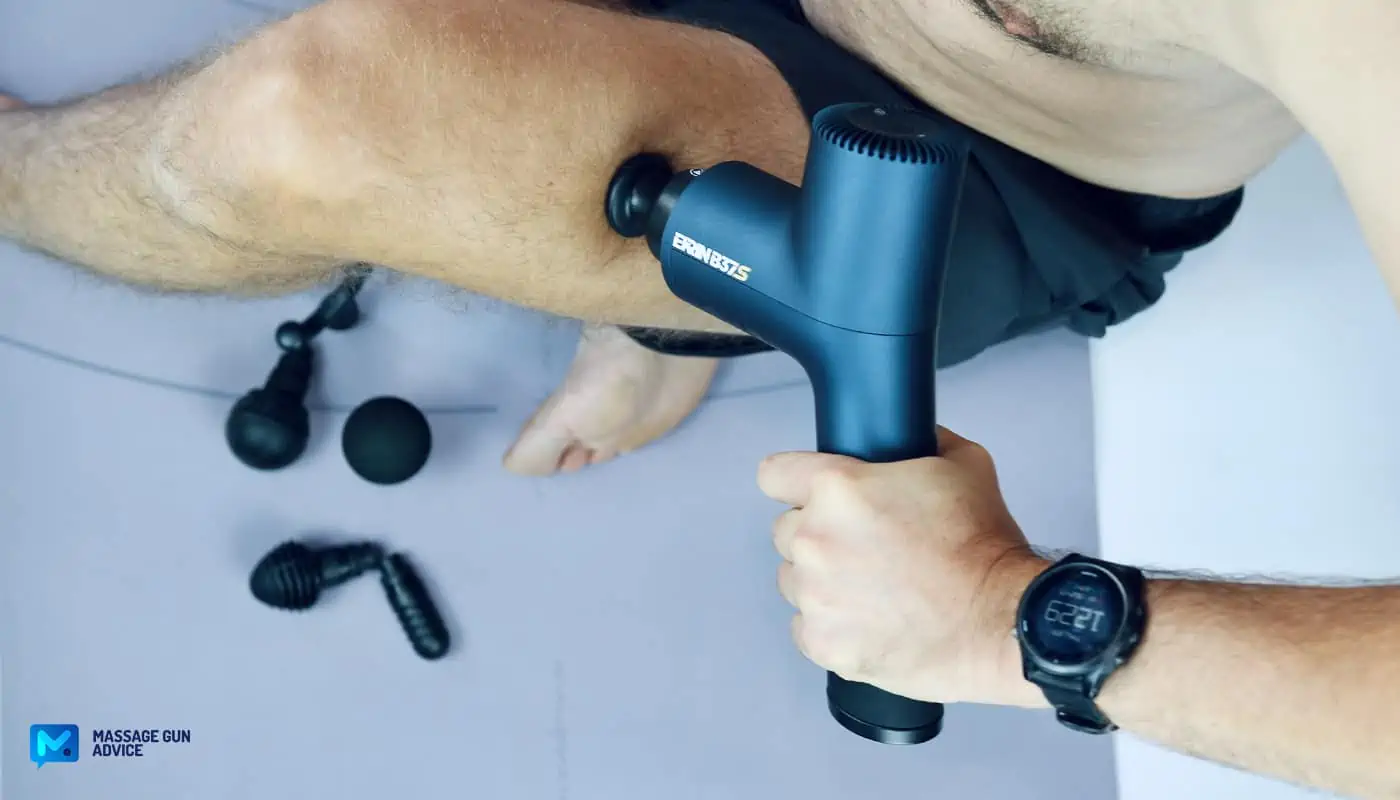 What's even worth noting, is that even at first speed, when most devices easily stall, it takes 36lbs. of force to stall it there. That is more than the Theragun Prime on top gear. You can get a deep to the bone massage with it and also still have a subtle one when you want to.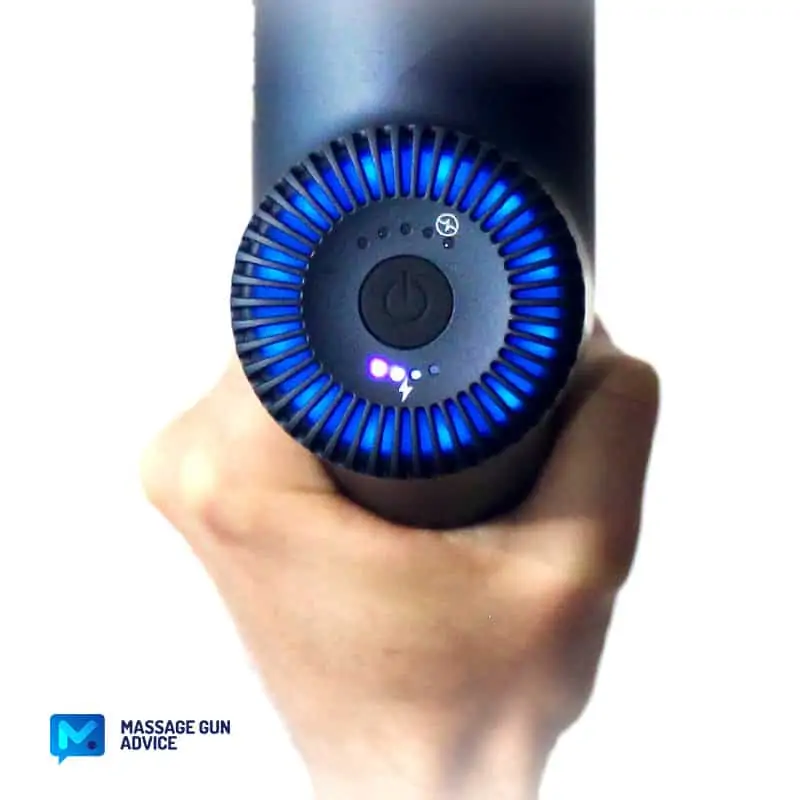 It has a percussion range of 2000-3200rpm. It has 5 speeds to cycle through with the 5th speed being a dynamic one – can cycle between the highest and the lowest speeds.
It's a very quiet device, revving at only 67-68dB at maximum speed. It has a pressure sensor built-in that is neatly integrated and precise.
There are 6 well varied attachments with it – push and twist lock mechanism, simple and effective mechanism not employed elsewhere.
As we said in our full Ekrin B37s review, it has a quality Samsung battery that will stay with you for a while. The battery can last for up to 8 hours on a single charge. Ekrin is known for their fantastic customer care and they offer a lifetime warranty for this device.
HOLIDAY SALE
Get a whooping $100 OFF the top-shelf Ekrin B37S massage gun. Only $231.00, down from $329.99. Grab the deal now!
It normally costs $329.99, but with our MGA20 (20% OFF) you can get it for $263.99 directly from ekrinathletics.com.
---
Achedaway Pro – Top 2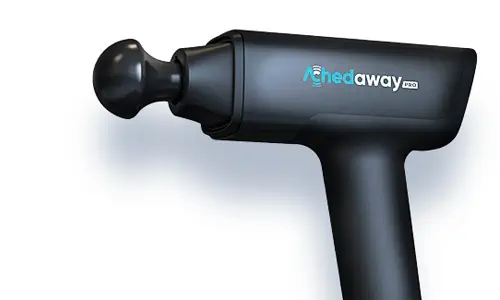 Our testing impressions:
Impressive stall force
Great size and ergonomics
Excellent quality overall
Accessories
This is another proven top notch device that we have fallen in love with for a while now. It offers a different proposition, in some aspects, to our beloved Ekrin B37S, but what it doesn't do is compromise on power.
For starters, it has a 16mm amplitude. This is the perfect alternative to Theragun Pro that will cost you less than $300. With 16mm, you will not need anything more.
It combines this with insane advertised power. Achedaway says it has 80lbs. stall force. We did our own tests and determined that it's definitely more than 60lbs. stall force.
That is enough power to take care of your recovery needs. It has a percussion range of 1700-2800rpm. It's more intense than Theragun Pro despite the long amplitude.
Despite all this impressive performance, the Achedaway Pro is one of the quietest massage guns we have come across. It has a well juiced battery – 3200mAh. The battery is removable as well.
You can get this device with a spare battery from their store. The battery lasts for respectable 3-4 hours on a single charge. The large capacity battery perhaps justifies the 2.6lbs in weight (still less than the 2.8lbs in Theragun Pro, just FYI).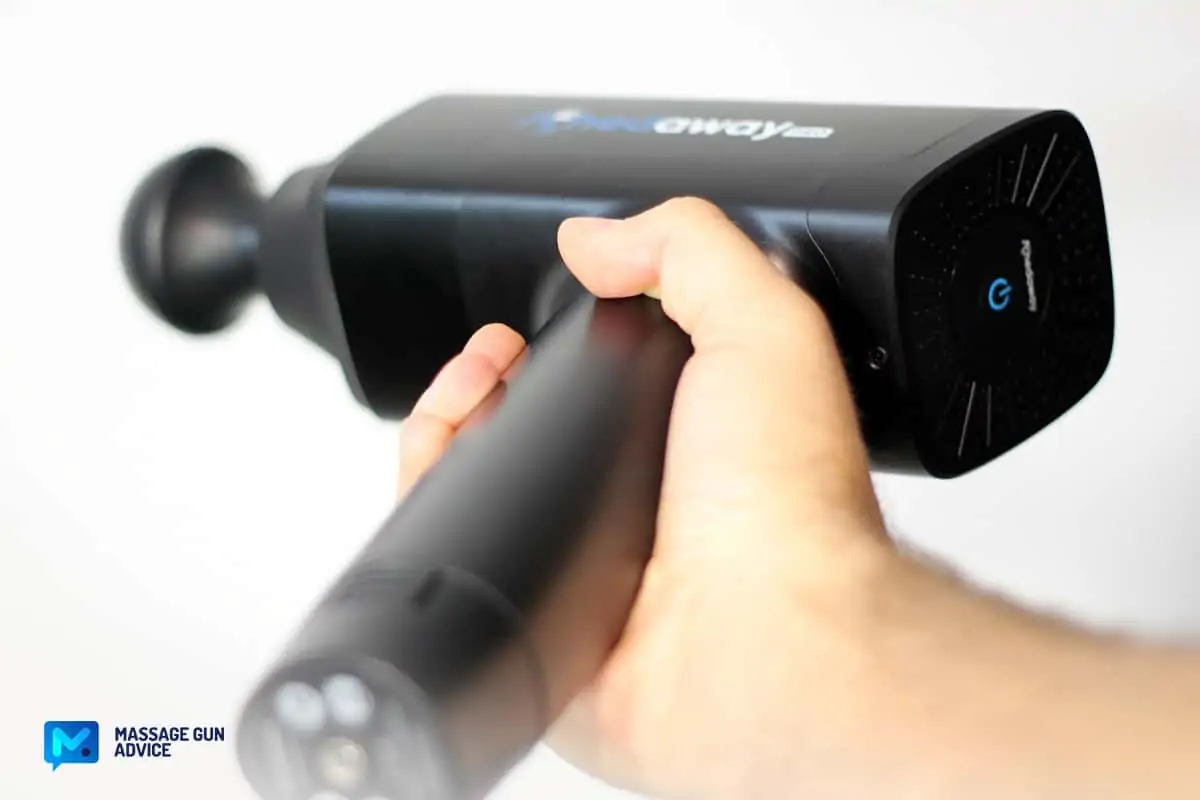 What else? Well, it features a sturdy body made of aluminum and high quality plastic. It has 4 nice quality attachments including skin-friendly metallic ones. The ergonomics are somewhat similar to those in the B37 – slanted handle.
It comes with a carrying case and a 2-year warranty on the device. If you need more information, refer to our full Achedaway Pro Review.
Achedaway Pro goes for $299, but when you apply the MGA60 discount code in their store, you get $60 off. That makes it $239 only. Buy it at achedaway.com.
---
Urikar AT1 – Top 3

We may be super massage gun freaks (we like serious massage gun talk), but we have a fancy side to us as well. That's why we chose this fancy-looking massage gun to include in our list.
It's real fancy, with lots of embellishments. It looks like a laser gun from a Sci-Fi movie – glad it's not a jackhammer tool, we are so used to those already (looking at you, Hypervolt).
However, it's not just the fanciness that the Urikar AT1 brings to the table. This is one nice product that packs all the right things you need from a percussive device.
For instance, it has a 16mm amplitude. It's almost the same thing as Achedaway Pro but there's sleekness added to it.
However, the advertised 66 lbs. is unfortunately vastly overstated when it comes to stall force. We feel that it might be less than half of that figure. It is not bad, but definitely not what the manufacturer claims.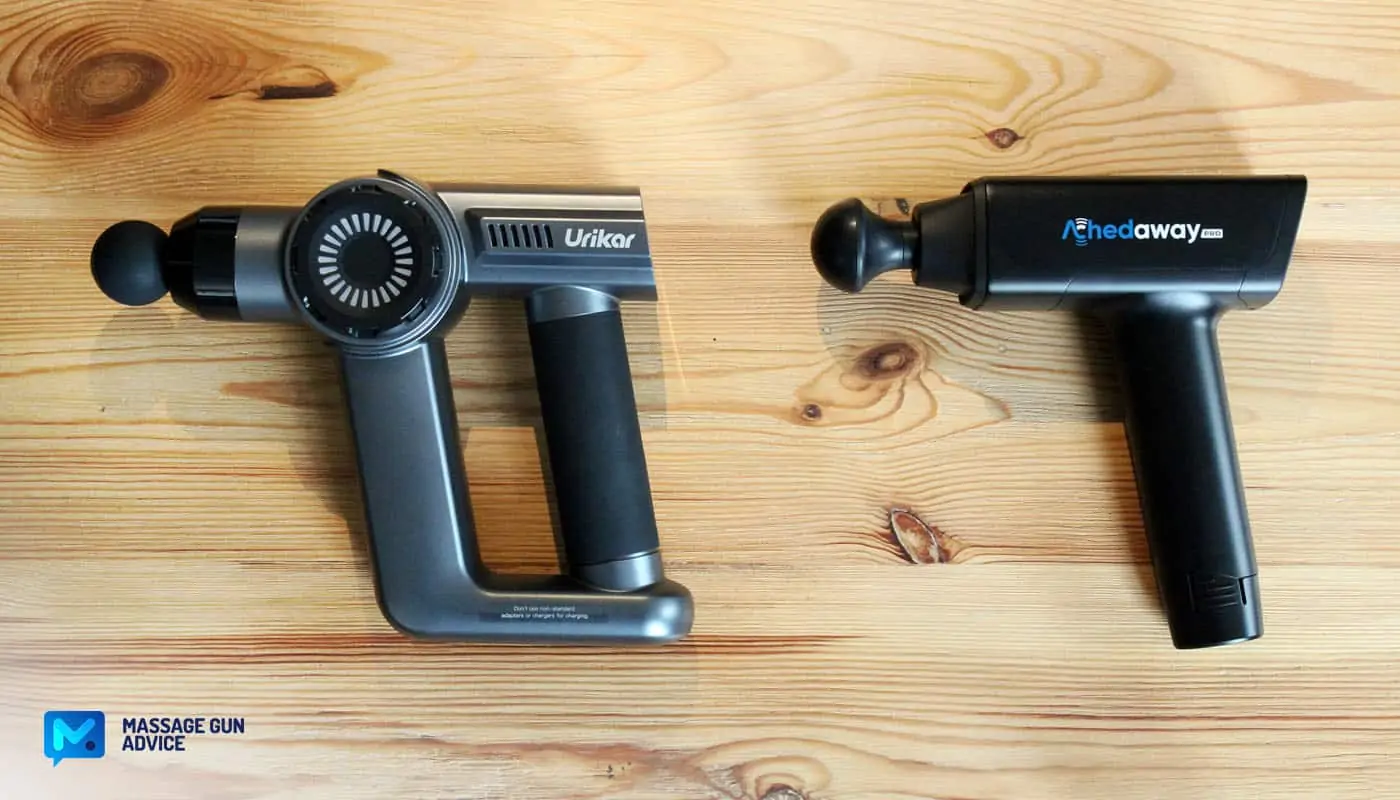 It has 8 speeds. A bit too much but not absurd. It has self-adaptive massage speeds, flashing breathing lights, and an LCD display for massage speeds, duration time, battery level, and the type of attachment in use.
It weighs the same 2.6lbs as the Achedaway Pro, but lighter than the Theragun Pro. The battery is well juiced – up to 2600mAh capacity, and lasts for 5-7 hours. It has a 2-year warranty.
Overall, it is a very decent gun but be aware that it is the bulkiest of them all.
It usually costs $269.99 but you can get it for $215 here at urikar.com. Just use our discount coupon URIKAR200 that takes 20% off the normal price.
---
Theragun Prime – Top 4
CYBER MONDAY
Theragun Sale is here! Enjoy up to $250 off select Theraguns, along with more deals on recovery tech. Now FSA/HSA eligible! Browse the deals here.
Theraguns come at a premium price and $300 can only get you the Theragun Prime massage gun.
Theragun needs no introduction as you already know a lot about them by now. The Prime is a decent device no doubt. Also, since Theragun are the kings of the percussive therapy recovery method, we thought they deserve an honorary mention.
However, in terms of performance, our other picks have better specs.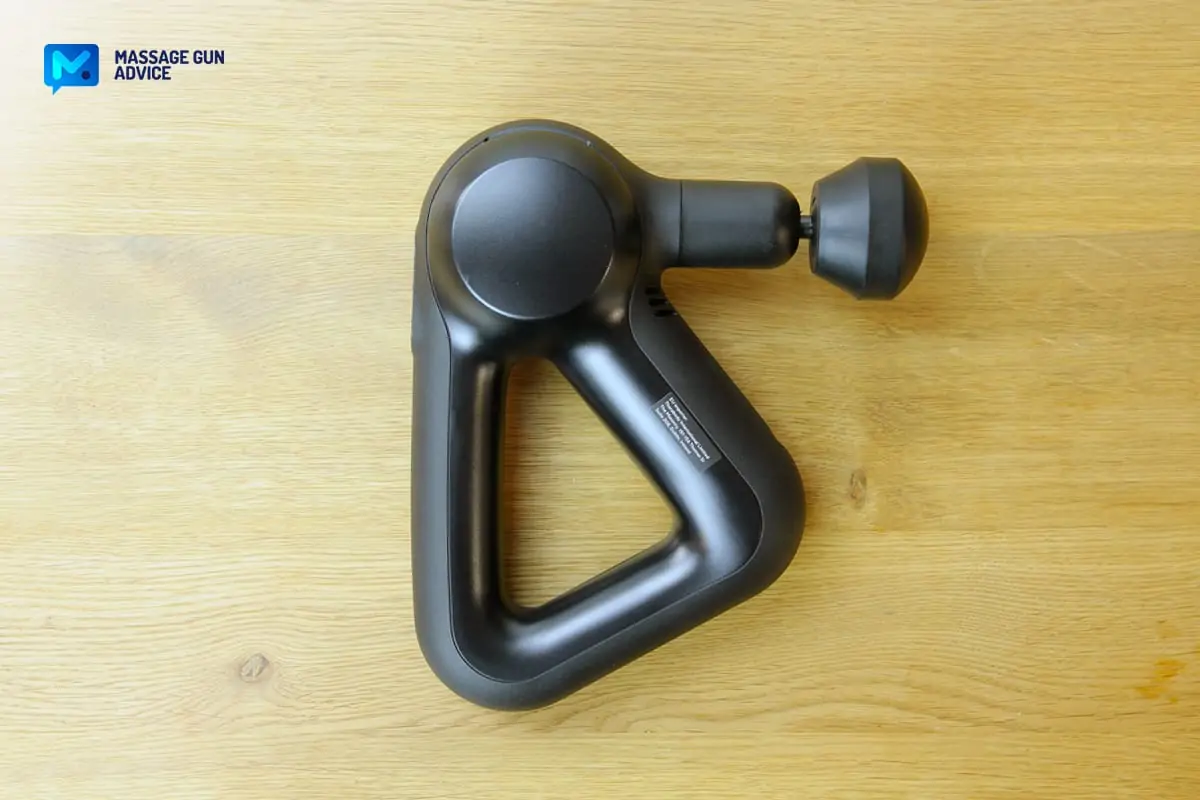 For starters, it has only 30lbs. of stall force, which is very weak for a $300 massage gun. Certainly if you want the Prime for a simple warm-up massage or if you need to treat soreness, then you can go for it.
However, 30lbs. of stall force might won't go deep enough to break up knots and reduce the tension, especially on large muscles. It has the top 16mm amplitude but there isn't enough power to fully utilize it.
Ergonomically however, Theragun Prime is the number one gun in our list. The multiple grip handle isn't matched anywhere yet.
It's the smallest of the 4th generation devices from Theragun and weighs only 2.2lbs – same as our number one, Ekrin B37S.
It's not as quiet as the Achedaway Pro or the Ekrin B37S. It has an aggressive sound.
It doesn't have many bells and whistles; no OLED displays, pressure sensors or the ability to save custom speeds as larger Theragun Elite and Pro have.
It does however, have Bluetooth connectivity which means it can connect and work with the Therabody app. It comes with 4 attachments, not as well varied as those with Ekrin B37S but decent. It doesn't come with a carrying case and has just a 1-year warranty.
Last time we checked, the Prime was $299 but you can check if you qualify for the discount.
---
Hypervolt 2 Pro – Top 5
Here is another premium massage gun, pricey but worth the money if you can afford it. It has the classic T-shape design – which doesn't always make us happy, but at least Hyperice improved the handle, making it pill-shaped and slightly longer.
The brand is honest enough with the advertised stroke length, which we confirmed as 14mm in our in-depth Hypervolt 2 Pro review. This means we are talking high-amplitude gun here.
On to what this device can offer you; it has up to about 35lbs. stall force – not much to be honest, but good enough to dive reasonably deep into muscles when paired with the 14mm stroke length.
The battery isn't the largest one but it is detachable so you can get a spare one and never run out of juice.
It's a 3200 capacity battery, which we believe is top quality because it lasts a while. You can get about 180 minutes if you don't apply a lot of pressure and use it on lower speeds.
It has a 1-year warranty and a 30-day money back guarantee.
Hypervolt 2 Pro is an expensive device. The MSRP is $329 at hyperice.com here
TIP Now all Hyperice products are FSA and HSA eligible. You can use your FSA/HSA card at checkout.
---
Summary
In today's market, finding a top-quality massage gun under $300 is entirely achievable with careful consideration of essential factors.
While renowned brands like Theragun and Hypervolt offer exceptional products, their prices can be a barrier for many. However, there are hidden gems that deliver outstanding performance at a fraction of the cost. We've diligently researched and reviewed such alternatives to provide you with informed recommendations.
To clarify, options like the Ekrin B37s and Achedaway Pro stand as excellent alternatives to the pricier Theragun and Hypervolt models. These devices deliver exceptional value, combining efficiency and affordability, far outshining entry-level offerings from the well-known brands. We highly recommend them for your consideration.
Should you have further questions or need personalized advice, feel free to reach out. We're committed to assisting you in selecting a massage gun that aligns with your needs and budget.
Happy shopping!
Was this article helpful?
Thanks for your feedback!
Post Update History
Here's a quick rundown of all the tweaks and edits we've made to this article to keep it accurate and up-to-date!
Current version last updated on:
October 16, 2023 Hypervolt section revisited for price and product update. Some minor internal and external link changes. (Author: Greg)
September 18, 2023 Minor content and linking changes for better user experience. (Author: Greg)
•
Written by:
Greg Szostak
Disclaimers
The views and opinions expressed on this website are those of the authors. Any content provided by our bloggers or authors are of their opinion and are not intended to malign any religion, ethnic group, club, organization, company, individual or anyone or anything.
All product names, logos, and brands are property of their respective owners. All company, product and service names used in this website are for identification purposes only. Use of these names, logos, and brands does not imply endorsement.
It is our policy to make every effort to respect the copyrights of outside parties. If you believe that your copyright has been misused, please provide us with a message stating your position and we will endeavor to correct any misuse immediately.
Some of the links in this post are affiliate links. As an Amazon Associate, we earn from qualifying purchases. This means if you click on the link and purchase the item, we may receive an affiliate commission, at no extra cost to you. This helps us keep this website alive. Learn more here.
Amazon Disclosure
massagegunadvice.com is a participant in the Amazon Services LLC Associates Program, an affiliate advertising program designed to provide a means for sites to earn advertising fees by advertising and linking to Amazon.com. As an Amazon Associate, we earn from qualifying purchases. Amazon and the Amazon logo are trademarks of Amazon.com, Inc. or its affiliates. Please refer to our Privacy & Affiliate Policy for details.