Best Heated Massage Gun Picks: Turning On The Heat In Percussive Therapy
What To Know: our content is non-sponsored and fact-checked for accuracy. We anonymously order and rigorously test each product according to our methodology. We are reader-supported, and if you buy via our links, we may earn a commission. Learn more.
---
Today let's find out what is the best heated massage gun. Now, we all know how popular massage guns have become especially in the last few years – they're the gadgets of the moment.
To be fair though, this hype is not just hot air, these devices have been proven to work. With many people, especially fitness enthusiasts, looking for a convenient way for muscle recovery, these devices have been a welcome blessing.
That said, just like many other popular devices (especially electronic devices), massage guns have developed trends.
We're talking about what versions of them have the market talking. The two popular trends in this space today are mini massage guns (which we looked at recently) and heated percussion massagers. 
Today we'll look at the heated ones, all of which we have extensively tested. We'll look at the top heated massage gun and some runner-ups, We'll also tell you how a heated percussion massager is different from a regular one.
Then, we'll let you know what to look for when you go out to buy one. So, stick around and get warm as we take you through this guide.
TL;DR
If you can't hang around for long – you just want to know what the best heated percussion massage gun is. We won't keep you for long, but recommend the Urikar Pro 2 percussion massager.
We like it not just because it provides the heated massage option, but it packs superb features like above-average 12mm amplitude and dynamic massage modes. We also found some other awesome features which we have covered below.

---
---
Why A Heated Percussion Massage?
Before you even factor in a percussion massager, heat massage is a very effective therapy that will not only soothe your muscles and greatly reduce pain in there, but will also immensely improve blood circulation to the affected area. A heated massage therapy also hugely increases muscle flexibility.
Now, factor in a percussion massager and you've got something even more beneficial. It's a kin to having a hot stone massage, which gives you a host of befits like:
Reduced stress and anxiety
Improved sleep if you're insomniac
Alleviate symptoms associated with autoimmune illnesses.
Boost immunity
Since you're using a massage gun that punches the skin during the massage, the heat penetrates deeper into the muscle giving you a much more satisfying experience.
That means heated massage guns are an improvement of the regular ones. But perhaps not always…
---
How are Heated Massage Guns Different?
If you are an amateur in the massage gun world, you'd be forgiven for thinking that a heated percussion massager was a completely different device from a "normal" one.
To be honest, there isn't that much difference between the two (at least not as far as everything else is concerned).
Based on our own experience with those devices, a heated percussion massager is only different because it has the heat function and 1 attachment that works with this mode. Otherwise, everything else is as regular as it should be. 
Think of the heat function as a bonus you don't get with any other massage gun.
Usually, the one attachment that is used for the heated massage therapy is the flat (usually ceramic) head. All the other attachments are standard and will not give you a heated massage.
But, is there a catch here?
---
The Trade-Offs…
Even though everything else is similar and perhaps standard, there are certain compromises made with the heated massage gun.
Unfortunately a lot of those compromises are in performance. We found many heated massage guns dwarfed where it matters the most. But don't worry it's not too much, but it's noticeable. But where?
---
Stall Force
The amount of pressure enough to stall the motor of a massage gun (when pressed to the body) is known as the stall force. Generally, the higher the number here, the better.
However, with most heated percussion massagers, the stall force rarely goes beyond 30lbs. Apart from one heated massage gun, the Urikar Pro 2 and also the Bob and Brad X6 Pro (which surprised us to be honest) no other gun that we've seen in this niche can handle anything over 30lbs.
---
Amplitude
This is how deep the massage gun punches.Here, the higher the number the more punchy the massage gun feels on the skin. However, with most heated massage guns, the amplitude rarely goes beyond the 10-12mm mark. So once again, our top pick defies this fact with a confirmed 12.5mm amplitude (we used a digital caliper to measure it precisely).
Stall Force Comparison
Conclusion: Aura Revive and Urikar Pro 2 feel comparable, with the former being a tad more powerful. The latest X6 Pro from Bob and Brad feels even stronger, but the heating on this device is passive (as you'll find below).
Amplitude Comparison
Conclusion: Stoke Length of 12mm is almost unseen in heated massage guns. Urikar Pro 2 is the only one that we're aware of. Most have up to 9-11mm. Urikar feels punchier, while other guns on our list feel more vibrational.
---
But why the Trade-Offs?
We figure there are a number of reasons;
The goal. The main function of a heated massage gun is to provide a soothing effect to sore muscles and give a relaxing massage. They're rarely meant for a deep-to-the bone massage.
Practicality. Obviously the heated function means hardware added to an otherwise already bulky device. A bigger motor (for a higher stall force) and space to accommodate a higher amplitude would mean an even bigger gun. Which wouldn't be necessary in this case.
But we know a brand who has at least tried to accommodate as much into their product and still managed a decent gun. Our top recommendation Urikar Pro 2 appears to have solved a conundrum..
However, the percussion range – the vibration intensity or the number of hits per minute – is pretty standard. We're glad they didn't interfere with this aspect of the massage gun because we feel you still need intensity even in a heated gun.
---
What Else Should You Look For?
We purchased more than 50+ massage guns to date. Here's what else we believe should occupy your mind when you're choosing your next heated percussion massager;
Brand Trustworthiness: It's important that a massage gun brand offers you a good buying experience and top quality customer support.
Accessories included: Look out for such things as whether the gun comes in a carrying case and the number of attachments included.
Battery: We prefer a good capacity battery that will ensure a smooth experience.
Warranty: We love lifetime guarantees as it shows the company is willing to stand behind their product. Some have 1-year and 2-year warranties.
Value for money: Cheap is not always expensive in our book. Some devices offer more for a good price.
---
The Best Heated Massage Gun & Runner Ups
Here are the products that captured our attention. We discuss them briefly.
---
Urikar Pro 2 – The Best Heated Massage Gun

Urikar is a relatively new brand in the massage gun industry. They aren't a big kahuna but they have some pretty unique devices. You can tell they did their homework because they try to tackle things that the market hasn't quite figured out yet. They went all out to try and improve on ergonomics and power.
Their Pro 2 model is a heated massage gun that stands tall among its peers. We couldn't find another heated percussion massager with 55lbs. of advertised stall force. However, we advise you take this with a pinch of salt because, when we tested it we felt that it is not as much as Urikar folks claim.
We will take a hint from the 65W motor and say it's between the high 30s and low 40s, just to make a wise guess. Which by the way is still unmatched among heated massage guns.
The Urikar Pro 2 claims a whopping 15mm amplitude. However, our tests show it more around the 12mm mark – see the photo above. Regardless, this is still a remarkable stroke length, especially for a heated massage gun, many of which don't even reach a 10mm stroke length.
What's the most important perhaps is that it has a special ceramic head that warms up to 104-113 degrees Farenheight.
A bit on the process: you'll first need to insert the attachment, then press the mode button that will take you to the preheating mode (look out for an orange flashing light). Wait for about a minute for the orange light to stop flashing. Once it stops flashing but remains on, it then means it's heated and ready to be used.
The percussion range is also top tier with advertised 1200-3600rpm. However, in the reality, a device with 15mm stroke length won't rev past 3000 rpms. So again, we recommend that you take these figures with a pinch of salt. Nevertheless, even 2700 rpms is more than enough with this thing.
We also tested the two other modes apart from the heated mode. One is the regular one – which they call intermittent, while the other is the progressive (ladder mode) where percussions are timed to increase automatically.
With six speeds, it covers all the bases you need. Plus, it's touted as being remarkably quiet, operating between 39-45dB.
Other things that we loved include its impressive ergonomics with a rotating arm (180-degree rotation). This is a rather unique twist that looks simple but works like a charm (as can be seen on the photos just below).
We found the battery life satisfactory. With a 2600mAh capacity, it offers between 2-5 hours of use on a single charge. We think the claimed 10-day battery life might be achievable if you use the device at a low intensity and without the heated function.
Finally, the Pro 2 is delivered in a professional-looking sturdy carrying case and comes with eight different heads, offering ample variety for your massage needs.
Urikar Pro 2 retails for $169.99 but you can use the URIKAR02 code to get a massive 63% discount. It will then cost only $62.90. Buy it right here. It's the best bang for the buck in our list.
Learn More Our hands-on Urikar Pro 2 review.
---
Aura Revive – FSA/HSA approved

In our exploration of heated massage guns, we've had the opportunity to test the Aura Revive. This massage gun holds the distinction of being the only one on our list that's FSA/HSA eligible, allowing you to reap some tax benefits by purchasing it as a medical device.
This tax advantage is probably the most significant edge the Aura Revive has over our top pick, the Urikar Pro 2. Beyond that, the features of both devices are quite comparable, with a few differences that may tilt the balance either way, depending on how you choose to look at it. 
For starters, we measured the Aura Revive's stroke length (amplitude) to be 9.5mm. This is a low amplitude that will offer vibrational feel rather than deep, percussive punch. Urikar Pro steps it up with a 12mm amplitude, delivering more intense impacts.
On the flip side, the Aura Revive edges out the Urikar Pro 2 when it comes to stall force. The figures aren't really that far apart (Urikar has about 20-25lbs. while Aura Revive measures between 25-30lbs.), but we noticed that the Aura Revive feels stronger, particularly at higher gears. 
In terms of design, the Aura Revive opts for a more traditional look, similar to many other massage guns on the market. It sports a shorter handle, which enhances maneuverability but, in practice, can make reaching your lower back a bit of a challenge. It's a touch more compact than the Urikar Pro 2, though it weighs a little more.
The Aura Revive comes well-equipped with eight attachments and a carrying case. The quality of the attachments is on par with the Urikar Pro 2's, with some differences in design – for instance, Aura Revive includes a five-claw head, while Urikar Pro 2 offers a three-headed ball attachment.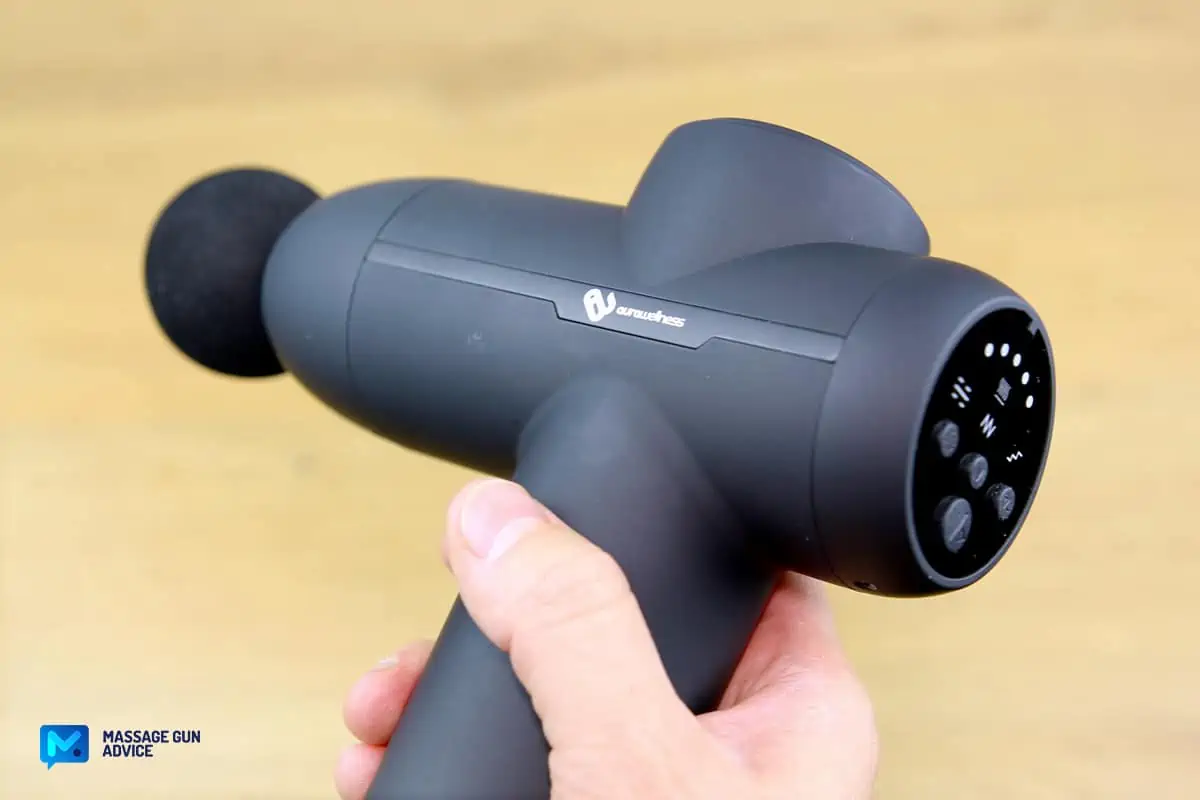 Despite its lower amplitude, the Aura Revive is a tad louder than the Urikar Pro 2. The 2600mAh battery promises 2-3 hours of continuous use, which we found to be quite accurate in our testing.
It comes with a 1-year warranty and costs $199 at FSAstore. This is where the pendulum greatly shifts to our top pick above, which is cheaper. If you use coupons, the Urikar Pro 2 is even more affordable.
So, unless you are getting the Aura Revive via FSA/HSA means, it might be too expensive for what it offers, but nevertheless it is a pretty good massage gun.
Learn More Our hands-on Aura Revive massage gun review.
---
Bob & Brad X6 Pro – With Passive Heating

Bob and Brad is a relatively new brand in the massage gun industry. They aren't a big kahuna but they have some pretty unique devices. You can tell they duo of well-known therapists did their homework because they try to tackle things that the market hasn't quite tried out yet.
With the new X6 Pro massage gun, they went all out to try and improve on ergonomics and added a pretty unique attachment that can work great for a heated massage (and for an ice-cold one, too). We are talking about the flat metal attachment, as pictured below.
The way this attachment works is simple, yet brilliant:
Since it is a screw-in attachment (unlike the other ones), it doesn't have any rubber gaskets. It means that this all-metal head can be put into the hot water for a heated massage. Since it's all metal, you can heat it (or freeze it) easily – don't put it in a microwave though.
You could call it the "passive heating", as opposed to the active heating you get with the Lifepro Fusion guns, or the Medcursor. The only con? The heat won't last for too long – the attachment will return to room temperature not long after it makes contact with the body.
That being said, as far as the performance is concerned, Bob and Brad's X6 Pro model is a heated massage gun that stands tall among its peers. We couldn't find another heated percussion massager with 44lbs. of advertised stall force. We've tested this device ourselves, we can confirm it is a pretty powerful one – the stall force is unmatched among heated massage guns.
It has a 10.5mm amplitude, which on paper is tiny bit higher than the Lifepro Fusion X, but the truth is that a half a millimeter difference isn't really a difference.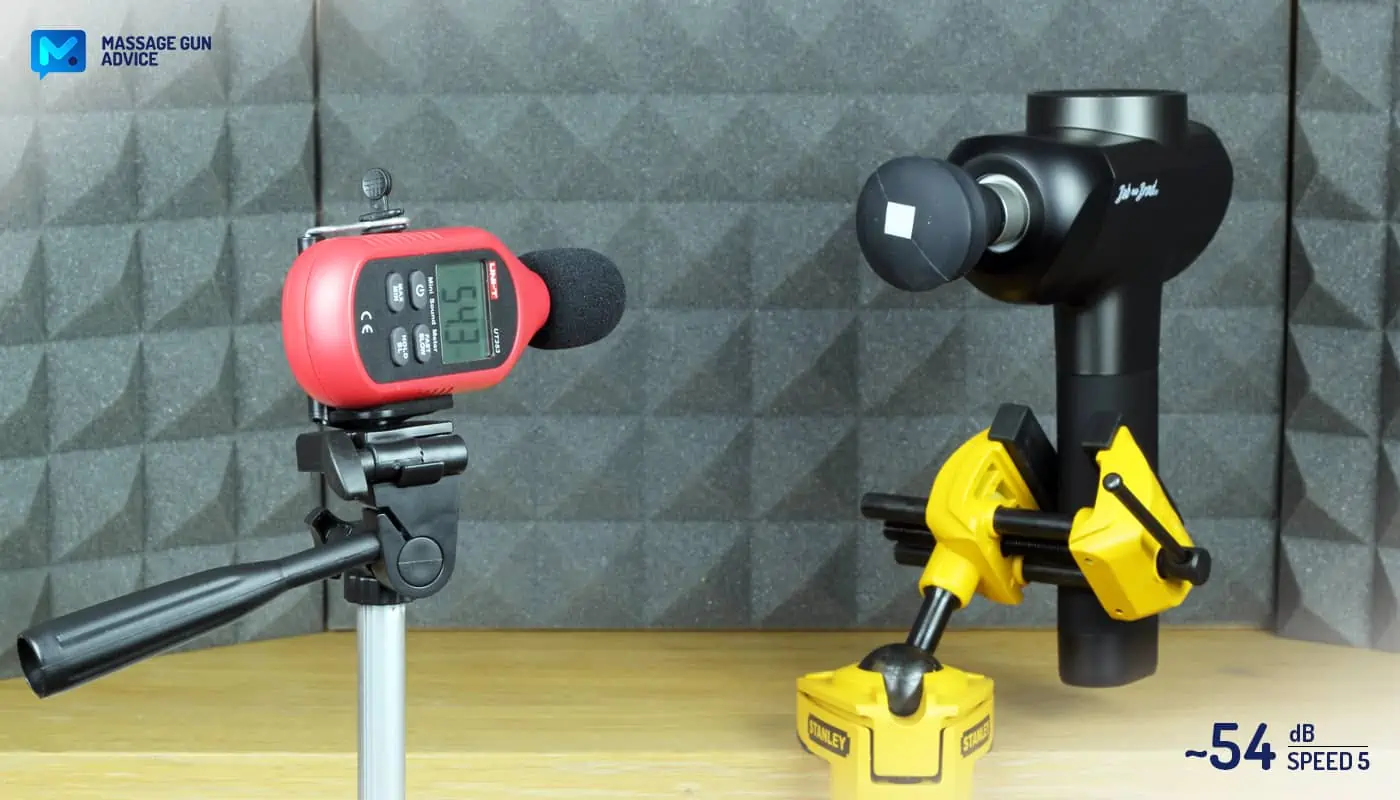 The percussion range is also top tier with 2000-3200rpm, which means you're getting an intense massage with this thing. It comes with 5 speeds, which is just perfect for the percussion range – you don't need more.
It is a quiet device, and you can have a normal conversation while using it. Expect about 45dB in lower speeds and 55dB in higher gears.
Other things that we loved include its improved ergonomics (versus the earlier Bob and Brad C2) with a pill-shaped handle for more confident grip. This is the same twist that Hyperice recently introduced in their new Hypervolt 2 and 2 Pro – looks simple but works like a charm.
The battery is okay. 2500mAh capacity is not bad when you can get 2-5 hours of use with a single charge. We feel the 10-day battery life is probably possible if you use the device at a low intensity and perhaps without using too much pressure.
It comes in a nice sturdy carrying case that looks professional. Aside from the metal attachment for a heated massage, you get 4 regular heads with this device, so obviously plenty of options here.
Get the device at Amazon right here, or learn more in our Bob and Brad X6 Pro review.
---
Lifepro Fusion X – Third Runner-up
UPDATED 2023: It seems that Lifepro Fusion devices have been discontinued. We suggest to look at Urikar Pro 2 above.
Our hands-on experience with the Lifepro range of heated massage guns has given us some deep insights into their functionality and performance. Lifepro, a customer-centric brand, has an extensive catalogue of percussion massagers and is even credited with pioneering heated massage guns.
From their heated lineup, we focused on the Fusion X model, which stands out for its affordability compared to the slightly more advanced Fusion FX. The FX model offers three pre-programmed modes (heated, variation mode, and increasing mode) and a distinct shape. However, we found that these additional features didn't justify the higher price tag.
The Fusion X, on the other hand, offers impressive versatility. It can function as a regular massage gun, but its standout feature is undoubtedly the heating mode. It heats up to an impressive 113-131°F, although it takes about 10 minutes to reach this temperature. Once heated, the device retains its warmth for a considerable duration, even if you switch back to regular mode. We saw this as a reasonable trade-off.
In terms of performance, the Fusion X exhibits decent specs. Its stall force is around 20lbs, which, while not robust enough for a deep massage, is sufficient for a soothing heated experience. We measured the amplitude at 9mm, which is satisfactory, although 12mm would have been ideal.
The device's percussion range sits comfortably between 1600-2900rpm, more than enough for an entry-level gun. It also comes with five speed gears. Lifepro advertises a noise level of 60-70dB, but our tests found it quieter, around 52 to slightly over 60dB.
It comes in a nice travelling case and you'll also find in there five attachments. Its 2600mAh battery is on par with other devices in our review, providing between 3-5 hours of use on a single charge. The battery is also removable, adding to its convenience.
As a trusted brand in the market, Lifepro stands behind their products with a risk-free lifetime warranty, a commitment shared by only a few other brands. This makes the Fusion X not just an affordable, but also a reliable choice for a heated massage gun
The Fusion X massage gun normally costs $179.99 but you can use the coupon MGA10 and buy it for $161.99. This is 10% less. Get the device right here at lifeprofitness.com.
The good part is that this coupon applies to any of their devices that you choose to buy.
Read More For more information on this device, read our full Lifepro Fusion X review.
---
What about Blackleaf Relax Pro and Pro S?
So we were going through the best alternatives to our picks and we decided to tell you about 2 more products just as an afterthought.
We got these two products on Amazon (Relax Pro and Pro S)– apparently that's the only place you can get them. We noticed they're dead ringers for Lifepro's Fusion models (X/FX).
Well, to be honest, we are not big fans of Blackleaf because they don't offer anything innovative between these two devices.
If they didn't vary the colors it would be impossible to tell one from the other.
Everything else is pretty much the same. They have similar stall force (advertised as 45lbs. but feels like 20lbs. maximum).
9mm amplitude but standard percussion range of 1600 to about 2900 rpm. The battery capacity is similar to most in our list (2600mAh).
The heating is okay (though 113-118oF is lower than Fusion X's 113-131oF).
Our advice here is that you choose to support Lifepro – an American company that cares about their customers with top notch customer support and are willing to stand behind their products with lifetime warranties.

However, if you're squeezed on your budget, you might opt for these 2, or better yet get the Urikar Pro 2 (remember to use the PRO2 code for 40% OFF).
---
Best Heated Massage Gun – Conclusion
With that, we hope you can now choose the best heated massage gun without a hassle.
We must say Urikar Pro 2 surprised us in every way and we'll be publishing its full review shortly.
Then, Aura Revive is more expensive option that comes with FSA/HSA benefits, while Bob and Brad X6 Pro is an interesting alternative if you don't mind the less impressive features (no active heating)
Thank you for coming this far. See you again soon!
Was this article helpful?
Your feedback makes our content better!
Thanks for your feedback!
Post Update History
Here's a quick rundown of all the tweaks and edits we've made to this article to keep it accurate and up-to-date!
Current version last updated on:
May 16, 2023Added more information and new photos of Urikar Pro 2.(By: Luke)
January 10, 2023Added new photos demonstrating amplitude, temperature measurements we've done.(By: Greg)
December 25, 2023Replaced Medcursor MG03 with Aura Revive, following our Aura Revive review.(By: Luke)
July 6, 2022Added a note that Lifepro discontinued Fusion X and FX massage guns(By: Greg)
April 16, 2022Included our opinion on Blackleaf massage guns.(By: Greg)
September 24, 2021 Fact-checked and reviewed for accuracy. (By: Elizabeth Falk, PTA, OPTA, NASM-PES)
•
Written by:

Luke Deszczulka
Disclaimers
The views and opinions expressed on this website are those of the authors. Any content provided by our bloggers or authors are of their opinion and are not intended to malign any religion, ethnic group, club, organization, company, individual or anyone or anything.
All product names, logos, and brands are property of their respective owners. All company, product and service names used in this website are for identification purposes only. Use of these names, logos, and brands does not imply endorsement.
It is our policy to make every effort to respect the copyrights of outside parties. If you believe that your copyright has been misused, please provide us with a message stating your position and we will endeavor to correct any misuse immediately.
Some of the links in this post are affiliate links. As an Amazon Associate, we earn from qualifying purchases. This means if you click on the link and purchase the item, we may receive an affiliate commission, at no extra cost to you. This helps us keep this website alive. Learn more here.
Amazon Disclosure
massagegunadvice.com is a participant in the Amazon Services LLC Associates Program, an affiliate advertising program designed to provide a means for sites to earn advertising fees by advertising and linking to Amazon.com. As an Amazon Associate, we earn from qualifying purchases. Amazon and the Amazon logo are trademarks of Amazon.com, Inc. or its affiliates. Please refer to our Privacy & Affiliate Policy for details.