Best Heated Massage Gun Picks: Turning On The Heat In Percussive Therapy
Disclaimer: Our reviews are unbiased, objective and non-sponsored. If you buy via links on our site, we may earn a commission. As an Amazon Associate, we earn from qualifying purchases.
---
Today let's find out what is the best heated massage gun. Now we all know how popular these devices have become especially in the last few years – they're the gadgets of the moment.
To be fair though, this hype is not just hot air, these devices have been proven to work. With many people, especially fitness enthusiasts, looking for a convenient way for muscle recovery, these devices have been a welcome blessing.
That said, just like many other popular devices (especially electronic devices), massage guns have developed trends. We're talking about what versions of them have the market talking. The two popular trends in this space today are mini massage guns (which we looked at recently) and heated percussion massagers.
Today we'll look at the heated ones. We'll look at the top heated massage gun and some runner-ups, We'll also tell you how a heated percussion massager is different from a regular one. Then we'll let you know what to look for when you go out to buy one. So, stick around and get warm as we take you through this guide.
---
TL;DR
If you can't hang around for long – you just want to know what the best heated percussion massage gun is – we won't keep you for long. We recommend the Lifepro Fusion X massager.
We like it not just because it provides the heated massage option, but it heats up to an impressive 113-131oF , more than our runner-ups. It has other awesome features which we have covered in a mini review below.
---
---
Why A Heated Percussion Massage?
Before you even factor in a percussion massager, heat massage is a very effective therapy that will not only soothe your muscles and greatly reduce pain in there, but will also immensely improve blood circulation to the affected area. A heated massage therapy also hugely increases muscle flexibility.
Now, factor in a percussion massager and you've got something even more beneficial. It's a kin to having a hot stone massage, which gives you a host of befits like:
Reduced stress and anxiety
Improved sleep if you're insomniac
Alleviate symptoms associated with autoimmune illnesses.
Boost immunity
Since you're using a massage gun that punches the skin during the massage, the heat penetrates deeper into the muscle giving you a much more satisfying experience.
That means heated massage guns are an improvement of the regular ones. But perhaps not always…
---
How are Heated Massage Guns Different?
If you are an amateur in the massage gun world, you'd be forgiven for thinking that a heated percussion massager was a completely different device from a "normal" one.
To be honest, there isn't that much difference between the two (at least not as far as everything else is concerned).
A heated percussion massager is only different because it has the heat function and 1 attachment that works with this mode. Otherwise, everything else is as regular as it should be.
Think of the heat function as a bonus you don't get with any other massage gun. The one attachment that is used for the heated massage therapy is the flat (usually ceramic) head. All the other attachments are standard and will not give you a heated massage.
But, is there a catch here?
---
The Trade-Offs…
Even though everything else is similar and perhaps standard, there are certain compromises made with the heated massage gun.
Unfortunately a lot of those compromises are in performance. Many heated massage guns are dwarfed where it matters the most. But don't worry it's not too much, but it's noticeable. But where?
Stall Force
The amount of pressure enough to stall the motor of a massage gun (when pressed to the body) is known as the stall force. Generally, the higher the number here, the better.
However, with most heated percussion massagers, the stall force rarely goes beyond 30lbs. Apart from one heated massage guns on our list, the Bob and Brad X6 Pro (which surprised us to be honest) no other gun that we've seen in this niche can handle anything over 30lbs.
Amplitude
This is how deep the massage gun punches. Again here, the higher the number the better. But with most heated massage guns the amplitude rarely goes beyond the 10-12mm mark. Which is okay, giving the main purpose of such devices.
Stall Force Comparison
Conclusion: When it comes to heated percussion massagers, an entry-level 30lbs. of stall force is what you typically get. One exception is the latest X6 Pro from Bob and Brad, but the heating on this device is passive (read our mini review down below for details).
Amplitude Comparison
Conclusion: Stoke Length of more than 10mm is almost unseen in heated massage guns. Bob and Brad X6 Pro has 10.5mm, but in our opinion, a half millimeter difference is more of a marketing trick than a real difference.
---
But why the Trade-Offs?
We figure there are a number of reasons;
The goal. The main function of a heated massage gun is to provide a soothing effect to sore muscles and give a relaxing massage. They're rarely meant for a deep-to-the bone massage.
Practicality. Obviously the heated function means hardware added to an otherwise already bulky device. A bigger motor (for a higher stall force) and space to accommodate a higher amplitude would mean an even bigger gun. Which wouldn't be necessary in this case.
But we know someone who has at least tried to accommodate as much into their product and still managed a decent gun. Our top pick Lifepro appears to have solved a conundrum.
However, the percussion range – the vibration intensity or the number of hits per minute – is pretty standard. We're glad they didn't interfere with this aspect of the massage gun because we feel you still need intensity even in a heated gun.
What Else Should You Look For?
Here's what else we believe should occupy your mind when you're choosing your next heated percussion massager;
Brand Trustworthiness: It's important that a massage gun brand offers you a good buying experience and top quality customer support.
Accessories included: Look out for such things as whether the gun comes in a carrying case and the number of attachments included.
Battery: We prefer a good capacity battery that will ensure a smooth experience.
Warranty: We love lifetime guarantees as it shows the company is willing to stand behind their product. Some have 1-year and 2-year warranties.
Value for money: Cheap is not always expensive in our book. Some devices offer more for a good price.
---
The Best Heated Massage Gun & Runner Ups
Here are the products that captured our attention. We discuss them briefly.
---
---
Lifepro Fusion X – Best Heated Massage Gun
Lifepro is probably one of those rare gem companies that puts the customer first. We haven't seen any other brand that has put out a vast catalogue of percussion massagers. In fact, since we're here, you may be interested to know that they actually pioneered heated massage guns.
The Fusion X is an excellent heated percussion massager that we've tested and used for a while. We probably have more confidence talking about it here than the others.
Lifepro have two models in this niche; the basic Fusion X, and the slightly more advanced Fusion FX. They're pretty similar devices except the FX has 3 pre-programmed modes (heated, variation mode, and increasing mode). There's also a slight difference in how the FX is designed (shape).
We chose the Fusion X because it's way cheaper and those seemingly fancy extra modes on the FX are not worth the extra bucks.
That said, the Fusion X is still an impressive gadget with a lot to offer. While it has a heated mode, it can also work as a regular massage gun.
The heating mode is really well executed. One thing to note, however, is that while it heats up to a super impressive 113-131oF, you'll have to wait for about 10 minutes for it to be ready. However, once heated, the heat stays on for a long time even if you switch to the regular mode. We think it is a good trade off.
Performance wise, It has what we will call okay performance with a 30lbs. stall force. This is good enough to give you a deep massage but you probably won't need all that to get a soothing massage. The 10mm amplitude is fine we guess, although 12mm would've been perfect.
The percussion range is impressive. 1600-3200rpm is more than enough for an intense massage. It has 5 speed gears to go with it. It revs quietly. They say 60-70dB but felt quieter (probably 50 to slightly over 60dB).
It comes in a nice travelling case and you'll also find in there 5 attachments. It has a 2600mAh capacity battery which is similar to other devices we featured down below. A single charge will last you between 3-5 hours. It's a removable battery, so pretty convenient.
Lifepro is a well-known brand that you can trust. As one two, maybe three brands out there, they offer a risk-free lifetime warranty on their products. 
The Fusion X massage gun normally costs $179.99 but you can use the coupon MGA10 and buy it for $161.99. This is 10% less. Get the device right here at lifeprofitness.com.
The good part is that this coupon applies to any of their devices that you choose to buy.
For more information on this device, read our full Lifepro Fusion X review.
---
Medcursor MG03 – Budget Option 
Medcursor has been in the business for a while now. They were actually one of the earliest entrants into the massage gun market.
Even though they've lasted quite a while in the market, they don't offer premium products. Even so, you'll probably save a few bucks if you choose to buy one of their products.
The MG03 model is their first heated massage gun. It has some assuring features but may be slightly unsatisfactory if you consider our other picks.
For instance, it heats up to 118.4oF. This is good but is way lower than the Fusion X which heats up to 131oF. However, 118 is still good enough for a relaxing massage.
There's something different about this device though, and it's probably worth mentioning. The heating element works a bit different compared to our top recommendation. It's actually in the massage head.
The flat ceramic head has a USB charging port which you use to charge it. This is an interesting but unique concept. Lifepro's Fusion X and its sibling FX are designed as heating guns with everything controlled from the main panel.
In terms of performance, the MG03 is pretty standard with most of its features. The stall force is 30lbs. which we think is just about good enough. The same as Lifepro Fusion X.
The amplitude is 12mm and actually better than Lifepro's Fusion X. Percussions are intense hitting up to 3200rpms. This is similar to both Lifepro models (Fusion X/FX).
The battery has similar capacity to our top 2 (2600mAh). They say you can use it for up to 12 hours on a single charge, but we'll go ahead and say that's probably if used at the lowest intensity.
Expect 2-5 hours depending on how you use it. It's also slightly heavier than the Fusion X at 2.2lbs. Fusion X weighs 2.1lbs. It has 6 attachment heads – one more than Lifepro's.
We couldn't tell exactly how long the warranty is. We saw something about it being a 1-year warranty but some customers complained about this. As of time of press, it's the cheapest of them all.
---
Bob & Brad X6 Pro – With Passive Heating

Bob and Brad is a relatively new brand in the massage gun industry. They aren't a big kahuna but they have some pretty unique devices. You can tell they duo of well-known therapists did their homework because they try to tackle things that the market hasn't quite tried out yet.
With the new X6 Pro massage gun, they went all out to try and improve on ergonomics and added a pretty unique attachment that can work great for a heated massage (and for an ice-cold one, too). We are talking about the flat metal attachment, as pictured below.
The way this attachment works is simple, yet brilliant:
Since it is a screw-in attachment (unlike the other ones), it doesn't have any rubber gaskets. It means that this all-metal head can be put into the hot water for a heated massage. Since it's all metal, you can heat it (or freeze it) easily – don't put it in a microwave though.
You could call it the "passive heating", as opposed to the active heating you get with the Lifepro Fusion guns, or the Medcursor. The only con? The heat won't last for too long – the attachment will return to room temperature not long after it makes contact with the body.
That being said, as far as the performance is concerned, Bob and Brad's X6 Pro model is a heated massage gun that stands tall among its peers. We couldn't find another heated percussion massager with 44lbs. of advertised stall force. We've tested this device ourselves, we can confirm it is a pretty powerful one – the stall force is unmatched among heated massage guns.
It has a 10.5mm amplitude, which on paper is tiny bit higher than the Lifepro Fusion X, but the truth is that a half a millimeter difference isn't really a difference.
The percussion range is also top tier with 2000-3200rpm, which means you're getting an intense massage with this thing. It comes with 5 speeds, which is just perfect for the percussion range – you don't need more.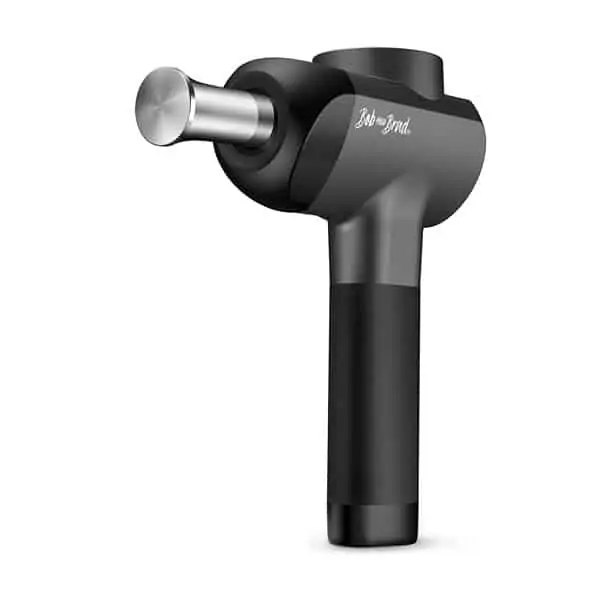 It is a quiet device, and you can have a normal conversation while using it. Expect about 45dB in lower speeds and 55dB in higher gears.
Other things that we loved include its improved ergonomics (versus the earlier Bob and Brad C2) with a pill-shaped handle for more confident grip. This is the same twist that Hyperice recently introduced in their new Hypervolt 2 and 2 Pro – looks simple but works like a charm.
The battery is okay. 2500mAh capacity is not bad when you can get 2-5 hours of use with a single charge. We feel the 10-day battery life is probably possible if you use the device at a low intensity and perhaps without using too much pressure.
It comes in a nice sturdy carrying case that looks professional. Aside from the metal attachment for a heated massage, you get 4 regular heads with this device, so obviously plenty of options here.
Get the device at Amazon right here, or learn more in our Bob and Brad X6 Pro review.
---
What about Blackleaf Relax Pro and Pro S?
So we were going through the best alternatives to our picks and we decided to tell you about 2 more products just as an afterthought.
We got these two products on Amazon (Relax Pro and Pro S)– apparently that's the only place you can get them. We noticed they're dead ringers for Lifepro's Fusion models (X/FX).
Well, to be honest, we are not big fans of Blackleaf because they don't offer anything innovative between these two devices.
If they didn't vary the colors it would be impossible to tell one from the other.
Everything else is pretty much the same. They have similar stall force (advertised as 45lbs. but feels like 30lbs.).
10mm amplitudes but standard percussion range of 1600-3200rpm. The battery capacity is similar to most in our list (2600mAh).
The heating is okay (though 113-118oF is lower than Fusion X's 113-131oF).
Our advice here is that you choose to support Lifepro – an American company that cares about their customers with top notch customer support and are willing to stand behind their products with lifetime warranties. However, if you're squeezed on your budget, you might opt for these 2. We'll not judge you for that.
Read our full Blackleaf massage guns review.
---
Best Heated Massage Gun – Conclusion
With that, we hope you can now choose the best heated massage gun without a hassle.
Lifepro is an amazing brand that you can trust with pretty much any device you choose to purchase from them, including heated percussion massagers, like our top recommendation Fusion X heated massage gun.
Then, Medcursor's MG03 is the cheapest option if you don't mind the less impressive features, while Bob and Brad X6 Pro is an interesting alternative for those looking for more power (but it comes with the passive heating only).
Thank you for coming this far. See you again soon!
Disclaimers
The views and opinions expressed on this website are those of the authors. Any content provided by our bloggers or authors are of their opinion and are not intended to malign any religion, ethnic group, club, organization, company, individual or anyone or anything.
All product names, logos, and brands are property of their respective owners. All company, product and service names used in this website are for identification purposes only. Use of these names, logos, and brands does not imply endorsement.
It is our policy to make every effort to respect the copyrights of outside parties. If you believe that your copyright has been misused, please provide us with a message stating your position and we will endeavor to correct any misuse immediately.
Some of the links in this post are affiliate links. As an Amazon Associate, we earn from qualifying purchases. This means if you click on the link and purchase the item, we may receive an affiliate commission, at no extra cost to you. This helps us keep this website alive. Learn more here.
Amazon Disclosure
massagegunadvice.com is a participant in the Amazon Services LLC Associates Program, an affiliate advertising program designed to provide a means for sites to earn advertising fees by advertising and linking to Amazon.com. As an Amazon Associate, we earn from qualifying purchases. Amazon and the Amazon logo are trademarks of Amazon.com, Inc. or its affiliates. Please refer to our Privacy & Affiliate Policy for details.