Most Powerful Massage Guns: When the Mighty Lock Horns
Disclaimer: Our content is unbiased, non-sponsored and fact-checked. If you buy via links on our site, we may earn a commission. As an Amazon Associate, we earn from qualifying purchases.
---
Hello and welcome to yet another informative guide. In this post, we're going to talk about most powerful massage guns in the market as of July, 2022.
You see, with so many devices hitting the market, everyone says they have a powerful and fair-priced device until you buy it and find out it has been stripped of power and performance just to sell.
Here at Massage Gun Advice we understand how important massage guns can be to your fitness journey. Especially if you are a bodybuilder, athlete, therapist, chiropractor, or simply take muscle recovery seriously. It's not fair that you should spend your hard earned money on a device that doesn't give you the power you need.
That's why today we'll take you through the strongest massage gun picks you can get.
Why trust us: Being experts, we know who's lying and who's got the real stuff. We did more than 70 hands-on reviews of these devices and we are very confident with our recommendations. We have our testing procedures; we always aim to verify official specs provided by manufacturers.
---
TL;DR
If you're believer this early and have no time to read through, we recommend you check out the insanely powerful Achedaway Pro. It's our top pick in this category.
Our second choice is Ekrin B37s, which is incredibly hard to stall device, even when on the first speed.
---
---
Our Criteria for Choosing The Most Powerful Massage Gun
We always have fun when picking and testing our recommendations. So much fun that we looked at 90 different massage guns unfazed.
That must be brutal, you say. Not as brutal as finding out that the gun you bought with a lot of money is a bust. We simply don't take chances.
What does the strongest massage gun need to have then?
---
Great Stall Force
Stall force, sometimes also called as 'no-stall force' is how much pressure it takes to stop the motor of a massage gun. You want something that will continue working even under a considerable amount of pressure.
Let's put it straight: as far as the strongest massage guns are concerned, we don't recommend anything less than 50lbs.
Strongest Massage Guns – Stall Force Comparison
Conclusion
Achedaway Pro, Theragun Pro and Bob and Brad D6 Pro smash the competition with their powerful motors. Ekrin B37s might have "only" 57 pounds, but in this model over 75% of that power is available from gear 2, and it revs faster than the rest.
---
High Amplitude / Stroke Length
How long the stroke length is determines how far the massage head travels back and forth and importantly how deep into the muscle it hits. The longer it is the better.
Sometimes the manufacturer may sacrifice this for a better stall force. It doesn't make the gun weaker, it just means a different proposition.
That said, the bare minimum for us is 12mm, anything below this is not good enough if you're a demanding user. Ideally though, you should be getting a gun with 15-16mm. We have a separate post covering highest amplitude massage guns, you may want to check it as well.
Also, keep in mind that the stroke length also affects percussions per minute. More on that in a minute.
Most Powerful Percussion Massager – Stroke Length Comparison
Conclusion
16mm is the highest you can get, 14mm is also high (hard to tell the difference vs. 16mm) Guns like Opove or Ekrin have 12mm, but instead they percuss much faster. Higher stall force means that the gun won't slow down percussions under pressure.
---
Good Percussion Range
Percussion range is how many times the head hits in a minute. This is where things might be a bit fuddling in massage gun talk. As mentioned above, the stroke length has a role to play here. A longer stroke length may mean less percussions per minute and the other way around.
However, there's a third aspect to be considered here, and that's the stall force. Sometimes a gun may have a higher stall force but a shorter amplitude and consequently a much higher percussion range.
That explains our inclusion of the Ekrin B37S which has a shorter amplitude but a greater stall force. Where it fails in amplitude, it delivers in stall force and hits per minute.
On the other hand, guns like the Theragun Pro or Bob and Brad D6 Pro have a great stall force, longer amplitude, but far less percussion range (about 2400-2500).
But there are exceptions to this in some guns. The Achedaway Pro for example defies this by delivering high numbers in all these aspects. It has 80lbs. stall force and a 16mm amplitude but still amazingly delivers 2800 hits per minute.
Strongest Percussion Massager – Max Percussion Comparison
Conclusion
High-amplitude devices, such as Theragun, Bob and Brad D6 and Achedaway Pro tend to rev slower but offer deeper hits. Devices like Ekrin B37s offer more intensity (faster percussions) but don't hit as deep. Both approaches are equally effective.
---
Other Important Parameters
Speed Settings / Levels
A good massage gun is fun to cycle through the speeds. We enjoyed the ones that had 4 speed settings. Some that have 5 or 6 are also good.
But we have seen others with up to 20 speed variations. This for us is ludicrous. Cycling through all that to find the right setting must be a pain to say the least.
Pre-programmed variable speeds are a nice addition to some devices, but we think you'll still enjoy a device that doesn't have them.
---
Other Details You Might Want to Consider
There are other things worth looking at if you like every base covered. They include:
Extra features: for example force meters and variable massage modes.
Noise levels: We prefer a quiet gun not power saws.
Weight and ergonomics: Because these are powerful, they will definitely have a considerable weight. But don't break your wrist trying to use one. Ergonomics are important if you hope to have a smooth experience.
Brand trustworthiness: We look at previous customer reviews to determine their experience with the device. A brand that has a website is a plus for us.
Extra accessories included: We check for carrying cases or pouch.
Battery capacity and quality: Generally, you should be able to use a massage gun for at least 2 hours on high intensity after a full charge. Branded batteries also give a hint on the quality of a massage gun.
Warranty: Lifetime warranties! Who wouldn't want one? Some brands though will only offer a 1-year warranty.
Customer care: Ekrin offers the best customer care.
Value for Money: Why buy an expensive one when you can get a cheaper but just as powerful if not more.
---
Most Powerful Massage Guns: Our Top 3 Picks
Finally, so much for the preliminaries, and now on to the main event! What is the most powerful massage gun? These are our top three picks that cover all the bases, followed by two runner-ups.
Achedaway Pro – #1 Most Powerful Massage Gun
The Achedaway Pro massage gun has to be the most powerful percussion massager we have seen and tested. Why?
First, this monster device takes the number one position because even we couldn't believe our experience with it. Because Theragun has got all the hype in this space, we thought it would be rare for anyone to rival it.
But with a stall force reaching well over 60lbs.., there's no stalling this thing once it starts revving away. We suspect the motor has something to do with this. Not many guns have a motor like this has. This is a monster gun, especially at high speeds.
Not only it has such a high stall force, the amplitude is impressive as well, punching up to 16mm deep – yes, exactly the same as the mighty Theragun Pro.
The percussion range is up to 2800rpm. This is even higher than the Theragun!
Now couple that with the high stall force and the 16mm amplitude and we're talking colossus performance here. You can see why it made our list.
This is a powerful well-built massage gun. It is very original with its design but with a bit of an Ekrin twist with its angled handle. It's a sturdy, durable piece that we really enjoyed using.
Another impressive feature with this gun is its battery. It's absolutely juiced! 3200mAh is perhaps the best in the business. It's a removable battery so you can get a spare one for convenience.
Lastly, another reason we picked up this one as our #1 choice is the noise, or the lack of it.
Achedaway Pro is one of the quietest massage guns we've ever seen, which is hard to believe considering how much power this baby has. For a high-amplitude device, it's incredibly hushed.
It comes with 4 aluminum alloy attachment heads (we loved them!). It also comes in a really nice carrying case and is backed by a two-year warranty.
DEAL ALERT Use the special HOLIDAY60 code at checkout to get $60 off Achedaway Pro. Pay $239 instead of $299. Apply the coupon here.
Achedaway Pro retails for $299 but if you use the MGA50 discount code, you will get $50 off the price, which makes it $249. This coupon is only valid in the Achedaway official store here.
More to read Check out our full Achedaway Pro Review.
---
Ekrin B37S – #2 Strongest Percussion Massager

After Ekrin gave us the B37 massage gun that packed a lot of great features, we were eager to find out if there was anything else in the works.
Luckily they were busy making its sequel. Finally we laid our hands on this brilliant and powerful massage gun. The Ekrin B37S ladies and gentlemen!
Now, the B37 was already powerful enough with its 56lbs. of stall force and a more than enough amplitude of 12mm.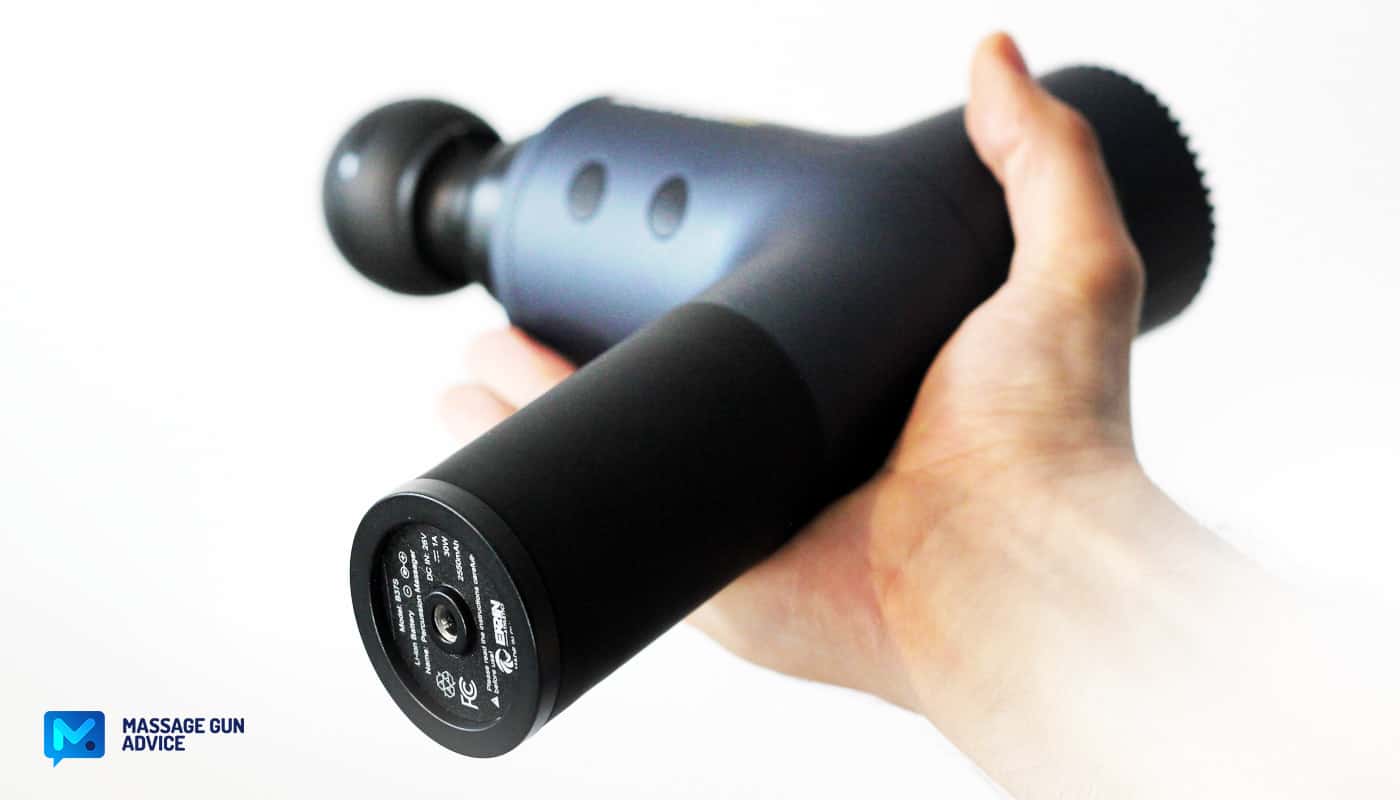 But did Ekrin do anything different with the B37S?
Well, to be sure, Ekrin didn't touch neither of the stall force or the amplitude. But they did touch something. We noticed that they increased the stall force on the lower speeds by a whopping 30%!
This means that this new device will offer top performance even at the lowest speeds.
To put it into perspective: the B37S feels about twice as powerful on the first speed comparing to our top pick Achedaway. Heck, at speed one, it feels even stronger than the mighty Theragun Pro!
Now, if that's not a banger we don't know what is. The medium amplitude (12mm) is not really a big issue now with this great adjustment. The B37S will still give you a performance better than most guns out there.
Another adjustment that Ekrin made is they increased the percussion range to 2000-3200. The B37 now revs across 5 speed gears. The fifth gear is a special one that cycles through previous speeds in intervals of 30 seconds.
All of that means this: the B37's ability to provide the deep tissue muscle penetration comes from the powerful motor and super-fast percussions, even under the pressure exerted.

It is a radically different approach than the one used in Achedaway, the M3 Pro below or even in Theragun Pro. In these, the intensity comes from the high-amplitude punches, at the cost of frequency (percussions per minute). In B37s, it comes from stall force and faster percussions.

What Ekrin did is a pretty unique solution, and it works just great.
They also added a built-in retroactive Force Meter. What this does is control the pressure applied by displaying the amount of pressure. It's the blue light at the top of the handle.
While the force meter is not a must-have, in our opinion, we have to admit this is one of the best executed pressure sensor designs we've seen.
What else do you get? You get a gun with great ergonomics. The angled handle is a great feature if you love a smooth massage. Apart from that, it weighs just 2.2lbs. and feels really well balanced.
It comes with 6 attachments (2 more than the original B37). It has a Samsung branded high quality battery. Lifetime warranty is included!
The regular price of Ekrin B37S is $329, but if you use the MGA20 coupon, you can buy it at only $263.99, which is 20% off. Get it right here and save $65.
More to read Check out the full Ekrin B37s Review.
---
Bob and Brad D6 Pro – #3 Strong Option
We will pick Bob and Brad D6 Pro as our third most powerful massage gun because it's got everything a demanding user needs.
For starters, this is a big gun. It's bulky and heavy, heavier than any of our top two picks. It weighs 2.86 pounds. Achedaway Pro is a tad lighter. For small folks, this may be a problem, but you can take advantage of the D-shaped handle to ease the pressure on your wrist.
Bob and Brad went after Theragun's patented look. You will soon be read the full review to learn more. For now, it suffices to say that this device has it all.
In terms of performance, the D6 Pro has a 16mm amplitude. For a long time Bob and Brad didn't make devices with a long amplitude. This one seems like the exception. With 16mm expect thuds and deep muscle penetration when you need it.
It's not just the amplitude that makes this thing a monster, the stall force is enormous. Bob and Brad advertise it as 80lbs. but we are not sure that is the true figure. We pitted it against Theragun Pro, and the resistance felt similar. We'd say it's about 60lbs.
With such a significant amplitude and powerful stall force, this is the gun you need when you are a big guy. There is also the matter of percussions per minute. Now, we often don't expect big guns to rev fast. This one can rev up to 2500RPM. This is decent enough – Theraguns can do 2450RPM at best.
We also love how equipped it is. It comes with a hard carrying case and a smaller pouch to carry the attachments. Speaking of attachments, there are 7 in there.
The D6 Pro is relatively quiet for a high-amplitude massage gun, and it has a standard capacity battery – 2500mAh. Our top option has a 3200mAh capacity.
It is reasonably priced. It normally costs about $300, but if you apply the Amazon coupon and our MGADVICE code at checkout, it's slightly cheaper than our top pick. Check it out here at Amazon.
More to read In our full Bob and Brad D6 Pro Review.
Strongest Massage Gun – 2 Runner Ups
---
Opove M3 Pro 2 – Runner up #1
Opove has been doing well with their Hypervolt-inspired percussive devices. We got wind about the latest M3 Pro massage gun (v2.0), the company's latest design, and decided to test it.
Turns out the rumors were true because this device is interestingly powerful. It has an advertised 70lbs. stall force but when we tested, it felt just slightly little less. Somewhere between 45-50lbs, which, at this price, is well above average. 
The amplitude is also good at over 12mm (12.4 to be precise). Combine that with the best average stall force and you are getting the best punch with this device.
The percussion range is a reasonable 1300-2600 rpm, which puts it at par with some of the best high amplitude massage guns out there, especially when you consider the stroke length it has.
It's also a very quiet gun (45-63dB). The sound it makes is very smooth, and non-disturbing at all.
The ergonomics of this gun is good, but not great. It doesn't feature an angled handle, but the balance is good, and the handle is rubberized, allowing a firm and confident grip. The gun feels rather premium, you won't spot any cheap hard plastic used anywhere here.
Any Cons? Perhaps only the weight, which at 2.5lbs is acceptable, but could be less, and the warranty, which is just one year. Plus, to be honest, it's the least powerful of all the guns in our list.
With that said, it's a great option for active folks, amateur athletes, or bodybuilders who want something that's kind on their wallet.
The price is normally $199 but right now you can get it only $119 at opove.com. We think it's a very attractive price-point for all the specs this gun has to offer.
More to read Find out more in our hands-on Opove M3 Pro Review.
---
Lifepro DynaFlex – Runner up #2
This is a more pocket-friendly option. If you want something just as powerful but you are unwilling to spend on a premium product, then here's something for you.
It's by no means poor quality, it just doesn't have the premium feel of our three above picks. Other than that, it's a nicely built massage gun. It feels stable and looks very heavy-duty.
Not only that, the power is impressive as well. It has a telling 45lbs. stall force, which we estimated as fairly accurate in our hands-on Lifepro Dynaflex review. It feels more or less similar to the Opove M3 Pro above; could be even slightly more powerful.
To sweeten the deal even more, Lifepro gave this massage gun a 13mm stroke length – we were able to verify it using a digital caliper. This setup will work perfectly with this kind of stall force.
The actual percussion range is 1250 – 2850rpm. Now, this is good because you can start your massage at a low intensity and go up as you like it.
The only thing that's uninspiring is the speed levels. This device has 16 speed levels! We don't recommend anything that has higher than 6 speeds because it's just too daunting trying to get to the right setting. However, we'll give them a plus because the gun has a wide enough range to justify those additional gears.
Another advantage you may like is the 10 attachment heads that can be useful if you want to target different body parts.
Any Cons? Some, yes.
It's still bulkier and heavier than both the Opove M3 Pro and the Ekrin B37S. It weighs 2.5lbs.
It is relatively quiet on low speeds, but gets pretty loud on higher speeds.
Also, it rattles more than our previous picks and transfers vibrations to a holding hand.
On the plus side, the battery is great, and it is fully detachable. It also features an adjustable handle that can be locked in four different positions to improve the ergonomics a bit – a unique feature amongst our picks.
Lastly, like Ekrin, Lifepro too offers a lifetime warranty for their massage guns, so you don't really risk anything. Any returns are hassle-free as well (we went through the process at one occasion).
The price is only $179.99 if you use the coupon MGA10 that gives you 10% off the normal price ($199). Get it in Lifepro store right here.
More to read Check out the full Lifepro Dynaflex review.
---
Honorable Mention: Theragun Pro
So why didn't we include the Theragun Pro? To be honest, we had a debate on whether it should feature.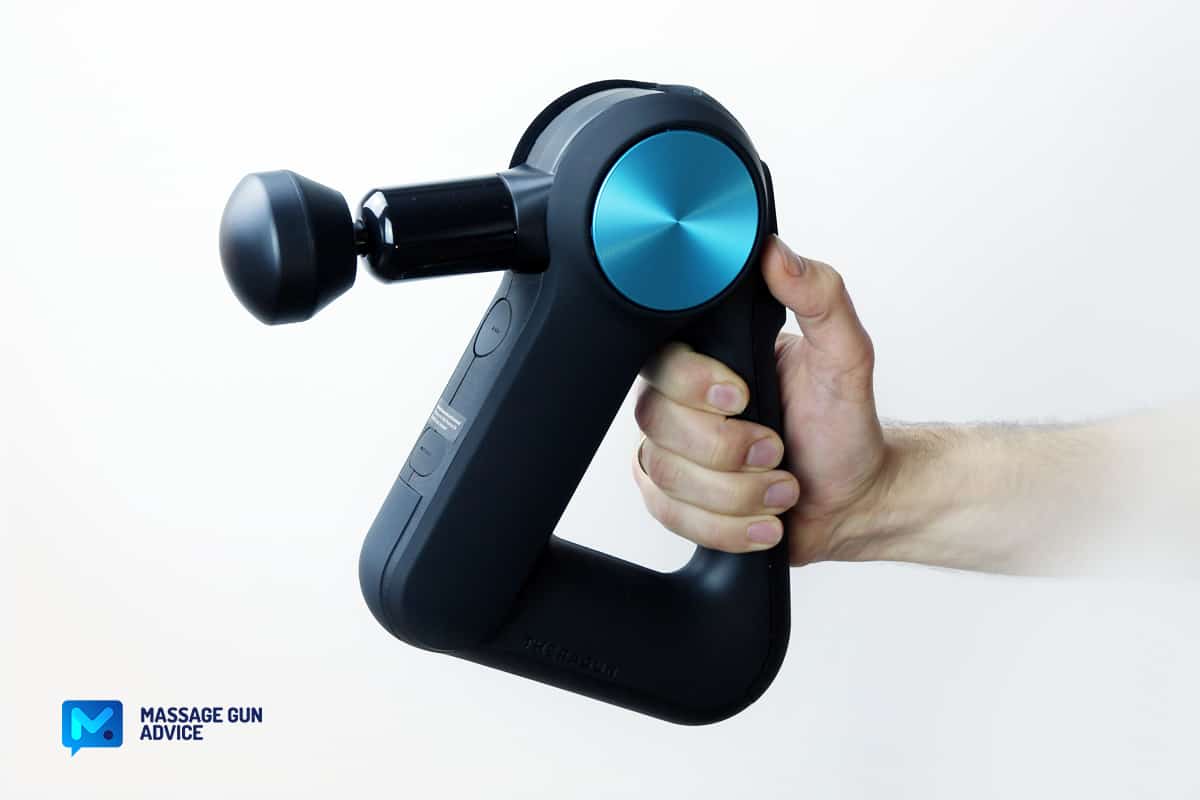 It actually ticked all our boxes to be included, but the price gave it away. It's 5 times the price of Opove M3 Pro and 2 times the price of Ekrin B37S.
Even so, the Theragun Pro still deserves an honorable mention. It's still amongst the top three strongest massage guns. And even if some gun beats it in this, it's likely the most innovative gun of them all (especially the new 5th Generation Theragun Pro).
Here are some advantages it has over the others:
60lbs. no-stall force
16mm amplitude. Only Achedaway Pro and Bob and Brad D6 Pro are at par.
5 built-in speed levels and a customized app experience.
Guided routines for beginners, now displayed directly on an OLED screen (in Theragun G5)
Removable battery. Only Achedaway Pro has this option.
It has a force meter (Ekrin B37S has one as well).
OLED screen is a sweet addition but not a must-have.
It has 6 attachments, and a carrying case (now it is a soft case).
The new, 5th gen. Pro is quieter than its predecessor, but guns like Achedaway still have an edge.
Price is crazy high, even after you apply the Therabody promo code. Almost six hundred bucks is a lot given there's really nothing very unique about the way it hits muscles.
Only 2 years warranty. It should be a lifetime at that price.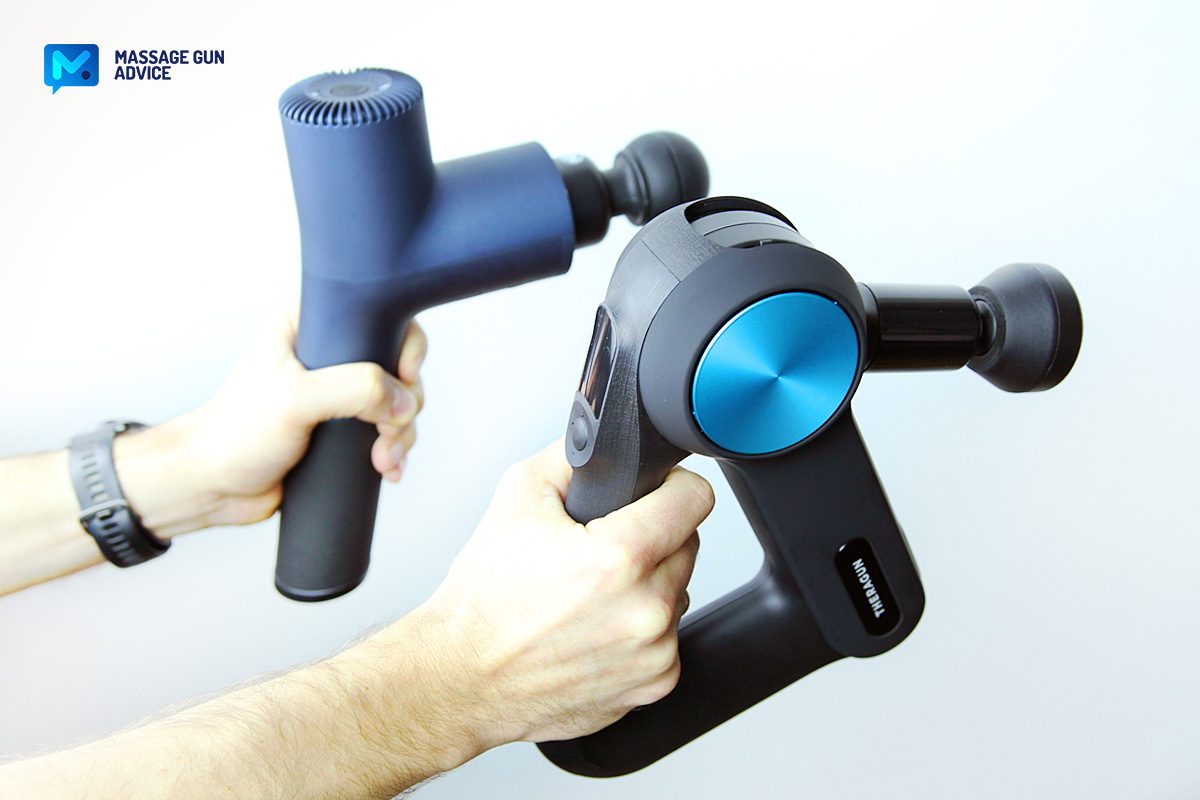 ---
Hey, What About Hypervolt 2 Pro?
Well, we had a bit of a guilt trip for failing to include the Theragun Pro but we are not sorry for not including the latest Hypervolt 2 Pro. Let us explain.
In our Hypervolt 2 Pro review, we complained at the 2 Pro's low stall force, which we estimated at only 30-35lbs. This has been our own estimation, since Hyperice wouldn't disclose the exact number.
But just for comparison, the predecessor model, the good old Hypervolt Plus, had a powerful stall force of about 50lbs, which was more or less the same as the Ekrin B37S. The difference is easily noticeable.
It has a high 14mm amplitude (same as the Plus) and goes for $399, which is expensive, yet arguably fair for a good massage gun brand like Hyperice.
But the thing is that apart from the high amplitude and slightly improved ergonomics (slimmer, oval handle) we feel it has nothing really unique to offer. Well, unless you have a thing for Bluetooth. Here are some notes to compare:
The 2 Pro has the same T-shape design as hundreds of other guns out there. We are not fans of 90-degree handles, due to poor ergonomics and added wrist tensions.
Hypervolt has a force meter, but the Ekrin B37S costs $264 with our coupon and has one too (and it's a way better executed one).
The batteries can be swapped, which is great but Achedaway has a similar feature and only costs $274 with our $25 off deal.
It feels heavier than our top picks
5 attachments is welcome but there's

no carrying case. The small pouches for attachments don't count in our opinion.

You can learn more in our Hypervolt 2 Pro Review
Our Verdict

Hypervolt 2 Pro is a good gun and we will be recommending it somewhere else. But today we won't. We feel the price is somewhat high and it doesn't offer anything special over our other choices. The Theragun Pro can have a prayer with its rotating arm and triangular design and all, but the Hypervolt simply doesn't cut it.
---
And The Strongest Mini Massage Gun Is…
---
Ekrin Bantam – The Strongest Mini Gun
What is the most powerful mini massage gun? Despite many mini percussion massagers available in the market, finding a truly powerful one can be a challenge (we know something about it).
There's Theragun mini, which has an impressive amplitude (12mm, the longest in the business for the category), but lacks decent stall force. Its main rival, Hypervolt Go, is one of the easiest massage guns to stall, requiring only a minimum pressure to stop the motor from running. Therefore, these two are not the ones you should be looking at.
What you should consider instead is Ekrin Bantam. This little sucker is so impressive. Granted, the 10mm amplitude is less than what you get with Theragun mini, but Theragun aside, there are no other mini guns which come with an amplitude of more than 10mm.
Where Bantam shines, however, is the stall force.
With well over 30lbs. of pressure needed to stall the motor, the Bantam is harder to stall than many full-sized guns. To give you an example, the tiny Bantam rivals full-sized Theragun Prime, which needs 30lbs of pressure to stall.
What's more, Bantam's power is real. These are not just advertised 35lbs., these are real.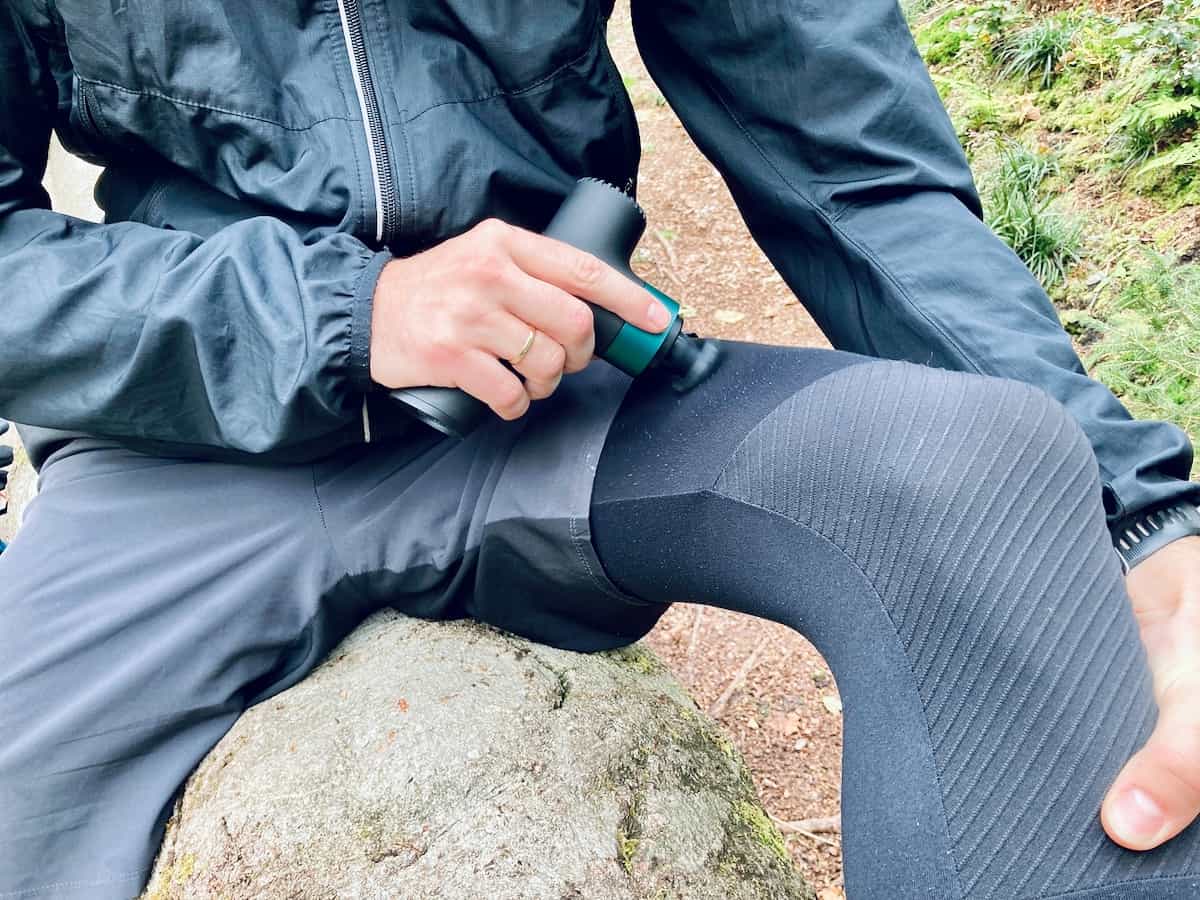 The device weighs only 1.1lbs., comes with the 4 attachments and a carrying case.
The build quality is great. It feels premium, charges conveniently via USB-C and is backed by Ekrin's fantastic lifetime warranty.
Ekrin Bantam retails for $149.99 but with the MGA20 coupon, you save 20% and the price goes down to only $119.99. You can buy the Bantam here.
More to read Read full Ekrin Bantam Review here.
---
Most Powerful Massage Guns Conclusion
Hopefully you've enjoyed this most powerful massage guns ride with us. Most guns will give you just enough performance, but in our book "just enough" isn't good enough.
Instead of relaying on advertised specifications, we went ahead and verified the numbers provided with our set of tools – digital calipers, laser tachometers and more.
We eventually chose Achedaway Pro, and Ekrin B37s as our first and second pick, respectively, as they represent two different, yet very effective, approaches to deep tissue massage using massage guns.
If you need a strong, versatile device that won't break a bank, give any of these a shot and you will see why we have been so enthusiastic about them.
Get a good gun but don't let anyone bleed you dry while at it!
Thank you and goodbye!
Disclaimers
The views and opinions expressed on this website are those of the authors. Any content provided by our bloggers or authors are of their opinion and are not intended to malign any religion, ethnic group, club, organization, company, individual or anyone or anything.
All product names, logos, and brands are property of their respective owners. All company, product and service names used in this website are for identification purposes only. Use of these names, logos, and brands does not imply endorsement.
It is our policy to make every effort to respect the copyrights of outside parties. If you believe that your copyright has been misused, please provide us with a message stating your position and we will endeavor to correct any misuse immediately.
Some of the links in this post are affiliate links. As an Amazon Associate, we earn from qualifying purchases. This means if you click on the link and purchase the item, we may receive an affiliate commission, at no extra cost to you. This helps us keep this website alive. Learn more here.
Amazon Disclosure
massagegunadvice.com is a participant in the Amazon Services LLC Associates Program, an affiliate advertising program designed to provide a means for sites to earn advertising fees by advertising and linking to Amazon.com. As an Amazon Associate, we earn from qualifying purchases. Amazon and the Amazon logo are trademarks of Amazon.com, Inc. or its affiliates. Please refer to our Privacy & Affiliate Policy for details.