Highest Amplitude Massage Gun – For Those Heavy-Hitting Punches
Disclaimer: Our content is unbiased, non-sponsored and fact-checked. If you buy via links on our site, we may earn a commission. As an Amazon Associate, we earn from qualifying purchases.
---
What is the highest amplitude massage gun? Is high amplitude always better? This post will seek to answer these questions.
We have been buying and reviewing massage guns for a while now, and though we don't consider ourselves massage gun experts, we know a thing or two about the amplitude of a massage gun.
We also know that amplitude is not the only thing that should be paid attention to. There are other features to look out for. We'll list devices that we're sure deliver what they promise.
Follow along!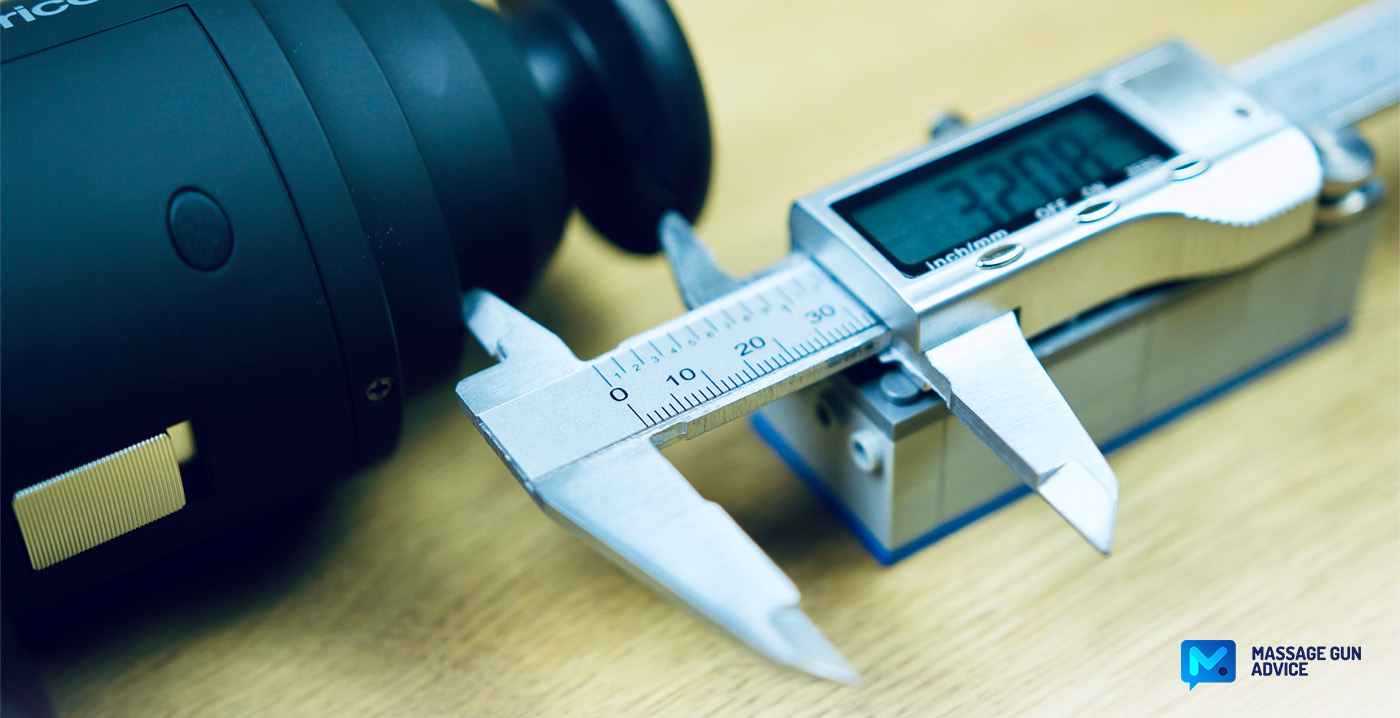 ---
---
TL;DR
If you are pressed on time and would rather quickly find a high amplitude massage gun, check out our best recommendations in both full-sized and mini massage guns categories:
Achedaway Pro (full-sized massage gun) – does not only have the longest amplitude in the market, it also ranks best in other features – i.e. plenty of stall force, and amazing percussion range.
Ekrin Bantam (mini) – has 10mm amplitude which is less than the longest for a miniature gun (12mm), but have more stall force, are better equipped, and more affordable.
---
What is Amplitude/Stroke Length in Massage Guns
A quick definition for amplitude is the distance covered by the massage gun head as it moves back and forth.
That movement results in percussions (hits per minute) that are delivered on the skin.
The longer the distance covered the harder the punch you get, which leads to a better percussive massage.
---
Why Is It Important?
Well, the amplitude is what pretty much makes it a percussive massage. Before percussion massagers came into the market (before Theragun had become famous for it), vibrational therapy was the favored recovery method.
Massage guns changed the trend to percussive therapy following Theragun's invention. Even though many massage guns came into the market, they didn't pay attention to the amplitude, and as a result, those devices back then only delivered vibrational therapy (surface-level hits).
Today however, after Theragun had made everyone realize why the amplitude is important, many brands have chosen to make amplitude count in their devices.
A long amplitude combined with the right stall force and intensity (best devices rev up to about 3000 hits per minute) is what characterizes a good enough percussive massage. There is a third element that we'll also discuss in a minute.
---
How Can You Know If a Massage Gun Has a High Enough Amplitude?
Well, we had a bit of a debate about how to classify amplitude in massage guns. We couldn't find many such classifications anywhere. We decided to come up with our own based on what we know about massage guns.
Full-Sized Guns
| | Amplitude |
| --- | --- |
| Low | 8-10 mm |
| Moderate | 10-13 mm |
| High | 14-16 mm |
Full Sized Massage Gun Amplitude Classification
Mini Massage Guns
| | Amplitude |
| --- | --- |
| Low | 5-7 mm |
| Moderate | 8-10 mm |
| High | 11-12 mm |
Mini Massage Gun Amplitude Classification
---
Does 1 mm, Tiny, Make any Difference?
We'd say, not really. That is a very small margin to have any significant difference.
We'll also say that even though the difference between a device with a 12mm amplitude and one with 16mm amplitude can certainly be felt, you'll rarely feel the difference between a device with 15mm amplitude and the one with 14mm amplitude.
---
What is the Maximum Amplitude a Device can Have?
Well, as far as we know, 16mm is the highest amplitude on the market today.
We have picked devices that have this highest amplitude and included them first in our list. Note that this can only be found with the full-sized massage guns.
For mini massage guns, 12mm is the longest amplitude. As far as we know, only Theragun Mini has this amplitude. However, it's not necessarily the best mini massage gun on the market today because the stall force isn't as high as some of the others.
---
Highest Amplitude Massage Gun Comparison
Full-Sized Massage Gun Stroke Length Comparison
Conclusion
Here is the list of guns with the highest amplitude. As you can easily see, the most desirable 16 mm amplitude is available from Achedaway, Bob and Brad D6 Pro and obviously Theraguns, but the rest of competition is right behind them.
Mini Massage Gun Stroke Length Comparison
Conclusion
At first glance it seams like the king is only one: Theragun mini. Other guns can reach a maximum of 10mm amplitude, yet as we have already mentioned, balanced combination of all parameters is important and so Ekrin is our top recommendation.
---
How Does Stall Force Relate to Amplitude?
Another important aspect that we cannot ignore, even though this post is dedicated to amplitude, is the stall force. This is the amount of pressure it takes to stall the motor of a device, consequently shutting off the device.
You cannot talk about amplitude and forget to talk about stall force (that is if you want a powerful percussion massager). That means that the highest amplitude percussion massager is not necessarily the best and most powerful massage gun.
Sometimes muscle soreness can occur deep into the muscle tissue. Simply passing the massage gun over that particular area may not be effective enough to relieve the soreness.
That means you have to apply some pressure using the massage gun. You'll agree with us that it will be quite frustrating if your massage gun keeps slowing down percussions, or even stalling, as you try to apply some pressure.
Many cheap massage guns (there are hundreds on Amazon) use amplitude as their main selling point, promising the best in amplitude but delivering poorly in stall force.
Many have devices with less than 25-30lbs. of stall force. This is not enough stall force to deliver the same (fast) percussions when the pressure is exerted. Eventually, you are not going to get the deep, high intensity massage you need (especially on large muscles – quads, hamstrings, and glutes).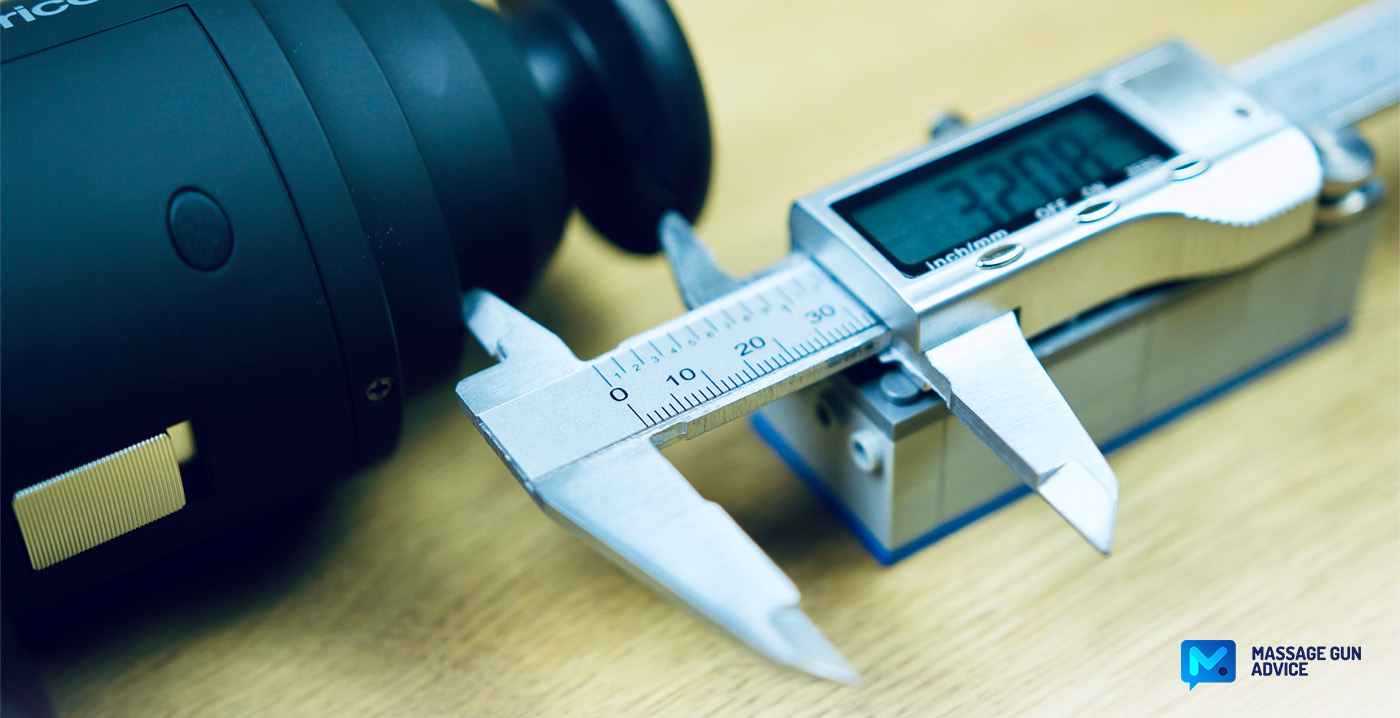 ---
It's About Amplitude AND Stall Force
We'll give you a little expert advice (expert; we said it!). Always look for both amplitude and stall force information.
You'll do yourself a huge favor by skipping guns that promise you a long amplitude but have a very weak stall force. You'd better go for a device that promises slightly less amplitude but more stall force. Those usually tend to rev faster (due to shorter stroke), so chances are they'll deliver the right intensity.
For instance, a device with 10-13mm amplitude but has more stall force is a sweet spot. This is because even though it may feel way below the high 16mm mark, with enough stall force, you can press such a device against the skin and actually get a much deeper massage.
Devices like Ekrin B37 and B37S have received high praise from buyers because of this. The same goes for mini devices like Ekrin Bantam. It has slightly lower amplitude but more than enough stall force.
---
Is High Amplitude Always Better?
No. Not always. There are certain situations that call for moderation. High amplitude means harder punches and a device with 16mm amplitude will punch harder than a device with 10 or 12mm amplitude.
However, while some people may prefer a deeper massage, some areas of the body don't need the heavy-hitting punches. Even as a bodybuilder, you'll probably only need harder punches around your glutes and hamstrings or other areas with large muscles.
But for other areas, like the neck area, you'll probably just need a lower amplitude device. Also, some massage routines call for a delicate massage, when you simply glide the device over the skin. If you just want to relax or get some sleep or even warm up the muscles, you'll not need a 16mm amplitude gun.
In fact, a device with a moderate to low amplitude may be more effective for such routines. This is because such devices tend to rev faster and the faster percussion helps accelerate the blood flow and override pain signals to the brain, which leads to tension release.
Older adults and those with more sensitive skin should also consider massage guns with a lower amplitude to reduce the risk of skin abrasion or tearing. Another option for managing sensitive skin is to use a soft head attachment for your massage gun (most devices come with such).
It's therefore important that you figure out what kind of routine you need a massage gun for. It's also wise to check out a device based on both stall force and amplitude.
---
Highest Amplitude Massage Gun (Full-Sized) – Our Best Picks
The following products have the industry-leading 16mm stroke length.
---
Achedaway Pro – Our #1 Pick – 16mm
Achedaway Pro has the industry highest 16mm amplitude with some other great features as well. It's a very powerful percussion massager with over 60lbs. of stall force – it will definitely punch harder and can be pressed hard against the skin.
The build materials are great and it comes with an angled handle for better ergonomics. It's rather bulky but that doesn't stop it from delivering awesome performance and it does so very quietly (it's the quietest massage gun in this category).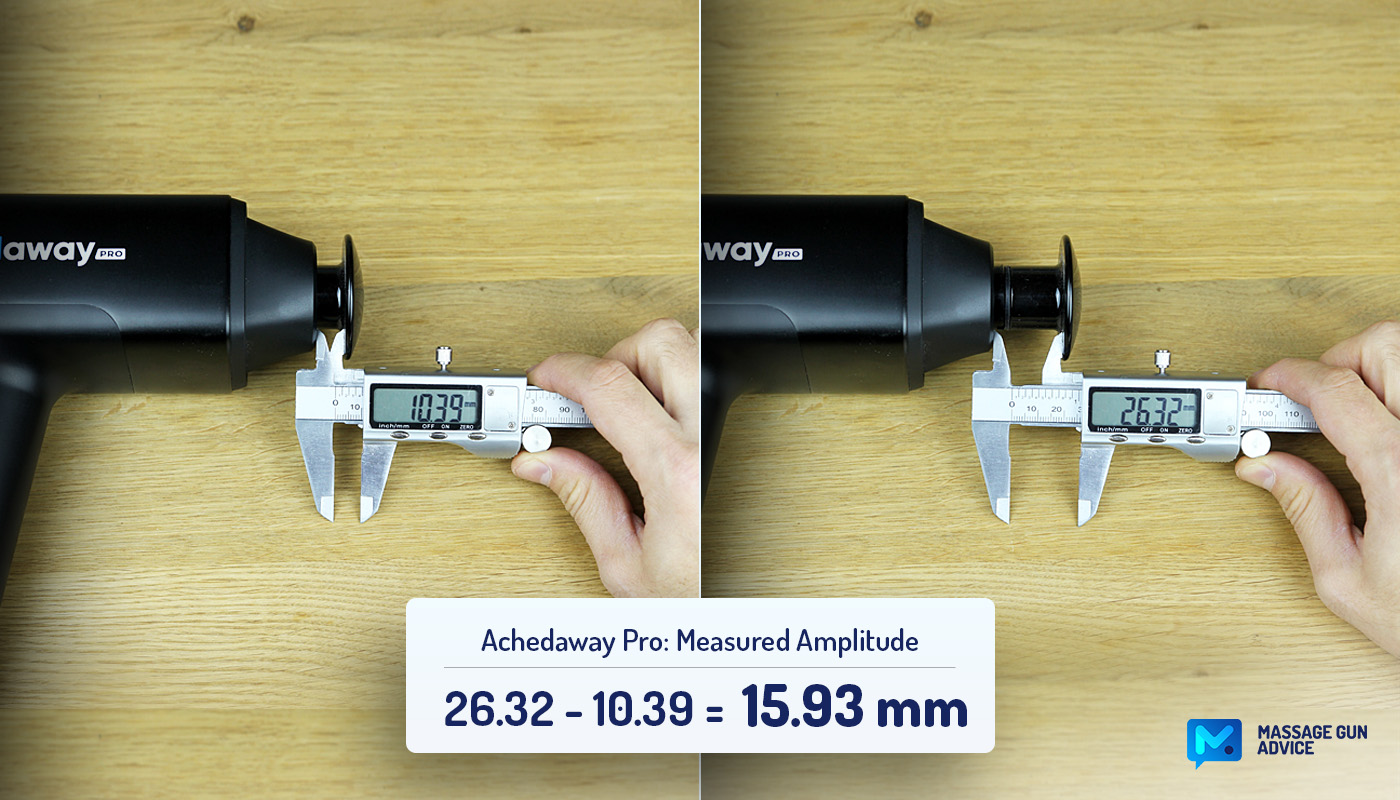 It's well equipped too; we loved those aluminum attachments and carrying case. It comes as a standard package with removable battery or an extended set including additional spare battery.
Overall, we love the device and can wholeheartedly recommend it. It is also the best value when it comes to the highest amplitude massage gun for the money.
DEAL ALERT Use the special HOLIDAY60 code at checkout to get $60 off Achedaway Pro. Pay $239 instead of $299. Apply the coupon here.
Achedaway Pro is awesomely priced, costing $299 regular but you can get $50 discount when the coupon MGA50 is used in the Achedaway Store right here. The final price will be $249.
MORE INFO In our hands-on Achedaway Pro review →
---
Theraguns: Prime, Elite and Pro – 16mm

Theragun being the pioneers of the long amplitude have to feature here. Their 3 full-sized massage guns all have the same 16mm amplitude.
What separates them from each other is mainly the stall force. Prime has the weakest stall force while Pro is the strongest. Elite falls in between but it's closer to Prime than Pro.
They also have the best ergonomics in the business – their multiple grip handles are not rivaled by anyone so far.
Despite all their awesomeness, their biggest drawback is their high prices. For example, their entry-level Prime costs more than Achedaway Pro – which is as powerful.
Theragun SALE Save up to $200 on 4th gen Theraguns. Browse all the deals
You can view all Theraguns here at therabody.com, or you can also get one from RecoveryForAthletes.com (an official retailer). The latter store accepts FSA/HSA cards, so you may even get some tax benefits (read our post about HSA and FSA eligible massage guns for details).
MORE INFO In our Theragun comparison, or read the individual reviews: the Prime, Elite and Pro.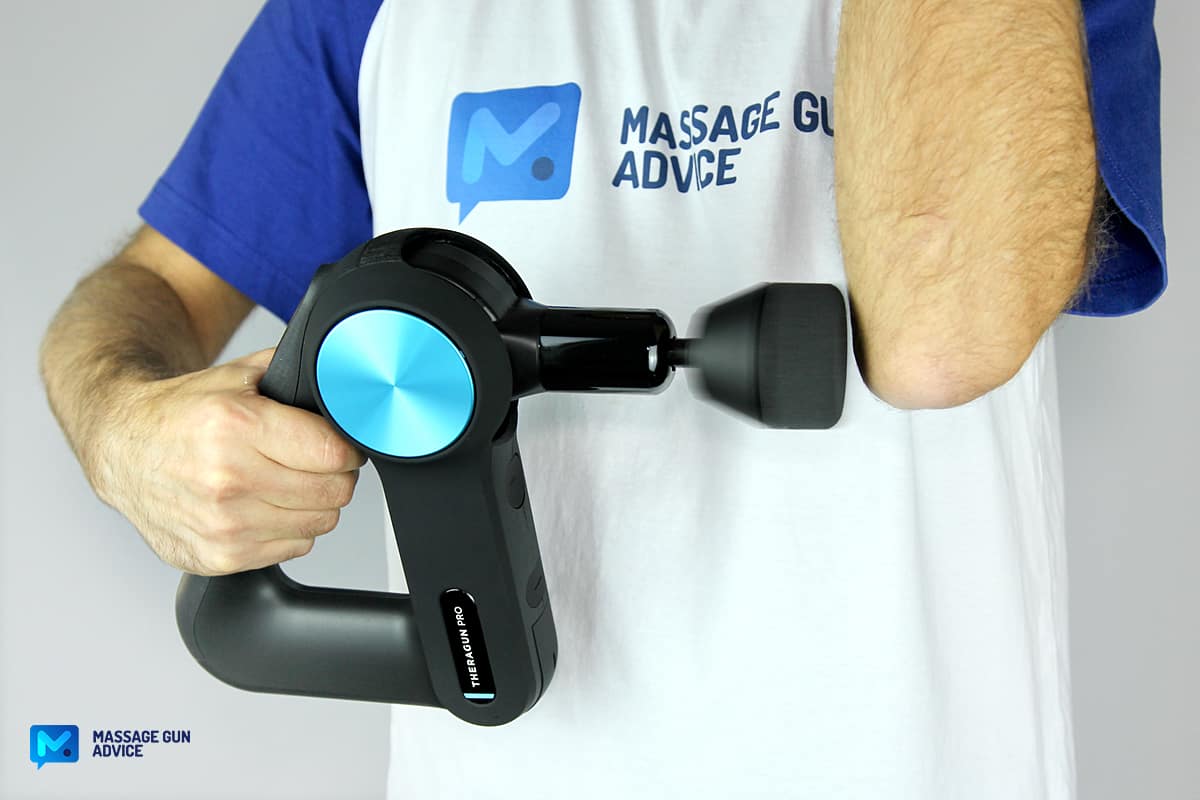 ---
Bob and Brad D6 Pro – 16mm
So, the new D6 Pro slightly veers away from what we have seen with many other Bob and Brad massage guns. It's not the usual generic design used by the duo for many of their devices.
This one has multiple handles – just like Theraguns. It's not exactly a Theragun, at least not by name. However, most of its features are Theragun Pro-like. The D-shape is reminiscent of Theragun's rectangular shape.
But it's not the semblance to Theragun that makes it appear here. It has a 16mm amplitude. Yes, we are seeing a Bob and Brad device with a 16mm amplitude for the first time.
Is it better than our top pick – the Achedaway Pro? In some aspects, it's slightly better. For instance, the stall force at lower gears is slightly more powerful than in Achedaway Pro. It also has multiple grips. But Achedaway Pro's slanted handle will do the job.
But the Achedaway is the only 16mm amplitude device that can rev faster than any Theragun, not to mention this Bob and Brad. The latter two rev up to 2450 percussions per minute, the Achedaway can do 300 percussions per minute more – 2800rpm.
In terms of equipment, the D6 Pro is just as well-equipped as Theragun Pro. In fact, it's like they looked at what Theragun Pro did and replicated everything.
It comes with 7 attachments, some of which, again, look exactly like those Theragun Pro attachments. They just named them differently.
Either way, this is a good Theragun alternative if you don't have the money to spend on the premium brand but want something that looks and feels Theragun-ish.
It's also slightly cheaper than Achedaway Pro when you apply the Amazon coupon AND our MGADVICE 15% discount code. Get it at Amazon right here.
MORE INFO In our hands-on Bob and Brad D6 Pro Review →
---
More High Amplitude Percussion Massagers
These do not have a 16mm amplitude but have something close – the difference is minimal and can barely be felt.
---
Hypervolt 2 Pro – 14mm
This one has has 14 mm amplitude. Hyperice does not disclose this information, so we had to do our own measuring.
The Hypervolt 2 Pro has only so-so stall force, but makes up for it with 25% more intensity compared to Theraguns (2700 vs 2400 maximum percussions per minute). That means that you will likely not feel the small 2mm difference in stroke length.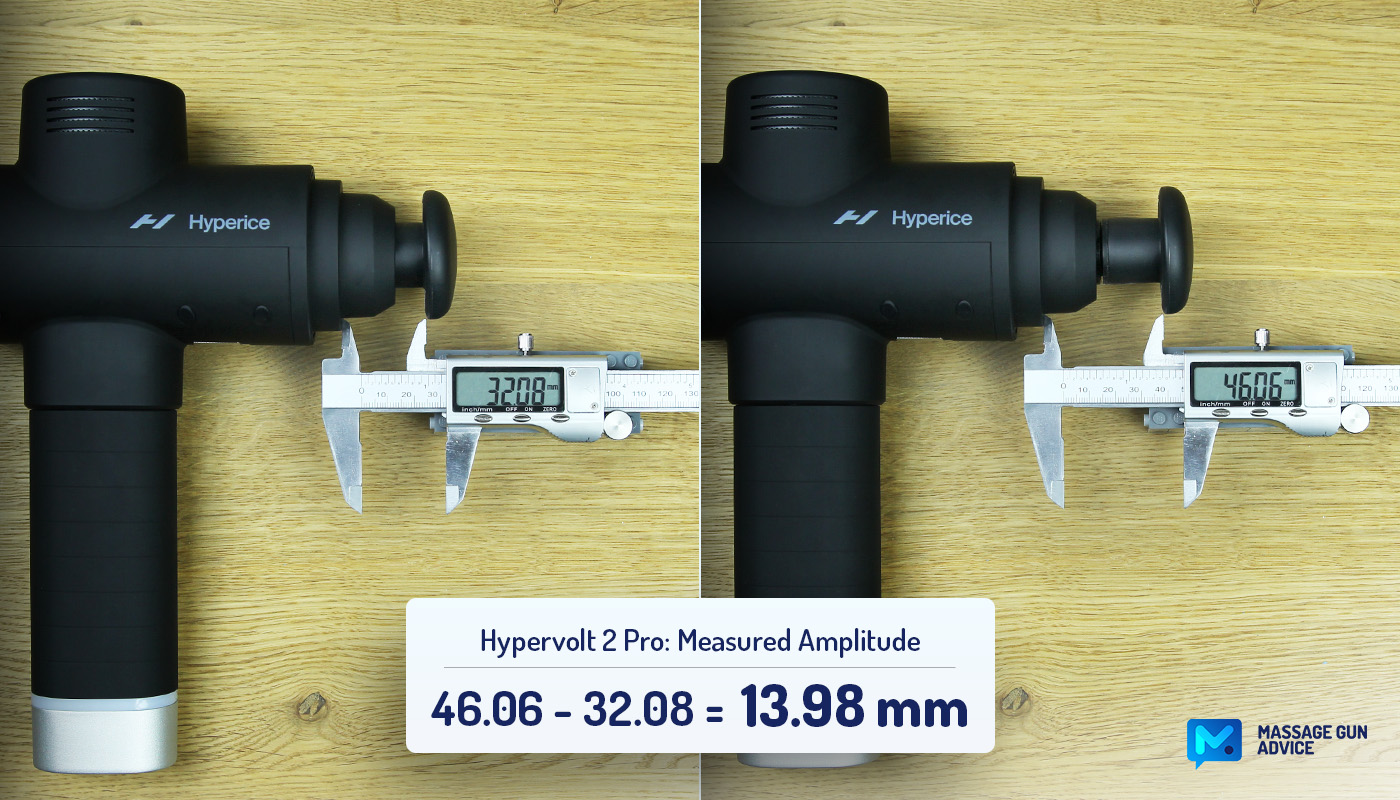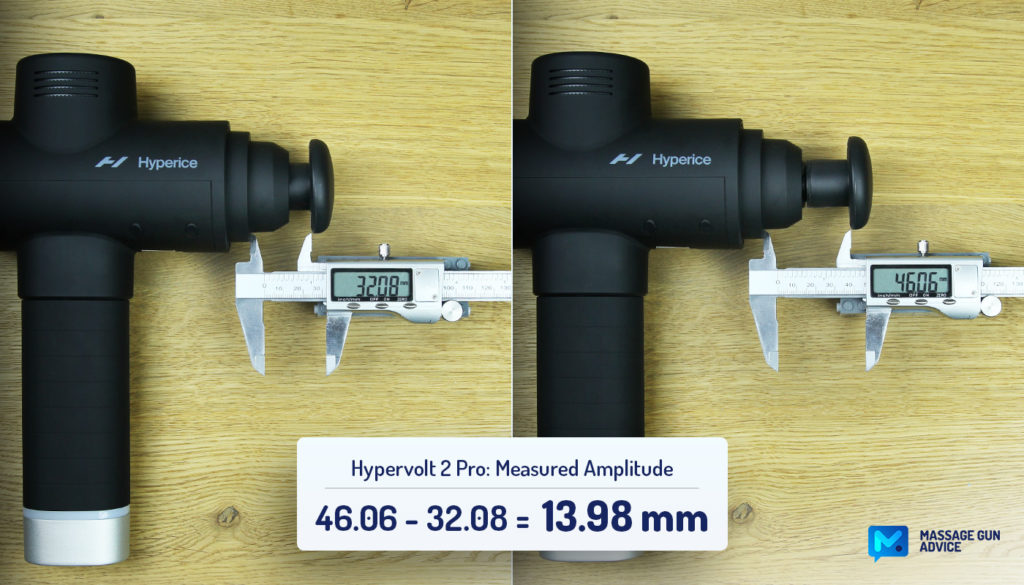 In our individual review, we praised it for having about the same power as Theragun Elite. It also has a removable battery, like Theragun Pro and Achedaway Pro.
Another noteworthy thing is the re-designed control panel, now with the slick-looking dial that you use to activate the gun and navigate between its 5 speeds. The dial means no more buttons on the main control panel, and it is a very cool feature.
It's a proven high-quality device but it's expensive for what it does. It's not as well equipped as some of our best picks here and it's not the best ergonomically. It lacks a carrying case and is pretty heavy at 2.6lbs, even though it only offers about 35 lbs. of stall force.
We suggest that you buy it at RecoveryForAthletes.com – They are Hyperice's official retailer. You can use the HEALTH5 code at checkout for the extra 5% off. Get it right here →
MORE INFO In our hands-on Hypervolt 2 Pro Review →
---
Opove Apex – 14.5mm

Opove APEX is the most affordable high-amplitude massage gun we've came across. It looks unique and is extremely quiet – almost matches Achedaway Pro (it revs slower though, so it makes less noise).
It has almost 15mm amplitude (14.61mm to be exact) and up to 45-50lbs. stall force, which is impressive for a device this cheap.
While it won't rev as fast as Achedaway Pro, or Hypervolt 2 Pro, it nearly matches Theragun at 2300rpm (vs 2400rpm – just a tad less slower).
It's a simplified device – it doesn't have OLED screen, bluetooth or a pressure sensor like Hypervolt or Theragun Elite/Pro. But it is incredibly well made (rubberized end-to-end), has superb ergonomics (aggressively angled handle) and fantastic attachments (including soft one).
It also has a good battery performance even though it is reasonably light (2.3lbs).
The price is great for what kind of specs you get. Opove sells it at just $159. You can buy it here at opove.com →
MORE INFO In our in-depth Opove APEX review →
---
Urikar AT1 – 16mm

Another one with 16mm amplitude – on par with Theraguns and our beloved Achedaway Pro.
Urikar AT1 has an innovative design that screams tech everywhere. For instance, it has a massage head recognition feature, a smart mode that adjusts speeds automatically and an infrared sensor that detects proximity to the body.
We also like the fact that it's quiet for a high amplitude massage gun. However, we don't like that its stall force and percussion figures have been massively overstated.
It is advertised as revving at a very high frequency – up to 3600rpm despite the long amplitude, but we measured only a little over 2000 rpm. We checked with a digital tachometer. This is the slowest-revving massage gun on our list.
In addition, the stall force feels nowhere near the advertised 60lbs. It's closer to 20-25lbs, unfortunately, so it stalls relatively easy.
It is definitely the largest of them all, which you can see by looking at a picture below that shows it next to Achedaway Pro.
On the plus side, it is reasonably priced (for a high amplitude gun, that is). To be honest, though, we feel you get a better value with the Opove Apex above…
It usually costs $269 but you can use the code AT1 to get a massive 40% off that price – it then only costs $161. Get the Urikar AT1 gun here.
---
Highest Amplitude Mini Massage Guns – Best Picks
These are the new trendy small massage guns with high amplitude.
---
Theragun Mini – 12mm
As the kings of amplitude, Theragun equipped their mini gun with a high amplitude. It has a 12mm amplitude and is the highest in the mini category.
It can punch hard but has probably less than 20lbs. of stall force. This might is be not enough to massage large muscles, although it should work reasonably well for smaller muscles (neck area, plantar fasciitis, or upper and middle back).
The mini (1st generation) is somewhat oversized for a mini gun, and very poorly equipped – just the one attachment and no USB-C charger.
However, in the recently released successor, mini 2.0 (2nd generation), Therabody got it sorted out. It became smaller, lighter and quieter. It also comes with not one, but three attachments.
Moreover, Mini's a great addition if you already have any of the large sized Theraguns because all attachments are interchangeable.
Theragun Mini 1.0 is still available, and discounted at a still-hefty $179. The new Mini 2.0 retails for $199 at therabody.com.
If it is too expensive, we'd suggest going for awesome alternatives out there. They may not have better amplitude, but they have more stall force and have more percussions.
MORE INFO Read our hands-on Theragun Mini review →
---
Ekrin Bantam – 10mm
Here is another excellent mini, from Ekrin Athletics, a family-owned American brand. It's the mini version of the two full-sized guns – Ekrin B37 and B37S.
The amplitude is about 10mm amplitude (slightly below), but:
it makes up for a lower amplitude with very high intensity – a whooping 3200 hits per minute
it's stronger than Theragun Mini, and pretty much every other mini gun we've tested.
It has 35lbs. of stall force which makes it more powerful than some of the full-sized massage guns e.g. Theragun Prime. You can press it hard to glutes, quads or hamstrings and it won't slow revving.
So, this is the strongest mini gun you can get, and yet, it is the lightest one, at only 1.1 lbs.
It's a nicely made mini, elegant with premium feel to it. Materials used are great, and so is the equipment; 4 attachments, a carrying case, and a USB-C charger.
The battery is Samsung-branded one, and it does about 5 hours on on a single charge, which is excellent. We've been using our Bantam on daily basis for almost a year now, and it shows no signs of wear and tear (including the battery).
It comes with a lifetime warranty – no other brands we've discussed can match Ekrin's warranty. Buy with confidence.
It's greatly priced at $149.99. But you can get it with 20% discount if you use the MGA20 coupon code. It then costs $119.99. Buy it here, at ekrinathletics.com.
TIP Read our hands-on Ekrin Bantam Review →
---
Bitfinic Mini – 10mm
This is a low-priced alternative to Theragun mini that looks somewhat similar to Theragun, except that it comes with a handle, which makes it comfortable to hold.
It has 10mm amplitude, which is less than a record-breaking stroke of Theragun mini, but is still better than in 90% of other mini guns.
It also punches more intensively than Mini, with a percussion range of 1400-2560rpm. Theragun has slightly narrower range – 1750-2400. However, Bantam's even greater at 2000-3200.
It has 4 speed gears and a high capacity battery (2600mAh). It can easily do 3-4 hours on a single charge. It conveniently charges via USB-C cable.
So where's the catch then?
It has disappointing stall force – only 10-15lbs., which is less than the Mini, and much less than the mini-sized Bantam (our next pick, below). It slows down quite significantly under pressure, and it doesn't take much force to stall it completely.
It comes with a carrying case and 4 attachments.
While it can't compete with any of the guns we've listed, it has the amplitude for the job and might be an okay choice for a starter gun.
Bitfinic is ridiculously cheap. It only costs $39.99. You can buy it at taotronics.com.
TIP Read our complete Bitfinic review →
---
Highest Amplitude Massage Gun – Conclusion
So hopefully now you can easily pick the highest amplitude massage gun with the information above.
Amplitude determines how much of a punch you can get from a massage gun. The better the amplitude the more penetrative feeling you can get. Some people like it, some others don't.
Keep in mind, however, that it's not always the best thing to have the longest amplitude. Find out what you want to do with the massage gun before deciding whether to go for one with a high amplitude or choose one with a moderate amplitude.
Another important factor to consider is the stall force and maximum percussions. Find out if a device has enough stall force, so it can keep revving fast even when the pressure is exerted.
Read the individual reviews for some of our picks to get more details about them. In case of further doubts, please drop us a comment below.
Disclaimers
The views and opinions expressed on this website are those of the authors. Any content provided by our bloggers or authors are of their opinion and are not intended to malign any religion, ethnic group, club, organization, company, individual or anyone or anything.
All product names, logos, and brands are property of their respective owners. All company, product and service names used in this website are for identification purposes only. Use of these names, logos, and brands does not imply endorsement.
It is our policy to make every effort to respect the copyrights of outside parties. If you believe that your copyright has been misused, please provide us with a message stating your position and we will endeavor to correct any misuse immediately.
Some of the links in this post are affiliate links. As an Amazon Associate, we earn from qualifying purchases. This means if you click on the link and purchase the item, we may receive an affiliate commission, at no extra cost to you. This helps us keep this website alive. Learn more here.
Amazon Disclosure
massagegunadvice.com is a participant in the Amazon Services LLC Associates Program, an affiliate advertising program designed to provide a means for sites to earn advertising fees by advertising and linking to Amazon.com. As an Amazon Associate, we earn from qualifying purchases. Amazon and the Amazon logo are trademarks of Amazon.com, Inc. or its affiliates. Please refer to our Privacy & Affiliate Policy for details.