Taotronics TT-PCA004 Review: Better than its Bigger Brother?
What to Know: We independently review products we recommend. If you click on links we provide, we may earn a commission. Learn more.
---
In our Taotronics TT-PCA004 review today, we turn our attention to this affordable massage gun.
We recently did one Taotronics massage gun review, but this was an older brother of this model – the TT-PCA003. We saw how it has so much to offer and how affordable it was.
Well, this TT-PCA004 gun is very much like that older brother, at least in terms of the price (goes for $49.99 or $37.5 if you use the 25OTT promo code). We'll find out as we review it if there are other similarities.
What we can tell you, for now, is that this is perhaps, slightly better. There are issues that the older brother had that this one seems to solve.
Stick around, and we'll find out.
---
---
Who's Taotronics?
Taotronics is an affordable consumer brand that sells a wide range of products. Obviously, we're always interested in massage guns. Turns out they have been selling massage guns for quite a while now. They sell primarily through their own store.
But their massage guns aren't premium, they seem to focus on entry-level devices for beginners, or folks who want cheap massage guns.
Even though the guns are cheap, and perhaps far from premium, they are a trusted brand that delivers what they promise.
We purchased 3 guns from them and they all arrived fast.
---
Taotronics TT-PCA004 Video Review
Let's start with some visual insights. We have our hands-on video review of the Taotronics TT-PCA004 Massage Gun.
So, we unbox, explore its design and equipment, and even put it to the test. Go ahead, hit play, and see what this massage gun can offer.
More details in the full review just below.
---
Taotronics TT-PCA004 Review
---
Specifications

Feature
Taotronics TT-PCA004 Specs
Stall Force
33 lbs*
Stroke Length
10 mm (8 mm*)
Percussion range
1000 – 3000 rpm (800 – 3200*)
Speeds
20
Attachments
6 included
Weight
1.6 lbs
Noise (decibel)
43.1 – 58.1 dB (40 – 50 dB*)
Battery Capacity
2600 mAh
Pros
Good stall force
Good size & ergonomics
Wide percussion range
Nice design and materials
Low weight
Accessories included
Cons
Low stroke length (amplitude)
Current Price
$37.5 $49.99 at taotronics.com
(25% OFF with the 25OTT coupon)
Taotronics TT-PCA004 Specifications (* advertised by Taotronics)
---
What is Included?
Just like the previous model, it's surprising that TT-PCA004 has a carrying case at less than $50. However, don't get too excited; it's not the best case you've ever seen…but there is one!
Included with the gun are the attachments, a wall charger, a thank you note with warranty information, a manual with the specs and how to use info. You will also find info on how to use the gun on different muscles.
---
First Impressions
Straight of the box, you can tell that this one is different from the previous TT-PCA003 massage gun. It's smaller and maybe a mini massage gun?
We're not sure. It's not as tiny as the Bantam or any of the small guns we've reviewed before.
We'll call it a hybrid between a full-sized gun and a mini massage gun. That said, we love the size. Even if Taotronics intended it to be a mini massage gun, this size is acceptable.
It's not bulky – you won't feel like you're holding a jackhammer. It weighs just 1.67 pounds with the flat head mounted. Looking at it, there's definitely lots of plastic used to make it.
However, unlike the TT-PCA003, this model is definitely more stylish. The rest of it may be plastic but the top is metallic and feels very nice to touch.
We think it's incredible for a budget gun to have this look. The design and materials look makes it look like one of those premium guns.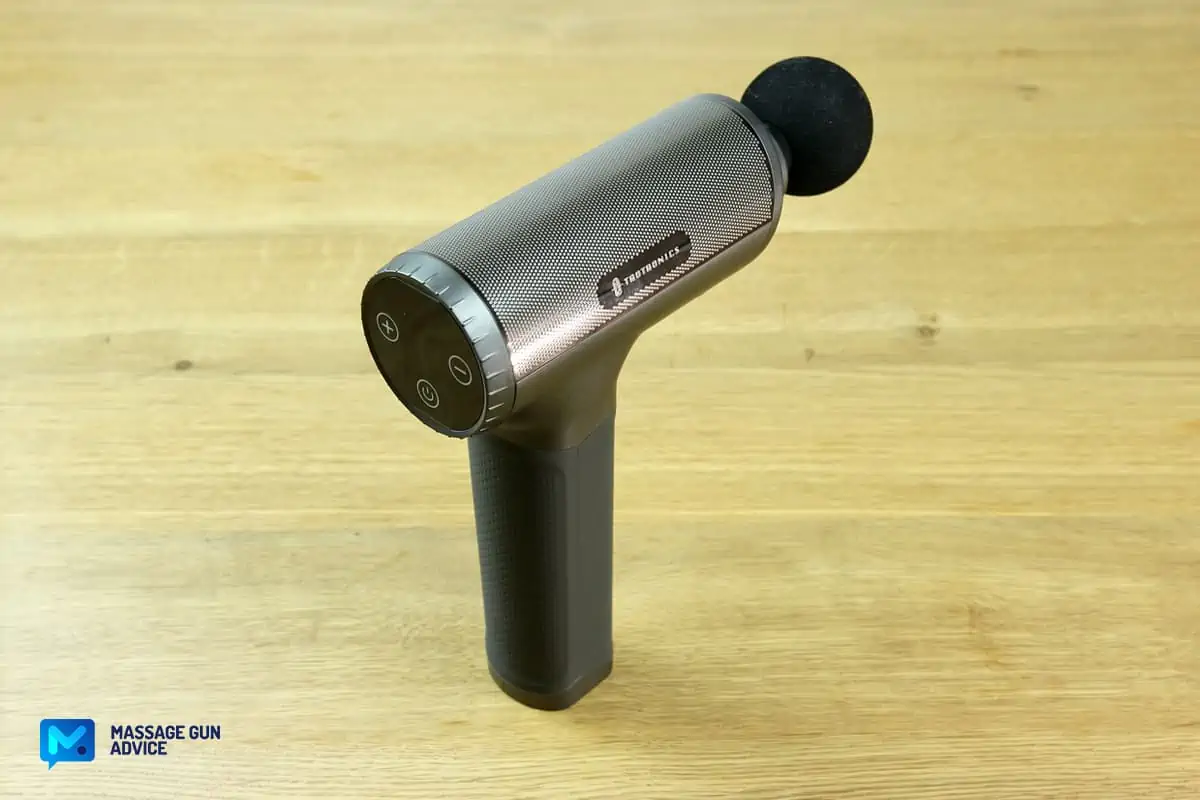 There are 3 color options to choose from – gray (the color of our gun), silver, and green. The previous model had a variety of colors to choose from as well, but we like the color combinations in this one.
---
Ergonomics
We expected this gun to be a copycat of the previous model, but we were wrong.
Apart from being lighter, this gun has better ergonomics than its bigger sibling. It's about the same size as the Bob and Brad T2 or C2. But this one has a longer handle with plenty of grip.
Even though it's smaller than the TT-PCA003 model, the long handle seems to have stayed. If you hold them together the TT-PCA003 has a slightly longer handle, but it's by a mere inch.
We also love the rubber that goes all the way to the top of the handle – the entire handle is rubberized. This significantly improves grip and solves a problem that the older model has.
Even the LEDs are hidden within the rubber – don't worry, they are still visible. More rubber on the handle offers more options to hold the device without it slipping from your hand.
The handle is not round like the previous model. Instead, it's square with rounded edges. It's not as thick as the previous model; folks with small hands can still use it comfortably. It's just a bummer that the handle isn't as tilted as say Ekrin 365 or Achedaway Pro. That would've been perfect.
Even so, for a T-shaped gun, the handle is fantastically executed.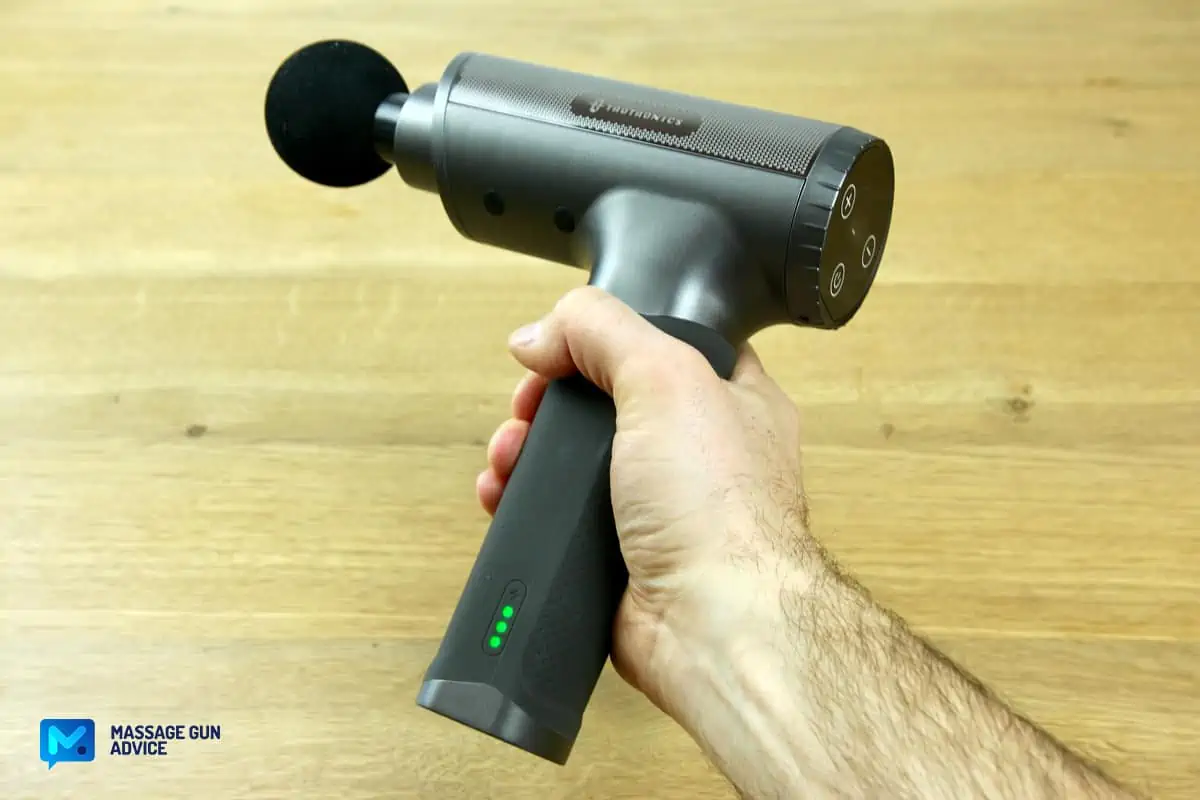 ---
Controls
The controls are more or less the same as in the previous model. It's the same style we have seen with guns such as Legiral Le3, Fitpulse, or the popular Chirogun.
But here the central display (at the back of the device) doesn't have a battery charge indicator. You'll have to use the LEDs on the handle to check the battery charge.
The screen, however, shows the number of speeds. There are + and – signs to increase and decrease speeds consecutively.
The buttons are touch rather than click – we like clickable buttons, they give you the old smooth feedback.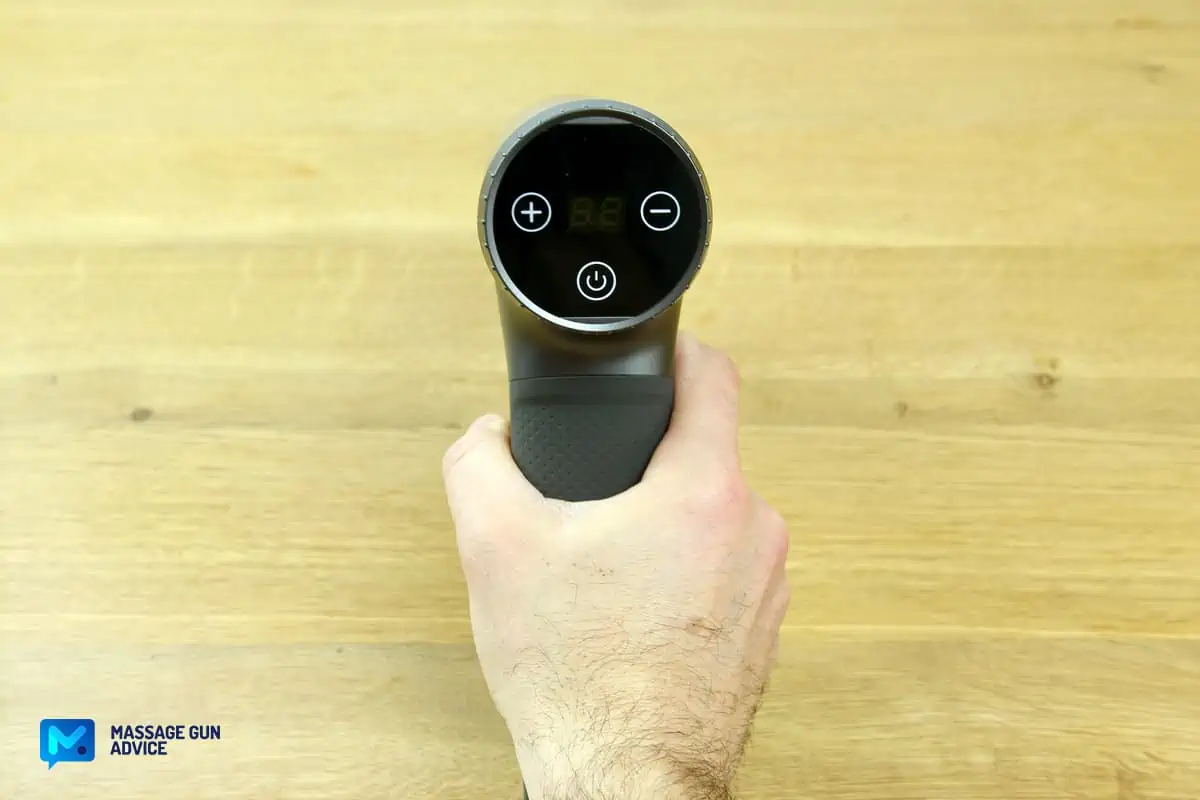 That said, everything works as it's intended. The buttons help make cycling through speeds easier.
There is an activation button on the screen as well. The main switch is at the bottom of the handle. Despite what these controls may suggest, they are functional and good enough here.
---
Attachments
The attachments here are the same as the previous gun's. We're guessing it makes sense to have the same for the two guns since they're not too distinguished from each other.
Either way, we still prefer something else other than the push/pull mechanism used here.
On to the attachments themselves;
Ball head – This one is made of EVA foam and is used as a universal attachment to massage the entire body.
The flat head – it's the same one as the previous Taotronics with bumps for some added effect. It's good for massaging large muscle groups like the quads.
Air or cushioned head – This one has bumps as well and is used on sensitive or bony parts of the body.
Bullet head – It's typical in nature and doesn't have any modifications. It's for trigger points, joints, palms, and soles.
Fork head – It's also mainstream and should be good to massage the spine area and the Achilles. Some use it as a double-pronged bullet head.
The wedge head (D-shaped) – This is the one we enjoyed using. It doesn't have similar modifications as the flat head. It's for shoulder blades and IT bands.
Overall, we think it's amazing that they included 6 attachments for a sub-$50 massage gun. The attachments are good enough and we believe they will last.
However, we just have a few reservations;
Just like the attachments on the TT-PCA003, they tried to re-invent the wheel by adding modifications to them.
The bumps on the air-cushioned attachments make little sense since it's supposed to be used on sensitive areas (areas that may be painful).
We prefer the regular flat head without any modifications – someone else may have a different opinion.
That said, for less than $50, having 6 attachments is a steal.
---
Performance
We didn't know what to expect from this gun as far as performance goes. Here's what we found out.
---
Amplitude
It's the distance covered by the massage gun head as it percusses.
We saw 15mm as the advertised amplitude and our jaws dropped. This is a smaller gun compared to the previous model, how does it have a longer amplitude (by far)?
But we always take information like this with a bucketful of salt. We expected it to have a smaller amplitude compared to the previous model, and so it proved.
It has a stroke length of less than 9mm or approximately 8.65mm – according to our digital caliper. This is so-so amplitude. The Bob and Brad T2 is better with 10mm amplitude.
The low stroke length is the weakest point of this gun.
The TT-PCA003 had a 10mm amplitude. That is good enough for some things like warming up and relaxation massage. This also means that the gun is highly vibrational. Which leads us to the next aspect, how is the stall force?
---
Stall Force
Stall force is the ability of the gun's motor to withstand pressure without stalling.
For this gun, we did not expect much. No one can blame us; it's a sub-$50 gun after all.
But we were quite shocked when we measured the stall force – we didn't want to believe the information on their website. Surprisingly this gun is quite powerful.
We measured it against the TT-PCA003 model and it performed quite well – it stalls a tad faster, but still very impressive.
The motor can withstand a fair bit of pressure before it stalls. We'd say it has about 30lbs. of stall force, maybe even 35lbs. It feels that powerful. It's not the 45lbs. advertised by Taotronics though.
Either way, we like this setup of more stall force and a somewhat considerable stroke length. You can still press it hard against the skin if you want a semi-deep tissue massage.
Overall, we'd say this gun performs better than many cheap guns we have seen and even reviewed. Some of them are even more expensive than this gun. Chirogun, Legiral, Fitpulse, Darkiron, Butyce, and many more come to mind.
Another thing that we noticed, something that was a bit of a bug for the previous model, is that this one doesn't completely shut off when it stalls. It actually just revs off when the pressure is eased. That is what we like!
---
Speeds and Percussions
The range is nicely spaced. The advertisement on the manual says 800-3200RPM, but our measurements gave us 1062-3039RPM, or, to simplify, 1000 to 3000 percussions per minute.
That range is good for a number of reasons;
You can have a slow and relaxing massage if you want. However, the stall force at lower speeds is incredibly low, but you'll manage.
The intensity is high enough to rival even the big guns like Ekrin – up to 3000RPM.
The mid-range intensity is good (around 1600-2000, or 10th to 12th speed). Even though it doesn't percuss fast enough, you can still exert decent pressure without stalling it.
We just have one reservation here; 20 speeds is a bit overwhelming.
Even with the wide percussion range, we still believe they went a bit overboard with this. We feel they should've gone with the same setup of 10 speeds as the previous model.
---
Noise
Well, we didn't expect this device to be noisy; low amplitude devices tend to be quiet from our experience. But everything is not always a given with cheap massage guns.
We noticed that this one was slightly noisier than the previous model. Well, at least according to our decibel meter. We had 43.1dB at the first speed and 58.1 at the last (20th).
That said, it's not something that will irritate you as you use it – we would say it's pretty quiet for how much it costs.
We also noticed a bit of rattling at top speed, but nothing too serious. There aren't many vibrations to the holding hand either – it's better than the TT-PCA003 model.
---
Battery
It's a pretty well-juiced battery for such a small device. We tend to associate large batteries with bulky devices. This one, even though small, has the same 2600mAh capacity as the previous model.
What about the quality though? The quality is good. It drains slowly when used at moderate speeds and medium pressure.
Our experiments proved it can last for hours before you need to charge it again. For normal use, you'll get about a week of use.
The device has a 15-minute auto-shutoff feature to prevent overheating and save on battery.
If you were wondering about the battery LEDs, they are located on the handle – 3 LEDs. They all light green when fully charged and flash when the battery's empty.
Even with the auto-shutoff feature, it's recommended that you let the device rest for 30 minutes after long sessions.
We are not sure how long the battery can last, given how much this device costs. We don't expect it to last as long as those top devices like Ekrin, which are known to have a quality, Samsung-branded batteries inside.
---
Warranty and Price
Only a 1-year warranty like its bigger sibling. If you need a better warranty you can check out Ekrin or Lifepro devices. Or Addsfit, they have a nice device under $100 and offer a 3-year warranty.
The price is the most adorable thing about this device, it's only $37.5 – that is after you apply a generous discount to the $50 price tag. Use the coupon 25OTT to get it for that price. However, the coupon only applies when you buy it directly from their website. We bought our unit this way.
---
Who is it Best for Then?
Anyone who's looking for a cheap entry-level device. This device is very much the smaller clone of the previous model. The performance specs aren't exactly top-notch.
It will be a good device to use at home to relax your muscles, treat soreness in the muscles, massage your neck and shoulder, and perhaps a warm-up before exercise.
It will also be a decent device for ladies who tend to have small hands – the handle diameter isn't as thick as the previous model.
However, if you are a big guy with lots of muscles, this won't be a punchy device. You'll need one with a higher amplitude to get those deep hits.
Also, if you are looking for a Theragun alternative, this isn't the gun for you (we got them here). There's some stall force on this, but not enough amplitude to match with it.
---
Taotronics TT-PCA003 vs TT-PCA004
So, how do the two Taotronics devices compare? Here's a summary:
TT-PCA003 advantages over TT-PCA004
Slightly longer stroke length – we measured 8.65mm on TT-PCA004 vs. 9.53mm on TT-PCA003, so a 1mm difference. That is a minor difference; both guns feel vibrational.
Slightly more powerful motor – but both devices work really well for an entry-level dev.
Longer handle – by about an inch.
Slightly quieter – 42.0 – 57.4 dB versus 43.1 – 58.1 dB for first/top speed respectively.
10 speeds versus 20 in TT-PCA004 (20 feels too many).
TT-PCA004 advantages over TT-PCA003
Much smaller, more compact.
22% lighter – 1.67 lbs vs 2.15.
Better shaped handle – squared with rounded corners vs. thick round.
More rubber on a handle, more ways to hold the device.
Feels better quality and less "plasticky" (e.g., metal top).
Fewer vibrations on top speed transferred to a holding hand.
Doesn't stall to death on top speed as TT-PCA003 (auto resumes when pressure is eased).
Similarities
Same percussion range of about 1000 to 3000ppm.
Same battery capacity (2600 mAh).
Same average attachments (6).
Same price.
Same warranty.
Our Verdict

These two devices look pretty similar, and the fact that they cost the same price presents a bit of a quagmire.

However, we would still pick the smaller, compact, lighter, and better quality TT-PCA004 over its larger counterpart. The amplitude is smaller for our choice, but it's by a mere millimeter, something we can live with.

Besides, the stall force is great, the battery is the same (despite the size), and the price makes the choice even more straightforward. Lastly, it looks more stylish, with its metal top.
---
Review Summary
That is the end of our Taotronics TT-PCA004 review. The gun is similar in many ways to the previous TT-PCA003 model.
It's an entry-level massage gun for personal use at home. We love the simplistic but stylish approach to the design and the equipment included.
For those who like the specs discussed in this review, this will be a good massage gun to buy.
Plus, it's incredibly affordable!
---
Our Taotronics TT-PCA004 Rating
Quality

Effectiveness

Usability

Accessories

Price Value
Summary
The Taotronics TT-PCA004 massage gun is a small compact and good quality massage gun. We love the rubberized handle and the accessories included with it. However, the amplitude might feel too vibrational for those who prefer a deep, more aggressive punch. The stall force tries to make up for it, but only for basic massage purposes. We'd recommend it for those on a tight budget, as the price-value ratio is pretty amazing. 
Was this article helpful?
Thanks for your feedback!
Post Update History
Here's a quick rundown of all the tweaks and edits we've made to this article to keep it accurate and up-to-date!
Current version last updated on:
June 19, 2023 Added our own video review of the Taotronics TT-PCA004 Massage Gun. Made minor changes to text and photo descriptions for clarity.(Author: Greg)
•
Written by:

Luke Deszczulka
Disclaimers
The views and opinions expressed on this website are those of the authors. Any content provided by our bloggers or authors are of their opinion and are not intended to malign any religion, ethnic group, club, organization, company, individual or anyone or anything.
All product names, logos, and brands are property of their respective owners. All company, product and service names used in this website are for identification purposes only. Use of these names, logos, and brands does not imply endorsement.
It is our policy to make every effort to respect the copyrights of outside parties. If you believe that your copyright has been misused, please provide us with a message stating your position and we will endeavor to correct any misuse immediately.
Some of the links in this post are affiliate links. As an Amazon Associate, we earn from qualifying purchases. This means if you click on the link and purchase the item, we may receive an affiliate commission, at no extra cost to you. This helps us keep this website alive. Learn more here.
Amazon Disclosure
massagegunadvice.com is a participant in the Amazon Services LLC Associates Program, an affiliate advertising program designed to provide a means for sites to earn advertising fees by advertising and linking to Amazon.com. As an Amazon Associate, we earn from qualifying purchases. Amazon and the Amazon logo are trademarks of Amazon.com, Inc. or its affiliates. Please refer to our Privacy & Affiliate Policy for details.