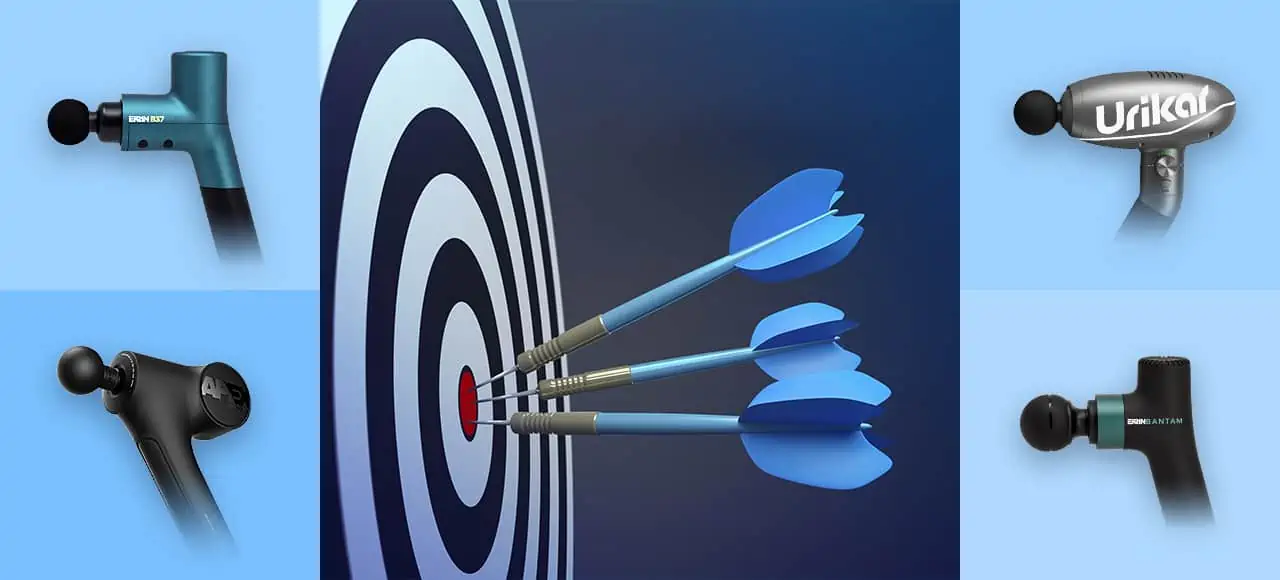 Best Value Massage Gun of 2023 – Which One Is Worth Its Weight In Green Paper?
Note: Our content is non-sponsored and fact-checked. If you buy via our links, we may earn a commission. As an Amazon Associate, we earn from qualifying purchases.
---
What is the best value massage gun? What is that one massage gun that you could buy and feel it's money well spent?
When massage guns first came into the market, they were expensive units, and it didn't matter whether they could do half the things they were touted for.
However, with the stiff competition today, prices for these things have significantly dropped. That means it's no longer the expensive ones that can get the job done; there are cheap ones that are just as good, if not better.
Let's get started.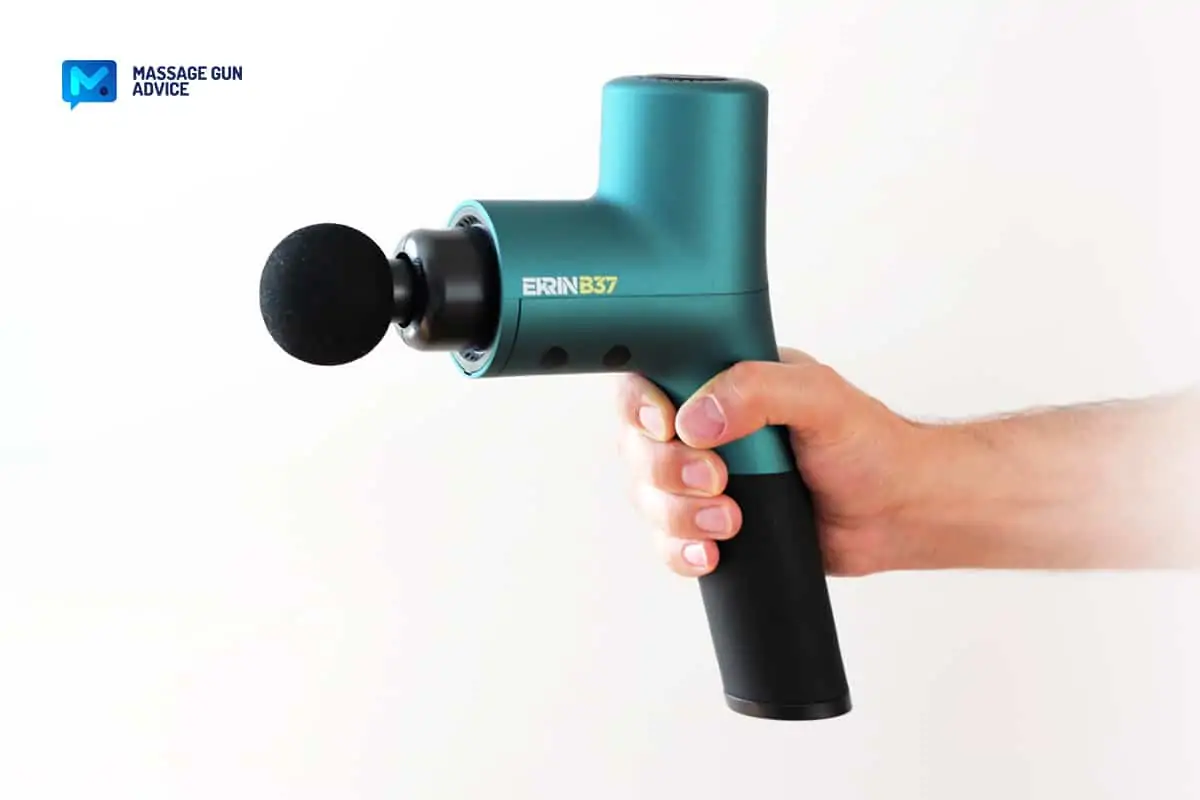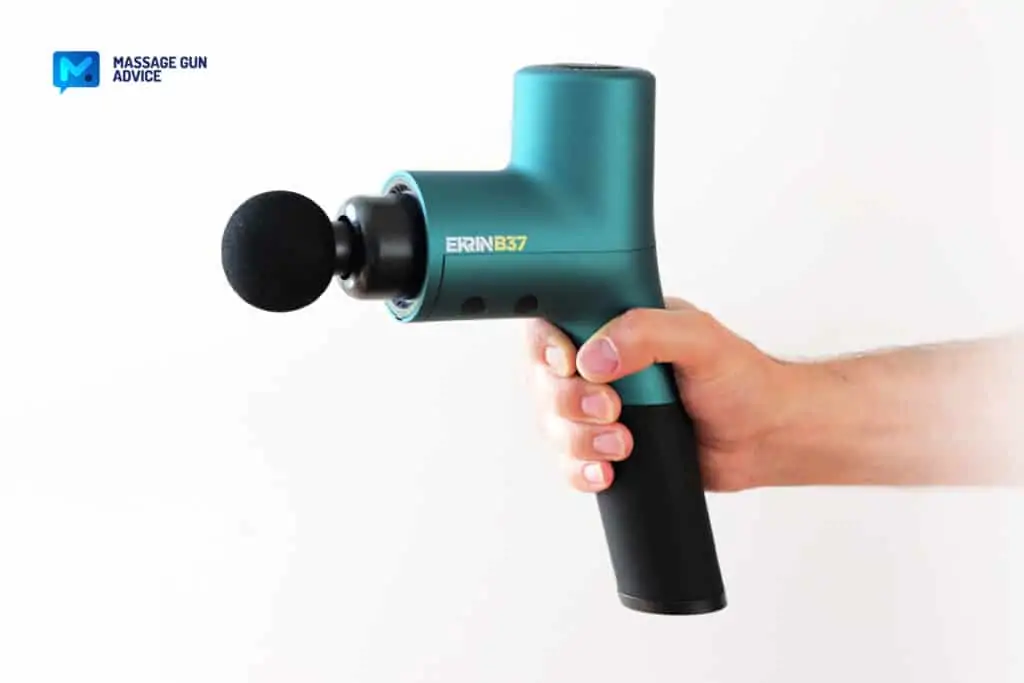 Update for 2023: this post has been revised to reflect the current market situation. The biggest change you'll notice is the addition of the Bob and Brad D6 massage gun. Although it comes with a price tag of $250, the value you get for it is fantastic. We also added more photos, and linked to individual reviews.
---
---
TL;DR If you can't read the entire article, here are three top suggestions for you.
Ekrin B37 – It's reasonably priced but has everything; great power, superb ergonomics, well-equipped, and a lifetime warranty. Use the MGA20 coupon for a $46 discount.
Bob and Brad D6 Pro – It has a high amplitude, nice attachments and comes at a fraction of Theragun's price. Use the MGADVICE code for 10% discount.
---
Why trust us: we have completed over 70 hands-on massage gun reviews. We know guns worth the money you spend on them and those masquerading as good guns. We compare and measure devices against their specs. We also give sound reasoning so you understand the differences.
---
Best Value Massage Guns – How Did We Choose?
We first took into consideration devices that scored good points in our earlier reviews (those that scored above 4 stars). We then considered devices based on their price/value factor.
Here we removed the expensive guns and the cheapest ones. We wanted the devices that give the best bang for the buck. Unfortunately, most cheap guns lack power – power is absolutely important in our criteria.
We've interacted with so many guns it got us thinking that maybe we don't need to include Theraguns and Hypervolts.
We mean, those guns are great, but they don't necessarily offer the best value for money. They are too expensive for what they offer.
However, we also had a change of mind about some of our all-time favorites, including Ekrin B37S – one of the strongest and best guns out there that we voted as the best massage gun of 2023.
We also didn't favor Achedaway Pro (Theragun Pro's killer). We reasoned that these guns, though incredible, cost more than $250. We figured there are best value guns that fall within the $150-$200 range.
---
What Makes The Best Value Massage Gun
When choosing the best value massage guns we have considered the following:
---
Power
We believe the best value percussion massager has to be an "all-terrain" device. It has to work on different muscle groups despite the level of development of these muscles.
In other words, it shouldn't matter whether you are a regular guy, or a bodybuilder; the best value device should be effective in all cases.
We define power in a massage gun by looking at its stall force, amplitude, and percussion range.
---
Stroke Length
Stroke length, also called amplitude, is the distance traveled by a massage gun's tip during percussions. Here it could either be high or low.
High amplitude devices feel more penetrative, they get their intensity from the deep hits. The stroke length here is often 14-16mm. However, they have fewer percussions. Theraguns, Achedaway Pro and Hypervolt 2 Pro are good examples.
Low amplitude devices feel more vibrational. They get their intensity from the rapid percussions. But some have lower stroke lengths than others. For example, we consider Taotronics and Ekrin Bantam as low amplitude devices (they have 10mm or less). But we consider Ekrin B37, B37S, and 365, Hypervolt 2, and Urikar Pro 2 as medium amplitude (10-13mm).
But which type provides better value? Is one category better than the other?
We don't believe one necessarily is better. It's all a matter of preference. We believe you should know what you need before you pick a gun to buy. Some people prefer deep hits, while others would rather work with vibrations and shallow hits.
Our advice:
Go for the medium amplitude devices if you're not sure what you want. These devices fall under our "sweet spot" category, where the message isn't so shallow but not so deep as to hurt you. Ekrin B37 is the perfect gun here.
If you'd rather get the Theragun experience, we believe the Bob and Brad D6 Pro (our 2nd pick) should do a very good job. It's a high amplitude gun, just like Hypervolt 2 Pro or Theraguns. It also comes at a fraction of the price of either of the two posh guns.
---
Stall Force
Stall force is the massage gun motor's ability to withstand pressure. The stronger it is, the deeper the gun can hit. But where or how does the stall force matter?
Stall force allows for deep penetration of medium and large muscle groups. You can only hope for surface-level hits if a device doesn't have a high stall force. Surface-level hits aren't really effective unless you just want a relaxing massage that's more vibrational than percussive.
We recommend that you stay away from guns that easily stall even when they have a better amplitude.
That said, low stall force devices will also shrink the percussions per minute when pressure is applied. That means if you have a device that percusses up to 3200PPM, you may end up with only 1000PPM when you apply some pressure. A medium to high stall force device will keep the percussions steady.
How much stall force do I need?
If we assume that the device is versatile enough to allow for an effective percussive massage on all muscles, you'd need a device with 30-40lbs. of stall force – ideally close to 50lbs. We picked devices that can work on large muscles too.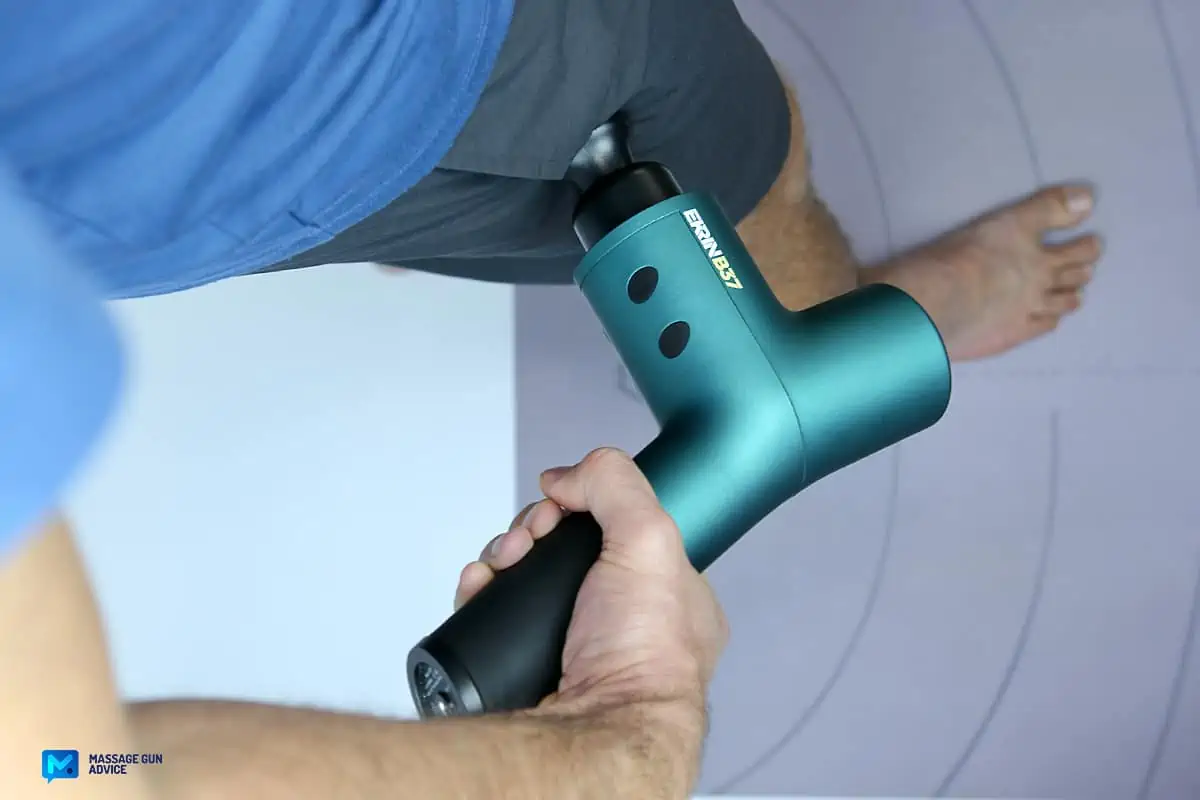 ---
Percussions and Speeds
Most high amplitude devices will rev only up to 2300-2700RPM. For low to medium amplitude devices, expect a 1800-3200RPM range.
When a device indicates that it can percuss up to 3400RPM or more, it either means that the manufacturer has overstated the range or the device has a very low amplitude – significantly below 10mm.
You either have a high amplitude or high frequency device, but not both.
We love devices with a wide range; Our beloved Ekrin B37 has a 1400-3200RPM range – that's wide enough to give you a slow, precise massage as well as intensive vibrations.
Speeds: most devices come with 3-6 speeds. This is the optimum setup depending on the percussion range. Keep in mind that low stall force will slow down the percussions. That is why we didn't include such devices here.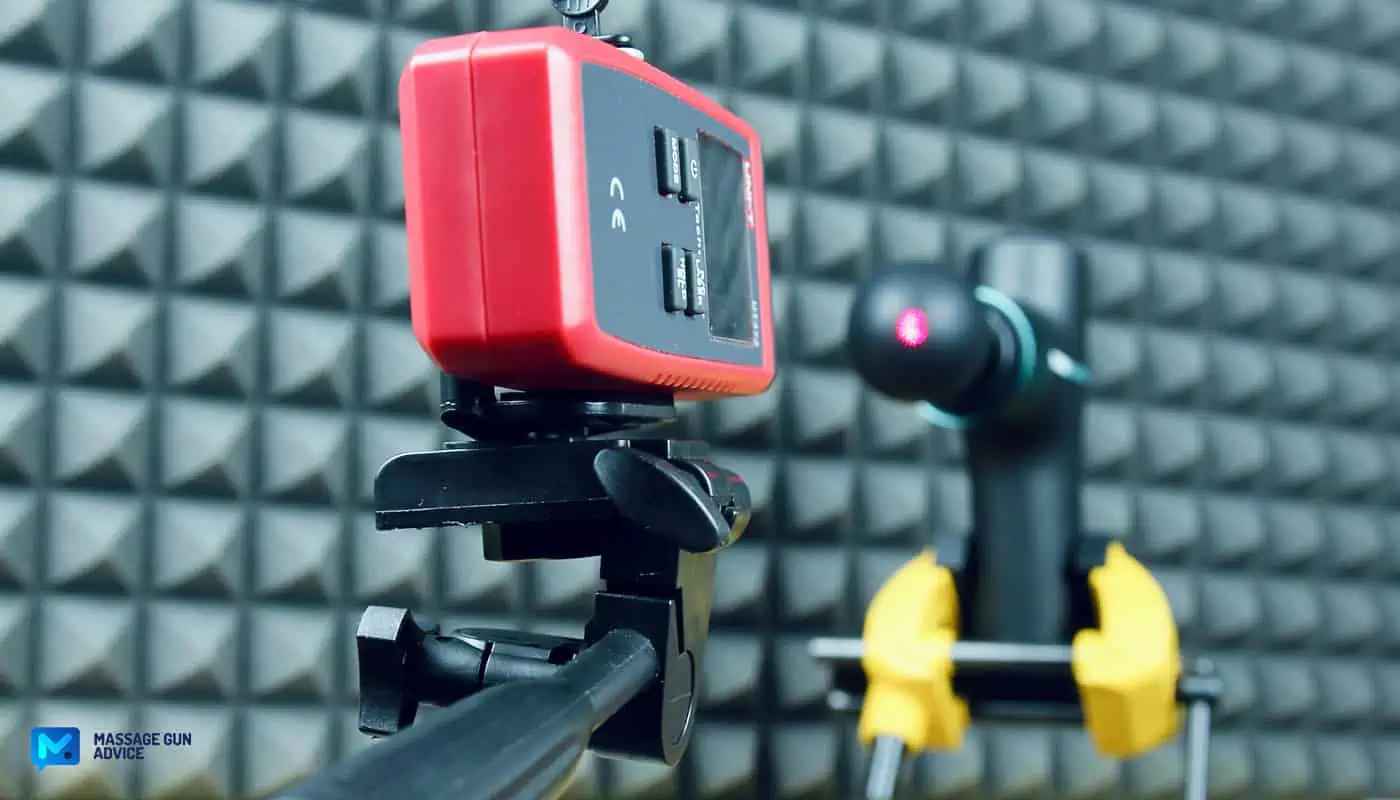 ---
Ergonomics
Apart from the power of a device, you also want to ensure the device has great ergonomics. It's important for DIY massage.
Massaging your lower back and calves may be difficult, especially for bigger guys or the elderly. We don't believe you should go for the T-shaped, power-drill-like guns.
We picked our best value massage guns with good ergonomics in mind. Good examples would be Theragun's multi-grip handle, angled handles like Ekrin's B37 or Bob and Brad D6's, and the smart 180-degree rotation handle on Urikar Pro 2.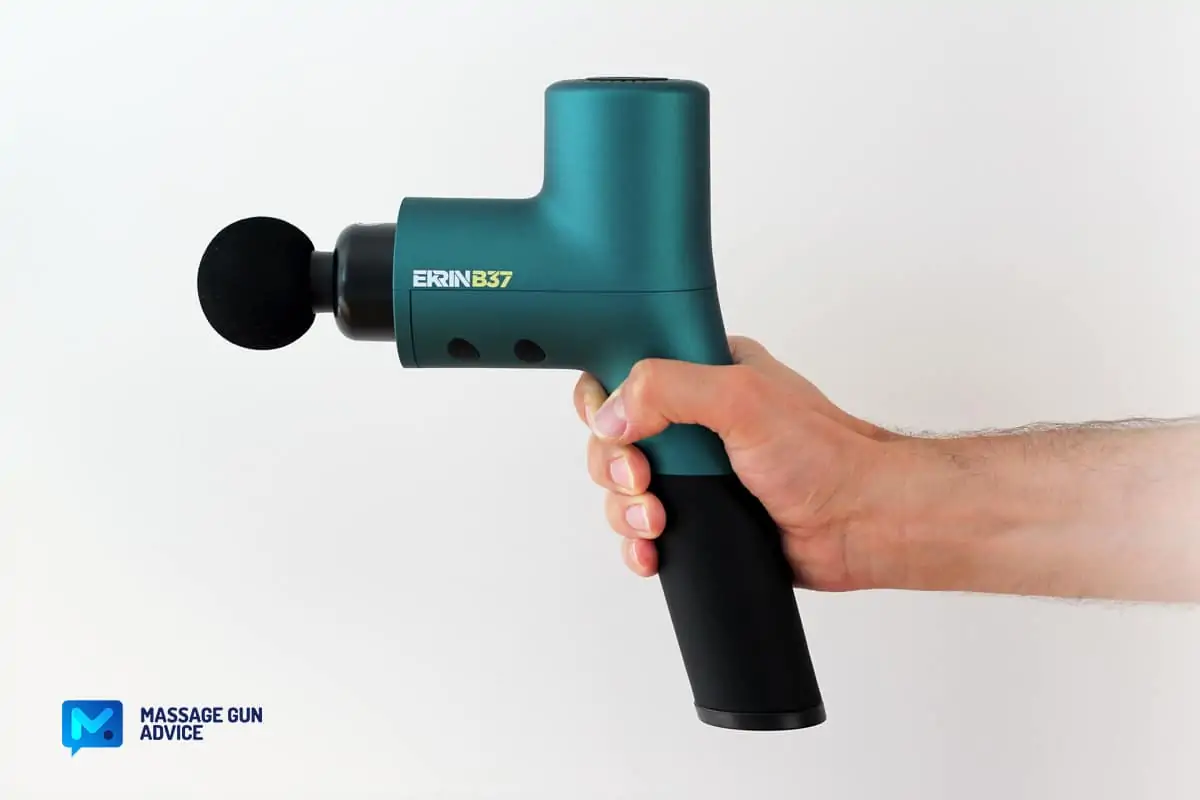 The weight of the device also plays a role in ergonomics. It's easier to maneuver a 2.2-2.3 pounds gun than it is to maneuver a 3-pound power-drill device.
We also included one mini gun – the Bantam – weighing a meager 1.1 pounds.
---
Other Things We Considered
Noise: You want a device that is comfortable to use anywhere. Noise is an important factor to take into account. We included devices that wouldn't disturb a conversation or cause you to raise the TV volume.
Attachments: We believe 4 to 6 attachments should be perfect for massaging the whole body. Don't fall for the marketing ploy of some massage gun brands that try to include extra attachments that don't add any value.
Battery capacity and time on battery: This isn't an issue these days since most devices have batteries that can go for days without needing a charge. We included devices with batteries that can last for 4+ hours, which typically means about a week on a single charge.
Warranty: Cheap brands don't offer any warranties. When they do, it's often just a 1-year warranty. The best brands offer more or a lifetime warranty.
Additional features: Heating modes, dynamic speeds, carrying cases and many more.
Price: Of course, we chose guns that offer the best bang for the buck.
---
Best Value Massage Guns – Our Picks, Explained
---
Ekrin B37 – Best Value Massage Gun Overall
For the price, this massage gun has everything we've talked about so far. It's also likely the most versatile massage gun on the market today. Here are the reasons why;
Perfectly balanced power features: The B37 has the sweet spot amplitude and won't be as punchy as a Theragun, but it's not as vibrational as, say, Bob and Brad T2 or Toloco or Mebak.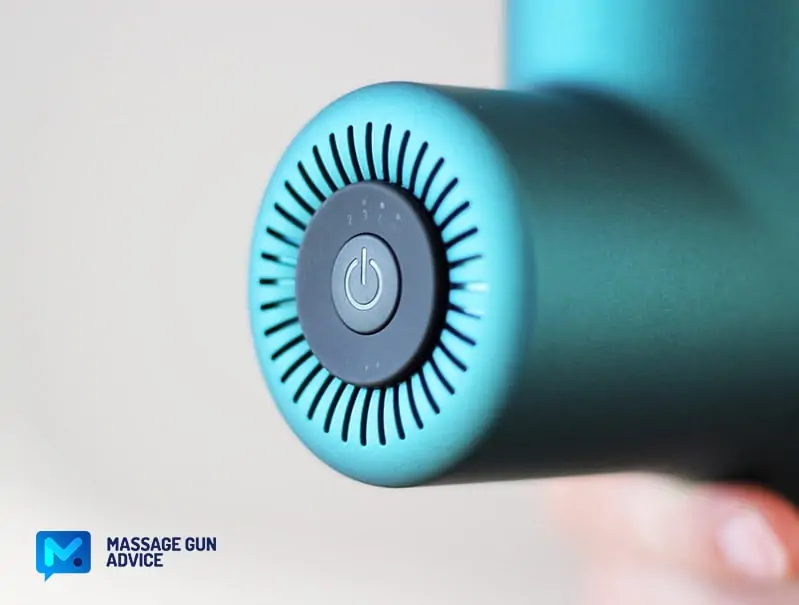 It has a stall force of 56lbs. on the highest gear and can be pressed hard against the muscle to achieve maximum results. It's the perfect gun to massage your glutes, hamstrings, and the whole hip area. It's also a good fit for folks with well-built muscles.
The stall force on lower gears is also good and allows you to have a slow but deep massage – just apply reasonable pressure. You also get a wide percussion range of 1400-3200RPM.
You get a 5-speed setup that allows you to have both a slow, soothing massage and an intensive, aggressive one when you need to.
The battery can last a whopping 8 hours with a single charge. It's the longest battery time of all our picks. Even when you exert pressure during massages and use high speeds, it can last for two weeks (when used normally). The battery is a high-quality Samsung battery.
B37's ergonomics also deserves a mention:
probably the first gun to introduce the angled handle among massage guns. We love it because it provides a more natural grip that reduces tension and fatigue to the holding hand.
The handle also makes reaching the back easier than it would be with a T-shape gun.
It also only weighs 2.2 pounds – very light if you consider the motor power and battery.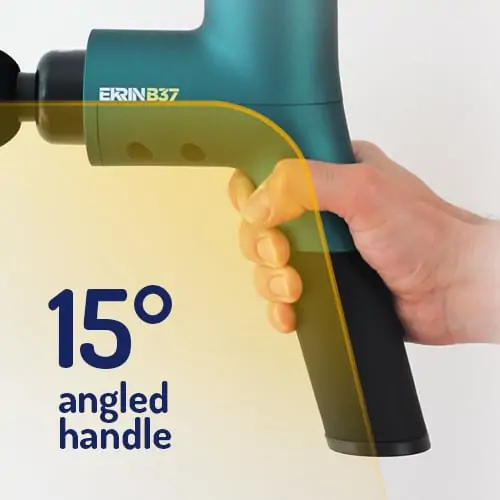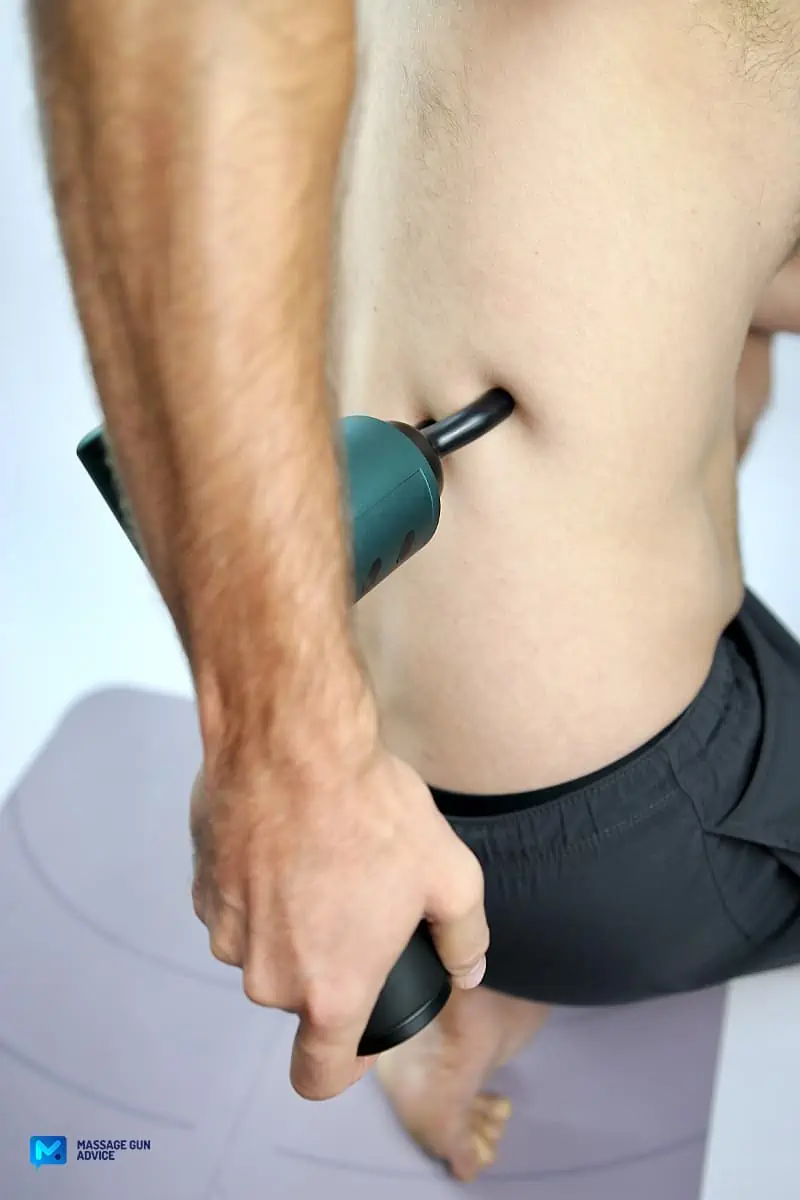 Besides, Ekrin is a trusted American massage gun brand that has sold tens of thousands of devices. We have used our unit for over a year, and everything's still intact.
Ekrin offers a lifetime warranty for all their products, so it's a safe purchase. The build quality is excellent with premium materials used. It feels just as top-notch as Theragun.
Ekrin B37 comes with four good-quality and varied attachments, and a carrying case.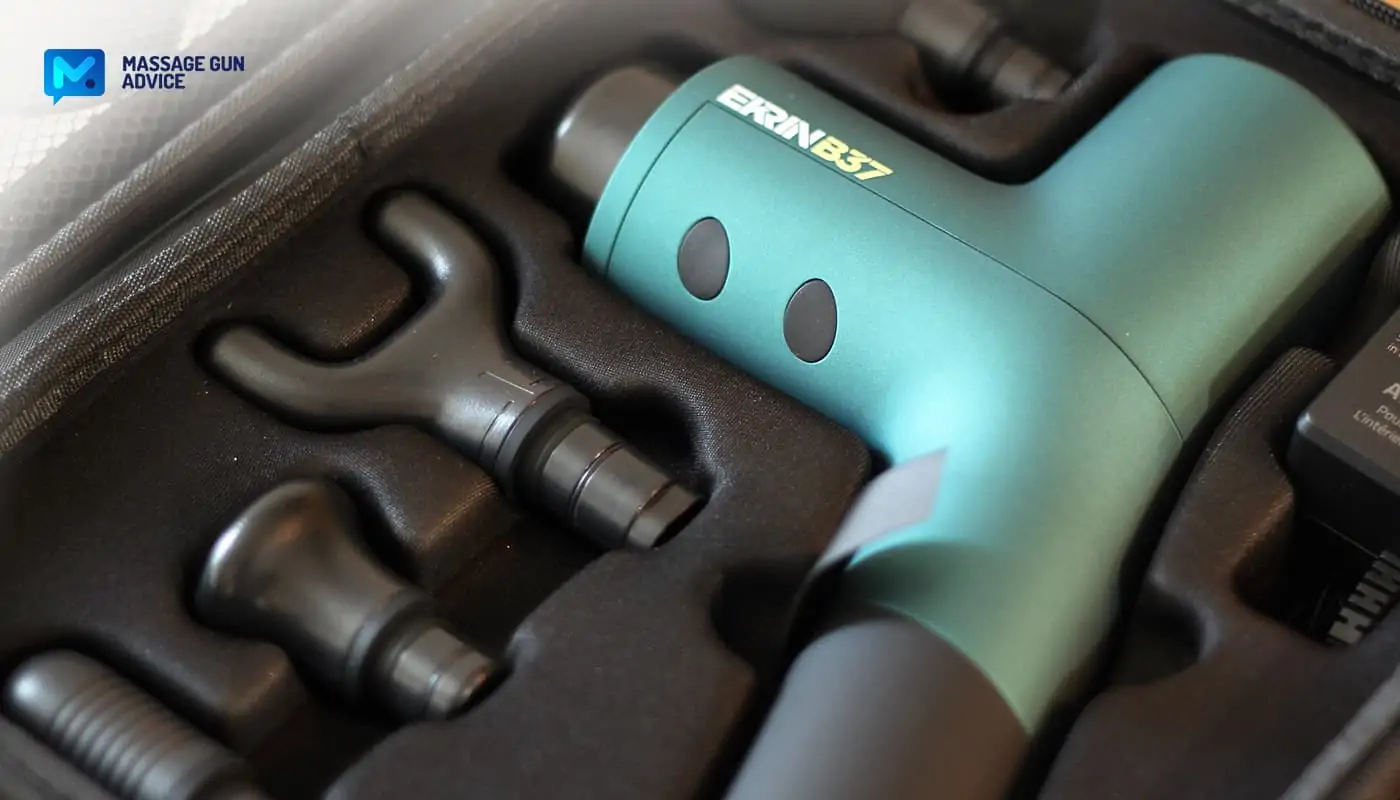 It's quiet, too. Even at the highest speed this thing doesn't buzz as loudly as some of the guns out there.
It's a great deal too. It usually costs $229.99, but you can use the MGA20 coupon to get it for just $183.99 – a 20% discount.
Full Review For more details, refer to our hands-on Ekrin B37 review here.
---
Bob and Brad D6 Pro – Best Value High Amplitude Device

We're not going to lie; we thought of including the mighty Achedaway Pro here, but then we have found (and tested) this latest release from Bob and Brad.
The all-new D6 Pro model is Theragun-like massage gun that offers a bit more value for money in comparison. It has also much to offer the user.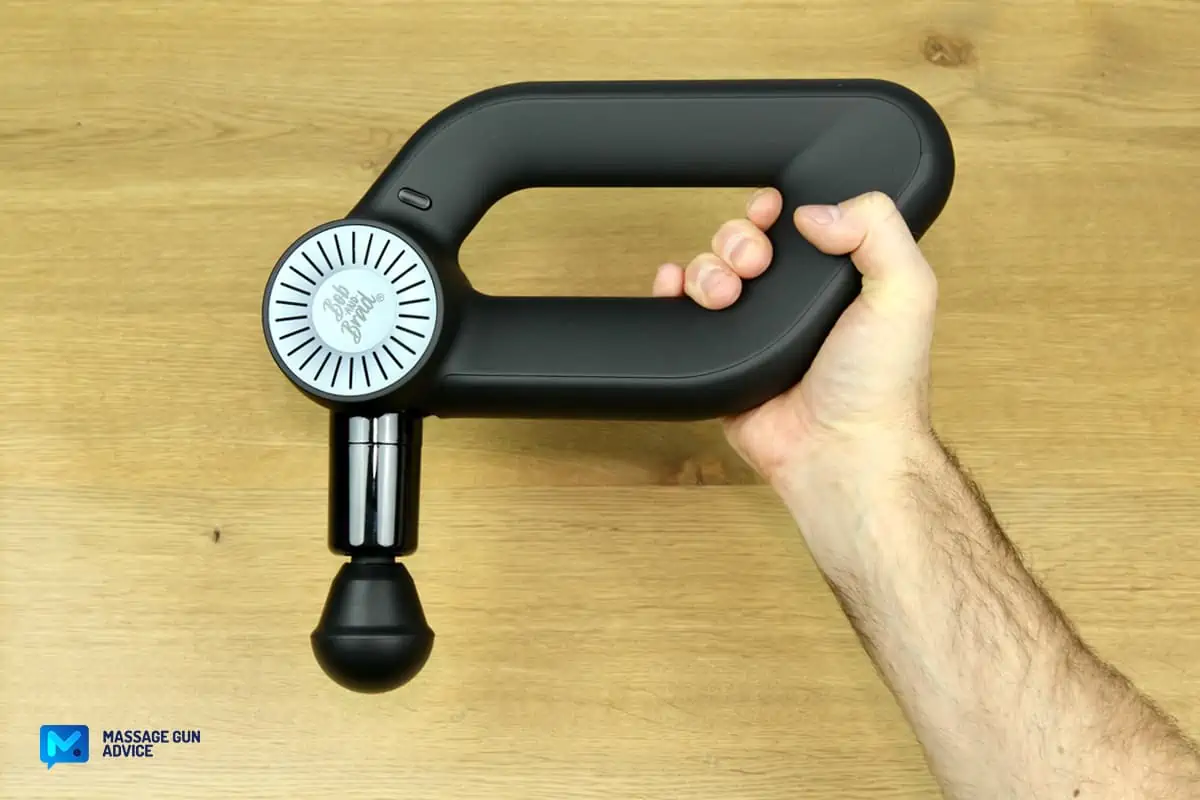 It differs from Ekrin B37 because it comes with Theragun or Achedaway-like characteristics. For instance, the highest amplitude of 16mm matches the Theragun.
It's therefore pretty aggressive, and feels about the same like the two better-known rivals. That makes it more suitable for people who want a punchy massage.
The stall force is impressive is well. It is about the same high as Ekrin B37's. The advertised figure is a stunning 80lbs. but our tests gave us something closer to 60lbs. That is excellent power even for the most demanding users, and within our recommended range.
You can also expect a percussion range of 1400-2500RPM. Certainly, our top gun (Ekrin B37) has a much wider range. But this isn't so bad. It is almost exactly the same as in Theragun devices.
However, Achedaway Pro does better with up to 2800RPM. Either way, you can expect 6 speeds to go with the range – a very decent setup considering the range.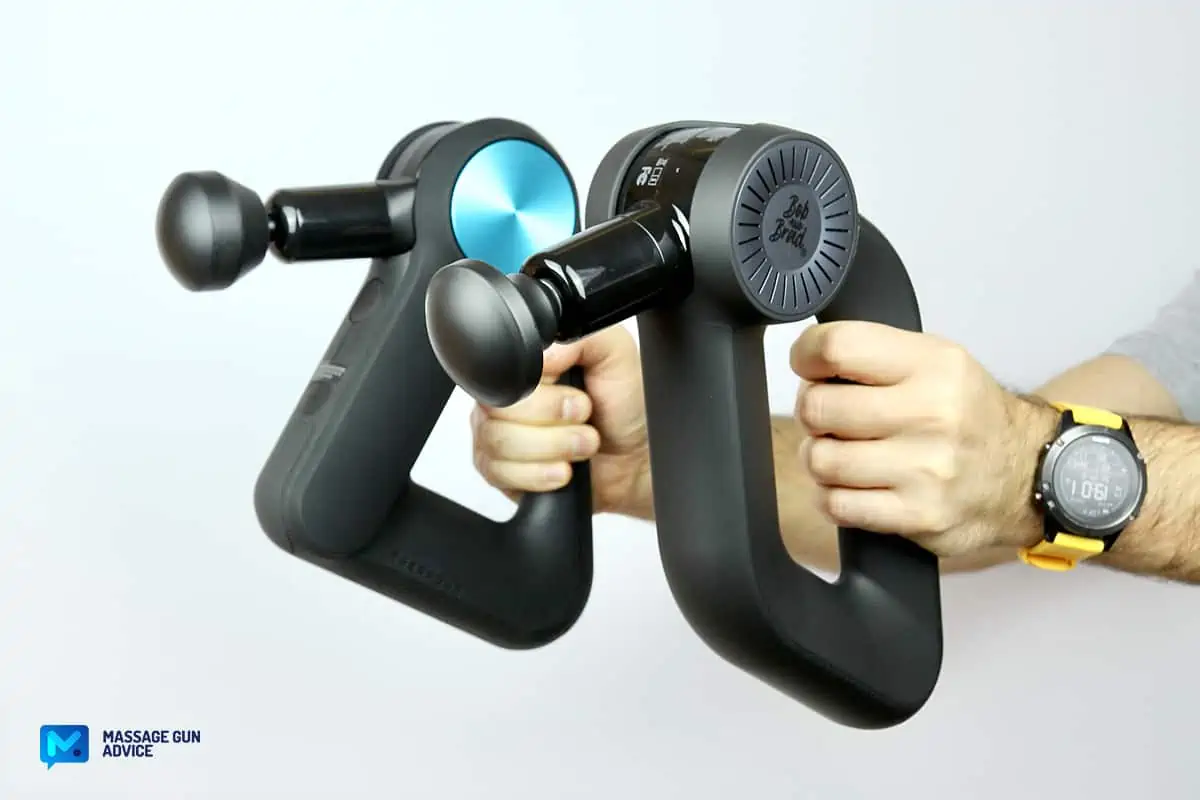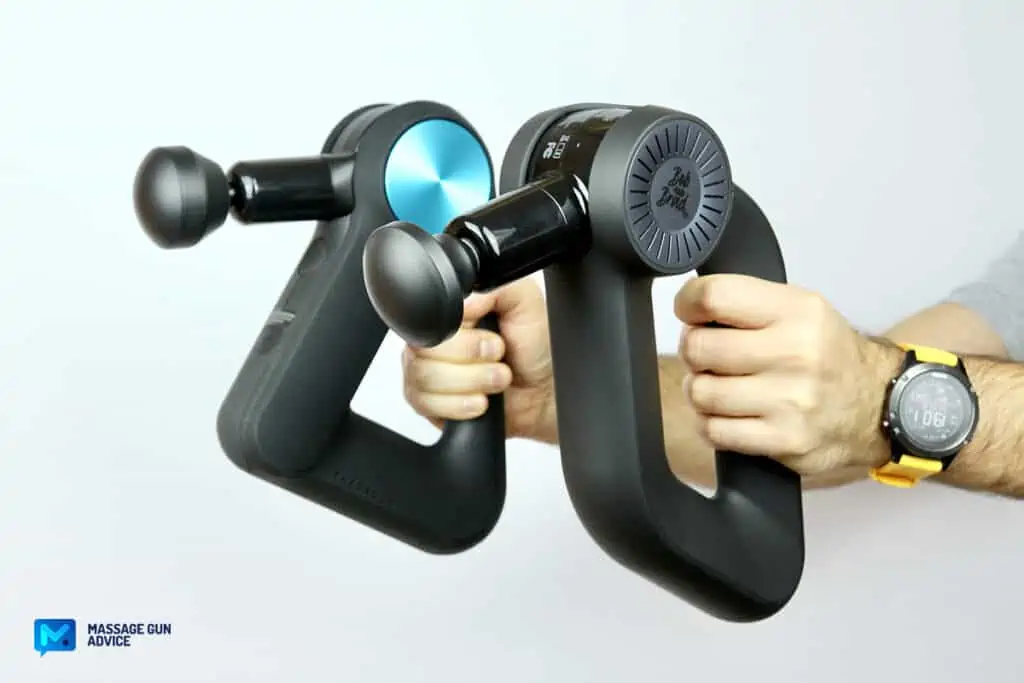 The Bob and Brad D6 Pro probably goes head-to-head with some of the best guns out there with its ergonomics.
The handle is clearly inspired by Theragun's patented triangular design, although here it resembles a D-shape. It looks very similar, though (perhaps even too much).
The upper and lower handles are tilted to allow for a better grip and reduce tension on the wrist.
The arm is adjustable and can be locked in one of five positions.
It's a relatively quiet massage gun, buzzing only up to 67-68dB. That is pretty good given how loud some long amplitude devices tend to be.
The battery is decent as well. It charges via USB-C, and you can expect to use a single charge for 2-3 continuous hours. That translates to over a week on a charge.
Any cons? Well, not many:
at 2.8lbs, it is the heaviest massage gun on this list, and one of the heaviest guns in general.
The handles are more like oval-shaped, but have edges on a side. Those edges are rounded, but we feel not rounded enough, so after holding the device for a bit longer, it starts to feel uncomfortable.
You get a 1-year warranty, which is a bare minimum, and certainly not as great as Ekrin's lifetime.
Other than that, it is a high-quality, well-equipped massage gun that costs the fraction of Theragun Pro, even though it performs at the similar level. It many not be as versatile as the Ekrin above, but if you are looking for a punchy option, then this is it.
You can buy it at Amazon, normally for about $250, but there is a coupon that you can use. You will also get an extra 10% off if you apply the MGADVICE promo code at the checkout. The total price will be under $200 – awesome value for a quality high amplitude device!
Full Review Read our hands-on Bob and Brad D6 Pro Review.
---
Urikar Pro 2 – The Heated Option, More Affordable

Full disclosure; this gun isn't as decorated as the other top guns, at least not as far as the performance features are concerned. It's very average, to be fair.
But we chose it for our list because it represents something unique and special; it has a heated mode. Not many massage guns have this; not even the big kahunas. In fact, we recently called the Pro 2 the best heated massage gun on the market.
Apart from the heated mode, it has a rotating handle that allows for a better reach. The handle moves in two directions (we tested it; it works okay). It also has dynamic speeds – the only gun on our list with the feature. It's also the most affordable here.
The heated therapy function allows for heat therapy alongside percussive therapy. The heat helps to calm the pain during muscle spasms and helps to speed up the healing process.
To do this, Urikar equipped the device with a special ceramic-coated attachment. The attachment warms up to 104-113 degrees Fahrenheit – we measured the temperature just to be sure, and it's true.
But the gun's performance aspect (amplitude, stall force, and percussion range) isn't as spectacular. Even though they advertise the amplitude as being 15mm, real measurements gave us 12mm – still good based on our criteria, but far from 15.
But the overstating doesn't stop there.
The stall force isn't 50lbs. as they claim, it's half that if we're being fair.
They also advertise a percussion range of up to 3400RPM. That is not true either; our measurements gave us a range of 1040-2050RPM – a ridiculous overstatement. Maybe the heating option and the dynamic speeds eat up the percussions and weaken the stall force to some extent?
That said, it's well equipped with up to 8 attachments. The other 7 attachments are regular. The attachments are well-varied, and there are cushioned ones too (for tender areas).
Also, despite being a large gun, it weighs just 2.2 pounds – more or less the same as Ekrin B37.
Its quality is inferior to Ekrin B37 and the Bob and Brad D6 Pro. It's also not the quietest gun out there; it sometimes makes a creaking sound when pushed hard against the body – but you can't have everything at this price…:
if you want to buy it, you will only have to pay $169.99. However, a special URIKAR02 coupon code (when applied at the checkout) gives you over 60% discount, so you can get it for $62.9. 
Full Review Read our in-depth Urikar Pro 2 review here.
---
Ekrin Bantam – Best Value Mini Massage Gun
We can confidently say there is no better value mini massage gun than the tiny Ekrin Bantam. It's by far the best mini gun on the market right now. It also happens to be the best-priced mini gun.
In our opinion, it's the only mini that can be mentioned in the same breath as the Theragun mini; heck, it might even surpass its Theragun counterpart (we proved it in our Ekrin Bantam review).
If you love hiking and road trips, this is your go-to gun. We know because we have put it to the test multiple times en route.
We found out how great it can be during one full-body evening session. After carrying a hefty backpack for 12 hours, the massage helped calm fatigued muscles and helped us recover. For best results, try it with an ice bath session.
But what makes the Bantam special?
For starters, the Bantam is one of the lightest massage guns around. It weighs just 1.1 pounds. It's also very tiny and can easily fit into your pocket.
However, despite its miniature size, it packs quite a punch. We're talking up to 30lbs. of stall force – that's right up there with the bigger (and supposedly more powerful) Theragun Prime.
Even the Urikar Pro 2 we just talked about doesn't pack that kind of power. The Hypervolt Go 2 is twice weaker than the Bantam even though it's overhyped.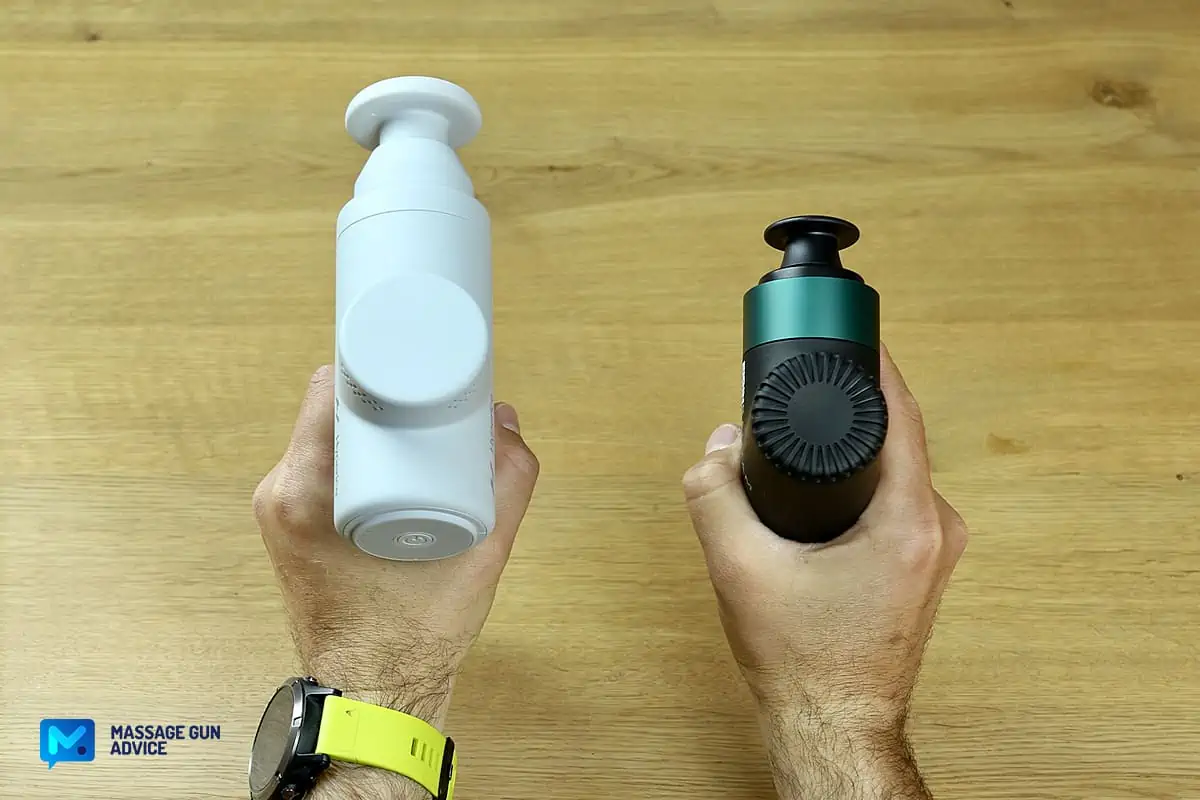 The amplitude is almost 10mm – so pretty good one, especially for guns of this nature.
It's even better when the amplitude is supplemented by a nice percussion range of 2000-3200RPM – just like the bigger Ekrins. Since the gun won't stall easily, the percussions remain steady even when you press the gun on your body.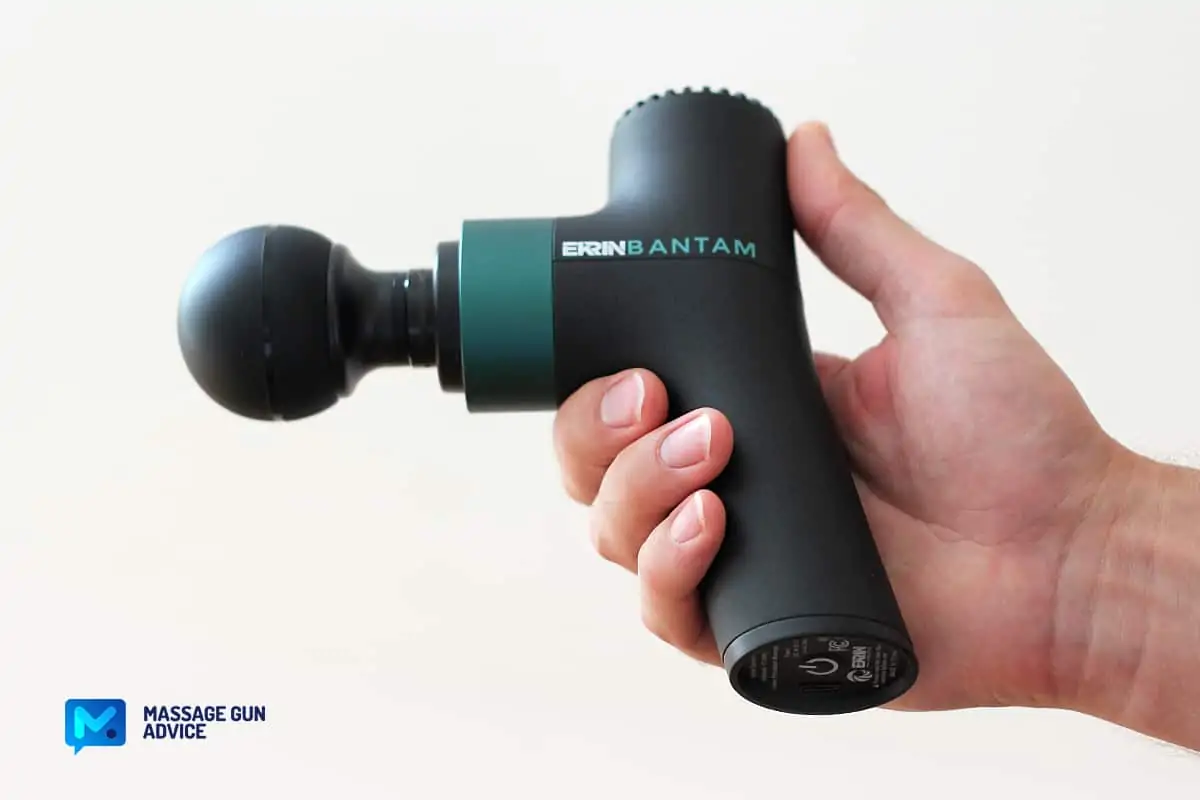 Other great features include:
the angled handle, which is slimmer and makes holding it easier even with small hands.
The materials used to make it are also great – the rubberized handle stands out.
It comes with 4 varied attachments, including the large soft ball attachment.
The Bantam is awesomely quiet and won't disturb your peace. It doesn't vibrate excessively, and there are no creaking sounds like Urikar does.
Lifetime warranty and hassle-free return policy in case you change your mind.
It's a great bargain if you like the features that come with it.
You can get the Bantam for a reasonable $149.99 price. However, there's an MGA20 coupon that gives you a 20% discount, so you can buy it for $119.99 only.
Full Review Be sure to check out our in-depth Ekrin Bantam review.
---
Best Value Theragun – Which One?
Theraguns basically started the whole percussive massage guns industry. Theraguns have the following unique features:
They have the highest amplitude in the business – only Achedaway Pro rivals this.
They are best suited for deep, punchy massage – the amplitude delivers stronger hits.
They each have different stall forces and come equipped differently.
All three large Theraguns have superb ergonomics – the triangular-shaped handles.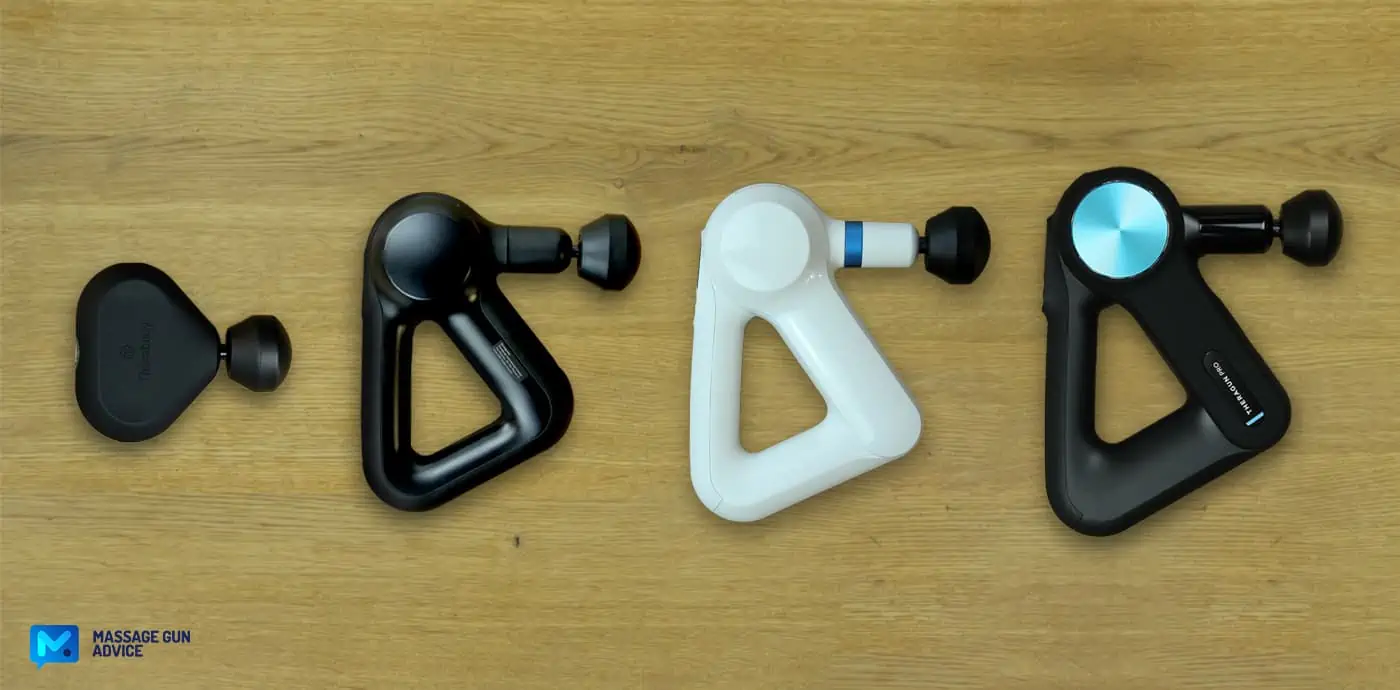 But which one would we call the best value Theragun?
Theragun Spring SALE
Save $170 on 4th gen Theragun PRO and up to $102 on Theragun Elite. Browse all the deals
We have seen other sites suggest Theragun Elite. However, having used the Theraguns for so long, we'd argue for Theragun Prime.
That's because Prime is way cheaper (regular $299 compared to $399 for Elite). Prime is also the most compact of all three guns – Elite is slightly larger while Pro is the largest.
Also, even though Prime has a low stall force compared to Elite and Pro, it can still do the job for most folks. With 30lbs. of stall force, it's only slightly ahead of Urikar Pro 2 (Urikar costs a third of Prime).
However, keep in mind that Prime also boasts quite a long stroke length. That intensity is good enough to make up for the stall force – you won't need too much pressure to get deep treatment.
But Prime also lacks some of the nice attachments available with its more expensive siblings, such as the Supersoft one. However, you can buy the Supersoft head for $30 and the others for $20.
Do Theraguns provide good value overall?
In our opinion, they are great guns but don't offer anything you can't find with other guns. Besides, they go for a pretty penny.
Even the entry-level Prime is almost 40% more expensive than our top pick (Ekrin B37) – that's $299 compared to $184 with the MGA20 coupon.
Theraguns are also noisy. They have an annoying rough sound and are generally loud.
Their warranty is also disappointing, Prime has a 1-year warranty, and Elite and Pro have 2, but that's nothing compared to Ekrin's lifetime.
RELATED THERAGUN POSTS:
---
What About Hypervolts?
Hyperice too is a big name in the industry, going toe to toe with Therabody. Their new devices include Hypervolt 2, Hypervolt 2 Pro, and Hypervolt Go 2.
So let's look at each gun individually:
---
Hypervolt 2
It's not the strongest massage gun. It's probably just as strong as Urikar, but it will do the job. Expect a 12mm amplitude which we consider a sweet spot, and a similar range of percussions as the Ekrin B37 device.
Unfortunately, the handle isn't as great. Even though Hyperice made the handles slimmer by changing the shape to oval (pill-shape, as they call it), they still haven't tilted them to make them easier to hold.
For the price, it is a so-so value – especially when compared to other guns we've talked about.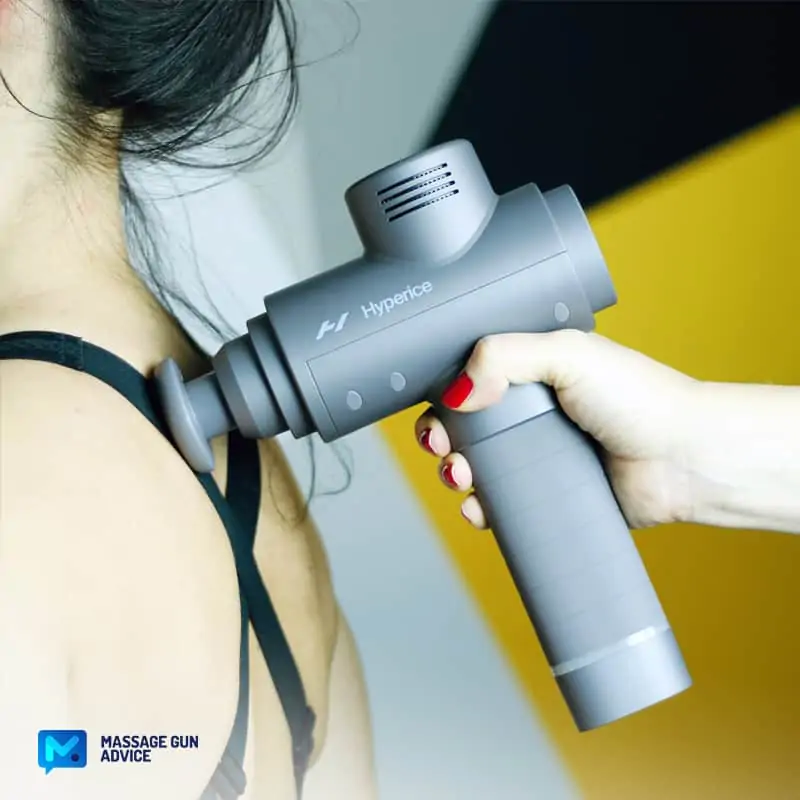 ---
Hypervolt 2 Pro
It has a better, 14mm amplitude that we would classify to be between Ekrin B37's and Theragun's 16mm. That means you can expect a punchy massage with this device.
It's also reasonably powerful; you can expect a stall force in the upper 30s. The handle is also slightly longer compared to Hypervolt 2's.
We'd call it a decent proposition, but you'll have to choke up a lot to get it. Ekrin B37 costs half that price even though it's probably better.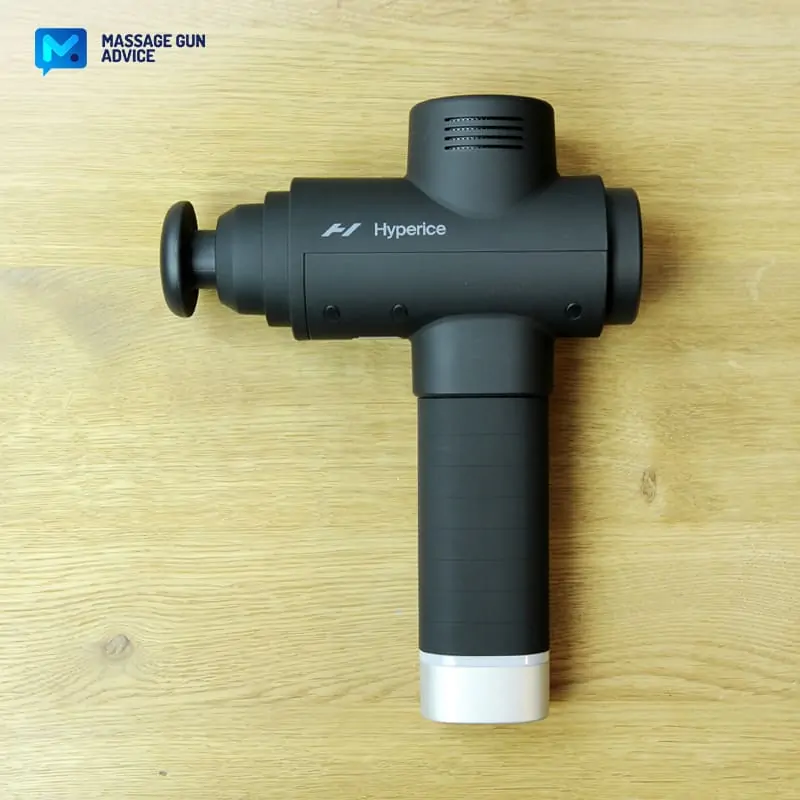 ---
What about Hypervolt Go 2?
It's Hyperice's new mini. It's slightly improved on the outside but feels pretty much the same as the older GO.
This one has the same 10mm amplitude as the predecessor and still lacks the stall force to withstand even the least amount of pressure.
All the guns mentioned here are twice more powerful as this gun.
---
Are Hypervolts good value massagers then?
The two regular ones, Hypervolt 2 and 2 Pro, are decent devices. However, they don't offer anything unique. They cost $299 and $399 respectively. That is too much if you consider the specifications.
Our Take
We'd rather have the Bob and Brad D6 Pro and Ekrin B37 than these two – they cost less and are actually better. Hypervolt Go 2 (costs $199) doesn't have the power to compete with any device on our list today. All models only have a 1-year warranty.
---
Other Good Value Percussion Massagers
Other guns you could also consider include the following.
---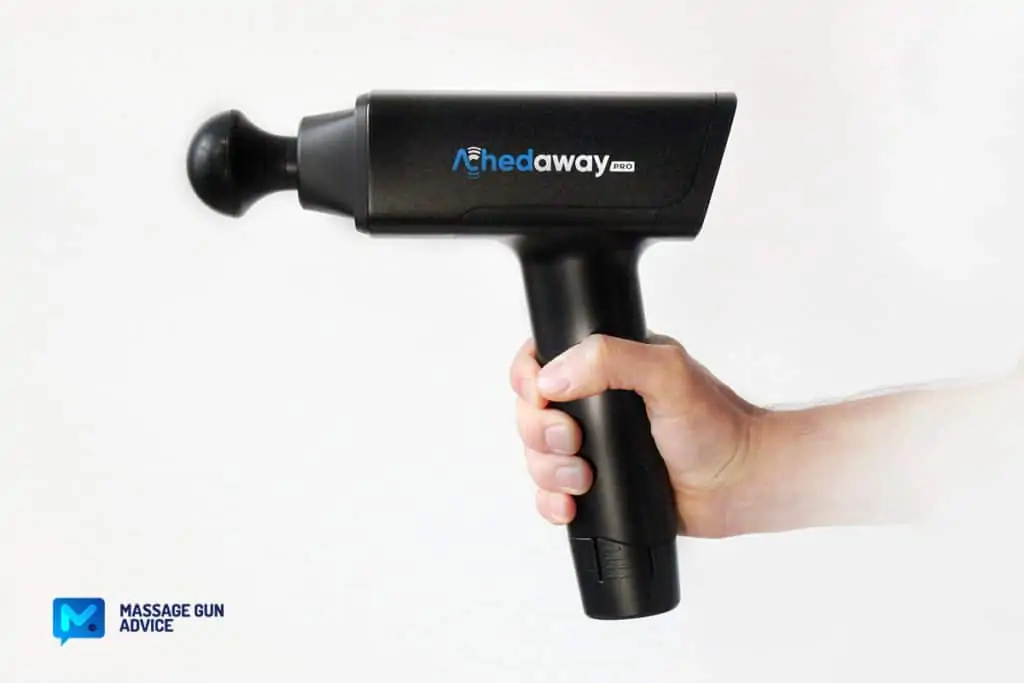 Achedaway Pro
This is the cheaper alternative to Theragun Pro. We voted it the strongest massage gun at one time.
It's actually pretty powerful; the amplitude is the highest at 16mm and a stall force of up to 60lbs. It also has higher percussions than Theragun Pro (up to 2800RPM).
DEAL ALERT Use the special MGA60 code at checkout to get $60 off Achedaway Pro. Pay $239 instead of $299. Apply the coupon here.
It costs half the price of Theragun Pro – $249 if you use the MGA50 coupon code at checkout (save $50).
The only reason it didn't come second on our list is because Bob and Brad D6 Pro was more affordable.
Nevertheless, Achedaway Pro remains one of our top 5 favorite guns.
---
Sportneer D9
We were impressed by the overall quality of this Sportneer Elite D9 device. It feels better than Urikar. It offers an angled handle as well.
However, compared to Ekrin B37 and Bob and Brad D6 Pro, it lags performance-wise. The amplitude isn't as great, and the stall force is so-so.
The attachments aren't as great too – they are not high quality, and the variety is lacking.
But the price is reasonable enough to be considered good value"
It costs $109.99 normally, but only $93.49 if you use the AFDKOF coupon (15% discount).
That is pretty similar to Urikar's price, but we chose Urikar because of the heating element, adjustability of the handle, and dynamic modes. The attachments on Urikar are better as well.
---
RecoverFun Plus
A solid device with a strong motor and a nice amplitude. It offers more punch than the Sportneer but not as great as Ekrin B37, Achedaway, or Bob and Brad D6 Pro.
We also aren't fans of its rather unimpressive ergonomics. It has the classic T-shape and is quite heavy – which fatigues the wrist during a long session.
It weighs 2.6 pounds, slightly above the recommended weight of 2-2.5 pounds. However, bigger guys probably won't mind.
You can buy Recoverfun Plus for $169 – this is reasonable, but more than Ekrin B37, which has better ergonomics and is quieter.
---
Best Value Massage Gun – Bottom Line
So which is the best value massage gun? You can find one easily today as opposed to when they entered the market a few years ago.
Go for a versatile, well-equipped, and powerful enough gun that can work on all muscle groups.
We have picked different guns, but they are all effective. We love Ekrin B37 because it's strong, intensive, and not overly aggressive.
If you have to have a Theragun, Prime is our choice. The best value mini gun is, in our opinion the tiny-but-mighty Ekrin Bantam.
Any questions? Feel free to comment down below.
Take care!
Disclaimers
The views and opinions expressed on this website are those of the authors. Any content provided by our bloggers or authors are of their opinion and are not intended to malign any religion, ethnic group, club, organization, company, individual or anyone or anything.
All product names, logos, and brands are property of their respective owners. All company, product and service names used in this website are for identification purposes only. Use of these names, logos, and brands does not imply endorsement.
It is our policy to make every effort to respect the copyrights of outside parties. If you believe that your copyright has been misused, please provide us with a message stating your position and we will endeavor to correct any misuse immediately.
Some of the links in this post are affiliate links. As an Amazon Associate, we earn from qualifying purchases. This means if you click on the link and purchase the item, we may receive an affiliate commission, at no extra cost to you. This helps us keep this website alive. Learn more here.
Amazon Disclosure
massagegunadvice.com is a participant in the Amazon Services LLC Associates Program, an affiliate advertising program designed to provide a means for sites to earn advertising fees by advertising and linking to Amazon.com. As an Amazon Associate, we earn from qualifying purchases. Amazon and the Amazon logo are trademarks of Amazon.com, Inc. or its affiliates. Please refer to our Privacy & Affiliate Policy for details.