Hypervolt Go vs Theragun mini – Which One is Better?
What to Know: We independently review products we recommend. If you click on links we provide, we may earn a commission. Learn more.
---
Welcome to our Hypervolt Go vs Theragun Mini comparison post. In this post, we'll look at the two mini massage guns from the two premium brands in the business – Theragun and Hyperice.
The latest trend in the massage gun world has been the mini devices – they are small, compact, and highly portable in case you need a handy massage. Both Theragun and Hyperice mini devices arrived on the market a bit late. Theragun was the first to release their Mini in May 2020, Hyperice release the Go 6 months later.
CYBER MONDAY
Theragun Sale is here! Enjoy up to $250 off select Theraguns, along with more deals on recovery tech. Now FSA/HSA eligible! Browse the deals here.
We did individual reviews for both Theragun mini and the Hypervolt Go. Today, however, we'll look at what both devices bring to the table and how they compare with each other.
We'll also take a look at some viable options in case you are willing to look elsewhere. There are some very good mini devices from other brands that are just as good if not better than Theragun Mini and Hypervolt Go.
Come along you'll see!
---
---
Hypervolt Go vs Theragun Mini – Comparison

Specs Comparison
Feature
Hypervolt Go
Theragun mini
Stall Force
~15 lbs
~

20 lbs

Stroke Length
10 mm

12 mm

Percussion range

2200 – 3200 ppm

1750 – 2400 ppm
Speed Options
3
3
Battery Life
2 – 2.5 hours
2 – 2.5 hours
Noise (on top speed)
55 dB
61 dB
Weight
1.5 lbs
1.43 lbs
Attachments

2

1
Warranty
1 year
1 year
Where to Buy
Amazon
Therabody.com
Hypervolt Go vs. Theragun mini Comparison
---
Design and Ergonomics
We have to appreciate the unique design adopted by Theragun. Having seen and interacted with many massage guns, we have to say the Mini's design is unrivaled. The triangular shape of the handle and the whole body is innovative and somewhat new in the massage gun world.
However, we have to be honest, we are not particularly fanatical about this design choice. This is because of its ergonomics. It doesn't hold as naturally as Hypervolt Go – which has a more traditional design.
Talking of Hypervolt Go, the ergonomics are much better here compared to the full-sized Hypervolts. Instead of the straight 90-degree handle, Hyperice chose to go with a 15-degree angled handle.
Well, it's not the grandest of improvements from Hypervolt (we haven't seen many with their products), but it's definitely something to make the ergonomics better. The slanted handle ensures a firm and more natural grip which reduces fatigue in the wrists.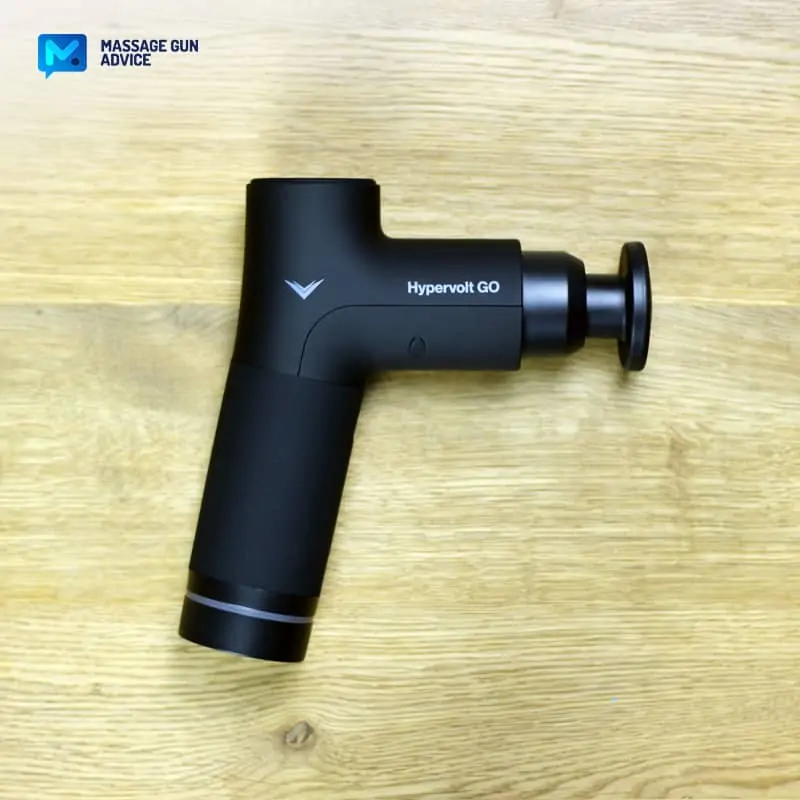 Just to be clear though, the concept of the tilted handle is not entirely new in the business. Other less-known brands have employed this configuration before. For those who like Hypervolt, the Go design is probably a bit of a relief.
However, while that may be welcome, we think it's disappointing that a company like Hyperice would opt for third-party designs (most notably from Ekrin Athletics) instead of coming up with something original like Theragun (albeit with mixed results).
Theragun Mini has three main color variations; black, white, red, and some occasional color variations (check here). Hypervolt Go has one color, black.
Verdict

Theragun Mini's unique design and nice variation of colors (the new desert rose looks awesome) is all nice, but we prefer the ergonomics on Hypervolt Go. It's easier and comfortable to hold with the slightly tilted and rubberized handle.
---
Size and Weight
Hypervolt doesn't label the Go as a mini massage gun. Even though we are comparing it to Theragun mini – which is a mini massage gun – it's perhaps not as small as many other mini guns.
One thing is for sure though, the Go is significantly smaller than both Hypervolt BT and BT Plus (by about 30%). Keep in mind that the bigger Hypervolts are also larger than many other similar-sized massage guns.
Just to put it into perspective, Hypervolt Go would look like a full-sized massage gun if you compared it to Ekrin Bantam or Bob and Brad Q2– these are true mini massage guns.
In terms of size, the Go measures 7.25 x 5.5 x 2.0 (inches). That makes it a compact massager, not bulky by any means, but not a mini gun. It may be too large if you are looking for a pocket-sized device. It would've been if Hyperice had shortened the handle perhaps.
Theragun mini on the other hand is feels as a mini massage gun. It measures 5.4 x4.3 x1.6 (inches). Despite the unique shape, it's noticeably smaller than Hypervolt Go. It's just about the right size for a mini massage gun.
Because the Go is larger than the Mini, it makes sense that it is also heavier. The Go weighs 1.5lbs compared to Theragun Mini that only weighs 1.43lbs.
However, both devices are significantly heavier than other massage guns in the mini massage guns class. For instance, Ekrin Bantam weighs 1.1lbs. Addsfit Mini Pro (about the same size as Hypervolt Go) weighs 1.3lbs.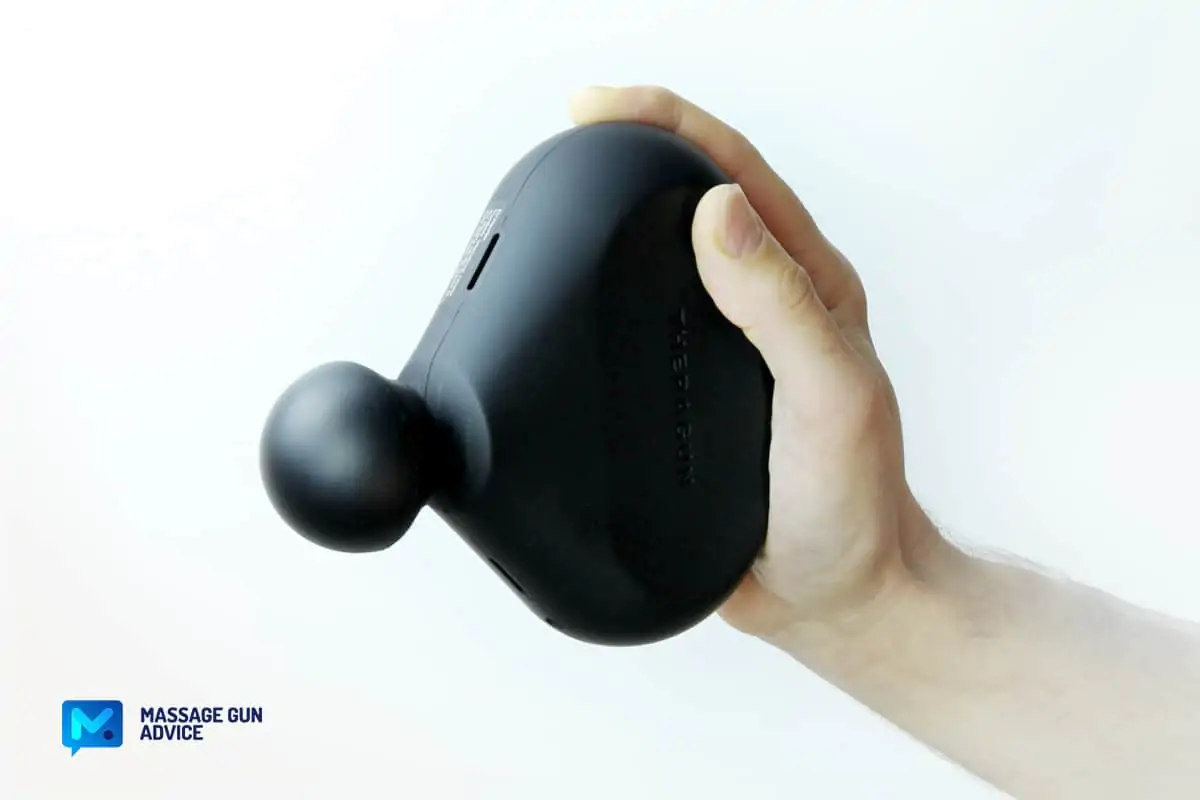 ---
Performance
This is where the battle rages.
---
Stall Force
The amount of pressure it takes to stall the motor of a device. It helps in deep muscle penetration to heal and relax the tension in the muscle tissue. A high stall force is better for a percussive massage.
Both Hypervolt Go and Theragun mini have similar stall force. The number may differ – Theragun says the mini has 20lbs. of stall force while Hyperice doesn't say. In truth, there is perhaps no significant difference in stall force between the 2 devices.
That said, the Go feels slightly less powerful than the mini. Because Hyperice doesn't disclose the stall force information, we estimated it at about 15lbs.
Our verdict on the stall force of both devices is: disappointing. Even Theragun mini's 20lbs. is nothing special. That is because the smaller Ekrin Bantam has 35lbs. of no-stall force.
It is very easy to stall both devices. That means you will not be able to use any of them aggressively to massage yourself. Both devices won't be able to dig very deep into the muscle tissue. But perhaps the mini might have something that the Go doesn't – the high amplitude.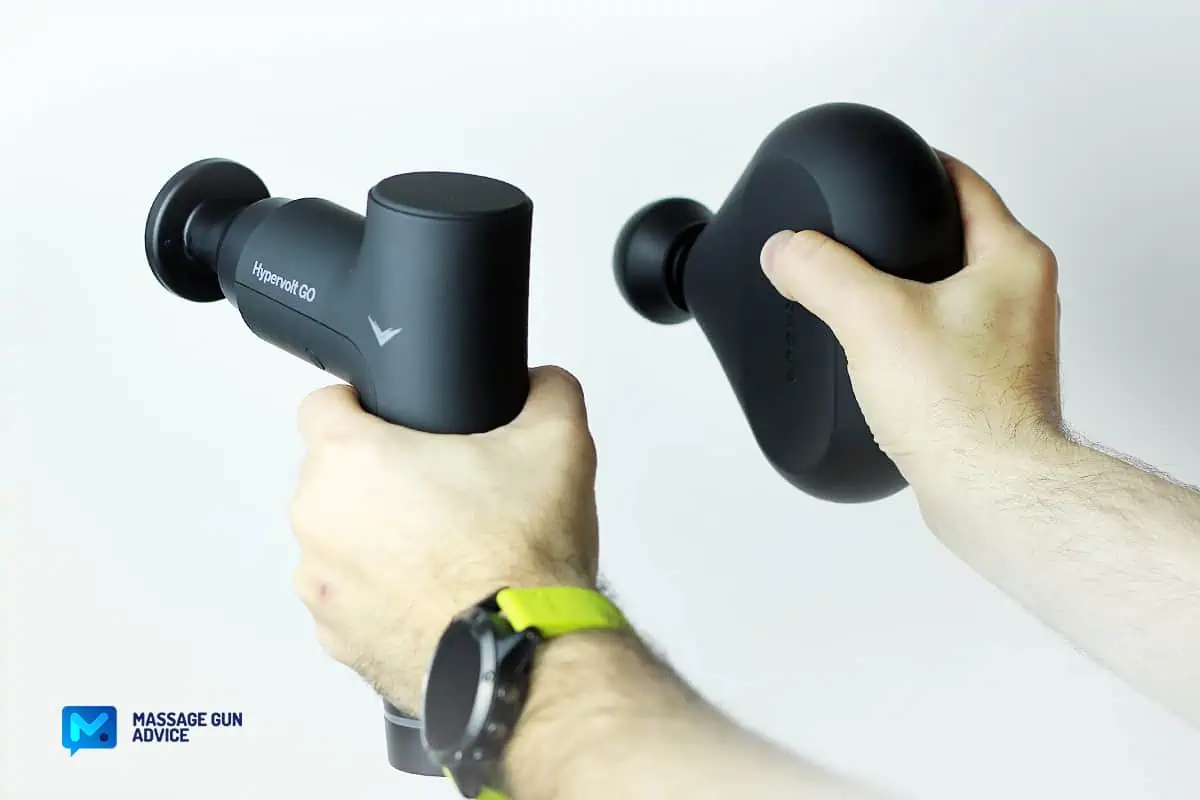 ---
Amplitude
Amplitude or stroke length stands for the distance (measured in millimeters) traveled by the massage gun head with each percussion. You can tell how hard a device can hit by looking at how long the amplitude is.
In our case Theragun mini has a lot to offer. It has a 12mm stroke length. A remarkable aspect to have for a mini massage gun. In fact, as we said in our highest amplitude massage gun reviews, Theragun Mini beats 99% of other mini massage guns here. Most tend to only have about 6-10mm amplitude. With a 12mm amplitude, the mini is on par with some full-sized percussion massagers.
Having a pocket-size massage gun with a 12mm amplitude is a huge bonus if you like to massage on the go. That is because it is able to hit the muscle harder and provide an intense massage. The only thing lacking on the mini is enough motor power to withstand a bit of pressure. In our opinion, 30lbs. of stall force on this device would've made it a perfect device to carry around.
What about Hypervolt Go? Well, it has a 10mm amplitude. Fair enough for a massage gun in this category. At this point, we'll say it's nothing special because many other massage gun brands are making them with 10mm amplitude (you'll see in our alternatives section).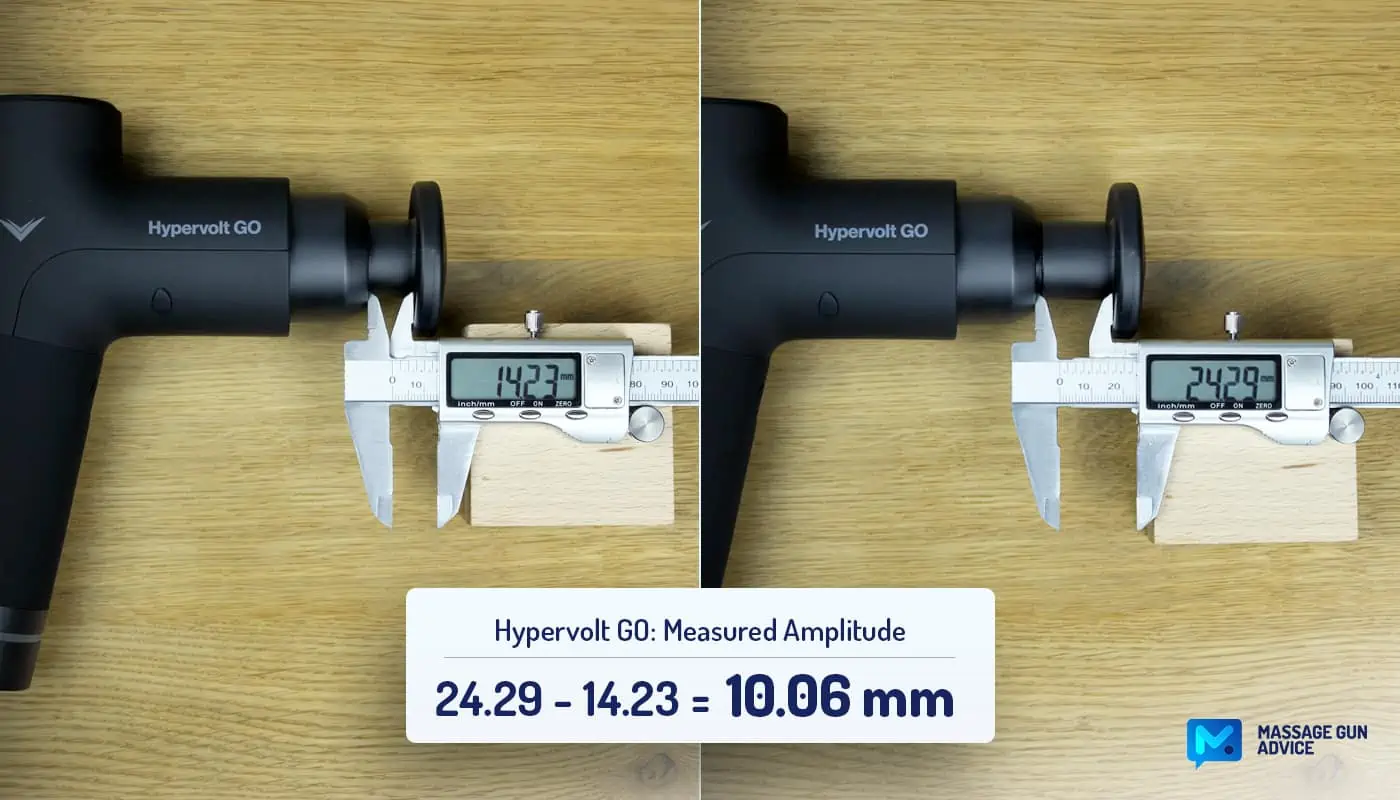 ---
Percussions and Speed
When it comes to percussion range, Hypervolt Go easily outruns Theragun mini. The more hits per minute a device can give the more intense a massage can get.
The folks at Hyperice made sure this is adequately taken care of. The Go can rev up to 3200 rpm – that is also on par with some full-sized massage guns. Theragun mini on the other hand can only rev up to 2400 rpm.
But that's not necessarily a bad thing. As we have already seen, the mini has a long amplitude to make up for the reduced number of hits.
What this means is that whereas the mini can hit hard and less frequently, the Go is tender but intensive. The Go takes the vibrational approach which can be quite useful when you need it.
In terms of speeds (speed gears), Hypervolt Go has 2 speeds. We felt there should've been at least 2 more gears in between to take care of the large percussion range. Theragun mini has 3 speeds over 2400 rpm.
---
Noise
Noise is often never an issue with mini massage guns. Theragun mini and Hypervolt Go are relatively quiet devices.
In our dB scale, they emit between 50dB and 61 dB – quiet enough but not silent. The mini has a rough edge to its sound compared to the smooth sound from Hypervolt Go. In our practice and measuring, the Go had 1 to 5 decibels less (depends on what speed level) on the noise meter. The Go gets an extra point here for being smooth and non-interruptive.
Another thing worth mentioning is that both devices vibrate a lot and transfer these vibrations to the handle, which can be pretty uncomfortable during a massage. One particular culprit is the Go on its highest speed gear. The mini vibrates a lot as well.
---
Accessories
We are not particularly pleased with what both devices have to offer in extras.
Starting with Theragun mini, despite being a premium product from a giant company, it only comes with one attachment – the ball attachment. It's probably a nice thing to have because the ball head is the universal attachment. But why would they only include one attachment instead of 4 or 5 as some other brands do?
The main reason for releasing the mini was to offer the existing clientele a natural choice. That means that people with full-sized Theraguns have a mini device to carry along with them.
That is why they made sure that the attachments on the full-sized Theraguns are compatible with the mini (there is information on this on their website – as long as you have a fourth-generation Theragun, the attachments can fit on the mini).
But, as much as this is a good business move, it seems to have left out a significant part of customers who may be interested in buying the mini. These include first-time users and beginners who have never used a massage gun before. To them, the mini is not a good starting point because it only has the one attachment. They would rather opt for the alternatives that offer 4 to 5 attachments.
Theragun mini loses one point here because unless you already own Theragun Pro or Elite or Prime, which have 6, 5, and 4 attachments respectively, you'll have to rely on that single ball attachment – not great!
What about Hypervolt Go? Well, it's not great here either. But maybe it's not as bad because Hyperice includes 2 attachments with the Go – the flat head and the bullet attachments.
This is a great selection because the 2 heads can treat different muscles – the flat head for large muscle groups and the bullet head for trigger points and feet. Just like Theragun Mini, the attachments on the full-sized Hypervolts are compatible with the Go.
Hypervolt Go doesn't come with a carrying case or even a carrying pouch. You'll have to find space in your traveling bag to put it in.
Theragun mini doesn't come with a hard case for carrying everything, but at least they provide a pouch for the device and the charger.
Verdict

While it's great that both brands meant these two devices for their existing clientele, the extras included with both devices are disappointing. One thing is for sure, the pricing for both devices doesn't get better even for those who already own the full-sized guns. There are mini massage guns that are better equipped and cheaper at the same time.
---
Battery
Both devices have similar capacity batteries. Hypervolt Go has a 2350mAh capacity battery that can last for 2 to 2.5 hours. Theragun mini's battery can also last for 2 to 3 hours.
Keep in mind that the time on battery for most massage guns varies depending on how you use the device. If you push the device too much (use high speed and apply more pressure), the battery drains faster than normal. However, 2 to 3 hours of battery life is still good enough. You'll probably need to charge your device again after a few days.
PRO TIP On the flip side, Ekrin Bantam, or Addsfit Mini Pro devices have twice the capacity as both the mini and the Go. They are also much smaller and lighter. Keep that in mind.
Both Theragun mini and Hypervolt Go do not come with convenient USB charging. This is a bummer because not only is it easy to charge your device on the go, but it's a common thing with mini massage guns. Carrying the wall charger is a hustle enough, not to mention the patience of waiting for your device to fully charge. With USB you can charge your device using a power bank.
None of these devices has detachable batteries, but we believe that is normal because we are yet to see a mini massage gun with detachable batteries.
---
Price and Warranty
CYBER MONDAY
Theragun Sale is here! Enjoy up to $250 off select Theraguns, along with more deals on recovery tech. Now FSA/HSA eligible! Browse the deals here.
Both devices cost the same hefty $199, which is way above the market average for compact and mini massage guns. We have to admit however that these are high-quality devices but perhaps not the best – we have alternatives that would suggest otherwise (keep reading).
If you want to buy one of them, Hypervolt Go is available at Amazon, while Theragun mini is available at here at Theragun.com – our recommended store for recovery gear shopping.
The warranty offers for both devices are disappointing – just the 1-year warranty for both. We have always felt that both these brands need to better their consumer protection offers (if you will). There are lesser-known brands that offer way better services and warranties. We'll mention some of them below.
---
Our Take

If you can only have either Hypervolt or Theragun and have to choose between these two devices then consider what you are getting with each. Hypervolt Go will offer you vibrational therapy (surface-level high-intensity massage). Theragun mini on the other hand will offer you more power (better stall force) and harder punches (high amplitude). The mini is more aggressive than the Go.
To be honest, though, there are some fantastic and cheaper alternatives if you are willing to look elsewhere. You might want to check out the following.
---
Go and mini Alternatives
First, let's have a quick look at some key specs.
| Feature | Hypervolt Go | Theragun mini | Ekrin Bantam | Addsfit Mini Pro |
| --- | --- | --- | --- | --- |
| Stall Force | 15 lbs | 20 lbs | 35 lbs | 23.8 lbs |
| Amplitude | 10 mm | 12 mm | 10 mm | 10 mm |
| Percussions (ppm) | 2200-3200 | 1750-2400 | 2000-3200 | 1100-3000 |
| Attachments | 2 | 1 | 4 | 5 |
| Weight | 1.5 lbs | 1.43 lbs | 1.1 lbs | 1.23 lbs |
| Warranty | 1 year | 1 year | lifetime | 3* years |
Hypervolt Go vs. Theragun mini vs. Alternatives – Size and Weight Comparison
*1 year standard, 3 years upon registering the device on addsfit.com
---
Ekrin Bantam – Best Alternative
This is a standout performer from an excellent brand. It has everything that is lacking in both the mini and the Go.
For starters, it's smaller and lighter – a true mini massage gun. It weighs just 1.1lbs – you can use it for as long as you have to. It's great to hold because of the angled handle – a signature design by Ekrin Athletics. Hypervolt may have borrowed a leaf from this design for their Go device.
It has way more stall force than any of the two giants. With 35lbs. of stall force, it's on par with the bigger Hypervolt Bluetooth and more than Theragun Prime (the entry-level full-sized Theragun).
It has a 10mm amplitude – lower than Theragun mini but more effective because of the higher stall force. It revs between 2000-3200rpm – similar to Hypervolt Go but with more power.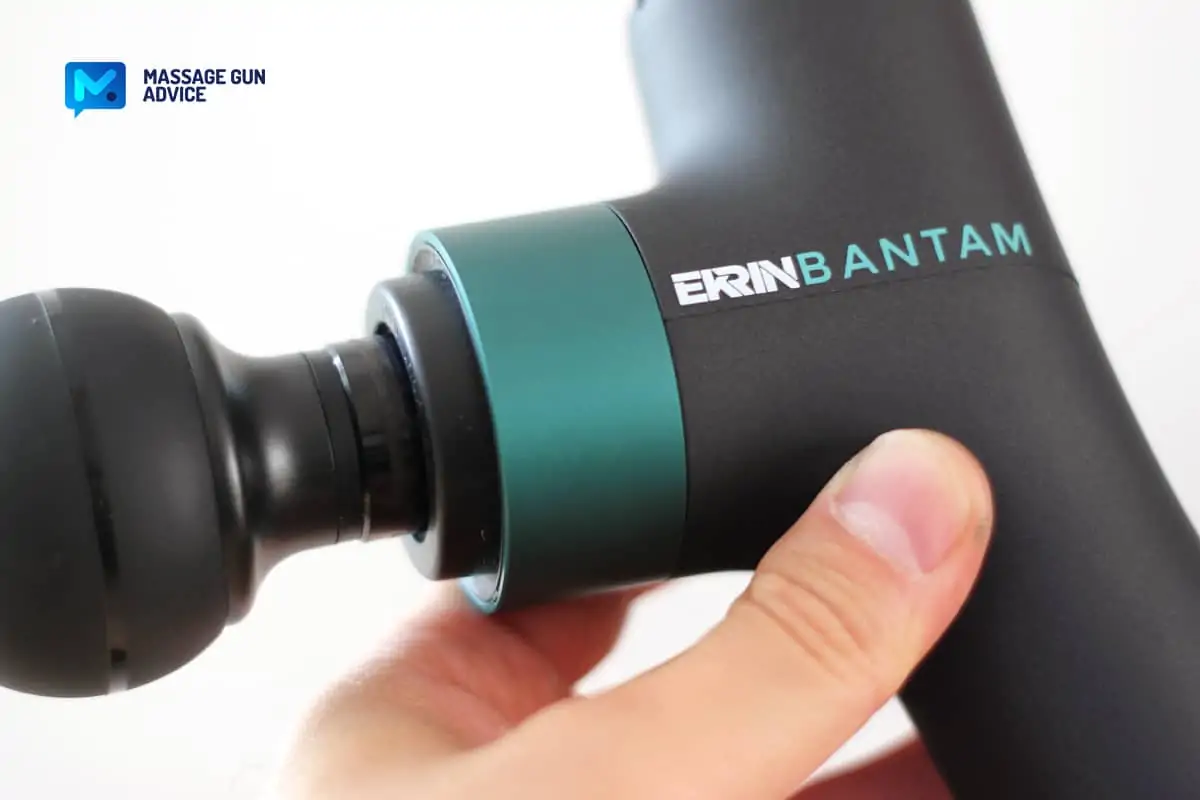 The battery is super juiced and can last for up to 6 hours on a single charge. It charges via USB, which is great for convenience.
It has 4 nicely varied attachments – a class above both Theragun and Hypervolt. It is a top-notch product backed by a lifetime warranty and fabulous customer support.
It only costs $149.99 but if you use the MGA20 coupon you get 20% off which makes it $119.99 – buy it right here.
TIP More to read: Ekrin Bantam review →
---
Addsfit Mini Pro – Runner Up
The second recommended alternative to consider that betters Theragun mini and Hypervolt Go in many aspects.
Addsfit Mini Pro has a 10mm amplitude and everything else better than the mighty rivals.
It has a 28.6lbs. stall force that matches the amplitude perfectly for a decent percussive massage. It revs way higher than both the mini and Go ever could with an impressive range of 1100-3300 percussions across 5 speeds – which is more than the 3 on Theragun Mini.
It has a decent capacity battery of 2600mAh that can last up to 10 hours or 5-6 with more pressure and higher speeds.
Lastly, the ergonomics is superb. This is the only device on the market featuring extensible handle. That's right, with a simple twist, the handle extends for a whole 3.15 inches, converting it to a slightly larger device.
Overall, this isn't as powerful device as the Bantam, and won't provide lifetime warranty, but it is still beats the Hypervolt Go where it matters most (think performance, attachments, size).
As for the warranty, it is one-year warranty but when you register the device at Addsfit website, you will get a 2-year extension, which means 3 years in total (the Go has just 1-year).
It costs $159 but you can buy it for $119 if you use our MASSAGE25 coupon that gives you a whooping 25% discount. Get it at addsfit.com right here.
MORE INFO: Learn more in our complete Addsfit Mini Pro review.
---
Theragun mini vs Hypervolt Go – Bottom Line
Before we end our Hypervolt Go vs Theragun mini comparison, we have to say a few things.
The two devices vary in many physical aspects (obviously because of two different brands). However, some critical aspects like performance are the same. The stall force for both devices is the same even though Theragun Mini has a slight edge. The mini also has a better amplitude.
However, both devices are scarcely equipped, have poor warranties, and are way expensive. We have included alternatives worth your consideration.
Feel free to leave a comment below, we are curious which one you prefer.
Was this article helpful?
Thanks for your feedback!
Post Update History
Here's a quick rundown of all the tweaks and edits we've made to this article to keep it accurate and up-to-date!
Current version last updated on:
June 7, 2023 Minor editor changes and updates were made for improved clarity and accuracy. (Author: Greg)
•
Written by:

Luke Deszczulka
Disclaimers
The views and opinions expressed on this website are those of the authors. Any content provided by our bloggers or authors are of their opinion and are not intended to malign any religion, ethnic group, club, organization, company, individual or anyone or anything.
All product names, logos, and brands are property of their respective owners. All company, product and service names used in this website are for identification purposes only. Use of these names, logos, and brands does not imply endorsement.
It is our policy to make every effort to respect the copyrights of outside parties. If you believe that your copyright has been misused, please provide us with a message stating your position and we will endeavor to correct any misuse immediately.
Some of the links in this post are affiliate links. As an Amazon Associate, we earn from qualifying purchases. This means if you click on the link and purchase the item, we may receive an affiliate commission, at no extra cost to you. This helps us keep this website alive. Learn more here.
Amazon Disclosure
massagegunadvice.com is a participant in the Amazon Services LLC Associates Program, an affiliate advertising program designed to provide a means for sites to earn advertising fees by advertising and linking to Amazon.com. As an Amazon Associate, we earn from qualifying purchases. Amazon and the Amazon logo are trademarks of Amazon.com, Inc. or its affiliates. Please refer to our Privacy & Affiliate Policy for details.