Massage Gun for Lymphatic Drainage – Worth Using? Which One To Choose?
Disclaimer: Our content is unbiased, non-sponsored and fact-checked. If you buy via links on our site, we may earn a commission. As an Amazon Associate, we earn from qualifying purchases.
---
As massage guns continue to gain popularity, their number of uses also increases. One popular question is: can you use a massage gun for lymphatic drainage? We think yes, but be sure to keep reading for all of the important details and caveats.
In this article we break down the potential benefits, precautions, and best device options if you're considering using your massage gun for lymphatic drainage.
Let's get started.
---
---
Why Trust Us and Some Disclaimer
This article is prepared from a massage gun expert's point of view. It has been written by a licensed physiotherapist, Dr. Alex Stone, DPT.
You should know that research is still limited on massage guns, so many ideas will still need testing and vetting. However, we have reviewed several resources to ensure we're providing the most reliable information.
This post is not intended to diagnose or treat any medical condition. We encourage you to check with your medical doctor before using any of the advice given here.
---
What is Lymphatic Drainage?
Lymphatic drainage refers to clearing built-up lymph fluid from a site of the body and returning them to the lymphatic system.
Lymph fluid is a clear-to-white fluid that runs through the lymphatic system and is made up of important regulators in your body that are not carried through the bloodstream, most notably white blood cells and important proteins (1).
Lymph nodes are small sites in the body responsible for filtering lymph fluid and producing new white blood cells. When the body is fighting infection or other certain diseases, lymph nodes can become swollen due to congestion or inflammation.
More commonly, lymph fluid may build up in soft tissue of the body due to a blockage in the lymphatic system – this is known as lymphedema. Lymphedema has a number of causes, most commonly due to damage of the lymphatic system during cancer treatment, and is managed using a variety of lymphatic drainage techniques.
There are many methods of lymphatic drainage, and a common treatment approach is Complete Decongestive Therapy (CDT) (2).
During CDT, five major methods are used:
Manual lymphatic drainage – light skin stretching to improve lymph circulation.
Compression – layered bandages or fitted garments to reduce swelling.
Specific exercise – using muscle to help push lymph out of the area.
Skin care – keeping skin clean and moisturized to prevent infection.
Self-care management – learning proper care, protection, and weight management.
Among the many treatment approaches for lymphatic drainage, one of the most common is massage.
---
Does Massage Help with Lymphatic Drainage?
Many people use massage as a first-line lymphatic drainage method, and specialized massage therapy is a commonly prescribed treatment for lymphedema.
Different types of lymphatic drainage massage are thought to reduce swelling by improving circulation of lymph fluid. This treatment is usually delivered by a licensed physical therapist or massage therapist with specialty training related to lymphedema management.
But does massage help with lymphatic drainage?
The truth is, the effects of manual lymphatic drainage and traditional massage are unclear based on current research.
While some studies show significant lymphedema volume reduction and improved quality of life after treatment, others show a little-to-no change in status (3).
---
Is Massage Gun Good for Lymphatic Drainage?
Massage guns are a very popular method for getting a good massage at home, and many people are using their massage guns for lymphatic drainage.
Based on the research, it's unclear how effective manual massage therapy is for reducing lymphedema.
However, in order to ensure best results, it's important to mimic the methods that show positive results as closely as possible.
This means that you'll need to pay attention to which massage gun you're using, and how you use it.
---
How to Use Massage Gun for Lymphatic Drainage
Because massage for lymphatic drainage is usually performed very gently, we recommend using a softer attachment for your massage device. These are usually the attachments made of foam instead of hard plastic.
If you know that it is safe to use your massage gun, follow these basic steps for best results:
How to Use Massage Gun for Lymphatic Drainage – Basic Steps
Hold your massage gun and turn it on, setting it to low speed.
Gently apply the head of your massager over the desired area at a straight angle (not slanted) and slowly apply pressure until a light intensity is reached. It should be completely pain-free.
Slowly move the head around the area while trying to maintain consistent pressure and a straight angle. Small circles are an effective way to evenly cover ground.
Focus on one area of the body for 1-2 minutes. Do not exceed this amount of time until you are able to wait and assess if your body responds well (no bruising or increased swelling).
Adjust device intensity based on results and comfort at each body area. Do not push into pain!
Keep in mind that most massage guns are more aggressive than the most researched lymphatic drainage techniques, so being gentle should be your first priority.
Soft tissue with lymphedema can be sensitive, which means that you should use a much lower intensity than you would for a deep-tissue massage, which is aimed at relaxing your muscles.
Now that we've explained how to use a massage gun for lymphatic drainage, let's talk about the best device options.
---
Best Massage Gun for Lymphatic Drainage
Because lymphatic drainage massage focuses on applying lighter pressure over the skin, we don't think there's any need for a powerful massage gun.
This means that you may be able to avoid purchasing a high-amplitude gun, which is typically better suited for a deep-tissue massage (and is often more expensive).
Amplitude describes the distance traveled by a massage head during each percussion. Devices with higher amplitude tend to have lower percussion speed, and vice versa.
Our Recommendation

For lymphatic drainage massage gun, we recommend a device with lower amplitude and higher speed. In other words, a less punchy, more vibrational type of device.
---
Ekrin 365 – Best Lymphatic Drainage Massage Gun
Our top massage gun pick for lymphatic drainage is the Ekrin 365 – recently released from Ekrin, a young and aspiring American brand with several great massage gun options. Here's why…
The Ekrin 365 has a moderate amplitude of 10mm, and feels slightly more vibrational than percussive. Because of this, it has a high top speed of 3200 RPM (and 2000 RPM at the lowest gear).
To give perspective, Theragun models have a maximum speed of 2400 RPM, mostly due to their high, 'punchy' amplitude (16mm).
The Ekrin 365 also has a stall force (the amount of force needed to stall the device) of 40lbs. – this means that you can also use it for massaging larger muscle groups on your body, though you'll need to apply some extra pressure to get results.
What this also means is that with the decent stall force, the 365 won't be slowing down percussions when you apply some decent pressure. This is what happens when you use cheap devices, but not with this one. It will take a considerable amount of pressure to stall this Ekrin completely.
All Ekrin devices use an angled handle, improving ergonomics and reducing wrist strain. Even better, the longer and thinner handle makes reaching your back easier, and overall use easier for people with smaller hands.
The Ekrin 365 is lightweight (only 1.7lbs.) and is designed for premium quality. Even better, it comes with a lifetime warranty, which is rare for a massage gun company to offer.
NEW DEAL Ekrin 365 is currently out of stock, but you can get a better deal if you pre-order now. Use the PREORDER25 code at the checkout to get 25% off the price – pay only $134.99. You can read all the information here.
Ekrin 365 retails for $179.99 but you can use the MGA20 coupon to buy it for only $143.99, which is 20% less. Get your Ekrin 365 massager here.
MORE INFO Read our hands-on Ekrin 365 review.
---
Sportneer Elite D9 – Runner-Up Option

Another great massage gun for lymphatic drainage is this D9 Elite from Sportneer.
This is a more affordable option than the Ekrin 365, but can perform at a similar speed, making it a nice option for lymphatic drainage.
Sportneer Elite comes with a similarly angled handle, and even lower noise than the Ekrin 365. The grip is firm, and while the device is reasonably light at 2.2lbs, it is heavier by 8oz. than the 365 model we've discussed above.
It does come with six attachments to give you more options when using your massage gun for lymphatic drainage. However, the quality of those attachments is so-so at best. All of them are hard-plastic heads.
It features 6 speeds, comes with the wide percussion range (1300-3200). So, on its top speed, it actually matches the Ekrin above, but it can rev slower, to give you a smooth, non-aggressive massage on low speeds. This is what makes this device an appropriate massage gun for lymphatic drainage as well.
The Sportneer gun might not feel as premium as the Ekrin 365 above, and won't come with a lifetime warranty, but it won't drain your wallet, because it is an affordable one.
It currently retails for $97.49 but you can apply the AFDKOF promo code at checkout to get 10% off. You will then only pay $82.87. Buy it at sportneer.com.
---
Theragun for Lymphatic Drainage
Theragun basically started the massage gun industry, and they have many high-end device options for doing percussive massage therapy at home.
If you can afford their premium price, they are a serious contender for at-home massage. However, while Theragun percussion devices are well-suited for almost any job, you should know that they are high-amplitude devices (16mm) and can feel a bit aggressive (punchy).
In our opinion, you don't need necessarily need a high-amplitude device for lymphatic drainage, and using a lower-amplitude device with higher intensity (speed), like Ekrin 365, might be more than adequate.
But don't get us wrong, all Theragun massagers are versatile and effective for getting a good massage.
We simply think that the high amplitude of Theragun devices makes them better choice for deeper massage on big muscle groups. They also rev a little bit slower than devices with lower amplitude (bigger movements means slower speeds).
---
Which Theragun is Best for Lymphatic Drainage?
Theragun products vary slightly between each model, and the largest difference between their higher-end models (Prime, Elite, and PRO) is their stall force, which is the maximum amount of force produced by the massage gun head before stalling.
We wrote a very detailed article to compare each Theragun model, so you can make an educated decision before buying.
Theragun SALE Save up to $200 on 4th gen Theraguns. Browse all the deals
Our Recommendation
Our recommendation for the best Theragun for lymphatic drainage is the Theragun Prime or Theragun mini.
Both of these devices are good options because they have a lower amplitude and stall force than the more expensive Elite and PRO models while maintaining adequate speed.
More Info in our Theragun Prime Review and Theragun mini Review.
The higher-end Theragun models (Elite and PRO) might feel too powerful for your lymphatic drainage needs, meaning their stall force is much higher than needed to get the job done.
Also, some of the features on the expensive PRO, like the adjustable arm, won't get as much use since lymphatic drainage isn't typically performed on the back.
Remember, because the best lymphatic drainage results are seen with softer touch, your best bet is to save some of your resources on other components of care like skin care and other forms of self care.
Another solution to soften the hard hits from the Theragun device could be using their Supersoft™ attachment (pictured above). It comes handy for those who want a very delicate treatment.
The attachment comes included with the Pro model, but you can also buy it separately and it will work well with the Prime and/or mini.
---
What About Downsides to Theragun?
The most noteworthy downside to the Theragun brand is their price. While they offer a lot of high-end features like industry-leading stall force and amplitude, they're also some of the most expensive options in the massage gun industry today.
Theragun started a revolution, but their creativity is constantly being challenged by the competition. As a result, there are many less-expensive options with similar, or sometimes better offerings.
In terms of warranty, Theragun doesn't offer a big one. You can get a one-year warranty with most models, and a two-year warranty with the PRO model (which is $600).
If you're hoping to get multiple attachment options or a carrying case, be sure to spend a little extra on the Elite model, since the more affordable models don't include all of these features.
As an alternative option, you can always get a less expensive model and purchase extras a la carte.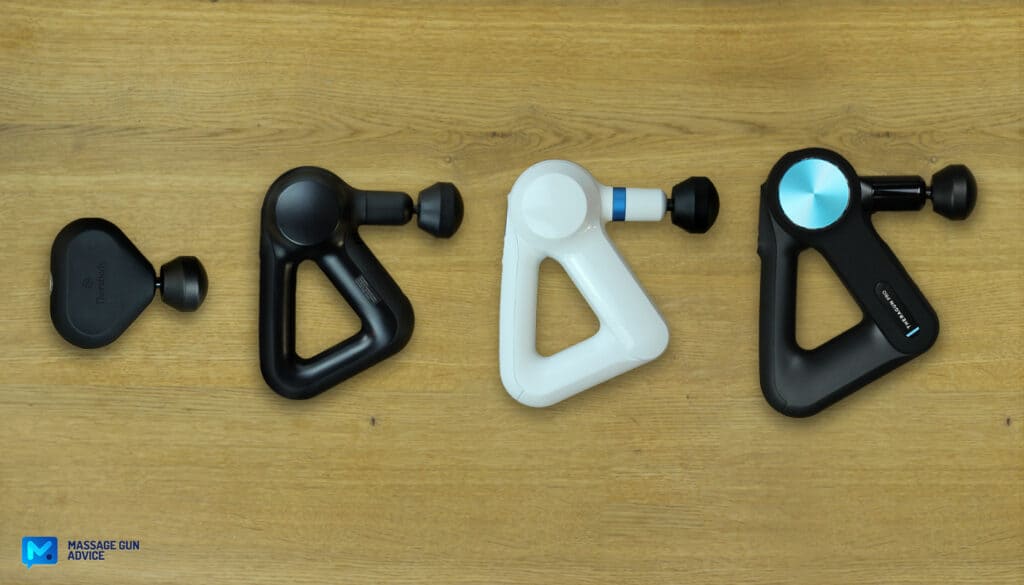 ---
Massage Gun for Lymphatic Drainage: Bottom Line
Hopefully this article helps in answering the question: can you use a massage gun for lymphatic drainage?
The reality is that there just isn't enough research yet to know exactly how massage gun use compares to traditional manual lymphatic drainage. That said, your massage gun (when used safely) might be a great addition to a comprehensive lymphatic drainage regimen.
If you're still unsure about using your massage gun for lymphatic drainage, we recommend scheduling an appointment with a licensed lymphedema specialist who can answer all of your questions on lymphedema and lymphatic drainage.
This, along with the help of your trusted medical doctor, should help you get the best outcomes for your lymphatic drainage.
Happy massaging!
---
References
MedLine Plus (National Library of Medicine): Lymph System
Link: https://medlineplus.gov/ency/article/002247.htm
Bonnie B. Lasinski. Complete decongestive therapy for treatment of lymphedema. Seminars in oncology nursing. Volume 29, Issue 1. 2013. Pages 20-27. ISSN 0749-2081. https://doi.org/10.1016/j.soncn.2012.11.004.
Link: https://www.sciencedirect.com/science/article/pii/S0749208112000836
Thompson, B., Gaitatzis, K., Janse de Jonge, X., Blackwell, R., & Koelmeyer, L. A. (2021). Manual lymphatic drainage treatment for lymphedema: a systematic review of the literature. Journal of cancer survivorship: research and practice, 15(2), 244–258. https://doi.org/10.1007/s11764-020-00928-1
Link: https://pubmed.ncbi.nlm.nih.gov/32803533/
Disclaimers
The views and opinions expressed on this website are those of the authors. Any content provided by our bloggers or authors are of their opinion and are not intended to malign any religion, ethnic group, club, organization, company, individual or anyone or anything.
All product names, logos, and brands are property of their respective owners. All company, product and service names used in this website are for identification purposes only. Use of these names, logos, and brands does not imply endorsement.
It is our policy to make every effort to respect the copyrights of outside parties. If you believe that your copyright has been misused, please provide us with a message stating your position and we will endeavor to correct any misuse immediately.
Some of the links in this post are affiliate links. As an Amazon Associate, we earn from qualifying purchases. This means if you click on the link and purchase the item, we may receive an affiliate commission, at no extra cost to you. This helps us keep this website alive. Learn more here.
Amazon Disclosure
massagegunadvice.com is a participant in the Amazon Services LLC Associates Program, an affiliate advertising program designed to provide a means for sites to earn advertising fees by advertising and linking to Amazon.com. As an Amazon Associate, we earn from qualifying purchases. Amazon and the Amazon logo are trademarks of Amazon.com, Inc. or its affiliates. Please refer to our Privacy & Affiliate Policy for details.