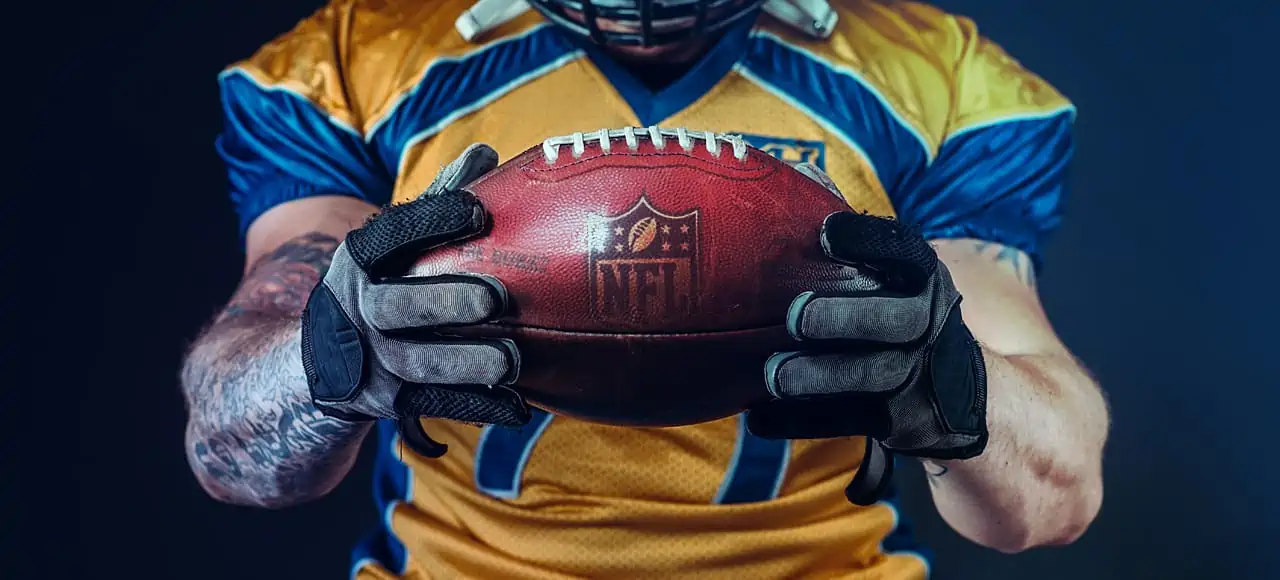 NFL Massage Gun – What Massage Gun Does The NFL Use?
What to Know: We independently review products we recommend. If you click on links we provide, we may earn a commission. Learn more.
---
What would you consider an NFL massage gun?
We recently did a piece on NBA massage guns, explaining what massage gun does the NBA use. We know what to expect from a massage gun used by Lebron James. We also discussed other brands that aren't so popular and how they're just as good if not better.
Today we'll take a look at NFL massage guns. What devices are used during the game, in the locker rooms, and during training?
Let's find out…
What massage gun do the NFL players use?
---
---
Hyperice Has Been Making All The Moves
Hyperice has been working with professional athletes in developing tech tools that help them with recovery and improve their performance and longevity. In 2020, they partnered with the NBA after working with pro athletes like Kobe Bryant and Lebron James for a while.
In November 2021, the NFL announced that it had partnered with Hyperice and that Hypervolts would be available to the NFL players.
The deal includes working with Hyperice to come up with technology that will help the league and its players become even better. In addition, Hyperice would also work with NFL prospects to ensure that anyone joining the league starts on a strong foot.
That means you can expect to see Hypervolts all over the NFL. During the NFL playoffs this year, Hyperice tweeted an image of new Hypervolts in Kansas City Chiefs Locker room.
Hyperice has made moves with NFL players as well and recruited some of them as its ambassadors in the league. That includes the Kansas City quarterback Patrick Mahomes and Carolina Panthers running back Christian McCaffrey.
Which Hypervolt do NFL Players Use?
At first, the top massage gun from Hyperice was the Hypervolt Plus. However, later on, Hyperice released the new Hypervolt 2 Pro. Most athletes in the NFL are now using Hypervolt 2 Pro. It's the strongest Hypervolt right now (albeit not as strong as the good old Plus) .
---
What Has Theragun Been Up To?
It could be argued that the very first massage gun to make it into an NFL locker room was Theragun.
Back in 2017, way before Hyperice could make their flagship massage gun (for everyone at least), Theragun 2nd generation guns were already being used.
Marvin Jones, then a wide receiver for the Detroit Lions was spotted using "a tool that sounded and looked like a power drill." It was so noisy that Jones couldn't hear himself talk. Turns out that tool was a Theragun massage gun. Back then it was simply called a "Theragun."
There were many other players that loved using the Theragun even during games to relax the muscles. Julio Jones, then a receiver for Atlanta Falcons, was spotted using a Theragun between possessions back in 2016.
The G2Pro was the top Theragun back then and was loved by the NFL. Just because Theragun does not have a major deal with the NFL doesn't mean it's not being used in locker rooms and even during games.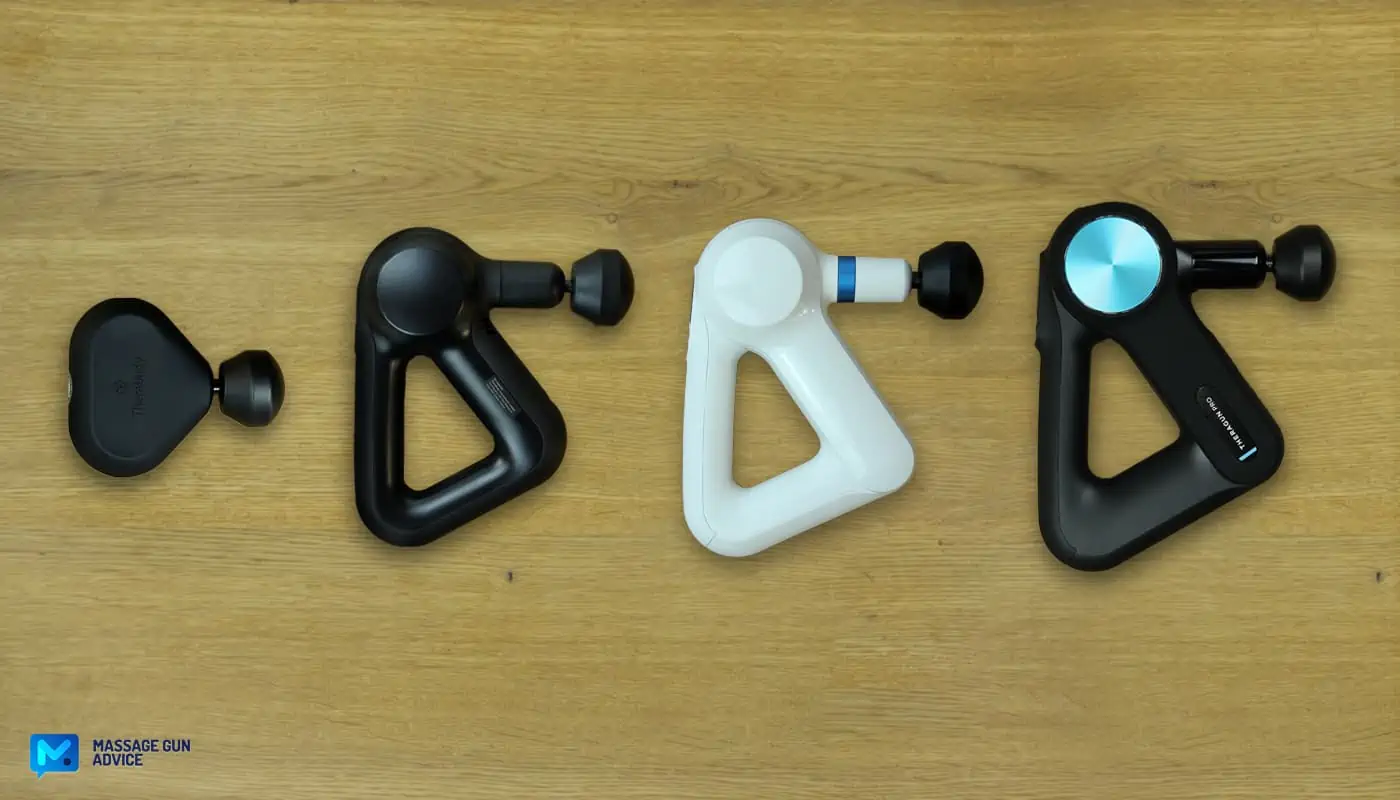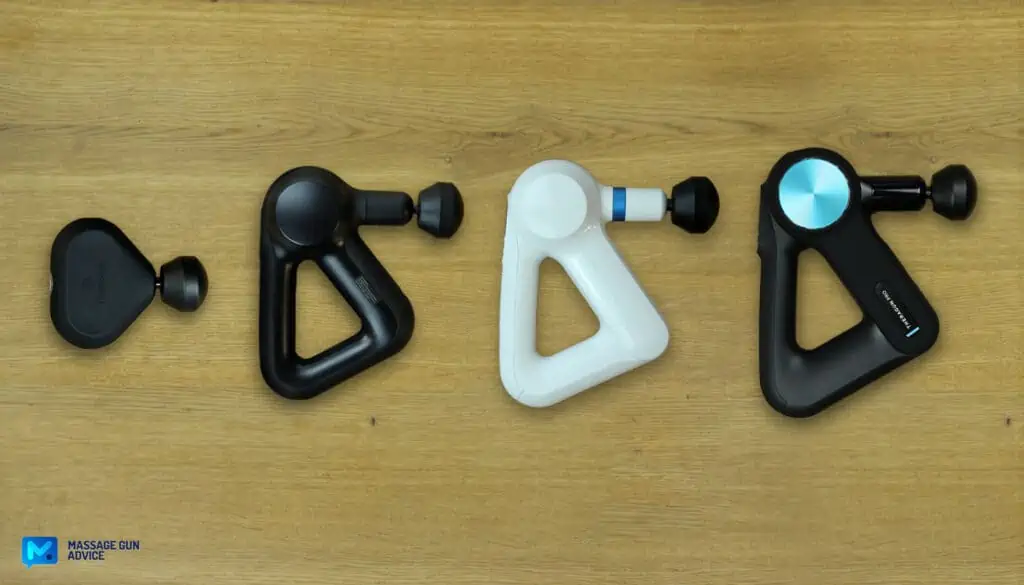 ---
Two Brands, Two Different Approaches.
Well, the main difference between Theragun and Hypervolt is the approach used. While Theragun insists on deep percussive hits – with a long stroke length, they make that point straightaway with it – Hypervolt mixes between stroke length and many percussions per minute.
The difference perhaps reflects the initial approach by both brands – Theragun was started by a chiropractor who wanted something to get rid of pain, while Hypervolt was started by a former sports coach.
Either way, different NFL players may choose a Theragun or a Hypervolt based on personal preferences – except of course when a brand sponsors them or their team. In that case, it would be unethical (to say the least) to use a rival massage gun.
Individual players in the NFL have also partnered with either brand. For instance, Theragun has partnered with Arizona Cardinals wide receiver Deandre Hopkins among others.
Hyperice has partnered with Christian McCaffrey and Patrick Mahomes. Hyperice also has sponsorship deals with the Seattle Seahawks and the Dallas Cowboys.
TIP We have a dedicated post that highlights all the differences: Theragun vs Hypervolt comparison.
---
Other NFL Massage Gun Brands?
Yes there are other massage guns not called Theragun or Hypervolt being used in the NFL. Even before Hyperice began making all these moves in the NFL, other massage guns, apart from Theragun existed.
Theragun G2Pro was going for a whopping $599. Frugal NFL players had to find an alternative. TimTam was competing with Theragun back then and even it cost at least $399.
Today, massage gun technology has come a long way. Back in 2018 when the massage gun craze was blowing up, many knockoffs filled the market. Theragun and Hyperice fought off many of those early on.
Today there are many brands that are coming up with blueprints of their own. These brands make awesome massage guns that cost way less than a Theragun or a Hypervolt.
Some of them include:
Ekrin Athletics: Ekrin is an American company that specializes in helping athletes recover and heal from injuries faster. Their massage guns (B37s, B37, 365, and the mini Bantam) are powerful and effective. They are being used by NFL players, including Andy Janovich, a fullback for the Houston Texans, and John Franklin-Myers, a defensive end for the New York Jets. We love Ekrin devices. They come with a lifetime warranty and are significantly cheaper than the big two.
Achedaway: Achedaway came into the market with a prototype that looked pretty similar to Hyperice's. However, it was their second gun Achedaway Pro that gave many athletes the worthy alternative to Theragun Pro. It had the power and amplitude to match Theragun Pro. It was smoother and way cheaper too. They also offer an intelligent cupping device called Achedaway Cupper athletes widely use for recovery.
Opove: Opove has for much of its existence copied what Hyperice has done. Until recently, they produced guns that looked exactly like Hypervolts. They recently came up with Opove Apex – a massage gun that takes a very different and unique route to that of any Hyperice.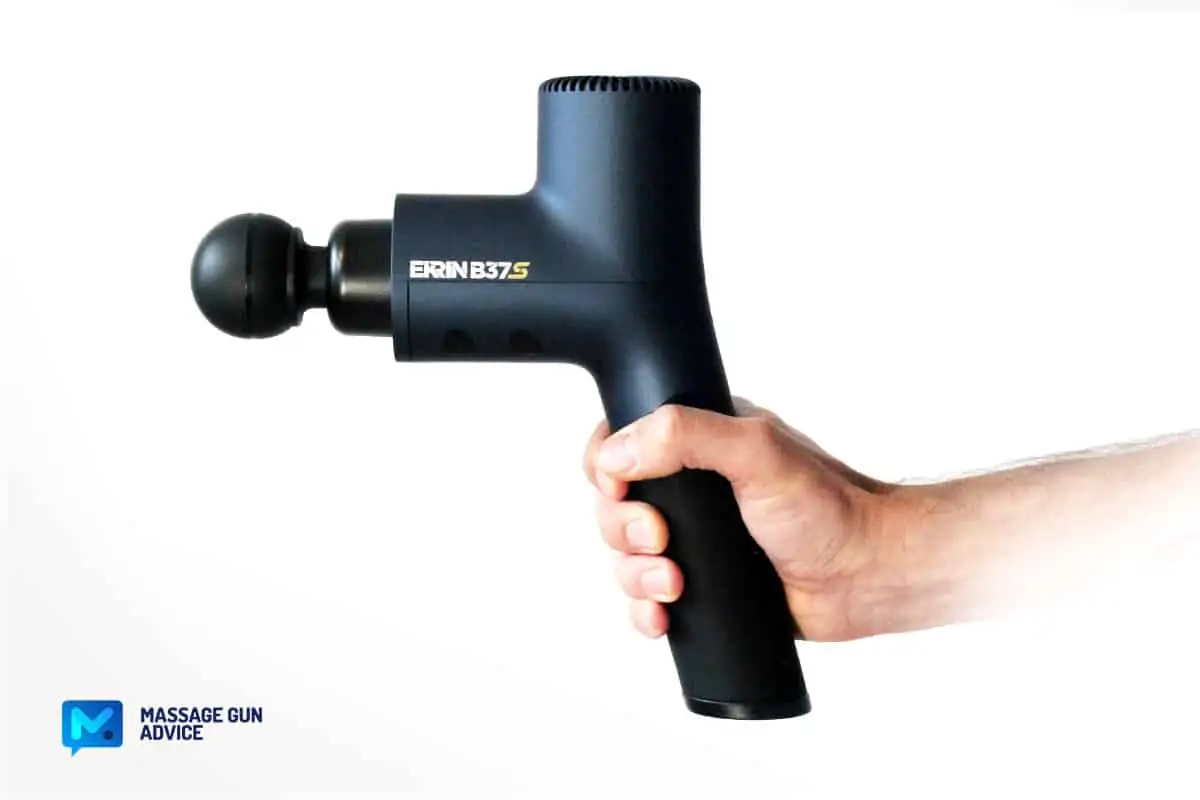 These are just a few massage guns that are being used in the NFL. The fact that no one hears about them doesn't mean they aren't good enough. The big names are famous because of the money factor.
However, these least known guns have what it takes to compete. Any keen NFL player knows this and uses them. You can read individual reviews about these guns on our site. We have posts comparing them to Theraguns and Hypervolts.
---
NFL Percussion Massager FAQs
What massage gun does Tom Brady use?
The u003cstrongu003eTom Brady massage gun is Hypervolt 2 Prou003c/strongu003e. We know that Brady launched his own u003ca href=u0022https://tb12sports.comu0022 target=u0022_blanku0022 aria-label=u0022TB12 (opens in a new tab)u0022 rel=u0022noreferrer noopeneru0022 class=u0022ek-linku0022u003eTB12u003c/au003e, which is a fitness recovery company.u003cbru003eHowever, he has been working closely with Hyperice. In fact, TB12's vibrating roller is a rebranded Hyperice Vyper roller. TB12 hasn't unveiled its own massage gun yet.u003cbru003eThat makes us believe that Tom Brady is a Hypervolt user. In this case, it has to be u003ca href=u0022https://massagegunadvice.com/link/hypervolt-2-pro/u0022 target=u0022_blanku0022 aria-label=u0022Hypervolt 2 Pro (opens in a new tab)u0022 rel=u0022noreferrer noopener nofollowu0022 class=u0022ek-linku0022u003eHypervolt 2 Prou003c/au003e.
What Massage Gun does Patrick Mahomes use?
The u003cstrongu003ePatrick Mahomes massage gun is a Hypervolt 2 Prou003c/strongu003e. Mahomes made a deal with Hyperice in 2020 to use their massage guns. Back then the Pro Hypervolt was the Hypervolt Plus. With the release of new generation Hyperice massage guns, the likely massage gun for Patrick Mahomes is the u003ca aria-label=u0022Hypervolt 2 Pro (opens in a new tab)u0022 href=u0022https://massagegunadvice.com/link/hypervolt-2-pro/u0022 target=u0022_blanku0022 rel=u0022noreferrer noopener nofollowu0022 class=u0022ek-linku0022u003eHypervolt 2 Prou003c/au003e. He probably also uses the new u003ca aria-label=u0022Hypervolt Go 2 (opens in a new tab)u0022 href=u0022https://massagegunadvice.com/link/hypervolt-go-2/u0022 target=u0022_blanku0022 rel=u0022noreferrer noopener nofollowu0022 class=u0022ek-linku0022u003eHypervolt Go 2u003c/au003e – Hyperice's new compact device.
---
NFL Massage Gun Summary
Right now it looks like Hyperice is the default NFL massage gun. Deals are being made all across the league to have them as the number one brand.
However, individual players are likely to pick a massage gun based on their individual preferences. This means other guns are also being used in the league.
Theragun has had a fair run in the NFL and is definitely preferred by some players.
For frugal NFL players, alternatives like Ekrin, Achedaway, and Opove are great considerations.
Keep reading our massage gun reviews. Take care!
Was this article helpful?
Thanks for your feedback!
Post Update History
Here's a quick rundown of all the tweaks and edits we've made to this article to keep it accurate and up-to-date!
Current version last updated on:
•
Written by:

Luke Deszczulka
Disclaimers
The views and opinions expressed on this website are those of the authors. Any content provided by our bloggers or authors are of their opinion and are not intended to malign any religion, ethnic group, club, organization, company, individual or anyone or anything.
All product names, logos, and brands are property of their respective owners. All company, product and service names used in this website are for identification purposes only. Use of these names, logos, and brands does not imply endorsement.
It is our policy to make every effort to respect the copyrights of outside parties. If you believe that your copyright has been misused, please provide us with a message stating your position and we will endeavor to correct any misuse immediately.
Some of the links in this post are affiliate links. As an Amazon Associate, we earn from qualifying purchases. This means if you click on the link and purchase the item, we may receive an affiliate commission, at no extra cost to you. This helps us keep this website alive. Learn more here.
Amazon Disclosure
massagegunadvice.com is a participant in the Amazon Services LLC Associates Program, an affiliate advertising program designed to provide a means for sites to earn advertising fees by advertising and linking to Amazon.com. As an Amazon Associate, we earn from qualifying purchases. Amazon and the Amazon logo are trademarks of Amazon.com, Inc. or its affiliates. Please refer to our Privacy & Affiliate Policy for details.