Bob and Brad Q2 Mini Massage Gun Review – Tiny, Decent Power, And Affordable
Disclaimer: Our content is unbiased, non-sponsored and fact-checked. If you buy via links on our site, we may earn a commission. As an Amazon Associate, we earn from qualifying purchases.
---
Here's a late Bob and Brad Q2 mini massage gun review.
We should've reviewed this sooner, seeing it has been on sale for a while now. Hopefully it's not too late to tell you what you should expect if you haven't bought it yet.
TIP If you haven't heard about Bob and Brad, they are the two most famous physiotherapists on the internet. They have quite a following on YouTube and have garnered over half a billion views.
Now, let's take a look at this mini massage gun…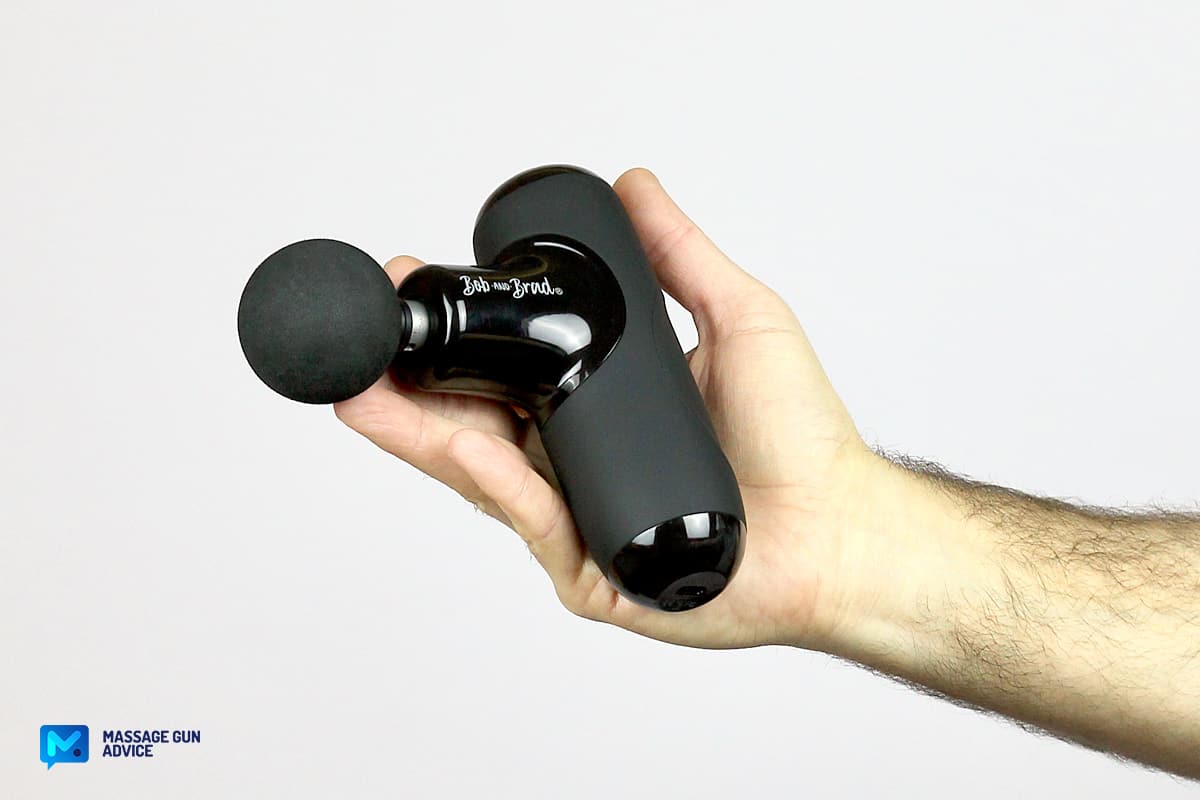 ---
---
Bob and Brad Q2 Mini Massage Gun Review
Bob and Brad Q2 Specifications
Feature
Bob and Brad Q2 Specs
Stall Force
~25 lbs (advertised: 32 lbs)
Stroke Length
7 mm
Speeds
5
Percussion range
1800 – 3000 RPM
Weight
1 lbs (with a flat attachment)
Dimensions
5.7 x 3.3 x 1.8 inch
Attachments
5 included
Noise (decibel)
~49 – 52 dB
Battery
2500 mAh / ~2 hours
Pros
Good stall force
Good percussion range
Pocket size
Low noise
USB-C charging
Overall quality
Cons
Low amplitude
Short, non-angled handle
Warranty
1-year
Current Price
Check at Amazon
(don't forget to clip the coupon)
Bob and Brad Q2 specifications (according to bobandbrad.com​1​).
---
What Is Included?
We found a case with our device, as it is the norm with all Bob and Brad devices. It's a nice compact 7 x 7-inch case. It's made of some tough material, and you can expect it to go the distance. The case has a carrying strap.
Apart from the case and the device itself, there are attachments, which we will talk about in a few. There is also a USB-C charging cable, a spare gasket for the attachments, and a user manual with specifications and how-to-use instructions.
---
First Impressions
What about the device itself?
It's a tiny device, as you'd expect a mini massage gun to be. This one isn't as generic as we have seen with many other guns. It's nothing new, at least not entirely; we have seen it before. But we haven't seen those rounded edges with many devices.
The handle is vertical but really short. We'd say it fits perfectly in your palm.
If you see the device in a photo, you'd think it's a toy. But it's not – it feels decent once you lay your hands on it. The materials used are quality as well. Bob and Brad chose a glossy plastic finish.
But it's not just plastic. There is rubber where you need it to be. There are no visible screws. It's a seamless design.
The weight of it tells you straight away that you are looking at a serious device – not a toy as it appears in the pictures. There are air vents at the top and a charging port at the bottom.
We bought the black one. You can get a blue one too. This is a decent-looking massage gun, and we can't wait to see what else it has to offer.
---
Size and Ergonomics
Even though we said it weighs quite a bit, it's probably just enough not to feel like a toy.
It weighs just 1 pound with the flat attachment mounted. The plastic material used actually makes it lightweight. A metallic casing, as seen in many other guns, tends to add to the overall weight. This one is better to hold, plus it has rubber to prevent slipping when your hands get sweaty.
What about its size?
It's small and compact. That makes it highly compatible. If we had to compare it against other minis like the Hypervolt Go 2, this one is miles tinier.
It measures 5.7 x 3.3 x 1.8 inches. This is the same size as Ekrin Bantam, which we'd say is its main rival. At least as far as the overall size goes.
The ergonomics aren't that bad, but we've seen better from competitors. The handle isn't tilted as Ekrin Bantam. This means the Bantam generally holds better.
It's still tough to comfortably massage your back with a mini massage gun, but Ekrin's tilted handle has more reach than what the Q2 has. The part of the handle under the motor is short and may not offer enough room for massaging hard-to-reach areas.
That said, this is still a great travel companion. You can also use it as a supportive device if you have a full-sized one.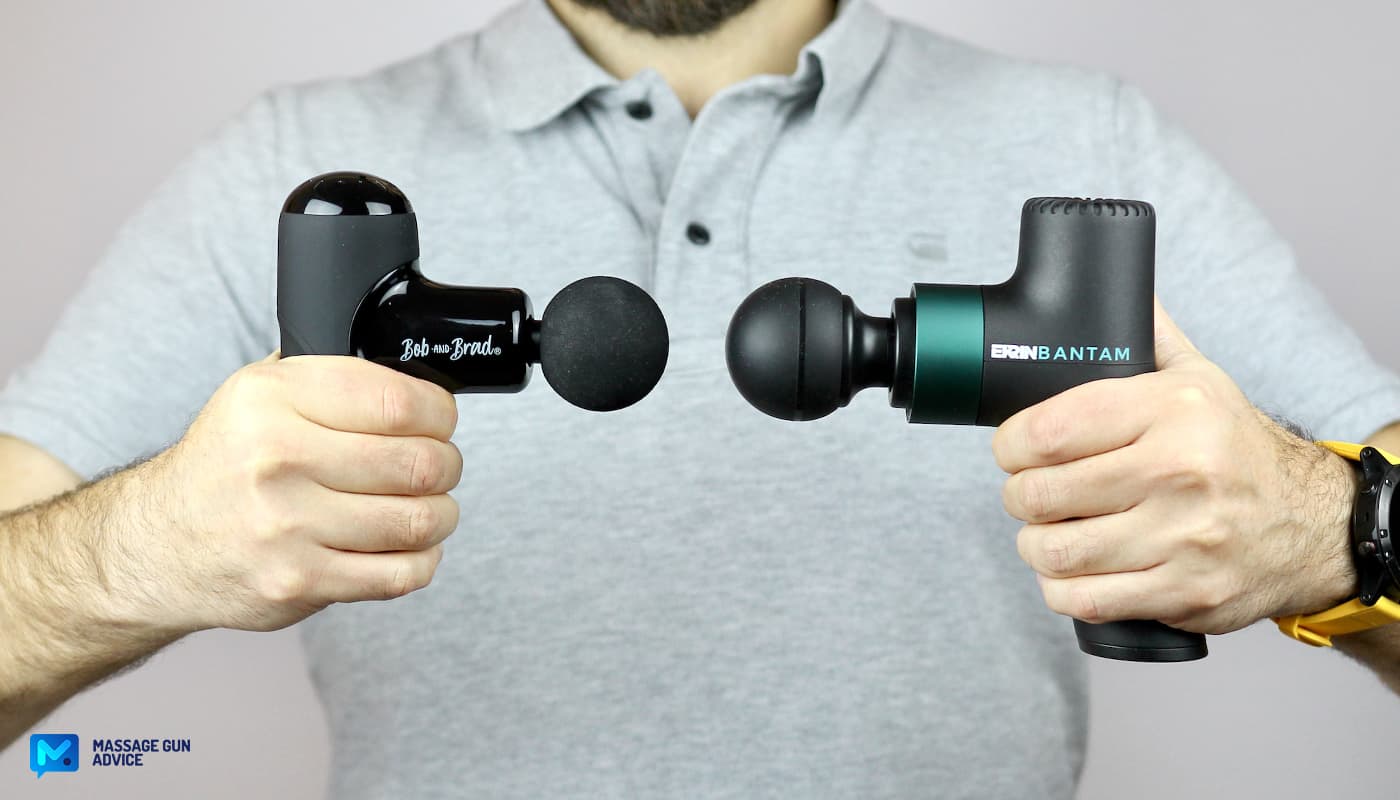 ---
Controls
There is just one button on the back of the handle. It's smack in the middle of it; you won't miss it. But it's probably not the most convenient of locations to have the only button.
However, it's an inlet button which is good news; it's less prone to accidental pressing. Ekrin Bantam's button is located underneath the handle. We occasionally press it by mistake when using the device.
The button activates and deactivates the device when you press it for at least 2 seconds. Once activated, you can tap the button to change speeds.
There are 5 LEDs bleow the button to indicate the speed settings. Just below them there is also a lightning icon that indicates the battery charge level.
---
Attachments
There are 5 attachments included with this device.
They include:
Ball head – Thus is a universal head made of EVA foam – a commonly used material. It feels rather hard with very little give to it. It's not the best one to use on clothes.
Bullet head – This one is made of hard plastic. It's used on trigger points, palms, and soles.
Fork head – It's used to massage the spine area. You can also use it to massage your Achilles​2​ or use it as a double-tip bullet head.
Cushioned head – this is the softest one for massaging tender and bony areas.
Flat head – This is likely the universal one in the set. It's good for massaging large muscle groups.
Does the set offer a nice variety? We'll say yes, it does. We love that Bob and Brad included one soft attachment – the air-filled head.
The flat head is reasonably large – you don't see that often with mini massage guns.
The 5 heads are enough. You probably won't need more.
---
Performance
How does this mini perform? We look at amplitude, stall force, and percussions per minute.
---
Amplitude
Also known as stroke length, this is the distance the massage gun head travels during percussion.
Bob and Brad advertise it as 7mm. We measure it, just to be sure.
With a 7mm amplitude, the best this gun can offer is a vibrational effect​3​. You shouldn't expect heavy punches. Even so, it's 1mm longer than the Lifepro DynaMini and Recoverfun Mini.
But it's lower than Ekrin Bantam's. Even though the Bantam is more expensive, it has over 9mm amplitude. Now, that may sound like only ~2mm more, but it translates to about 20% punchier. It's not something you can ignore.
Obviously, it lags behind Theragun mini and even Hypervolt Go 2. The former has a 12mm amplitude, while the latter has 10mm.
But even with a low amplitude, a good stall force can turn the fortunes of the Q2 mini massage gun. So does the Q2 come with a strong motor?
---
Stall Force
Stall force is the amount of pressure it takes to stop a device from percussing.
Fortunately, the stall force here is pretty good, especially for a mini device. There is no way of accurately measuring the stall force, but we can compare it with a known stall force devices.
For this one, if the Bantam has over 30lbs. of stall force, this one is in the mid 20s. But Bob and Brad say it has 32lbs. of stall force? We would take that with a pinch of salt. This isn't the first time they have exaggerated the stall force for one of their devices. They did it with the T2 as well.
However, they recently released the D6 Pro, which is a real monster and very true to its specs.
Anyway, for such a tiny device, mid 20s is a good stall force. It's actually interesting that, being so tiny, it has more stall force than the bigger Hypervolt Go 2.
At higher speeds, you can press it against your forearms, shoulders, and calves. This means you won't have the problem of percussions slowing down when you apply some pressure.
However, don't push your luck too far and expect it to perform a more aggressive massage; it's a mini, after all.
---
Percussions and Speeds
This is the first mini gun with 5 speed settings we have seen.
Is it really an advantage over the usual 3-speed setup we see with many other minis? Not really, but it's awesome to have a bit more.
The percussion range is 1800-3000RPM (1735-2933RPM to be very precise). We confirmed it with our digital laser.
This means that the Q2 can rev fast enough to do the job. But this is slightly slower than some other minis we have used before.
For instance, both Hypervolt Go and Ekrin Bantam can rev up to 3200RPM. This is slightly more intense with a high amplitude.
---
Our Take on Performance
You'd expect most minis to have a low amplitude; this one isn't different. Surprisingly, the stall force here is pretty decent. This sort of makes up for the lack of amplitude. The percussions are also okay but not spectacular.
All in all, this is a good performance for a low-priced gun.
---
Noise
Bob and Brad have always delivered quiet devices; this one is no different.
The sound feels smooth. There is no crackling or rattling. Bob and Brad claim it only revs to 55dB at maximum speed, which would be super quiet.
We measured the noise decibels, and it was even quieter. We measured 49dB to 51.6dB – we held the dB meter about 8 inches away, as our common practice.
This means it's a very quiet device, especially at lower speeds. We did hear some rattling at top speed, likely from the attachment, but nothing too loud.
There are some vibrations to the holding hand, but nothing you can't live with.
---
Battery
The battery has a 2500mAh capacity, according to the manual. We didn't see any information on the device itself. It's hard to believe it has that much capacity given the overall size and weight. Many full-sized massage guns have similar batteries.
We don't know if Bob and Brad are truthful here, but we can't tell for sure. For time on battery, expect it to last for more than 2 hours if you use some pressure and high speeds. This is a good result, actually.
There is a USB-C charger to make charging convenient. You can even use a power bank sometimes.
There is a lightning icon that is blue when there's enough juice. It turns red when there's 30% or less juice. It starts flashing when the level drops to 20%.
When it's charging, the light is solid green, and it goes off when the battery is fully charged.
---
Who Is It Best For, Then?
This is a very decent everyday mini massage gun.
You can use it to massage your sore neck, smaller muscles, and even larger ones at top speed with some pressure. It should be good enough to improve blood circulation​4​ and lymphatic drainage.
It's great for folks who work behind the desk for long hours. You can also take it with you on your travels.
Also, if you don't like punchy guns, this gun is for you. You'll love how it performs. It's a great device for women and small people. The elderly will also enjoy how small and portable it is.
However, it might not be so great for demanding users. It's also less powerful than Ekrin Bantam and Theragun mini. Even so, it's a decent choice given its attractive price – cheaper than the former guns.
---
Warranty and Price
This one is a real bargain considering how well it's built and how small it is. Last time we checked, it was only about $66 with a coupon available on Amazon.
It comes with a 12 months warranty. Not the best you can get, but expected from massage guns of this price. Want a better warranty? Check out our alternative below.
---
Best Alternative – Ekrin Bantam
The Bantam will cost you slightly more, but it will also offer you slightly more.
For starters, we love Ekrin as a brand. We recently voted it the best brand. Their Bantam outshines many other minis out there – including the ones from premium brands such as Therabody.
The Bantam is tiny, about the same size as the Bob and Brad Q2 mini massager. It weighs 1.1 pounds – a shy heavier. It has an angled handle and may be better for massaging your back than Q2.
The handle is also rubberized to prevent slipping when your hands get sweaty.
It has better performance specs. A 9mm amplitude and ~30lbs. of stall force. Believe it or not, these are better specs than some full-sized devices. It has 3200RPM maximum percussions – better than the Q2's 3000RPM.
You get 4 attachments here and a carrying case as well. The Bantam also comes with a USB-C charger for convenience.
The battery is Samsung branded, which we can confidently say has served as well for over a year – it still works like it's new. What's even better, Ekrin offers a lifetime warranty.
It usually goes for $149, but with the MGA20 coupon, which gives you a 20% discount, you can get it for $119.
Read More Our in-depth Ekrin Bantam review.
---
Bob and Brad Q2 Review Summary
We've come to the end of our Bob and Brad Q2 mini massage gun review. This is a very well-executed mini massage gun from a well-known brand.
Even though it has a low amplitude, the decent stall force makes up for it. It's a good everyday device. It's light, tiny, and quiet. It also comes at an attractive price.
However, the Bantam is a perfect alternative if you prefer more power and a better warranty.
Take care!
---
Bob and Brad Q2 Mini Massage Gun Rating
Quality

Effectiveness

Usability

Accessories

Price Value
Summary
The Q2 mini massager is an everyday mini that will do the job better than many similarly priced competitors. It has a vibrational amplitude but a stellar stall force for how tiny it is. It's also light, well-designed, quiet and affordable too.
---
References
2.

Stefansson SH, Brandsson S, Langberg H, Arnason A. Using Pressure Massage for Achilles Tendinopathy: A Single-Blind, Randomized Controlled Trial Comparing a Novel Treatment Versus an Eccentric Exercise Protocol.

Orthopaedic Journal of Sports Medicine

. Published online March 2019:232596711983428. doi:

10.1177/2325967119834284

3.

Konrad A, Glashüttner C, Reiner M, Bernsteiner D, Tilp M. The Acute Effects of a Percussive Massage Treatment with a Hypervolt Device on Plantar Flexor Muscles' Range of Motion and Performance.

J Sports Sci Med

. 2020;19(4):690-694.

https://www.ncbi.nlm.nih.gov/pubmed/33239942

4.

Nelson NL. Massage therapy: understanding the mechanisms of action on blood pressure. A scoping review.

Journal of the American Society of Hypertension

. Published online October 2015:785-793. doi:

10.1016/j.jash.2015.07.009
Disclaimers
The views and opinions expressed on this website are those of the authors. Any content provided by our bloggers or authors are of their opinion and are not intended to malign any religion, ethnic group, club, organization, company, individual or anyone or anything.
All product names, logos, and brands are property of their respective owners. All company, product and service names used in this website are for identification purposes only. Use of these names, logos, and brands does not imply endorsement.
It is our policy to make every effort to respect the copyrights of outside parties. If you believe that your copyright has been misused, please provide us with a message stating your position and we will endeavor to correct any misuse immediately.
Some of the links in this post are affiliate links. As an Amazon Associate, we earn from qualifying purchases. This means if you click on the link and purchase the item, we may receive an affiliate commission, at no extra cost to you. This helps us keep this website alive. Learn more here.
Amazon Disclosure
massagegunadvice.com is a participant in the Amazon Services LLC Associates Program, an affiliate advertising program designed to provide a means for sites to earn advertising fees by advertising and linking to Amazon.com. As an Amazon Associate, we earn from qualifying purchases. Amazon and the Amazon logo are trademarks of Amazon.com, Inc. or its affiliates. Please refer to our Privacy & Affiliate Policy for details.