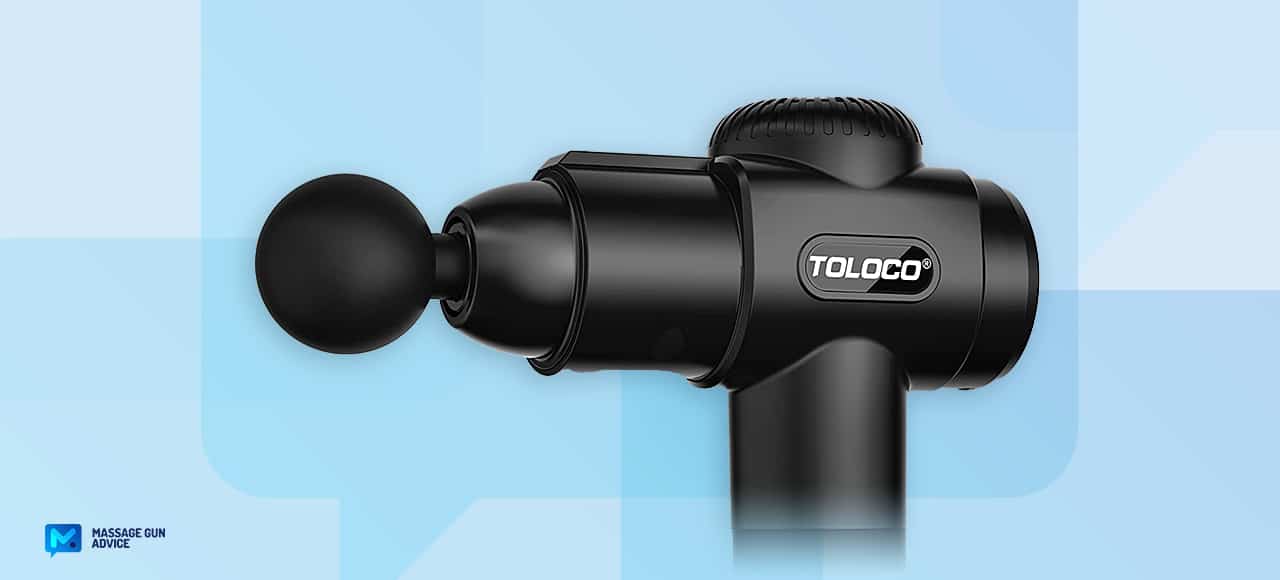 Toloco Massage Gun Review: EM26 – An Okay Personal Gun But Far From Perfect
Disclaimer: Our content is unbiased, non-sponsored and fact-checked. If you buy via links on our site, we may earn a commission. As an Amazon Associate, we earn from qualifying purchases.
---
Welcome to this hands-on Toloco massage gun review. This is another budget massage gun that we decided to buy and test out. It costs just a little over $70 on Amazon.
But why select this gun, it feels rather random? Well, not according to more than 24,000+ customers who have bought it and reviewed it. Many reviews give this device a thumbs up.
So, is this gun worth its weight in gold or are there better alternatives, perhaps even cheaper? We tested it extensively and compared it to the other guns in our collection and here's what we think.
TL/DR – It's an okay one for the price, but not really true to advertised specs and you can get better devices at an even cheaper price (read on).
---
---
Is Toloco a Good Massage Gun Brand?
Toloco is an overseas brand that sells products made in China. As is often the case, brands like this start off selling different products in random niches before settling on one. Toloco experimented with mosquito traps, bubble machines, and inflatable costumes before finally settling on massage guns.
The EM26 model is their latest gun. Before this, they sold the T11 and the M63 – all of which are very similar.
Can Toloco be trusted?
Well, the devices seem decent enough. Plus, they are not very new on the market selling massage guns; they have been here for the last 3 years or so. They must have enough experience by now with massage guns.
But like other similar brands that aren't so easy to trace, it wouldn't be a stretch to ask questions like: do they respect warranties? can you return the product if anything goes wrong? etc.
Also, there is the question of whether any such devices can hold out for the long run. You get what you pay for – in this case, a pretty basic device.
---
Toloco Massage Gun Review
---
Toloco EM26 Specifications
Feature
Toloco EM26 Specs
Stall Force
35 lbs
Stroke Length
10 mm (12 mm*)
Percussion range
1300 – 2500 ppm (1300 – 3200 ppm*)
Speeds
20
Attachments
10 included
Weight
2.16 lbs
Noise (decibel)
59 – 65 dB (40 – 50 dB*)
Battery Capacity
2500 mAh
Pros
good stall force
good size
well equipped
affordable
Cons
overstated amplitude
low percussion range
too many speeds (for the range)
does not resume upon stalling
Current Price
Check at Amazon
Toloco EM26 Specifications (* as advertised by Toloco)
---
What is Included?
There is a carrying case. A good-sized one, but not the finest you will ever see, although we're guessing for the price of this thing we'll take anything to carry the gun and everything else.
Inside the bag, there is a wall charger, the attachments, a simple manual with device features, key specs, and basing how-to-use information.
---
First Impressions
The first site of the device is not very exciting, but not very discouraging either. Maybe we have seen a few too many massage guns but this one isn't any different from the dozens of others out there.
It's a full-sized massage gun with the same old, proven-but-boring T-shape with a vertical handle. Another one that belongs in the same category as Lifepro Sonic, Chirogun, Fitpulse, Taotronics, and many others.
We wouldn't exactly call it a sleek-looking massage gun, even though they tried to complicate the obvious design by adding lots of edges – even though the overall design looks rounded.
We compared it to the Taotronics TT-PCA004, which looks quite similar, but is a tad smaller and sleeker (albeit being T-shaped as well).
There are 3 different colors you can choose from including black, silver, and gray. We chose the gray one.
The entire body of the device is plastic. The color is satin gray with black rubber around the middle part of the handle – the tiny section at the bottom is glossy plastic.
There are no visible screws, which suggests they know what they were doing here – the competition does it pretty well too.
FUN FACT
The model name is on a sticker on the motor case. We noticed our model sticker was upside down – bad day at the office for quality control guys at Toloco?
Overall, this is far from a premium device. You get that from brands like Ekrin, Theragun, and Hypervolt. Even the cheaper Taotronics feels somewhat better. However, for a massage gun this budget-friendly, we'll take it.
---
Controls
Again, we have seen this type of setup before from rivals like the Taotronics TT-PCA003, Fitpulse, and the popular Chirogun.
There are touch controls for power (on/off) and speed buttons (marked with + and –). Touch buttons are good to look at but don't offer much feedback. They take a bit of time to respond and don't offer the same tactile feedback as physical buttons.
However, we like this kind of setup better than a one-button control because you don't have to cycle through all speeds to get to the level you want.
The figures displayed on the rounded screen depict the speed setting on the left and the battery percentage on the right.
The display goes off after three minutes if nothing is pressed – we like it, it saves the battery.
There is a classic on/off toggle at the bottom of the handle. This kind of setup is functional and okay.
---
Attachments
There are 10 attachments included with this device. That's a good number to have (perhaps one too many) but they are not entirely unique from what we know.
Many of them seem to be repeated as well – different versions of the same thing. 9 are hard plastic, and only one, the ball, is covered with foam.
The foam has a slight give to it, although a cushioned head wouldn't have hurt here – for delicate areas.
The set includes;
Bullet and Elbow Heads – These are good for trigger points. The elbow head can treat the palm and the sole of your feet if the bullet head feels too aggressive.
Flat Head – The most universal after the ball head. It can be used on all body parts but works well on large muscle groups.
Convex Head – We didn't find this one particularly useful. It looks like an alternative version of the flat head with added protrusions for a more aggressive effect.
Y-shaped and Crescent Heads – These are the interesting ones. The Y-shaped head is larger and good for treating quads, calves, or arms (if your arms are big, wink). The Crescent head is smaller and good for biceps, triceps, and calves too.
Wedge and Shovel Heads – These can be used for more aggressive treatment but won't have the same pin-pointed effect as the bullet head. They are likely meant for larger muscles where deeper penetration is needed. They both do the same thing and have the same effect.
Fork Head – It's the standard one used along the spine. Runners sometimes use it to treat their Achilles as well. The space between the two prongs is narrow here. It should be longer, as we saw with the Ekrin 365's and the Bantam's.
Overall it's a bonus to have so many attachments to work with. However, this is a marketing ploy that we have noticed from brands that sell cheap guns.
OUR ADVICE: Don't pay too much attention to the many attachments.

Good brands only include between 4 to 6 attachments which we believe are enough to work every part of your body. So, while it doesn't hurt to have many heads, we advise that you check for specific heads.
For instance, find out whether there's a soft or cushioned head. Some brands only include the hard plastic ones. Toloco only included one slightly soft head – ball. However, we like the Y-shape and Crescent heads.
---
Ergonomics
There's nothing special here, just the same old T-shaped, vertical handle – as basic as it can be.
The handle looks pretty thick, but we like that it has plenty of rubber (the middle) to make the grip better. We would've liked the rubber to cover the entire handle though. That means you can hold it at the top end without any issues. Taotronics did it with their guns, covering the entire handle with rubber to make holding easier.
The handle length is also shorter compared to the Taotronics. It makes the gun slightly more compact but takes away about an inch of reach when you are trying to massage your mid or lower back.
The device weighs 978 grams or 2.16 pounds with the flat head attached.
That's light enough for a massage gun this size. The weight is also well-balanced with the battery in the handle and the motor at the top.
Overall, this one holds just like the Hypervolt 1 and other similar guns (Hypervolt clones).
It's not the same as modern guns with slanted handles that help to reduce tension in your wrist as you massage away for long sessions. There is also not enough rubber.
---
Performance
How does this Toloco EM26 percussion massager perform?
---
Amplitude
Also called the stroke length, it's how far the massage gun moves back and forth as it percusses.
Toloco says their EM26 model has a 12mm amplitude. We took that with a pinch of salt and decided to measure. It's not what they claim, instead, it's less than 10mm, 9.5mm to be precise. That means they have overstated it quite significantly.
But 10mm isn't so bad for this kind of massage gun (and the price).
Just remember that the gun will be vibrational and not deep percussive. But with enough stall force, you might just press it to a more intensive massage.
The question is though: is there enough stall force in this Toloco gun?
---
Stall Force
It's the maximum pressure the device can withstand before it stalls.
We have to say we're positively surprised here. Stalling the device on the highest gear isn't easy. We'd say it's about 32-35lbs. or more at top speed.
Another pleasant surprise is even at lower speeds, where motors tend to be weak, this one is reasonably strong.
That means that even with about 10mm of amplitude, this gun can still deliver a decent massage when pressed hard against the skin.
What's more important, having enough stall force means the percussions won't slow down drastically when the gun is pressed hard against the body.
In terms of stall force, Toloco performs better than similar guns – especially the recently reviewed Medcursor.
Just one thing that didn't please us:
When it finally stalls, the gun doesn't resume automatically (as is often the case with most guns). Even when you press the three buttons to try and resuscitate it. You have to go back to the switch button at the bottom of the handle to restart it. However, this doesn't happen often.
---
Speeds and Percussions
Toloco disappoints here. The advertised range is 1300-3200RPM. However, when we checked with our laser tachometer, we only got about 1300-2500RPM.
That's disappointing and also about 500RPM less than Taotronics TT-PCA004 which can rev up to 3000RPM.
We could actually hear and feel that the vibrations are slower than what the competition offers. We love it at middle-range speeds where it does well. However, it massively underperforms at higher speeds.
The Taotronics, Bob and Brad's T2 and C2, and Lifepro Sonic all outperform it here.
Besides, it has 20 speeds – that's 10 to 15 way too many considering the percussion range. 5 gears are the typical range for similar devices. There are too many gears to cycle through.
---
Noise
We often don't expect devices with 10mm amplitude to be noisy. This one isn't very noisy, but it's not as quiet as it can be. We measured between 59dB to 65dB (the ambient noise in our room was about 35 dB).
This is still okay even though it revs only up to 2500RPM when most devices can do 3000RPM or more.
The sound isn't rough and it doesn't rattle as much as the Medcursor that we recently tested and reviewed.
The handle doesn't vibrate too much either.
With that said, we don't expect the Toloco to be quiet for long. Many cheap devices tend to get louder over time – typically after 6 to 12 months of use.
---
Battery
The battery's a 2500mAh capacity battery.
That's quite decent for a device this affordable. It's awesome that it's still a pretty light device with such a battery. It's a fixed non-detachable battery, so don't expect to replace it.
The battery works fine. It drains slowly when used on medium speeds and low to medium pressure applied.
Toloco says you'll have plenty of juice to last 6 hours if you need such a long session. That's probably slightly exaggerated, but expect 3-4 hours of use when used at high speeds and when more pressure is applied. Even so, expect it to last at least a week on a single charge if used normally.
There is a battery indicator that shows the battery percentage from 01 to 100%. There's also a simplified LED under the handle that;
Flashes green when fully charged
Flashes orange when about half full, and
Flashes red when nearly empty – below 20%
It takes about 4 hours to fully charge, so you will have to be patient.
It has a 10-minute auto-shutoff feature to prevent overheating. We often prefer to allow for at least 20 minutes, but that's not a luxury you get with budget devices.
---
Who is it Best for Then?
Well, this is another entry-level massage gun at best. Don't let the motor power fool you. We'll have to use this device for a while before we can tell whether it will last a while. Our experience tells us otherwise.
But you'll still love this gun if you want something to use at home.
We even found videos on Amazon with people using it on their pets.
If you don't have the budget to purchase high-end massage guns, and absolutely have to get one, then this will do for now. You'll get to relax tense muscles, treat soreness, massage your back and shoulder, and warm up the muscles before you exercise.
However, we wouldn't recommend this Toloco massage gun for demanding users who are looking for true deep percussive massage. There isn't enough stroke length and stall force to allow for that.
It's also not a Theragun alternative because it lacks the amplitude, and doesn't have many percussions per minute to cover up for that and provide intensity.
We'd also recommend to consider some of Toloco's competitors – we list them below.
---
Warranty and Price
It has a 1-year warranty just like many such devices. For a peace of mind, you'll need to get an Ekrin, or Lifepro, two brands that back their products with a lifetime warranty – the latter of which costing the same as Toloco. (after coupon).
As for the price, Toloco is a well under $100 massage gun:
Check the current price at Amazon
If you want an even better deal, you can check out the two alternatives below. One may be slightly more expensive, the second one is cheaper though.
---
Toloco EM26 Best Alternatives
---
Urikar Pro 2 – Better, Similar Price
Urikar Pro 2 may be larger device than the Toloco gun, thus not as compact, but it brings many unique features even though it costs about the same (few dollars difference with a coupon – see below).
Urikar has a similar percussion range but a much higher amplitude. It is a rare example of an under $100 massage gun that comes with a stroke length of above 10mm – it has 12mm, verified with a digital caliper.
It means that Urikar will feel more punchy from the start. The stall force. and the percussion range is quite similar to Toloco's though.
However, the Urikar has a few other advantages over the Toloco;
The Urikar can give you a soothing heated massage. Apart from 7 regular attachments, it comes with a ceramic head that warms up to 104-113 degrees Fahrenheit (we checked with thermometer).
The Urikar has better ergonomics by far. It employs a handle able to rotate 180-degree, so you can hold it in different ways. It also adds an about 2 inches when reaching lower back area.
The Urikar has dynamic speed modes where intensity changes automatically during a massage session. There are three of them.
The Urikar looks sleeker and has better materials.
If you apply the coupon URIKAR02, which takes off a massive 67%, you can get it here for just $62.9.
Overall, we'd rather increase our budget slightly and go for the more robust Urikar. Higher amplitude and heated mode are worth it.
Read our hands-on Urikar Pro 2 review for more details.
---
Taotronics TT-PCA004 – Better, Half the Price
Again this Taotronics is very similar in many ways to the Toloco. It has a similar shape and design, even the ergonomics are comparable.
They also share the same amplitude and stall force (minor differences), even though the Taotronics has better aesthetics.
And perhaps better execution in other areas, including;
More percussions per minute – it revs up to 3000RPM; we checked and confirmed that it's true.
More rubber on the handle to increase the grip and make it comfortable to hold for longer sessions.
It has a real aluminum on the top – looks great!
It comes with a cushioned head to massage delicate areas – Toloco doesn't have soft attachments.
It has a slightly juicier battery with 2600mAh even though it weighs a tad less than the Toloco.
But the key advantage is that it's even cheaper without the discount:
It now only costs $59.99 and $50.99 when the TT15 coupon is applied at checkout (15% off). Buy it at Taotronics.com.
That is significantly cheaper than the Toloco gun and you get a better device.
---
Lifepro Sonic – Same Price, Lifetime Warranty
The Sonic might not be the latest model in the Lifepro's arsenal, but it still goes strong and has many fans nationwide.
It is a classic, T-shape device that is slightly bigger than the Toloco gun, but it betters it in a number of areas, such as:
Better shape of a handle – it is oval, thus more ergonomic and better to hold.
Longer handle – adds an inch or two when reaching the mid and lower back
It is the only alternative that has removable battery!
It comes with 8 attachments – an impressive for a ~$70 or so device!
It has juicier battery with 2600mAh, just like the two other alternatives.
But the key advantage is that it's backed by Lifepro's lifetime warranty even though it cost about the same as Toloco:
Check the current price at Amazon (and clip the coupon that is located under the price).
---
Toloco Massage Gun Review Bottom Line
Before we end this Toloco massage gun review, it suffices to say that this is an entry-level massage gun for personal use at home.
It's simple but well equipped. It will be good enough to do the job. If you have never had a massage gun and are excited to get one, this would be a good place to start – especially if you don't have the budget to go for a high-end gun.
The biggest drawback of this gun, however, is the less-than-advertised percussion range. The amplitude is also slightly overstated.
We love the price and the value for money it may offer, but we can think of at least three alternatives that beat this gun. We just talked about them above.
One is a tad expensive, one costs the same but has lifetime warranty, and the other is half the price…but still better.
Take care!
---
Toloco EM26 Massage Gun Rating
Quality

Effectiveness

Usability

Accessories

Price Value
Summary
The Toloco massage gun is a decent entry-level device for those just starting with massage guns. Despite having more than enough stall force for a budget gun, the amplitude is slightly overstated and the percussion range isn't what Toloco says it is. For the money, the value is good overall, but we feel there are better devices at a similar price point.
Disclaimers
The views and opinions expressed on this website are those of the authors. Any content provided by our bloggers or authors are of their opinion and are not intended to malign any religion, ethnic group, club, organization, company, individual or anyone or anything.
All product names, logos, and brands are property of their respective owners. All company, product and service names used in this website are for identification purposes only. Use of these names, logos, and brands does not imply endorsement.
It is our policy to make every effort to respect the copyrights of outside parties. If you believe that your copyright has been misused, please provide us with a message stating your position and we will endeavor to correct any misuse immediately.
Some of the links in this post are affiliate links. As an Amazon Associate, we earn from qualifying purchases. This means if you click on the link and purchase the item, we may receive an affiliate commission, at no extra cost to you. This helps us keep this website alive. Learn more here.
Amazon Disclosure
massagegunadvice.com is a participant in the Amazon Services LLC Associates Program, an affiliate advertising program designed to provide a means for sites to earn advertising fees by advertising and linking to Amazon.com. As an Amazon Associate, we earn from qualifying purchases. Amazon and the Amazon logo are trademarks of Amazon.com, Inc. or its affiliates. Please refer to our Privacy & Affiliate Policy for details.