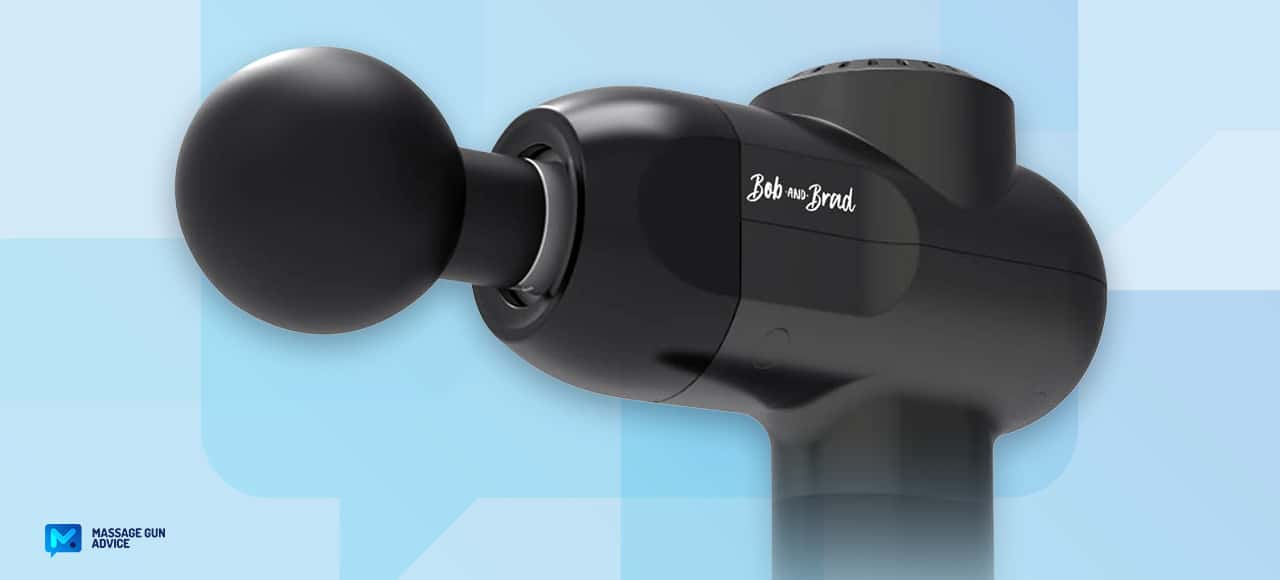 Bob And Brad Massage Gun Review: Checking Out Their C2 Massager
Disclaimer: Our content is unbiased, non-sponsored and fact-checked. If you buy via links on our site, we may earn a commission. As an Amazon Associate, we earn from qualifying purchases.
---
How would you like to have a massage gun made by the number one physical therapists on the internet, albeit their opinion? In this case Bob and Brad. We got our hands on their C2 model and would like to share some thoughts about it.
We test massage guns and if we're impressed then we'll definitely tell you about it. In this Bob and Brad massage gun review we'll find out if this small, sturdy, well thought out massage gun has anything to offer in a crowded market of very competitive products.
Expect a sturdy, percussive ride as we get into the meat of the Bob and Brad C2 review. Come along!
---
---
Bob and Brad – The Brand
We believe a massage gun is only as good as the company behind it (or in this case the therapists advocating for it). Bob Schrupp and Brad Heineck have a very popular YouTube channel that is dedicated to helping people overcome physical pain, stay healthy, and also offer direction for the health and fitness journey.
They also offer help on how to use massage guns. With over 2 million subscribers we would argue they must be doing something right.
They started their YouTube channel 10 years ago. Over this time they have released their own branded products; Bob & Brad.
They have released two massage gun models, the compact C2, which we are reviewing in this article, and an even smaller mini-gun Q2. Both these guns have gathered quite a hullabaloo in the market. Thousands of customers have given them 5-star reviews on Amazon.
But are they worth all the hype? Maybe not entirely. Why? Let's find out, shall we?
NOV 2021 UPDATE Bob and Brad have released two new devices. We just published the Bob and Brad X6 Pro review here, and will be following up with new T2 model very soon.
---
Bob and Brad Massage Gun Review
We got this rather compact massage gun and decided to give it a test. We subjected it to the same standards we always do with other massage guns; that is examine the specs, and also compare it to its peers.
---
Bob and Brad C2 Specifications
Key Feature
Bob and Brad C2
Stall Force
30-35 lbs
Stroke Length
~8 mm
Percussions
2000-3200 ppm
Battery Life
3-4 hours (2500 mAh)
Weight
1.5 lbs
Attachments
5
Noise
35-65 dB
Pros
Compact size
Lightweight
Low Noise
Battery Capacity
USB-C charging
Cons
Low amplitude
So-so stall force
Min. percussions at high 2000 rpm
Warranty
1 year
Where to buy
Right here at Amazon
Bob and Brad C2 Specs
---
First Impressions
There's something about the packaging that gives you the clue that you're looking at a serious product from a serious manufacturer.
For Bob and Brad C2, the carrying case is something of a beauty (I guess you'll have to be the beholder should you decide to buy this gun). We really like the two-zipper carrying case. It's small, so you can easily put it in a bigger bag.
On opening we found everything packed nicely. The device stands out in the middle of the bag. There's the charger; a USB-C cable (how nice!).
The C2 has 5 attachments. When we saw 5 we got excited to see what that extra one looks like.
Normally we get massage guns that have 4 attachments. It's the industry thing. But it's a nice touch that they added one extra. Moving on!
A quick glance at this gun doesn't give you that love at first site butterflies in the stomach kind of feeling.
But then again we have did so many massage gun reviews and may have acquired a kind of bias that comes with it.
Nonetheless the Bob and Brad C2 looks good. The black and silver paint gives it a professional look if nothing else. Even so it still looks sturdy and feels quite durable. Appears a bit plasticky for our liking, but it is coated plastic so perhaps that isn't so bad.
---
The Attachments
We said earlier how we got excited when we noticed this has 5 and not 4 attachments. By the way, we've seen guns with more attachments. It's more excitement than shock. But here's our take on the C2's attachments:

The ball head: This is the typical go-to massage head. 9 times out of 10 it's the head that is attached to any massage gun. This is because it's the one used to get a general massage. If you want to work on any part of the body, then this is the massage gun head that you'll use. The C2 has a plastic made ball head that works fine. Would've been better with foam on it but we're not complaining. It does the job just fine.
The fork/spine head: The spine head is used to massage the spine and the neck area. It has two prongs that go either side of the spine. You can also use this head to massage muscles around the calf area. Again Bob and Brad chose hard plastic for this one. It does the job okay as well.
The bullet head: This attachment is a focus head. It's used to target a particular spot on the body. Sometimes you get muscle knots that can be quite painful and a general massage just won't cut it. The bullet head is useful in such cases.
The flat head: The flat head attachment is the power head. It's an important head and is also used to massage several body parts. We call it a power head because you use it when you want to really get in on the bigger muscles like the quads and pecs. For the C2 model they also chose hard plastic.
The Air Cushion Head: You can also simply call it the cushion head. It's the one we got so excited about on this model. It's like a combination of two heads, like a two-in-one kind of thing. Let's say, the flat head with a rubber cushion on top. The cushion is important here. We use it when we want to get a deeper massage but just want to feel the percussion rather than the vibrations on the body. The C2 one is good quality.
The attachments can be easily attached and removed. Bob and Brad are physical therapists for young and very old patients, so they probably intentionally made it this way.
We say this because we've tested massage guns with attachment heads that require a bit of force to pull them out. Kudos Bob and Brad for this cool thing.
---
Size, Weight and Ergonomics
It's a small massage gun and just as you'd expect, it weighs in at just 1.5lbs. Now, small doesn't always raise the eyebrows in the massage gun world (not if you are looking for top performance). First thing that comes to mind is that they must've sacrificed something important. But we will say that we really like the compact size of this gun.
They call it a mini-gun but, but it's not a mini-sized device.
It's slightly bigger than most minis but looks a bit smaller if you compare it to regular size massage guns. It's about the size of the Hypervolt Go.
Generally, you get the feeling that the manufacturers were looking for something a bit personal, at least in size, which is good.
Talking of personal, the handle sure looks personal. We're used to seeing round shaped handles with most regular massage guns, but not with this one.
The handle is…what is it? Oval? We're going to go ahead and just say oval. You'll have time to judge it yourself, should you decide to buy it.
That said, it feels a little large if you have small hands, but works just fine especially when maneuvering it. We would've loved it if they just stuck to the standard round shaped handle though. Because even though they did try something a bit personal here, they don't extend it to the overall style of the handle.
It's still the T-shape jack-hammer style that you get with regular guns that put a little too much tension in your wrists as you massage away. It would've been great if the handle was angled. But the rubber grip makes up for this.
That said, the power button is inset. We found this quite useful to say the least, because sometimes when pressing the massage gun down you can hit the power button accidentally. Bob and Brad with a clever solution to a common problem there!
We like that it's a single-button operation as well. Long press will turn it on or off while quick presses give you the option to change speeds. The area around the power button has LEDs that indicate the speed level. Looks slick.
---
Performance
This is where it gets serious. We believe in the massage gun world you may be forgiven for anything else but the performance aspect. Let's see what the Bob and Brad C2 has to offer.
---
Stroke Length and Amplitude
This refers to how far deep into the muscle a device can hit. Unfortunately we can't say exactly how far this device can hit because the company doesn't specify it. We find this lack of transparency a bit disappointing.
That said, we did manage to figure it out and it's a discouraging 8-9mm amplitude. Nothing too catastrophic though if you just want a simple device that can give you standard performance.
Also, for a compact gun, it feels rather strong. We noticed even the first speed really digs deep into the muscle.
---
Stall Force
So how much force does it take to stop the C2 from revving away? Unfortunately again we couldn't tell by looking at the product specs from Bob & Brad.
But we estimate it features a maximum of about 30 lbs. of stall force (that's less than Ekrin's Bantam which has 35lbs. of stall force while being a way smaller device). As you must've guessed it, this is a mini-kind of performance, and we have to agree.
But at least it's stronger than the more expensive Hypervolt Go, which has a similar size.
---
Percussions and Speed
The Bob and Brad C2 features an impressive 2000-3200 RPM. For a small gun we have to agree this is more than enough.
But it could just be they tried to make up for the low stroke length.
With higher percussions you could get a good session with this gun even though you might have to be patient while at it.
That said, 3200rpm is impressive and might even feel a little too intense for some people.
That's why we feel the first speed should've been a little lower. 2000rpm feels a little too high for a start. Would've been better to start at 1200-1400rpm.
This device has 5 speed levels, which is perfect. We've seen devices that have up to 20 levels, such as Chirogun or Legiral Le3 . That level of exaggeration is irritating to say the least, because there has to be way too many button presses before you even get the right settings.
---
Battery
We believe this is where the deal sweetens for this device. The C2 has a powerful Lithium battery (Li-Ion) that packs way more than enough juice. At 2500mAh you are getting a good bargain with this trust us.
A single charge (which takes about 3.5 hours) will last between 3-4 hours of continuous run depending on the level of use.
We estimate that once you charge it, and use it for 10-minute sessions per day, you'll have to charge it again after 2 weeks. This makes it a great travel companion.
The deal gets even sweeter because the charger on this one is a USB-C. That's right, you get to carry one cable for both your phone and the gun. How cool is that?
---
Noise
The C2 is a relatively quiet massage gun. But we often like to be cautious here because what works for us might not work for everyone.
We noticed though that it does get louder at higher speeds. Don't worry, we could still talk over the buzzing but had to raise the TV volume slightly.
Again we didn't see the noise levels specified by the seller, but we figured it's between 40-65dB depending on gear.
---
Who is it Best For?
We would recommend this massage gun to you if you need something for personal use. Being an entry-level device, it is perfect for first-time users.
For those always on the go, this is a great device to carry with you because it's portable. Put it in your bag and you won't even notice it's there.
It performs fairly. It's good to get rid of lactic acid build-up, work on sore muscles, and break up scar tissue. It's perfect for day-to-day post-workout massage sessions. We can recommend it to seniors as well.
If you're looking for intensive, deep-muscle penetration, the 8mm amplitude won't do you any favors. Also, whereas ca. 30 lbs. stall force will be perfect for most people, it's nothing compared to Theragun's Pro 60 lbs. or Hypervolt Plus's ~50 lbs. or even Ekrin's B37's 56 lbs.
You'll have to look elsewhere if you have a lot of mass, you're a bodybuilder, or serious athlete.
However, if you're an ordinary Joe, it could be fine for you, but you might want to consider other viable guns within a similar price range.
---
Better Alternatives in The Similar Price Range
---
Ekrin Bantam – Mini, Powerful
This is a perfect alternative to the C2. To be fair, it could actually be the better of the two.
The Bantam comes with a similar stall force of 35lbs., it's even lighter weighing just 1.1lbs making it way easier to carry if you are travelling. It's also smaller, more compact and thus more portable than the C2.
Most importantly, however, you get a higher and better stroke length. 10mm is a great bargain for a mini-gun.
On top of that, the ergonomics are much better with the angled handle and a higher quality build. Ekrin will also give you a lifetime warranty (vs. just one-year in case of the Bob and Brad) and unrivaled best customer support (verified).
The best part though is that The Bantam retails at $159.99 but with our MGA20 coupon you can get it for 20% less at $127.99. This makes it cheaper than Bob and Brad's C2.
If you want to learn more about it, read our full Ekrin Bantam review.
---
Urikar Pro 2 – Heated, Affordable
This one is another worthy opponent. To be fair, it's the perfect choice here by far, especially if you're looking for a punchier hits.
Urikar Pro 2 offers serious performance and comes with a special ceramic attachment to give you a heated massage. Yes, that is right, it is a heated massage gun.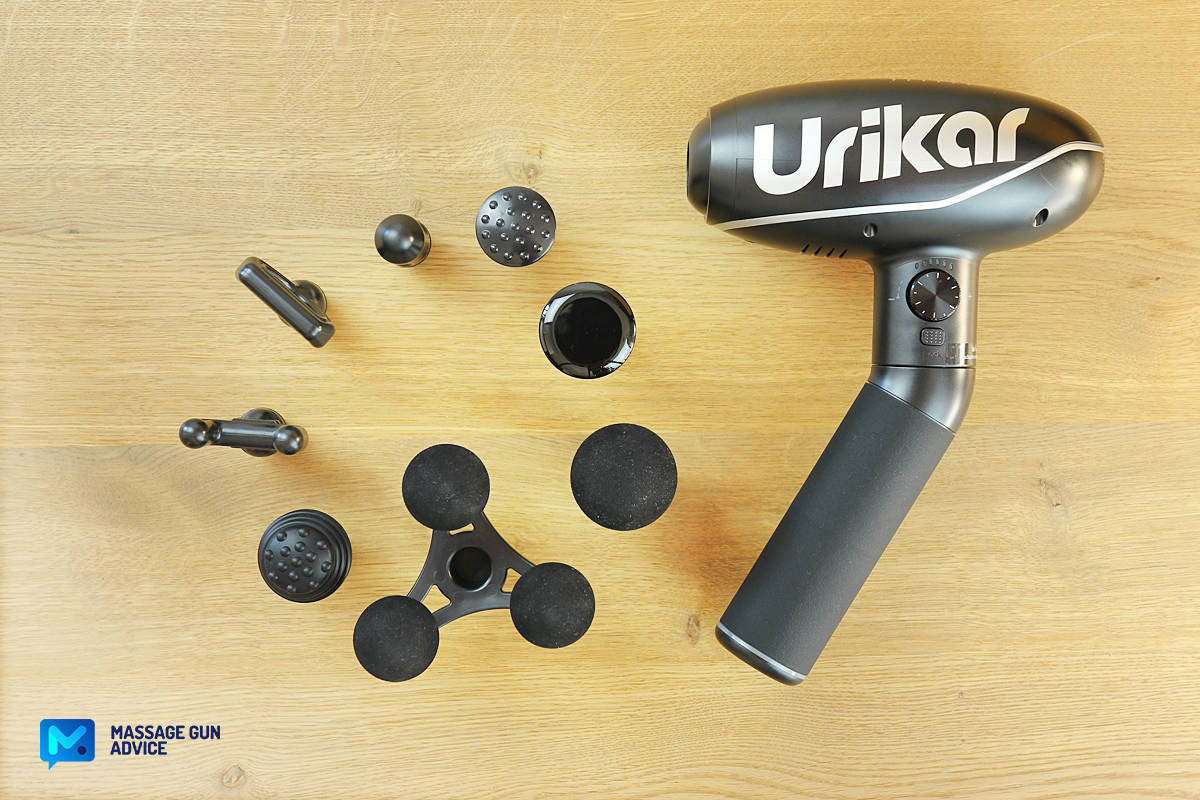 With a decent stall force and 12mm stroke length (we measured), it provides deeper punch at a maximum of 2050 percussions per minute (Urikar advertises more but we checked it).
It's also reasonably quiet. It clocked just 63dB at the highest gear – not many massage guns even come close. It has a 1-year warranty and the customer support is great.
Last, but not least, it is very affordable.
The heated Pro 2 can be yours for only $82.5 if you use the PRO2 promo code at checkout. It is a whooping 45% off the regular price of $149. Get the device right here.
To learn more, read our in-depth Urikar Pro 2 review.
---
Bob And Brad Massage Gun Review – Conclusion
What we most liked about the C2 is its compact size, low noise, good design and ergonomics (uniquely shaped handle).
While it's quite powerful for its size and comes with a well-balanced motor, we feel the meager 8mm amplitude is a bit of a bummer for demanding users.
But we do appreciate the USB-C type charger (well done) and the powerful battery.
Bob and Brad are funny. We checked out some of their videos and couldn't resist a chuckle. If you're a fan, you can support them by buying the C2 at Amazon. Otherwise there are some viable alternatives worth considering, like the ones we shared above.
There goes our Bob and Brad massage gun review. Thank you for reading.
---
Bob and Brad C2 Rating
Quality

Effectiveness

Usability

Accessories

Price Value
Summary
Bob and Brad's C2 massage gun is a well-thought-out device which is is lightweight, holds confidently, comes in the right size and with the right set of accessories. Its relatively low stall force and amplitude makes it a good entry-level device. The only thing is that when it comes to pure value for money, there are some other massage guns offering more for less.
Disclaimers
The views and opinions expressed on this website are those of the authors. Any content provided by our bloggers or authors are of their opinion and are not intended to malign any religion, ethnic group, club, organization, company, individual or anyone or anything.
All product names, logos, and brands are property of their respective owners. All company, product and service names used in this website are for identification purposes only. Use of these names, logos, and brands does not imply endorsement.
It is our policy to make every effort to respect the copyrights of outside parties. If you believe that your copyright has been misused, please provide us with a message stating your position and we will endeavor to correct any misuse immediately.
Some of the links in this post are affiliate links. As an Amazon Associate, we earn from qualifying purchases. This means if you click on the link and purchase the item, we may receive an affiliate commission, at no extra cost to you. This helps us keep this website alive. Learn more here.
Amazon Disclosure
massagegunadvice.com is a participant in the Amazon Services LLC Associates Program, an affiliate advertising program designed to provide a means for sites to earn advertising fees by advertising and linking to Amazon.com. As an Amazon Associate, we earn from qualifying purchases. Amazon and the Amazon logo are trademarks of Amazon.com, Inc. or its affiliates. Please refer to our Privacy & Affiliate Policy for details.