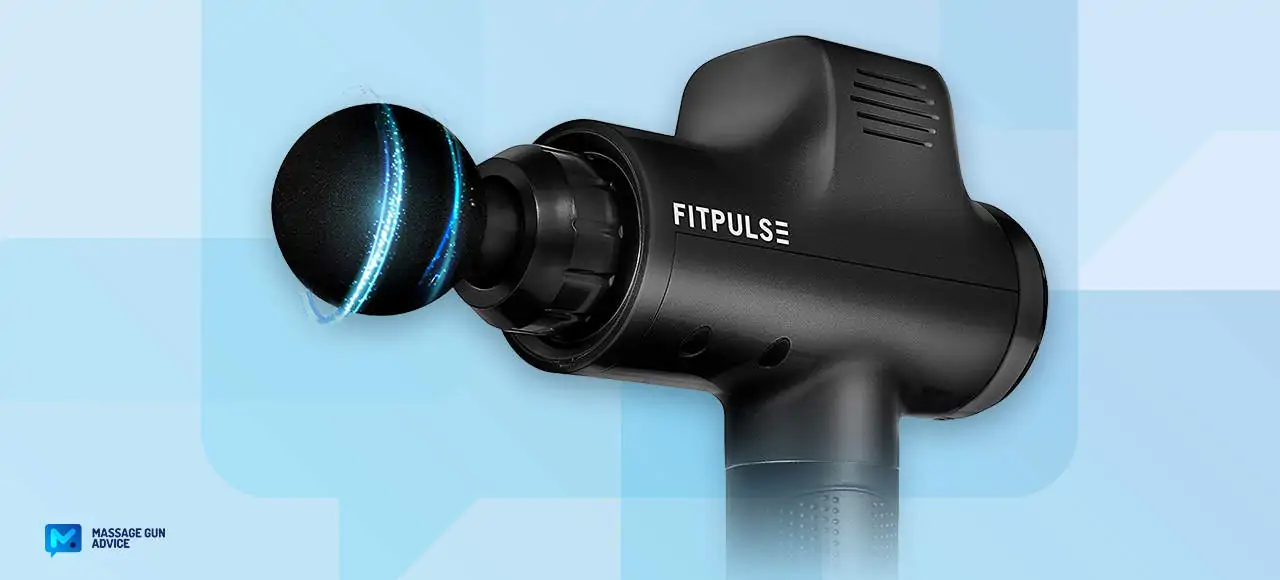 Fitpulse Massage Gun Review – Is It A Good Fit For You?
What to Know: We independently review products we recommend. If you click on links we provide, we may earn a commission. Learn more.
---
The Fitpulse Massage Gun quickly became a hit on Amazon, thanks to its similarities with Hypervolt but with a more attractive price point. For less than $100, as can be seen here, it seems to be a promising percussion device for people on a budget.
At first glance, it offered features that had us intrigued, which is why we wanted to test it out and see if it is worth the attention. So we decided to write this Fitpulse massage gun review.
We've been in the massage gun review business for quite some time now, so we don't easily get excited by each device we buy and try out. You can count on us to deliver honest and quality massage gun reviews.
---
---
Fitpulse Brand
Since the brand doesn't have an official website, it's hard to look for information about Fitpulse. This likely means that it's a relatively new percussion massager brand.
It only offers an Amazon-only store – but there's no surprise there. A lot of up-and-coming brands only have dedicated Amazon stores these days.

With that said, we came across Fitpulse because of its undeniable resemblance with Hypervolt. The Fitpulse had a lot of good reviews and a promising set of accessories, and all for an attractive price point of less than a third of the Hypervolt..
We knew we had to try it for ourselves to see whether the claims were real.
---
Fitpulse Massage Gun Review
Before heading straight to our Fitpulse Massage Gun review, here are the key features of this device to give you an overview.
FitPulse Massage Gun Specifications

Features
Fitpulse
Max Stall Force
~25 lbs
Stroke Length
10 mm
Percussions
up to 3200 ppm
Speed options
5
Battery Life
6 hours (2550 mAh)
Attachments
10
Weight
~2.5 lbs
Noise
60 dB
Pros
Quiet operation
Multiple attachments
Easy to use
Cons
Low stall force
Low amplitude
Not really original
Bulky
Warranty
1 year
Price
Check at Amazon
Fitpulse Specs
---
First Impressions
When we first saw the Fitpulse Massage Gun, we were instantly reminded of the Legiral Le3 and the Chirogun. If it weren't for the different color schemes, we'd think that these models are the same.

The Fitpulse has a matte finish to it that exudes an elegant vibe. It looks good for an entry-level device, so we hope that it lives up to our expectations.
---
What's Included
The Fitpulse Massage Gun comes in a convenient carrying case right out of the box.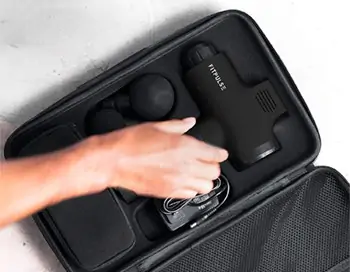 The carrying case has a single handle for easier portability. It also has a padded lining to cushion all the items inside.
The interior is also molded to fit the items without having them move around – so you don't have to worry about your device getting damaged. It also keeps everything organized.
Inside the bag, you'll get the unit, a charger, 10 attachments, and a drawstring pouch for all the other heads.
As stated, the Fitpulse Massage Gun comes with 10 attachments. This is similar to the Chirogun's 15 heads, but we feel like this is more of a marketing gimmick – you probably won't use all of them anyway. Nevertheless, it's nice to have 10 attachments to choose from.
These attachments seem to be of durable plastic material, and it seems to be of decent quality. It also has one foam ball head, which feels a lot softer than the others. This is great for low-impact massage sessions.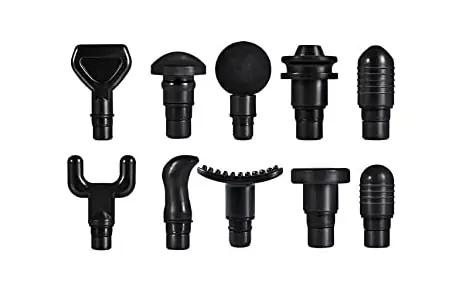 You can easily put these heads into the gun by pressing them in. To take them off, you have to pull and wiggle them out.
This isn't a problem for the bigger heads, but the bullet-shaped ones are hard to take off. We hoped it had the same mechanism as the Ekrin B37s (twist and pull) but no, it unfortunately doesn't.
Also included in the box is an instruction manual. Each item is easy to digest, and we especially love the diagrams that show us which head to use for particular muscle groups.
---
Size, Ergonomics, and Build Quality
The Fitpulse Massage Gun is a full-sized massager that feels a little top-heavy. At a little over 2lbs, we find it easy on the wrists, although it's not as easy to control if you're using it for longer periods.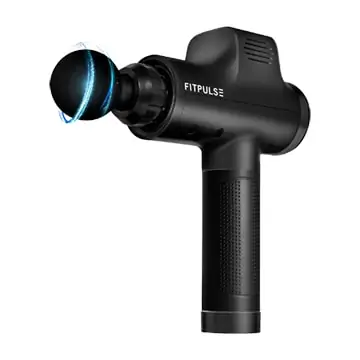 It has a decent build quality, and it looks quite elegant with its matte finish.
But, it does have a plastic feel to it, which makes it feel a bit cheap.
It does have a touchscreen that displays the speed levels and battery level. This is a convenient feature, but the lagging operation is quite disappointing.
In terms of ergonomics, the Fit Pulse Massage Gun has a circular cylindrical shape with a rubber handle to ensure a firm grip.
For people with shorter hands, this could be harder to hold onto – especially for long massages. The similar (yet cheaper) Taotronics TT-PTA004 does better job in that aspect.
It also has a 90-degree, T-shaped angle, and this makes us feel like we're operating a power drill. This angle also makes certain parts of the back harder to reach, so we're not a fan of this feature.
Overall, these features are okay. We didn't find a factor that wowed us, but it's not bad, either. Ergonomically-speaking, it's decent but definitely could be improved.
---
Fitpulse Performance
Now, let's proceed to the heart of this Fitpulse Massage Gun review.
This percussion massager has an amplitude of only 10mm. Remember that this pertains to how deep the head travels back and forth from the base, so it tells you how well it goes into the muscle.
Sure, 10mm sounds like a good number for a mini massage gun these days, but remember that this is a full-sized unit. A lot of units of this size and similar price points offer somewhere between 12 and 16mm, so in this case, we expected better.
As for the stall force, it only has around 10 to 20, maybe 25 lbs. This means that it will stop running when you press hard enough to your skin – or at a force that's equivalent to mid 20s lbs.
Compared to similar massage guns, this is only a fraction of what they offer. But, if you're only after a relaxing massage at home, this 10mm amplitude and 30lbs stall force combination are good enough.
As for the percussion, it has a decent range of 1800 to 3200 rpms. This is spread through 30 speed levels, so you get to enjoy a wide variety of beats to help you relax or improve your blood circulation.
While a massager with 30 speeds seems promising, it can be quite frustrating to operate. If you want to switch between the light massage and a deeper one, you have to navigate through 20 speed levels – and that can be time-consuming.
To be honest, it would have been better if there were only 5 or 6 speed levels.
---
Noise
We actually love how quietly it operates. The Fitpulse Percussion Massager is rated at 60dB, which is not noisy at all.
We barely heard anything at low speeds, but the vibrations do become more noticeable as you work your way up. But even then, it's still pretty quiet. You don't have to speak louder if you're talking to someone next to you, but you might want to turn up the TV volume.
Overall, it's a pretty quiet massage gun, but low amplitude is the main reason behind it. Anyway, hopefully, it doesn't get any louder after a few months of wear and tear – unlike the Legiral Le3.
---
Battery
The Fitpulse Massage Gun uses a 1550 mAh Lithium battery that allows it to run continuously for up to 6 hours. This is a pretty decent battery but it's on a bit lower end for a full size gun, as per industry's current standards (most guns these days have between 2000 to 2500 mAH).
The good news, however, is that not only 1550 mAh of juice is enough (really), but more importantly, slightly lower capacity results in much lower device weight. This makes the Fitpulse massage gun much better to maneuver than, say, heavy Legiral or even Theragun.
In our testing, we noted that the battery life of the Fitpulse was influenced by the speed level we chose. When we cranked up the speed, we found the battery drained quicker than expected, often lasting less than 6 hours.
During our usage, we appreciated the battery level indicator on the screen. It helped us know exactly when it was time to plug in and recharge, sparing us the inconvenience of the device dying mid-massage.
In our experience, the Fitpulse took around 2 hours to charge fully. The included charger was handy, but we were a bit disappointed that it didn't support USB charging, limiting us to wall outlets.
Also, we discovered that the Fitpulse doesn't operate while charging. If you're considering using it for extended sessions while plugged in, as we attempted, you may need to reconsider.
---
Other Review Notes
Here are some miscellaneous Fitpulse Massage Gun review notes for extra reference.
We found operating the Fitpulse fairly straightforward, but powering it up felt a bit awkward. It required turning on the switch at the bottom, pressing the power key on the touchscreen, and then hitting the '+' button. We had to remind ourselves of this sequence each time we used it.
Also, it doesn't save your last settings. This can be quite a hassle if you love higher speed levels – you have to start from zero and press the "+" multiple times to get there. That takes up a lot of time.
In our experience, the touchscreen of the Fitpulse wasn't consistently responsive. There were moments when it felt a bit wonky, which added a layer of frustration to our massage sessions.
At higher speeds, the whole unit tends to vibrate. This can cause your hand to feel cramps or go numb – not very comfortable if you use it for long massages.
---
Price and Warranty
We snagged the Fitpulse Massage Gun for less than a hundred bucks at the time of purchase. As prices can fluctuate, it's wise to check for the most current price here.
Given our hands-on experience, we found its performance fair for its price, though we did come across some alternatives that might offer more value in this price range.
Anyway, we think that in this range, it's quite fair for what it offers. That said, to be honest, there are some better options in this price range, and we're sharing some of them below.
We had a bit of trouble finding clear warranty information as the brand doesn't yet have an official website. After some digging around their Amazon profile, we found that they offer a 30-day guarantee.
This is quite disappointing, especially since many of today's manufacturers now offer limited warranties.
---
Who Is It Best For?
From our personal experience, we can recommend the Fitpulse Massage Gun if you're new to the world of massage guns. With its average specs, it proved to be a solid choice for our personal and home use.
But, if you're someone with a lot of muscle mass, then we recommend getting a gun with more powerful features. Perhaps one of the alternatives we'll discuss below will better suit your needs.
---
Fitpulse Best Alternatives
---
Taotronics TT-PTA004
After testing the Fitpulse, we turned to the Taotronics PTA-004, which might appeal to you if you find the Fitpulse too bulky. We were pleasantly surprised by its compact size and impressive ergonomics.
While it doesn't have as many attachments (six), you'll be making the most of the four that come with it. Each head is well-thought-out, so you know that the brand takes your well-being seriously.
Here are some more features about the Taotronic that's worth taking note of.
During our comparison tests, we noticed that at lower speeds, the Fitpulse offers a stall force of only 10lbs. In contrast, the Taotronics PTA-004 offers 20lbs, which we found to be a noticeable difference and perhaps more suitable for most users.
Both the Urikar and Taotronic have a 10mm amplitude. But, the Taotronic is a smaller, so that stroke length is justifiable.
It is much lighter. At only 1.6 lbs., you will feel the difference, especially during those longer massage sessions.
It charges faster despite having a larger battery (2600 mAh)., making it more energy-efficient and providing more better battery life.
Then, there's the price:
The Taotronics gun currently retails for only $59.99 – or $54 when you apply the TT10 coupon at checkout. The price is incredible – you basically get a device with a similar, if not better features, for less. Get your Taotronics right here.
You can learn more in our hands-on Taotronics TT-PCA004 review.
---
Urikar Pro 2
"In our pursuit for a more powerful massage gun, we found that if you're willing to invest a bit more, the Urikar Pro 2, with its improved specs, could be an excellent choice.
We noticed a significant difference when we switched from the Fitpulse's 10mm amplitude to the Urikar's 12mm stroke length. The Urikar penetrated deeper into our muscles, delivering a more therapeutic massage experience.
We were excited to try out the Urikar's heated massage feature. Using the included ceramic head attachment, we enjoyed a warm, soothing massage. After trying several models, we can confidently say that this is the best heated massage gun we've used.
The Urikar only has 6 speed levels, which is less than the Fitpulse. However, we found each speed level on the Urikar to have a distinct difference in performance, providing a noticeable step up in intensity. This was a contrast to the Fitpulse, where we barely noticed the difference between speed levels 20 and 21, and so on.
We appreciated that the Urikar came with 8 attachments, a more manageable number than the 10 provided by Fitpulse. In our use, we found that we didn't need all 10 Fitpulse heads, so the 8 from Urikar felt more practical and less overwhelming.
It has better ergonomics. The handle rotates 180-degree and is lockable in two positions to give you more options to use the device (on your back).
for more details, refer to our full Urikar Pro 2 review.
It is available for $149, but if you use the coupon code PRO2, you get a massive 45% off – so you only pay $82.5.

That's not bad considering all the benefits you'll get from it. Get it right here.
---
Fitpulse Massage Gun Review: Bottom Line
After spending considerable time with the Fitpulse Massage Gun, we concluded that it's a reasonable tool for personal or home use. While it's not the most powerful model we've tried, its performance was decent, especially considering its price point.
For those who prefer forceful and deeper punches, you might want to consider other alternatives –those with better ergonomics and a hassle-free lifetime warranty, but if you're new to massage guns or just need an entry-level device, then the Fitpulse massager might be a good choice.
Price is attractive indeed, but there are other options that we'd consider as well — and some of those feel better value for money.
Fitpulse Percussion Massager Rating
Quality

Effectiveness

Usability

Accessories

Price Value
Summary
In our testing, we found nothing too innovative about the Fitpulse massage gun. It's a decent, entry-level massager but the short stroke length and low stall force in our opinion limit its deep tissue massage capabilities. For the price, we would say that it would make a good entry-level massage gun for home or personal use. That said, we can recommend more powerful alternatives for about the same price.
Was this article helpful?
Thanks for your feedback!
Post Update History
Here's a quick rundown of all the tweaks and edits we've made to this article to keep it accurate and up-to-date!
Current version last updated on:
Jun 6, 2023 Minor revisions; new photos added. (Author: Greg)
Mar 14, 2022 Added Taotronics TT-PCA004 as the recommended alternative, following our hands-on test. (Author: Greg)
Oct 12, 2021 Replaced Minirex with the Urikar Pro 2. Reason: major shipping issues reported by customers who purchased Minirex. (Author: Greg)
•
Written by:
Greg Szostak
Disclaimers
The views and opinions expressed on this website are those of the authors. Any content provided by our bloggers or authors are of their opinion and are not intended to malign any religion, ethnic group, club, organization, company, individual or anyone or anything.
All product names, logos, and brands are property of their respective owners. All company, product and service names used in this website are for identification purposes only. Use of these names, logos, and brands does not imply endorsement.
It is our policy to make every effort to respect the copyrights of outside parties. If you believe that your copyright has been misused, please provide us with a message stating your position and we will endeavor to correct any misuse immediately.
Some of the links in this post are affiliate links. As an Amazon Associate, we earn from qualifying purchases. This means if you click on the link and purchase the item, we may receive an affiliate commission, at no extra cost to you. This helps us keep this website alive. Learn more here.
Amazon Disclosure
massagegunadvice.com is a participant in the Amazon Services LLC Associates Program, an affiliate advertising program designed to provide a means for sites to earn advertising fees by advertising and linking to Amazon.com. As an Amazon Associate, we earn from qualifying purchases. Amazon and the Amazon logo are trademarks of Amazon.com, Inc. or its affiliates. Please refer to our Privacy & Affiliate Policy for details.