Massage Gun for Fibromyalgia – Can Percussive Therapy Help Manage Symptoms?
What to Know: We independently review products we recommend. If you click on links we provide, we may earn a commission. Learn more.
---
Many people live with chronic health conditions that can seriously impact daily life. For those living with these conditions, having helpful techniques to manage symptoms is highly important. One technique that's gaining popularity is using a massage gun for fibromyalgia – but does it work?
We think that it can, but you'll need to know some important details to get the best results possible. In this article we'll break down what fibromyalgia is, how to use a massage gun for fibromyalgia, and some helpful tips for choosing the right device for the job.
Let's go!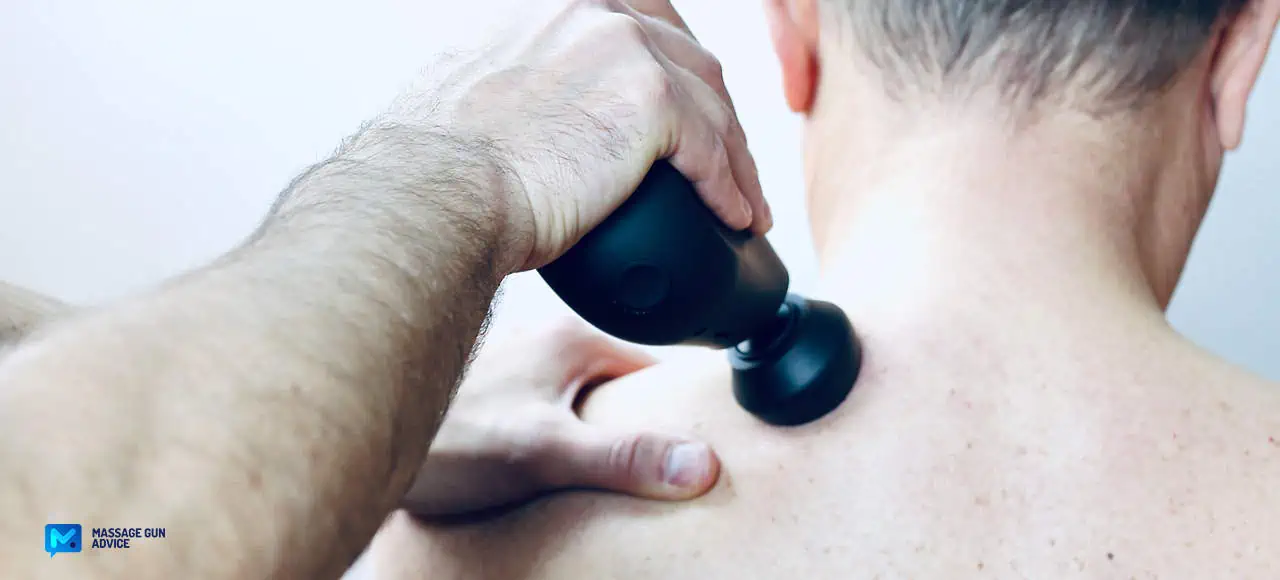 ---
---
Why Trust Our Advice and Some Disclaimer
Here at Massage Gun Advice, we love massage guns. We've reviewed all of the top massage gun options and we consider ourselves to be massage gun experts.
All of our content goes through a thorough writing and reviewing process before publishing to ensure that our readers get the best advice possible.
This article has been written by a licensed physiotherapist, Alex Stone, DPT. This article has not been reviewed by a medical doctor. Please consult your trusted healthcare professional before trying any advice from this article.
---
The Basics of Fibromyalgia
The term fibromyalgia describes a chronic condition where pain and tenderness or sensitivity are present in different areas of the body, such as muscles and connective tissue ​1​.
For people with fibromyalgia, constant pain and tenderness throughout the body can lead to other symptoms like fatigue (feeling tired), difficulty sleeping, and mood disorders such as anxiety or depression.
Although it's understood that people with fibromyalgia have a higher sensitivity to pain, the causes of fibromyalgia aren't very well understood.
Like many other chronic conditions, there is no known cure for fibromyalgia. This means that those living with fibromyalgia need to learn about their condition and find strategies to help control symptoms as best as possible.
Some common treatments for fibromyalgia include exercise, medications, and counseling. However, another popular treatment option for many people with fibromyalgia is massage therapy.
While there are several different types of massage, some research suggests that myofascial release and lymphatic drainage are some of the most effective forms of massage for managing fibromyalgia symptoms ​2​.
---
Will a Massage Gun Help Fibromyalgia?
Because massage guns are designed to get similar results to traditional forms of massage such as myofascial release, many people are choosing to use them to help manage chronic conditions like fibromyalgia – but do they work?
As it turns out, there is some research that shows massage guns can help to reduce symptoms and improve quality of life for people living with fibromyalgia ​3​. Additionally, there is a lot of conversation happening around massage guns and managing symptoms of fibromyalgia on networks where patients can exchange their stories, like Reddit.
This means that even though percussive therapy uses fast hits when compared to traditional massage, it seems to still get meaningful results for people with fibromyalgia.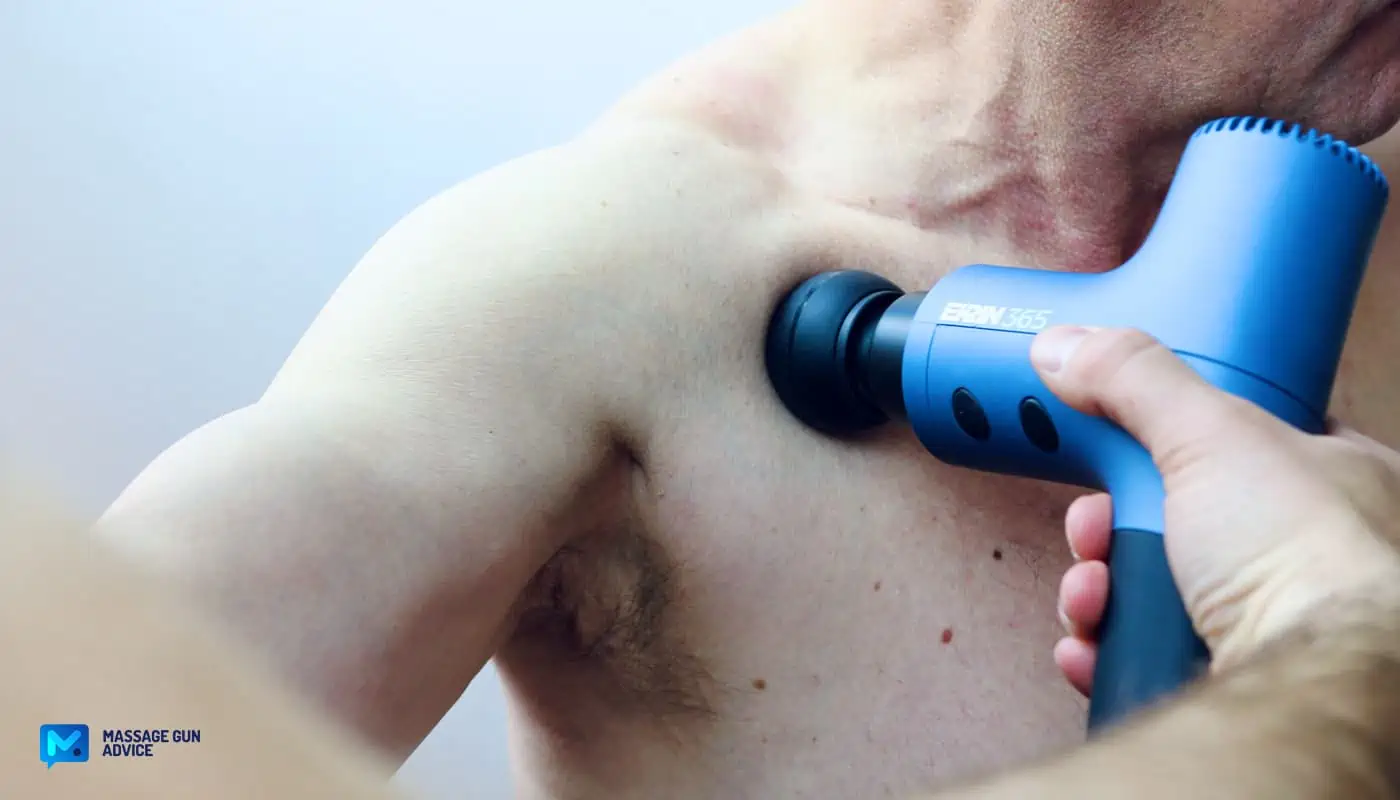 ---
Benefits of Using a Massage Gun for Fibromyalgia
Now that we've established that massage guns can be used to help manage fibromyalgia, let's talk about some of the specific benefits.
Pain – Because percussive therapy helps to desensitize nerve endings and relax muscles, pain signals can be decreased and trigger points can be reduced for those with fibromyalgia.
Mobility – We know that massage guns can be used to improve circulation and mobilize tissue. When done properly, this ultimately translates to better range of motion and decreased joint friction.
Convenience – A major consideration with massage guns is their portability and ease of use. This means that not only can people with fibromyalgia reduce their number of visits to the massage therapists – which can be expensive and energy-consuming – but they can also benefit from the light, generally ergonomic devices that are available today.
This means that even if you're already seeing a physical therapist or massage therapist regularly for fibromyalgia, adding a massage gun to your routine could provide an at-home DIY solution to add into your toolkit.
Okay, now let's talk a little bit more about finding the right fibromyalgia massage gun.
---
Choosing the Right Device for Fibromyalgia
When choosing a fibromyalgia massage gun, it's important to pick something that's versatile. This means that the device should be gentle enough to work on more sensitive areas, but also powerful enough to work on larger, less sensitive areas when needed.
Based on the different massage guns that we've reviewed, we recommend a device that's slightly more vibrational than punchy. This is because with more shallow hits that don't feel as "punchy", you can get most of the same muscle relaxation and pain relief benefits without as much impact or abrasion to your skin.
Amplitude and Speed Recommendation
Stall Force Recommendation
Because hard hits probably won't be a necessity when addressing symptoms of fibromyalgia, we recommend just enough stall force to make sure your massage gun doesn't slow down during normal use – about 30 lbs should do the trick.
Our Advice Choose device with around 30 lbs stall force.
It's important to remember that even if you have the same condition as someone else, you may respond differently to percussive therapy. Gentle, vibrational devices might work well for you, but another person may benefit from a hard-hitting device without any problems.
For this reason, you'll want to explore different massage gun devices until you find what works best for you.
---
Massage Gun & Fibromyalgia FAQ
How do massage guns help with fibromyalgia?
The main symptoms of fibromyalgia include pain and tenderness throughout the body. Massage guns, such as Ekrin 365 (described below), can help with fibromyalgia by relieving muscle tension, reducing pain signals, and improving circulation around the muscles and joints that are affected by fibromyalgia.
Is it safe to use a massage gun for fibromyalgia?
Generally speaking, yes, it is safe to use a massage gun for fibromyalgia. This is because massage guns are a non-invasive treatment that is well-tolerated by most people. However, caution should be used with any new device and you should start slow to assess your tolerance. Find more tips on how to use massage gun.
How often should I use a massage gun for fibromyalgia?
For most uses, we recommend using a massage gun once or twice per day consistently to get results. Because fibromyalgia can cause slower recovery, or you may have a delayed adverse response to using your massage gun, we recommend starting with once per day or even once every other day until you know how well you tolerate using your device.
---
Best Massage Gun for Fibromyalgia
When choosing a massage gun to help manage symptoms of fibromyalgia, there are a few devices that stand out based on our recommendations above.
---
Ekrin 365 – Our Favorite for Fibromyalgia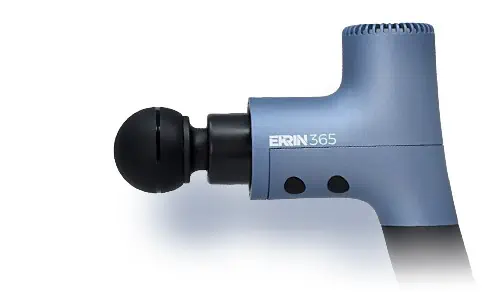 Why we like it:
Versatile and reliable massage gun
Great value for the money
Excellent quality overall
Lifetime warranty
This Ekrin device is one of our favorite picks for fibromyalgia, and for good reason.
The 365 massage gun offers a mid-range amplitude of 10 mm that feels slightly more vibrational than percussive, but it also revs between 2000 and 32000 RPM. This means that you can get something that's gentle or more intense when you need it.
Beyond meeting the specifications that we set earlier, the Ekrin 365 has some bonus stall force that brings it up to 40 lbs, making it exceptionally versatile for larger or less sensitive areas of the body. A device with similar stall force (and a much higher price tag) is the Theragun Elite.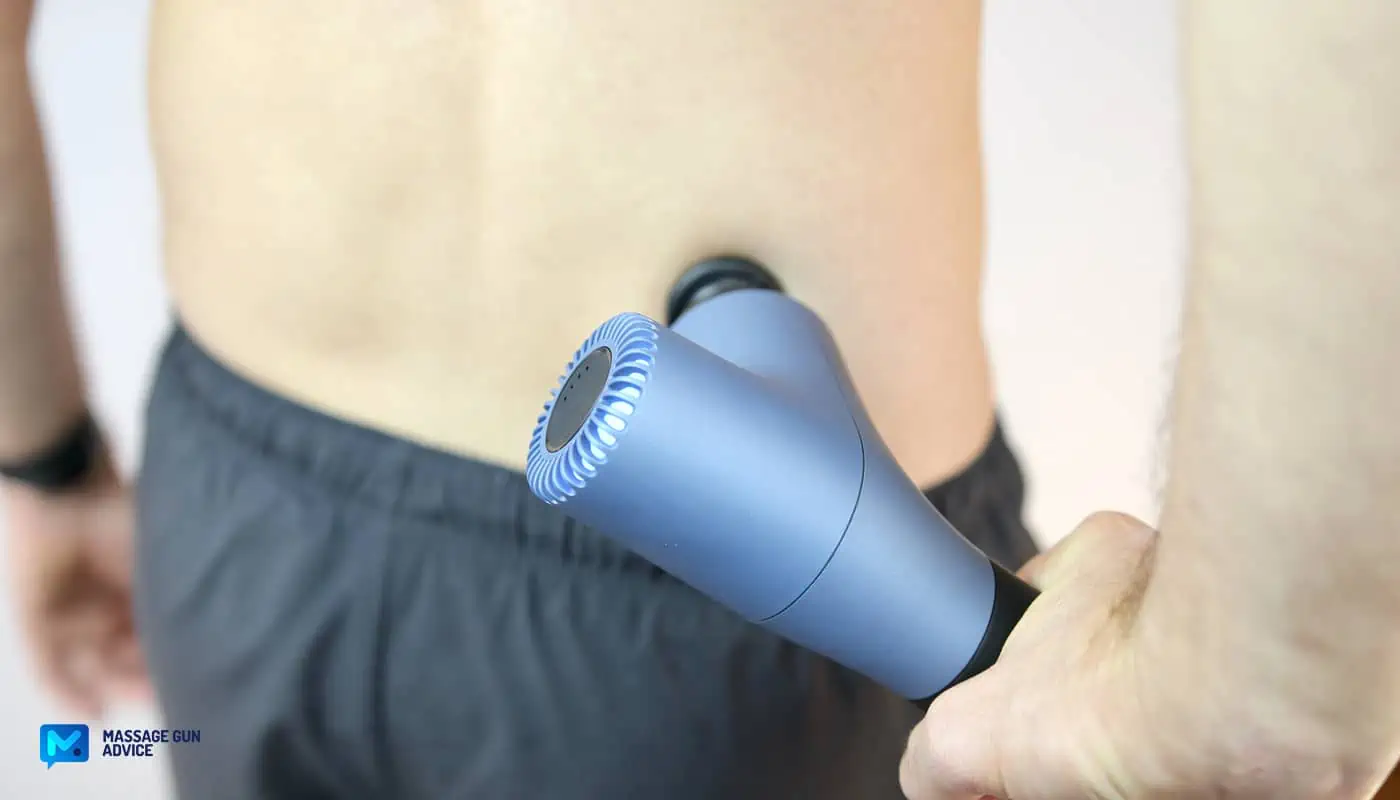 In addition to a very ergonomic design, this device only weighs 1.7 lbs – most massage guns weigh 2.5 lbs or more. It also comes with great attachments, including a soft and squishy ball head which is helpful for sensitive areas.
Many people also benefit from the pressure sensor on the device, which can help you regulate how much force you're using during your massage.
On top of awesome quality, the 365 comes with a lifetime warranty . Put simply, Ekrin doesn't compromise on this device and we definitely rate it as the best massage gun for fibromyalgia.
It cost a reasonable $179.99 but our readers get an extra 20% discount with the code MGA20. You will only pay $143.99. Buy it here at ekrinathletics.com
LEARN MORE For an in-depth dive, check out our Ekrin 365 review where we included more photos and performance tests.
---
Theragun for Fibromyalgia – Good idea?
Okay, what about using a Theragun for fibromyalgia?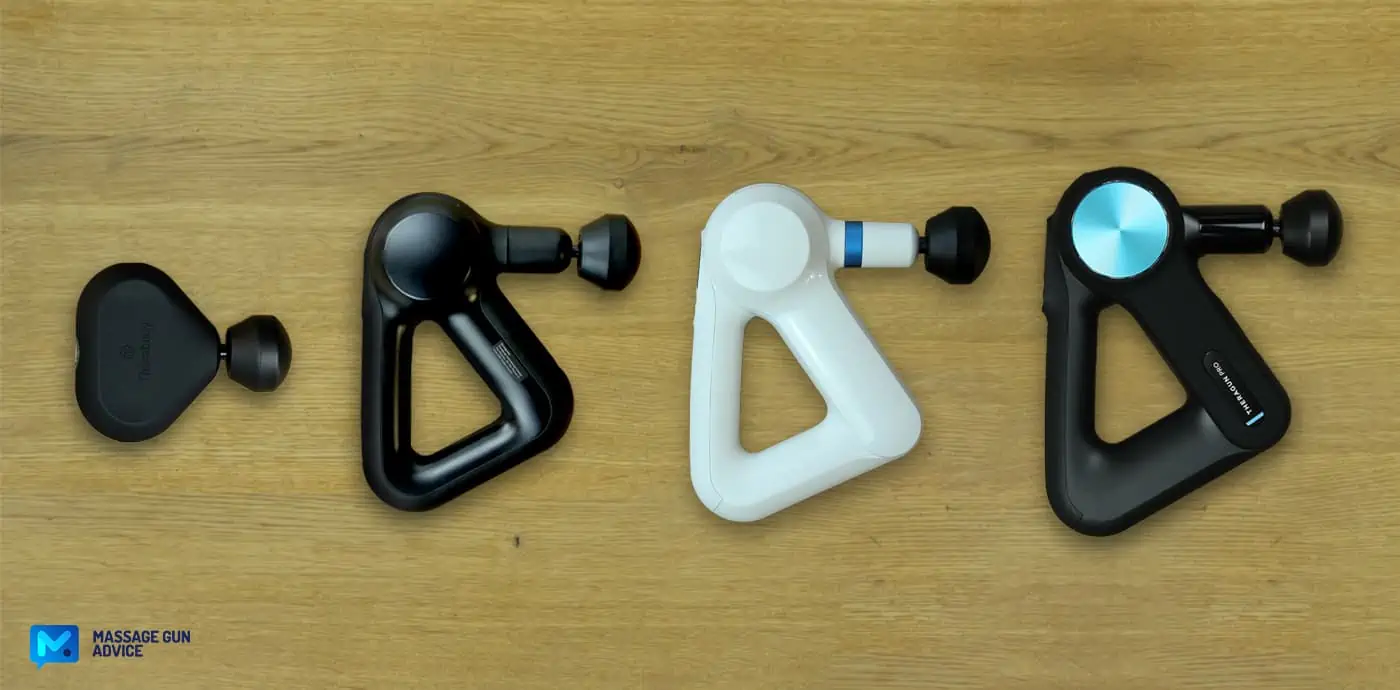 Theragun devices from Therabody have always been popular due to their great design and high quality. However, in the case of fibromyalgia, we would consider many Theragun devices to be too powerful.
This is because they have a very long stroke length of 16mm (12mm for mini), which creates a very "punchy" sensation that is likely going to be uncomfortable for many people with more sensitive areas. Additionally, this larger stroke length means that you get a lower speed by design.
This combination of aggressive hits with lower speeds may be the opposite of what many people managing fibromyalgia would need.
Other than that, using a Theragun for fibromyalgia is going to be like using any other device. So, which one do we recommend for fibromyalgia then?
---
Overall, we recommend the Theragun mini or Theragun Prime.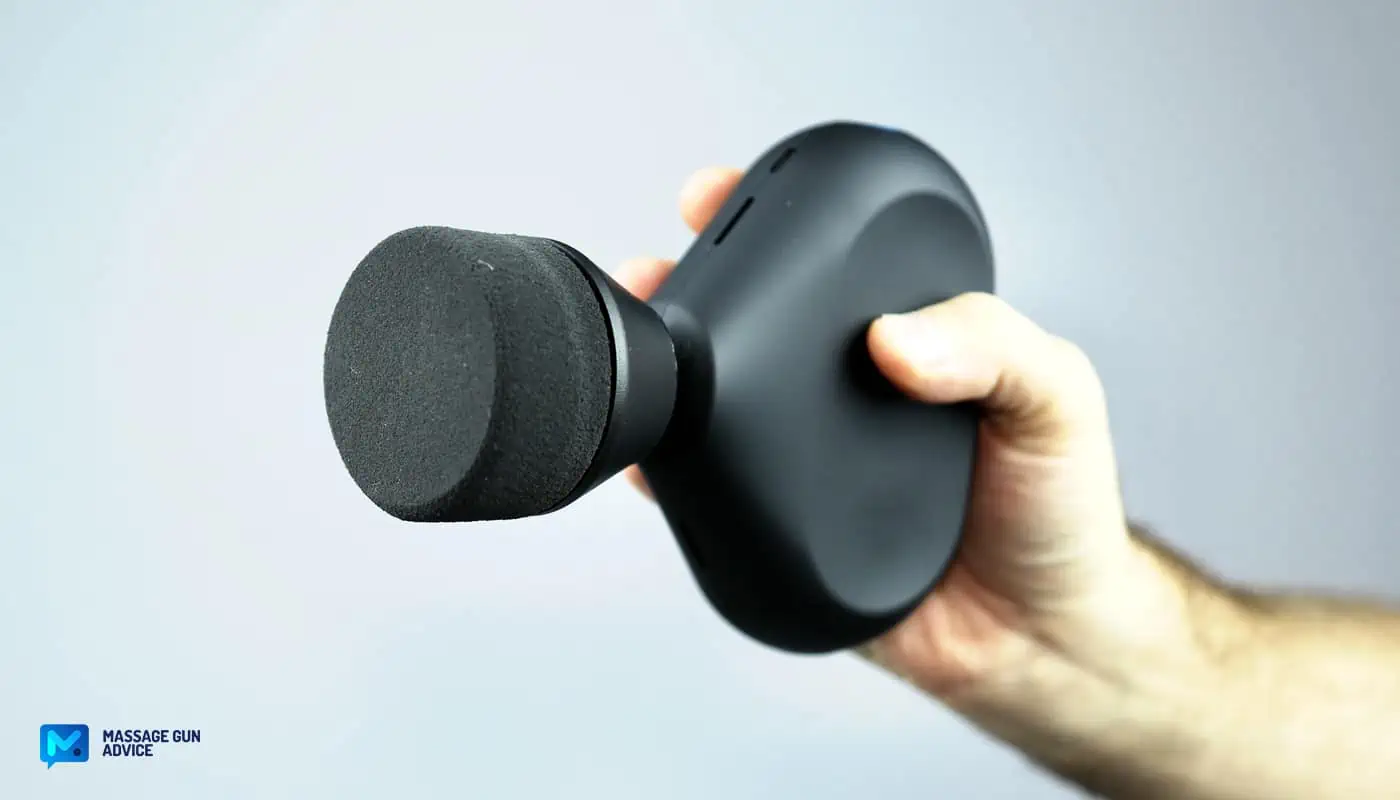 ---
Theragun mini
The Theragun mini should be enough for most people due to its mid-range amplitude of 12 mm (full-sized Theragun models clock in at 16 mm).
Since the device is portable, quiet, and light, it's a nice option for managing fibromyalgia symptoms without using up too much of your energy.
Learn More Check it at therabody.com or read our hands-on Theragun mini review.
---
Theragun Prime
The higher-priced, full-sized Prime is likely going to be more than enough for most people working on fibromyalgia symptoms who also want something powerful enough for every possible job.
Keep in mind that this device is much heavier and noisier than the mini, so you'll want to choose carefully.
Learn More Here is our in-depth Theragun Prime review. You can also check out this Therabody page.
---
Although technically impressive, we believe that the top-tier Theragun Elite and PRO devices are overkill for most people managing their fibromyalgia.
But one added benefit of Theragun massage guns is that they all come with Bluetooth connectivity and work with the Therabody app for guided massage routines.
This is a great option for those who are new to massage gun devices and need a little more instruction.
Ultimately, even though using a Theragun for fibromyalgia is going to be a fine option for many users, we think that a more vibrational device such as the Ekrin 365 is a smarter option to start with for fibromyalgia.
---
Bob and Brad D6 Pro – Cheaper Alternative to Theragun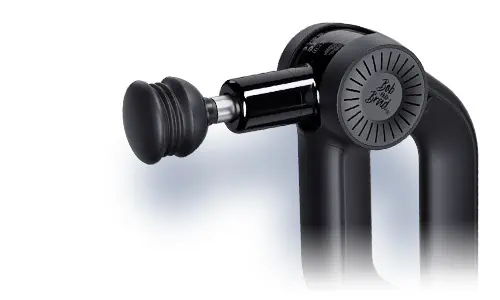 Why we like it:
Really powerful deep tissue massage gun
Top-notch design & quality
Excellent Value for Money
For those who know that they want a Theragun-like device with punchy, deep hits – but don't want the Theragun-like price tag – there's a great alternative available from the YouTube-famous physical therapist Duo, Bob and Brad.
The Bob and Brad D6 Pro is among the best Theragun alternatives because it has the same 16 mm amplitude (the highest available), and a similar percussion range of 1450 – 2450 RPM, and great ergonomics.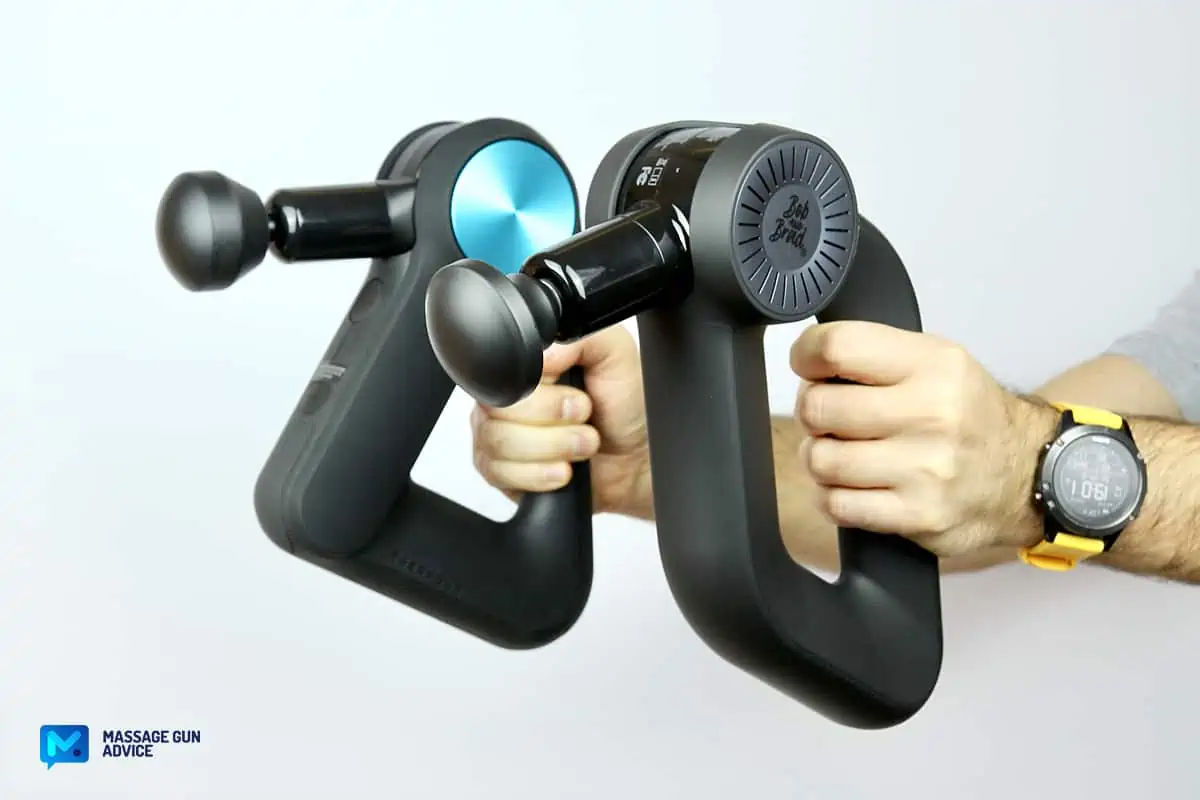 Even though it matches the specs of the Theragun PRO, it costs less than half as much. We advise using caution because this is a very powerful, punchy device. Fortunately, you can mitigate the hard hits with some of the softer attachments that come with the device.
To reiterate, we would still only recommend a hard-hitting device if you know that you can tolerate it well and enjoy the intensity. Otherwise, we consider something more gentle and vibrational to be the best massage gun for fibromyalgia.
Deal Alert: If you use the MGAD6PRO promo code at Amazon checkout, you will get an additional 10% discount (in addition to any standard discount you may get). Buy it at Amazon here.
Read More We thoroughly reviewed this device in our hands-on Bob and Brad D6 Pro review.
---
Massage Gun for Fibromyalgia – Closing Thoughts
We hope that this gives you some insight into the potential benefits of using a massage gun for fibromyalgia and clarifies some of the finer considerations when choosing the best device for the job.
Remember Paying attention to your own comfort is one of the most important factors in getting good results with any type of massage for managing fibromyalgia, so start slow and build yourself up from there!
If you have any questions about fibromyalgia, or how you can safely use a massage gun for fibromyalgia, be sure to talk with your doctor for more information.
---
2.

Yuan S, Matsutani L, Marques A. Effectiveness of different styles of massage therapy in fibromyalgia: a systematic review and meta-analysis.

Man Ther

. 2015;20(2):257-264. doi:

10.1016/j.math.2014.09.003

3.

Kraft K, Kanter S, Janik H. Safety and effectiveness of vibration massage by deep oscillations: a prospective observational study.

Evid Based Complement Alternat Med

. 2013;2013:679248. doi:

10.1155/2013/679248
Was this article helpful?
Thanks for your feedback!
Post Update History
Here's a quick rundown of all the tweaks and edits we've made to this article to keep it accurate and up-to-date!
Current version last updated on:
September 16, 2023 Minor content update for better readability and experience. (Author: Greg)
•
Written by:

Dr. Alex Stone, DPT, CSCS
Disclaimers
The views and opinions expressed on this website are those of the authors. Any content provided by our bloggers or authors are of their opinion and are not intended to malign any religion, ethnic group, club, organization, company, individual or anyone or anything.
All product names, logos, and brands are property of their respective owners. All company, product and service names used in this website are for identification purposes only. Use of these names, logos, and brands does not imply endorsement.
It is our policy to make every effort to respect the copyrights of outside parties. If you believe that your copyright has been misused, please provide us with a message stating your position and we will endeavor to correct any misuse immediately.
Some of the links in this post are affiliate links. As an Amazon Associate, we earn from qualifying purchases. This means if you click on the link and purchase the item, we may receive an affiliate commission, at no extra cost to you. This helps us keep this website alive. Learn more here.
Amazon Disclosure
massagegunadvice.com is a participant in the Amazon Services LLC Associates Program, an affiliate advertising program designed to provide a means for sites to earn advertising fees by advertising and linking to Amazon.com. As an Amazon Associate, we earn from qualifying purchases. Amazon and the Amazon logo are trademarks of Amazon.com, Inc. or its affiliates. Please refer to our Privacy & Affiliate Policy for details.