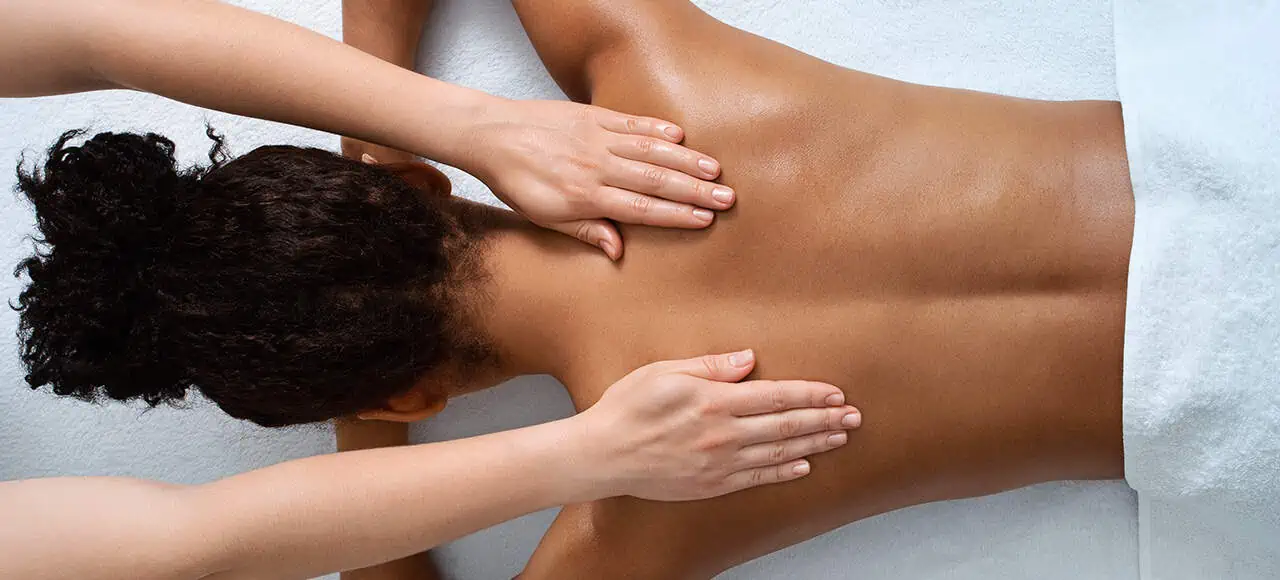 What is a Full Body Massage? Exploring Benefits, Types & What To Expect
What to Know: We independently review products we recommend. If you click on links we provide, we may earn a commission. Learn more.
---
Ever felt the need to just unwind and get a massage but didn't know where to start? We get it, and we're here to help.
This article breaks down what a full body massage is, what to expect, how much it costs, and how long it takes. Put simply, we will explain how you can get the most out of it.
---
---
What to Know Before Your First Session
Well, before we answer this, it's important to note that different SPAs will offer different initial experiences for their customers. Typically, though, you'll have the option to check with your massage therapist about a session before you get to the massage table.
---
Initial Preparation
Before we enjoy in the relaxing escape of a massage, there are certain steps we always take to ensure the best experience possible.
---
Step 1

Do Your Homework

Research often involves finding out about the facility you want to visit. Lucky for you there's all-reliable internet to start. Find out if the facility has licensed practitioners and is also insured.

Researching can also include asking friends and family for recommendations.

If you opt to check for a SPA online, try reading reviews on Yelp, Google, and Facebook. Go through organic reviews to find the best recommendations.
---
Step 2

Choose Your Massage Type

We will discuss the different types in a minute. Before that, if this is your first ever session, then your best bet is to schedule your massage based on time. Typically 30, 60, or 90 minutes. Your therapist will then walk you through what is best for you.
---
Step 3

Freshen Up

Take a shower before your massage. You don't want to hit the relaxation table covered in sweat or dirt. Coming straight from the gym to the massage table will ruin your experience. Some SPAs have showers in case you want to freshen up.
---
At the SPA
When you have chosen your SPA and have observed the initial steps, it's time to meet the therapist.
Some SPAs will ask you to fill in some paperwork – from our experience, you'll answer a few questions about your health history and some personal info that the therapist may want to know to make your experience great.
After answering these questions, if the SPA has a tranquility room, the therapist will ask you to take a few minutes to relax before they can begin working on you. In this room you can also undress to your comfort level and wear a comfy robe.
Once the therapist is ready, they'll show you to the massage room where you can further discuss what the session will entail. You will then lie on the table.
---
What does a Full Body Massage Consist of?
An hour session involves massaging the head (including the scalp), neck and shoulders, arms, all the way to the feet.
If you started facing up, the therapist will ask you to face down so they can work on your glutes. Note that you can discuss glute massage prior to starting because it can be pretty intense.
Your therapist will then massage your back. The session can end with a scalp or clearing your sinuses.
Let's put all these in a list so you know what to expect:
Your therapist will massage your head from the temple, crown, scalp, and occipital muscles, which are the muscles at the back of your head.
The neck area includes massaging the nape and trapezius – the muscles that run down the sides of your neck to your back.
Shoulder muscles include the shoulder blades, collar bones, and upper back area.
Your arms and hands – every muscle on both.
Your upper and lower back – this is typically muscle-tension city!
Leg massage can go all the way up to the buttocks, and include glutes, calves, and feet.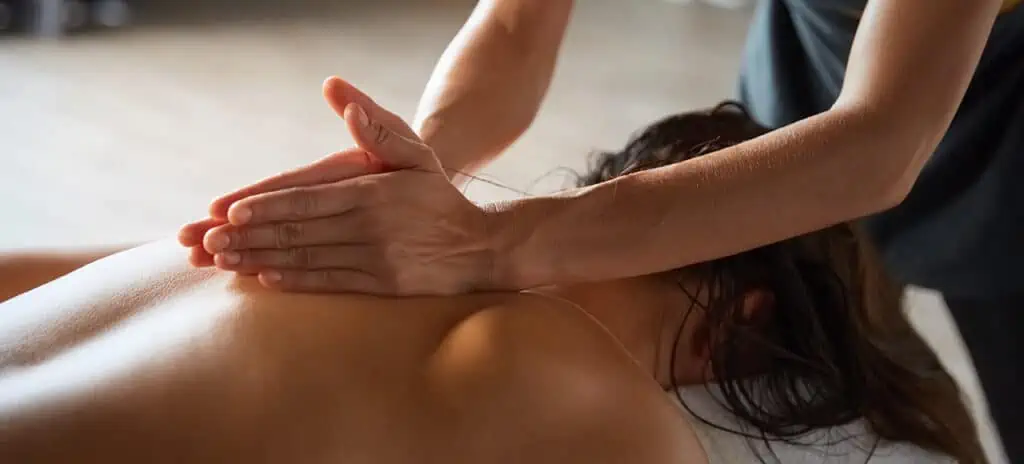 ---
Benefits Explained
Before diving into the various types of massages, let's first explore the benefits of a full body treatment.
These include:
Improved Sleep – Trouble sleeping? Apparently you're not the only one. According to CDC​1​ 1 in 3 Americans struggle to get a good night's sleep. Not sleeping enough can cause mental and physical problems. But don't worry, if you can get a full body massage, then your sleep problems can disappear.
Stress Relief – One of the main reasons people look for a massage is so they can get rid of stress and anxiety. There's just something about the gentle massage strokes and the deeply relaxing music that does the trick.
Increased Muscle Health – If you've stuck around long enough after an NFL game you must've seen some players get a massage. Qualified physios do this to help reduce the risk of injury and also relieve muscle tension. It also helps to improve muscle recovery after an intense match​2​. If you are involved in running, a gym-goer, or are a sports player, an occasional full body massage can help you stay on top of your game a lot of the time.
Improved Blood Circulation – This type of massage can regenerate your entire body. Nothing restores better than improved blood flow​3,4​. The cells get plenty of oxygen, which positively affects your well-being. You'll get a glowing complexion and you'll notice you're a bit more tuned in when you need to be.
---
Exploring Types of Full Body Massages
So, what types of full body treatment can you expect? You might've probably heard about a few of these, but do you really know what each entails?
We will not bore you with minute details, but here are a few you should know:
Swedish Massage
It makes sense that we should start with the Swedish massage because it's recommended for beginners.
A Swedish massage involves soft, long, kneading strokes along with gentle rhythmic taps. Expect the therapist to apply light to moderate pressure on your muscles.
A Swedish Massage is perfect for:
Newbies in massage therapy
Releasing muscle tension
Relaxing with the gentle taps and light pressure applied.
---
Hot Stone Massage
This type of massage isn't very different from Swedish massage, except here, the therapist will use hot stones in addition to their magical hands.
Expect heated stones on different areas of your body. You will also notice the therapist using a heated stone to apply Swedish massage movements.
You'll only have your underwear on for this kind of massage. If you're about decency, don't be – you will be covered in a sheet the whole time.
Some benefits of the hot Stone Massage include:
Improved blood flow
Reduced muscle pain
Improved relaxation
Stress relief
Eased muscle tension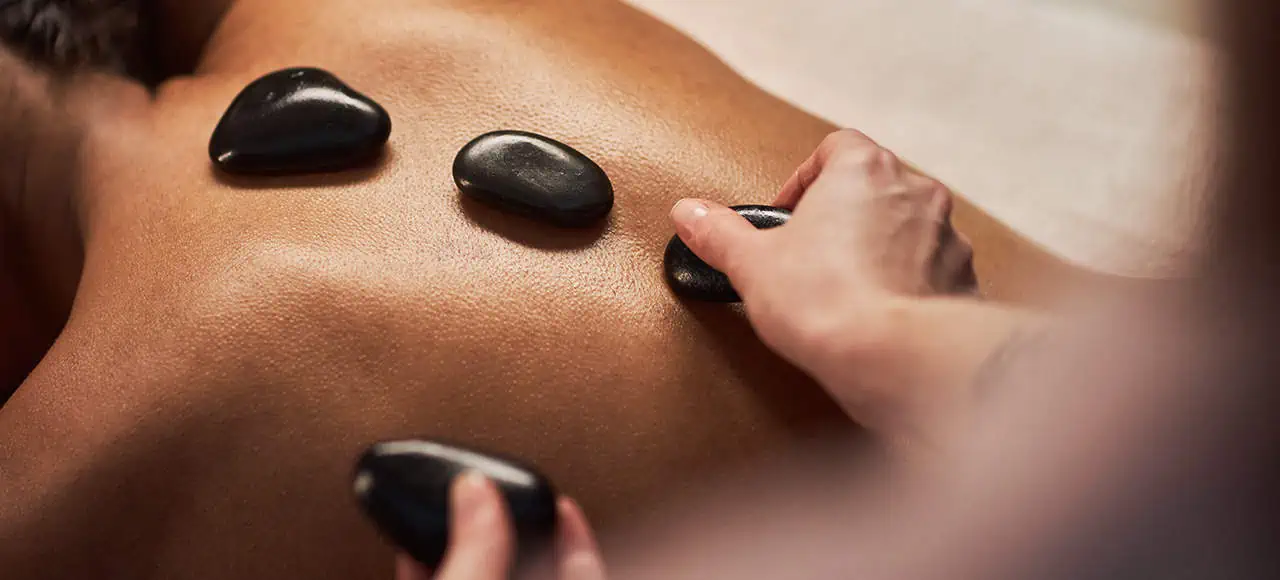 ---
Deep Tissue Massage
In deep tissue massage, expect the massage therapist to use more pressure than the Swedish and Hot Stone massages.
Deep tissue massage is meant to get rid of severe muscle problems caused by injury, tightness, or chronic muscle pain. The therapist will apply slow strokes and deep finger pressure to get to the deep muscle layers.
Expect deep tissue massage to help with:
Muscle soreness
Muscle injury
Improve balance
Chronic muscle pain
Muscle tightness
---
Thai Massage
It is a 2000-year massage technique that originated in India. But that's a story for another day.
For now, you need to know that Thai massage involves deep stretching – you can call it an active full-body massage since you don't just lie there, but actually do something. Some call it "assisted yoga."
The focus of this type of massage is rhythmic muscle compression. Acupressure (putting pressure on certain body areas to help you relax and improve blood flow) is also used.
Thai massage helps with:
Relieving muscle pain
Improved blood flow throughout the body
Increased flexibility
Reduce migraine pain
Improve balance
Boost energy levels
---
Shiatsu Massage
This technique originated in Japan. Shiatsu means "finger pressure." Your massage therapist will apply pressure on certain body parts to relieve pain and loosen tight muscles.
Some Shiatsu benefits include:
Relieves back pain
Increased blood circulation
Stress and anxiety relief
Improved sleep
Improved posture
---
So, Which is the Best One?
Well, this might be a trick question. But the answer lies with what the patient wants.
Since you are looking for a first-time full body massage, we'd say go for the Swedish massage. It gets the job done and is easy on your body.
However, there may be times when other types of massages are more suitable. For example, Thai massage has been known to help alleviate migraines in cancer patients. Either way, you can explore the range of benefits each massage offers to get what you want.
My Best Full-Body Massage Preference
Let's briefly talk about deep tissue massage. This type of massage isn't for the faint-hearted but is also the most robust, especially if you have serious muscle issues.
I go for this because you can have your own full body massage session at home.
How's that? Massage guns.
Massage guns aren't therapists in themselves, but they come in handy when you can't access a SPA. For deep tissue massage using massage guns, we recommend going for high amplitude guns that can hit deep into the muscles.
We're talking Theragun, Ekrin B37S, Achedaway Pro, Bob and Brad D6 Pro. Make sure to check our entire guide where we test and compare a lot of high amplitude massage guns at once.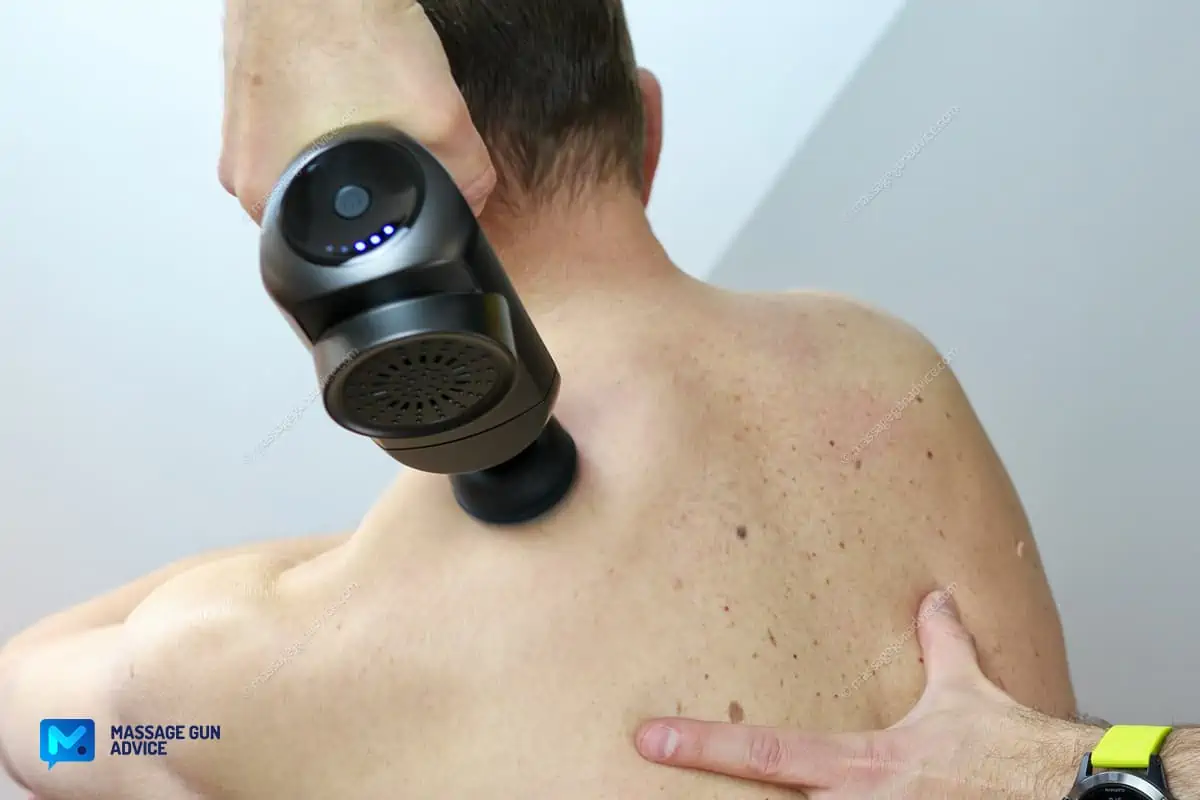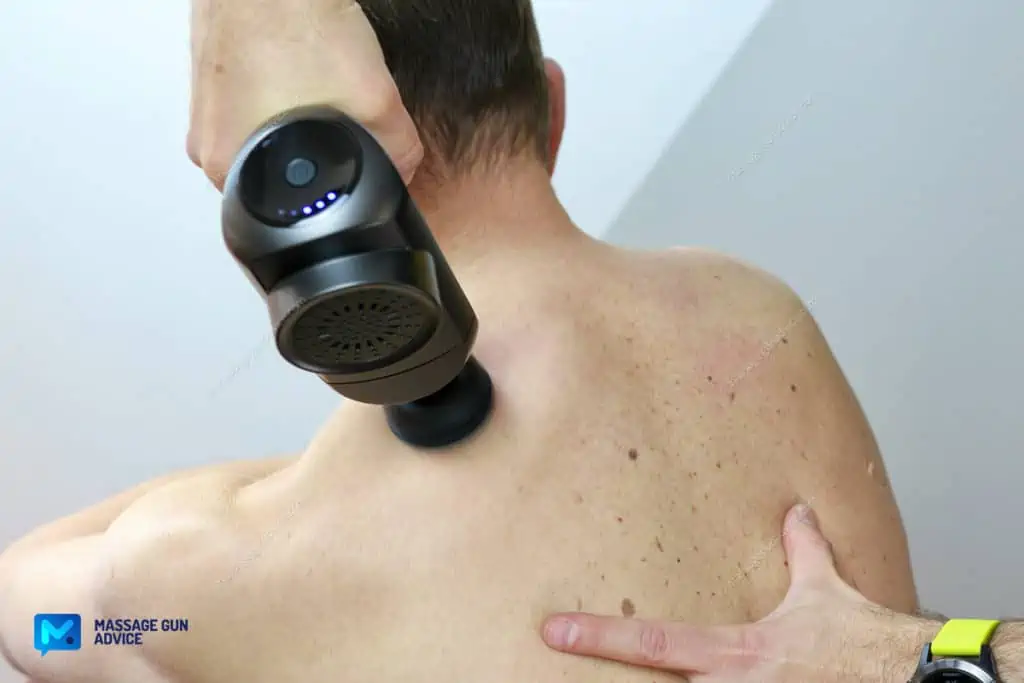 ---
Making the Most of Your Massage
Practical Tips
Now that you're familiar with what a full body massage entails, let's focus on how to make the most of it.
Only book the session length that works best for you. Booking a session will depend on the time you have to spend at the massage table. We recommend booking an hour-long session. If you have plenty of time, go for a 2-hour session. This will give your therapist plenty of time to work on your entire body and relieve tension.
Drink water. We would've said, "drink plenty of water," but that may be construed. We recommend taking water throughout the day to stay hydrated. Don't chug on water 30 minutes before the massage time. You don't want to keep leaving the table every few minutes to empty your bladder.
Don't eat a large meal an hour or two before the massage. That way your body doesn't spend quality massage time digesting the meal. If you must eat, go for light food. Fruits and nuts will do.
Before lying on the table, remove all jewelry – actually, don't even wear jewelry to the SPA. Leave your watches, earrings, necklaces, and bracelets at home. This lets your therapist focus solely on your body and give you the best experience possible.
During the Massage
Wondering what to wear to a massage? You are not alone in this.
We already have an article for this, so feel free to check it for all the details. But just for this piece, we recommend going for light clothes that you can easily take off.
Remember you'll probably only have your underwear on at the table.
Your massage therapist will provide a cozy robe to wear as you wait and cover you with a towel or sheet when working on your muscles.
---
Cost and Duration
How Much is it?
So, how much can you expect to pay for a full body massage? Well, the price will vary with each SPA.
However, you should expect to part with $50 to $150 depending on the type of massage you need.
Remember that the SPA's location may affect how much you pay for your session. The type of massage may also affect the price. For example, expect deep tissue massage to cost slightly more compared to a Swedish massage.
---
How Long Does it Take?
As we've already seen, you can book a whole body massage that lasts an hour or two, depending on how much time you have on your hands.
However, it's also important to note that some massages will take longer than others. For instance, if you go for a deep tissue massage, expect the session to last a bit longer. This is because the therapist has to carefully and thoroughly work the affected muscle tissues.
Related Feeling Sick After a Massage: Navigating the Uncomfortable
---
FAQs
What to wear for a full body relaxation massage?
We recommend wearing as light as possible. You want to wear a light T-shirt with shorts — something you can easily take off. Remember, you want to stay relaxed before and after the massage.
Is a Swedish massage full body?
Yes, a Swedish massage involves working on the whole body. You will lie on your stomach or back and flip over halfway through the massage. You can ask the therapist to address concern areas during the session.
Does massage of full body include private parts?
No. A full body massage may include massaging your back, hips (including sides of your buttocks), and the back of your legs, but not private parts. Most SPAs will keep your private areas well covered to preserve your decency.
Does a full body massage include groin?
Most massage therapists will stay professional and not touch your groin area. There may be others that may help massage the surrounding muscles if you ask, but nothing that could make you uncomfortable.
Can you use a massage gun for a full body massage routine?
Yes. Massage guns are handy tools that can help you relax and relieve muscle tightness on the go. These techy gadgets come with different attachments to help treat different body parts.
---
Conclusion
You now have a clear picture of what a full body massage involves, its benefits, and the various types available.
Keeping in mind the best practices for before and during the massage will ensure you enjoy maximum benefits. If you're ready to experience this relaxation, plenty of SPAs are just a booking away.
But if you're pressed for time and can't visit a SPA, don't worry – massage guns have got you covered. These convenient devices offer a quick and effective way to enjoy a relaxing massage anytime, anywhere, helping you achieve a relaxed and healthy state of body and mind.
---
References
2.

Weerapong P, Hume P, Kolt G. The mechanisms of massage and effects on performance, muscle recovery and injury prevention.

Sports Med

. 2005;35(3):235-256. doi:

10.2165/00007256-200535030-00004

3.

Nelson N. Massage therapy: understanding the mechanisms of action on blood pressure. A scoping review.

J Am Soc Hypertens

. 2015;9(10):785-793. doi:

10.1016/j.jash.2015.07.009

4.

Wiltshire E, Poitras V, Pak M, Hong T, Rayner J, Tschakovsky M. Massage impairs postexercise muscle blood flow and "lactic acid" removal.

Med Sci Sports Exerc

. 2010;42(6):1062-1071. doi:

10.1249/MSS.0b013e3181c9214f
Was this article helpful?
Thanks for your feedback!
Post Update History
Here's a quick rundown of all the tweaks and edits we've made to this article to keep it accurate and up-to-date!
Current version last updated on:
•
Written by:

Luke Deszczulka
Disclaimers
The views and opinions expressed on this website are those of the authors. Any content provided by our bloggers or authors are of their opinion and are not intended to malign any religion, ethnic group, club, organization, company, individual or anyone or anything.
All product names, logos, and brands are property of their respective owners. All company, product and service names used in this website are for identification purposes only. Use of these names, logos, and brands does not imply endorsement.
It is our policy to make every effort to respect the copyrights of outside parties. If you believe that your copyright has been misused, please provide us with a message stating your position and we will endeavor to correct any misuse immediately.
Some of the links in this post are affiliate links. As an Amazon Associate, we earn from qualifying purchases. This means if you click on the link and purchase the item, we may receive an affiliate commission, at no extra cost to you. This helps us keep this website alive. Learn more here.
Amazon Disclosure
massagegunadvice.com is a participant in the Amazon Services LLC Associates Program, an affiliate advertising program designed to provide a means for sites to earn advertising fees by advertising and linking to Amazon.com. As an Amazon Associate, we earn from qualifying purchases. Amazon and the Amazon logo are trademarks of Amazon.com, Inc. or its affiliates. Please refer to our Privacy & Affiliate Policy for details.