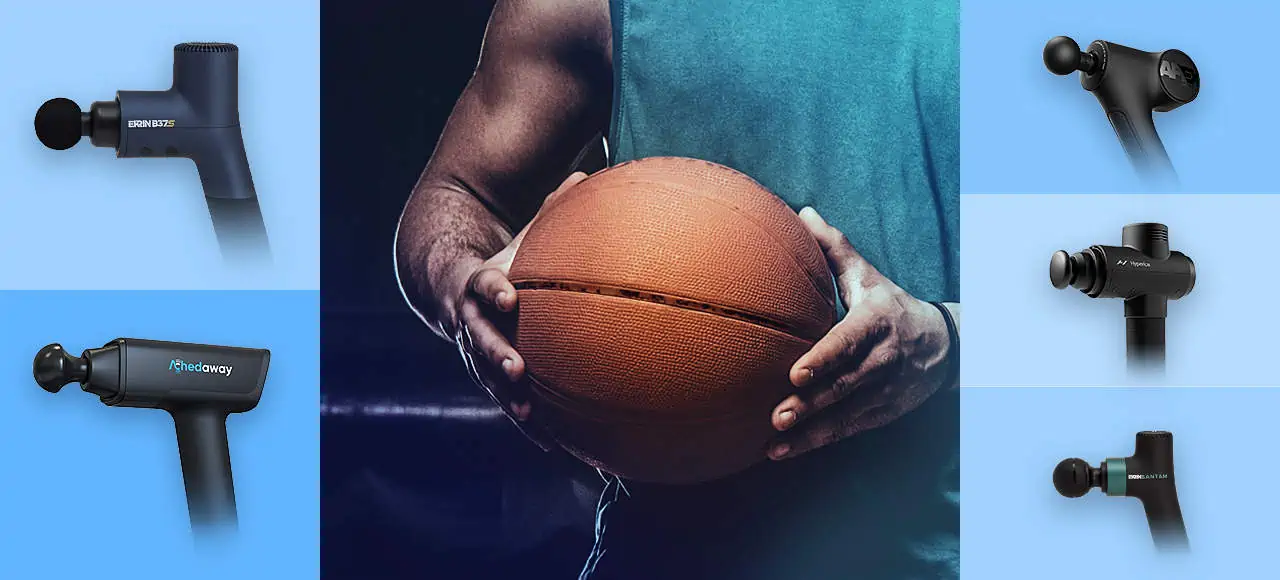 Best Massage Gun for Basketball Players – Our Top 5 Picks Explained
What to Know: We independently review products we recommend. If you click on links we provide, we may earn a commission. Learn more.
---
So you are a basketball player and wondering what you can do to perform better? Or maybe you've had an injury and have been looking for ways to recover faster? A massage gun is a device that may help you with that.
These devices can do wonders for your muscles' recovery and well-being, but choosing the right gun for the job ain't easy – and that's where we step in.
Today, we'll give you a look at some of the best massage guns for basketball players, including Hypervolts – you know how those have been hyped by NBA stars.
Let's hit the court! 🏀
---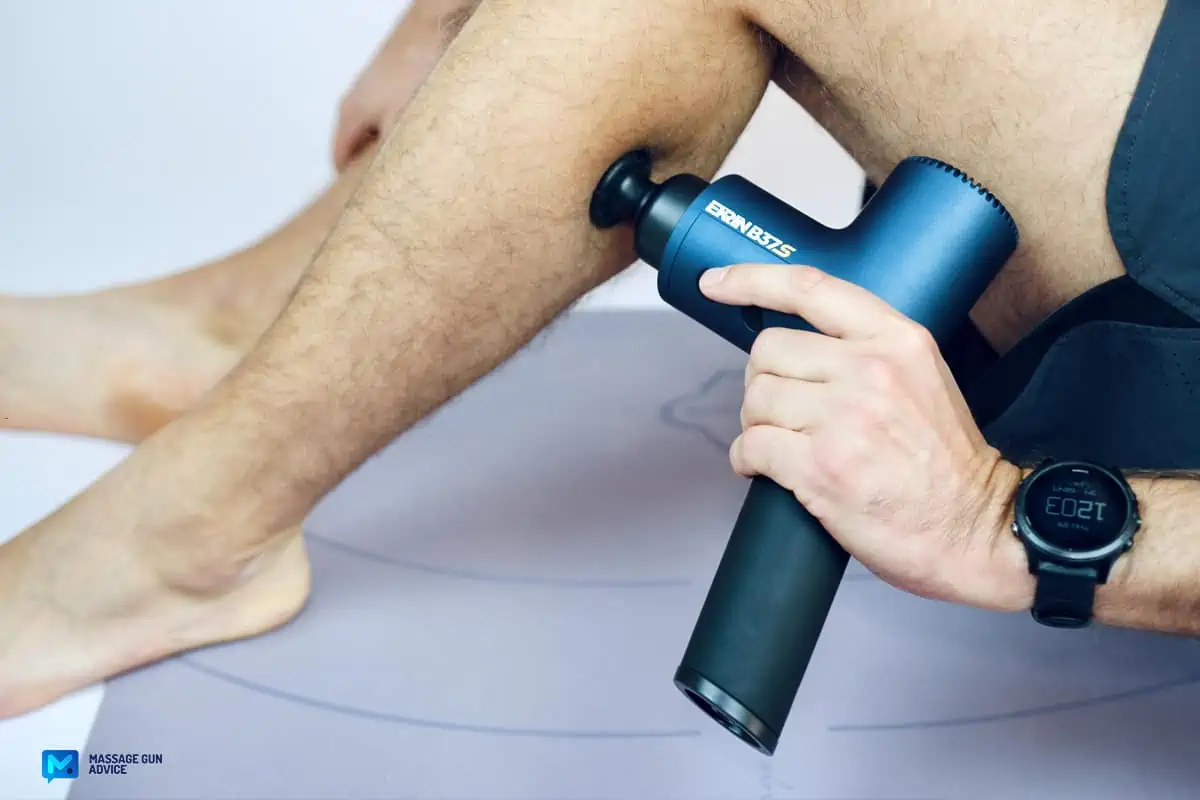 ---
How a Massager Can Elevate Your Game
Generally, basketball players use massage guns for:
Warming up – Basketball pros use massage guns during warm-ups. We've seen this many times during the pre-game stream on NBA.com, and you can do the same! To be better prepared for your game. For this purpose, it's a matter of intense but not necessarily deep-tissue massage. Vibrational devices work best for this. Focus on waking up the muscles, improving blood flow, and preparing your body for action.
Post-game recovery – Here, you can use massage guns for deep-tissue treatment. Percussion massagers can help reduce delayed onset muscle soreness (DOMS)​1​. They can also help improve the myofascial release​2​ and speed up recovery overall. They are a great substitute or complementary to manual therapy by physiotherapists.
Injury prevention – Percussion therapy advocates and some pro players believe percussion therapy can help prevent or shorten recovery time after an injury​3,4​. We think it won't hurt to try. After all, athletes use a variety of methods to shield themselves from injuries and to speed up recovery (ice baths, cupping therapy, scraping, EMS, and more).
All this means you need a quite versatile device to match all the requirements and make the most of its benefits.
Let's go straight to the one that, according to our tests and experience, is simply the best overall for your basketball needs. Later, we will dig deeper into specs and numbers, so keep reading.
---
Our 5 Recommended Massage Guns for Basketball Players
Here are our top 5 massage guns for basketball players. No bricks, no air balls here. Nothing but net. Let's explore all of them.
---
Ekrin B37S – Best Overall
Our testing impressions:
Versatile and powerful massage gun
Variety of attachments, including a cushioned one
Excellent quality overall
Lifetime warranty
This is one of the best guns we've ever used. And it also checks all the boxes for the best massage gun for basketball players on our list. Here's why…
It has more power, and that's why it had to feature here as our number one recommended gun. Basketball players love it, and that's why Ekrin has been successful in selling it – if you doubt you can read the consumer reviews at ekrinathletics.com to find out.
The main feature here is power. With 56lbs. of stall force, it's still the same as the original B37. However, it has 30% more power on those lower-speed gears.
That makes it a more versatile option to have. Almost every other gun we have seen only achieves high stall force at the highest speed. In other words, Ekrin B37S is no doubt one of the strongest guns on the market. It can withstand pressure even on lower-speed gears.
That is probably one reason why WNBA forward Rebecca Allen called Ekrin B37/B37S a game changer in recovery.
The B37S has a medium amplitude of slightly over 10mm. It is within our "sweet spot" range, and good enough with the stall force here. When you want a deep tissue massage, you can press it harder against the skin.
It can also get intense with a percussion range of 2000-3200RPM. It comes with five speeds, with the latest gear offering a pre-programmed dynamic mode – it cycles between the highest gear and the lowest gear.
The gun itself is made of premium materials and feels like something that will be with you for a long time. Just check it on our video below:
It has a retroactive force meter – one of the best executed in the business. There are 6 attachments, which are good for massaging the whole body. The attachments locking mechanism is "push and twist."
Using B37S is simple – it has LED lights that indicate speeds and battery level.
You also get great ergonomics with the angled handle. It weighs just 2.2 pounds and is very quiet. It has a Samsung branded battery that will last for 5-6 hours. There's also a nice carrying case that you can bring with you on your travels.
You get a lifetime warranty and awesome lifetime customer support.
HOLIDAY SALE
Get a whooping $100 OFF the top-shelf Ekrin B37S massage gun. Only $231.00, down from $329.99. Grab the deal now!
Ekrin B37S retails for $329 but you can use the MGA20 coupon to claim a 20% discount. Get it directly from Ekrin for $263.99.
Read More Find more photos and details in our hands-on Ekrin B37S review.
---
Achedaway Pro – Highest Amplitude Option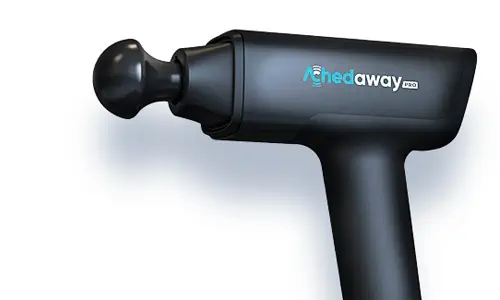 Our testing impressions:
Impressive stall force
Great size and ergonomics
Excellent quality overall
Accessories
This is also a great percussion massager for pro basketball players, but with a different value proposition.
It's also perhaps the most powerful massage gun on our list – Achedaway lists the stall force at 80lbs. That may not necessarily be the case when you actually test it, but it's still pretty powerful. Our tests suggest it may have about 60 lbs. of stall force – plenty of punch.
In this video, we demonstrate its power on each gear (2:20):
It also comes with a 16mm amplitude – the best and on par with Theragun Pro. It is the perfect gun for bulky basketball players. You can have a deep-to-the-bone massage with it.
Because of the 16mm amplitude, don't expect a lot of percussions; it's 1700-2800RPM, which is still pretty impressive. You get no pressure sensor, instead, you'll have a removable battery – you can purchase an extra one separately.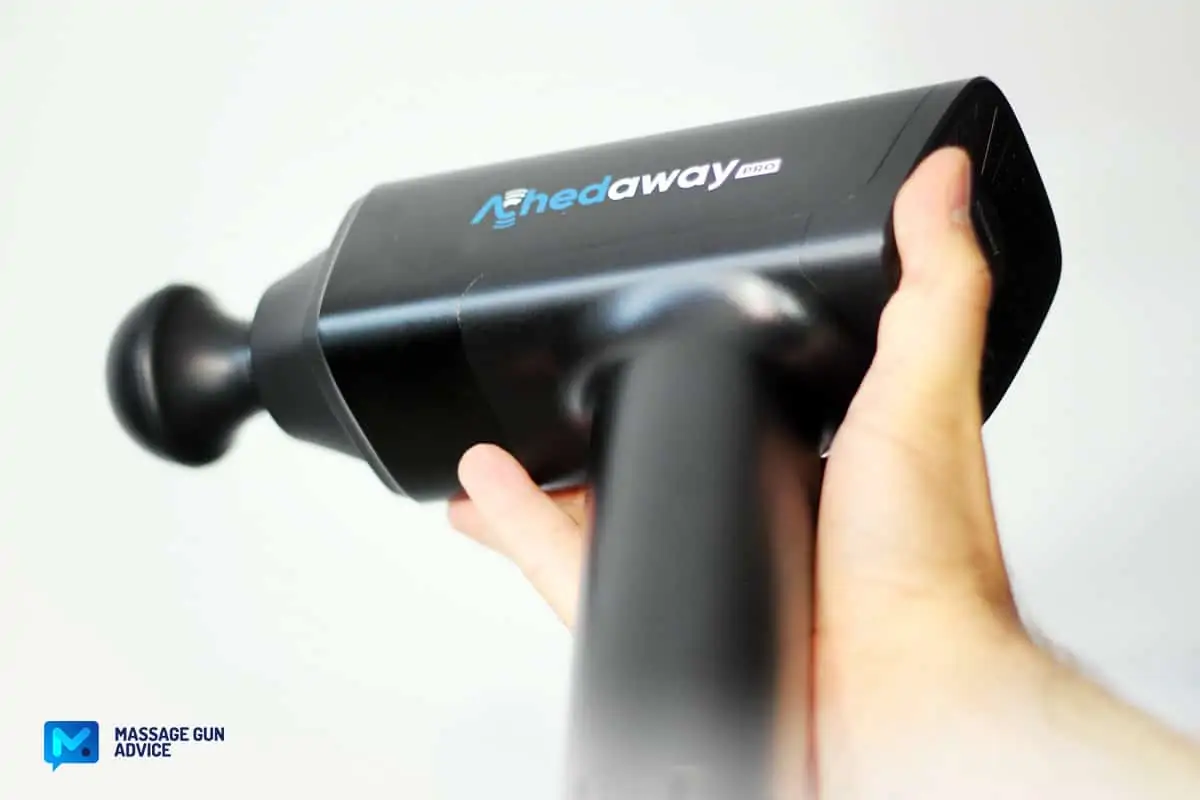 The battery is quite huge – 3200mAh – which may explain the added weight (it weighs 2.6 pounds). If you want to use it continuously, the battery will last for about 2-4 hours depending on pressure and speed – you may need the extra battery if you plan to use it extensively.
It comes with 5 speeds and no dynamic modes like Ekrin B37S.
It also comes with 4 excellent attachments, including 2 aluminum-coated ones, and one cushioned for sensitive areas. It's slightly quieter than Ekrin B37S, and still one of the quietest massage guns out there. You will get a 2-year warranty.
The normal price is $299 (without the extra battery), but you can get it for $239 if you use the coupon MGA60 which gives you a $60 discount.
Read More For more details and photos refer to our in-depth Achedaway Pro Review.
---
Opove Apex – Also High Amplitude, But Cheaper
Our testing impressions:
14.5mm amplitude & ~45 lbs of power
6 high-quality attachments
Excellent ergonomics and grip
Great value for the price
This is the second gun on our list with a high amplitude. If both Ekrin B37S and Achedaway Pro seem a bit expensive for you, this is the more affordable option.
Opove Apex doesn't have as much stall force as the two above, but it will be enough for pro basketball players. It has a stall force of 45lbs. That is well within our recommended range.
It has a 14.5mm amplitude – that's rare for an affordable massage gun. It's still a bit lower compared to Achedaway Pro and Theraguns, but it can still punch hard and deep.
The most unique feature about this gun that we should mention is its ergonomics. The handle is aggressively tilted for greater balance and weight distribution – it's perhaps better than the two options above. It's very comfortable to hold, with lots of rubber on the handle.
The advertised maximum percussions are 2800RPM. However, our measurements gave us a range of 1800-2300RPM. That means our two options are better here as well.
It's also a very quiet massage gun even with the long stroke length (most tend to be louder). Expect 59-60dB at the highest speed.
The battery is great. When we first bought it, we used it for 3 weeks before it needed to be charged again. It comes with 6 attachments and a carrying case.
You will not get a lifetime warranty – just a 1-year warranty. However, that's probably because it only just arrived on the market.
It normally costs $199, but you can buy it for $159 for a limited time. That's awesome for a long amplitude device.
Read More Find out more in our detailed Opove Apex review.
---
Hypervolt 2 Pro – NBA Players' Official Massager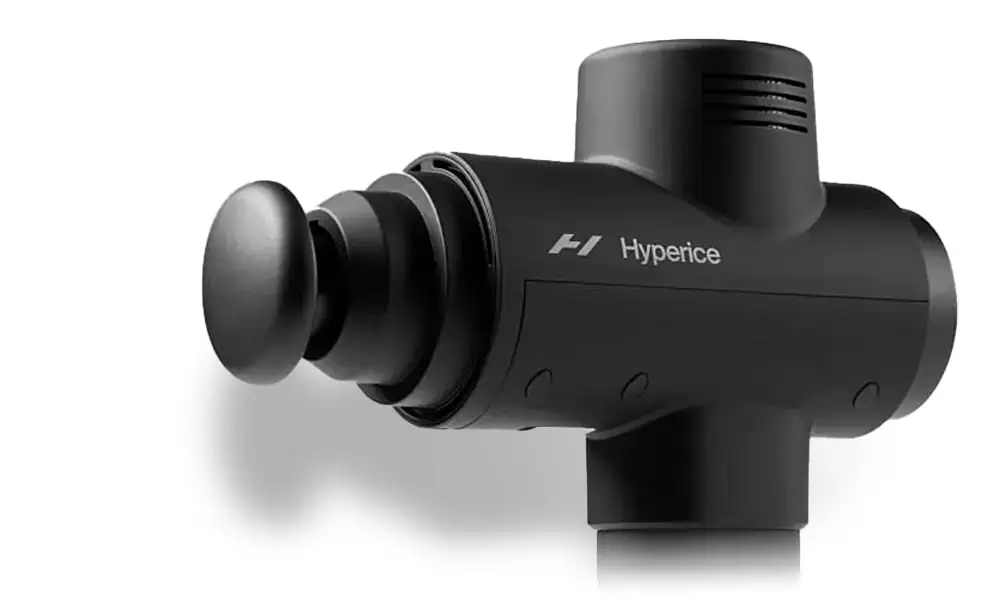 Our testing impressions:
Overall quality and premium feel
High, 14mm amplitude, but low stall force
Intuitive controls & ergonomic handle
Expensive (and still lacks of carrying case)
You have probably seen NBA players holding or using Hypervolts. Ja Morant, Steph Curry, and LeBron James, to name a few.
We recently explained in our NBA massage gun post that Hyperice have been enjoying close ties with the NBA (now the company is an official NBA Recovery Technology Partner) and Hypervolt has been the go-to choice for many players.
So, let's talk about the most suitable Hypervolt for basketball players, the Hypervolt 2 Pro.
It is a new device, one of the two new releases. It's supposed to replace the good old Hypervolt Plus. But why rate it below every other gun that we have talked about so far here? Well, let's find out.
First, we have to acknowledge that Hypervolt 2 Pro is a solid device. But it lacks in the categories that we mentioned here. For instance, we mentioned how you may need a lot of stall force as a basketball player.
Well, this gun has a stall force of about 35-40lbs. – it is actually very decent, but compared to the guns we've already talked about, it still lags. We would say it's much closer to Opove Apex, but Opove Apex has better ergonomics and is half the price of Hypervolt 2 Pro.
That said, the amplitude is 14mm; which is pretty good but still low compared to Achedaway Pro, which comes with a carrying case – Hypervolt does not have one.
Hypervolt tried to make the ergonomics better for this new device, with a much thinner and pill-shaped handle. However, we feel it's still not better than an angled handle – which is the case for the three devices we just talked about.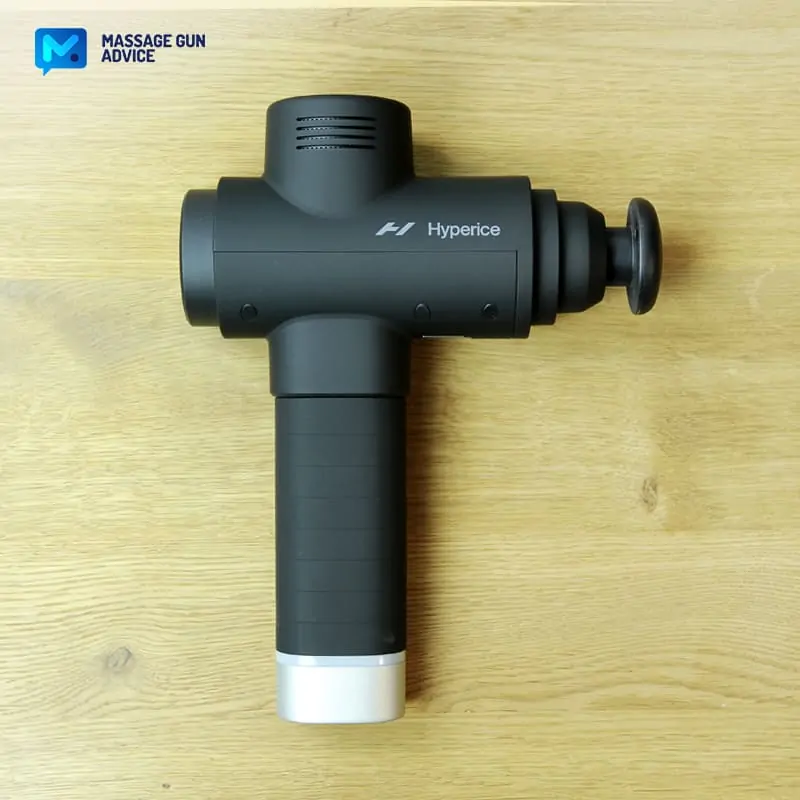 The quality of materials used for Hypervolt 2 Pro is very good, but in our opinion not better than our picks above – Opove Apex is very affordable but feels about the same as Hypervolt 2 Pro.
It also doesn't have many accessories, including a carrying case – the only gun on our list without one.
Then, there's the warranty. Hypervolt gives it a 1-year warranty, compared to Ekrin's lifetime warranty, which feels like nothing at all.
It's also the most expensive device on our list – it costs $399. That is over a third more than a better-equipped Ekrin B37S or Achedaway Pro. It's also twice more expensive as Opove Apex.
But it has advantages:
It's the only gun on our list with Bluetooth connectivity and an app. When connected, it has guided routines that can help accelerate the learning curve. It's a good feature for beginners, but probably not a necessity for pros.
It has a pressure sensor. One could argue it's better than Achedaway Pro and Opove Apex, which have none.
It has a detachable battery – only Achedaway Pro has this feature.
You can buy Hypervolt 2 Pro here at the official Hyperice website
Read More For further information, refer to our full Hypervolt 2 Pro review.
---
Ekrin Bantam – Best Choice for a Mini Basketball Massager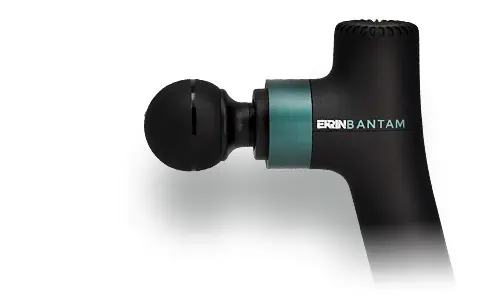 Our testing impressions:
Compact but powerful, up to 3200rpm
Great size and ergonomics
Excellent quality overall
Lifetime warranty
This one is for basketball players who prefer something compact or need something to carry on their travels. It's also the most powerful mini massage gun on the market (according to what we found in our tests here).
Here's how tiny it is: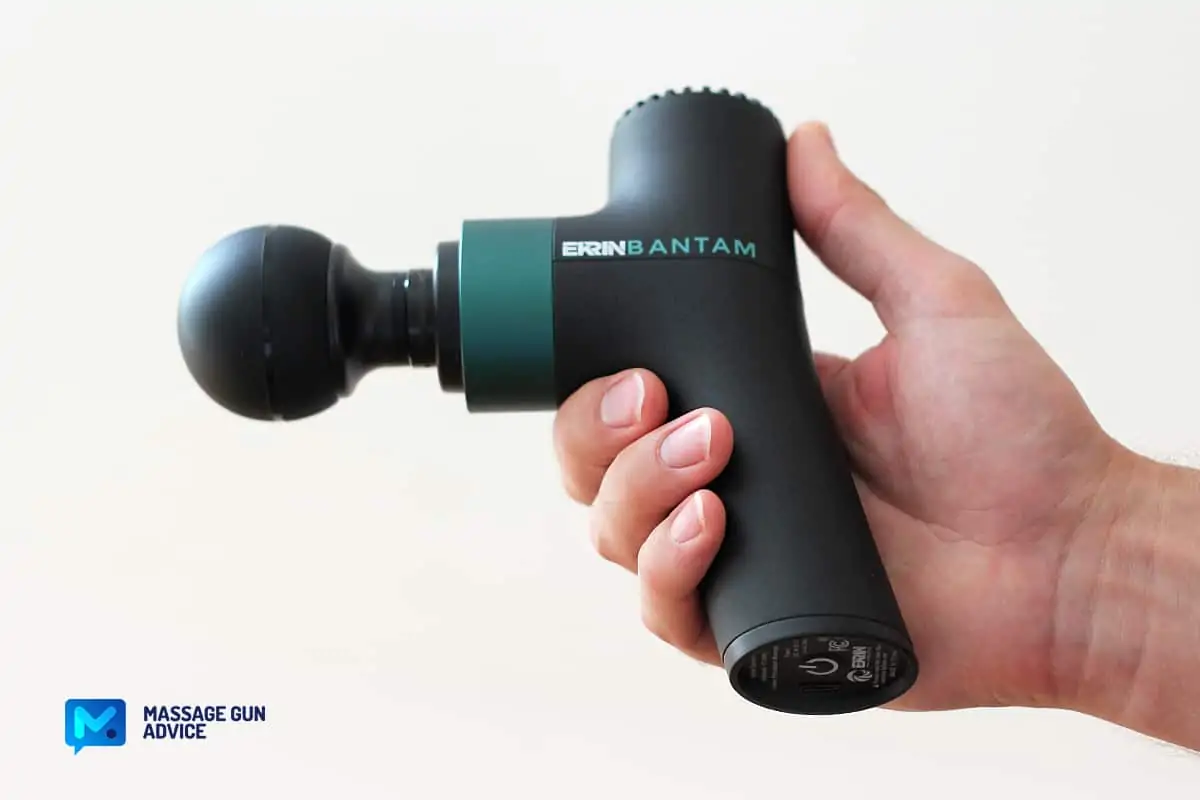 Key advantages include:
It's very small and can even fit in your jeans pocket. It weighs a meager 1.1 pounds.
It's surprisingly powerful for its size. It comes with a 30lbs. stall force – very respectable given the size. It also has a 10mm amplitude – perfect for a mini massage gun; only Theragun mini has more.
It has a percussion range of 2000-3200RPM – similar to a full-sized gun. It will not be as powerful as a full-sized gun, but it's definitely worth a buy for what it has to offer as a mini gun.
It comes with an angled handle just like the parent devices Ekrin 365, B37, and B37S.
The materials used to make it are top-notch.
It comes with four attachments for different muscle groups. For comparison, Theragun mini only has one attachment included – a ball head.
It's the only gun on our list with a USB-C charger. The battery can last for 4-5 hours.
It's quiet.
It has a lifetime warranty and wonderful customer support.
The price is reasonable, at $149.99 or $119.99 with the MGA20 coupon that gives you a 20% discount. Buy the Bantam here at ekrinathletics.com.
Read More Check out our Ekrin Bantam Review for further details.
---
Which Theragun for Basketball Players?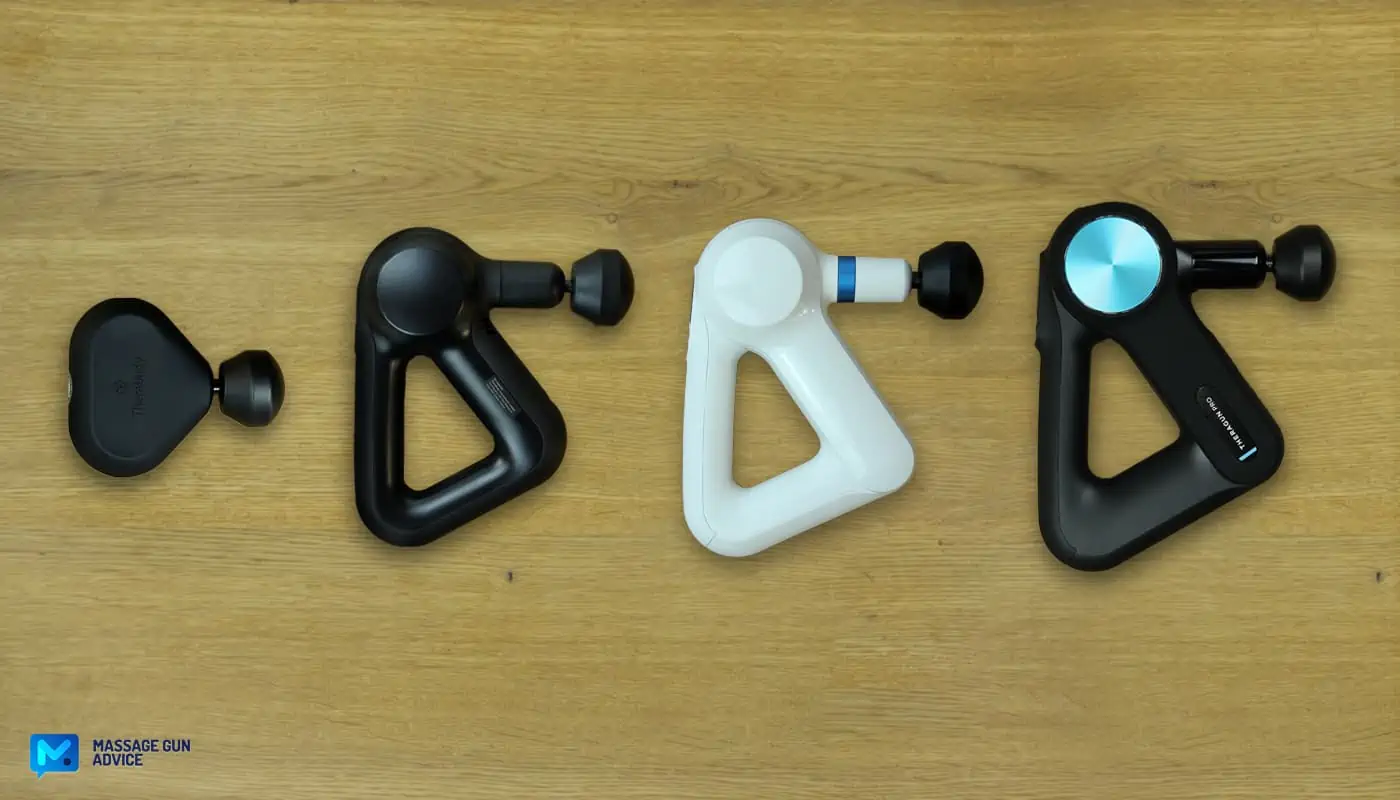 Theragun is a premium brand and a popular choice among players who can afford its high price. It is also popular among NBA players. Take Paul George, for instance – Paul uses Theragun Pro.
So for our list, from the entire range of Theragun devices, we would go with the Pro or Elite. Why both?
Theragun Pro would be the most obvious choice because it has more power and it's also more advanced. However, if you don't need the adjustable arm or extra batteries, then Elite will do the job just fine.
Theragun Pro has a stall force of 60+lbs. Elite has a stall force of 40lbs. but is 30% cheaper. Both have a 16mm amplitude – only Achedaway Pro matches that. That means they can provide enough punch to treat muscles after a tough game.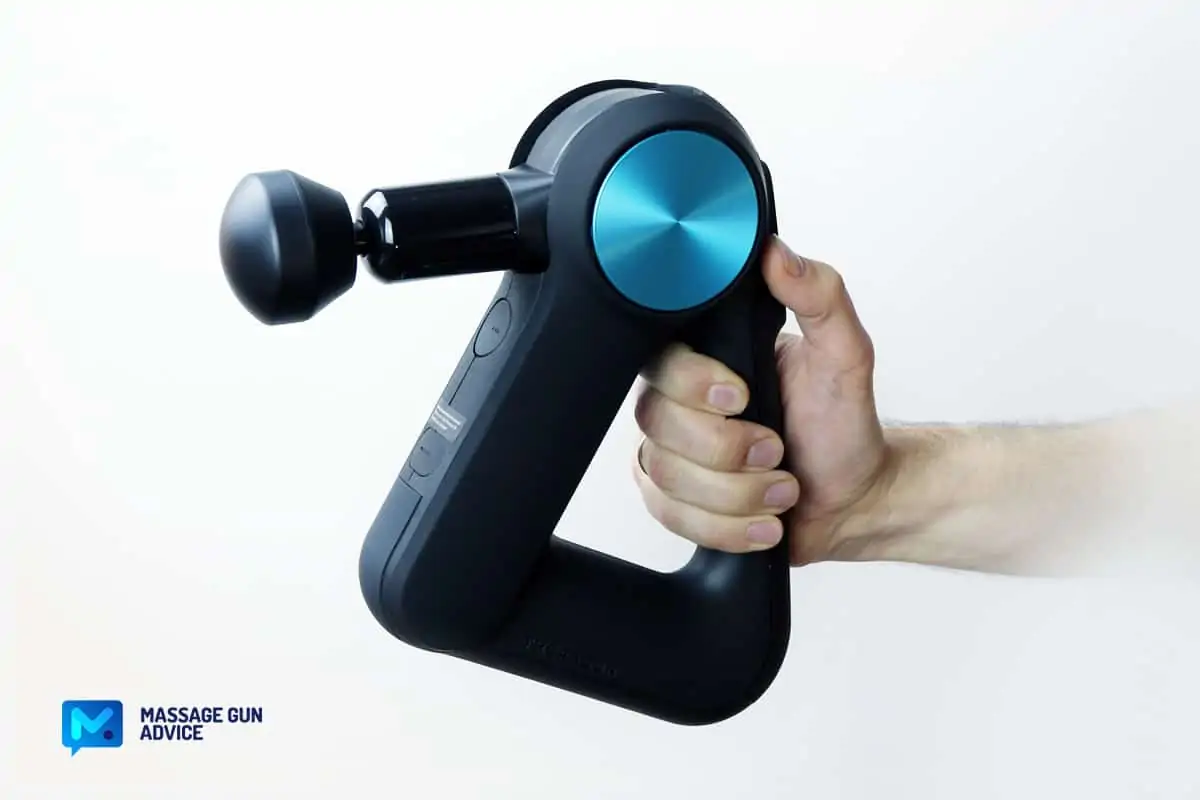 Both have a percussion range of 1750-2400RPM. That is what you should expect with a high amplitude gun. Both Pro and Elite have OLED displays and a built-in force meter.
You will also enjoy Bluetooth connectivity and the Therabody app for both devices. There are 5 built-in speeds and adjustable ones that can be controlled using the app.
Elite comes with 5 attachments while Pro has 6 (and an extra carrying case to store them).
We love Theragun's unique design, excellent ergonomics, and multiple grip options. We prefer this design to Hypervolt's T-shape.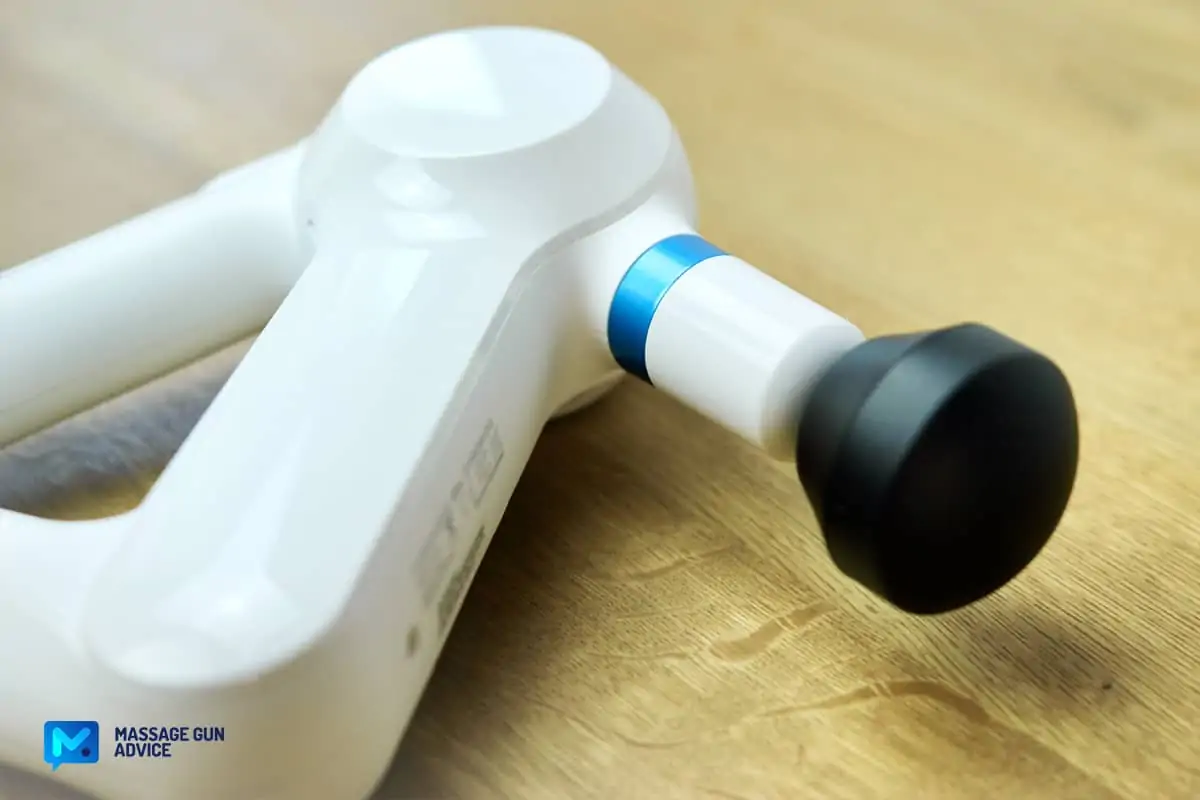 Theraguns Cons
The loudest guns on our list. They make a rough sound and can feel quite noisy.
The battery isn't the best – you will get 2-3 hours tops per charge. Only Theragun Pro offers the option of extra batteries.
They are expensive. Elite costs $399 while Theragun Pro costs $599.
The warranty is just 1 year for Elite and 2 for Theragun Pro
CYBER MONDAY
Theragun Sale is here! Enjoy up to $250 off select Theraguns, along with more deals on recovery tech. Now FSA/HSA eligible! Browse the deals here.
Our Take

Theraguns are great guns for basketball players. However, Achedaway Pro will give you the same massage experience as any of the two we have mentioned. Also, it's half the price of the most expensive Theragun. It will also be much hushed compared to any of the two Theraguns.
Read More Our Theragun Elite vs Pro, and individual Theragun reviews provide further details.
---
What Every Baller Needs to Look for in a Massage Gun (Our Advice)
The key things that a player will be looking for in a massage gun tailored to basketball needs include the following…
Stall Force
Stall force is the amount of pressure that a massage gun's motor can withstand without stalling.
If you watch basketball or have ever seen basketball players, you know they tend to be big, with large, well-developed muscles. That means they will need a strong device that can help reach the deep tissues of those muscles. For areas with large muscle groups (quads, hamstrings, and calves), a strong device is needed.
Therefore, they will need a device with a lot of stall force for deep tissue massage. In this case, anything below 40-45lbs. won't cut it. To be honest, basketball pros will probably be better off with a 50lbs. stall force device.
We don't recommend weak guns that stall easily. In our experience, cheap massage guns, especially those that cost $100 or below, cannot withhold more than 30lbs. of pressure even at the highest gear.
This is not enough for deep tissue massage, especially not for basketball athletes.
Stall Force Comparison of Our Recommended Massagers
We estimate stall force by comparing every device we test to 2-3 benchmark devices.
Another thing, such guns are usually low-amplitude guns. This takes us to the next key point.
---
Amplitude (Stroke Length)
Sometimes called stroke length, this is the distance covered by a massage gun head as it moves back and forth.
Again, for the muscly basketball players, the more here, the better. This is because amplitude helps with deep tissue massage. The harder the hits, the deeper the penetration into the muscle tissue.
But there are two main approaches here (or should we say three).
High amplitude devices – These are devices that provide intensity with deep harder hits. The stroke length here is 14-16mm. But percussions are fewer here. Good examples would include guns like Achedaway Pro and Theraguns, and Hypervolt 2 Pro.
Low amplitude devices – These provide intensity with many percussions. They often have a stroke length of less than 10mm. They are often mini guns or cheap full-sized guns. They tend to be vibrational at best – they can only massage the surface even when pressed hard against the skin.
Medium amplitude devices – These combine reasonable stroke length and many percussions. They often have 10-13mm amplitude. Compared to the high amplitude guns, they would feel vibrational. However, they can provide deep tissue massage with enough stall force. We like to call them "sweet spot" devices. They are not too punchy, but not too vibrational either. Good examples include Ekrin B37S and the new Hypervolt 2.
Stroke Length Comparison of Our Recommended Devices
Note that all values are actual and have been measured by us. They may differ from advertised figures (we know some massage gun brands tend to overpromise and under deliver).
Our Recommendation

We would recommend a medium or high amplitude device for basketball players. However, anything that is high amplitude has to have enough stall force as well (otherwise, it doesn't work).

You can combine low amplitude with a lot of stall force, but not the other way around.

For instance, a device with 12mm amplitude and 45lbs. stall force is, in our opinion, much better than a device with 16mm amplitude but less than 30lbs. of stall force.
---
Percussions
Percussions tend to be straightforward. Different combinations work for different devices, but the formula is pretty straightforward.
Devices that operate at 3000 RPM or more tend to be more vibrational.
On the other hand, devices with a percussion range of 2400-2500 RPM have a high stroke length and deliver punchier hits.
Our Advice
This parameter is easy to understand but challenging to advise on. That's because it ultimately comes down to your personal preferences, and we recommend trying different types to determine what works best for you.
To give you a better idea of how subjective this is, I prefer the vibrational feeling and usually use the B37 at its top speed (or at a progressive gear) for most of my sessions. Luke, on the other hand, prefers deep tissue massage and likes the punchier hits at lower speeds from the Achedaway Pro or our Theraguns.
Note one thing: Should you ever find a device that promises 3600RPM or more but has an amplitude less than 10mm, then don't buy it. Chances are it won't be good enough for a deep tissue massage. Unless you just want something to warm up your body before a workout.
Beware! We have seen massage guns that overpromise percussions only to deliver something else. For instance, some advertise 16mm amplitude and 2800RPM but deliver something like 10mm at best. For percussions, it's often one thing or the other and not both.
There are only a handful of high amplitude guns on the market today.
Max Percussion Comparison of Our Tested Devices
---
Speeds and Programs
We believe 4-5 speeds are enough. Don't be fooled by guns that promise 20-30 speeds; these rarely offer any real value. Cycling through these speeds is just a time-consuming game.
What may add value here are pre-programmed gears with massage modes that automatically change the intensity. This feature adds some variety to the massage experience, and your muscles can directly benefit from it.
Anything more? Yes…
Some high-end devices come with pressure sensors. These can be good when you want to be consistent in your massage but aren't a must-have. The same applies to devices with Bluetooth. It may be nice for beginners, but pro basketball players would probably not need them.
Learning how to use a massage gun doesn't take long to master.
---
Other Things Worth Consideration
Other aspects that you could consider include:
Build quality – Look for a device that is worth the money you are paying for it. The quality of materials used should be high and it should be well put together.
Noise – Our list includes devices that rev up to 63dB at the highest speed. That is quiet enough to have a conversation when you are using the device.
Weight – The sweet spot here is 2.2-2.5 pounds. However, some guns like Achedaway Pro and Theragun Pro may weigh more.
Ergonomics – We reward any attempts to improve ergonomics. We gave more points to devices that innovate here.
Accessories included – We check for the number of attachments, travel case or pouch, and others. For attachments, 5-6 are about enough.
Brand trustworthiness – A brand that does what it says is worth buying from.
Battery capacity and time on battery – These days this is not a big issue since most guns can do 1-2 weeks with a single charge. Also, bigger batteries only add to the overall weight of the device.
Warranty offered – We have noticed that cheap devices only offer a 1-year warranty. Best brands offer a lifetime cover.
Price or value for money – why pay more when you can have something similar or better for far less?
---
Summary
And there you have it! When choosing a massage gun, remember that versatility and power are key, especially if you're hitting the courts regularly.
That said, there's something for everyone and all budgets. We highly recommend going with Ekrin B37S. Achedaway Pro comes a close second.
For Hypervolts – NBA darlings – we would recommend Hypervolt 2 Pro. Theragun Pro is also great for the job, but only if you can afford it – both simply don't offer the best value for money compared to our picks.
So buy your device, get your muscles prepared for action and take it to the rack with ease!
We'd love to hear what you choose and how it works for you. The comments below are all yours, as is our Facebook group, Massage Gun Talk. Join now!
---
References
1.

Imtiyaz S, Veqar Z, Shareef M. To Compare the Effect of Vibration Therapy and Massage in Prevention of Delayed Onset Muscle Soreness (DOMS).

J Clin Diagn Res

. 2014;8(1):133-136. doi:

10.7860/JCDR/2014/7294.3971

2.

Cheatham S, Kolber M, Cain M, Lee M. THE EFFECTS OF SELF-MYOFASCIAL RELEASE USING A FOAM ROLL OR ROLLER MASSAGER ON JOINT RANGE OF MOTION, MUSCLE RECOVERY, AND PERFORMANCE: A SYSTEMATIC REVIEW.

Int J Sports Phys Ther

. 2015;10(6):827-838.

https://www.ncbi.nlm.nih.gov/pubmed/26618062

3.

Chen J, Zhang F, Chen H, Pan H. Rhabdomyolysis After the Use of Percussion Massage Gun: A Case Report.

Phys Ther

. 2021;101(1). doi:

10.1093/ptj/pzaa199

4.

Ferreira R, Silva R, Vigário P, et al. The Effects of Massage Guns on Performance and Recovery: A Systematic Review.

J Funct Morphol Kinesiol

. 2023;8(3). doi:

10.3390/jfmk8030138
Was this article helpful?
Thanks for your feedback!
Post Update History
Here's a quick rundown of all the tweaks and edits we've made to this article to keep it accurate and up-to-date!
Current version last updated on:
October 30, 2023 Major Update: Revised and fine-tuned content for better reader clarity. Added new test images and comparison charts for easier data interpretation. (Author: Greg)
April 14, 2023 Small content update that includes new recommended device blocks and some changes to external linking. Additionally, some of our in-hand videos have been added to better illustrate the reviews. (Author: Greg)
•
Written by:
Greg Szostak
Disclaimers
The views and opinions expressed on this website are those of the authors. Any content provided by our bloggers or authors are of their opinion and are not intended to malign any religion, ethnic group, club, organization, company, individual or anyone or anything.
All product names, logos, and brands are property of their respective owners. All company, product and service names used in this website are for identification purposes only. Use of these names, logos, and brands does not imply endorsement.
It is our policy to make every effort to respect the copyrights of outside parties. If you believe that your copyright has been misused, please provide us with a message stating your position and we will endeavor to correct any misuse immediately.
Some of the links in this post are affiliate links. As an Amazon Associate, we earn from qualifying purchases. This means if you click on the link and purchase the item, we may receive an affiliate commission, at no extra cost to you. This helps us keep this website alive. Learn more here.
Amazon Disclosure
massagegunadvice.com is a participant in the Amazon Services LLC Associates Program, an affiliate advertising program designed to provide a means for sites to earn advertising fees by advertising and linking to Amazon.com. As an Amazon Associate, we earn from qualifying purchases. Amazon and the Amazon logo are trademarks of Amazon.com, Inc. or its affiliates. Please refer to our Privacy & Affiliate Policy for details.