Disclaimer: Our content is unbiased, non-sponsored and fact-checked. If you buy via links on our site, we may earn a commission. As an Amazon Associate, we earn from qualifying purchases.
---
Have you ever wondered about what massage gun chiropractors use? Maybe you have been to a chiropractor and seen their work tool. Maybe you even got a treatment using one of those and felt refreshed from that session. Did you ever want to get a chiropractor massage for yourself later?
On the other hand, you could be a chiropractor yourself, reading this blog to find out whether there's something new out there to add to your current arsenal.
Well, this post will list what we think are the best chiropractic massage guns. We'll explain our reasoning behind what we recommend. We'll also tell you what to look out for if you want the best chiropractic percussion massager.
Lets dive in…
---
For those in a hurry…
If you already feel tired and just want your chiropractic massager so you can get on your way, here are our best recommendations:
Achedaway Pro – It has the highest amplitude, it's pretty powerful, it's well equipped and has great value for money. Use MGA50 coupon to get $50 OFF.
Ekrin B37S – Not the highest amplitude but revs at a high intensity, has mighty stall force and comes with a lifetime warranty. Use our

MGA20

code for 20 OFF.
---
Why Trust this Guide?
The first disclaimer we have to put out there is that we are not chiropractors ourselves. Neither are we medical experts of some sort. We may have visited a chiropractor or seen what they use, but we did not learn any chiropractic skills while there.
But what we are is ardent massage gun users – we are crazy about massage guns (call us massage gun freaks). We test a lot of these devices on a daily basis. At this point we have to say, we know quite a lot about massage guns – this post is written from a consumer perspective.
However, before we go recommending any device in our posts, we consult massage gun professionals – in this case practicing chiropractors, but also manufacturers themselves. We also scour the internet for credible sources which we link in our articles.
We don't just list a single product and heap praises upon it, but we also always list alternatives. We explain the major differences between products to give you an educated choice.
---
Why Do Chiropractors Use Massage Guns?
Before we get to the best chiropractic massage guns, let us first discuss why chiropractors need massage guns.
After all, don't chiros only focus on the spine, joints, and perhaps hard tissues? Why do they need massage guns?
Well, just like any medical field, chiropractic therapy has evolved to include many things in order to be as effective as possible. Because of this, many chiropractors have included massage therapy in their treatment to address not just the spine and joints, but the muscular tissues in the body – especially around these areas.
Chiropractic combined with massage therapy has several benefits:
Improved immune system.
Reduced compression and nerve irritation which reduces joint and soft tissue discomfort.
Reduced inflammation.
Increased blood flow.
Improved limbic motion and flexibility.
Chiropractors will often include massage therapy in their treatment if the patient has:
a misalignment in the joints,
the joint is inflamed, or
pulled muscles and tendons.
With a massage gun, a chiropractor can perform the following:
Trigger point therapy – Relieving pain by applying pressure to the trigger points.
Myofascial release – in cases of chronic pain and stiffness, tender massage and treatment is used to release the fascia and reduce the pain and tension.
Sports injury massage – In cases of muscle pulls from sports or heavy exercise. The aim is to keep the muscles limber to avoid injuring them further.
As you can see, chiropractors need massage guns to treat certain conditions. However, as much as you may want a chiropractor recommended massage gun for yourself, it's advisable to visit a certified chiropractor if you have any of the mentioned conditions or injuries.
---
So here goes our recommendations for the best chiropractor massage gun.
---
Theragun and Hypervolt – Most Popular Chiropractor Massage Guns
Theragun SALE Save up to $200 on 4th gen Theraguns. Browse all the deals
The two most famous massage gun brands associated with chiropractors are Theragun and Hyperice's Hypervolt. These two are both premium brands and have been around longer than any other massage gun brand – Theragun first appeared in 2016, while the first Hypervolt was unveiled in 2018.
However, what makes massage guns from these brands stand out, is the fact that they are proven to be durable machines, workhorses that can work for a full day without presenting huddles to the user – the removable batteries give them a huge advantage over other guns.
---
But which one is more likely the chiropractic's darling? Well, if you read our Theragun vs Hypervolt comparison post, we pointed out that Theragun has a medical touch to it. The idea behind its design was to help soothe pain.
Theragun was founded by a chiropractor – Dr. Jason Wersland – who came up with the idea when searching for a solution to his pain after a motorcycle accident.
That means Theragun more than likely has everything a Chiropractic would need to go about their business.
However, that is not to say that Hypervolt doesn't have anything to offer the chiro. Even though it was designed as a sports recovery device – for athletes – its early entry into the market made it a quick hack for chiropractors, some who still use it even today.
But there are key differences between the two products that are worth mentioning again (We covered the differences extensively in our Hypervolt vs Theragun post);
Theragun, from the very beginning held the percussive card. They were built with a high amplitude that could offer deep hits.
---
Hypervolts took a vibrational approach. Because the amplitude wasn't as high as Theragun, they added more intensity to the gun, this meant the gun worked more on the surface but at a higher speed.
Theragun has a scientifically calibrated amplitude that offers the best available – 16mm – amplitude.
Amplitude here just means the distance travelled by the massage gun head as it moves back and forth to give you the percussions.
With 16mm amplitude, Theragun boasts the longest one thus far – other brands are catching up though.
Hypervolt did finally release a revamped device that had an increased amplitude – that was last year. This means that Hyperice now owns a percussive device – the Hypervolt Plus. Their first device, however, still remains a vibrational device. Many professionals still use it but only to provide muscle relaxation, increase blood flow, and reduce muscle soreness.
A retired Physiotherapist offered his take on Theragun and Hypervolt on Reddit:
"The amplitude of the strokes [..in Theragun] is also significantly deeper at 16 mm compared to Hypervolt's 10. As a result, the massage head penetrates the muscle fibers deeper than a vibration type massager resulting in potential musculoskeletal changes and range of motion improvements."

bigpimpinainteasy, Reddit
Therefore, before you choose which device to go with, whether Theragun or Hypervolt, or any other device, keep in mind that a high amplitude offers deep percussive hits (Theragun-like) while a low amplitude will offer vibrational therapy, best needed for soft-tissue treatment (what the first Hypervolt has).
---
Which Theragun and Hypervolt Models Work Best?
Theragun
All full-sized Theragun models (Prime, Elite, and Pro) have been spotted in chiropractic offices.
However, the most popular one is Theragun Pro. It's the top model in their fourth generation set of devices.
It's the only Theragun with detachable batteries, something chiropractors value a lot – you can use one battery while the other charges. Theragun Pro also has even better ergonomics with the adjustable arm that is not available on its other two full-sized counterparts.
The Pro also has plenty of no-stall force compared to Prime and Elite. It has up to 60lbs. of stall force on top speed.
Remember stall force is the amount of pressure it takes to stall the motor of a device.
Stall force is an important aspect of the massage gun and has to be factored in together with the amplitude to effective performance. A device with the highest amplitude but stalls very easily may not be as effective when it comes to deep tissue treatment. The hits will be surface-level at best.
This is especially important for folks with bigger muscles (bodybuilders and pro athletes). Theragun Pro is the perfect massage gun for such cases.
Another Theragun that would also be worth recommending here is Theragun Elite – at least for DIY massage and personal use. It has decent performance aspects that we looked at in our Theragun Elite review.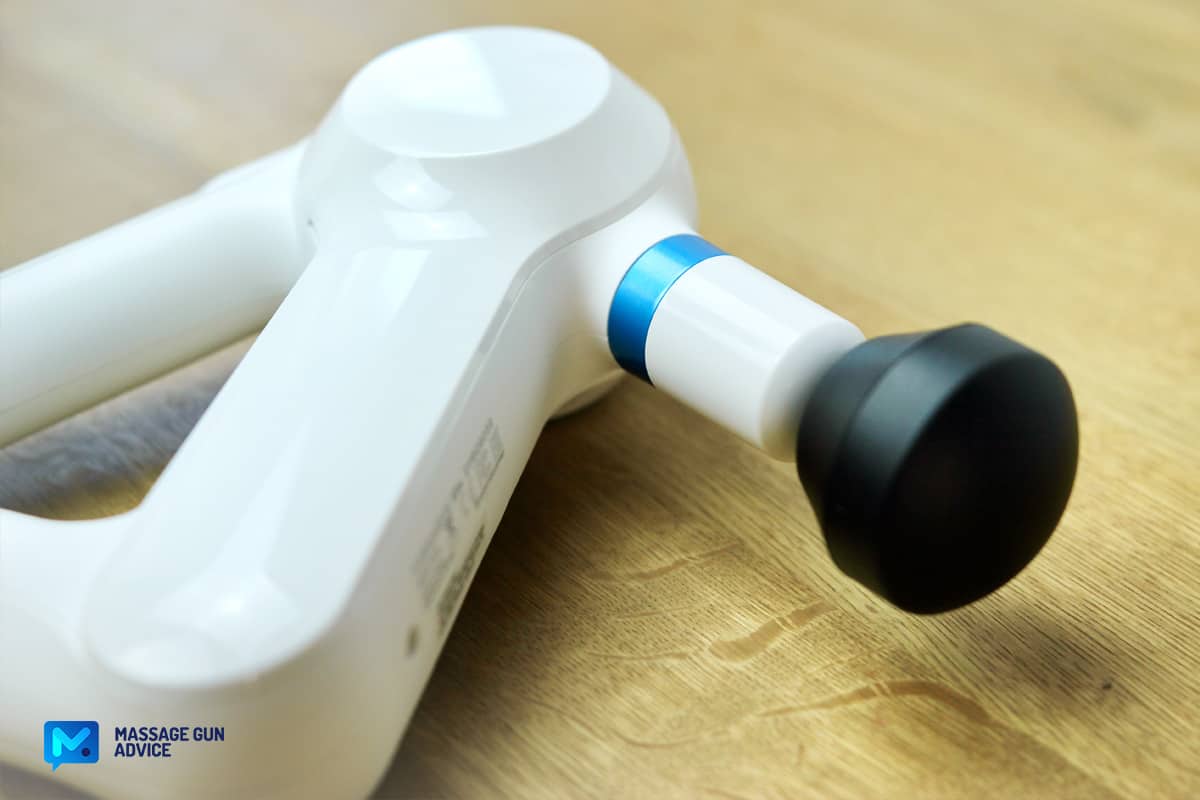 It doesn't have removable batteries like Pro, but it has more than enough power to serve most users.
TIP You can read our Theragun Pro vs Elite vs Prime post for more information on how the Theraguns compare.
Theragun SALE Save up to $200 on 4th gen Theraguns. Browse all the deals
---
Hypervolt
The best chiropractic Hypervolt in our opinion is the new Hypervolt Plus that came out last year. This one finally has the specs needed for a deep tissue massage.
For starters, the amplitude has massively been increased, from the dinky 10mm on the older device – which was intended to be a vibrational gun – to about 14mm (our own measurement). This is not as high as Theragun's 16mm but if you got a chance to compare the two, the difference is almost negligible.
The stall force on Hypervolt Plus also significantly increased. We did our own tests and concluded that it was about 45lbs. of pressure (read the Hypervolt Plus review for more). This makes it harder to stall than even Theragun Elite. The new Hypervolt 2 Pro, however, felt weaker than the predecessor Plus, with estimated 35lbs. of stall force.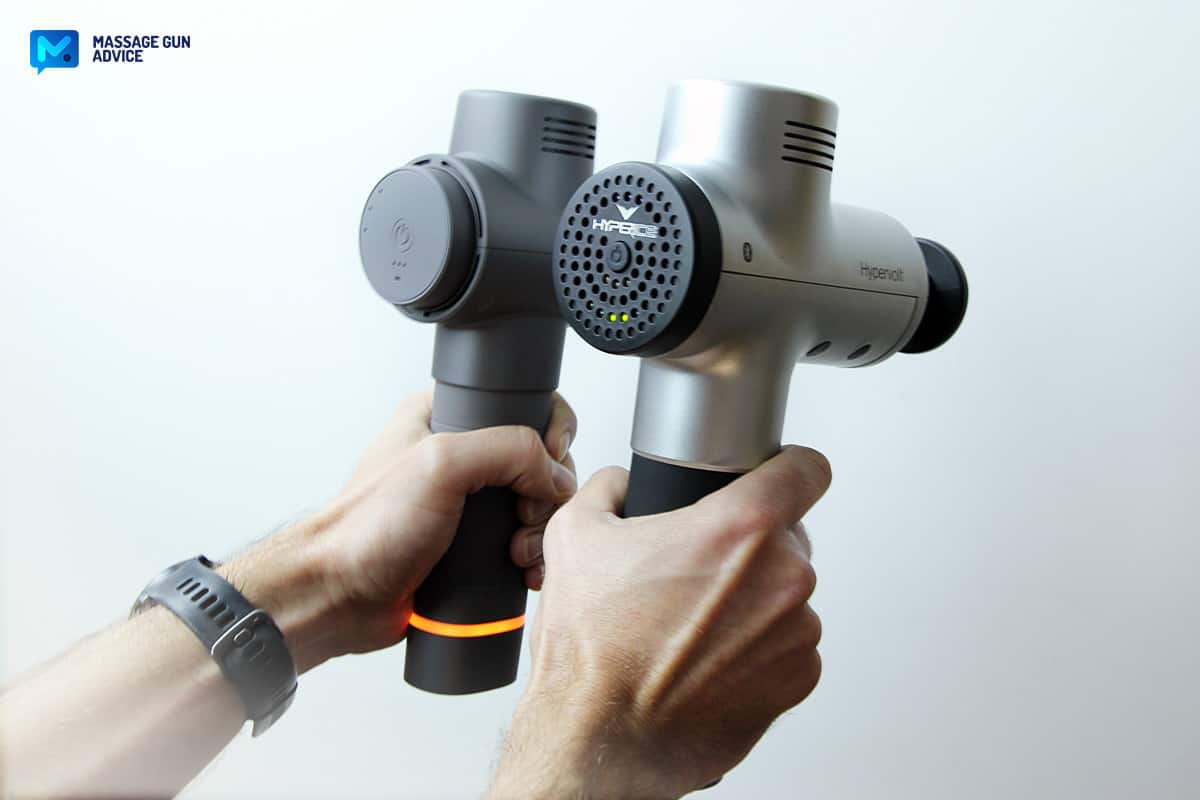 But perhaps Hypervolts have something that Theraguns don't have, and that is more rpms. Hypervolts have up to 3200 rpms, while the best any Theragun can do is 2400 hits per minute. The fact that the difference in amplitude isn't that big, makes Hypervolt 2 Pro (or earlier Plus) a worthy device in our opinion.
What Hypervolt doesn't have is Theragun's superb ergonomics. For their new device, Hyperice chose to stick to the classic T-shaped design which is not the best ergonomically. That said, they did improve the handle which is now oval-shaped in the new 2 Pro – makes it better to hold.
It also has 5 nicely varied attachments (better than those on Elite, in our opinion, more varied).
It's also cheaper than Theragun Elite. It's a solid buy if you can afford it. Get it here at Amazon →
---
Are Chiropractor Massage Guns From Other Brands Worth It?
Absolutely! Even though Theraguns and Hypervolt are easy to recommend and professionals love them, they have a number of cons, either in specific models (covered extensively in our reviews) or in general.
These ones are hard to miss:
They are terribly expensive
They are not well equipped unless you buy the top models or are prepared to pay extra for the equipment.
Poorly covered by brands. Just a 1-year warranty for Hypervolt and the other Theraguns not named Pro which has a 2-year warranty.
They have no overall value for money if you consider the alternatives you can get for much less.
Some can be loud (Theraguns). There are alternatives that are much hushed. Some are ergonomically poor, as is the case with the Hypervolts.
But, if you can take a look elsewhere, there is a thriving competition that wasn't there between 2017 and 2019. There are brands that offer quality alternatives that are hard to ignore especially in 2021.
These brands offer alternatives that cost half the price of some of those big guns. That means that chiropractors now have a wide variety of products to choose from.
Because of these new brands that are offering quality products, don't be surprised to find Chiropractors using some of them. As long as these devices are percussive – have a high amplitude and can be pressed harder against the body – they are good enough to be chiropractic massage guns.
The following are some of them.
---
Best Chiropractic Massage Guns (Other than Hypervolt and Theragun)
---
Achedaway Pro
This one is likely the best alternative to both Theragun Pro and Hypervolt Plus. It matches those pound for pound.
For starters, it has a 16mm amplitude – the highest in the business. That matches Theragun Pro and beats Hypervolt Plus.
It also has a powerful motor that is advertised to withstand over 80lbs. of pressure (stall force). That sounds better than anything you've ever heard, right? Well, in our tests it was just as powerful as the 60lbs. in Theragun Pro – Achedaway may have overstated the power in their device.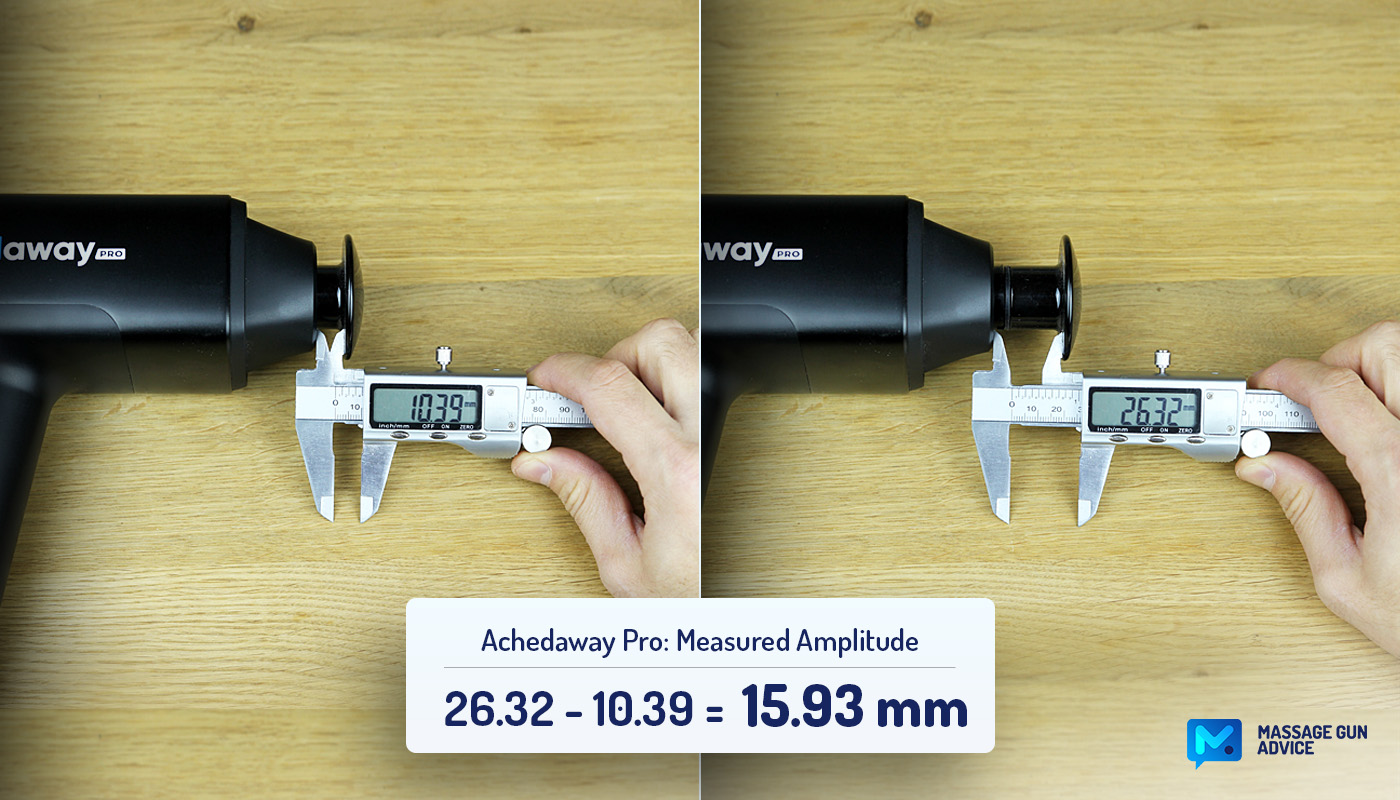 That said, it can rev up to 2800rpm. That is more than any Theragun and close to what the Hypervolts can do. It however beats Hypervolt with the longer amplitude.
It's also a very hushed massage gun. We were surprised that such a colossal device could be really quiet considering how loud our Theragun Pro was.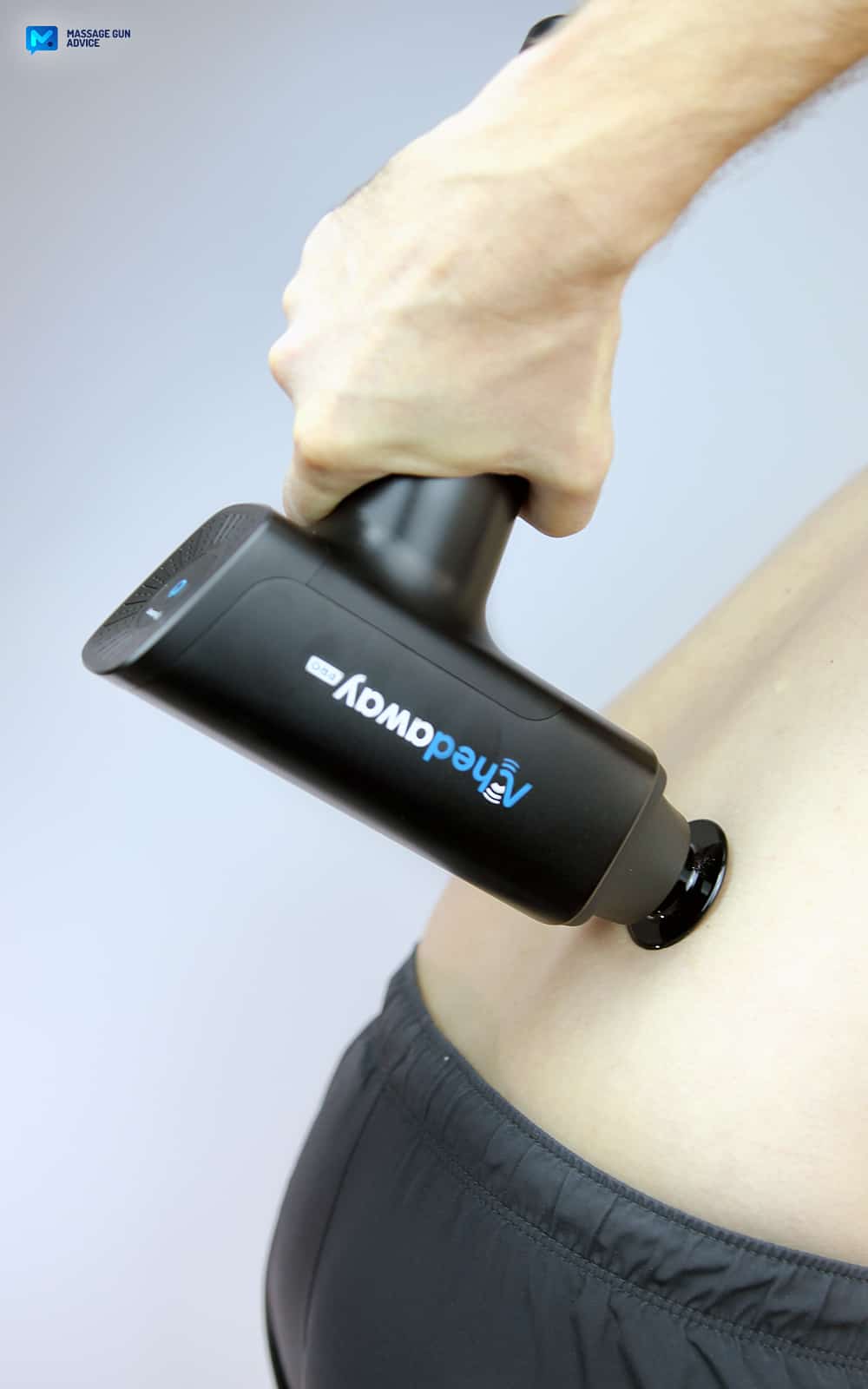 It also comes with removable batteries – something that Chiropractors will appreciate. It's nicely equipped with a carrying case and quality attachments. It has two aluminum coated attachments that are a thing of beauty.
The Pro comes with a 2-year warranty – which is the same as Theragun Pro and 1 year better than what you get with Hypervolt Plus.
DEAL ALERT Use the special HOLIDAY60 code at checkout to get $60 off Achedaway Pro. Pay $239 instead of $299. Apply the coupon here.
You can buy it for $299 or use our MGA50 coupon code that gives you a $50 discount. That means it's only $249 for you or $319 with the extra battery.
TIP You can read the full Achedaway Pro review for more details on this extremely powerful device.
---
Ekrin B37S

Ekrin has been one of our favorite massage gun brands ever since we got and tested their very first massage gun – Ekrin B37.
Turns out Chiropractors love Ekrin as well. Apparently Ekrin offers something unique with their massage guns – vibrational therapy meets percussive therapy. With a 12mm stroke length Ekrin B37S is somewhere between a vibrational therapy device and a strong punching massage gun.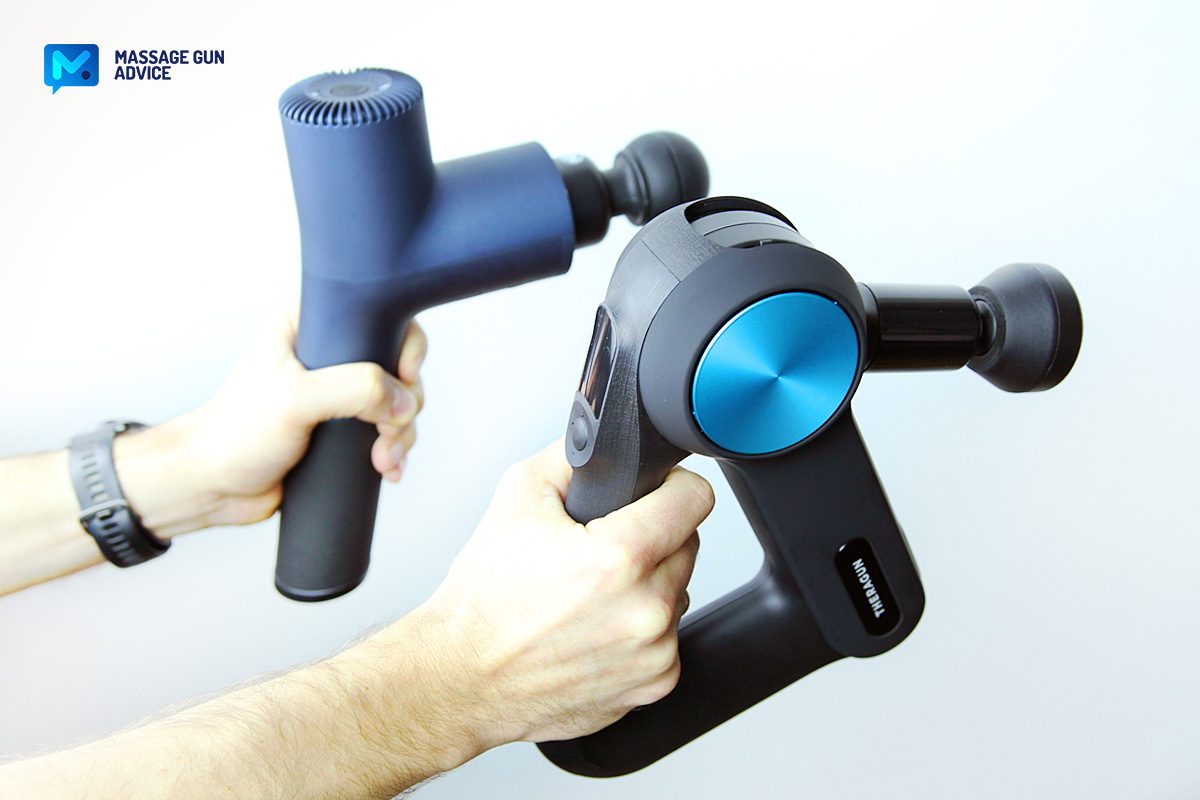 What makes it even worth the consideration is the amount of pressure this device can withstand. With 56lbs. stall force, the device can be pressed hard against the skin.
With that kind of power and a much lenient stroke length, you can switch between an aggressive massage and a soothing massage. The hard-pressing can yield great percussive results while the soothing is aided greatly by the high intensity that this device can achieve – up to 3200rpm, just like Hypervolt.
Ekrin also (in a way) has revolutionized the ergonomics for some of these other brands. The typical slanted handle is hard to miss.
It comes with a nice carrying case – something alien with Hypervolts. It has 6 attachments that you can employ on different parts of the body, a lifetime warranty and lifetime customer support – the folks there are nice and friendly.
The battery is non-removable but can run for 6 continuous hours before you may need to charge the device.
The B37S goes for $329.99 but you can get it for $263.99 if you use our MGA20 coupon (gives you 20% discount).
TIP Find out more in our full Ekrin B37s review →
---
On a Budget? 2 Affordable Chiropractic Percussion Massagers
---
Opove APEX

This one looks like no other massage gun. It is very unique, and has some impressive performance specs.
The Opove brand has been on the market for a while and built a reputation for offering great affordable devices. Turns out some of these devices are great alternatives for professionals.
The APEX has the same angled-handle configuration as Ekrin B37S – superb ergonomics – and has about the same weight in comparison (weighs 2.3lbs, Ekrin weighs 2.2lbs).
But It has nearly 15mm amplitude – 14.6mm to be exact – which is less than 2mm shy of Theraguns and Achedaway Pro.
It has a decent stall force – advertised as up to 45lbs. It's not as powerful as Ekrin B37S or even Achedaway Pro, but it has bragging rights over some of the Theraguns especially Prime and Elite.
The Opove gun can rev up to 2300rpm – the second slowest revving gun after the Urikar (our next pick). Even though the intensity isn't spectacular, combined with a high 15mm amplitude can be awesome for demanding users.
Overall, it's not as fancy as the Theraguns, but its simplicity and high quality is something that many will appreciate.
It currently costs $159, fantastic price for what it offers. Get it from Opove website.
TIP You can read the full Opove Apex review for more information →
---
Urikar Pro 2
Urikar are known for being innovative and perhaps futuristic – we recently reviewed their futuristic AT1 massage gun.
The Pro 2 is a heated massage gun. The heated massage gun niche has been on the upward trend. We voted it the best heated massage gun – it has a ceramic heated attachment.
A heated massage increases muscle flexibility, helps the muscle relax and reduces pain in muscles. The twist in this device is that only one attachment is heated, the rest allow you to have a normal massage.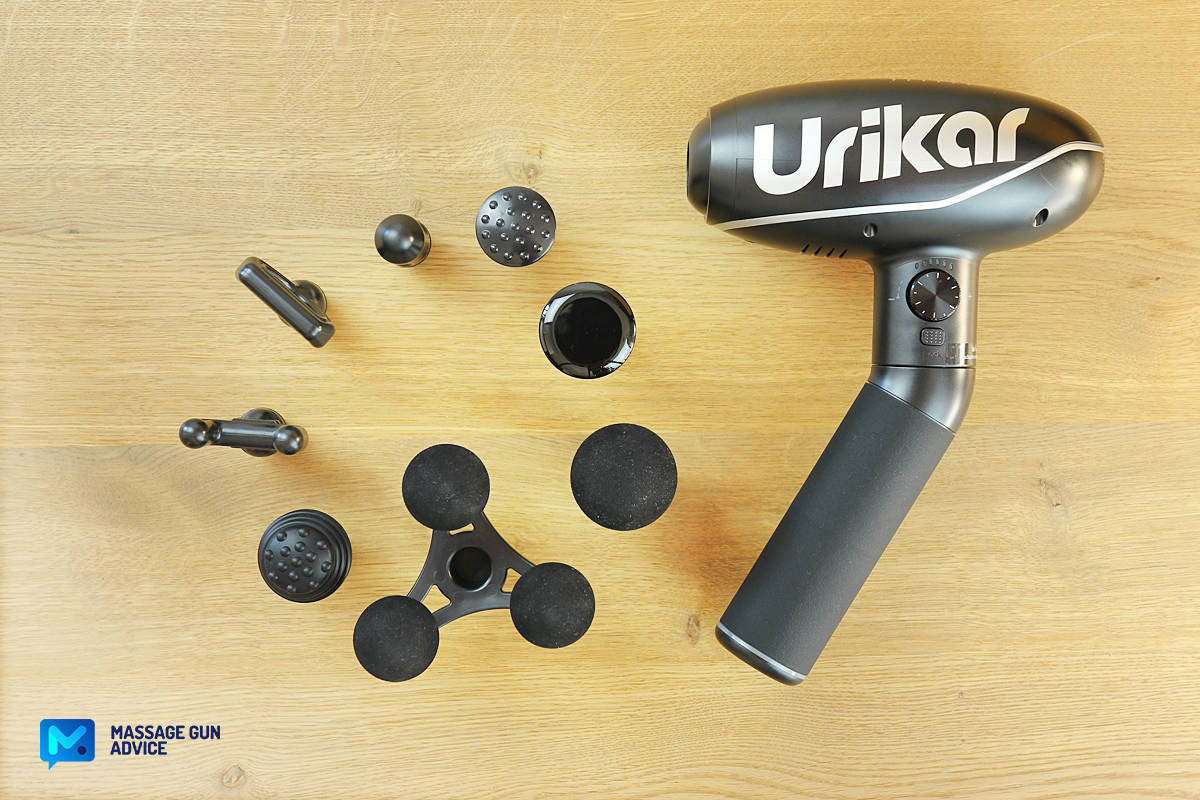 It has a 15mm amplitude and up to 50lbs. of advertised stall force – even though in practice it feels much less, it's powerful enough to get the job done.
It has a pretty unique approach to ergonomics with its 360-degree rotating handle. It's a quiet massage gun, but so are our other recommendations – most of them at least.
It costs $149.99 but you can get it for $119.99 directly from urikar.com if you use the URIKAR200 coupon code that gives you a 20% discount.
TIP Find out more in our full Urikar Pro 2 review →
---
Chiropractor Recommended Massage Guns – Conclusion
Hopefully now you have the information you need to pick a chiropractor massage gun. It's important to note that massage guns come with a lot of benefits if used properly by the right people.
Chiropractors all over have learned the importance of these devices and have embraced them. Even though many may prefer to use premium devices like Theragun and Hypervolt, alternatives such as Achedaway Pro and Ekrin B37S are cheaper and just as effective.
If your budget cannot allow you to buy those two alternatives, there are even way cheaper alternatives for you – everyone is included.
That said, no matter what you choose to go with, just remember to use a massage gun correctly.
In case of doubts or further questions, feel free to post a comment below or ask us a question here.
Until next time!
Disclaimers
The views and opinions expressed on this website are those of the authors. Any content provided by our bloggers or authors are of their opinion and are not intended to malign any religion, ethnic group, club, organization, company, individual or anyone or anything.
All product names, logos, and brands are property of their respective owners. All company, product and service names used in this website are for identification purposes only. Use of these names, logos, and brands does not imply endorsement.
It is our policy to make every effort to respect the copyrights of outside parties. If you believe that your copyright has been misused, please provide us with a message stating your position and we will endeavor to correct any misuse immediately.
Some of the links in this post are affiliate links. As an Amazon Associate, we earn from qualifying purchases. This means if you click on the link and purchase the item, we may receive an affiliate commission, at no extra cost to you. This helps us keep this website alive. Learn more here.
Amazon Disclosure
massagegunadvice.com is a participant in the Amazon Services LLC Associates Program, an affiliate advertising program designed to provide a means for sites to earn advertising fees by advertising and linking to Amazon.com. As an Amazon Associate, we earn from qualifying purchases. Amazon and the Amazon logo are trademarks of Amazon.com, Inc. or its affiliates. Please refer to our Privacy & Affiliate Policy for details.