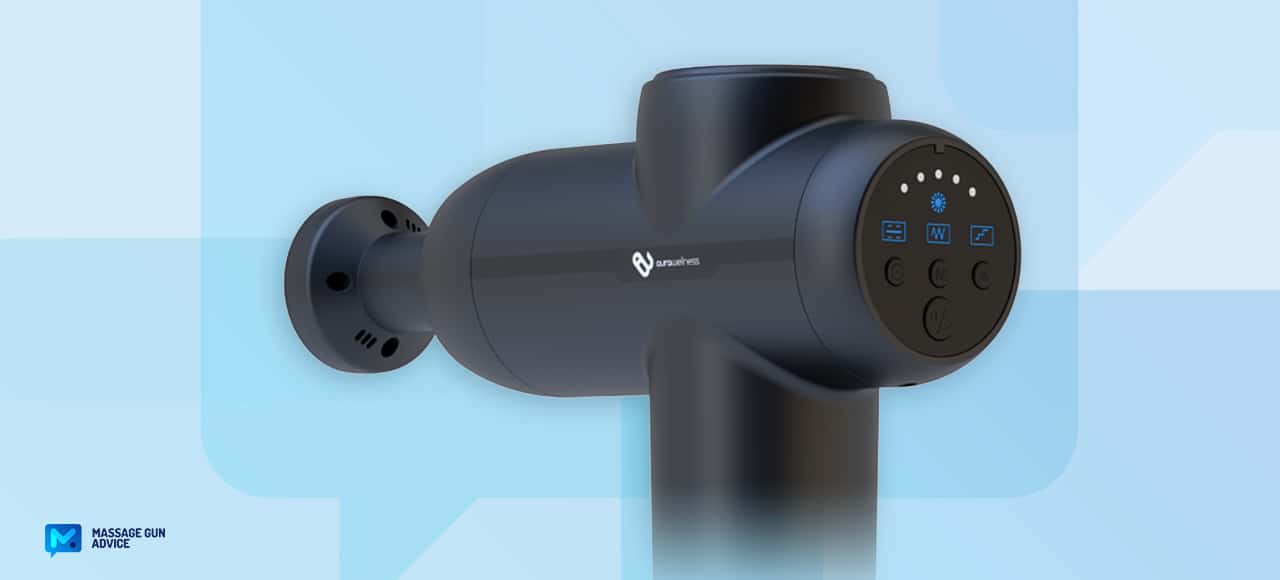 Aura Revive Massage Gun Review – FSA/HSA Eligible With Great Features, But Is It Worth The Money?
Disclaimer: Our content is unbiased, non-sponsored and fact-checked. If you buy via links on our site, we may earn a commission. As an Amazon Associate, we earn from qualifying purchases.
---
Welcome to the Aura Revive massage gun review. We stumbled upon the Aura Revive percussion massager a while ago. We bought it and put it through our usual tests.
There are things we liked about it. The first thing that intrigued us was its HSA/FSA eligibility. We also wanted to see how effective it is as a heated massage gun. Its specs aren't bad, either.
We tested it using the usual criteria and now have a lot to say about it. Read on for more.
---
---
Who is Aura Wellness?
Aura is based in the US, in Brooklyn, New York. This is a relatively new device on the market, but their portfolio says they have been around since 2013.
Apart from massage guns, they also sell other products from two other branches. The branches are Aura Medical (they sell Nebulizers and steam inhalers) and Aura Daylight (they sell light therapy devices).
We found out they don't sell their products on retail channels like Amazon or Walmart. They work exclusively with HSAstore and FSAstore. You can only find their products in these stores.
The Aura Revive is their flagship massage gun. It has tons of reviews, many of them very positive.
---
Aura Revive Massage Gun Review
Aura Revive Specifications
Features
Aura Revive
Stall Force
~25-30 lbs
Stroke Length
9 mm (advertised: 12mm)
Max Percussions
2600 ppm (advertised: 3500ppm)
Speeds
5
Battery Life / Capacity
3h / 2600 mAh (non-removable)
Attachments
8
Weight
1.92 lbs
Noise
50-65 dB (advertised: 40-60dB)
Main Pros
Heated mode
Dynamic speeds
Interesting attachments
Good size
Main Cons
so-so amplitude and stall force
max. percussions lower than advertised.
no rubber on a handle
Warranty
One year
Price
$199.99
FSA/HSA eligible
Where to buy with discount
Get it at FSAstore.com or HSAstore.com
Aura Revive Specifications (according to aura-well.com​1​)
---
First impressions
There's nothing surprising about the design; we've seen it before with devices such as Mebak 3 and Darcorm.
However, despite the classic T-shape design, we like the modern approach they took. It has a nice finish with curved edges, similar to Mebak 3. The entire body is made of plastic, but good quality plastic. It feels and looks well put together. It's sturdy enough and will do the job for a while.
There are no visible screws; you'll have to go all the way underneath the panel to find one. We also like the matte black finish, although we would've appreciated a bit more variety in terms of color – you only get the black version.
Another good thing is the zippered carrying case that looks awesome. Everything is neatly packed, including a user manual with the gun's specifications, warranty information, and instructions on how to operate it.
---
Size, Weight, and Ergonomics
It's a full-sized massage gun, but not as large as we earlier suspected. It measures about 6.3"x 8.4"x2.4".
The handle isn't adjustable but looks decent. It's a little shorter than we have seen with many other guns, but it will do. The short handle is great for maneuverability but may come up a little short when you are trying to reach your back.
Since it's a tad smaller than larger guns (e.g. Lifepro Sonic LX), we hoped it would also be lighter. We measured it on our high-precision scale and saw 1.92 pounds with a flat (heated) attachment mounted, so light indeed, and within the optimum 1.9 – 2.2lbs. range (for a full-sized massage gun).
Also, we like that it's well-balanced – most of the weight is in the handle.
The handle diameter will feel okay for most folk, but guys with smaller hands may want something similar to Ekrin 365. Even so, this one will still hold.
We only wish Aura had added a bit of rubber on the handle to increase the grip. We worry you'll have to deal with sweaty hands if you use it for long sessions.
The handle is also a fingerprint magnet.
Our Take
That said, we still like its size and how well-proportioned it is. However, we are a bit disappointed they didn't try to make it lighter.
---
Controls
If we compared the Aura Revive massage gun to other devices before, things look a little different here.
You rarely see a 4-button control device. We are used to one-button operation devices. We also know of devices with an on/off switch at the bottom of the handle. The Aura Revive percussion massager does things a little differently.
The difference isn't because Aura is trying to be unique; this device has different massage modes. Aura thought it wise to have a button for each mode.
The most visible button is the activation button (depicted by the Pause/Play icon). This button activates the device at the first speed. You can press the button again to increase the speed. The speed indicators are 5 LEDs at the top of the screen.
The other 3 buttons are reserved for the 3 different modes.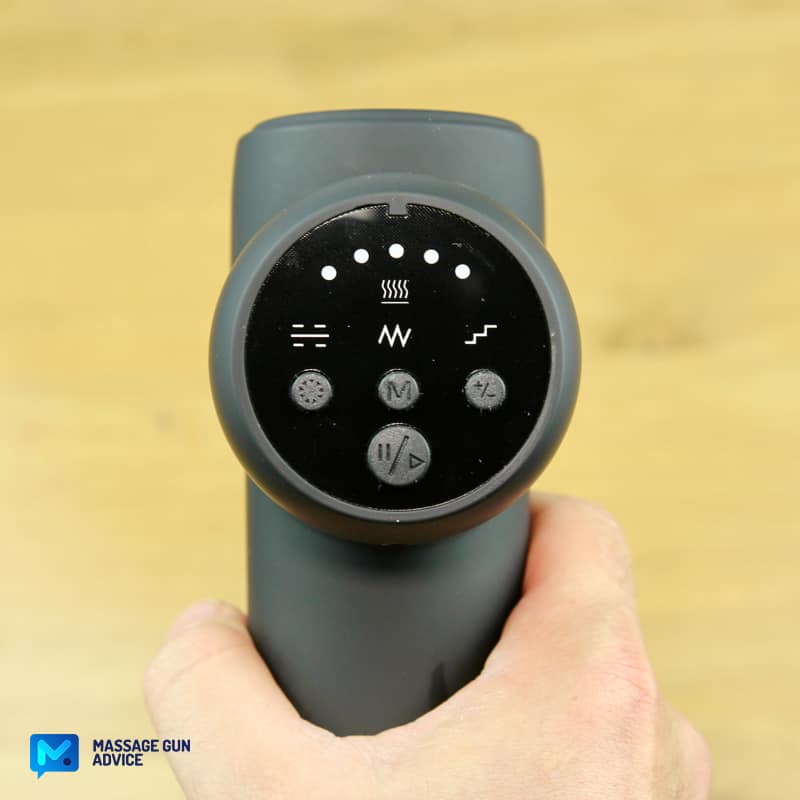 ---
Massage Modes
Let's take a look at the massage modes on this gun.
---
The Heated Mode
The first of the 3 massage modes buttons activates the heated mode. The same button deactivates the mode. Once on, you will see a "sun" icon light up at the center of the display.
The heated mode works with a special flat attachment. Ensure it's properly inserted before activating the mode.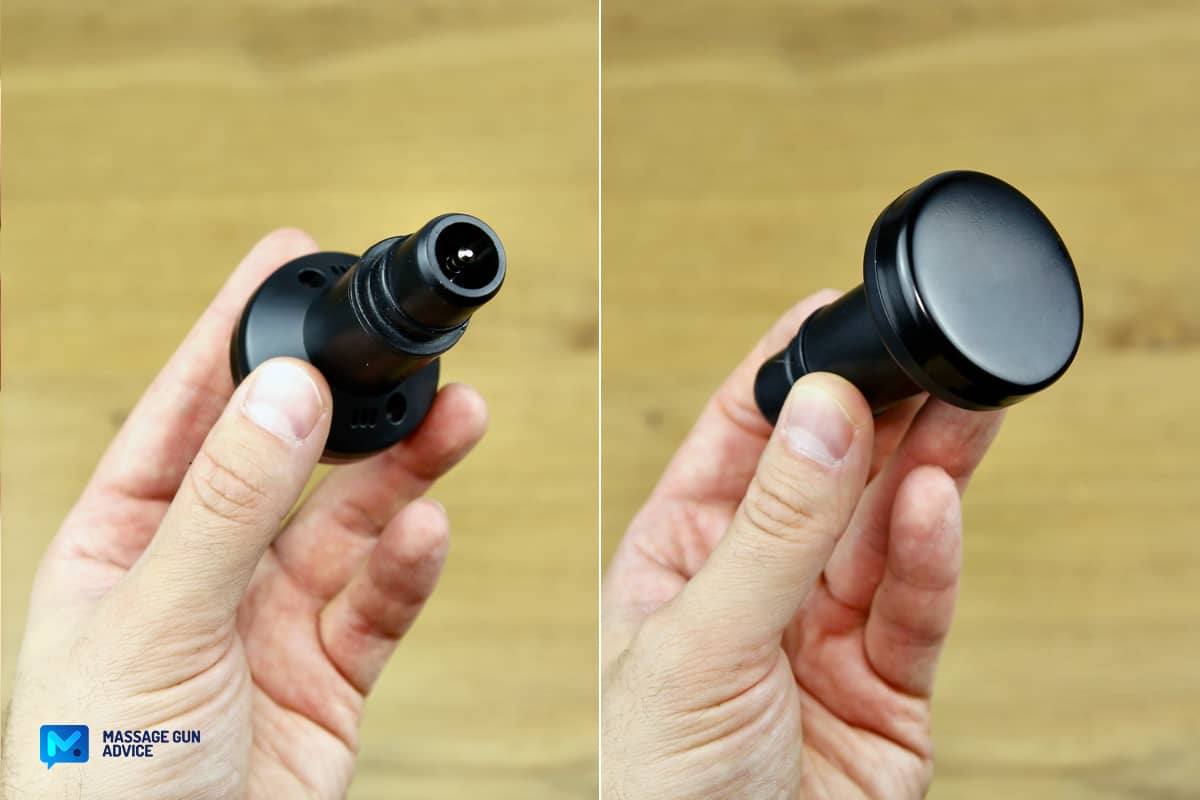 Aura says the heating technology used here is infrared and patented. We thought it looked pretty similar to what we saw with Urikar Pro 2 massage gun and similar heated massage guns. Either way, it works okay and gets pleasantly warm after about a minute or two.
We concur with Aura that the heated mode helps to relieve pain by promoting blood circulation​2–4​. We talked about heated therapy in massage guns in a different post. We won't go into details here, but it suffices to say that this feature elevates the status of this device.
The therapy is perfect for the back of the neck, shoulders, arms, legs, and calves. You can use the treatment after running or cycling in cold weather. It's also perfect for just before you retire to bed. We like the heated attachment more than the others.
But the heated mode isn't the only mode here. There are two other modes.
Fluctuating Mode
You can activate this mode using the center button. In this mode, percussions go from low to high in that order.
Ladder Mode
In this mode, the speed increases sporadically. It goes from low to high and so on.
These two modes are very similar to the Urikar Pro 2 modes. They are nice to have, but perhaps as optional modes. They are not as top-notch as the heated mode.
---
Attachments
There are 8 attachments that come with this device. 8 is generous, but we like that they are varied, even if some of them feel similar.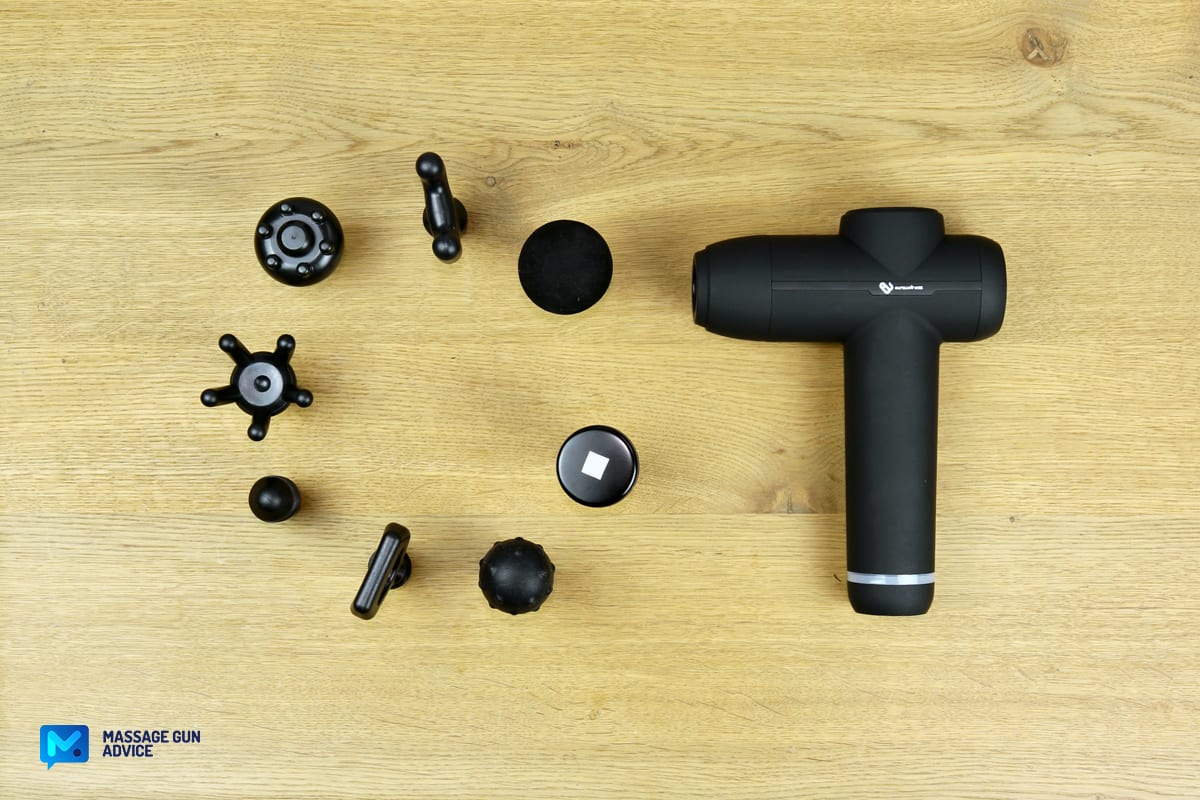 They are as follows:
Flat head – It's the one that works with the heated mode, but you can also use it without the heat.
Bullet head – This one works on trigger points, small muscles, and feet.
Fork head – The classic spinal head works along the spine. It can also work as a bullet head substitute or as a double-bullet head option.
Shovel head – You can use it on your back, calves, or large muscle groups (it's good for scrapping).
Mace head – It's the one with little ridges. It works on large muscles and may feel a tad more aggressive than the flat head.
Lotus head – It's a combo of the flat head and bullet tips. It's good for the calves. It's the best one to use for massaging away plantar fasciitis.
Five-claw head – It's the most unique in the set. It also works on local pain points.
Ball head – It's the standard ball attachment. It's made of EVA foam.
Our Take
Overall, this is a good set of attachments, even if most are made of hard plastic. We love that they included spare gaskets for the attachments – gaskets tend to wear out over time – nice touch!
---
Performance
Let us take a look at how this Aura massage gun performs.
---
Amplitude
Also known as stroke length, it's the distance traveled by the massage gun head as it percusses. It determines how deep a massage you can get.
We couldn't find the stroke length information on Aura's HSA/FSA product page, but the manual says it's 12mm. We measured it just to be sure (as we always do), and it's close to 9mm, not 12mm as the manual claims.
Now, 3mm isn't such a huge difference, but it matters a lot in the percussive therapy world. With 9mm, the gun will be a little more vibrational than percussive.
It means that this is the kind of gun that will suit you if you want a light, soothing massage to relieve light muscle soreness​5​, get the blood flowing, and massage the small muscles in the body.
However, it may not effectively massage deep into the muscle. It will also not be very effective on large muscles. You will need a gun with a much higher amplitude to achieve deep tissue massage.
Just to compare, it has about 50% less amplitude than any full-sized Theragun or Achedaway Pro (both have a 16mm amplitude). Theragun mini has 12mm amplitude – 25% more, even though it's a mini massage gun.
---
Stall Force
The Stall force of a device is its motor's ability to withstand pressure. Sometimes when a device's amplitude is a little disappointing, the stall force can save the day if it's stable enough.
Again, we couldn't find the stall force information for this device. We had to estimate it using the devices whose stall force we already know.
Our estimation says it has a stall force of 25-30lbs. This is a figure we associate with entry-level massage guns. It slows down when pressed against the body. Nonetheless, we did notice the stall force gets better at speeds 4 and 5.
We compared it to Theragun Prime (the entry-level Theragun), and it stalls faster than the Prime. However, measured against what we think is its true competitor – Urikar Pro 2 – it feels a tad more powerful.
Compared to another competitor, Ekrin B37, it has 50% less power. The B37S has 28lbs. of stall force on its first gear alone. The top gear has 56lbs. of stall force.
But don't let these numbers scare you from trying out the Aura Revive percussion massager. We believe this gun has enough power for the average Joe or Jane out there. About 85% of folks don't need an aggressive massage where they must press the gun against the body.
Also, if you have never used a massage gun before, this gun has more than enough power for your first-time use.
---
Speeds, Percussion Range
We appreciate that the Aura Revive doesn't have 30 speed settings as we have seen with some guns. 5 speeds are enough, and you can easily toggle between them using the main button.
The percussion range is very impressive (at least on paper, it is). It says that it can go from as low as 1100RPM to 3500RPM. We have yet to see a massage gun with this kind of range and amplitude.
We had to confirm this using our digital laser tachometer. We measured 1200ppm at the first speed and 2600ppm at the top speed. Specifically, for gears 1 through 5, here's what we got; 1260ppm, 1530ppm, 1820ppm, 21800ppm, 2580ppm.
Based on our measurement, it's clear that Aura overstates the percussion – slightly for the first gear and even more for the top gear (25% less).
But how much of this actually matters? Well, not so much for most people, but for those who look for maximum intensity, the discrepancy in percussions might be discouraging.
The 1200-2900RPM range if okay for most people – you won't even notice the few ppm missing. You will still miss the intensity of 3200RPM, as seen with Ekrin devices, but the wide range here is good enough.
We believe it works best at the top speeds. The lower speeds will work better with the heated mode, where you typically don't require a lot of pressure.
---
Our Take on Performance
Aura Revive is a reasonably powerful entry-level massage gun. You can apply decent pressure when you need to, and it quickly resumes percussions when stalled.
However, we still think the 9mm stroke will feel vibrational and may be disappointing for users who were hoping for 12mm – a 25% less than advertised.
The exaggeration in percussions is also something to be aware of.
This isn't a huge deal breaker since it's within the acceptable range, but with the low amplitude and not-so-great maximum percussions, the gun won't match the best massage guns on the market.
---
Noise
Noise isn't an issue here, Aura Revive is a very quiet massage gun. The low amplitude helps to keep it hushed – high amplitude devices tend to be noisier.
The lower than advertised percussions also help to reduce the noise: since the machine doesn't percuss so fast, it makes less noise.
In dBs, Aura advertises 40dB at the first speed and 60dB for the highest speed gear. We think this is slightly understated. Our noise meter measured 52dB and 64-65dB. This is quiet enough, and the noise will not be disturbing.
We didn't hear any major rattling during our testing. We also noticed that there are very few vibrations transferred to the holding hand during operation, which is great!
---
Battery
The battery is 2500mAh capacity-wise. You should expect it to do 2-3 hours for consecutive use. The battery time will heavily depend on speed and pressure applied during operation.
The extra modes, especially the heated mode, will expend more energy. The battery is non-removable.
You can check for how much juice is left by looking at the 4 LEDs beneath the handle or checking the color of the LED ring on the handle – it's red when empty or nearly empty and green when fully charged.
---
Price – Is it Worth it?
The Aura Revive costs $199 on HSAstore.com and FSAstore.com. This is less than the entry-level Theragun Prime but slightly on the higher side for such a massage gun in 2022.
No doubt it's the best FSA/HSA eligible massage gun out there because no other gun offers the kind of features it has as a single package.
Other HSA-approved guns include the Zarifa mini gun, Theragun mini, and Theragun Prime (only when bought on Recoveryforathletes.com, which accepts FSA and HSA cards).
If we compare it to other FSA/HSA eligible gun, it has a greater price-value ratio. For instance, no other gun has the heated mode.
However, if you take away the FSA/HSA factor, it rarely triumphs over other guns. There are cheaper and better alternatives out there. See them below.
It comes with a 1-year warranty. We don't know whether this gun will hold out for a long time. However, if you don't want to worry about cover for your massage gun, there are other guns out there with better warranties; some even offer lifetime warranties.
---
Who is it Best For, Then?
This is a good entry-level massage gun for everyday use at home. If you are just starting with massage guns and don't need something too powerful and hard-hitting, this is the gun for you.
Also, if you feel you can benefit from a heated massage, this is worth a buy. It's an option for folks who are looking for an FSA/HSA eligible massage gun – the high price shouldn't be a problem.
It will be a good gun for:
People who work behind a desk – perfect for neck and shoulder treatment.
Amateur runners who want to warm up muslces before a run and treat them afterward.
However, it may not be the perfect pick for:
Those who want a true deep-tissue massage experience
Those who prefer an aggressive massage. You will need more stall force and a higher amplitude gun.
Athletes who may find the specs here too weak. Bodybuilders and weightlifters will prefer something more aggressive.
Those looking for a Theragun alternative. This gun doesn't have a Theragun-like setup. It will still help ease the tension in muscles. We have listed some alternatives you can check out below.
---
Best Aura Revive Massager Alternatives
---
Opove M3 Pro
This one looks very similar to the Aura Revive Percussion massager, at least as far as the overall design goes.
However, it has plenty of advantages over the Aura Revive. The only disadvantage is that it's not FSA/HSA eligible. It also doesn't come fitted with the heated mode.
However, it's 40% cheaper than the Aura. Opove is a top brand that has been around for years. The M3 Pro is their flagship massage gun.
The M3 Pro has a stable and fantastic 12mm amplitude (25% more than Aura) and a stall force of about 40lbs. The percussions will not slow down when you press it against your body. It's also quieter than the Aura Revive.
It comes with 5 silicone attachments that are awesome in quality.
It has the same dimensions as the Revive and weighs 1.9 pounds, precisely the same as Aura Revive.
It only costs $119 when purchased on Opove.com – $80 less than the Aura revive.
Read More Our hands-on Opove M3 Pro review.
---
Ekrin B37
This one isn't HSA/FSA approved either. However, it's an all-inclusive, premium option that also comes with a lifetime warranty.
We voted Ekrin the best massage gun brand in 2022. Their B37 device beats the Aura Revive in many aspects. It's also cheaper.
For starters, it's more powerful and more versatile than the Aura Revive. It has a stall force of up to 56lbs. it also revs much faster than the Aura Revive – up to 3200ppm.
Also, compared to the Aura Revive, it's made of premium materials. It feels soft to the touch and has a top-quality look.
Even the accessories, such as the carrying case and the attachments, are nicer quality compared to Aura Revive's.
It's a light one as well, it weighs 2.2 pounds. Ergonomically, it has a better handle that is easier to hold. The handle is slanted, which helps to ease tension on the wrist.
The device comes with a lifetime warranty. It's the only gun here with a lifetime cover.
The regular price is $229.99, but with the MGA20 coupon you get 20% discount, which makes it $183 – cheaper than the Aura Revive massage gun. Buy it right here.
Read More Our in-depth Ekrin B37 review.
---
Urikar Pro 2
This one is a budget option that doesn't come close to Ekrin or Opove but offers similar features to the Aura Revive for a fraction of Aura's price.
For starters, you get a true 12mm amplitude – we verified it. The handle is ergonomically better than the Aura Revive's. The handle rotates and locks in two positions improving the gun's overall reach.
It also has the same massage modes as the Aura Revive, including the heated mode.
The heated mode works the same way as Aura Revive's. It also has the same Ladder and Intermittent modes.
However, it has a much lower stall force that will not support aggressive use. It's also bulkier than the Aura Revive but a tad lighter.
The best advantage here is the price – only $83.80 if you use the PRO2 code to reduce the price from $155.99 – a 45% discount. Buy it at urikar.com here.
Read More Here is our detailed Urikar Pro 2 review.
---
Aura Revive Massage Gun Review Summary
Before we end this Aura Revive massage gun review, we should mention a few things we observed.
First, this is a decent device and worth the positive reviews on FSA/HSA stores. Aura makes it sound more powerful than it actually is. However, it still has enough power for everyday use.
We also like its features: the heated mode, the other dynamic modes, and great accessories. We believe the HSA/FSA eligibility is likely the key factor in going for it.
However, given its price, we don't believe it's the best value massage gun outside the tax relief.
We have listed alternatives above that are better and cost way less. It's up to you to choose; either opt for the HSA/FSA benefits or choose something else.
What about you? Which device do you plan to buy? Drop us a comment down below!
---
Aura Revive Rating
Aura Revive Masage Gun Rating
Quality

Effectiveness

Usability

Accessories

Price Value
Summary
If you want to enjoy the FSA/HSA benefits, this is the proper gun. It looks good, feels modern, and performs just above average with a low amplitude and below average percussions. Its biggest selling point are the features and accessories.
---
Disclaimers
The views and opinions expressed on this website are those of the authors. Any content provided by our bloggers or authors are of their opinion and are not intended to malign any religion, ethnic group, club, organization, company, individual or anyone or anything.
All product names, logos, and brands are property of their respective owners. All company, product and service names used in this website are for identification purposes only. Use of these names, logos, and brands does not imply endorsement.
It is our policy to make every effort to respect the copyrights of outside parties. If you believe that your copyright has been misused, please provide us with a message stating your position and we will endeavor to correct any misuse immediately.
Some of the links in this post are affiliate links. As an Amazon Associate, we earn from qualifying purchases. This means if you click on the link and purchase the item, we may receive an affiliate commission, at no extra cost to you. This helps us keep this website alive. Learn more here.
Amazon Disclosure
massagegunadvice.com is a participant in the Amazon Services LLC Associates Program, an affiliate advertising program designed to provide a means for sites to earn advertising fees by advertising and linking to Amazon.com. As an Amazon Associate, we earn from qualifying purchases. Amazon and the Amazon logo are trademarks of Amazon.com, Inc. or its affiliates. Please refer to our Privacy & Affiliate Policy for details.