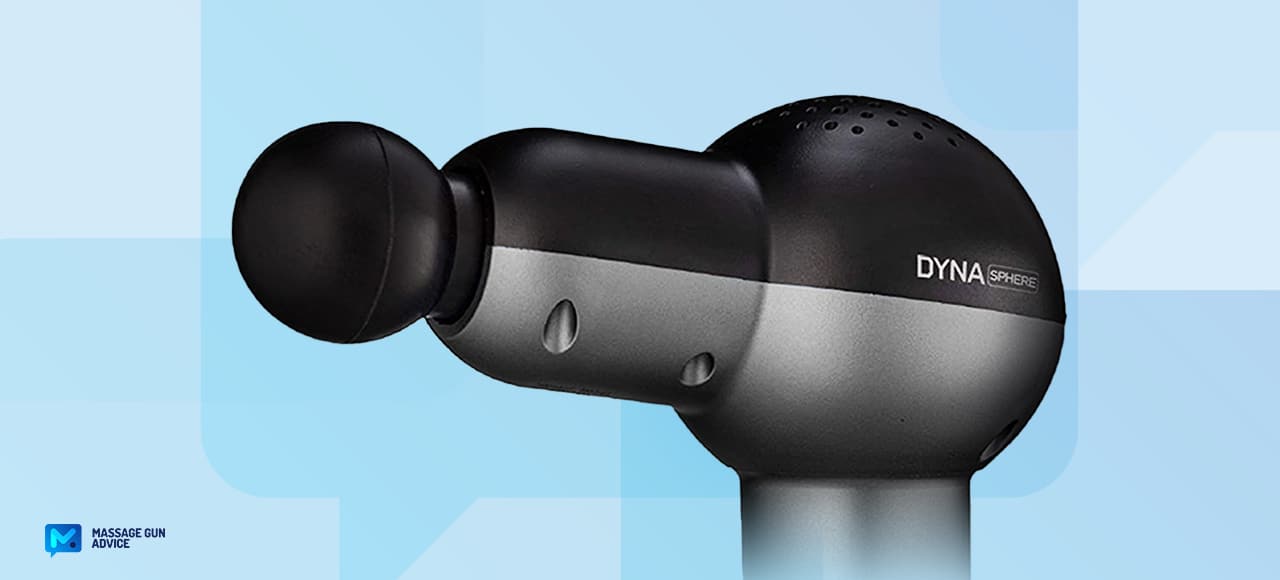 Lifepro DynaSphere Review – A Dynamic Spherical Massage Gun
Disclaimer: Our content is unbiased, non-sponsored and fact-checked. If you buy via links on our site, we may earn a commission. As an Amazon Associate, we earn from qualifying purchases.
---
Finally, here's the Lifepro DynaSphere review. The DynaSphere massage gun is a remarkable device that doesn't get the credit and the recognition it deserves.
Sometimes, even among ourselves we have realized that we pay so much attention to the high and mighty in the percussion massagers market that we forget to look elsewhere (everybody wants Theragun or Hypervolt).
Fortunately though, we have talked about the Lifepro DynaSphere a lot in our guides – and for good reason too. Today let's focus solely on this incredibly simple yet awesome device!
---
---
Lifepro Brand Intro
But first, Lifepro is a famous brand especially in the fitness industry. A quick perusal through their portfolio and you can see just how much they have to offer. From massage guns, Yoga gears, treadmills and even exercise bikes.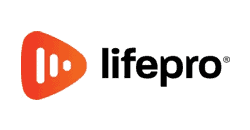 In our journey to explore the massage gun world we have not seen any brand with a vast array of massage gun models as Lifepro.
They have it all!
Amazingly though, their products are very affordable and we have always recommended them as alternatives for those who want a second opinion.
So, here's what we thought about the Lifepro DynaSphere massage gun.
---
Lifepro DynaSphere Review
Lifepro DynaSphere Specifications

Feature
Lifepro DynaSphere
Stall Force
66 lbs
Stroke Length
13 mm
Percussions
1200-2800 ppm
Speed options
6
Battery Life
3.5 – 7 hours (2000 mAh, non-removable)
Noise
50-60 dB
Weight
2.1 lbs
Number of Attachments
5
Pros
Good stall force
Good stroke length
Power-bank capability
Great overall value
Cons
Some attachments too soft
Non-detachable battery
A bit bulky
Non-rubberized handle
Warranty
Lifetime
Price:
$119.99 $107.99
10% OFF with the

MGA10

coupon
Lifepro DynaSphere Specifications
---
First Impressions and Build Quality
The device comes in a nice branded two-zipper carrying case. Unzipping it we found the device itself, the wall charger, and uniquely enough, another zippered case for the attachments.
We saw something similar with Theragun Pro but that was more of a pouch than a real, sturdy case. That aside, the Lifepro DynaSphere percussion massager is uniquely designed.
Well, to be honest, we've seen all manner of shapes and designs and maybe by now nothing should surprise us. However, the DynaSphere feels different; it's spherical in shape. We'll admit it's sleek and stylish, but we saw the same thing with the Minirex, and we can't decide which one is more hip. The Minirex was smaller in size but other than that the similarities are almost indistinguishable.
Apart from the spherical shape (dynamic sphere perhaps), the DynaSphere has a rather long handle which we would say is both good and bad.
Bad news first, the long handle adds weight to any device, making it bulky. The good news though; the long handle helps to reach otherwise difficult to reach parts – like the lower or upper back (more on this later). That said, the device still feels comfortable to hold.
The controls are simple and intuitive. The power button is way at the bottom of the handle and oddly enough you have to twist it to turn on the device – we have not seen this with any other massage gun.
Apart from the peculiar twist, everything else is as you'd expect; quick taps to the control button changes speeds. There are 6 LEDs around the control button to indicate speeds and some along the handle to indicate battery charge level.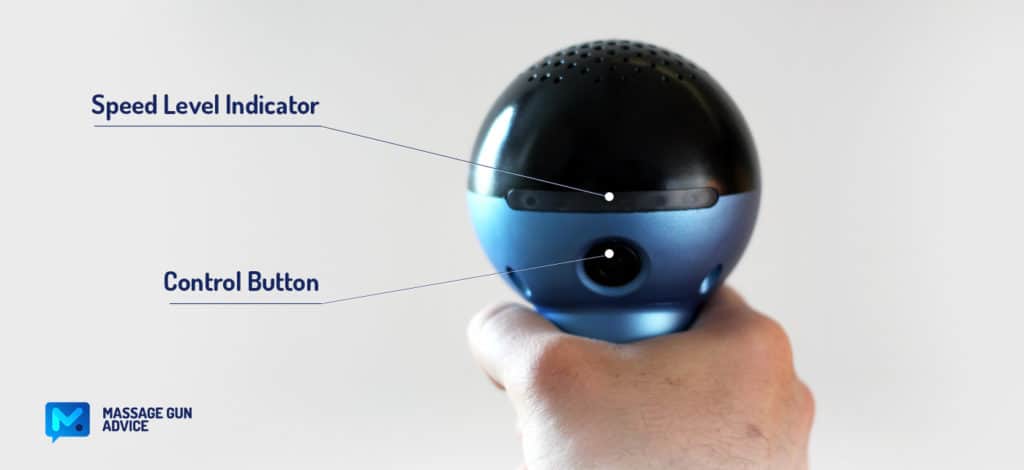 ---
Attachments
The DynaSphere has 5 nicely varied attachments:
Kayak: The wide curved head that can be used over joints and hard angles, which reduces hand fatigue and awakward angles.
Flat: The flat head is a universal attachment that can be used on most parts of the body but works well on large muscle groups (think pecs and quads). This one has a soft touch to it. It's probably the first time that we've seen the flat head this soft.
Round/Ball: This one works on most areas of the body, but better on large muscle groups as well. Here it's smaller than the big flat (dampener-like). It has a nice spin to it but we'd prefer the big flat to it. It's rubber here which is awesome because rubber actually lasts longer than foam.
Spinal/Fork: The attachment used to massage the area along the spine and the neck area. Here it's soft – rather strange to be fair, many brands make this attachment with hard plastic. A soft fork attachment may not work so well along the spine. But then again maybe we are used to hard plastic, you be the judge.
Bullet: Used to massage sensitive areas and for deep tissue massage. This one has to be hard plastic though, is it here? Not exactly, it may be harder than the others, but there is a softness to it that we don't see often with many other devices.
All in all, the attachments on the DynaSphere lean more on the softer size as compared to what you would perhaps find if you bought a Hypervolt, where most attachments are hard plastic.
The instructional manual is a good place to start if you are new to massage guns, The one here is nicely done, with information on all attachments, device data, how-to-use and safety information.
Related post: How to Use a Massage Gun
---
Size, Weight and Ergonomics
The device, upright, measures about 3.5" x 5.3" x 10" (length x width x height). The initial quick glance gives you the impression that you are looking at one of those fancy-looking but bulky devices. But, it's actually the opposite.
Upon closer inspection and when you actually get to hold the device, it's actually not that big. The spherical design gives it a slender look even though the long handle doesn't help with the initial judgement.
Talking of the handle, we'd say it's more of a good thing than a bad one, so to speak. The extra length may give the device the bulky appearance, but it's awesome when you have to reach those tough spots – especially when you have to reach your back. We believe the extra length comes in handy.
There is an ever so slight, almost unnoticeable, tilt to the handle that we also believe is a big plus. It's not the 15-degree angle we see with Ekrin B37 or Lifepro's own Sonic X, but it's something. The slight tweak helps to ease fatigue on the wrist during longer massage sessions.
How about the weight? This device weighs 2.1lbs. Obviously looks can be deceiving. 2.1lbs is actually lighter than Theragun Prime and Elite – both weighing 2.2lbs, and both Hypervolts which weigh 2.5lbs and 3lbs.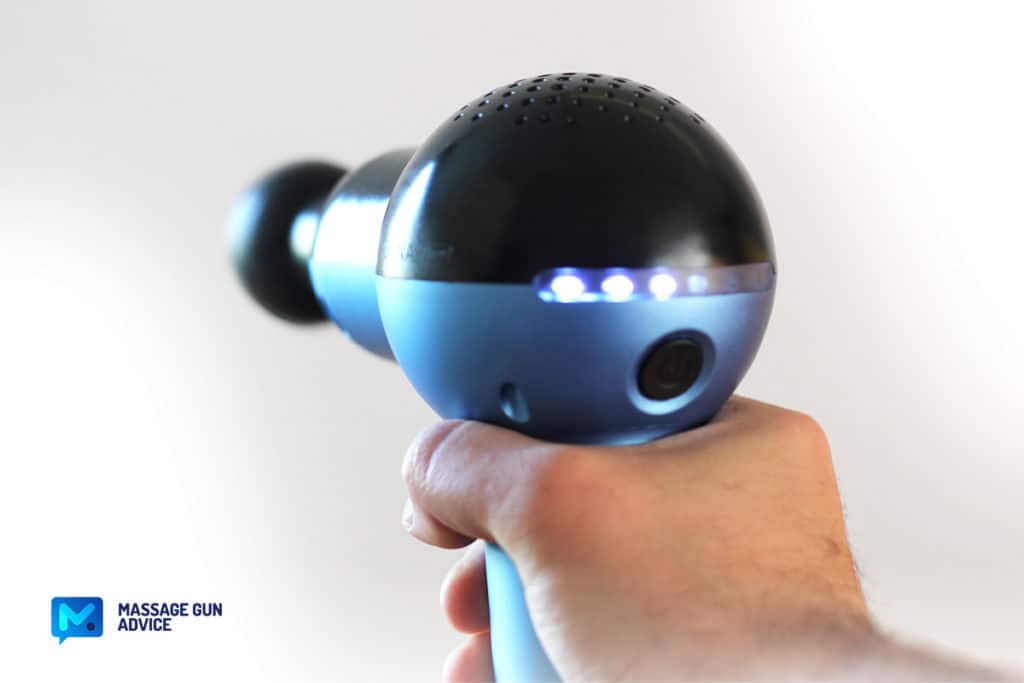 Even though most of the weight is on the handle, the device feels well balanced and you get used to it really fast. The handle diameter is also just the right size and will fit comfortably even for those with small hands.
We miss a rubberized handle with this device. Since it doesn't have an auto-stop feature, it would've been awesome to have a rubberized handle to even things out in case of longer sessions.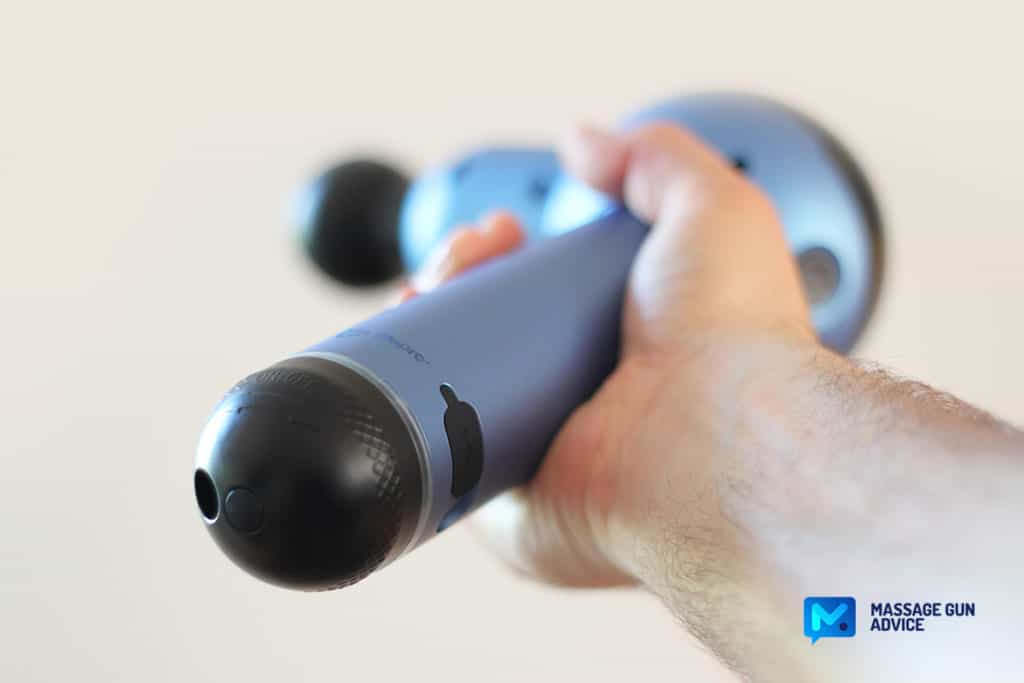 ---
Performance
So, how does Lifepro DynaSphere perform?
---
Amplitude (Stroke Length)
Amplitude is the distance travelled by the massage head as it moves back and forth to give you the percussions. Amplitude is always a critical feature for percussive therapy enthusiasts. A few millimetres less could knock you down into vibrational therapy territory.
Many massage gun brands struggle to impress here – especially the affordable devices tend to get it wrong here. What about the DynaSphere?
Well, this device has the advertised 13mm stroke length. It's not something they use to sell this device, it's real. Impressive!
Because this is the first Lifepro massage gun with an amplitude this long. 13mm is good enough for a deep percussive massage. It's not Theragun's or Achedaway's 16mm, but it's good enough. It's actually pretty close to Hypervolt's premier gun – BT Plus.
13mm will punch deep into the muscle and provide a percussive massage. This makes the DynaSphere a gem when you consider how much it costs.
What about the stall force?
---
Stall Force
Stall force is the pressure required to stall the motor of a device. Depending on how strong the motor is, it may take considerable pressure to stall it. The more pressure needed to stall it the better the device is at performing a deep percussive massage. Again, most cheap guns struggle to get enough power into their devices.
We have been itching to get our hands on the DynaSphere just to confirm if the 66lbs. of advertised stall force is real or overstated – we always suspected the latter.
Unsurprisingly (for us at least) the device doesn't take all of 66lbs. to stall it. To put it into perspective, 66lbs. is more than Theragun Pro's 60lbs. We always had doubts especially looking at the device's 24W motor. Glad we could prove it!
Fortunately however, even though it's overstated, the stall force feels like mid 40-ish. This is enough to hit even large muscle groups. It may not be the advertised 66lbs. which felt utopian, but 40s is good enough.
Plus, if you consider the more than enough 13mm amplitude, this is a serious device that can serve even demanding users. The stall force is progressive yes, but that also means you can have a delicate massage at lower speeds.
---
Percussions and Speed Levels
The DynaSphere has a percussion range of 1200-2800rpm. This is a pretty wide range and shows that we are dealing with a solid percussive device. For a device with 13mm amplitude, 2800 maximum percussions is expected although we have seen better devices.
The Achedaway Pro for example has a 16mm amplitude but still revs with 2800rpm maximum percussions. However, the wide range is a plus because you can go delicate on the lower speeds. Just for comparison, Theraguns start revving at 1750rpm, which may feel too intense for a start.
There are no fancy bells and whistles, no extra modes or speed gears with the DynaSphere. There are 6 speeds to cycle through and that's it! There are LEDs to show which speed gear you are on as stated earlier.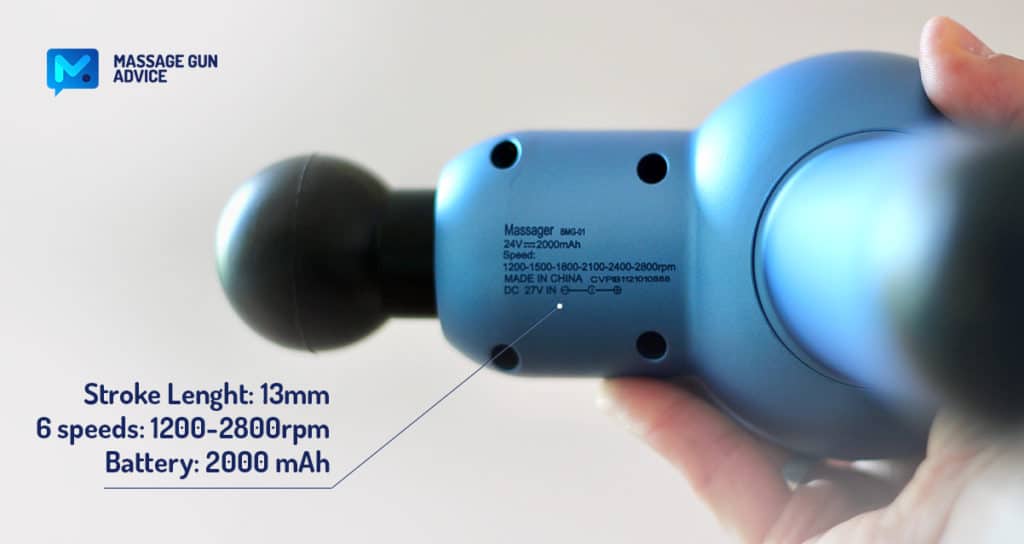 ---
Lifepro Dynasphere vs. Competition
Let's see how the DynaSphere compares against it's most popular competitors.
---
---
Battery
The battery on this device is juiced up to 2000mAh. This is somewhat below average because we are used to seeing many devices offer between 2400-2500mAh. But perhaps that's why the device is not as heavy – 2.1lbs only.
Even so, we are not complaining because you can still get a decent amount of time on it. The advertised battery time is 3.5-7 hours per single charge. The 7 hours is probably overstated, but you should get somewhere between 3-5 hours of use per single charge. Maybe more if you don't use too much pressure and also use the lowest speed. That still means you can get a few days on the battery.
It's advisable to charge the battery for 4-5 hours before using it for the first time. The charging port is at the bottom of the handle – right at the base.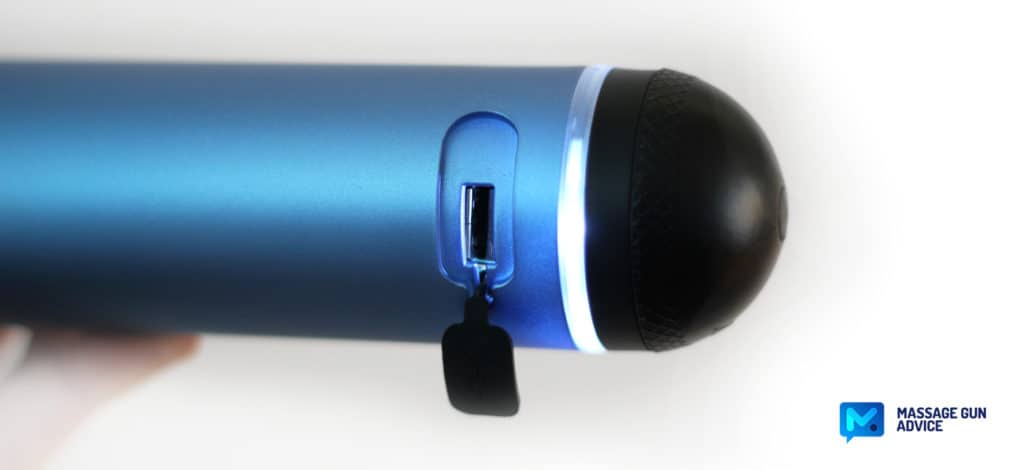 The LED indicators work as follows:
6 LEDs lit – 100%,
5 – 80%,
4 – 60%,
3 – 40%,
2 – 20% and
1 means < 5%
There is also an interesting tweak to things here. There is a USB port built in the handle. This doesn't mean that you can charge the device via USB (would've been superb), but you can use the device's battery as a power bank and use it to charge your phone, smartwatch and other stuff. This is pretty convenient for those always on the move.
---
Noise Level
The DynaSphere is not the quietest device out there. If you looked at Lifepro's advertisement of how loud it can get, you would think it's the quietest thing to walk the percussive halls. Unfortunately even this is overstated. That's why we always have to get these devices and test them ourselves.
Despite Lifepro's overstated 50-60dB, our measurements gave us 54dB at the lowest speed and between 70-71dB at the highest speed. This is not as quiet as it should be.
We know that devices with long amplitudes tend to be noisy, but we have seen quieter devices than the DynaSphere – the Achedaway Pro is a good example. There is a bit of rattling when the device is pressed against the body, but it's not much of a bummer. Some vibrations transfer to the handle on higher speeds but nothing too critical.
---
Who is the DynaSphere Best For?
The DynaSphere is a pretty versatile device and will be a perfect personal device for athletes. It's a great after-workout device and can be taken to the gym.
Amateur or home users on the hunt for a strong percussion massager will benefit from this device as well. Also, if you are looking for the best value for money and can't choke up $300 for a Theragun or Hypervolt, then this is your device.
Chiropractors and professional therapists will have to look elsewhere because this device doesn't have removable batteries. You also can't use it when it's plugged in.
---
Price, Warranty and Where to Buy?
It's advisable to buy the device from Lifepro's store where it is always in stock. You also get free and fast shipping.
The device usually costs $119.99 but you can use the coupon code MGA10 and get it here for 10% less, so only $107.99.
It has a lifetime warranty – it sounds simple enough, but this is one of Lifepro's standout attributes. There is also a 30-day money back guarantee and superb customer support. However, for the warranty, don't forget to register the device on Lifepro's website after the purchase.
---
Lifepro DynaSphere Review Conclusion
As we wrap up this Lifepro DynaSphere review, it's safe to say that Lifepro does it best when it comes to affordable massage guns.
With the DynaSphere, it's not just the value for money, it's also the great performance features. We loved it so much we included it as the top pick in our best massage gun under $100 list.
Sure it could've been quieter and slightly reduced in size, but there is more to like about this device than the few blemishes that can be ignored.
Lifepro DynaSphere Review Rating
Quality

Effectiveness

Usability

Accessories

Price Value
Summary
The DynaSphere is an affordable and great device for those looking for punch and power. The 13mm amplitude and more than 40lbs. stall force put it right up there among the best affordable massage guns. It's not as quiet as advertised and could've been slightly smaller, but Lifepro more than makes up for it with a lifetime warranty and great customer care.
Disclaimers
The views and opinions expressed on this website are those of the authors. Any content provided by our bloggers or authors are of their opinion and are not intended to malign any religion, ethnic group, club, organization, company, individual or anyone or anything.
All product names, logos, and brands are property of their respective owners. All company, product and service names used in this website are for identification purposes only. Use of these names, logos, and brands does not imply endorsement.
It is our policy to make every effort to respect the copyrights of outside parties. If you believe that your copyright has been misused, please provide us with a message stating your position and we will endeavor to correct any misuse immediately.
Some of the links in this post are affiliate links. As an Amazon Associate, we earn from qualifying purchases. This means if you click on the link and purchase the item, we may receive an affiliate commission, at no extra cost to you. This helps us keep this website alive. Learn more here.
Amazon Disclosure
massagegunadvice.com is a participant in the Amazon Services LLC Associates Program, an affiliate advertising program designed to provide a means for sites to earn advertising fees by advertising and linking to Amazon.com. As an Amazon Associate, we earn from qualifying purchases. Amazon and the Amazon logo are trademarks of Amazon.com, Inc. or its affiliates. Please refer to our Privacy & Affiliate Policy for details.