Hypervolt GO Review – Does It Have What it Takes to GO the Distance?
What to Know: We independently review products we recommend. If you click on links we provide, we may earn a commission. Learn more.
---
Hyperice gave us the Hypervolt and the Hypervolt Plus, their full-sized (regular) massage guns. Those were unique percussion massagers by their own standards. But, in this Hypervolt Go review, we take a look at their latest addition.
Important Update
Hyperice has replaced the Hypervolt Go with its second-generation model, so it's no longer available. For insights on the new model, we invite you to read our Hypervolt GO 2 Review.
We are keeping the content below as a reference and future knowledge source.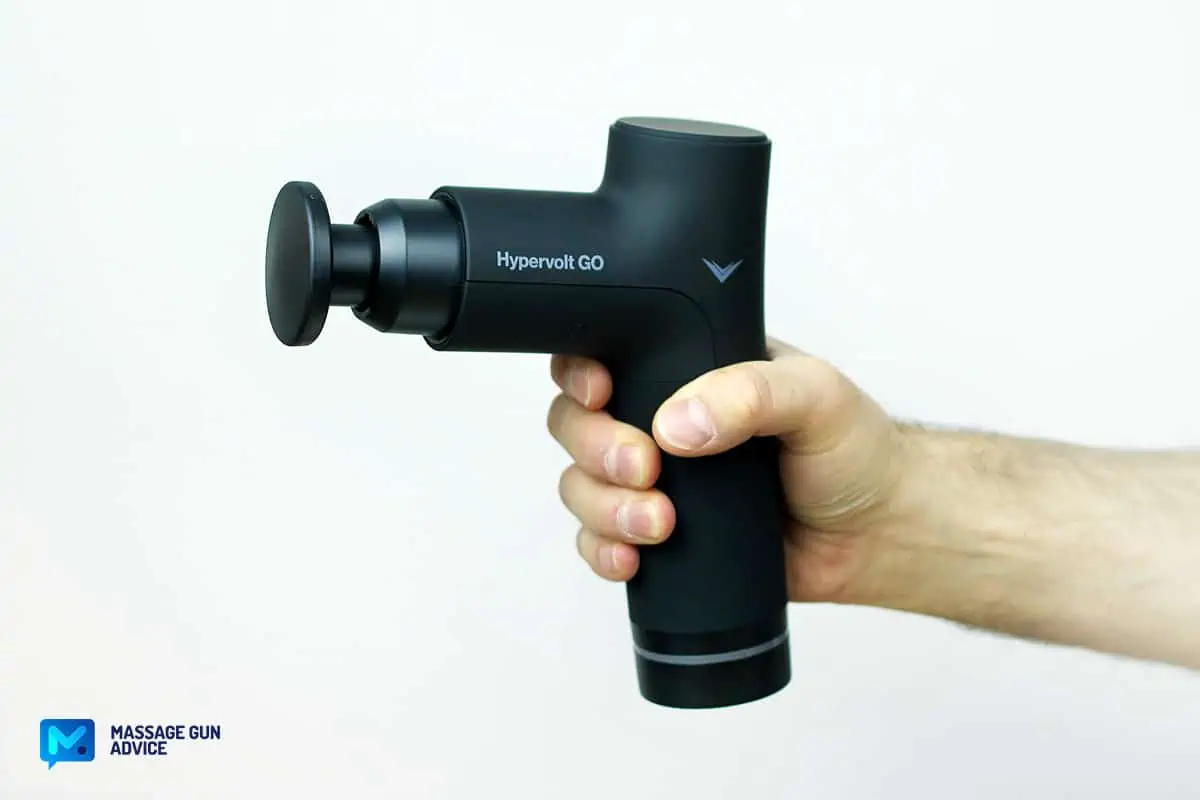 ---
---
Meet The Hyperice Hypervolt Go
The Go serves a different niche – portability and convenience, for those always on the move. It's a mini massage gun. These have become the latest trend in the massage gun world and different brands have been up and about trying to get the mini versions of their mainstream devices into the market.
However, some brands have rushed these and as a result the market is flooded by devices that are simply not good enough, even for convenience. But was the Hypervolt Go rushed, or did Hyperice come up with a well thought out mini massager?
Hyperice as we know is one of the industry pioneers along with the much famed Theragun (recently Therabody). Some might argue that they have been long-term rivals.
Theragun launched their Theragun mini device back in May 2020. We got a hold of the device, tested it and gave you our thoughts about it in our Theragun mini review.
The Go came in late in 2020 (November to be precise). Maybe Hyperice took too long to introduce their mini-gun. Was it worth the wait? Let's find out!
2022 UPDATE: The new Hypervolt Go 2 has been released recently. The Go 1 is now 20% discounted at Amazon. Is the new device worth purchasing? Is it better than the Go 1? Read our in-depth, hands-on Hypervolt Go 2 review to find out!
---
Hypervolt Go Review
Hyperice Hypervolt Go Specs
Feature
Hypervolt Go Specs
Max. Stall Force
~15 lbs
Stroke Length
10 mm
Speeds
3
Percussion range
2200 – 3200 ppm
Weight
1.5 lbs
Dimensions
7.25″ x 5.5″ x 2″
Attachments
2 included
Noise (decibel)
55 dB (on the top speed)
Battery Life
2 – 2.5 hours
Bluetooth
No
Pros
Low noise
Good Ergonomics
Cons
Very Low Stall Force
Lacks USB-C charging
Poor Accessories
High Price
No innovativeness whatsoever
Warranty:
1 year
Current Price:
Check at Amazon
Hypervolt Go specifications
---
First Impressions and Build Quality
First let's mention (as we always like to do) that the Go doesn't come in a carrying case.
We are not really surprised that they didn't choose to include one. After all their regular sized massage guns don't come with a carrying case.
It's always a nice thing to have a carrying case to put your device in. Plus, the Go costs quite a lot and it wouldn't hurt (in our opinion) to include at least a soft pouch for the device.
Either way, the device is in a nice box with the attachments and the charger as the other accessories.
---
The Device
At first glance the Go is smaller than the two regular sized Hypervolts (we'll say about 30% smaller than the large device). It's definitely not the smallest mini massage gun in the market, perhaps Hyperice should've cut the size a little further.
That aside, it's a fairly standard shape and size. It's not really innovative (not very unique) but in all fairness it looks really well put together.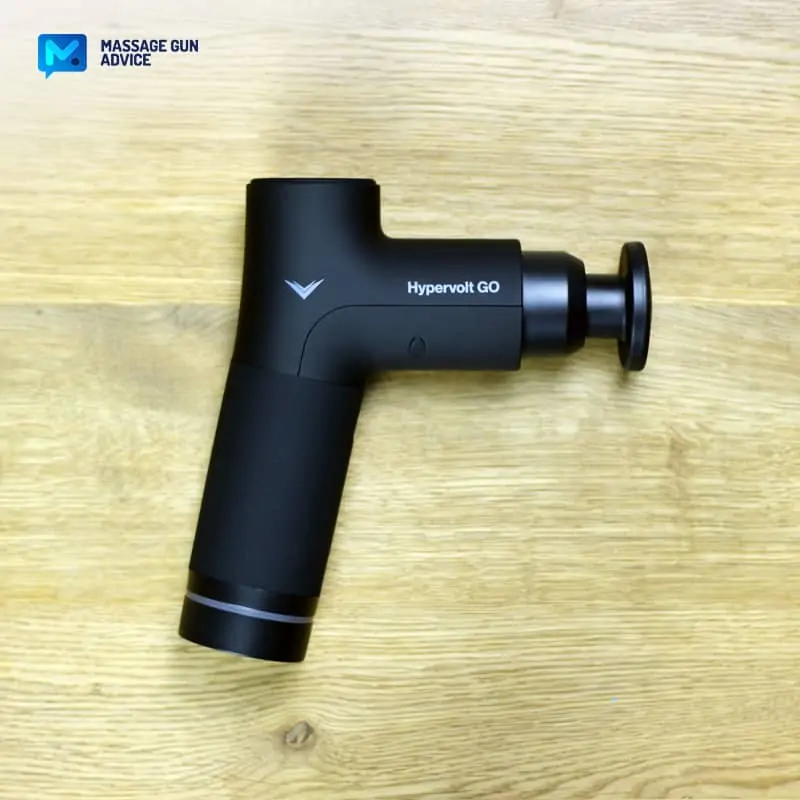 The body is matte plastic and not metal. It comes with just the one color option – black. We would've loved a color variation from Hyperice though given their esteemed reputation. It's a negligible thing but it takes things up a notch.
It's a simplified device – we have come to expect this from mini percussion massagers – no bells and whistles. In fact the only thing of note is the ring LED battery indicator on the bottom end of the handle that we've come to associate with Hyperice devices.
Another embellishment is the speed LED indicators found underneath the handle right around the charging port. An odd place to have those, but you probably won't need them because there are only 3 speed gears that you can hear and feel as you use the device.
To turn the device on/off press and hold the power button for 2 seconds until the ring LED lights up. Something worth mentioning is that the power button is located nicely along the device's handle. Feels like a real gun trigger. To change the speeds, quickly press the power button.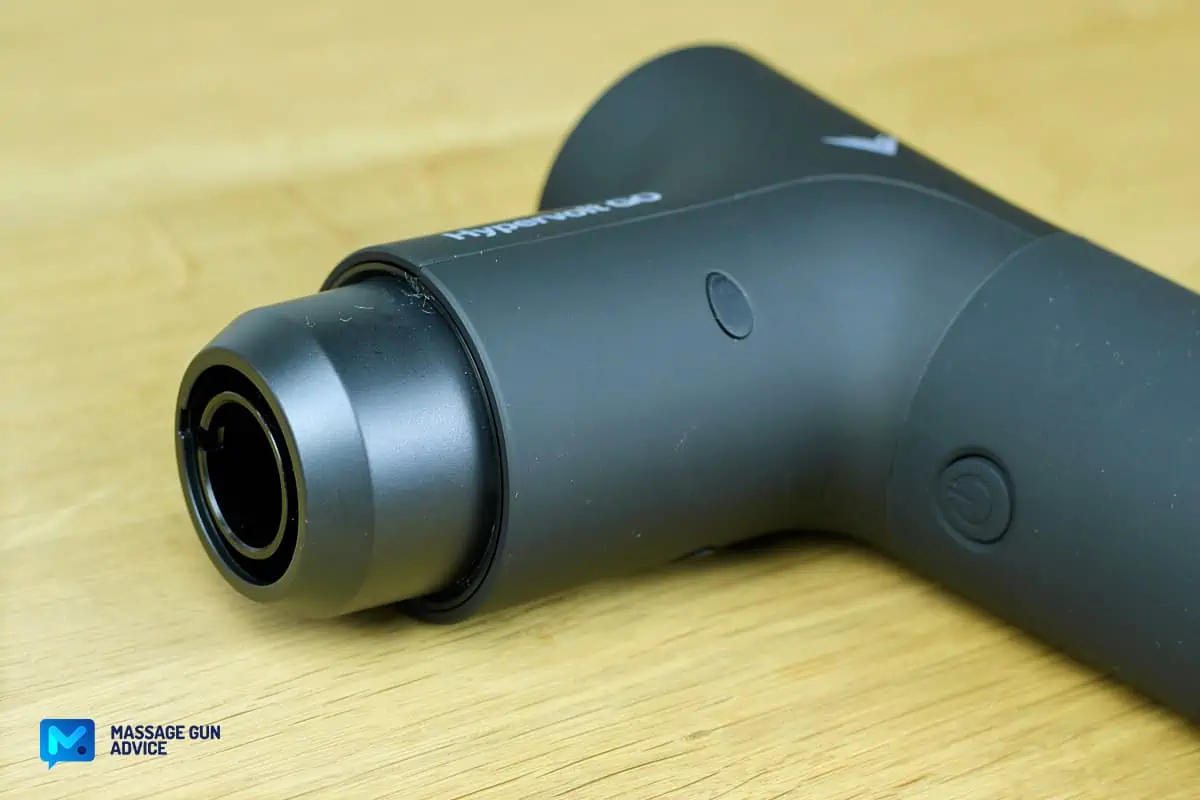 The charger is a normal wall charger, which doesn't help for convenience in our opinion. However, we noticed Hyperice included 3 adapters for their international clientele.
We also found a bunch of card-like brochures that Hyperice have made their custom to include with all their devices. They included a quick-start guide, information on how to choose the right attachment, information about their app, customer service info and a full instructions manual.
The device is designed in the USA, but assembled in China.
---
Attachments
The Go comes with only 2 attachments:
Flat Head
This is important if you want to hit large muscle groups like the quads and hamstring. You can also use it on your back and chest area.
Bullet Head
This is used for trigger points in muscles (shoulder blades, ligaments, muscle knots). It's perfect for use on feet and hands.
It's a bit disappointing that a highly priced massage gun only comes with two attachments. We have reviewed several mini devices that come with at least 3 attachments, some even 4.
But perhaps Hyperice did one better than the Theragun Mini which has only 1 attachment.
It's also important to note that it's compatible with other Hypervolt attachments. So if you already own a full-sized Hypervolt this shouldn't be a cause for worry.
Perhaps just like what Theragun did with their Mini, Hyperice's main goal is to upsell the Go to their existing clientele.
Also, there was an option to purchase an attachment set from Hyperice for $24.99 but last we checked they had run out of stock.
---
Size, Weight and Ergonomics
The Go is small, portable and compact, but it's a tad shy from being the perfect mini-gun. Compared to mini massage guns like the Ekrin Bantam or the Addsfit Mini Pro, the Go is noticeably larger.
However, compared to a full-sized Hypervolt, the Go is less bulky – about 30% smaller. It's also worth noting that it's TSA approved for carry-on – it's within the 22" x 14" x 9" range.
It weighs 1.5lbs. That's light enough and we have no bone to pick here. However, that might not sound as impressive when you compare it to similar devices. Consider the following, for example:
A lot of mini massage guns weigh less than or slightly over a pound, which is 50% lighter than the Go even though some are more powerful (Ekrin Bantam, Addsfit Mini Pro, or Wodfitters Mini).
Also, compared to its rival – Theragun Mini – which weighs 1.4lbs. the Go is still heavier.
The Go gets a nod from us because of its angled handle. This greatly improves the device's ergonomics and reduces the strain on the wrist. Ekrin were the first to come up with the angled handle concept and it's nice to see other brands that prefer the traditional T-shape design actually follow suit.
We also love that the handle is fully rubberized which makes the device even more comfortable to use.
The handle diameter is the same as the full-sized Hypervolts. The handle offers a comfortable and firm grip for most people. However, it presents a bit of a challenge for those with smaller hands who may actually wish for a narrower handle.
Overall, the Go has good ergonomics for a mini massage gun. However, it's nothing we haven't seen before. A lot more devices on the market with even better ergonomics.
RELATED Article: Theragun Mini vs Hypervolt Go
---
Performance
Our Hypervolt Go review wouldn't be complete without measuring the Go's mettle. Here we go.
---
Stroke Length (Amplitude)
Amplitude, or sometimes known as the stroke length, is how far the gun's head moves back and forth to deliver the punch (percussion).
Most mini guns don't boast a long amplitude and the Hypervolt Go doesn't defy this either. But it just may have an edge over most devices.
Even though Hyperice aren't known for long amplitudes like their rivals Theragun (we didn't think the Go would match the Mini's 12mm amplitude), its 10mm amplitude is more than enough for its purpose.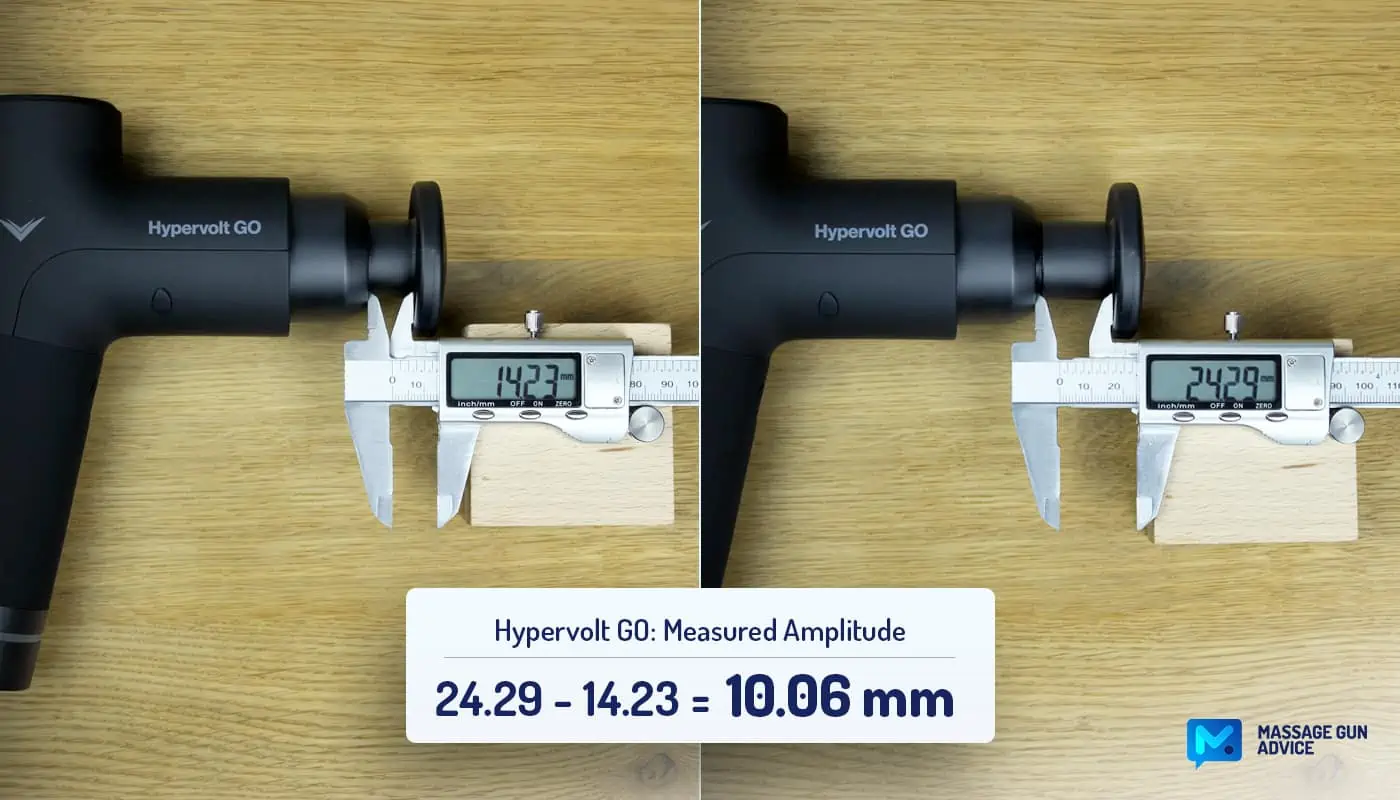 Most mini guns we have tested have 7-8mm head travel. With 10mm the Go actually falls under the elite category of mini massage guns.
There's just one problem, a good enough amplitude is nothing without enough stall force. And this is where the Go falls terribly short.
---
Stall Force
Stall force is the amount of pressure it takes to stall a device's motor. The harder it is to stall a device, the better it can perform.
Hyperice have a statement on their website that reads; "ultra-lightweight with surprising power", and boy were we surprised when we decided to check out the Go's stall force!
In our opinion, that statement is outrageously blasphemous and the gods of stall force, we're sure are not impressed.
It takes a surprisingly very low amount of force to stall this device.
They don't disclose the stall force information on their website but we tested it and it feels like 10 or maybe 15lbs. stall force. And this happens on the highest 3rd gear.
As a result, the Hypervolt Go is not a deep tissue percussive therapy device.
If you were thinking of hitting your glutes, quads, or hamstring with pressure in hope for a deep percussive massage, this device will disappoint you.
We advise you consider the Go a vibration therapy massage gun that will serve you well when you want to warm up your muscles before running, treat your neck as you work at your desk, get the blood flowing well, or maybe get you to relax. If you want something deep, then perhaps you should consider its alternatives (see below ↴).
We must admit that it is unbelievable – having tested many mini massage guns – that the Go, bigger and heavier than most guns in its category, can be so underwhelming in performance.
We have shared below the Ekrin Bantam as an alternative. Unlike the Go, it actually delivers up to 35lbs. stall force – twice as much – even though it's smaller and lighter.
---
Hypervolt Go Review – Performance Comparison
This is how the Hypervolt Go compares against the most popular competitors.
---
Stall Force (lbs.)
Stall Force: The Go massively underperforms when it comes to stall force. It is the largest, the heaviest one of all mini guns we've tested, yet the easiest one to stall. Expect a more vibrational rather than a percussive therapy from it.
Stroke Length (mm)
Stroke Length: Hypervolt Go doesn't bring much to the table when it comes to the amplitude. Its 10mm stroke length is good, but that's about it. Actually, anything larger than that would be a waste because of the device's low stall force.
---
Percussions and Speed Levels
Just like their main rivals Theragun, Hypervolt chose to keep the percussion range the same for their small massage gun. It's 2200-3200rpm. With 3 speed gears to cycle through, the speed will shift from 2200 to 2750 and finally to 3200rpm.
Even though it's just the 3 speed gears, for a mini massage gun you probably will not require more.
There are 3 blue LED indicators at the base of the device that will show what speed you're on. However, you can still hear how the speed changes as you quickly press the power button. That means you won't need to check the LEDs that much.
The percussion range may be impressive, but this is more vibrational than percussive therapy. The best combination for a top massager (or a best mini massage gun in our case) is always a long amplitude and powerful stall force.
We feel the Go is an entry-level mini massage gun at best. The low stall force doesn't do justice to the fairly impressive amplitude and the high intensity that this device is capable of delivering.
---
Noise
When the attachments are mounted appropriately, this gun is decently quiet. Just like the bigger Hypervolts, the Go is impressively hushed. In this respect, the Go outshines the Theragun Mini which is considerably loud.
We measured the sound with the attachments fixed properly and we got 45 to about 54-55 dB.
On a side note, there was a noise issue that earlier users reported. Apparently there was a gasket on the flat head attachment that appeared to be loosely stitched.
The result was a rattling sound that felt pretty annoying. We believe this problem has been fixed with the current model.
---
Battery
The battery has 2350mAh capacity and will last for 2-2.5 hours per charge. We noticed that the battery drains faster when you are using it on the highest speed.
The battery will also quickly run out of juice if you keep stalling it. The problem is this may happen quite often. The battery indicator will keep flashing as the device charges.
When fully charged, the flashing stops and the indicator turns solid green. Is the juice enough? Yes, the device can last for several days before you may need to charge it again.
Is it the best battery in its category? Not really. It's good enough, yes, but it delivers half the power that devices like Ekrin Bantam and Addsfit Mini Pro can actually deliver.
The biggest drawback however, is that it is not USB-C compatible. Most mini massagers these days come with an USB charging for convenience.
---
Hyperice App
Hyperice have their own dedicated app for their range of devices. The app is an awesome feature and will show you how to massage, provide guided sessions and also offer the possibility to auto operate the device (auto-speed).
Unfortunately the Go doesn't have Bluetooth connection which means some features won't be accessible.
Still, you can use the app with your device to learn different massaging techniques – what to do and what not to do.
---
Is Hypervolt Go Worth it?
We might recommend the Go to you if you already own either the Hypervolt BT or the BT Plus as a complimentary device. This is because the attachments are interchangeable.
But, as much as we had a fierce debate over the Theragun Mini's value for money, we had no arguments over this device. For its steep price, this is a disappointing hardware. The low stall force gives it away. Compared to other devices in its category, it's simply not good enough.
Besides, the Go doesn't come with USB charging capability which is a feature for many devices of its kind. It falls short comparatively in terms of size and weight (it's bigger and heavier), has only 2 attachments, and generally brings nothing unique to the table.
Unlike Ekrin or Lifepro which offer a lifetime warranty and amazing customer service, Hyperice will only give you a 1-year warranty.
It may work for you if you are looking for something light and simple. Even so there are better devices that go for half that price and can offer even more.
---
Hypervolt Go Alternatives: If not the Go then What?
---
Ekrin Bantam
By far the best alternative to the Hypervolt Go. It offers everything that is missing on the Go. It may have the same design, similar shape, and even the same angled handle, but it's much smaller in comparison.
It's also the lighter massage gun between the two weighing in at just 1.1lbs. This makes it even more portable.
As we proved in our full Ekrin Bantam review, it has a superb battery that can last up to 6 hours with a single charge. It is USB-C compatible making it much more convenient to carry with you as you travel. The Go failed us here.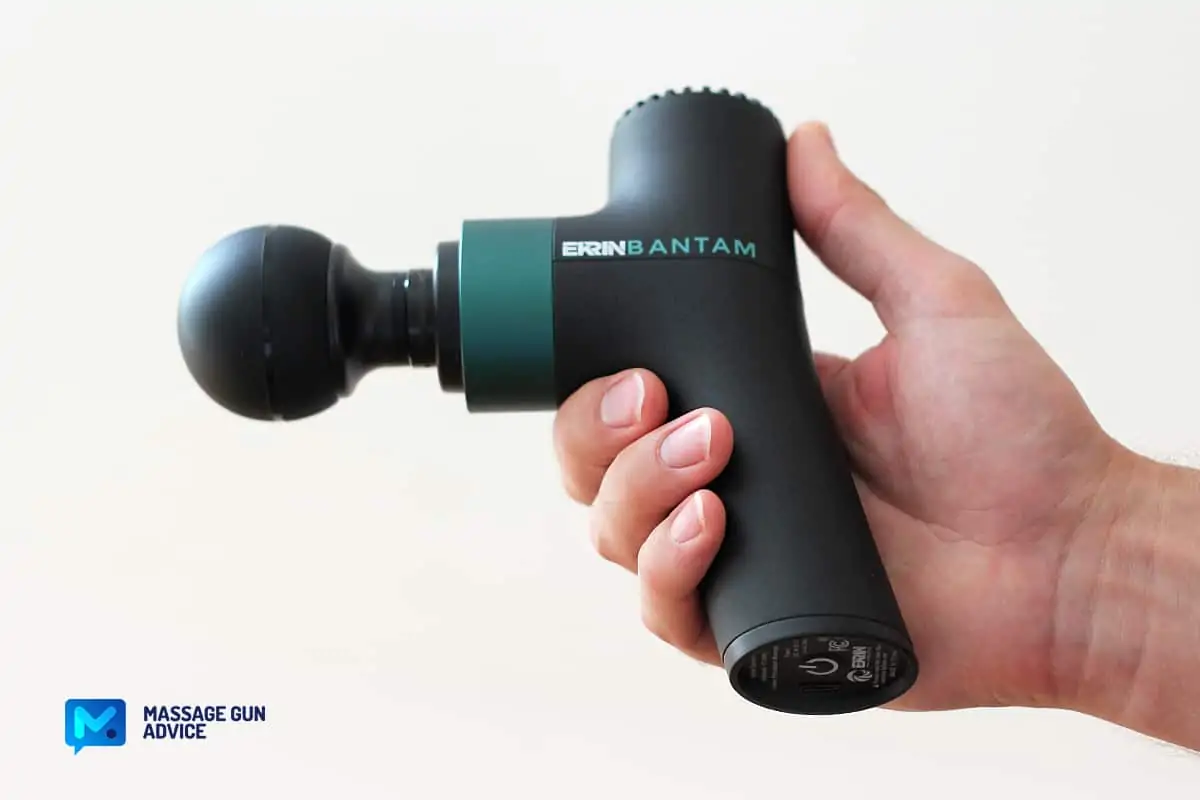 But perhaps the Bantam comes in handy where it matters the most. It performs rather impressively. It has the same 10mm amplitude – impressive for a mini gun – but adds power to it.
With 35lbs. stall force, the Bantam is capable of a deep percussive massage despite being small.
The Go doesn't even offer half this kind of power. The percussion range is 2000-3200rpm which gives you an even wider range – you can start lower than what you get with the Go.
Other features include 3 speeds (similar to the Go), a carrying case and 4 quality and varied attachments.
It has a lifetime warranty and a lifetime customer support if you register after you make the purchase.
It usually costs $159.99 but with our MGA20 promo code you get 20% off – that makes it only $127.99 when bought in the Ekrin's store.
Feature
Hypervolt Go
Ekrin Bantam
Size Category
Small
Mini
Stall Force
15 lbs
35 lbs
Stroke Length
10 mm
10 mm
Speed Options
3
3
Battery Life
3 hours
6 hours
Noise
~55 dB
~55 dB
Weight
1.5 lbs
1.1 lbs
Attachments
2
4
Warranty
1-year
Lifetime
Price / Coupon
Check at Amazon
$159.99 $127.99
(20% off with

MGA20

promo code)
Hypervolt Go vs. Ekrin Bantam Comparison
---
Addsfit Mini Pro
This one offers a slightly different proposition but it's still a better alternative in our opinion.
It's very compact and smaller than the Go (measures 6.5" tall and 4.6" wide). It's a true mini-gun.
The build quality is awesome, and it looks incredibly slick with its aluminum body. Even so, it's still lighter than the Go, weighing in at just 1.23lbs. (net weight).
Before we talk the performance, we will mention one killer feature of the Mini Pro massage gun: the extensible handle.
With a simple twist, the handle extends by about 3 inches (8cm), increasing the height of the device to an impressive 9.68 inches (24.6cm), making reaching the back almost effortless (especially the middle back).
In terms of performance, it has the same amplitude than the Go, 10mm, but a much more powerful stall force.
The specs says a reasonable 28.6 lbs. We tested it and can confirm it's somewhat in the mid 20s range, so a tad weaker than Bantam above, but not far from it. This also means it can deliver a fairly better percussive massage than the Go.
The percussion range is also better at 1100-3000rpm – a very wide range. It comes with 5 speeds to cycle through as well – 2 more than the Go.
There's also a convenient LCD display showing things like current speed, timer, or battery status. The Go doesn't even have an LED speed indicator.
The battery is well juiced and can last for up to 4-6 hours on a single charge (it's a realistic range, less than advertised 10 hours). It is USB-C compatible, which means more convenience. It has 5 different attachments and comes with a charging dock and a carrying case.
You can get it at Addsfit's own store where the normal price ($159) can be slashed greatly to $119.25 when you use the MASSAGE25 coupon code.
MORE INFO: Read our full Addsfit Mini Pro review
---
Hypervolt Go Review Conclusion
We chose to do this Hypervolt Go review to show you how Hyperice's mini massage gun performs.
We couldn't help but feel unsatisfied with what we got from this device. It doesn't bring anything new to the table and the low stall force is a huge bummer in our opinion.
We can, however, recommend it to those who already own any of the regular sized Hypervolts just as a complimentary gun. The heads are interchangeable, so it makes sense to get one if you need something smaller and more portable.
However, even if you want something truly small and light, the Go is not the best percussion massager. There are better alternatives, some of which we have recommended here, with more to be found in our best mini massage gun reviews.
---
Quality

Effectiveness

Usability

Accessories

Price Value
Summary
Disappointing device from a premium brand. It may be good for those already with a full-sized Hypervolt but the low stall force, the high price point and the lack of innovation of the Hypervolt Go just doesn't cut it for us. There are better and cheaper alternatives.
Was this article helpful?
Thanks for your feedback!
Post Update History
Here's a quick rundown of all the tweaks and edits we've made to this article to keep it accurate and up-to-date!
Current version last updated on:
•
Written by:
Greg Szostak
Disclaimers
The views and opinions expressed on this website are those of the authors. Any content provided by our bloggers or authors are of their opinion and are not intended to malign any religion, ethnic group, club, organization, company, individual or anyone or anything.
All product names, logos, and brands are property of their respective owners. All company, product and service names used in this website are for identification purposes only. Use of these names, logos, and brands does not imply endorsement.
It is our policy to make every effort to respect the copyrights of outside parties. If you believe that your copyright has been misused, please provide us with a message stating your position and we will endeavor to correct any misuse immediately.
Some of the links in this post are affiliate links. As an Amazon Associate, we earn from qualifying purchases. This means if you click on the link and purchase the item, we may receive an affiliate commission, at no extra cost to you. This helps us keep this website alive. Learn more here.
Amazon Disclosure
massagegunadvice.com is a participant in the Amazon Services LLC Associates Program, an affiliate advertising program designed to provide a means for sites to earn advertising fees by advertising and linking to Amazon.com. As an Amazon Associate, we earn from qualifying purchases. Amazon and the Amazon logo are trademarks of Amazon.com, Inc. or its affiliates. Please refer to our Privacy & Affiliate Policy for details.