Minirex Massage Gun Review: Small Rexogun Delivers Big
What to Know: We independently review products we recommend. If you click on links we provide, we may earn a commission. Learn more.
---
Sometimes we test these massage guns not because we just want to have fun with them. We are looking for what really stands out on any particular gun. In this Minirex massage gun review we'll look at a scaled-down version of the bigger Rexogun.
We have to say, before we get into the thick of things, that the Minirex is a fascinating little device that we got to test. It has that glistening appearance you want on an electronic device but it packs enough percussive therapy goodies to get the job done.
UPDATE: We have been receiving emails from readers who claim they ordered the Minirex but did not receive it in a timely manner. We love the Minirex, it is a great little device, but we think that at this time it might be safer to explore some alternatives.

We recommend checking out our reviews of Ekrin Bantam and Addsfit Mini Pro – both equally good mini devices, if not better.
---
Who is Rexogun?
We actually have known Rexogun for quite some time now. They have been selling massage guns for a good chunk of the past 2 years. But they hatched the idea to create massage guns sometime in 2019.
They looked at the massage gun industry and figured they could fill the void in the industry that was being overlooked by those who were already in the business.
They realized that the percussive therapy space was filled with devices that addressed only what professional therapists thought they needed. No one was looking after the immediate consumers, who in this case are people who love to exercise (or gym goers).
They embarked on creating massage guns that addressed the needs of these people. They thought portability, durability, and peace of mind (the quiet). But does the Rexogun mini massage gun address any? We'll find out soon enough.
We heard the talk about Rexogun and thought of purchasing one of the normal-sized ones. But somewhere in the decision-making process we came upon the Minirex, which is the mini-version of it, and we immediately fell in love with it. We're glad we did because this gun has some really good stuff that we just had to share with you in this Minirex massage gun review.
What are we talking about? Follow along!
Minirex Massage Gun Review (Rexogun Mini)
Rexogun Mini Rex Specifications
Key Feature
Rexogun Mini (Minirex)
Stall Force
22 lbs
Stroke Length
10 mm
Percussions
1800-3000 ppm
Battery Life
3-4 hours (2000 mAh)
Weight
1.3 lbs
Attachments
4
Noise
50 – 60 dB
Pros
Compact size
Well balanced
Strong motor
Battery life
USB-C charging
Cons

Vibrations on top gear

Warranty
2 years
Retail Price
$279.00 $179
Rexogun Minirex Specs
---
First Impressions
The first thing we noticed is that the Minirex comes in a cardboard box. This is a slight "meh" if you love class carrying cases like what Ekrin offers with their massage guns. But that's just for people who love a bit of flash.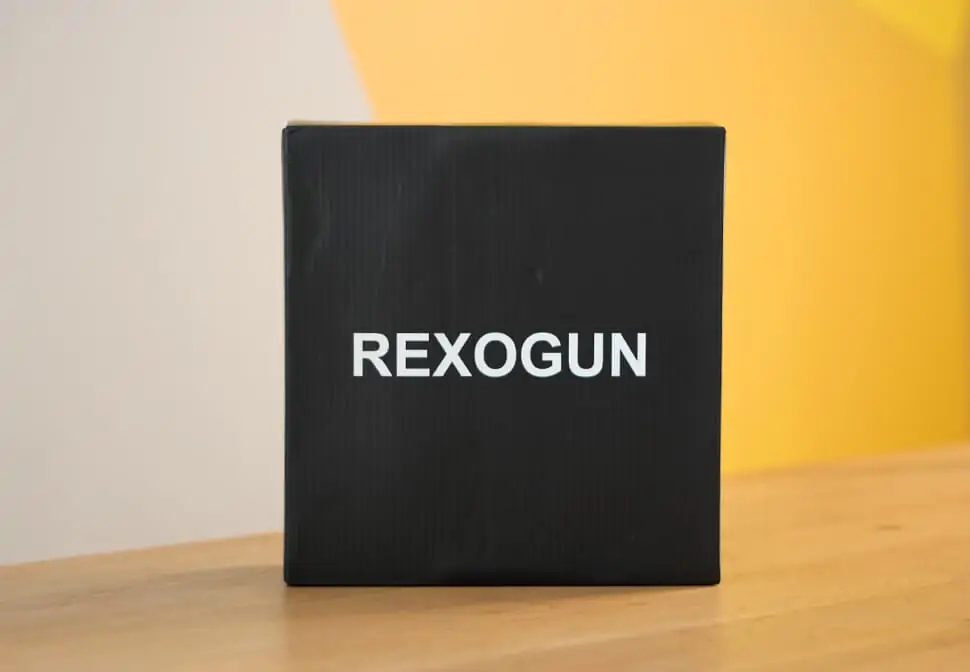 Nonetheless let's open the box, shall we?
Everything's in a box yes, but that didn't stop Rexogun from being meticulous with their arrangement of the contents. Inside, the gun itself sticks out, packed nicely along with the four attachments, a USB-C charging cable, and some instructional booklets.
The Minirex is a nice little gun made with a touch of class. On holding it, we could feel its sturdiness and durability. It's made of some impressive materials.
On touching it feels cold, like it's made of metal, or maybe plastic-metal, we couldn't immediately settle on which it was. However, you can definitely see its uniqueness in build quality.
The body is a glossy black that tells you that everything about it is posh and elegant.
It's a one-button operation device, meaning you only get one button to operate it.
To turn it on or off you'll need to long-press it. If you need to switch between the speed gears provided, then you only need to quickly press the button.
We noticed there are no LCD or touch buttons on it. Actually this simplification of things is what we like. You don't want to be fiddling with it wondering what button does what.
---
Attachments
The attachments on any massage gun are pretty big deal if you know what you are looking for. The Minirex comes with four (pretty standard).
The ball head: This is the round one that sometimes is squishy when you press it. It is the one you use to target most parts of the body. Because of its nature, you can use it over bony spots or over lean muscles. Glad to tell you that Rexogun chose to go with rubber and not foam here. We like foam, but only when it's new because it looks and feels soft. However, with time, it falls apart and looks really terrible.
The flat head: We love the flat attachment here! We use it over most body parts except the bony areas. We sometimes like to call it the power head because of the intensive massages we have with it. You'll need to be careful not to overdo it over bony areas. But the Minirex just might let you do that because they added a bit of a rubber finish to it. It feels softer compared to the ones made with hard plastic.
The bullet head: This is the head that helps you target specific muscle groups. We call it the focus attachment because it allows you to zero in on certain areas (think pecs). It also allows you to reach the difficult spots to hit with the other heads. We are used to hard plastic material with this one, but the one here feels a little soft. We'll let you judge should you buy the gun.
The fork head: We also call it the spine head because it's used around the spine area, or around the neck area as well. The two prongs on it help it glide harmlessly over the spine area. The material on this one also felt a little softer than usual, but maybe it's just us (you be the judge).
Rexogun came through with a touch of class including an instructional pamphlet that we felt was needed. It includes instructions on all the attachment heads as well as some useful instructions if you're not savvy with massage gun use.
---
Size, Weight, Ergonomics
The Minirex weighs in at just 1.3lbs. It's a small device so you'd expect it to be light. However, it's just the right amount of light not to feel like a toy. In your hand you can tell it's a serious electronic gadget.
It's a good size, we'll say compact, and highly portable. It's about 6.5 inches tall, 6 inches long (with the ball attachment), and about 3 inches wide.
It has a nice comfortable handle with a good grip. Although we felt it would've been a little better with a bit of silicone rubber just to punctuate it.
Otherwise the handle is slightly angled. We are glad it is (awesome touch). It's not the kind of "angled" like what the Ekrin Bantam has, but it slightly veers off the usual T-shape norm.
The angled handle is actually huge because those T-shape hammer drill handles tend to fatigue out the wrist within a few minutes into a massage session.
Right around the power button area you get LEDs that will indicate both speed levels as well as battery charge level. Some details on these LEDs:
If 1 LED light is on, there's 10% left
If 2 LED light is on, 50% left
If 3 then about 80% of juice left
4 LED lights = fully charged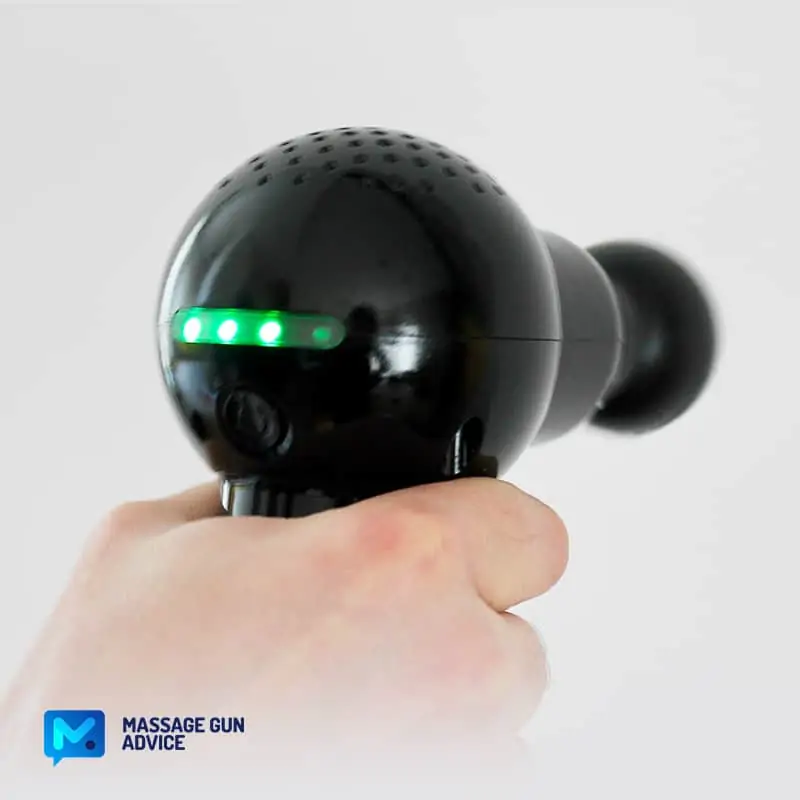 ---
Performance
This is the good section of this Mini rex massage gun review, where it gets serious, and we're glad you're still here.
---
Amplitude
This refers to how far the massage head travels when using the device. The Minirex has an amplitude of 10mm.
This is just about the standard for most mini guns in the market with the exception of Theragun Mini which, as the only one has 12mm. Still, 10mm is more than enough to get good results with this device.
We've tested the 10mm on this one and it was enough to get the body to relax, break up the lactic acid accumulation after a workout session, treat sore muscles, and also improve blood flow.
However, 10mm is still too small to give you a true deep tissue muscle penetration unless you are using a powerful motor.
---
Stall Force
Talking of a powerful motor, thankfully the Minirex has one that we would describe to be so.
Stall force is the amount of pressure needed to stop the massage gun, or in this case a force powerful enough to stop the motor. This determines whether you can get a deep penetrative massage.
And here's the weird part. Although the stall force on this device is listed as being only 22lbs. we felt like the motor was hitting between 30-35lbs.
No kidding, we've been using massage guns long enough to tell the difference. Still, even if it's just the 22lbs. of force, we figured it had to be because;
The Minirex has an awesome balance that makes it strong.
It's the perfect weight to enable it to continue functioning excellently even when pressed forcefully on to the body. Some mini guns are way too light to give you this kind of power.
That said, we were able to test the stall force on different speed levels and amazingly even at the lowest speed the stall force seems to be 22lbs. This tells you something about the power you're getting with this gun.
Other mini guns have progressive stall force as you hit the gears. For example, first gear will stop with 10lbs. of force, and then the highest gear will require what's listed as the stall force.
---
Performance Comparison
Let's see how the Rexogun Minirex compares against the most popular competitors.
---
Stroke Length (mm)
Stroke Length is on par with most other massagers of this size.
---
Percussions and Speed Levels
The Minirex revs with speeds of between 1800-3000rpm across 4 speed gears. This is about enough actually. We've seen guns that have way too many gears to be useful.
We saw something we don't always get with many other guns we have reviewed. Rexogun included some interesting details about frequencies and rpms on each of the 4 speed gears:
1st: 1800 rpm / 30 hz
2nd: 2200 rpm / 37 hz
3rd: 2600 rpm / 43 hz
4th: 3000 rpm / 50 hz
---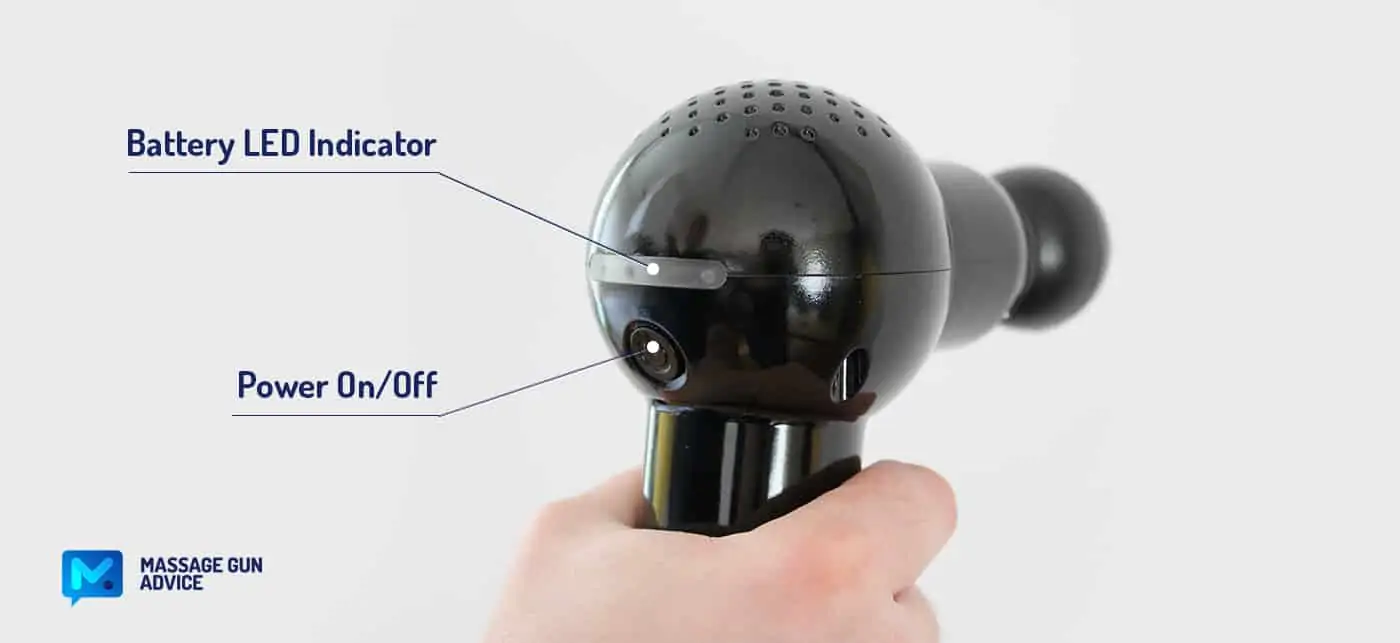 Battery
The battery is a powerful 2000mAh Samsung lithium battery. This is normal-size gun capacity range.
A single full charge will give you 3-4 hours of continuous use if you're operating on high gear. Otherwise on lower gear you get between 7-8 hours. What more could you ask for? Under normal circumstances (say you use it for 10-minute sessions) you'll need to charge it after 2 weeks.
We're glad Rexogun specifies that it's a Samsung battery which immediately tells you that you are getting a high quality product. We've run into trouble with guns that don't specify this. Some just fail to function after about 3 months. Others deteriorate in efficiency by up to 40-50%.
There is a 1-meter long USB-C cord that you will use to charge this massage gun. This makes it convenient as opposed to when you have a dedicated charger.
---
Noise
Rexogun actually delivers on their promise for a quieter gun. The noise level is listed as 50dB but we tested it and it goes slightly over this to about 60 dB or thereabouts.
This is impressive. We didn't need to turn the TV volume up when using it. We like that it doesn't rattle when pressed to the body.
However, just to punctuate it, the vibrations transfer to the handle a bit too much. This might make longer massage sessions less pleasant but fortunately it only happens on the highest gear, so not a deal breaker at all. In fact, we've experienced the same with Theraguns and Hypervolts.
---
Price, Warranty, Where to Buy?
Don't bother looking for the Minirex on Amazon because Rexogun is a direct-to-consumer company and only sells through their store. The manufacturer will directly contact you, which is a plus.
You get a 2-year warranty with this one. Most massage guns on Amazon offer only 1-year guarantees.
Just a heads-up though, Rexogun will not cover water damage. However, they'll replace it in case the housing breaks, the battery leaks, or in case there's any manufacturing defects.
---
Who is it Best For?
We'll recommend the Minirex to people who are always on the move and are looking for a strong enough massage gun to travel with.
It may not be perfect for deeper intensive massages, but it's strong enough to break up lactic acid accumulation, treat sore muscles, and give a nice massage after a workout session.
You won't get anything close to the Ekrin B37 or Achedaway Pro but just enough for a mini massage gun.
---
Minirex vs Theragun Mini
| Feature | Rexogun Mini Rex | Theragun Mini |
| --- | --- | --- |
| Stall Force | 22 lbs | <20 lbs |
| Stroke Length | 10 mm | 12 mm |
| Speed Options | 4 | 3 |
| Battery Life | 4+ hours | 2.5 hours |
| Noise | 50-60 dB | ~50 dB |
| Weight | 1.3 lbs | 1.4 lbs |
| Attachments | 4 | 1 |
| Warranty | 2 years | 1 year |
| Base Price | $279 | $199 |
| | Currently unavailable | Buy Now |
Rexogun Minirex vs. Theragun Mini
In comparison of Minirex vs Theragun Mini, which many people seem to love, we've got a few points of comparison. Take a look and judge for yourself.
Theragun is heavier, 1.5lbs., while the Minirex is only 1.3lbs.
Theragun has 12mm amplitude. Minirex has 10mm
Theragun has less than 20lbs. stall force. Minirex is listed as 22lbs. but feels like 30+ lbs actually.
Theragun has percussion speeds of 1750-2400rpm, while Minirex will give you between 1800-3000rpm. We will go with the Minirex here for a more intense massage albeit its slightly shorter amplitude.
Theragun Mini has 3 speed gears and only one attachment. Minirex has 4 speeds and 4 attachments.
Minirex has a superior battery that carries way more juice, 5-8 hours depending on use. Theragun Mini will run for just 2.5 hours.
Both devices have the same level of quiet.
Minirex will cost $179 with the discount applied, Theragun will cost you more.
Theragun Mini has a 1-year warranty. Rexogun offers 2 years guarantee.
Verdict
Here are two mini massage guns, one a premium product form a well-established manufacturer in Theragun, the other not so well-known, but a proven brand. Unless you are a Theragun fanatic, we would opt for the Minirex because it offers more than it promises in power and quality. It's cheaper than Theragun Mini and has a better warranty.
---
Minirex Massage Gun Review Conclusion
Before we wrap things up in this Minirex massage gun review, we just have a couple of things to say.
First, we are really impressed with the Minirex. Apart from the nice build and high quality components (the Samsung battery, quiet brushless motor), it's a perfectly balanced gun, strong enough to deliver a good performance for an average user. It has great ergonomics and much more powerful when you actually get to use it.
Rexogun actually delivers on their promise. You can get it here while it's $100 off.
---
Quality

Effectiveness

Usability

Accessories

Price Value
Summary
Rexogun's Minirex is light, small and compact enough to fit into your bag and become your new post workout buddy. It's powerful enough to break down that nasty lactic acid and treat sore muscles, and it does all of that while being quiet, stylish-looking device that's more affordable than the Theragun Mini or the Hypervolt Go. What else do you need?
---
Thanks for reading our Mini Rex review. Bye for now!
Was this article helpful?
Thanks for your feedback!
Post Update History
Here's a quick rundown of all the tweaks and edits we've made to this article to keep it accurate and up-to-date!
Current version last updated on:
•
Written by:
Greg Szostak
Disclaimers
The views and opinions expressed on this website are those of the authors. Any content provided by our bloggers or authors are of their opinion and are not intended to malign any religion, ethnic group, club, organization, company, individual or anyone or anything.
All product names, logos, and brands are property of their respective owners. All company, product and service names used in this website are for identification purposes only. Use of these names, logos, and brands does not imply endorsement.
It is our policy to make every effort to respect the copyrights of outside parties. If you believe that your copyright has been misused, please provide us with a message stating your position and we will endeavor to correct any misuse immediately.
Some of the links in this post are affiliate links. As an Amazon Associate, we earn from qualifying purchases. This means if you click on the link and purchase the item, we may receive an affiliate commission, at no extra cost to you. This helps us keep this website alive. Learn more here.
Amazon Disclosure
massagegunadvice.com is a participant in the Amazon Services LLC Associates Program, an affiliate advertising program designed to provide a means for sites to earn advertising fees by advertising and linking to Amazon.com. As an Amazon Associate, we earn from qualifying purchases. Amazon and the Amazon logo are trademarks of Amazon.com, Inc. or its affiliates. Please refer to our Privacy & Affiliate Policy for details.