Disclaimer: Our content is unbiased, non-sponsored and fact-checked. If you buy via links on our site, we may earn a commission. As an Amazon Associate, we earn from qualifying purchases.
---
Can you use a massage gun on your neck? How can a massage gun help with the pain in your neck? If these are some of the questions bugging you, we'll provide an answer in this article. We'll also try to answer questions like, "are massage guns good for neck pain?"
---
Many things can cause pain in your neck, including sitting on your computer the whole day working, exercising, or even using your smartphone for a long time (you know how addictive smartphones can be, right).
Sometimes you just need the pain to go away without sweating it out so much. Good news…
Massage guns can help… but you have to use them properly.
PRO TIP You can read this post if you want the best massage gun for the neck and shoulder.
---
---
Why Trust Our Advice and A Disclaimer
Before we tell you about using a massage gun on your neck, we have to let you know that we are not physiotherapists. We are not doctors either. If the pain in your neck persists after following our advice, you need to consult a doctor.
We know about massage guns because we buy, test and use them every day. However, when it comes to medical advice (for medical advice posts), we consult our experts (licensed physiotherapists, chiropractors, and medical doctors). This post has been medically reviewed for accuracy.
---
Can You Use Massage Gun on Neck?
Yes, you can use a massage gun on your neck; you just need to know where and how.
Studies show that percussive therapy can prevent DOMS1 (Delayed Onset Muscle Soreness). In many cases, neck pain and tension comes from overstraining the muscles in your neck.
Massage guns work by improving blood circulation within muscles. This relieves pain by supplying fresh oxygen to the muscle tissue. They also help relieve stiff muscles2 by reducing muscle tension, which helps you relax.
They are also great for DIY massage. You can carry your massage gun anywhere with you and use it when the need arises. If you experience neck pains at work, you can take out your massage gun and sort out your problem immediately.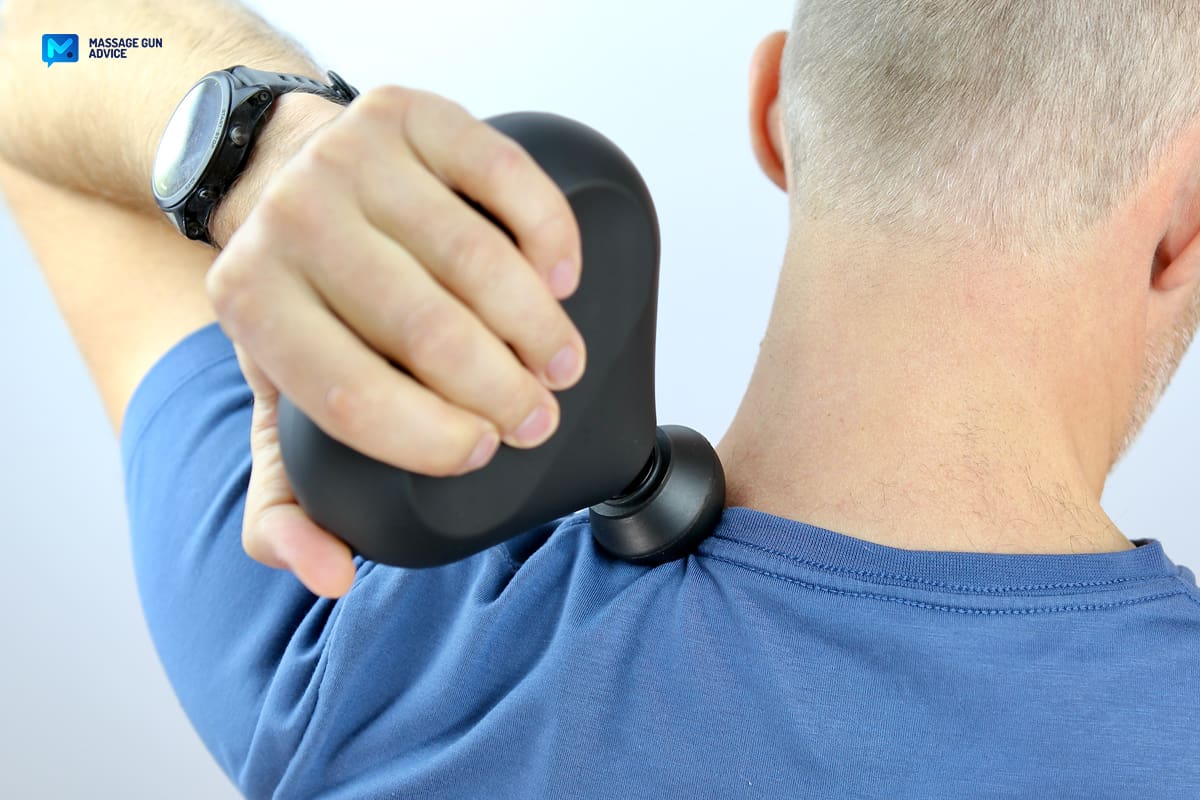 ---
But Is It Safe to Use Massage Gun on Neck?
Again, with massage guns on your neck, you need to know where to massage.
Never massage the front part of your neck with a massage gun. The pain in your neck rarely originates from there, and many areas on the front of your neck are very sensitive to pressure.
Instead, you need to know which muscles to target. These muscles are all located at the back and sides of your neck. They include:
Trapezius muscles are large paired muscles that extend over the back of your neck and shoulders. They help with your head and shoulder movement. When this muscle is overstrained, it often causes tightness and pain in the back of your neck. In some cases you may also feel tingling or headaches.
Levator Scapulae – It lies beneath the trapezius muscles and helps hold up your shoulder blade.
Sternocleidomastoid or SCM muscle – This is the muscle that helps you rotate and pull forward your head.
---
Why Using a Massage Gun on Neck May Not Be Safe and What To Do About It
Massage guns work either with vibrations or percussions.
Vibrations are awesome when you want to relax. They help improve blood flow through the areas being vibrated. On the other hand, percussions do the same thing (and more), only they tend to be more aggressive.
Now, the neck (especially the front part) is delicate. Even if a massage gun can only offer vibration therapy, you need to be careful not to mess with the front part of your neck.
CAUTION Trying to massage this area could lead to serious harm. Here's how:
The front part of your neck carries some really important stuff – like crucial arteries. Using a massage gun directly on these arteries could literally damage them.
The most important arteries around the front of the neck are the carotid arteries. They help with the supply of blood to the brain. The internal carotid arteries supply blood to the brain, while the external arteries supply blood to your face and neck.
When you apply a massage gun directly to these arteries, you could slow or stop this important blood supply. This could result in dizziness, confusion, fainting, or more serious problems like a stroke.
Our advice is that you leave the front part of your neck alone and focus on the back/sides of your neck. If you want the best results, you need to focus on the trapezius muscle. It's located just above your shoulders.
---
Can You Use Massage Gun on Back of Neck?
Yes. That's where your focus needs to be. We've already seen that it can be pretty harmful to try and massage the front part of your neck using a massage gun. However, it's perfectly safe to use one on the back of your neck – you just need to know where to apply it.
The back of your neck has a lot of delicate parts that you need to watch out for when you are using a massage gun. For example, never use a massage gun directly on your spine. You could cause bruising, or more serious damage like a fracture.
When you want to relieve the pain and the stiffness in your neck, focus on the levator scapulae muscle and the upper trapezius. These two muscles work together to elevate the scapula. If you are an athlete, especially if your sport requires you to do repetitive movements (throwers and swimmers), you will need a massage here.
The same goes for construction workers and other jobs with repetitive arm movements. To alleviate that pain, you may need to massage the back of your neck and (same as for athletes) focus on the scapulae and the upper trapezius.
Shoulder tension, which tends to go hand in hand with pain at the back of your neck, could also be treated using a massage gun by following the pattern of working on these two major muscles. One large factor in developing neck pain and tension is posture.
When we stand or sit for long hours without support for our head and shoulders, our upper trapezius and levator scapulae become tired from holding our neck and shoulders in place. When these muscles become tired, we start to feel soreness and tension in our head and neck.
---
Using a Massage Gun on Your Neck – What To Know
You can read our best massage gun for neck and shoulder pain post for the best recommended devices. Once you have your preferred device, the key is to try to use that device properly.
---
Best Massage Gun Neck Attachment
Like we've said, you will need to use the right massage gun neck attachment if you want the massage to be effective and safe. Again, here we recommend using something you are comfortable with.
Most people prefer softer attachments. Some massage guns come with cushioned or Soft attachments. For example, Ekrin 365 and Bantam have an excellent soft ball attachment. Theragun Pro has the Supersoft attachment.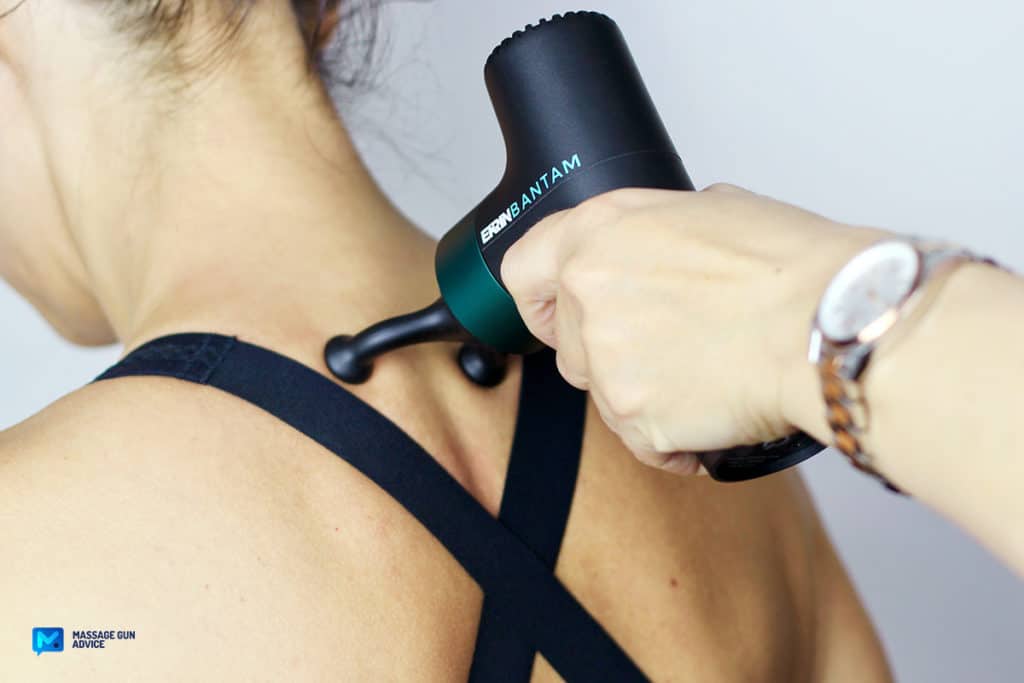 You can use the bullet or fork attachments for tough spots or trigger points.
The fork attachment is designed to be used around the spine. The two prongs go on either side of the spine. None of the prongs should touch the spine (bone area).
PRO TIP
Before using the fork attachment, first inspect if it is wide enough to massage with safely. Some fork attachments are designed to be too narrow – for instance, what we saw recently with the Opove APEX massage gun. If the fork is too narrow it will hit your spine.
You can also use the standard ball or flat attachments. These can also just be as effective in relieving the pain in your neck and shoulder areas, but tend to be most effective with large muscle groups like the upper trapezius.
The trick is to try out different attachments and figure out which one works best for you.
---
Set the Pressure and Speeds
Use the right attachment and adjust it for appropriate speed and pressure.
For pressure, make sure to start very light. Do not press the device too hard against your neck. Just glide the massage gun over the shoulder and up over the back of your neck. Only apply more pressure on the shoulders to break up tense tissue. Even so, don't apply too much pressure here. Be sure to go light on your first session and pay attention to how you feel afterwards. Too much pressure could leave you more sore, or with a headache.
For speed, you will have to decide what works best for you. However, we recommend using the first speeds (they are slow and tender enough for the neck). Some devices start at 1200RPM while others start at 2000RPM. The speed you use will depends on how your muscles and skin respond to the vibrations and hits.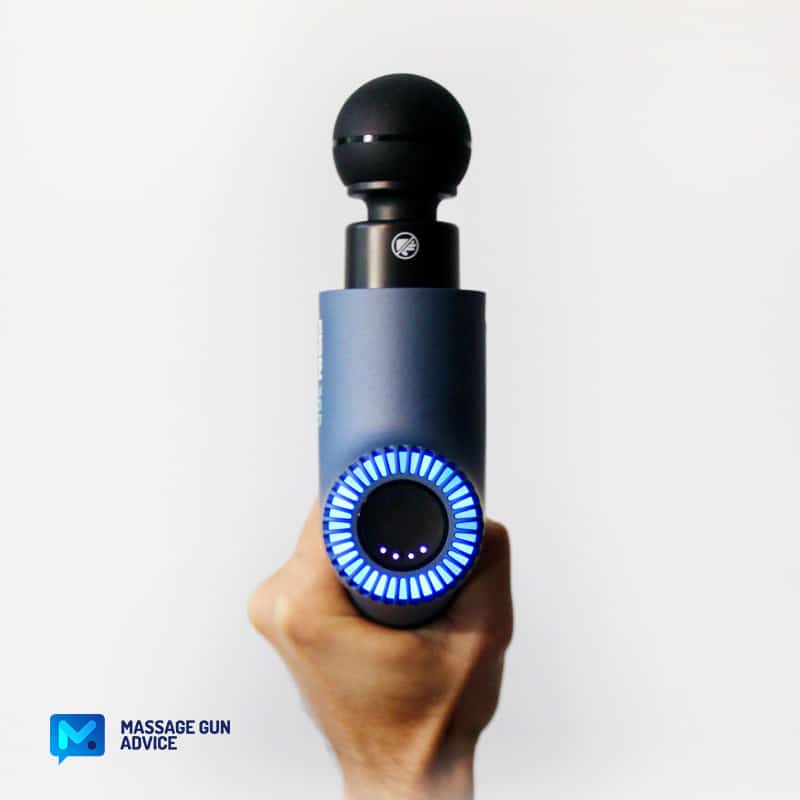 ---
How To Use a Massage Gun on Your Neck – Steps to Follow
Once you have your preferred massage gun, read through the manufacturer's manual to familiarize yourself with it. Once done, it's time to massage your neck and shoulder to get rid of the pain and stiffness.
Follow these steps:
Turn on your device and set the lowest speed. As we said, some devices will start revving at 1200RPM while others will start at 2000RPM. Go with a setting you are comfortable with.
Use the softest attachment available. For most devices, it is the cushioned head. For Theragun devices, it is the Supersoft attachment. The standard ball can also work.
Start with the shoulders. Glide over with your device for 20 to 30 seconds. Apply minimal pressure and note how the muscle feels.
Slowly move over to the trapezius muscle – the upper part of your shoulder – for 15 to 20 seconds.
Then glide your device on your upper back (just below the neck), where the Levator Scapula muscles run into the shoulder blades. Glide the massage gun all the way up to your hairline. Do this for both sides of your neck.
You can try other attachments to see what it feels like. Try the fork attachment for both sides of the spine around the neck area. If you have knotted muscles in your shoulders, use the bullet attachment. Don't forget to try the standard ball or the flat attachment (for shoulders).
Don't rush the procedure, and make sure you don't glide over the spine.
If the pain is too much to bear when you have applied everything said here, do not continue the massage. Consult your chiropractor or physiotherapist for further advice.
PRO TIP Do not forget the practical tips of making sure you maintain a proper posture when working on your computer or browsing through your phone, and taking frequent activity breaks to get your joints moving. It's also important to eat a healthy diet and exercise regularly to keep your neck and shoulder muscles in tip-top shape. 
---
Using Massage Gun on Neck – Final Thoughts
So, can you use a massage gun on your neck? We believe we have answered this question in our article today. Massage guns and percussion therapy can help with neck and shoulder pain. However, you need to know how to use one to get the best results.
But a massage gun isn't the silver bullet for a healthy neck and shoulders. You need to practice a healthy lifestyle. This includes regular exercise, not spending too much time in one position (taking breaks from activities requiring you to maintain one posture), stretching or yoga, and a healthy diet.
Keep in mind that a DIY massage with a massage gun might never replace a Physiotherapist or Chiropractor.
However, it can complement manual therapy and guided exercise3. Always consult your physio or chiropractor, especially when the pain doesn't go away or comes back shortly. If you have severe pain that doesn't change with your position, dizziness, or numbness in your face, consult your medical doctor.
Lastly, if you haven't yet decided on the right device for you, we have another post where we have done extensive research and recommended the best massage gun for neck and shoulder pain.
---
Article Sources
Vibration Therapy in Management of Delayed Onset Muscle Soreness (DOMS). Zubia Veqar , Shagufta Imtiyaz (2014).
DOI: 10.7860/JCDR/2014/7323.4434
Advances in the diagnosis and management of neck pain. Steven P Cohen, W Michael Hooten, (2017).
DOI: 10.1136/bmj.j3221
Manual Therapy for Chronic Non-Cancer Back and Neck Pain: A Review of Clinical Effectiveness. Calvin Young, Charlene Argáez. 2020
www.ncbi.nlm.nih.gov/books/NBK562937/
---
NOTE: We only use high-quality sources and rely on peer-reviewed studies, academic research institutions, and medical associations to support the facts within our articles.
Disclaimers
The views and opinions expressed on this website are those of the authors. Any content provided by our bloggers or authors are of their opinion and are not intended to malign any religion, ethnic group, club, organization, company, individual or anyone or anything.
All product names, logos, and brands are property of their respective owners. All company, product and service names used in this website are for identification purposes only. Use of these names, logos, and brands does not imply endorsement.
It is our policy to make every effort to respect the copyrights of outside parties. If you believe that your copyright has been misused, please provide us with a message stating your position and we will endeavor to correct any misuse immediately.
Some of the links in this post are affiliate links. As an Amazon Associate, we earn from qualifying purchases. This means if you click on the link and purchase the item, we may receive an affiliate commission, at no extra cost to you. This helps us keep this website alive. Learn more here.
Amazon Disclosure
massagegunadvice.com is a participant in the Amazon Services LLC Associates Program, an affiliate advertising program designed to provide a means for sites to earn advertising fees by advertising and linking to Amazon.com. As an Amazon Associate, we earn from qualifying purchases. Amazon and the Amazon logo are trademarks of Amazon.com, Inc. or its affiliates. Please refer to our Privacy & Affiliate Policy for details.