Sharper Image Power Percussion Review – Good on the Outside But only So-So In Performance
Disclaimer: Our content is unbiased, non-sponsored and fact-checked. If you buy via links on our site, we may earn a commission. As an Amazon Associate, we earn from qualifying purchases.
---
Welcome to our Sharper Image Power Percussion review. Once in a while, we encounter products from least known brands that intrigue us.
But Sharper Image seems to be a well-established brand that sells various products. We are always interested in the massage gun category, and we are glad they sell these.
We know Sharper Image sells guns at Costco and other retail stores. We also know that before this latest model, they sold the Powerboost model. The Power Percussion model is the successor to the Powerboost. We like how it looks, but we're wondering whether it's effective.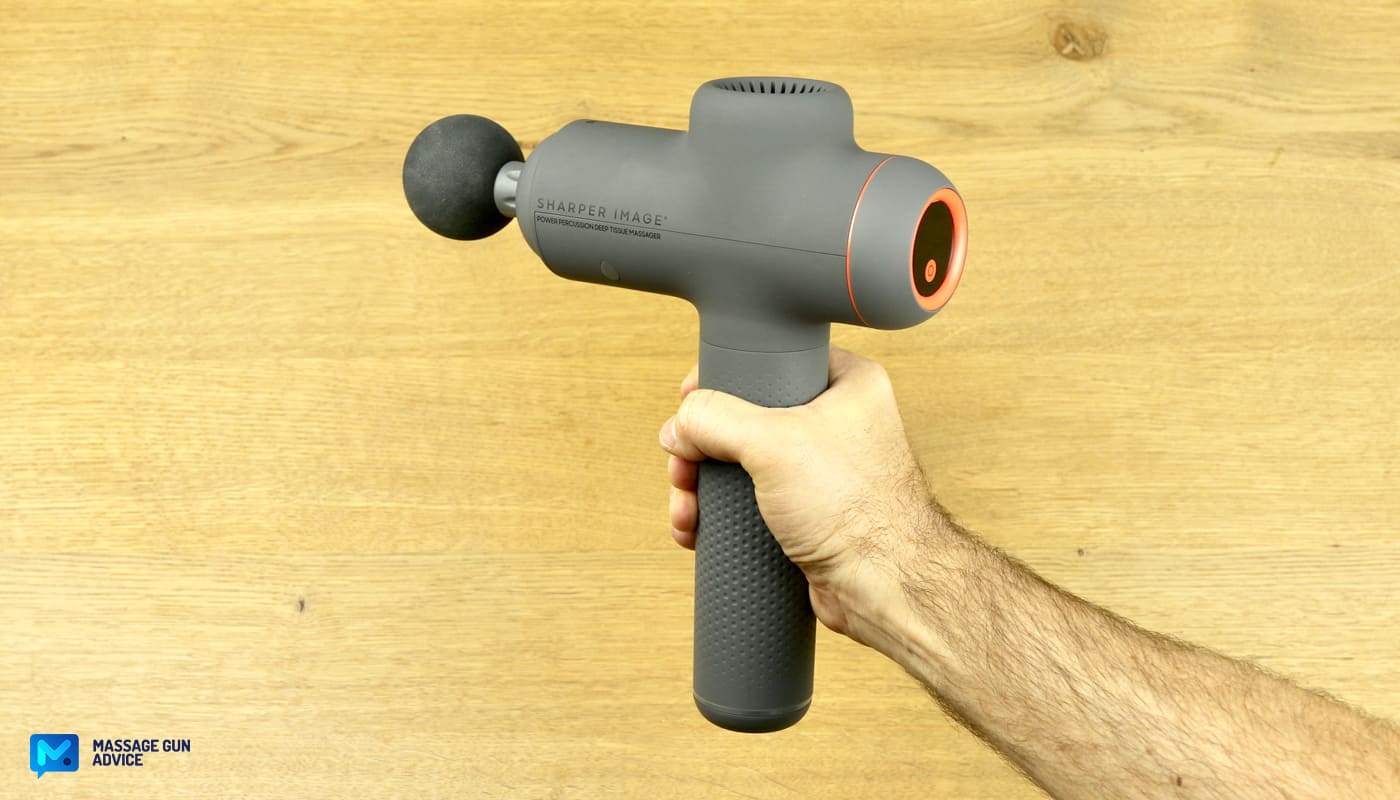 Can it perform when needed? Is it reliable? Or is it another mass market product?
We'll find out.
---
---
Sharper Image Power Percussion Review
Sharper Image Massage Gun Specs
Features
Sharper Image Power Percussion
Max. Stall Force
25-30 lbs*
Stroke Length
9.5 mm*
Percussions Range
1200 – 2650 rpm*
Speeds
6
Battery Life / Capacity
~4.5h / 2500 mAh (non-removable)
Attachments
6
Weight
2.2 lbs
Noise
49 – 60dB
Main Pros
Nice design
Good weight
Decent stall force
Main Cons
Low amplitude
Low percussions
Only hard attachments
Long term reliability (?)
Warranty
1-year
Where to buy
Amazon
Walmart
Costco
Sharper Image Power Percussion Specs (*according to our measurement).
---
First Impressions and Design
The gun comes in nice packaging with descriptive images printed on it.
When you unwrap the packaging, you find a gray zippered carrying case that we must admit is a nice touch for a sub-$100 massage gun. Either way, even under $50 guns come in a carrying case at this point, so this shouldn't be surprising.
The gun is nicely packed inside the case, and we must say we had a positive first impression.
We like the design. It looks sleek and rounded. It comes in a light-gray color with orange accents. The entire body is made of plastic, but we like the quality. The designers clearly wanted to create a good first impression. It's a modern look that we like.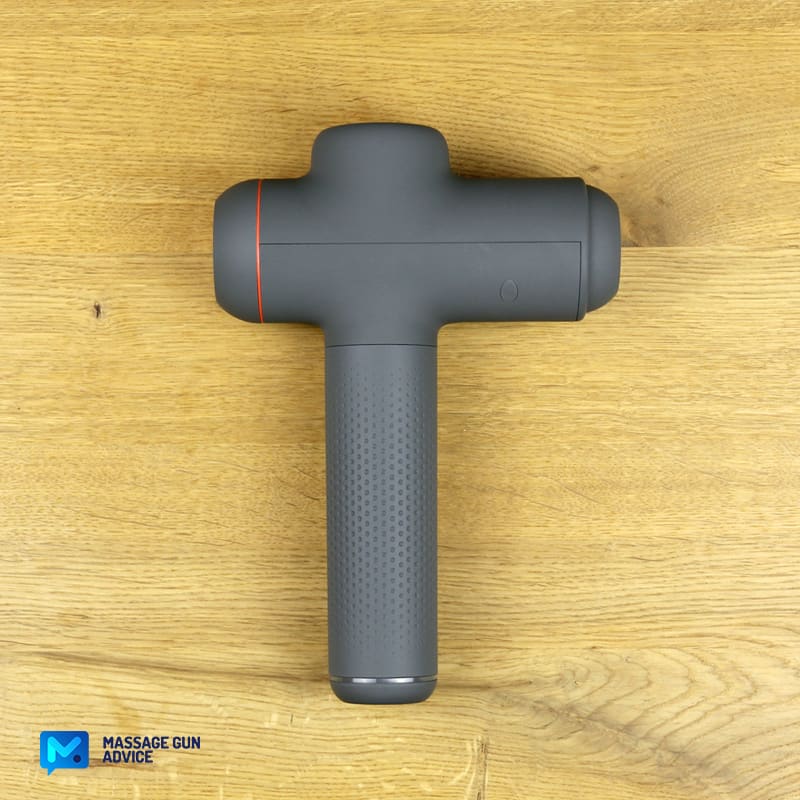 ---
What Else is Included?
There's another tiny case within the main case for the attachments. We are used to seeing a tiny pouch for the attachments. This looks different and convenient too.
The instructional manual is helpful if you care to read it. It includes information about which attachment to use on which muscles.
There is a wall charger included and spare attachment gaskets. The gaskets tend to wear out after a while – it's good to have spare ones for when it happens. We love that the gaskets are orange.
---
Attachments
There are 6 attachments included with the gun. The mounting system is push-n-pull, which tends to require a bit of force. We see this with most cheap guns.
Briefly about the attachments:
Flat Head (with tiny dots) – This one is for massaging larger muscle groups. You can use it when you want an aggressive massage.
Smaller ball head – The universal head can massage all muscle groups. It's made of EVA foam. Please don't use it on clothes.
Larger ball head – It works similarly to the small ball head above but covers a larger area. You can use it on your larger muscles.
Bullet head – This one works on trigger points, joints, palms, and soles.
Fork head – It works on the spine area but can also be used on the Achilles. It can act as a double-headed bullet attachment.
Wedge/bar head – This one can be used on the calves, arms, biceps, and to simulate scraping.
Our Take
We like that they included 6 attachments with a cheap device. We also love that the heads are nicely varied. However, all the heads are made of hard plastic. There is no soft attachment for bony or tender areas. There shouldn't be an excuse for this.
Even the cheaper Taotronics and Urikar (similarly priced) come with at least one squishy head. The 6 attachments are good, but we miss a soft head.
---
Size and Ergonomics
It's an okay-sized device. It feels substantial, but it's not bulky. It probably looks smaller than most full-sized guns out there. It measures 9.84 x 6.9 x 2.5 inches. It has quite a long handle. This is good because you can easily reach your lower back. On the flip side, it makes the gun look bigger.
It weighs 2.2 pounds with the flat attachment mounted. We'd say this is the typical weight of a full-sized gun. Even Ekrin B37 weighs the same.
What about ergonomics? Well, for starters, the handle is straight and not slanted like Ekrin devices. It's slightly harder to maneuver this gun than the Ekrin devices. Also, the T-shape handle causes the wrist to strain when you are using the device for longer sessions.
The handle is also thick and may not be the best for folks with small hands. But plenty of rubber is on the handle so you won't struggle to hold on to it. Overall, the size and ergonomics are okay but not perfect. Urikar Pro 2 and Taotronics are better in this regard.
---
Controls
The controls are simple. There is a small on/off toggle switch at the bottom of the handle and one central button for changing speeds, located on a back panel.
There is also a simple display that shows the battery level (in percentage).
When you press the central button, it briefly shows the current speed and then returns to display the battery percentage.
We like the simplistic but functional approach to the controls.
---
Performance
So, this device looks neat on the outside, but does it have what it takes to do a decent job? We check for performance by looking at amplitude, stall force, and percussions per minute – or power, collectively.
---
Amplitude
Amplitude is the distance the head travels as the gun percusses.
Sharper Image doesn't advertise the stroke length, but we had a feeling it's not substantial – nothing Theragun-like. We expected 10mm or thereabout. When we measured it, we got 9.83mm – pretty close to the 10mm mark.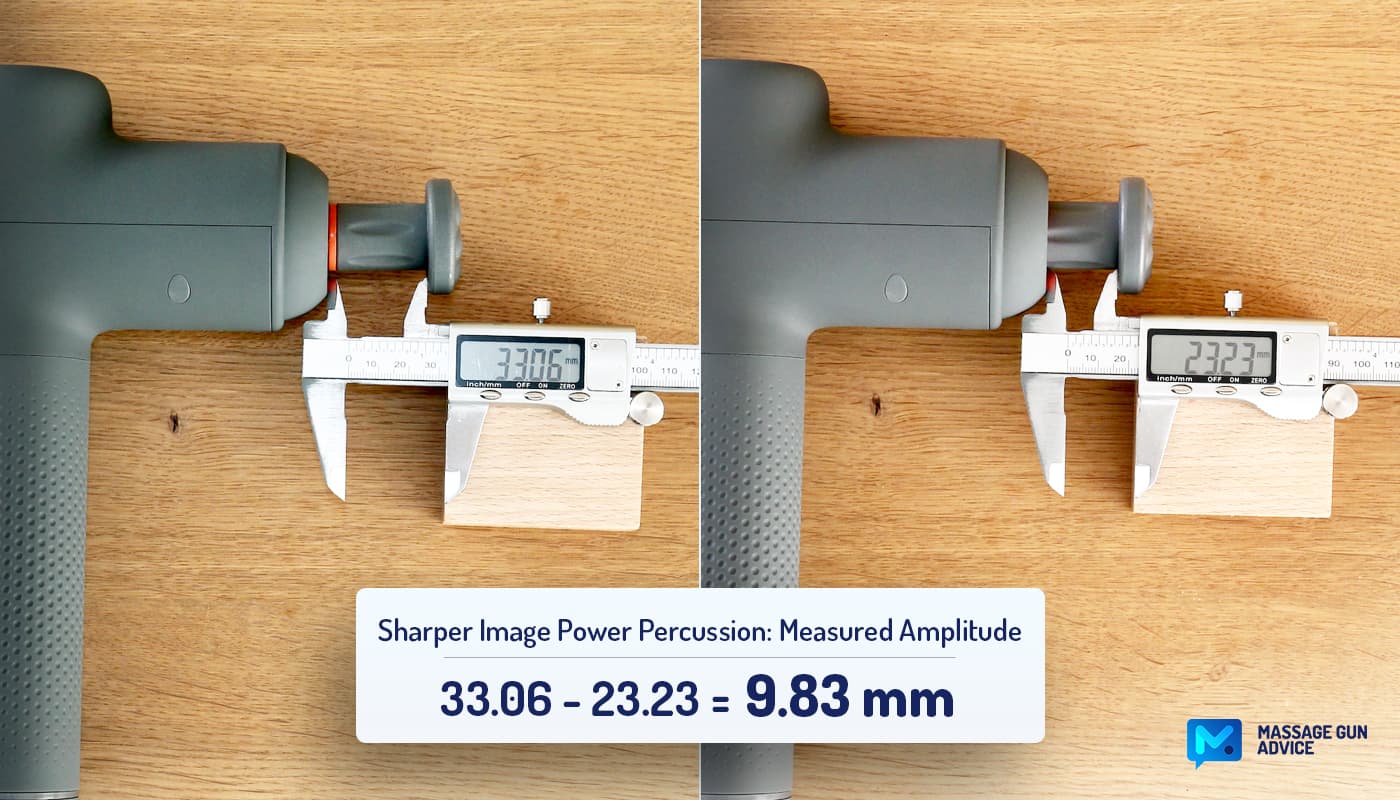 This means you are getting a vibrational massage with this Sharper Image deep tissue massager. You shouldn't expect deeper punches like Theragun.
But should it have enough stall force and rapid percussions, then 10mm can be good enough to go deep-tissue. And here's what we think of its stall force.
---
Stall Force
Stall force is the gun's ability to remain functional when pressure is applied to the motor.
After testing the device, we figured the stall force wasn't so bad. However, it feels like an entry-level gun stall force. We estimate it's 25-30lbs. at top speed. It could be single digits at lower speeds. For perspective, it takes very minimal pressure to significantly slow down the percussions (at low speeds).
It feels slightly robust at higher speeds but slows down significantly when you press it against large muscle groups. Pressing the gun against the body helps to achieve deep tissue penetration and treatment.
---
Percussions and Speeds
Often when you see 10mm amplitude or lower, you know there is a chance the gun can also rev rapidly. But this is an attribute of good low amplitude guns. We expect those to rev up to 3000-3300RPM.
The key thing about percussion therapy: the fast hits add the needed intensity to override the pain signals in the brain and release muscle tension.
But this Sharper Image gun only revs up to 2700RPM according to its specifications. We measured the hits using our digital tachometer and recorded even less, 1200 to slightly over 2600RPM.
Now, 2600RPM isn't so bad if it's combined with a decent amplitude. But with 10mm, it feels so-so at best. It lags behind many competitors that try to balance the stroke length with the percussions. They often combine a higher amplitude and rapid percussions. This allows for a more penetrative and effective massage.
But doesn't Hypervolt 2 Pro have about the same maximum percussions? Yes, The Hypervolt 2 Pro has 2700 maximum percussions. However, it also has a 14.5mm amplitude – that's close to twice Power Percussion's amplitude! Even the entry-level Hypervolt 2 has a 12mm amplitude (similar color).
Our take: Overall, this device disappoints in performance. It is not very bad, but for the money, you can get a better device (see best alternatives below). On the bright side, it has a decent stall force and 6 speeds to cycle through the reasonably wide range.
---
Noise
It's a quiet device that remains hushed throughout the operation. Even at higher speeds, it rarely buzzes. It emits just about 60dB. But this is what we've come to expect of low amplitude devices.
But we did notice it gets louder after a few dozen sessions. We observed rattles, vibrations, and some creaking noise. This often means that the device might have reliability issues in the future.
We know such (cheap) devices tend to get louder a few weeks into using them. It's a characteristic we've noted with many budget massage guns.
The attachment mounting system may shoulder the blame for the rattling. We don't know how long this gun will stay functional, but it's nothing we haven't experienced with similar guns.
---
Battery
Expect a 2500mAh battery. This is a standard massage gun battery capacity.
You should get about 4.5 hours of operation time according to Sharper Image. However, this sounds like an exaggeration, unless you don't move past speed 1. Under normal usage, where you apply some pressure and use higher speeds, a single charge should last 1.5 – 2 hours. This is still good enough and could translate to about a week of use under normal usage.
The main display has a battery indicator (0-99 percent). The LED ring on the handle is reminiscent of Hypervolt. We are not so sure the battery will go the distance.
Again, budget devices tend to save on batteries. We also spotted a number of negative reviews from buyers who complained that the device suddenly stopped working. For instance, here and here. Obviously, we'll have to wait and see.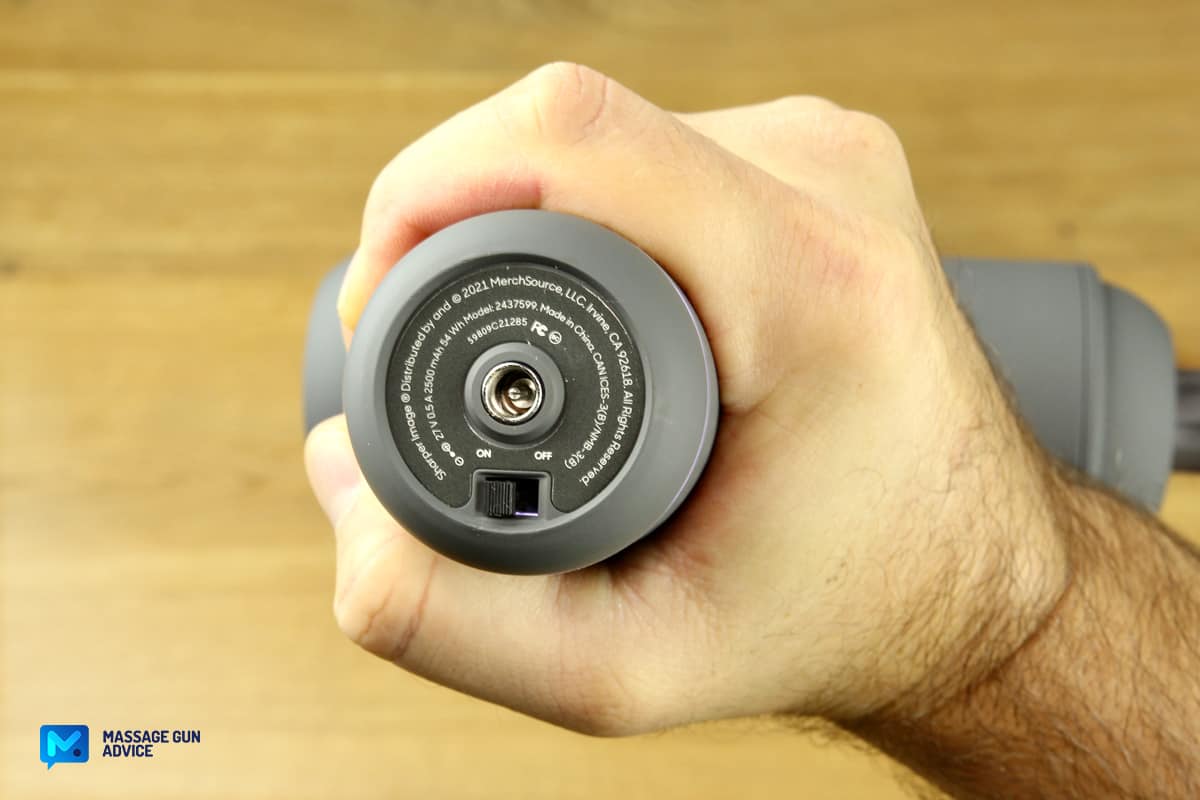 ---
Warranty, Price, and, is it Worth it?
We didn't see any warranty information. We are assuming it's a 1-year warranty and nothing more. Many cheap massage guns tend to have a 1-year cover. We prefer brands like Ekrin and Lifepro that provide a life cover for all their devices.
You can order this device online, at Costco, Walmart or even at Amazon. It's not an expensive gun.
We bought it for about $65. We understand it was slightly higher than this before. But is it worth its weight in gold? We know it can handle basic percussive therapy, but we know competitors with better value-for-money devices. We list 2 alternatives below.
---
Sharper Image Power Percussion Alternatives
---
Urikar Pro 2 – Same Price, Better Features
Urikar Pro 2 is a budget massage gun too. It has some features that you may find interesting.
For starters, it weighs about the same as the Sharper Image percussion massager. However, it has better ergonomics. Instead of the same boring straight handle, it has an adjustable handle that is generally better to hold.
But its killer feature is the heated massage option. It comes with a special heated ceramic attachment. Heated percussion therapy is effective in relieving pain and aids healing during rehabilitation.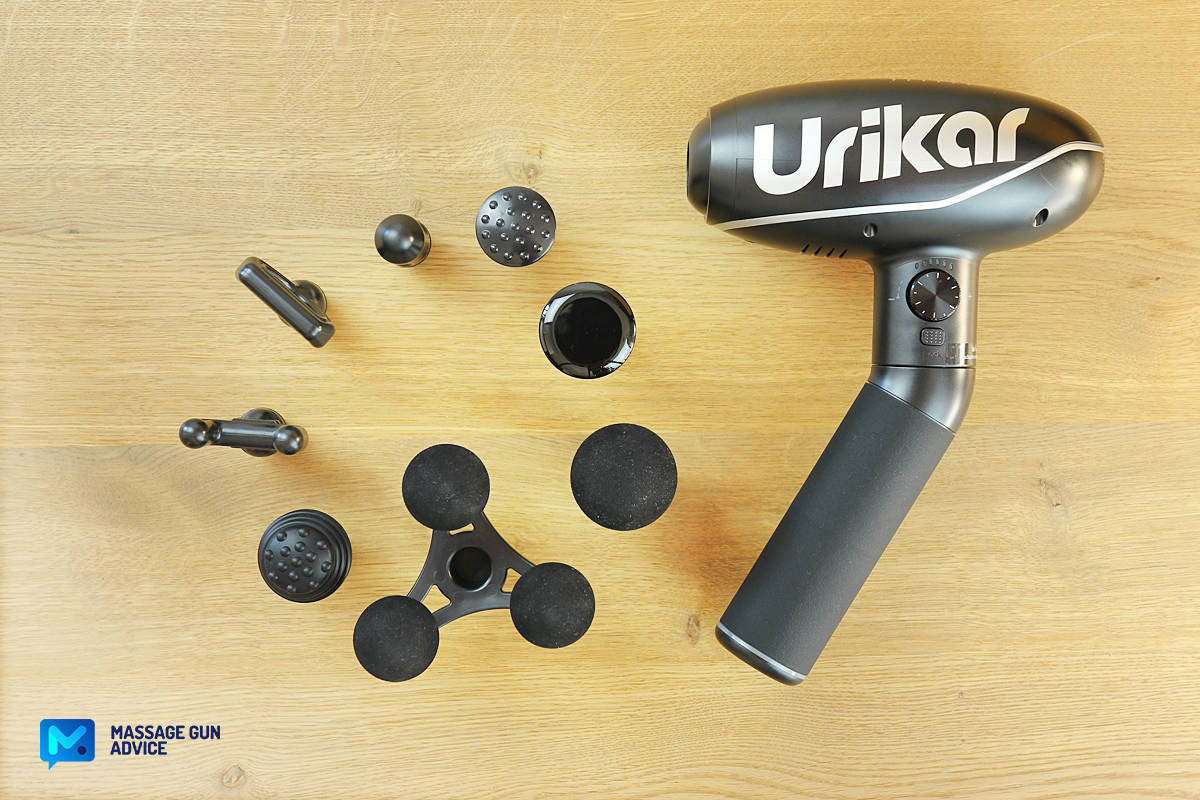 It percusses a little slower than the other competitor guns but has a 12mm amplitude to make up for the slow percussions. Thi is 20% longer stroke than the Sharper Image product.
In fact, it's probably the only under $100 percussion massager we have seen with a 12mm amplitude. We prefer this setup to Sharper Image's – the same maximum percussions per minute but a higher amplitude.
Another nice feature of this gun is the different dynamic massage modes. The modes allow the device to self-regulate the speeds.
It comes with 6 attachments, including a squishy one you can use on tender areas (Sharper Image only has hard attachments)
The battery is also slightly larger – 2600mAh compared to 2500mAh.
With the code URIKAR02, you can get it for just $62.90. It's a cool discount that cuts the base price by more than half.
Learn More Our full Urikar Pro 2 review.
---
Taotronics TT-PCA004 – Even Cheaper, but Better
This is an even better alternative if you can live without the heated massage feature on the Urikar Pro 2.
Along with its twin brother TT-PCA003, they made our best budget massage guns list as the only guns that cost less than $50.
The TT-PCA004 performs even better than any option we have mentioned here thus far.
Even though they advertise a 12mm amplitude, it has 9mm stroke. This is just like the Sharper Image's amplitude, but because this Taotronics has more stall force, it feels stronger and somewhat better balanced in terms of power.
We confirmed a percussion range of 1000-3000RPM. This is a wide range that allows for both slow and fast treatment – 350 percussions more than the Sharper Image gun. With this setup, you can get a deep tissue massage.
It weighs a tad lighter than the Sharper Image Power massager even though it has a higher capacity battery – 2600mAh compared to 2500mAh.
It comes with a soft head that you can use to massage bony and tender areas.
CYBER MONDAY Get 20% off the Taotronics massage gun with the BFCM20 code! It will cost you a mere $32! Get it right here.
It only costs $39.99 – cheaper than both Urikar and Sharper Image. While it may be cheap, it offers better value for money than Sharper Image. Only Urikar Pro betters it because of the heated massage option, and a tad better ergonomics.
Learn More in our in-depth Taotronics TT-PCA004 review.
---
Sharper Image Massage Gun Review Summary
Before we end this Sharper Image Power Percussion review there are a few things to note.
First, this is a well-designed gun with great aesthetics. However, it lacks greatly when it comes to performance. It's probably good enough for beginners because it can help relax tense muscles and relieve soreness in small muscle groups. It may also help you warm up before a workout.
But it's not the proper device for demanding users who want a more penetrative massage. Find one with a higher amplitude. It is not a Theragun alternative either.
We recommend checking out the two alternatives we listed above. One has better features and better performance (Urikar Pro 2), the other performs really well and costs less (Taotronics TT-PCA004).
---
Sharper Image Massage Gun Review - Our Rating
Quality

Effectiveness

Usability

Accessories

Price Value
Summary
The Sharper Image Power Percussion massager has a nice modern look with a sleek design. However, it lacks in performance aspects. We have doubts about its long-term reliability and its ability to hold its own against competitors.
Disclaimers
The views and opinions expressed on this website are those of the authors. Any content provided by our bloggers or authors are of their opinion and are not intended to malign any religion, ethnic group, club, organization, company, individual or anyone or anything.
All product names, logos, and brands are property of their respective owners. All company, product and service names used in this website are for identification purposes only. Use of these names, logos, and brands does not imply endorsement.
It is our policy to make every effort to respect the copyrights of outside parties. If you believe that your copyright has been misused, please provide us with a message stating your position and we will endeavor to correct any misuse immediately.
Some of the links in this post are affiliate links. As an Amazon Associate, we earn from qualifying purchases. This means if you click on the link and purchase the item, we may receive an affiliate commission, at no extra cost to you. This helps us keep this website alive. Learn more here.
Amazon Disclosure
massagegunadvice.com is a participant in the Amazon Services LLC Associates Program, an affiliate advertising program designed to provide a means for sites to earn advertising fees by advertising and linking to Amazon.com. As an Amazon Associate, we earn from qualifying purchases. Amazon and the Amazon logo are trademarks of Amazon.com, Inc. or its affiliates. Please refer to our Privacy & Affiliate Policy for details.