Are Massage Guns Worth It? Both Price + Therapeutic Value
What To Know: our content is non-sponsored and fact-checked for accuracy. We anonymously order and rigorously test each product according to our methodology. We are reader-supported, and if you buy via our links, we may earn a commission. Learn more.
---
Suppose your subconscious mind is constantly bombarded with the benefits of massage guns. In that case, You might ask, "Are massage guns worth it?"
Well, there are two aspects you need to consider: therapeutic interest and price. Here's a summary of both that provides an answer:
Massage guns operate based on percussion, and their vibrational effect stimulates the release of painkiller chemicals like endorphins. The results of these substances vary depending on the pain level and the individual's body nature. However, in the majority of cases, people experience relief.
The price is a more debatable aspect and is entirely influenced by personal preferences.
But things are not that simple. Several factors will determine the answer to 'Are massage guns worth it?' We'll break down each aspect step by step and help you come to a conclusion.
Let's start by discussing the price since many people are interested in this. Then, we will move on to discussing the therapeutic worth.
---
---
Are Massage Guns Worth the Price?
You might come across people comparing percussion massagers with a Jigsaw and arguing that "Massage guns are expensive JigSaws."
As Dale Carnegie said, "You can't win an argument." But still, you can find what the truth is! If you look at expensive yet popular percussion massagers like 'Theragun,' they will cost a lot. But after using, you realize that they are charging for something good.
Although you might consider $400-$600 a very high price for a massage gun, most manufacturers charge for the brand.
Contrary to Theragun, there are many affordable choices. Such massagers offer both good vibrational therapy and a reasonable price. Purchasing a mid-price massage gun will be worth every penny. But don't prey for inexpensive massagers compromising every feature you will need a good massage gun.
If you're spending money on a massage gun, we can only say, "It will be worth purchasing." You will know more about the benefits as we discuss things further.
---
Important: Price is a Personal Preference
With personal preference of price, we mean, "the type of usage in correlation to the price." Percussion massagers will be worth the money for those who do intense training. Also, people suffering from pain and inflammations will understand the value more.
Unfortunately, if you're a hobbyist, we don't recommend you spending that much money. It is likely possible that a hobbyist will not get high benefits from a massage gun. Eventually, he or she will consider it a wrong choice.
If you are looking for a percussion massager for recreation, we recommend considering inexpensive choices that fulfill basic needs.
The price talk is only for beginners. Conscious people have more therapeutic worth than money.
---
Massage Guns Therapeutic Worth
In the video below, Dr. Micheal Clarke, CEO of NASM, brilliantly explained the mechanical and neuro-physiological effect of vibrational therapy. It is now supported by research, the beneficial impact of vibrational therapy on muscle soreness.
Also, other researches show short term effects of vibrational therapy. Believing on the available evidence, many gym trainers who want quick results purchase these percussion massagers.
But, we can't consider the amount of research good enough to conclude any obvious results. Although trials are going regarding percussion therapy, it will take a lot of time to make final assumptions.
On the other hand, if we ask "Massage Gun Buyers" regarding the therapeutic worth, most of them will give positive remarks. After listening to almost 40 massage gun customers and reading all the research sources we could find percussion massagers, our modest opinion is:
Massage guns provide good and immediate relief from pain. They not only energize your muscles but also enhance your performance. But all of these are either people's experiences or opinions.

There is no solid scientific study that could determine its therapeutic worth. Hence, if you consider it a massage gadget rather than a therapy machine, it will prove worthy.
---
Possible Mechanism of Massage Guns for Providing Relief Against Pain
Neuroscientists consider pain, a mixture of highly complex phenomena. A massage gun can relieve pain by two possible mechanisms.
The first one is by stimulation of Golgi tendon organs. The stimulation of these GTOs by strong percussive force causes the muscle to be relaxed.
Second, and probably a better mechanism, is by the neurophysiological process of electrical stimulation. These electrical stimulations through the "Gating theory" and "Analgesia system" stop pain transmission and release various chemicals that help relieve pain.
Besides these two mechanisms, many chiropractors and physiotherapists believe that percussion decreases the amount of lactic acid in your muscles. This is one of the key reasons, massage gun usage after an intense workout feels very relaxing.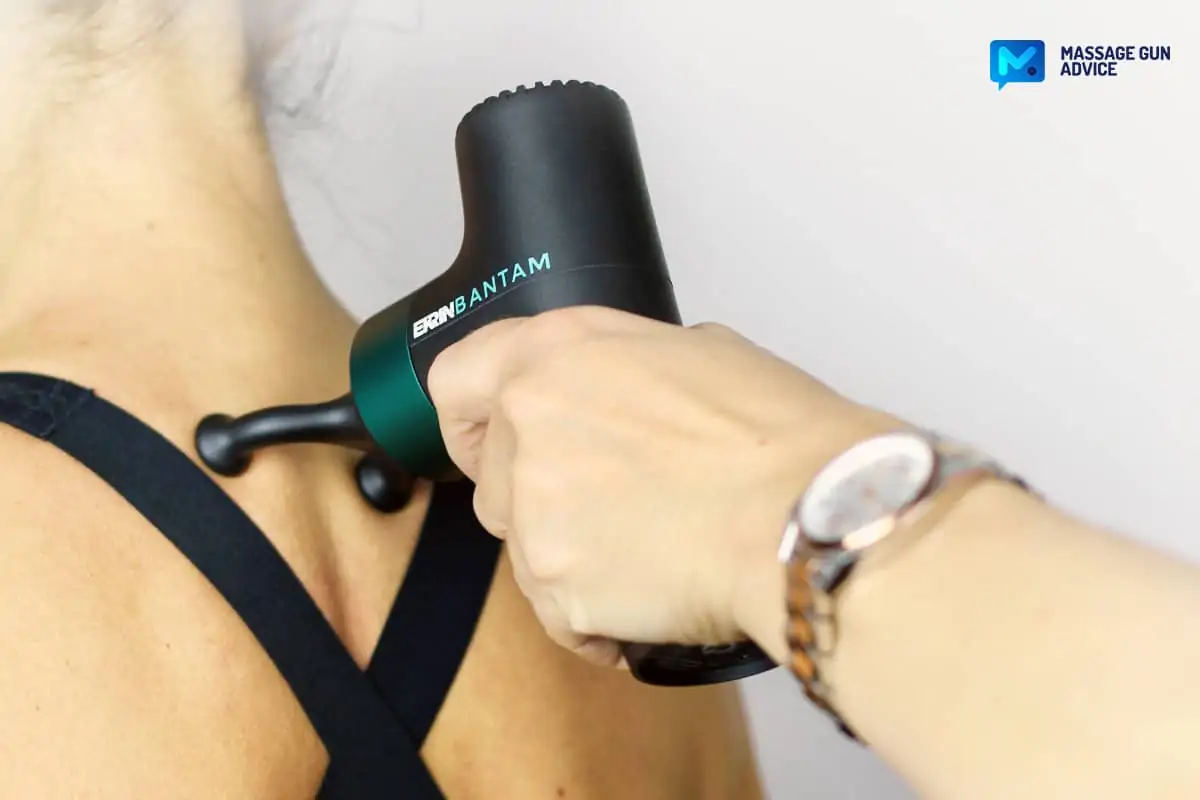 ---
Question: Should you Follow the Trend?
Whether you believe or not, having a massage gun is becoming a trend. It all started when people saw many fitness trainers and even NBA stars using the percussion massagers. Now, even the unpopular massage guns will have thousands of customers.
Now, coming to the question, "Should you get one and follow the trend?" The answer purely depends upon your usage. As narrated earlier, for people suffering from pain or doing intense workouts and running, it can be a suitable choice.
You could also get an answer from Dr. Jason [Owner of Theragun and creator of first massage gun] who shares his story in a video, How he made a percussive massager to tackle his problem.
So, the moral of the whole discussion is:
"Instead of following the trends, look for your needs, and if you fall into the categories mentioned above, go grab a good one."
---
Why are Massage Guns so Expensive?
In case you don't know, a good massage gun has an average cost of around 250-300$. But why are they so expensive?
The massage gun uses brushless motors. Most companies focus on motors that are both quite as well as powerful. Such types of motors cost a lot. Secondly, excellent manufacturing and using long-lasting batteries also hold a high price.
Providing additional features like heating options, attachments, and pressure sensing technologies contribute to the price. Somehow, brand names also inflate the price. The last and most important thing is testing and compatibility with the human body.
All of these factors, more or less responsible for the high price of a massage gun.
---
Future Possibilities Regarding the Price of Massage Guns
Many people believe that as massage guns start getting popular, there will be a decline in the price. To some extent, this concept is real.
Although there are good percussion massagers available even under $100, we still don't believe that there will be a considerable price decline. However, there is a possibility that the new types of percussion massagers might come that are inexpensive.
---
Conclusion
We have answered, "Are massage guns worth it?" by stating these things:
Worth Depends on price and therapy.
A massage gun is definitely worth the price.
Not enough research is made to conclude any decision regarding therapeutic value.
Percussion massagers are not ultimate therapy machines, but they can help you.
We tried to keep things simple and understandable. If you made your mind to purchase a massage gun, we have many suitable options for you.
Was this article helpful?
Your feedback makes our content better!
Thanks for your feedback!
Post Update History
Here's a quick rundown of all the tweaks and edits we've made to this article to keep it accurate and up-to-date!
Current version last updated on:
May 22, 2023 Editorial update: Revised content for improved clarity and readability. (Author: Greg)
•
Written by:

Luke Deszczulka
Disclaimers
The views and opinions expressed on this website are those of the authors. Any content provided by our bloggers or authors are of their opinion and are not intended to malign any religion, ethnic group, club, organization, company, individual or anyone or anything.
All product names, logos, and brands are property of their respective owners. All company, product and service names used in this website are for identification purposes only. Use of these names, logos, and brands does not imply endorsement.
It is our policy to make every effort to respect the copyrights of outside parties. If you believe that your copyright has been misused, please provide us with a message stating your position and we will endeavor to correct any misuse immediately.
Some of the links in this post are affiliate links. As an Amazon Associate, we earn from qualifying purchases. This means if you click on the link and purchase the item, we may receive an affiliate commission, at no extra cost to you. This helps us keep this website alive. Learn more here.
Amazon Disclosure
massagegunadvice.com is a participant in the Amazon Services LLC Associates Program, an affiliate advertising program designed to provide a means for sites to earn advertising fees by advertising and linking to Amazon.com. As an Amazon Associate, we earn from qualifying purchases. Amazon and the Amazon logo are trademarks of Amazon.com, Inc. or its affiliates. Please refer to our Privacy & Affiliate Policy for details.