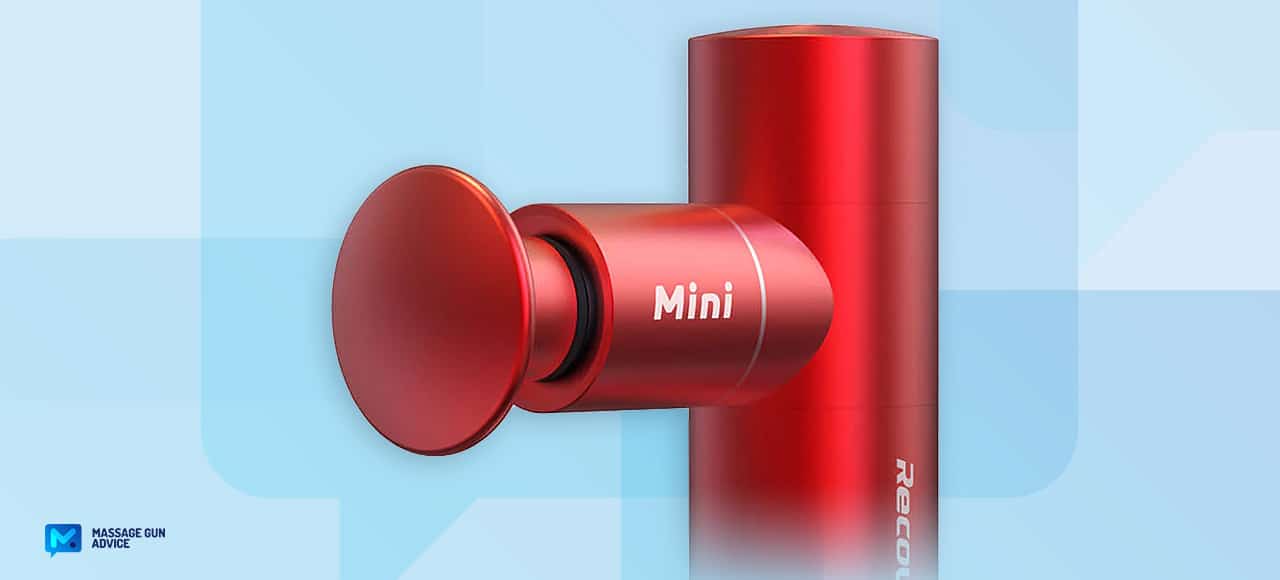 Recoverfun Mini Massage Gun Review
Disclaimer: Our content is unbiased, non-sponsored and fact-checked. If you buy via links on our site, we may earn a commission. As an Amazon Associate, we earn from qualifying purchases.
---
Welcome to this RecoverFun Mini massage gun review. We have had a good experience using Recoverfun products. We know the brand makes good quality guns that are also affordable.
We loved their flagship Recoverfun Plus; we still have it with us.
Today we'll share what we found out about their mini massage gun. We were wondering if this one deserves mention among the best mini massage guns.
Let's find out…
---
---
Recoverfun Mini Review
Recoverfun Mini Specification
Features
Zarifa Z-Smart Mini
Stall Force
10-15 lbs
Stroke Length
6 mm
Percussions Range
1800-3300 rpm
(advertised: 1800-3200 rpm)
Speeds
4
Battery Life / Capacity
3 – 4h / 2600 mAh (non-removable)
Attachments
4
Weight
1.3 lbs
Noise
49 – 62 dBs
Main Pros
Stylish design
Unusually fast percussions
USB-c charging
Main Cons
Low amplitude
So-so stall force
Tad heavy
No hard case
Warranty
One year
Price
$74.00 $79.00
Discount Code
MGA5
($5 Off)
Where to buy with discount
Buy at www.recoverfun.com
Recoverfun Mini Specs (according to recoverfun.com)
---
First Impressions
The device comes in a nice 7×7-inch box. You can tell from the box that it's a tiny device.
We were hoping for a carrying case – we should because it's 2022, and many of these come with a carrying case.
Either way, we will not complain so much about the case when there is a nice soft pouch that you can use to carry it instead. It's gray and nicely branded. It's probably more convenient in the pouch than in a carrying case.
Since it's tiny, it's not going to take up too much space in your backpack. You could even carry it with the box. The missing carrying case is no biggie – at least according to us.
That aside, the device itself is a true mini. It's a decent size. The design isn't very unique – we have seen the vertical handle numerous times. However, the handle here is short but sturdy.
We like the metal body – it draws your attention, especially with the stylistic finish. The metal is aluminum grade from end to end. However, the metal body adds slightly to the overall weight – we will talk about the demerits of this in a few.
The build quality is superb. There are no visible screws, and it looks seamless. We bought the red unit – you can choose from other colors, including pink and black. We loved the satin red, and that's why we picked it. There's one attachment that is made of the same metal used to make the gun's body.
All in all, we like how this gun was designed and made. It has a top-notch look and feel. Inside we found a USB-C charging cable, the attachments (we will cover them shortly), and a user manual that has the device's specs and how-to-use instructions.
---
Size and Ergonomics
It's a mini device, so you expect it to be small and light. However, it's slightly heavier than other guns in its category. We feel the 1.3 pounds are slightly on the heavier side because of the metal body. It would probably weigh 0.3-0.5 lighter if made of plastic.
Even so, it's not something anyone can't handle. 1.3 pounds is light enough for a mini. However, it feels a tad heavier compared to Ekrin Bantam and Lifepro DynaMini.
We like the small compact size that makes it highly portable. It measures 5.6 x 4.7 x 1.75 inches.
What about ergonomics? Well, it's not an angled handle like Ekrin Bantam. The handle is vertical. There is no rubber on the handle, and it can get pretty sweaty when you use the device for long sessions.
Also, remember that the handle is shorter than it would be if it was a full-sized gun. That means you might struggle to comfortably massage your back. But it will be a great travel companion that you can use for post-workout massage.
---
Controls
There is one button under the handle, and that's it. However, it's not located in the most convenient place, but it will do. You can still comfortably use it without accidentally touching the button and changing speeds.
Other guns with a similar setup include Ekrin Bantam and Lifepro DynaMini.
You can use the button to activate and deactivate the device – press and hold for two seconds. Simple taps will change the speed setting.
There are 4 LEDs that indicate the current speed setting.
---
Attachments
There are 4 attachments included with the device. As we mentioned earlier, one, the flat attachment, is made of metal. The color matches the device – nice touch!
There are other 3 classic attachments, including:
Ball attachment – It's the universal attachment used for a general massage. It's made of EVA foam and has a slight give to it. It's not the best one to use on your clothes.
Bullet head – It's made of hard plastic and used to treat trigger points, palms, and soles.
Fork head – It's used to massage the spine area. You can also use it on your Achilles or use it as a double-headed bullet head.
Our Advice
We highly recommend paying the extra $10 for a 5-attachment set. The set includes a soft head, which is fantastic. We saw a similar one with the sister Recoverfun Plus gun and the Achedaway Pro. You can use the soft head to massage tender and bony areas. It's semi-soft, so it won't be too hard or too soft either. For an extra $10, it's a worthy purchase – Theragun charges an extra $25-$30 for an extra attachment.
---
Performance
In performance, we look at the amplitude, stall force, and percussions per minute.
---
Amplitude
Also called the stroke length, it's the distance the head travels as the gun percusses. It determines the depth of the massage you get from a gun.
Recoverfun says their mini has a 6mm amplitude, and we can confirm, after measuring, that it's true. With a 6mm stroke length, vibrational therapy is the best you can get. There will be no heavy punches with this gun.
But perhaps this is what you must sacrifice for this gun's price. The more expensive Bantam has an almost 10mm amplitude – 10% more punch. Also, the Bantam is a tad smaller, and lighter than the Recoverfun mini massage gun.
If you are looking for a Theragun alternative, this gun won't give you what you want. It's also less punchy than the Hypervolt Go 2. Theragun mini has a 12mm amplitude, while the Go has a 10mm stroke length.
But a good stall force can mitigate a low amplitude, which is what we will find out next.
---
Stall Force
The stall force is the gun's ability to withstand pressure.
The Recoverfun mini's stall force is nowhere near Ekrin Bantam's. However, we believe it's not such a bummer.
Recoverfun probably meant for this mini to be a complimentary device that you can use on the go. The low amplitude already hints at the overall power of the device. You can use it to massage your sore neck, hands, feet, and smaller muscle groups.
It will do the job just fine if you don't overwork it. We feel it has a 10-15 stall force. At higher speeds, you can use it on your forearms, shoulders, and calves.
We loved that the percussions don't slow at higher speeds. However, it won't effectively massage large, developed muscles.
---
Speeds and Percussions
Rapid percussions are a must-have for a low-amplitude device. The fast percussions override the pain signals in the brain and increase heat in the muscle tissue to help release tension.
The advertised range for this Recoverfun mini is 1800-3200RPM – an impressive range. In fact, it is even more! Our laser tachometer displayed more than 3300rpm at top speed, which is an outstanding result for any massage gun.
Low-amplitude guns tend to rev fast. However, many tend to only rev up to 3200RPM. But this gun is faster than many minis or low-amplitude massage guns. This means it can effectively do the job.
It has 4 speeds, which is a great setup given the range.
---
Performance Verdict
The Recoverfun mini is a low-amplitude gun that feels vibrational.
However, it percusses faster than average minis and has just enough stall force to allow a bit of pressure when needed. This setup makes it a reasonably effective mini. It can provide relief to typical pain areas, including the neck, shoulders, feet, back, and smaller muscle groups.
---
Noise
With a 6mm amplitude, you expect this gun to be super quiet, and it is. The sound is smooth, with no crackling or rattling sounds.
Recoverfun doesn't say how the decibels measure, so we did it ourselves. It's 43dB to 53dB. This is awesomely quiet. The lower gears are quieter.
The higher gears get slightly buzzy, but it's because you get 3300RPM – you can't complain too much.
---
Battery
The 2600mAh capacity battery is another impressive feature of this gun. You wouldn't expect this capacity, given its size. But maybe it partially explains the added weight, albeit the metal body.
The battery performs adequately. Expect 4 or 5 hours on low speeds and up to 2 hours on top speeds. If you use the device at higher speeds and also apply pressure, the battery will drain faster.
An auto-shutoff feature turns it off after 10 minutes to save the battery and prevent overheating.
The device charges via USB-C. It's a very convenient charging method. You can even use a power bank when you are on the go.
The charge indicator is a tiny green LED below the charging slot. When you turn the device on, the LED flashes every 5 seconds. One flash = 0-30% charge, two flashes = 30-70% charge, 3 flashes = 70-100% charge available.
There is plenty of juice in this thing!
---
Who is it Best For, Then?
The Recoverfun mini can treat sore muscles, improve blood circulation, and aid lymphatic drainage. It's an everyday mini device. It will be a good fit for those who work behind the desk and need a neck massage.
Folks who are always on the move can carry it along as a gym companion. If you don't like harder punches from a massage gun, this is the device for you. Since it's tiny, smaller people and women will enjoy using it.
We feel it might not be a perfect mini for outdoor activities. The size is great, but metal adds some weight, the handle lacks rubber, and the shell feels prone to scratching. It feels like you wouldn't like to drop it. Sturdy devices like Ekrin Bantam, or the UK's Pulseroll mini will work better in outdoor environments (both are built to last). We think this one is better suited to be your desk companion, or a device you'd throw into a gym bag, or a purse instead.
Unfortunately, due to its so-so performance, it may not be the perfect fit for demanding users. You'd be better off with the Ekrin Bantam or Theragun mini.
Even so, the rapid percussions make it a fairly effective device. Also, given the price, it's probably worth considering.
---
Warranty and Price
The price for this thing is great, considering what it comes with. It only costs $79 or $89 if you pay the extra $10 for the semi-soft attachment – we highly recommend this.
Buy it at recoverfun.com. If you use the MGA5 code, you get a $5 discount. It's not a lot, but every buck counts, you know!
It has a 12-month warranty. Recoverfun has superb customer support, so you can be sure they'll always respond when you need help. If you want a better warranty, try the alternatives below.
---
Recoverfun Mini Best Alternatives
---
Ekrin Bantam
Ekrin Bantam is the crème de la crème of mini massage guns. We voted Ekrin the best massage gun brand in 2022.
The Bantam has everything the Recoverfun mini has and then some.
It's smaller and weighs a meager 1.1 pounds. It also has better ergonomics compared to the Recoverfun mini. The handle is slightly slanted to allow for a more natural grip.
The handle has rubber around it to make the grip even firmer. Even the sturdy plastic material is rubberized for more protection.
In terms of power, the Bantam has more power than any other mini in the business today. It has a close to 10mm amplitude, which is punchier than the Recoverfun mini.
The stall force makes it even more potent. Over 30lbs. of stall force is full-sized massage gun territory!
You also get fast percussions. It's one of the few minis that revs up to 3200RPM. The range is 2000-3200RPM – verified by us.
It comes with a hard carrying case in case you need to carry it around. The Recoverfun mini only comes with a pouch.
There are 4 attachments included with it as well. You don't have to pay extra to get a soft attachment. It also has USB-C charging.
Best of all, it comes with a lifetime warranty.
If you use the MGA20, you will get 20% discount and it will only cost $119.99. Available in Ekrin's store here.
Learn More Our in-depth Ekrin Bantam review.
---
Lifepro DynaMini
This one is similar to the Recoverfun Mini, at least as far as the price goes. It's a non-expensive mini massage gun that can be effective if you know how to use it.
Lifepro is a trusted brand that has churned out many great massage guns. Their DynaMini has the same appearance as the Recoverfun Mini. It has the same metallic body – aluminum.
It also comes with a 6mm amplitude. It's inferior to the Bantam as far as the stroke length goes. However, this shouldn't be a huge concern given that the Bantam is more expensive.
That said, it revs faster as well (up to 3000RPM). It has a stall force similar to the Recoverfun Mini. You can use it on small muscle groups.
It comes with a carrying case – the Recoverfun mini only has a pouch. It also comes with 4 attachments, but there is no soft head even as an option. The charging is USB-C as well.
It comes with a lifetime warranty just like the Bantam.
If you want to buy it, you will pay $89.99 or use the MGA10 coupon, which gives you a 10% discount to get it for $80.99.
---
Recoverfun Mini Review Summary
We've come to the end of this Recoverfun mini massage gun review. This is a well-executed mini by a trusted brand. The low amplitude means it can only deliver a vibrational massage. However, the rapid percussions will add the needed intensity to do the job.
It's a good everyday device for ordinary folks. Demanding users may not like it. It has a decent battery and comes at a very affordable price.
However, if you want better value for money, you can take a look at the alternatives we listed. The Ekrin Bantam is slightly more expensive but has plenty to offer. The Lifepro DynaMini is similarly priced but has a better warranty.
---
RecoverFun Mini Massage Gun Rating
Quality

Effectiveness

Usability

Accessories

Price Value
Summary
The Recoverfun mini comes at an incredible price. Its low amplitude means it only delivers a vibrational massage. However, it can rev quickly to compensate for the low amplitude. It's compact and well-equipped too.
Disclaimers
The views and opinions expressed on this website are those of the authors. Any content provided by our bloggers or authors are of their opinion and are not intended to malign any religion, ethnic group, club, organization, company, individual or anyone or anything.
All product names, logos, and brands are property of their respective owners. All company, product and service names used in this website are for identification purposes only. Use of these names, logos, and brands does not imply endorsement.
It is our policy to make every effort to respect the copyrights of outside parties. If you believe that your copyright has been misused, please provide us with a message stating your position and we will endeavor to correct any misuse immediately.
Some of the links in this post are affiliate links. As an Amazon Associate, we earn from qualifying purchases. This means if you click on the link and purchase the item, we may receive an affiliate commission, at no extra cost to you. This helps us keep this website alive. Learn more here.
Amazon Disclosure
massagegunadvice.com is a participant in the Amazon Services LLC Associates Program, an affiliate advertising program designed to provide a means for sites to earn advertising fees by advertising and linking to Amazon.com. As an Amazon Associate, we earn from qualifying purchases. Amazon and the Amazon logo are trademarks of Amazon.com, Inc. or its affiliates. Please refer to our Privacy & Affiliate Policy for details.