Urikar AT1 Review – A Unique and Techy Device, but Is It Powerful?
What to Know: We independently review products we recommend. If you click on links we provide, we may earn a commission. Learn more.
---
Welcome to our Urikar AT1 review. If you can remember we mentioned it in passing in our Best Massage Gun Under $300 post, remember? Anyway, we got our hands on it finally and there is a lot to tell you about it.
First, this is a fascinating device, it's got that Theragun vibe to it, even though it's not really the same concept used.
Urikar had the AT1 percussion massager on Kickstarter first to gather some attention from their peers and supporters. They got plenty of support and even raised some funds there. They also used the platform to get some early pre-orders.
This review will be a bit unique. That's because our testing for this one took a slightly keener approach compared to what we do with any other massage gun review. We compared the AT1 against other massage guns from top massage gun brands to ascertain whether the Urikar spec sheet reflects what's on the actual device.
One thing we cannot deny is that it's a feature-packed device with some new things to introduce to the massage gun world. However, there are some hidden skeletons that you may want to find out.
Read on!
---
---
Urikar AT1 Review
Let's start this Urikar AT1 review by listing some of the key specs:
Urikar AT1 Specs

Feature
Urikar AT1 Massage Gun
Stall Force
65 lbs (advertised)
Stroke Length
16 mm
Percussions
1800-3600 ppm
Speed options
8
Battery Life
5-7 hours in our tests
(2600 mAh, non-removable)
Noise
55-69 dB
Weight
2.8 lbs
Head attachments
6
Pros

High amplitude




High intensity




Unique design




Massage head recognition




Battery & power saving features

Cons

Stall force lower than advertised




Auto mode limits


Bulkiness and added weight
Warranty
1 year
Price:
$269.99 $215.99
20% OFF with the

URIKAR200

coupon
Urikar AT1 Specifications
---
Unboxing
The packaging is nicely done and inside the box is a nice two-zipper carrying case.
Inside the case you will find:
the device itself,
6 attachments,
a wall charger (has different plug versions available),
and then there is a black envelope (nice touch) with the manual inside.
The manual has all the important information and what you need to know about the device.
---
Design
We handle a lot of massage guns and sometimes the shapes and designs of these devices can be pretty conventional (T-shaped). But once in a while we see devices that try to be a bit creative with the design part.
The Urikar AT1 massage gun is certainly one of those devices. It's unique and intriguing at the same time. It has a D-shaped design – looks a lot like a laser gun from a sci-fi movie. The design is pretty futuristic.
We are not sure whether the designers were out to impress the buyer or if they had something in mind that we can't tell. They took their time to ensure that some details were there for all to see.
For example, those jet inspired air vents look like something special (on a massage gun). Another thing that we will probably still mention in ergonomics (a bit later) is the gun's shape. It's awesomely unique and they don't especially say why they chose to go with it. Nonetheless, we love that they chose to stand out here.
The mixture of colors is also awesome. We love the satin gray body, the handle is sleek black, a glossy plastic ring at the front, and those intriguing blue LEDs. The build quality looks very good and everything seems well put together.
---
Controls
Since the device looks so futuristic, the controls are set up in a fascinating way as well. This makes learning to use it a bit of a challenge at first. However, once you get the hang of it, everything becomes clear.
Here's the first few steps:
First locate the Main Power Button at the base of the device, it's right next to the charging port. Long-press it (3 seconds). The LED next to the button will light up as well as the back panel. That means the device is ready for use.
Then push in an attachment of your choice.
Press the

O

touch button on the LCD screen to get the device revving. You can press the button again to stop the vibrations.
Long-pressing the

O

button (3 seconds) toggles between the AI mode (labeled as the auto mode) and the manual mode.
In manual mode, you can change the speed gears using the Up and Down arrow buttons.
You say, that doesn't sound so hard. Well, it's not really that hard to be honest, but there are so many details on that LCD screen that it can get a bit confusing at first. Hopefully it doesn't take you as long to get the hang of it.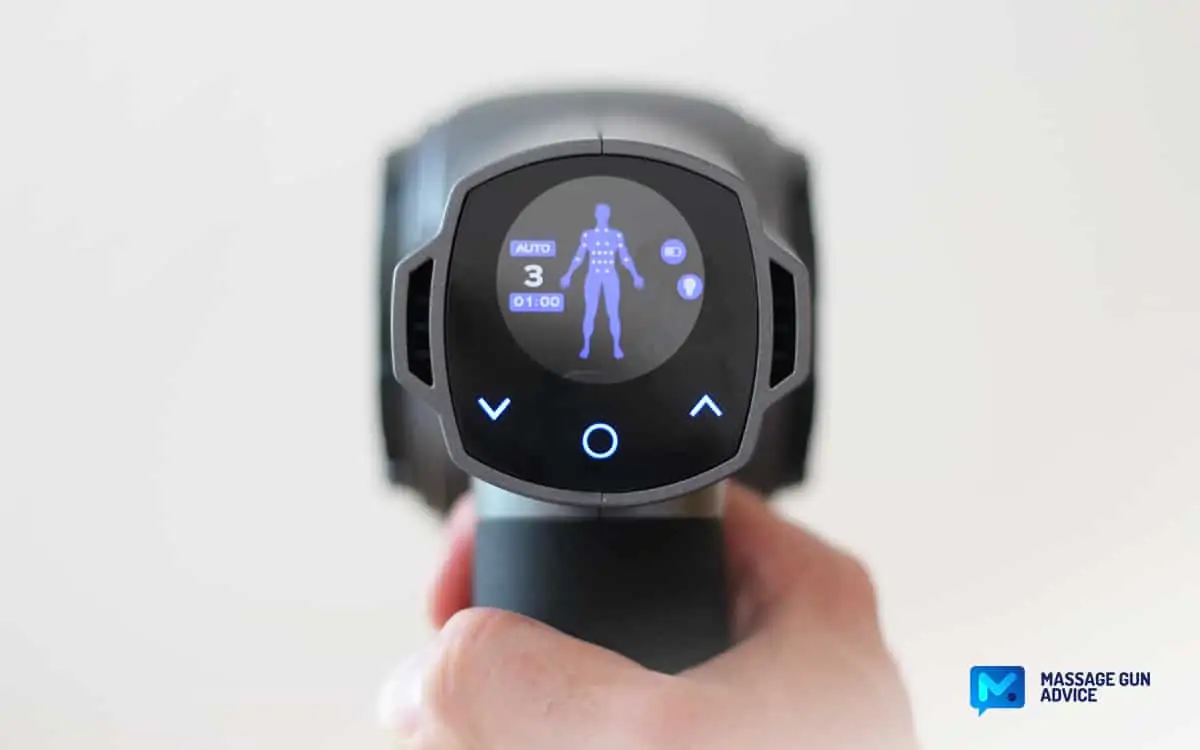 ---
LCD Screen
The screen displays normal information such as the battery life and current speed. But there's also lots of extras that seem unique only to this device.
The device has a technology that identifies the type of head attached. The screen shows the attachment currently in use (Massage Head Recognition).
There is a timer showing Massage Duration – simple but convenient.
There is also a human body induction icon. The device has an infrared sensor that detects proximity to the body. The icon lights up during a massage.
There is also a charger connection icon. This lights up when the charger is plugged in. It can also warn you if the wrong charger is plugged in.
There is also the AUTO icon that is above the speed indicators. It lights up when the auto mode is selected.
---
Attachments
The Urikar AT1 percussion massager comes with 6 attachments. These include:
the Ball,
Flat,
U-Shaped / Fork,
Bullet,
Air Cushion,
and the Shovel / Wedge.
We love that all the classic and important heads are included.
The shovel attachment is a nice addition too. You can use it on your back when you are not massaging the spine area.
We noticed that the massage heads lean more on the hard side. Even the ball attachment is pretty hard – has very little give to it. We love it this way because we do a lot of intensive massages here.
The air cushion head is soft and for obvious reasons. If the other heads are a little tough on you, then you can rely on the cushion head to "cushion" you.
That said, there is an automatic attachment recognition feature that we believe is super cool.
We have not seen this kind of feature anywhere else until this device. It automatically recognizes the attachment inserted. That's a pretty cool technology that we wish we would know about but we are not techy guys.
It works amazingly great! Something even cooler is the fact that the body map on the LCD indicates what parts of the body the inserted attachment is best for.
For instance, if you insert the soft head, it will automatically indicate that it's best used on the arms, shoulders and neck area.
We believe this is an awesome invention especially for novice massage gun users who may not know how to use the attachments at first. There is also more information about the attachments (what they do) on their nicely done manual.
---
Size, Weight and Ergonomics
The first thing you notice when you hold the AT1 massage gun is how big it is. We make it clear in most of massage gun reviews that a good device shouldn't be bulky. We have to admit this one is bulky.
It's a long device. We did the measuring and it's 29cm or 11.4 inches long with the ball attachment on. It's thickness is 8.8cm or 3.46 inches – pretty thick. It's also not the lightest device either. It weighs 1.25kg or 2.8 lbs.
Most massage guns in its category rarely go over the 2.4 lbs mark – maybe lighter than Hypervolt Plus (3 lbs), but not any other massage gun.
We also had mixed feelings about the ergonomics on this device. We are not sure whether we actually love the D-shape design and the perceived multi-grip handle. Yes indeed there are various ways you can hold the device but it doesn't add anything special in terms of getting to those tough spots. We also don't see how the two handles really help here.
For starters, we don't believe that the "double handle" provides better ergonomics than the single handles in Ekrin B37 or Lifepro DynaSphere. What the handles seem to do here is add unnecessary weight and bulkiness.
However, we can appreciate that the designer was looking to get 2 birds with a single stone – that is, captivate the buyer and also offer something unique ergonomically. That we believe they have achieved with this device.
We know how tough it is to come up with something different in the massage gun world – it sometimes almost feels like reinventing the wheel. We'll say the ergonomics are good enough.
Another thing worth noting is that both handles appear to be slightly slanted which helps to reduce wrist tension during a massage session. One handle is rubberized and provides a good firm grip. The other handle isn't rubberized and is might be too thick to comfortably hold.
This leads us to wonder whether the second handle is really a handle at all. Looking at it, it's hard to imagine if they meant for this device to have two handles. Only one is comfortable to hold.
---
Performance – Is It a Powerful Device?
We wanted to see whether we could rely on Urikar to provide us with accurate information about the AT1 percussion massager. We couldn't take their word for it and so we decided to take this device through our usual performance tests.
Urikar calls their device a professional-grade device that can rival the best in the business. To prove this, the Urikar AT1 massage gun has to pass the amplitude, stall force, and percussion intensity tests.
Here's what we found out…
---
Amplitude
Amplitude or stroke length is the distance covered by the massage gun head as it moves back and forth. It's an important parameter in determining how well a device can perform a percussive massage.
To be a professional-grade percussion massager, the Urikar AT1 has to offer something more than 13mm of amplitude. Does it though?
Well, in their advertisement Urikar says that this gun has a 16mm amplitude. That is the longest amplitude in the business thus far. We can confirm that indeed this is a 16mm amplitude massage gun.
This puts it right up there with the big kahunas in the industry – Theraguns (full-sized ones) and Achedaway Pro.
With 16mm you can get a punchy massage. Think of strong percussive bass like impact as opposed to low-amplitude vibrational devices that have a more treble impact (It's like "thunk thunk" instead of "whrrrrrrrrrrrrrr").
Therefore, If you are looking for more intensive feedback even without applying pressure, this device has got you covered.
---
Stall Force
Stall force is the amount of pressure it takes to stall the motor of a device consequently shutting it off. This happens when you need the device to hit deeper into the muscle. As we have already seen, if the amplitude is long enough, you don't need a lot of pressure to hit the deep muscle tissue – unless you really are heavily built. Again, it's important that a professional-grade massage gun have enough stall force to cater to the needs of everyone.
Unfortunately this is where we disagree with what Urikar says. They claim the device has 65lbs. of no-stall force. On paper, that is the same as the most powerful Theragun on the market – Theragun Pro. It's also more than Ekrin B37 and Hypervolt Plus.
However, we believe that the 60lbs. claim is overstated. We get this kind of thing with many brands – simply overstating some performance specs.
By comparison with other massage guns we've tested, we feel the Urikar AT1 we have doesn't have 65lbs. stall force, it likely has less.
For example, we can confidently say that a 5-speed Ekrin B37 is more difficult to stall in second gear than Urikar AT1 at top speed. We tested the Lifepro DynaSphere against this massage gun and we can say it has more stall force as well.
As the stall force is progressive, on lower speed gears it's very easy to stall the AT1. Things get better at higher gears, but not to the extent of Theragun Pro-like 60 lbs.
Nonetheless, this device still has enough power to cater to the needs of 90% of users. Unless you are really heavily built with a lot of muscle, then you may probably need to go for the Achedaway Pro, Ekrin B37s, or Theragun Pro (if you have money to spend on it).
Even so, you can still massage other areas of your body that don't include quads, hamstrings or glutes with this massage gun. For anyone else, the AT1 has enough power to work on all muscles.
One thing we also have to say here is that we tend to be stall force freaks sometimes because some of us are heavily built and need it. However, this device has both amplitude and stall force to do a good job. It's always really about the right combo and nothing more.
---
Percussions
So far we have seen that the AT1 has a great amplitude but a slightly questionable stall force (for big guys anyway). But what about the intensity of this thing?
Well, this gun revs like it's meant to be a vibrational tool. The advertised percussion range is 1200-3600rpm. That is pretty high if you consider the long amplitude.
We often find that the longer the amplitude on a given device, the lower intensity is. That is certainly the case with Theraguns (2400 max rpm) and Achedaway Pro (2800 max rpm). That means the AT1 is a whole new range as far as that principle goes, this thing is super-intensive even for bigger guys.
Performance – Our Take
What the above means is that this Urikar may have had a completely new (or perhaps different) approach to their percussive gun. Instead of going for a high stall force that can withstand pressure like what Ekrin B37S does, they opted for a high amplitude and high intensity.
That combination is great and is just as effective in treating muscles. Even though the stall force appears to be lower than what is advertised, when it's combined with the long stroke length and the super-high intensity, the end result is pretty awesome. Overall, it is indeed a powerful device.
---
Performance Parameters Comparison
Here is how the AT1 compares to other popular competitors.
---
Stall Force (lbs.)
Stall Force: Urikar rates AT1's motor as able to withhold up to 65 lbs. of pressure before stalling, but we found it less powerful than other massage guns on this list. Still, high amplitude and high intensity collectively make it a powerful device.
Stroke Length (mm)
Stroke Length: Urikar AT1's 16mm amplitude is best-in-business, matching industry darling Theragun (Prime/Elite/Pro) and surpassing Hypervolt Plus. This translates to deep hits as opposed to surface-level vibrations.
---
---
Speeds, Modes and Smart Features
When we saw the wide percussion range we couldn't help but wonder about the speed gears. Reasonably enough though, Urikar chose to spread the intensity over 8 speeds – which we totally agree with.
There are two modes to work with on this device:
---
Default, AI, or Auto Mode
Here the configuration is really smart. You don't change the speed levels manually. Instead the speeds are predefined and tied to the attachment inserted into the massage gun. That means the device knows what speed to apply based on the attachment used. You simply turn it on and let it do its work.
In this mode, the device uses an infrared sensor to detect the proximity to the body/skin – they call it human body induction. When the sensor can't sense your body close by, the intensity dwindles.
We had a bit of fun with it when we were testing the device – move it close to the body and it revs highly, move it away and it suddenly doesn't rev as much. The intensity will also differ depending on what attachment is on the device.
Our Take

We believe this is a helpful feature for novice massage gun users who are yet to understand how to use a massage gun properly and safely.

For more advanced users, or after learning how to use a massage gun, this can be a bit limiting. For instance, when used with the ball attachment, the highest preset speed is the third gear. That is simply too slow for that attachment. We would've preferred the 8th gear here. But then you can simply switch to the other mode.
---
Manual Mode
This is the standard mode that allows the user to take control of the device. The proximity sensor is inactive here regardless of what attachment is used. Toggling between speeds in this mode is a wonderful feeling.
Another thing that is a pleasure in this mode is a little feature called "last setting memory". Here the device remembers the last setting used (speed). It automatically resumes where it left off. It's a small but a very convenient feature.
What We'd Love Urikar to address in future AT1 iterations
The up and down arrows for toggling between speeds are lit up in auto mode. This is a bit confusing because it indicates that you can manually adjust the intensity in this mode when that is not the case. We would've loved if those arrows remained inactive in auto mode to avoid this confusion.
The AI mode could use a slight modification by adding the pressure sensor feature. Something similar to what we saw with the Everyfun M3 Pro massage gun where the intensity increases with increase in pressure applied (which also means stall force increase). This would add more dynamism to the mode.
The blue circle that lights up and slowly flashes during a massage is the perfect place to integrate a visual pressure sensor visualization. The same thing was done with Ekrin B37S. This would not only be useful, but it would look absolutely wonderful.
---
Noise
Most brands love to brag about how quiet their devices are. But we always take this with a pinch of salt because most of the time that is not always the case. A good example is the PR advertising done by Theragun about how quiet their pro device is.
Urikar does the same thing for their AT1 device. We had to test it to ascertain that it is indeed quiet. Well, it's not as loud as Theragun Pro that is for sure.
However, it still lags behind the most hushed Achedaway Pro. We got 55-69dB on our decibel meter. That is not so bad and the company does a good job here.
We noticed the device vibrates slightly on top gear but nothing anyone can't handle. There was no rattling to report here.
---
Battery
The battery is a respectable 2600mAh capacity one. That is probably the kind we would expect with this kind of device. We still believe there was a chance to add on a bit more juice on this device. Perhaps one on that thick second handle, No? Anyway that would probably increase the weight of the device beyond the acceptable limit.
Time on battery is advertised as up to 10 hours, which again we would take with a grain of salt. In our own tests, we realized that if used normally (different speeds, pressure and a juggle between modes) the battery lasts for 5-7 hours. This is pretty awesome to be fair. That means that if you don't abuse the device so much you'd probably need to charge it again after a week if not two weeks.
But the smart features definitely eat away at the battery. But Urikar made a few clever adjustments to help with battery life management:
The proximity sensor slows down the intensity of the device when not in use. That saves the battery.
The display panel goes dark (disappears, goes off) after 5 minutes of continuous use.
The device shuts down after 15 minutes of continuous use. We are actually glad it's 15 minutes instead of just 10 minutes as other devices do.
The charger is the small pin one and when it's plugged in, the icon on the LCD display lights up.
---
Pricing and Warranty
This feature-packed gadget normally costs $269.99, but with the Urikar200 coupon code you get 20% off and you can then get it for $215.99 instead. That feels rather fair for a techy device like this.
It has a 1-year warranty, which isn't great to be honest. Especially when you have brands willing to offer lifetime warranties. However, there is a 30-day money back guarantee if you don't like what you are getting with this device.
---
Best Urikar AT1 Alternatives
So, who'd actually have a better device than what we've just described in our review? Well, there are devices you can get that have a different approach to some of the things on the Urikar AT1.
Also, it is our custom to recommend an alternative or two after a review and it's the same here (good reasons given as well).
---
Alternative #1: Ekrin B37
This in our opinion, is the best alternative to the Urikar AT1 massage gun but with a different value proposition. It doesn't have the smart features or AI powered modes, but it has its own value to give.
For starters, if you prefer more stall force, this is the device for you. It doesn't have a long amplitude (12mm) but the stall force more than makes up for that. It can be pressed hard against the body without stalling the motor. It has 56lbs. of real force – just as advertised. This is perhaps the biggest difference between these two devices.
Another thing as far as performance is concerned, the B37 has 3200rpm as the maximum percussions – we believe that is more than enough, even though it's slightly less than what you get with the AT1. It has 5 speeds to go with it.
It's also a noticeably smaller massage gun and weighs in at just 2.2 lbs. Ergonomically Ekrin doesn't miss a step with this device. There are multiple ways to hold it and it has a more natural hold as well. It's easier to maneuver.
It comes with 4 attachments – 2 less than the AT1 but we particularly love how the ball attachment on the B37 is crafted (foam used). It's also significantly larger than what the AT1 has.
It has the same battery capacity as the AT1 – 2550mAh. Having used it for months now, the Samsung branded battery is still as good as new – no deterioration signs yet. We need to use the AT1 for a bit longer before we can make the same judgement. For now, we can assume that the UL/PSE/CE certified battery will work for a long time.
As we mentioned in our full Ekrin B37 review, Ekrin also gives you a lifetime warranty and fantastic support.
The B37 is the cheaper device between the two. It costs $229.99 but with MGA20 coupon code you can get 20% off and buy it for $183.99 instead. Get it right here.
PRO TIP If you need even more power, want dynamic speed modes, and a built-in pressure sensor, you can check out the more advanced Ekrin B37S.
---
Alternative #2: Achedaway Pro
This one sits in as an alternative for those who want a combination of both a long amplitude and a high stall force.
The Achedaway Pro has the same 16mm amplitude as the Urikar AT1. Moreover, it has 80lbs. of advertised no-stall force – realistically it's about 60lbs. which is very hard to stall compared to the AT1. It has a similar configuration as the Ekrin B37 with a slanted handle to make it easier to hold as you massage.
It has a percussion range of 1700-2800rpm. That is slightly less than the AT1, but it doesn't affect its performance one bit. It comes with 5 speeds and there are no AI or auto modes on it.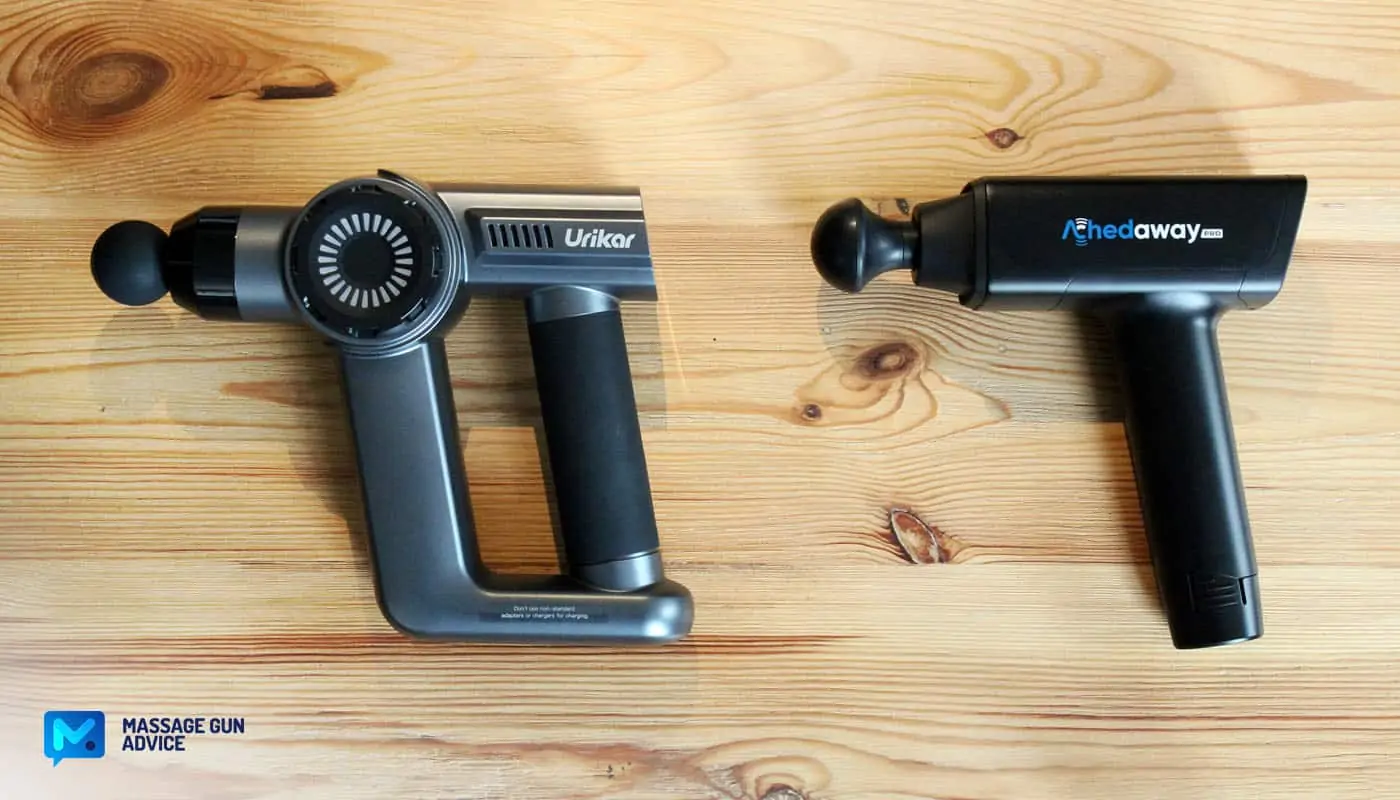 It has 4 attachments (same as Ekrin B37). But the attachments are very good quality and there are two metallic ones (aluminum).
The battery has more capacity than both the AT1 and the B37 – 3200mAh but runs only for 2-4 hours on a single charge. It's a removable battery however, and you can choose to buy a spare one if you want. It has a 2-year warranty but it's more expensive.
It goes for $299 but with MGA50 ($50 discount) you can get it for $249 or $319 if you buy it with the spare battery.
TIP Find out more in our full Achedaway Pro review →
---
Urikar AT1 Review Conclusion
We've come to the end of our Urikar AT1 review. This is an interestingly unique device – a rare find in the sea of clones and knockoffs. We have to praise their attempt to come up with a completely different approach – even though they had to make it larger in size.
It's a techy device that looks awesome and has features that we are seeing for the very first time. Some of the features aren't as perfectly balanced (Auto mode) but it's the smartest device we have seen so far.
We have a bit of an issue with the less than convincing stall force but the long amplitude and high intensity more than makes up for it.
We hope you enjoyed this honest AT1 review as much as we preparing it. If you decide to get it, you can consider using our affiliate link, so that we get a little kickback at absolutely no extra cost to you.
Lastly, you can always ask us more if needed, or write a comment below.
---
Quality

Effectiveness

Usability

Accessories

Price Value
Summary
A uniquely built device with a techy approach. It's unusually oversized though and slightly heavier than usual but has the smartest features yet. The amplitude is nice and the intensity is even sweeter. The less than advertised stall force is a bit of a bother but you can live with it. Overall it's a worthy option for all users. Novices can enjoy the user-friendly smart features while the pros will appreciate the stronger punch and lots of intensity.
Was this article helpful?
Thanks for your feedback!
Post Update History
Here's a quick rundown of all the tweaks and edits we've made to this article to keep it accurate and up-to-date!
Current version last updated on:
•
Written by:

Luke Deszczulka
Disclaimers
The views and opinions expressed on this website are those of the authors. Any content provided by our bloggers or authors are of their opinion and are not intended to malign any religion, ethnic group, club, organization, company, individual or anyone or anything.
All product names, logos, and brands are property of their respective owners. All company, product and service names used in this website are for identification purposes only. Use of these names, logos, and brands does not imply endorsement.
It is our policy to make every effort to respect the copyrights of outside parties. If you believe that your copyright has been misused, please provide us with a message stating your position and we will endeavor to correct any misuse immediately.
Some of the links in this post are affiliate links. As an Amazon Associate, we earn from qualifying purchases. This means if you click on the link and purchase the item, we may receive an affiliate commission, at no extra cost to you. This helps us keep this website alive. Learn more here.
Amazon Disclosure
massagegunadvice.com is a participant in the Amazon Services LLC Associates Program, an affiliate advertising program designed to provide a means for sites to earn advertising fees by advertising and linking to Amazon.com. As an Amazon Associate, we earn from qualifying purchases. Amazon and the Amazon logo are trademarks of Amazon.com, Inc. or its affiliates. Please refer to our Privacy & Affiliate Policy for details.