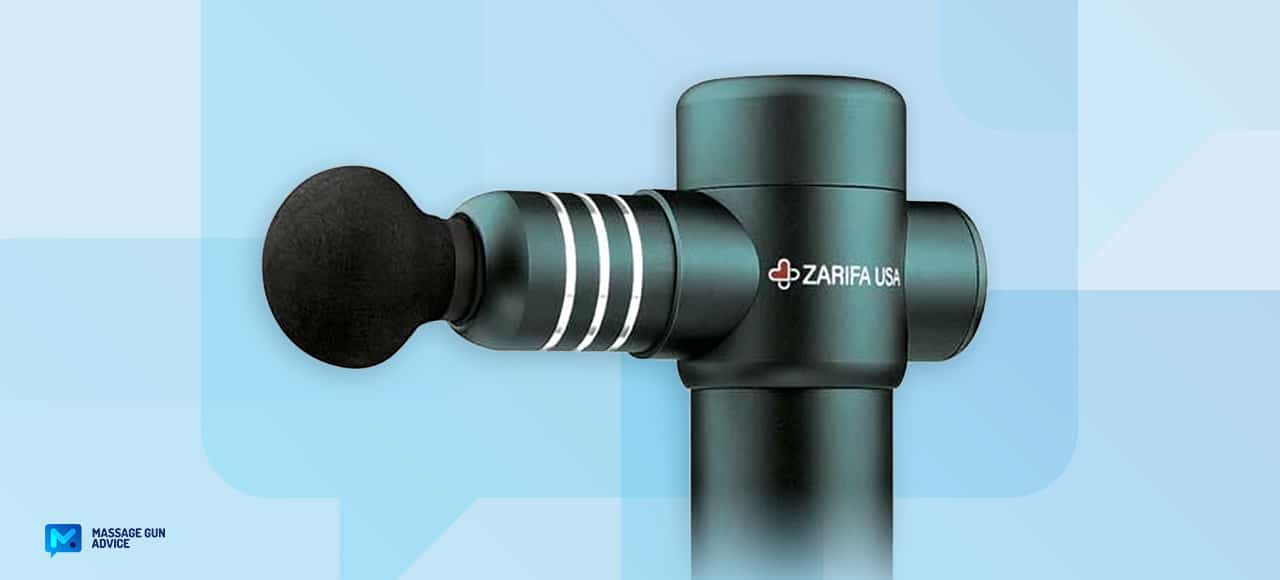 Zarifa Massage Gun Review – Is The New Z-Smart Mini Worth The Money?
Disclaimer: Our content is unbiased, non-sponsored and fact-checked. If you buy via links on our site, we may earn a commission. As an Amazon Associate, we earn from qualifying purchases.
---
Welcome to this Zarifa massage gun review. Zarifa is not really a word that comes to mind quickly when you think of massage guns. That's partly because they are not known for making massage guns.
However, Zarifa is well known as a manufacturer of many medical massagers. They are also one of the few stores that sell HSA/FSA approved massage guns.
The Z-Smart Mini is their first massage gun and the only mini massage gun we know that has FSA/HSA tax benefits.
In this Z-Smart massage gun review, we will also find out if it's worth the $199 price tag (or $179.99 with the coupon).
Let's start.
---
---
Zarifa Massage Gun Review: Z-Smart Mini
Zarifa Z-Smart Mini Specifications
Features
Zarifa Z-Smart Mini
Stall Force
10-20 lbs
Stroke Length
8.5 mm (advertised: 12mm)
Percussions Range
1800 – 3100 rpm (advertised: 1600 – 3500 rpm)
Speeds
5
Battery Life / Capacity
3 – 4h / 2600 mAh (non-removable)
Attachments
4
Weight
1.25 lbs
Noise
45 – 58 dB (advertised: <40dB)
Main Pros
Stylish design
Good percussions range
USB-c charging
HSA/FSA approved
Main Cons
So-so stall force
max. percussions lower than advertised
no carrying case/pouch
Warranty
One year
Price
$179.99 $199.99
Discount Code
MGA
(10% Off)
Where to buy with discount
Get it at www.zarifausa.com
Zarifa Z-Smart Mini Specs (according to zarifausa.com ​1​)
---
First Impressions
It's been a while since we reviewed a device that didn't have a carrying case. We've always liked those; it gives the impression that you are carrying something important.
We believe Zarifa owes us one with the amount of money we have to pay for their device.
---
That aside, let's talk about the device itself. It gives a really positive first impression. If you like stylish mini massage guns, this one should be up there on your shopping list.
It has an economical size that feels just about right for a mini. It's well-proportioned with a metallic finish. It feels like a high-quality device in hand.
It has a modern look – better than those old-fashioned designs we have seen with many mini guns on Amazon.
If you are keen enough, you will notice it's not the smallest mini gun around. We know Ekrin Bantam is smaller. It may also be a tad bigger than Lifepro Dynamini. But it's definitely smaller compared to Hypervolt Go 2 and Theragun mini (1st gen).
This size feels compact and will be easy to maneuver.
---
The controls are simple enough – you won't have to fiddle with a lot of buttons. There is one central button that controls all operations.
Press it and hold for 2 seconds to activate the device
Quick press it to change the speed gears
Long-press it again to turn it off
There are 5 LEDs above the control button that indicate the current speed gear.
Overall, this is a nicely designed massage gun with high-quality materials used to make it.
---
Weight and Ergonomics
Being a mini, you expect it to be highly portable and thus light. It measures 4.60"x6.22"x1.95" (L*W*H).
The handle is thin and easy to hold. It's also longer than Ekrin and Lifepro's minis, which caters to the slightly larger overall size. Its diameter is only 1.73", and perfect to hold even for folks with small hands.
However, we miss an angled handle or any kind of adjustability to it. But we like that it's light enough to easily maneuver – it weighs a mere 1.2 pounds with an attachment mounted – perfect for a mini gun.
It's well-balanced, with the battery in the handle and the motor sitting at the top.
---
Attachments
It has 4 attachments that are similar to what we have seen with other minis.
One standard EVA foam ball attachment. It has a slight give to it but not as much as the ball head in Ekrin Bantam. This one is firmer and good for massaging the neck, arms, and legs. It can be the universal head.
Bullet head. It's the standard hard-plastic bullet head. It's good for trigger points ​2​ and feet.
Spine/fork head. It's used to massage the spine area (without touching the spine). You can also use it as a double-bullet head for treating pain points on large muscles.
Flat head. This one doesn't look entirely flat. But you can still use it as a universal head if you want a more aggressive massage than what the ball head offers. It's hard plastic with no give to it.
The attachment mounting system is the standard push 'n pull. We love how the attachments are nicely varied and their quality as well.
---
Performance
What are the performance aspects like on this device?
---
Amplitude
Also known as stroke length, it's the distance the head travels during percussions. It determines how deep a massage you can get. We know that mini guns don't have long amplitude – most only have 6-12mm. Theragun mini is the only gun in this category with a 12mm amplitude.
Surprisingly, Zarifa lists the Z-Smart's amplitude as 12mm. Even from the pictures, we could tell this was an overstatement of the stroke length. However, it is only shy of 9mm. This is less than what they advertise it to be, but still pretty decent.
What, then can you expect from this kind of amplitude?
You can expect it to be slightly more percussive than 6-7mm guns (Lifepro DynaMini, Recoverfun mini).
Nevertheless, it won't feel punchy. If you want punchy hits you can try out the alternative Ekrin Bantam (recommended below) or Theragun mini.
Even though 9mm will feel more vibrational ​3​ than percussive, you can still get the job done with this gun if it has a combo of a strong stall force and many percussions per minute. Let us explore those two aspects.
---
Stall Force
Stall force is the measure of how hard a device can be pressed against the body without stalling.
We couldn't find stall force information on Zarifa's website. Often this indicates a weak stall force. Indeed it's pretty low.
It lags significantly behind Ekrin Bantam, which we voted the strongest mini massage gun out there (it has 30+lbs. of stall force).
Still, the stall force in the Z-Smart isn't so bad. We estimate it's 10-20lbs. which is greater than Hypervolt Go 2. Don't expect the lower gears to withstand a lot of pressure – you can only achieve surface-level massage. However, higher gears can withstand some pressure.
The last gear (5th) will withstand the most pressure. The gun can maintain high percussions and thus withstand a bit more pressure at the 5th gear. You'll want to take advantage of this if you want some deep hits. Beginners will find it strong enough to do the job.
TIP If you want more stall force than this from a mini device, you'll have to try the Ekrin Bantam.
---
Percussions and Speeds
We couldn't help but notice how outrageous the percussion range suggested by Zarifa was. They say it's 1600-3600RPM.
We felt this was unrealistic given the amplitude. We understand that 1600RM for the first speed isn't unheard of, but 3600RPM sounds like an overreaching. Either way, we used our laser tachometer to test it.
Our readings showed a range of 1800-3100RPM, which is more realistic. While up to 3600RPM would've been incredible, the actual range is pretty decent too.
The Bantam percusses a bit more intensively (maxes out at 3200RPM), but you won't feel the slight difference. Also, you can start slow and gradually set to a more aggressive massage.
The device has a 5-speed setup to go with the percussions. We like 5 speeds because they are just enough to cycle through. Plus, for this percussion range, 5 speeds feel perfect.
Nearly all competitors have 3 speeds for their mini guns. We are talking Theragun mini, Ekrin Bantam, and Hypervolt Go 2.
---
Our Take on Performance
The 8mm (close to 9mm) stroke length, stall force in the 20s, and a wide vibration range make this Zarifa mini massage gun a versatile device.
You can use it for a reasonably intensive massage. It's the perfect setup for those who want something portable to use before or after a workout. It's also great if you want a mini device with a relatively high amplitude and decent power.
This Zarifa mini massage gun will work great on the neck, shoulders, arms, hands, feet, and back massage therapy. Normal non-buff guys will be able to use it on large muscle groups.
We are not so sure about buff guys. If you want more power from a mini gun, we welcome you to check out the Bantam.
---
Noise
Mini devices don't have a noise problem. This one follows suit and will be very quiet. We measured 45-58dB in a quiet room. This makes it slightly noisier than the Bantam.
You will feel slight vibrations to the holding hand, but nothing too uncomfortable.
---
Battery
Surprisingly, the battery is pretty juiced. Up to 2600mAh, which is full-sized massage gun territory. It's impressive how they could squeeze such a large battery into a tiny body.
That said, Zarifa says it can go for 10 hours straight on a single charge. We believe this is doable, but only when you don't use higher speeds and apply no pressure. Realistically, expect it to go for about a week under normal use (10-15 minutes per day).
4 LEDs underneath the power button indicate the current charge level. The biggest plus is the USB-C charging that it comes with. You don't have to work with a bulky wall charge anymore here.
---
Warranty
It comes with a 1-year warranty. It's recommended that you register your device on zarifausa.com.
A 1-year warranty feels like nothing in today's market, given that brands like Ekrin offer a lifetime warranty.
The return policy is also so-so at best. You only have 14 days to complain, whereas other brands allow up to 30 days.
---
Price
It retails for $199.99, or $179.99 if you apply the MGA code at checkout (10% off). That is not cheap for a mini massage gun. However, it might not matter so much if you can get it using your HSA/FSA card. You can buy it at Zarifa USA store.
We would've preferred a different mini if it wasn't for the tax benefits.
Perhaps Ekrin Bantam, which is a lot more powerful but costs less. You can also buy the Theragun mini (directly at therabody.com or using HSA/FSA card at recoveryforathletes.com), which costs the same but has better features.
We have also seen some less-advanced minis with great features that cost a fraction of the Zarifa mini's price.
If you have FSA/HSA benefits ​4​, it might be worth a buy. If you have to spend cash, we believe there are better alternatives.
---
Best Alternative: Ekrin Bantam
The Bantam is one of the top rated mini massage guns out there today. There are many reasons we listed it as our top mini of 2022.
It's a tiny device that will slot easily into your jeans pocket. If you are looking for an excuse to carry a massage gun everywhere you go, the Bantam has plenty.
Besides being tiny, it has one of the best ergonomic handles on the market. The angled handle allows for a natural grip and reduces tension on your wrist. This is different from the Z-Smart's straight handle.
The handle also allows for an inch more when you are trying to reach your lower back. It's easy to maneuver because it only weighs 1.1 pounds. Very close to Zarifa's 1.2 pounds, but lighter nonetheless.
It has an excellent build and a premium feel. You also get a higher amplitude that is more than 9mm. This allows for much deeper penetration into the muscle than Zarifa's 8mm stroke length. The stall force, up to 35lbs., greatly complements the amplitude to deliver a more robust massage.
It comes with a percussion range of 1800-3200RPM. This makes it slightly more intensive than the Z-Smart mini. It has 3 speeds to go with the range – a different proposition. This is a more versatile device than Zarifa's. It has better equipment, including a carrying case and a soft ball to use on delicate areas.
The regular price is $149.99, but you can use the coupon MGA20 (20% off) and get it for only $119.99. That is $80 cheaper for a better device that also comes with a lifetime warranty. Buy it at Ekrin's store right here.
---
Zarifa Massage Gun Review Summary
Before we end this Zarifa massage gun review, there are a few things worth noting.
it's a pretty decent mini that looks okay and feels good to hold. It will perform okay for most people. We recommend giving it a chance.
The best advantage of this Z-smart massage gun is that it's perhaps the only good alternative to Theragun Mini when it comes to mini devices that are HSA or FSA eligible.
You can also buy Theragun mini using the benefits, from Recoveryforathletes.com, but that's about it – other minis don't come with HSA/FSA benefits.
That said, it wouldn't hurt to look elsewhere. The Bantam is smaller and more powerful, and offers better value for money, but it doesn't have HSA/FSA benefits. It is cheaper though, so perhaps it makes sense.
Whichever device you choose, you won't be disappointed. These are all good devices.
---
Zarifa Z-Smart Mini Rating
Quality

Effectiveness

Usability

Accessories

Price Value
Summary
The Zarifa massage gun is a pretty decent mini massage gun with decent performance specs. It has an okay amplitude and just enough stall force to do the job. However, unless you are buying it using your HSA or FSA card, it's probably not worth its price tag. There are better alternatives.
---
References
2.

Moraska A, Stenerson L, Butryn N, Krutsch J, Schmiege S, Mann J. Myofascial trigger point-focused head and neck massage for recurrent tension-type headache: a randomized, placebo-controlled clinical trial.

Clin J Pain

. 2015;31(2):159-168. doi:

10.1097/AJP.0000000000000091

3.

Lupowitz L. Vibration Therapy – A Clinical Commentary.

Int J Sports Phys Ther

. 2022;17(6):984-987. doi:

10.26603/001c.36964
Disclaimers
The views and opinions expressed on this website are those of the authors. Any content provided by our bloggers or authors are of their opinion and are not intended to malign any religion, ethnic group, club, organization, company, individual or anyone or anything.
All product names, logos, and brands are property of their respective owners. All company, product and service names used in this website are for identification purposes only. Use of these names, logos, and brands does not imply endorsement.
It is our policy to make every effort to respect the copyrights of outside parties. If you believe that your copyright has been misused, please provide us with a message stating your position and we will endeavor to correct any misuse immediately.
Some of the links in this post are affiliate links. As an Amazon Associate, we earn from qualifying purchases. This means if you click on the link and purchase the item, we may receive an affiliate commission, at no extra cost to you. This helps us keep this website alive. Learn more here.
Amazon Disclosure
massagegunadvice.com is a participant in the Amazon Services LLC Associates Program, an affiliate advertising program designed to provide a means for sites to earn advertising fees by advertising and linking to Amazon.com. As an Amazon Associate, we earn from qualifying purchases. Amazon and the Amazon logo are trademarks of Amazon.com, Inc. or its affiliates. Please refer to our Privacy & Affiliate Policy for details.