Lifepro DynaFlex Mini Review: The Rotating Massage Gun You Didn't Know You Needed
What to Know: We independently review products we recommend. If you click on links we provide, we may earn a commission. Learn more.
---
Welcome to yet another review on our little blog. This time, it's the LifePro DynaFlex Mini review.
Why this one in particular? Well, we've been recently looking for a massage gun that give you a lot of power and flexibility, but at the same time is a relatively compact and easy to carry.
NOTE: Yes, this review of the DynaFlex MINI, which Lifepro discontinued in 2021. If you've been looking for the new DynaFlex (full-size version), please read our Lifepro DynaFlex review instead.
The LifePro DynaFlex Mini immediately caught our attention and we've decided to give it a try.
Before we dive deeper though, you should know that when we tried this massage gun, we had our reservations. It seemed like a bit of a lightweight, thus we didn't expect it to deliver much on the power front.
And yet, we can confidently say you will be as surprised as we were when you try it out.
Hopefully, by the end, you'll be willing to give it a try, of course with due consideration to all the shortcomings we point out as well.
---
Lifepro DynaFlex Mini Review
---
Lifepro DynaFlex Mini Specs
Key Feature
Lifepro DynaFlex Mini
Stall Force
45 lbs
Stroke Length
9 mm
Percussions
1800-2450 ppm
Battery Life
3-6 hours (2000 mAh)
Weight
1.4 lbs
Attachments
6
Noise
30-50 dB
Pros
Awesome design
Powerful motor
Quality Attachments
Low Noise
Cons
Stroke length could be better
Non-lockable arm
Warranty
Lifetime!
Retail Price
$79.99 $71.99
Use coupon

MGA10

to get 10% OFF
Lifepro DynaFlex Mini Specs
---
Few Words About Lifepro Fitness
LifePro itself is a well established brand with a great reputation, and they have a pretty interesting story. The company was started by two friends who suffered from ACL injuries within months of each other.
They had a hard time finding the right products to help them with their recovery, so they did what every entrepreneurial person does when they encounter a problem for which there seems to be no readily available solution: they created their own solution.
Well, they did the rest of the world a favor, because they have been producing high quality materials ever since.
Their products are not only of sufficiently high quality to rival even their most expensive rivals (think Hypervolt and Theragun), but they are also pretty affordable.
Furthermore, no other brand has so many products in their line-up. As of this writing, LifePro has 15 distinct massage gun models. How's that for being prolific!
And now, without further ado, let's get started!
---
First Impressions
Right off the bat, this is a beautiful massage gun. It has a nice sleek design and is very compact. It's just 7.1 inches long and weighs just 1.4 lbs.!
Interestingly, this is so small that it's smaller than your average percussion massager. Even more interesting than that is the fact that LifePro has even smaller models than this, meant to be portable for travel, such as LifePro DynaMini.
The one we got is blue in color, with a black base and massage head holder.
On the side of the joint is the LifePro logo, that recognizable Play symbol, set against a blue background with a black border.
The power button is also black, adding some much-needed contrast to the whole design.
The handle also has some ribbing to give it grip.
Speaking of the design, it's rounded and cylindrical, making it look sleek and smooth. We were quite pleased with it.
The first thing you notice when you unbox the DynaFlex is that it comes with a black case.
The case is also very well made, and holds the gun, its heads, and the instruction manual in a pocket on the side. The instructions are particularly helpful, with pictures of the attachments and what they are used for.
On the side side is the power button. This button plays a dual role. On the one hand you can use it to turn the gun on or off by pressing and holding it.
On the other, you can use it to cycle through the different speed levels on the massage gun, of which there are 3. It's pretty nifty, as it puts everything in one convenient place.
The speeds are more than good enough for most purposes but let us not get ahead of ourselves. We'll talk about those in just a bit.
On the base at the bottom is a series of indicators to tell you the battery level. Pay special attention to these, as they give you an idea of how much power is left in the battery.
Since it's a lithium ion battery (Li-ion), our advice is to recharge every time it reaches the same level, whichever you choose, and not to let it drain below that before you charge it. This will help the battery drain more consistently, which will maximize on its lifespan.
---
The Heads
The DynaFlex mini comes with 6 different interchangeable heads, which is a smart move, as most massage guns these days come with only 4 or 5 of them. More is better.
In case you've been wondering what each attachments is best for, here's a quick advice:
The first two are round ball heads.
These are pretty common among massage guns and are used for the least intense sessions.
Basically, if you wake up feeling a little sore or just want to use the massage gun for how good it feels on your muscles, then these are the balls to go to. The large one is more general while the smaller one is for those areas where the large one would be ineffective, or that are a little harder to reach.
Something we like about these heads is that they are spongy and absorbent. They are not made or molded plastic and compress well under pressure, making them super comfortable to use.
The second head is the flat head.
Flat head massage tips are commonly used for deep tissue massage. These have a wide surface area so they can spread out the force and, when used with high speed settings, get to the most problematic knots and even them out.
The one on the DynaFlex Mini has little texture protrusions that make it even more effective at reaching deep knots.
Next in line is the spinal tip.
The one on the DynaFlex Mini is more y-shaped. Normally, spinal tips are shaped like football goal posts, with an equal distance between the prongs. The one that comes with the DynaFlex Mini is y-shaped, so the prongs meet in the middle.
There is a reason for this. Apart from being used on your spine and neck, the spinal tip can also be used in a variety of other problem areas, including your peri-spinal muscles and the side of your thigh. This kind of versatility is what made us fall in love with the DynaFlex Mini, to be honest.
Finally, there are two more unique tips: metallic heads.
Now, it's not every day you come across a massage gun that has metallic heads, and it's forgivable to wonder what they're useful for. Well, the brand points out that the metallic heads, one of which is flat and the other bell-shaped, are excellent for applying ointments or topical analgesics on the skin.
Say you want to apply some Deep Heat or Deep Freeze and want to massage it all over your body: the metal heads will do the job just fine. The main difference in the heads, where one is flatter than the other, is simply to allow for deeper tissue massages.
Overall the metal heads really impressed us and we thought they were a big plus.
---
Power and Performance
When it comes to the power of a massage gun, there are three main things that matter:
the percussions per minute, usually measures in RPM (revolutions per minute) since they track the number of revolutions the motor make;
the stall force with which the massage tip hits a target surface, which is measured in pounds;
the amplitude or stroke length, which is simply the length traveled by the massage tip as it vibrates;
The DynaFlex Mini is something of an anomaly on both of these fronts.
On the one hand, this massage gun is pretty powerful when you take its size into consideration. It packs a full 45 lbs. of stall force. That is more than many massage guns that are much larger, and at par with your average Theragun.
What's more, it can achieve percussions as high as 2450 percussions per minute, which is slightly more than all Theraguns, which go up to 2400 percussions per minute. That means that this massage gun is a lean mean massaging machine capable of providing deep tissue therapy.
On the other hand, the amplitude on the DynaFlex Mini is surprisingly low at 9mm. This is below the 12mm for most massage guns on the market, including other LifePro devices.
We thought a little about it and concluded that this must have been deliberate. How else could they have packed 45 lbs. of stall force and 2400 percussions per minute into such a small massage gun?
The only way they would have made it feasible from an engineering perspective is by reducing the amplitude. Overall, it's a bit of a weird set of parameters, but the massage gun does its job very well in practice.
The DynaFlex Mini also comes with 3 different speeds of 30 Hz, 40 Hz, and 50 Hz. These speeds cover pretty much most of the intensity you will need for everything from a shallow to a deep massage.
Rotating Arm
Another interesting performance feature is the massage arm's rotating capability. This is pretty unique for a massage gun, as we haven't seen it with any other model.
The arm is capable of rotating a full 90 degrees for extended reach. This is pretty cool as it allows you to massage the hardest to reach areas.
Now, the adjustability is a great feature, but it's a pity that it can't be locked. That makes it more of an inconvenience sometimes.
For example, when you apply too much pressure, the arm will change its position, which can get frustrating. We hope LifePro will add a locking mechanism to fix the position in a future release.
---
Noise
The advertised noise limit for this massage gun is 50 dB, and indeed it's a quiet device. Not silent, but pretty quiet for a massage gun.
What we were happy to find out is that it never even begins to exceed that limit. In practice the noise is more in the range of 35 dB to 48-50 dB.
---
Battery
As mentioned earlier, the DynaFlex Mini comes with 2000 mAh lithium ion batteries. Depending on the speed you use, the batteries can last anywhere from 2 to 5 hours and take between 3 and 5 hours to charge.
It comes with an A/C adapter, which is great, but we still wish it had a USB/USB-C charger. We've wished that for many massage guns now. There's nothing we'd want for Christmas more than a massage gun with a USB/USB-C charger.
---
Price
Here's the best part – this is a very affordable massage gun. It costs a mere $79.99. It makes it an incredible value for money massage gun, given what you're getting: a mini-sized, powerful, adjustable massage gun from a reputable brand.
What's more, when you visit the product page and decide to buy the DynaFlex Mini, you'll be able to apply the "MGA10" coupon and claim an extra -10% discount, so that the final price will be $71.99.
What's more, it comes with a lifetime warranty, like in all LifePro products!
Can't go wrong with this one.
---
LifePro DynaFlex Mini vs. Theragun Mini
Let's briefly discuss Lifepro DynaFlex Mini vs Theragun Mini, which is the closest analogue among Theragun's products.
Unfortunately, the Theragun Mini, while costing a lot, isn't adjustable, has only 20 lbs. of stall and 2.5 hours of battery life. The only place it beats the DynaFlex Mini is the 12mm amplitude which, to be honest, won't make a big difference with only 20 lbs of pressure needed to stall the device.
To sum up, the Theragun Mini has overall weaker specs, so unless you're buying for the Theragun brand, you really can't go wrong with this LifePro.
It beats the Theragun Mini in almost every aspect and offers a lifetime warranty.
---
LifePro DynaFlex Mini vs. Hypervolt Go
How About comparison between LifePro DynaFlex Mini vs Hypervolt Go2? Well, to keep it to the point, let's just say that the Hypervolt Go 2 has about 15-20 lbs. of stall force, 10mm amplitude, and 2.5 hours of battery life.
It also retails for $199, which makes it almost three times more expensive than the LifePro Dynaflex Mini (if you take the extra -10% discount into account when using the 'MGA10′ coupon).
Again, unless you're buying for the Hyperice brand, you're better off with the DynaFlex Mini as it offers significantly better value for money.
---
Recommended Alternative
---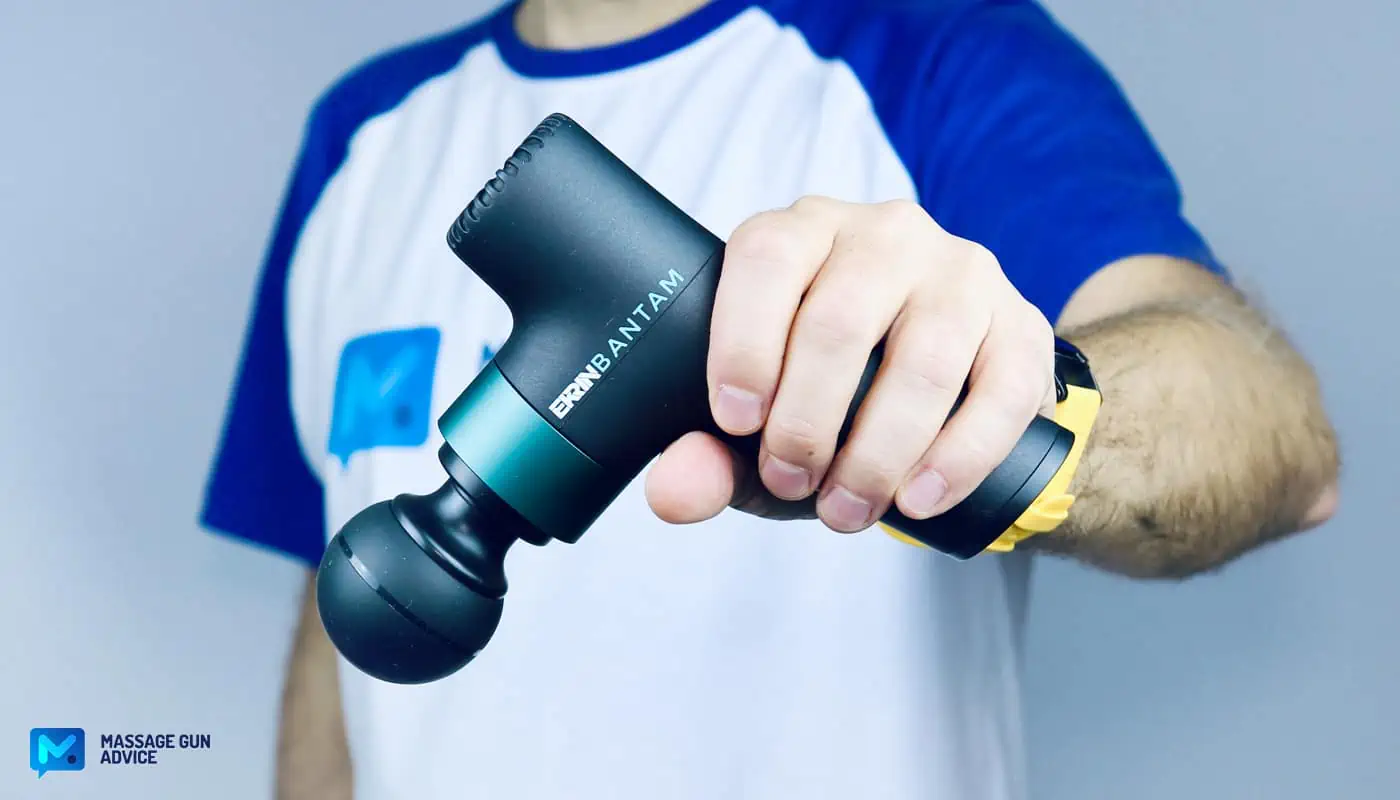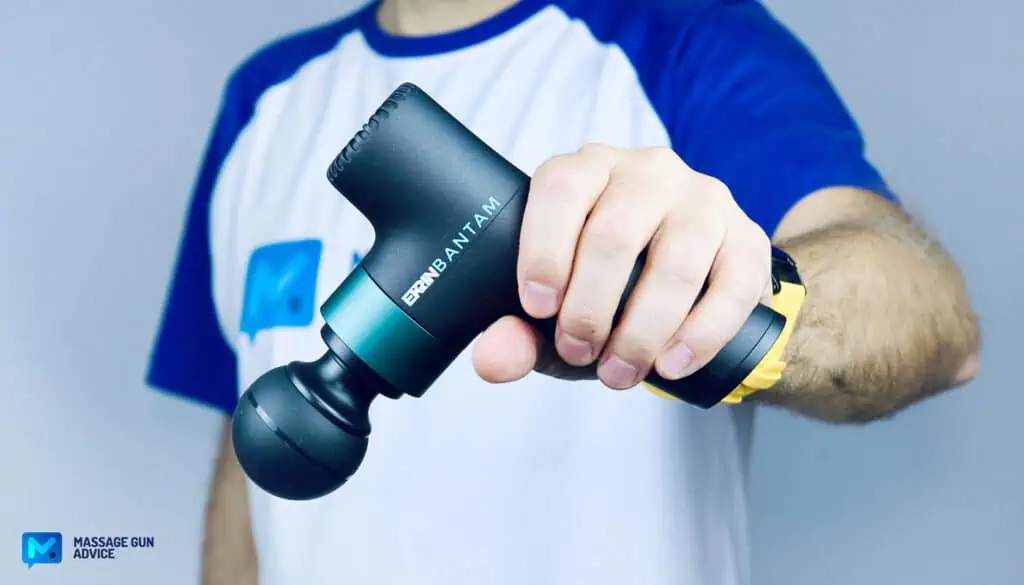 Ekrin Bantam
If you need a good alternative, let us recommend you this one.
The Ekrin Bantam is slightly more expensive than the DynaFlex Mini. Even with the 'MGA20′ coupon it costs $119.99.
That said, it's not nearly as expensive as the Theragun Mini or Hypervolt Go.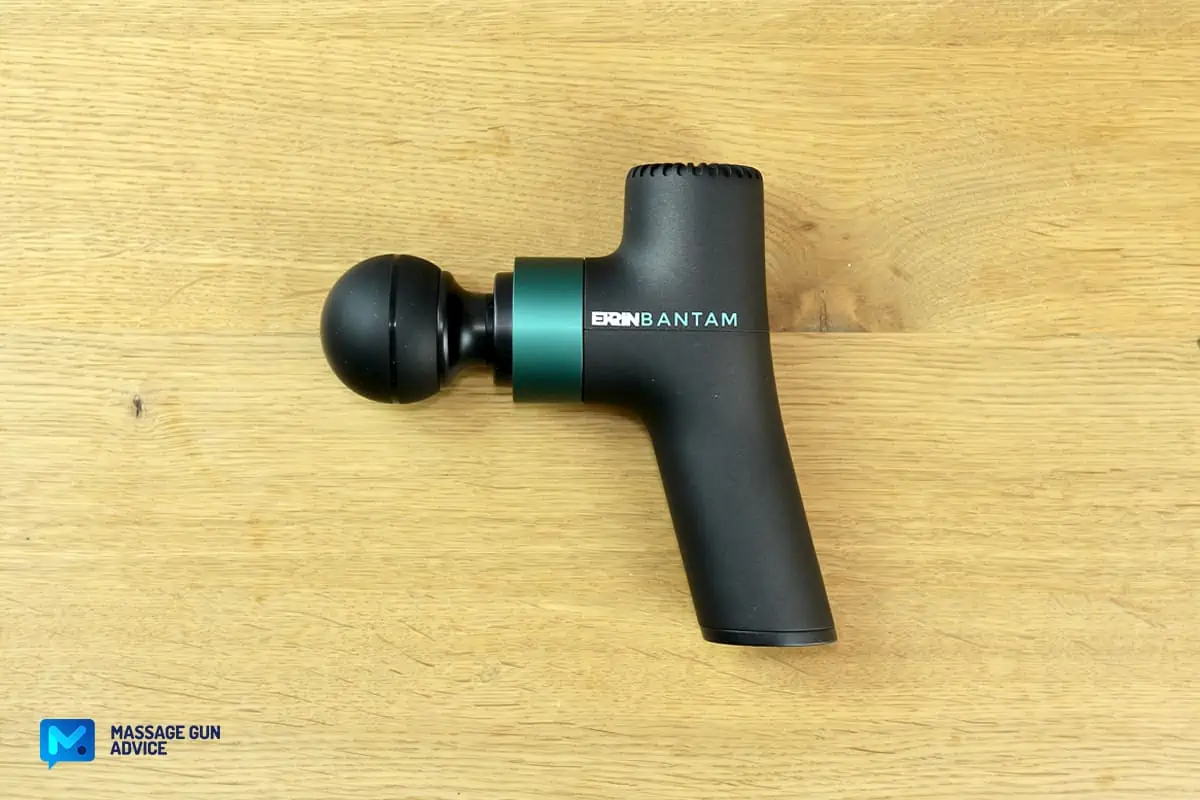 It's also not as powerful as the DynaFlex Mini, with just 35 lbs. of stall force. It does, however, have higher amplitude (10mm) and is capable of going up to 3200 percussions per minute. We say it's a bit of a different value proposition here.
It's also slightly lighter, making it very compact and convenient to use. That said, it comes with 4 attachments, which is 2 fewer than the LifePro.
Finally, it has excellent quality and also comes with a lifetime guarantee, just like the LifePro.
Check out the Ekrin Bantam right here.
---
Bottom Line
And with that we come to the end of our LifePro DynaFlex Mini review.
As you can see, this massage gun offers an incredible value proposition that we think anyone will appreciate.
While it's true that the 9mm amplitude is on the lower end on what other competitive devices can offer, its more than average stall force makes it powerful enough to dig into deep muscles
Its compact size, clever ergonomics and overall great features, at this price point, make it a real bargain.
Until next time, happy massaging!
---
Our Lifepro DynaFlex Mini Rating
Quality

Effectiveness

Usability

Accessories

Price Value
Summary
Lifepro DynaFlex Mini is a slick-looking, compact yet surprisingly powerful percussion massager featuring 45 lbs. of stall force. While it has some minor design flaws, such as the non-lockable arm, it's a fantastic massage gun to take with you wherever you go. At this price-point, it's a steal.
Was this article helpful?
Thanks for your feedback!
Post Update History
Here's a quick rundown of all the tweaks and edits we've made to this article to keep it accurate and up-to-date!
Current version last updated on:
November 16, 2023 Internal linking changes and Bantam images added. (Author: Greg)
•
Written by:

Luke Deszczulka
Disclaimers
The views and opinions expressed on this website are those of the authors. Any content provided by our bloggers or authors are of their opinion and are not intended to malign any religion, ethnic group, club, organization, company, individual or anyone or anything.
All product names, logos, and brands are property of their respective owners. All company, product and service names used in this website are for identification purposes only. Use of these names, logos, and brands does not imply endorsement.
It is our policy to make every effort to respect the copyrights of outside parties. If you believe that your copyright has been misused, please provide us with a message stating your position and we will endeavor to correct any misuse immediately.
Some of the links in this post are affiliate links. As an Amazon Associate, we earn from qualifying purchases. This means if you click on the link and purchase the item, we may receive an affiliate commission, at no extra cost to you. This helps us keep this website alive. Learn more here.
Amazon Disclosure
massagegunadvice.com is a participant in the Amazon Services LLC Associates Program, an affiliate advertising program designed to provide a means for sites to earn advertising fees by advertising and linking to Amazon.com. As an Amazon Associate, we earn from qualifying purchases. Amazon and the Amazon logo are trademarks of Amazon.com, Inc. or its affiliates. Please refer to our Privacy & Affiliate Policy for details.