Is A Massage Gun Good For Sciatica? Will It Help?
What to Know: We independently review products we recommend. If you click on links we provide, we may earn a commission. Learn more.
---
Is a massage gun good for sciatica? Well, yes, a massage gun can help treat your sciatica if used properly. This article will provide answers on massage gun use to treat sciatica. Follow along!
---
---
Why Trust Us and Some Disclaimer
This article is prepared from a massage gun expert's point of view. We are not medical experts or licensed physiotherapists – we just know a lot about massage guns.
However, we can ascertain that all the information provided here is accurate because we consult with experts (licensed physiotherapists and chiropractors) to ensure we're providing accurate information.
This post has been medically reviewed by Dr. Alex Stone, DPT. We encourage you to check with your doctor before attempting to use any of the advice given here.
---
Sciatic Nerve Pain Background
Sciatica is pain along the sciatic nerve, which runs from your lower back all the way through your hips, buttocks, and down the leg.
Typically, you'll experience pain on one side of your body. The pain can be mild or severe, depending on the root cause and how well the condition is managed.
But, will a massage gun help with sciatica nerve pain? Well, there are different ways of treating sciatica, including more traditional methods like painkillers and massage therapy.
But massage guns can be an effective way to alleviate sciatica pain as well. These electronic tools have been embraced by medical practitioners, including physiotherapists, to treat different ailments.
If your sciatica is flaring up, then a massage gun may just be the help you need.
---
Is a Massage Gun Good for Sciatica?
Sciatica isn't an uncommon condition, and if you are suffering from it, you're not alone. In fact, it affects 10 to 40% of the populationat some point in life.
Symptoms may not be the same for everyone, but it mainly displays as pain in the lower back and down the leg (either a portion of the leg, or all the way down)..
While there may be several names for it (depending on your doctor), the leading causes for sciatica include; back strain (sometimes caused by heavy lifting with poor mechanics), pregnancy in women (baby puts pressure on the sciatic nerve), and piriformis syndrome (more recently referred to as deep gluteal pain syndrome) – a condition that causes muscles to tighten and compress the nerve root.
But how do you treat it?
Well, there are two known ways that involve the use of a massage gun:
Physical relaxation: Percussion massagers can provide a deep tissue massage, which helps to relax tight muscles by loosening layers of soft tissue and decreasing muscle tone. This results in improved tissue pliability and blood flow which can relieve pain caused by sciatica.
Mental relaxation: Percussion massagers are great tools for winding down and de-stressing since they provide vibration and promote release of endorphins, which can help calm the nervous system and reduce sensitivity to pressure around the sciatic nerve / nerve root.
Note that while massage guns may help to manage sciatica, they may not treat the underlying causes of your sciatica – some of these include a bulging or herniated disc, lumbar stenosis, or spondylolisthesis (slipping of the vertebrae). However, deep tissue massage has been known to have a comparable effect as nonsteroidal anti-inflammatory drugs in treating lower back pain – which is often a symptom of sciatica.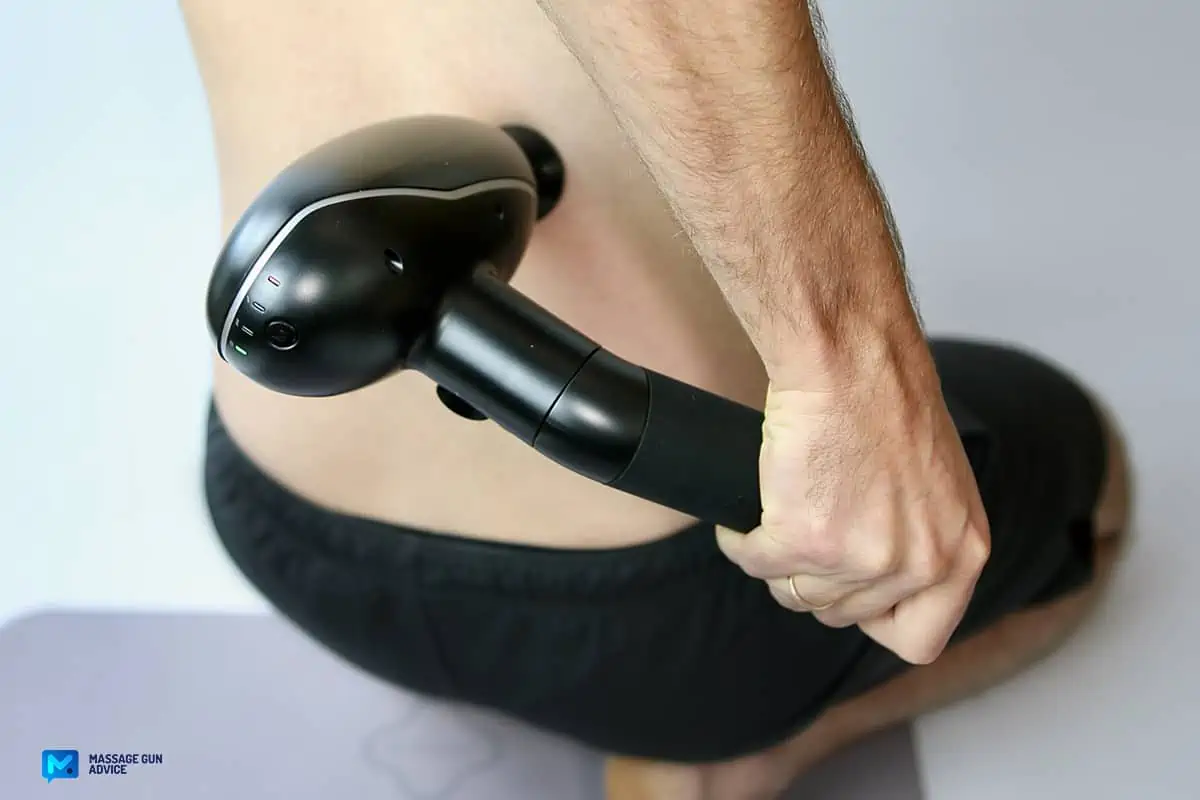 ---
How Does a Percussion Massager Help with Sciatic Nerve Pain?
Since sciatica is caused by pressure being applied to the sciatic nerve (could be a joint, a muscle, or a herniated disk), a percussion massager is a sure way to work both muscles and joints to bring back the feeling of relief.
By passing a massage gun over your lower back, the glutes, and the hamstrings, you can ease some of that pressure on the sciatic nerve.
Some of the sciatica pain may also be a result of swollen fascia around the muscles. This can cause acute pain in the affected areas. Percussive or vibrational therapy using a massage gun can improve blood flow into the myofascial tissues and reduce inflammation. This in turn may effectively relieve the sciatica pain.
Another cause of sciatica, as mentioned above, is straining muscles in the low back during heavy lifting or an intense workout. The irritated muscle may further irritate a nerve root, which can generate sciatica pain. A massage gun will help loosen up the area to relieve irritation on the nerve root.
Tense muscles and/or trigger points can also be the main cause of pain in your lower back, glutes, hamstring, and calves. A massage gun can be effective in treating trigger points to help with myofascial release.
---
So, Will a Massage Gun Help?
Like we've said, a massage gun can only help to alleviate the pain that comes with sciatica. However, when it comes to treating the underlying issue, you may have to contact your doctor for further help.
If you have already sought help from your doctor and they have recommended a massage gun as a complementary treatment, then this article is for you. A massage gun will go a long way in helping you manage the tension and pain in your muscles, but that's it.
If you aren't sure what is causing your sciatica you can also use a massage gun to help alleviate the pain and improve blood flow in your muscle tissue.
However, if the pain does not go away after a few sessions, you may need to consult a doctor or a physiotherapist. Typical treatment may include medication, manual therapy, or exercise, though massage guns are becoming increasingly recommended for home use to complement these therapies.
---
So, Should You Get a Percussion Massager?
Absolutely! As we have already discussed, a deep tissue percussive massage using a massage gun can effectively manage sciatica. There are many other benefits of using massage gun as well.
One great advantage is that you can easily use a massage gun on yourself multiple times when you need to. If you have the right device, deep tissue massage is possible.
If you don't know how to use a massage gun, you can learn easily and start treating your sciatica.
Another advantage is that these devices are relatively compact, and you can take them with you anywhere and continue with your treatment uninterrupted.
However, we advise that you pick a massage gun wisely. Don't just buy the first one you come across.
Instead, we have an article on the best massage guns for sciatica, where you can learn what makes a good device for sciatica and what to pay attention to when choosing one.
---
How to Use a Massage Gun for Sciatica
If you are sure that it's safe to use a massage gun to treat your sciatica, you can apply the following steps using your device.
With your massage gun in hand, start by treating the side of your body that is hurting. Treat your lower back, thigh area, and calves for one or two minutes, depending on the pain you feel. If both sides of your body experience the symptoms, you can treat them both to ease the discomfort.
Remember to focus on the lower back, thigh area (hamstrings), and calves. However, don't be so quick to exert pressure, especially on the piriformis muscle. Turns out this muscle doesn't like being pressed for more than a few seconds. Makes sure you simply pass the device over this area and only limit the amount of time spent here, especially during the first few uses.
Just to be clear, putting excessive pressure on the piriformis muscle may injure it or excessively irritate the sciatic nerve, causing more pain – not cool! Again, simply pass the massage gun over the affected muscles and let it do the work.
Finally, even though the sciatic nerve is the problem, don't pass the massage gun directly over it with too much pressure. Instead, maneuver around the target areas as you easily swipe along the sciatic nerve. Be gentle with yourself!
In the same spirit of being gentle to yourself, we recommend feeling out the massage as you go. If it hurts, try some stretches or icing the painful area first. Also, remember to go easy on bruises caused by recent surgery. Another thing, don't pass the massage gun over bony areas or joints.
NOTE Remember that different devices have different specifications (refer to our best massage guns for sciatica post) and will work differently. We recommend that you read the device manual prior using.
---
Can a Massage Gun Help with Sciatica? Final Words
Well, is a massage gun good for sciatica? The answer, as we have seen, is yes! These great devices can help you with your sciatica if you know what to do.
The best way is to first consult your physio or chiro for guidance on how to go about it, and when you feel confident, you can have a go at it.
Remember to pick the right sciatica massage gun and use it properly.
---
Was this article helpful?
Thanks for your feedback!
Post Update History
Here's a quick rundown of all the tweaks and edits we've made to this article to keep it accurate and up-to-date!
Current version last updated on:
•
Written by:
Greg Szostak
Disclaimers
The views and opinions expressed on this website are those of the authors. Any content provided by our bloggers or authors are of their opinion and are not intended to malign any religion, ethnic group, club, organization, company, individual or anyone or anything.
All product names, logos, and brands are property of their respective owners. All company, product and service names used in this website are for identification purposes only. Use of these names, logos, and brands does not imply endorsement.
It is our policy to make every effort to respect the copyrights of outside parties. If you believe that your copyright has been misused, please provide us with a message stating your position and we will endeavor to correct any misuse immediately.
Some of the links in this post are affiliate links. As an Amazon Associate, we earn from qualifying purchases. This means if you click on the link and purchase the item, we may receive an affiliate commission, at no extra cost to you. This helps us keep this website alive. Learn more here.
Amazon Disclosure
massagegunadvice.com is a participant in the Amazon Services LLC Associates Program, an affiliate advertising program designed to provide a means for sites to earn advertising fees by advertising and linking to Amazon.com. As an Amazon Associate, we earn from qualifying purchases. Amazon and the Amazon logo are trademarks of Amazon.com, Inc. or its affiliates. Please refer to our Privacy & Affiliate Policy for details.