Bitfinic Massage Gun Review – Likely The Cheapest Mini Device
What to Know: We independently review products we recommend. If you click on links we provide, we may earn a commission. Learn more.
---
Welcome to this Bitfinic massage gun review.
It must surprise you how we're coming up with all these New-Name brand devices.
Yes, Bitfinic is pretty new, but we found out it's a sister brand to Taotronics. Remember we already reviewed some Taotronics massage guns, and they turned out to be decent budget devices.
This Bitfinic mini is not just new; it's affordable as well. We bought it, tested it, and now let's see how it performs.
---
---
Bitfinic Massage Gun Review
Bitfinic BN-PCA004 Specifications
Feature
Bitfinic BN-PCA004 Specs
Stall Force
~15 lbs (22 lbs*)
Stroke Length
10 mm
Percussion range
1400 – 2560 rpm
Speeds
4
Attachments
4 included
Weight
1.03 lbs (469 grams)
Noise (decibel)
48.4 – 58.1 dB
Battery Capacity
2600 mAh
Pros
Good amplitude
Very light
High capacity battery
Overall design
USB-C charging
Cons
Poor stall force
Low max. percussions
Plastic handle
Rattling sound when pressed
Price
$59.99
Current Price
Buy it at Taotronics.com
Bitfinic Mini BN-PCA004 Specifications (* as advertised by Bitfinic)
---
First Impressions – Design
Unlike the Taotronics (they looked pretty classic – T-shaped and all), this one looks a little different – somewhat familiar, but definitely different. It's similar to Theragun mini.
You'd probably call this one more circular than the somewhat triangular Theragun mini, but the concept is very similar. It's also about the same size as the Theragun mini.
We love the stylish approach they took here. The whole device is satin and plastic everywhere. The look and feel is quite nice. It also feels reasonably durable and sturdy – it's definitely not a toy.
Overall Assessment

We like the quality of this massage gun. The concept is rather fascinating for a budget device. We love the color choice and the design concept in general. It is all-plastic though, and thus feels cheap comparing to rubberized Theragun. But it is three times less expensive, so we'll take it.
---
Size and Weight
It's a mini gun so you can expect it to be compact and highly portable.
However, don't expect it to be as tiny as the Bantam, Recoverfun Mini, or even Bob and Brad's Q2. It measures 5.9 x 5.4 x 1.9 inches. The shape affects the size perception (the same thing as Theragun Mini).
We noticed something else that we haven't seen with most mini guns: huge attachments, at least from a mini gun perspective. These are regular-sized gun attachments.
This makes the guns look bulky for its category. However, it's probably not a very bad thing. These attachments can fit on the larger Taotronics (and perhaps on many other third-party guns).
The gun itself weighs 469 grams or 1.03 pounds with the flat attachment mounted. That's pretty light. For its size, we hoped it would be between 1.3-1.5 pounds at least. We were wrong. This one is very light – how awesome!
---
Ergonomics
Expect a Theragun mini-like device. However, there's a twist that we hoped Theragun would've employed for their gun. There's a handle.
This is not just fascinating but pretty awesome as well. You can hold it in two ways; grip the outside of the handle or put your hand in the space and grip the device instead. You can use the former grip to massage most of your body, while the latter hold can help you massage the hard-to-reach parts.
Unfortunately, as we said before, the body isn't rubberized. Expect sweaty hands during longer sessions.
We would've hoped for some rubber on the handle or near it to make the grip even better. However, for the price, we won't complain.
Overall

This is a fascinating approach and a bold one at that. It's probably not as new since Theragun already did it, but we like the innovativeness. The execution is okay, even though it makes the device slightly bigger to be a true mini.
---
Attachments
There are 4 attachments included. These ones can fit on larger guns as well. The mechanism used to insert is basic push-n-pull. The attachments are well-varied and similar to the ones on the Taotronics devices.
Flat head with bumps: You can use it to massage most muscle groups as long as it doesn't feel too aggressive.
Cushioned head: This one is soft and used to massage delicate areas. It also has bumps on it, probably to add a bit more aggressiveness to it.
Ball head: It's the standard one we have seen before with minimal give to it. It's used to massage the entire body. It's a tad less aggressive than the flat one.
Fork head: This one is the most interesting of the group. It has the same classic Y-shape. However, this one's not made of hard plastic as with many other devices. It's rather made of soft plastic that is bendable and nice to touch. It's not very soft though, but it feels good.
Overall this is a good set of attachments for a mini device this cheap.
---
---
Performance
So, how well does this device perform?
---
Amplitude
Also called the Stroke Length, it's the distance the massage gun head travels as it percusses. It determines how deep a massage you get.
Here Bitfinic says it's 10mm. We always like to measure just to be sure, and we can confirm that it's indeed 10mm.
10mm is on par with most mini massage guns (the good ones). For instance, Ekrin Bantam and even Hypervolt Go 2 have the same. Only Theragun mini has more – 12mm.
10mm is enough for a percussive massage if you have enough stall force. The motor has to be strong enough to keep the device going even under pressure.
But is this gun good enough when under pressure?
---
Stall Force
It's the amount of force a device's motor can withstand without stalling or shutting off.
We love that Bitfinic has the stall force info listed in their product specs. They say it is 22lbs. We saw that and couldn't hide our excitement. On paper, that's pretty good for this kind of device.
But is it really that strong?
Well, unfortunately, it isn't. The stall force here is disappointing. It's probably the weakest feature of this device.
We don't believe it's the 22lbs. advertised. Instead, it's probably about 10-15lbs. Even the weak Hypervolt Go 2 felt slightly stronger.

It would be disrespectful to compare it with Ekrin Bantam, which has over 30lbs.
Even worse, it doesn't really matter what speed setting you're on; it stalls easily at just about any intensity. This isn't what we are used to. Usually, devices tend to be stronger at the highest speed setting.
Also, when it stalls, it doesn't resume immediately as the pressure is eased. The motor resuscitates for about 3 seconds but then shuts off completely. You have to restart the device again at this point – what a bummer!
---
Percussion Range Speeds
It has a wide percussion range. That and a decent amplitude make it an okay proposition even though the stall force is bad. The advertised range is 1400-2560RPM. Our laser tachometer seems to agree.
This is not a bad range, but we are wondering whether they couldn't do more.
Compared to Ekrin Bantam's 3200RPM, this feels a little short.
It has four speeds to go with the percussions – enough for the range.
---
To wrap up the Performance
If only we had a specs line of 10mm amplitude, 22lbs. of stall force, and a wide percussion range, this would've been a versatile device – good enough for an intensive massage.

But, even though we won't complain about the intensity, the stall force isn't good enough.
Beginners will still like what it offers (massaging tight muscles and helping with pain with surface vibrations and little pressure applied).

Perhaps that's why it's priced so low – the Bantam is 3x the price of this one. This isn't it if you are looking for more stall force from a mini device!
---
Noise
Mini devices tend to rev quietly. Fortunately, this one follows the same norm. It has acceptable noise levels.
The dB meter gave us 48-58 dB (lower gears to higher). For a mini device, that's reasonably quiet.
Also, the sound is smooth. There is some rattling at higher speeds though, which probably adds to the decibels.
Overall we'd say it's decent. It is not the quietest device out there, but you get what you pay for!
---
Battery
The size of the battery is 2600mAh. That is the similar capacity of most full-sized guns out there. Maybe that accounts for the bulky profile?
Even so, it's slightly surprising that they still kept the device's overall weight pretty low.
Unless they shrank the motor to accommodate the battery – that's probably why the motor's weak, right? Has to be!
That said, the battery will last 3 to 10 hours, according to Bitfinic. That is possible given the capacity and the weak motor.
Realistically, it should last about half the time if you use higher speeds and apply more pressure. That's still excellent; you can use it for 7 to 10 days before charging it again.
The battery has 4 LED indicators under the control button that indicate the charge status.
They all flash when the battery is charging. They turn a solid white when it's fully charged.
The biggest plus is the USB-C charging. A regular USB cable is included to make charging convenient.
---
Price and Warranty
The price is awesome. Just $59.99 when purchased from their store.

Taotronics offers discounts, and you can expect one for this device. If you check the top section of their site here, you may see a link to discount coupons – so it can be bought even cheaper.
---
Bitfinic Best Alternatives
---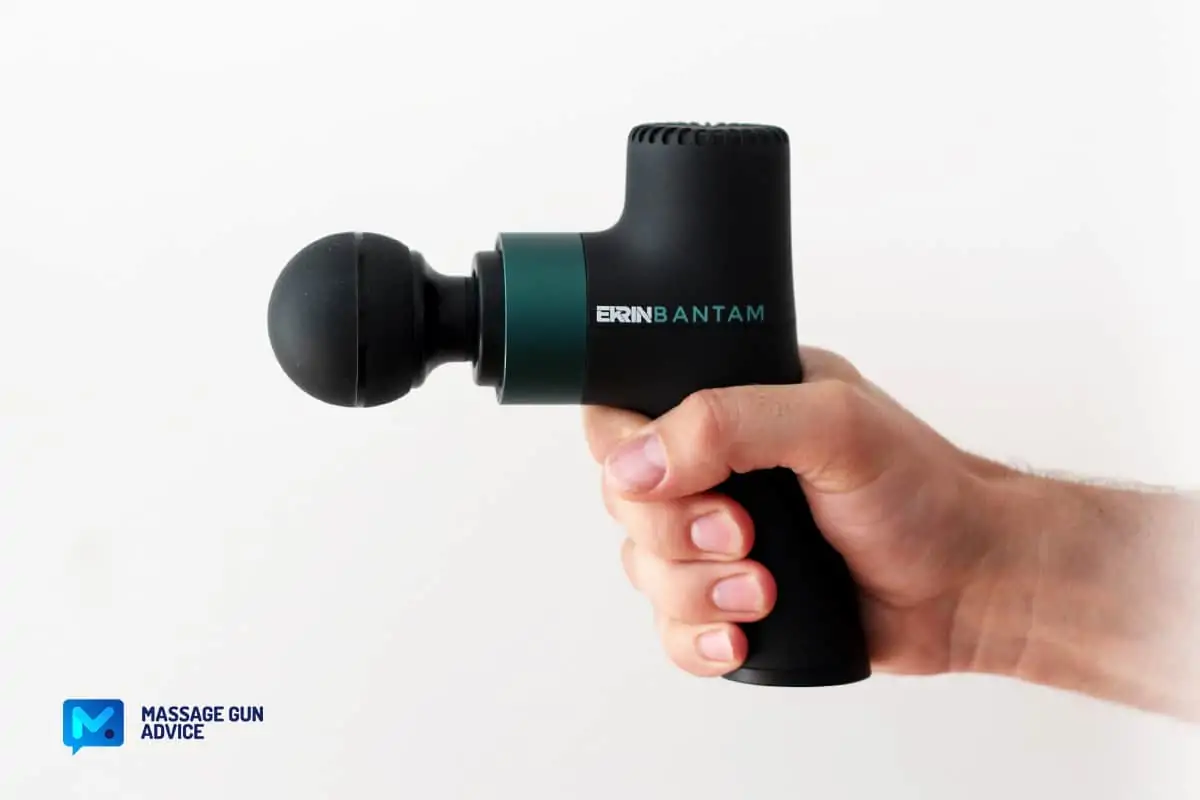 Ekrin Bantam – Smaller, More Powerful
If you want a different proposition but are willing to pay more, Ekrin Bantam is the perfect alternative. It's one of the best mini massage guns.
It's much smaller, even tinnier. It has a traditional shape but with an angled handle.
The handle is rubberized, and the angled approach gives about an inch more reach when you are trying to massage your lower back.
It weighs about the same as the Bitfinic – 1.1 pounds.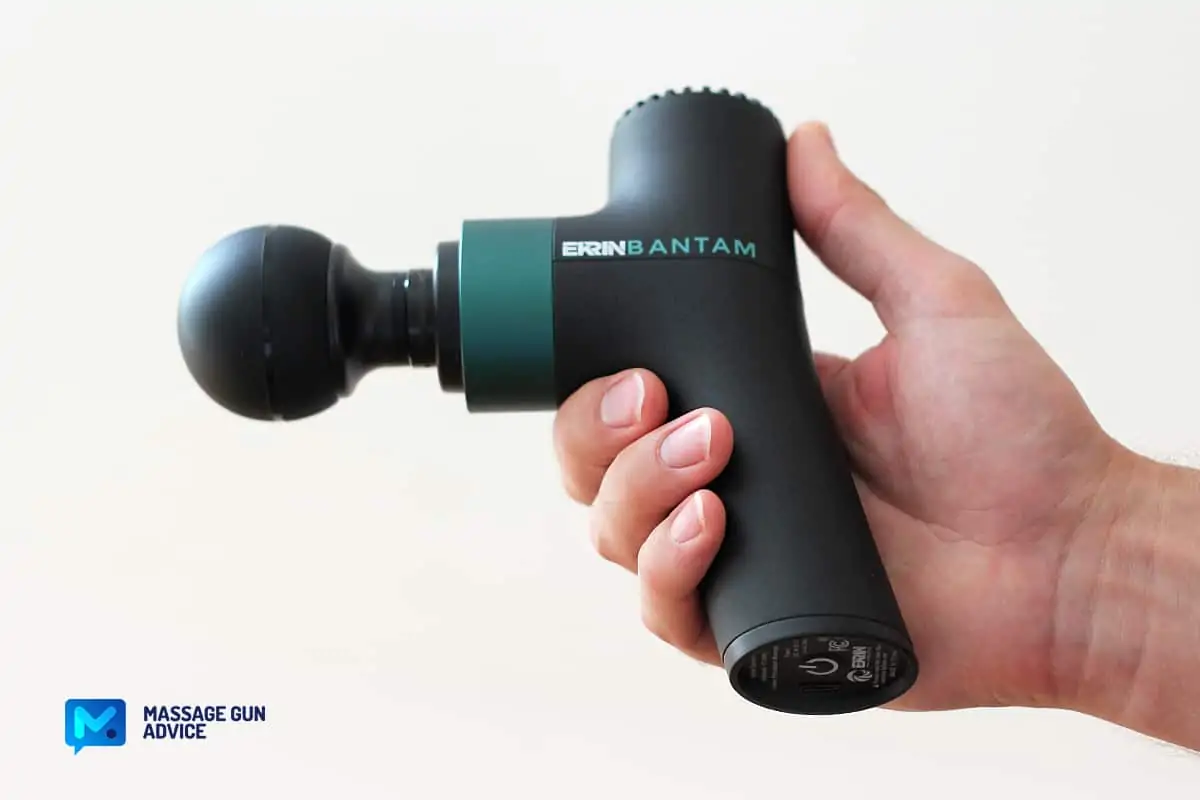 The Bantam has an excellent build (the quality of materials feels premium). It performs even better compared to Bitfinic. It has a 10mm amplitude
but a far more powerful motor that can withstand up to 35lbs. of pressure. This makes it one of the strongest minis out there. If you need a stronger massage, you just found your device.
It has 3 speeds but a way better percussion range of 1800-3200RPM.
It's quieter, well equipped (a case and 4 attachments of better quality than Bitfinic). It also comes with a lifetime warranty.
You'll have to pay more for it though; $149.99, or use the MGA20 coupon (which takes off 20%) and get it for $119.99 instead.

Almost twice more expensive but totally worth it!
---
Taotronics TT-PCA004 – Slightly Bigger, but Better and Cheaper
This one is T-shaped and slightly larger than Bitfinic, but it has something that Bitfinic doesn't.
It has a 9mm amplitude, which is 1mm shy but a better stall force.
Instead of the meager 10-15lbs. on Bitfinic, it has over 25lbs.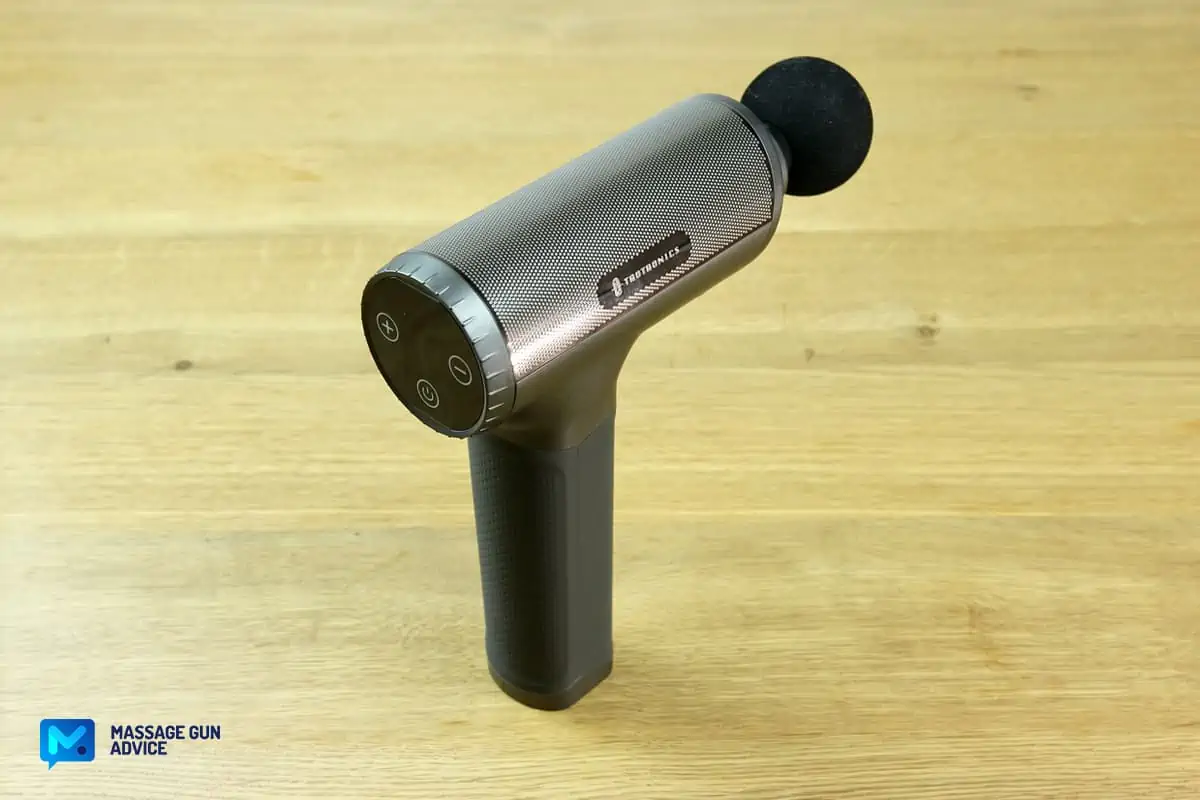 It's also made of better materials, and there's plenty of rubber on the handle.
It's also quieter, has more attachments (6, nicely varied), and has a carrying case.
The big plus is it's even cheaper:
It costs $49.99 or $37.50 if you use the 20-25% coupon offered on this Taotronics website. You get a different design, better execution, more power, and cheaper cost.
---
Bitfinic Massage Gun Review Conclusion
That is our Bitfinic massage gun review. We like the interesting concept used to make it. The design is okay and the materials used are good enough.
However, Bitfinic gave it a good amplitude but just couldn't back it up with a better stall force.
Otherwise, this is an affordable massage gun for beginners, those who need a complimentary device, and if you prefer delicate hits rather than a deep massage.
Get your Bitfinic right here, try it, and tell us what you think (drop us a comment below).
---
Bitfinic Mini Massage Gun Rating
Quality

Effectiveness

Usability

Accessories

Price Value
Summary
The Bitfinic mini massage gun has a unique shape, a nice amplitude, and good enough intensity. However, it lacks greatly with its weak stall force. For the price, it's a good choice for beginners and those who prefer more delicate, shallow hits.
Was this article helpful?
Thanks for your feedback!
Post Update History
Here's a quick rundown of all the tweaks and edits we've made to this article to keep it accurate and up-to-date!
Current version last updated on:
•
Written by:
Greg Szostak
Disclaimers
The views and opinions expressed on this website are those of the authors. Any content provided by our bloggers or authors are of their opinion and are not intended to malign any religion, ethnic group, club, organization, company, individual or anyone or anything.
All product names, logos, and brands are property of their respective owners. All company, product and service names used in this website are for identification purposes only. Use of these names, logos, and brands does not imply endorsement.
It is our policy to make every effort to respect the copyrights of outside parties. If you believe that your copyright has been misused, please provide us with a message stating your position and we will endeavor to correct any misuse immediately.
Some of the links in this post are affiliate links. As an Amazon Associate, we earn from qualifying purchases. This means if you click on the link and purchase the item, we may receive an affiliate commission, at no extra cost to you. This helps us keep this website alive. Learn more here.
Amazon Disclosure
massagegunadvice.com is a participant in the Amazon Services LLC Associates Program, an affiliate advertising program designed to provide a means for sites to earn advertising fees by advertising and linking to Amazon.com. As an Amazon Associate, we earn from qualifying purchases. Amazon and the Amazon logo are trademarks of Amazon.com, Inc. or its affiliates. Please refer to our Privacy & Affiliate Policy for details.