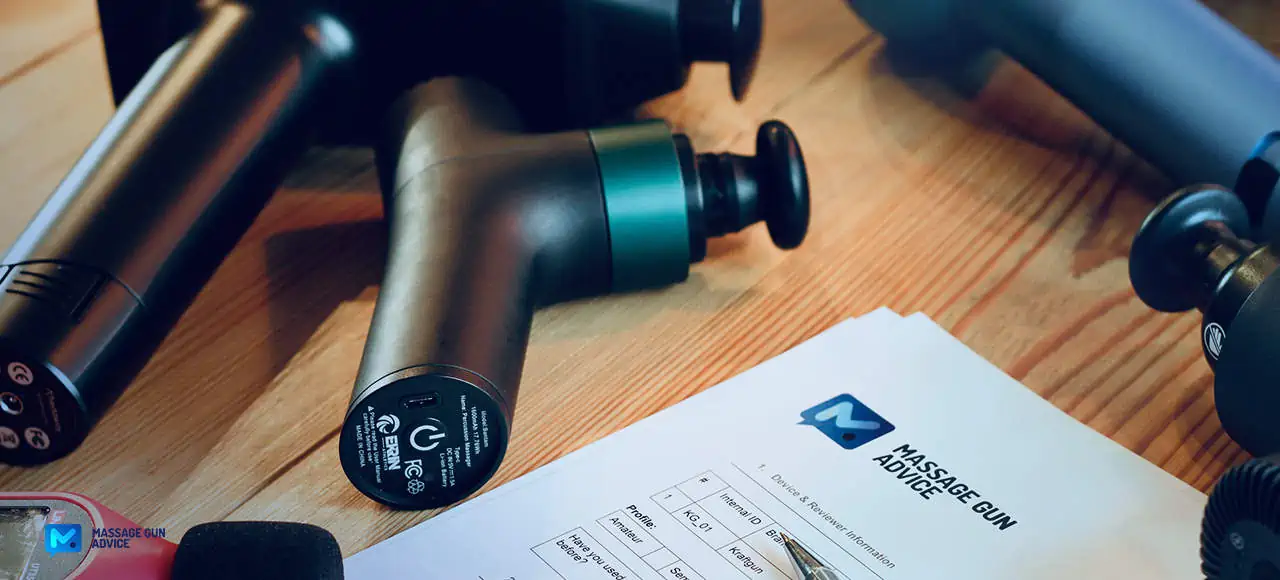 How to Choose a Massage Gun? Step by Step Guide
What to Know: We independently review products we recommend. If you click on links we provide, we may earn a commission. Learn more.
---
Nowadays, It is very common to be fascinated by seeing anyone using a massage gun. Or one good video about percussion massagers is enough to make you ponder on it for hours.
If you are searching for a good massage gun, we are sure our Step by Step Guide will help you choose the right one.
Not only, it's a guide, but the terminologies that might confuse new customers are also explained. Additionally, under each heading, we have written some set of questions that you can ask before proceeding to step one.
---
---
Things you Should Consider While Choosing a Massage Gun
---
Price with Purpose
The price affects the choice of a good massage gun more than anything else. Therefore, before going into features, you should have a clear concept about your budget.
Although there is no general rule, we categorize all massage guns in three different Price categories.
---
Under $100 Massage Guns
Most massage guns under $100 are of new Chinese Brands. These percussion massagers offer many good but mostly average features. However, some features could be exceptional.
Although you will see a vast range of percussion massagers in this range, most of them are simply not good. For beginner level use, and a basic level of massage, this category can prove useful.
---
Between $100-350 Massage Guns
This is the ideal category to buy a massage gun. In this price range, you will get almost every type of massagers. Many famous and new brands target this price category.
A good number, and currently some of the best massage guns in the market are from this price range. An exceptional feature that exists in this category is the presence of many lightweight massage guns.
For personal use, and for exceptional durability, this price range is perfect. Since this spectrum of this range is broad, we recommend our users to choose the median of this range.
---
Massage Guns Above $350
Currently, the industry leaders, top brands flagships, and professional-grade percussion massagers lie in this category. Besides simple percussion, most massage guns in this category offer many unique features as well.
Moreover, the options for customization are also there. We recommend this category to people that are looking for serious therapeutic devices. Also, this is not a category for hobbyists.
---
Purpose
There are two broad categories of people in terms of their purpose. The first one is those who want to improve their performance or need therapy from sciatica, tendonitis and similar conditions. For such people, we recommend using high-end devices, as they will truly serve the purpose.
The second category is of the hobbyists. In most cases, hobbyists don't need a massage gun for some highly therapeutic purposes. In such cases, we recommend choosing an affordable massage gun.
In case you fall under a category of serious buyers but don't want to spend too much, you can still get many value options. But such options will not serve as per your requirements.
Before moving to the next step, you should be crystal clear about your budget and the purpose (with things mentioned earlier).
---
Key Factors while Choosing a Massage Gun
Stall Force, Stroke length, and Speed are three core determiners of good percussion therapy. If these features are useful, there is a guarantee that massage will truly serve its purpose.
---
Stall Force
Many people also call it the "percussion force." It is the amount of force the motor can apply before; it stalls [stop]. It is measured in pounds.
Greater will be the stall force more potent will be the massage. Keeping the stroke length and Speed the same, here are the values to stall force in correlation to massage.
20-30 lbs
30-50 lbs
50+ lbs
For soft massage
Moderately intense massage
(industry standard)
Highly intense massage
Massage Gun Stall Force Classification
So, now you should know the amount of stall force you will need in your massage gun.
---
Stroke Length
An alternate term for stroke length is the amplitude. "It is the number of millimeters the head of a massage gun can move back and forth."
Previously it used to have a more significant impact on the massage. But since brands are making it a constant factor, its significance keeps on declining.
For two percussion massagers working at the same stall force and speed, the stroke length effect will be as follows.
10-12 mm
13-16 mm
17-20 mm
Soft tissue therapy
Deep tissue massage
(industry standard)
Highly beneficial, but rare
Massage Gun Stroke Length Classification
You will not find high diversity in the stroke length. Thus, there is no need to worry about choosing this.
---
Speed
In speed, you again have two types of speed. The first one is the number of speed options you get, and the second one is the range of speed.
Generally, those massage guns that have more than three-speed options are suitable for sound therapy. But keep in mind to sync the speed options with the two other basic options. Also, the speed is not correlated with price, preferably with individual massagers.
Since we are moving towards more innovative percussive massagers, custom speed options are now available. But such massagers are rare.
Another very crucial thing, most people ignore is the range of speed. On the features chart, massage gun brands mention the range of speed in PPM or PPS (Percussion per Minute/Second).
It is seen that many expensive massagers offer great options, but the range of speed is narrow. Standard Speed range is from 1400-2800 percussions per minute.
At the end of this section, you should be clear about the amount of stall force that will be suitable for you. For stall force and speed, standard options usually perform brilliantly.
---
Design & Ergonomics
For design, there are no specific instructions to follow. Always choose the design that appears enthralling to you.
After looking at all the top-selling massage guns currently in the market, we found three types of designs.
Triangular Framework
Jigsaw Frame
Standard Handheld massager.
---
Triangular Framework
Such a design is a distinguishing feature of TheraGuns. Percussion massagers like 4th, 5th Generation Pro, and all other popular Therabody massage guns have this type of design.
Also, those massagers that tried to imitate Theragun have such a design. Also, the rotating arm feature mostly comes with this design.
The ergonomics in this design are supreme. You get many types of grip, along with easy access to difficult to percuss areas. But only a few massage guns offer such design.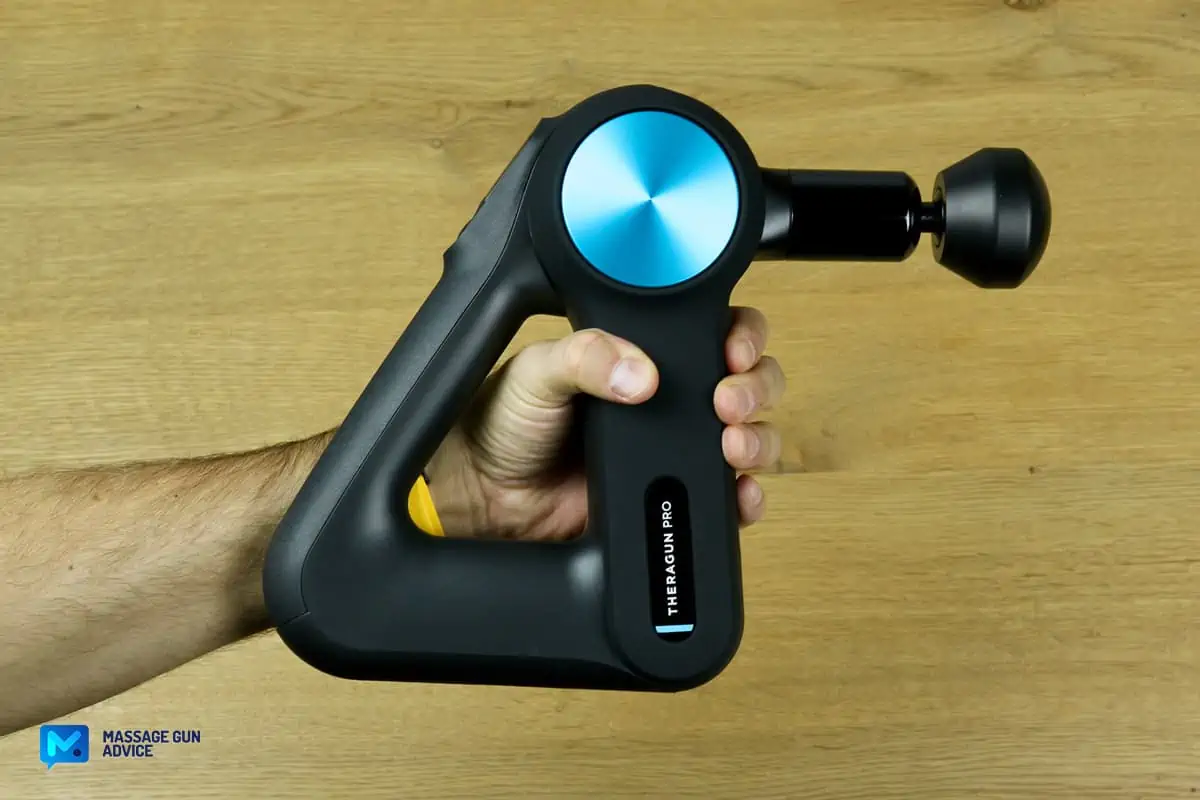 ---
Jigsaw Frame
Massage guns with this design are not actually like Jigsaw, but their minimalistic versions. This design is an intermediate between standard handheld and triangular framework massagers.
TheraBody first two generations had such a design.
The ergonomics are extraordinary, with many of them offering rotating arm features as well. Such a design is rare but highly worthy.
---
Standard Handheld
About 95% of all massage guns have such a design. Ergonomics are also excellent. But the best part is the diversity in the price range.
Anywhere from $50 to $400, you can get a massage gun. HyperVolt plus, and Lifepro Sonic are currently leaders in this design class.
---
Which design do other people choose?
About 70% of our readers choose the third category: Standard Handheld. It is due to features vs. price ratio in the category is the best (solely design played a little role).
---
Features that Determine Usage
These factors affect your usage, but many of them actually determine the final purchase of the massage gun. These include:
---
Weight
Like any other gadget, people love to purchase lightweight products. Due to high demand, brands specifically emphasize on weight.
Note We consider weight from 1.5 lbs to 3.0 lbs is suitable for a massage gun. Currently, Theragun Prime is the most lightweight massage gun in the market.
However, one thing we exclusively emphasize is not neglecting other features just for lightweight and sleekness. Even if the weight is at the high end of the spectrum i-e 3.0 lbs, but all other features are brilliant, we recommend compromising the weight. On the other hand, completely neglecting weight will not prove good results.
So, the advice is "Never overthink about the weight, just go with the standard options."
---
Battery Life
Nothing can determine usability more than battery life. The massagers capable enough to be called "Good" have battery life ≥ 2 hours. Tim Tam's massage guns are exception to this rule.
---
Which Battery to Choose Removable or Non-Removable?
About 50% of all massage guns have removable batteries, and few of them offer additional batteries. Removable batteries are useful from a portability aspect, but at the same time, charging them requires a lot more time. On the other hand, non-removable batteries, mostly, charge very quickly.
Now the question is which one to choose either removable or non-removable. So, the answer is:
For the same features, always go with a removable battery. But if you're getting better price and features, there is no wrongdoing in choosing a non-retractable battery.
---
Noise
Noise is among the highly crucial factors in the choice of a good massage gun. It is measured in decibels (dB). Our categorization of noise level for massage guns is as follows.
| | | | |
| --- | --- | --- | --- |
| Less than 50 dB | 50-60 dB | 60-70 dB | Greater than 70 dB |
| Very Quiet | Moderately Quiet | Standard and Acceptable | Loud |
Massage Gun Noise Classification
Regular conversations are usually around 60dB for having an idea of how loud these sounds use this sound Level guide.
Note We consider noise a very crucial factor; therefore, we recommend avoiding massage guns higher than 70 dBs.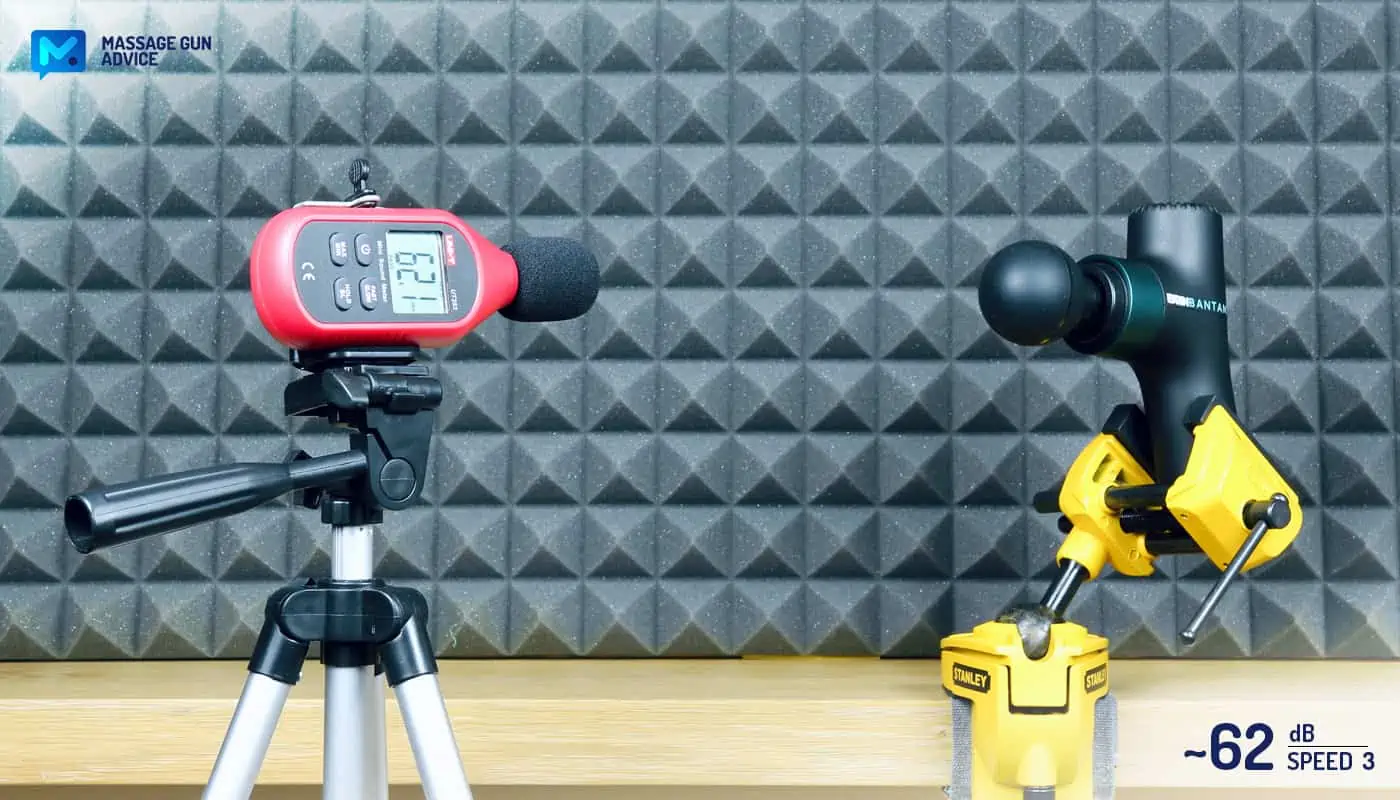 ---
Attachments
You might neglect attachments, but they can completely change your massaging experience. Hence, the more attachments you will get, the better therapy you will enjoy. Almost every good massage gun will have four or more attachments.
---
Moving Next?
Before moving to the next section, make sure you select the massage gun with (at least) the following features.
---
Convenience and Luxury
These features, besides being important, enhance your massaging experience. Percussion massagers in every price range have some kind of luxury and convenience features in them.
Such features include:
---
Portability
Since most of the massage gun customers are gym enthusiasts, they have to carry their massager from place to place. Also, you want to keep your massager with you while traveling. Thus, portability possesses functional significance.
Most massage guns come with a case, so carrying them is easier. Besides the case, design, weight, and battery life impact the portability.
So, if you want to choose a portable massage gun, prefer previously mentioned factors accordingly.
---
Warranty
Percussion massagers are relatively new gadgets in the markets; therefore, to attract more people, warranty works like a charm.
We recommend only those massage guns with at least one year of warranty.
The warranty has now become a brand centered thing. Many brands are even offering a life-time warranty for repair, which is an excellent thing. But keep in mind, the warranty has nothing to do with the durability of the massager.
---
Unique Features
It is these features that make "Good Massage Guns," the best. Usually, high-end but many mid-ranger also allows many unique features.
Some of the unique features include app control, Bluetooth options, pressure sensors, vibration, and heat therapy. If any massage gun has any of the previously listed features, it is one step ahead of others.
If you prefer a massager with exclusive features, choose the ones that are more personalized for you.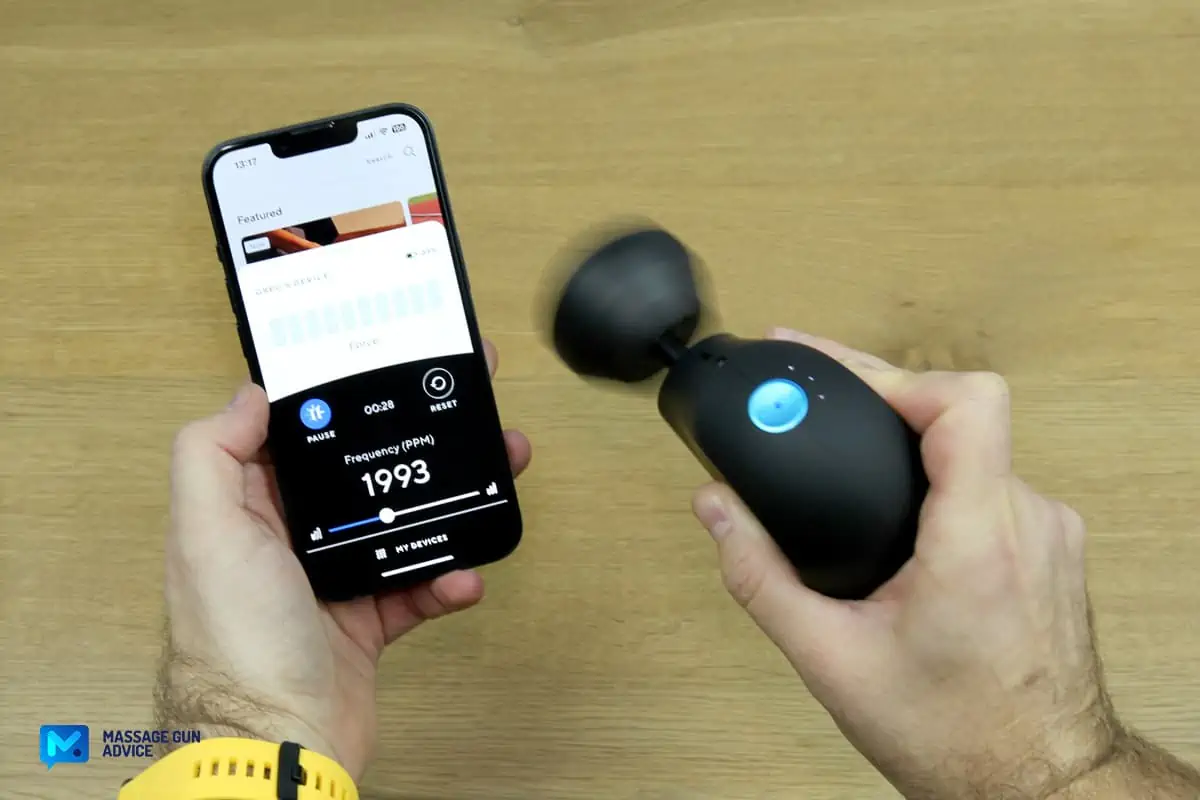 ---
Brand Reputation
About 95% of users ignore this thing by purchasing some random product. But we highly recommend not making this mistake.
Whenever you think of purchasing a massage gun, make sure to check the brand's online presence, years in the industry, and overall value. Some of our favourite brands are:
Theragun (TheraBody), Ekrin Athletics, LifePro fitness, Hyperice, Opove…
In short, purchasing a massage gun with fancy features but from non-reputable sellers will do more harm than good.
---
Finalize your Selection
When you know all the factors that you need to consider, follow these steps.
Select three massage guns from each price range (prefer those with a better design).
Scrutinize each one of them (start from basic features).
If you are confused between two options, simply prefer the one that will be competent for you.
Make your selection.
---
How to Choose a Massage Gun – Closing Thoughts
To this day, no massage gun has all the features mentioned above. All of them have some kind of drawbacks.
It is better that instead of looking for perfect features, prefer those that seem decent to you. Still, if you find yourself confused, tell us the issue you have, and we'll help you choose a good massage gun.
Was this article helpful?
Thanks for your feedback!
Post Update History
Here's a quick rundown of all the tweaks and edits we've made to this article to keep it accurate and up-to-date!
Current version last updated on:
•
Written by:

Luke Deszczulka
Disclaimers
The views and opinions expressed on this website are those of the authors. Any content provided by our bloggers or authors are of their opinion and are not intended to malign any religion, ethnic group, club, organization, company, individual or anyone or anything.
All product names, logos, and brands are property of their respective owners. All company, product and service names used in this website are for identification purposes only. Use of these names, logos, and brands does not imply endorsement.
It is our policy to make every effort to respect the copyrights of outside parties. If you believe that your copyright has been misused, please provide us with a message stating your position and we will endeavor to correct any misuse immediately.
Some of the links in this post are affiliate links. As an Amazon Associate, we earn from qualifying purchases. This means if you click on the link and purchase the item, we may receive an affiliate commission, at no extra cost to you. This helps us keep this website alive. Learn more here.
Amazon Disclosure
massagegunadvice.com is a participant in the Amazon Services LLC Associates Program, an affiliate advertising program designed to provide a means for sites to earn advertising fees by advertising and linking to Amazon.com. As an Amazon Associate, we earn from qualifying purchases. Amazon and the Amazon logo are trademarks of Amazon.com, Inc. or its affiliates. Please refer to our Privacy & Affiliate Policy for details.