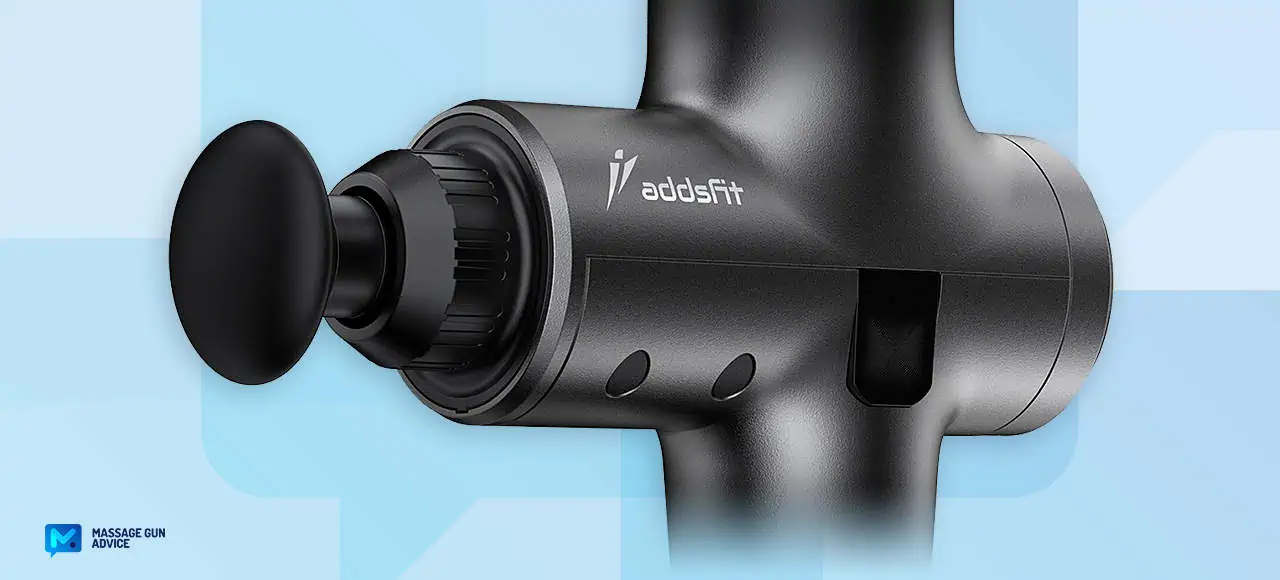 addsfit Max Review – An Oldie Goldie That Has Stood The Test Of Time
What to Know: We independently review products we recommend. If you click on links we provide, we may earn a commission. Learn more.
---
This addsfit Max review will look at addsfit's flagship massage gun. Addsfit is a small fitness brand that's been around since 2019. That seems like a lifetime ago if you consider how fast massage guns evolve.
However, addsfit Max isn't just any massage gun that can be buried so quickly and forgotten about. There's a reason it won so many users over and generated a lot of sales. It was the cheaper alternative to Hypervolt when no decent alternatives were available.
We loved the device back then. We even included it as a recommendation in most of our guides – for example, best massage gun under $100. But can it live to 2022 massage-gun expectations?
Let's explore this is a new full addsfit max review.
---
addsfit Max Review
---
addsfit Max Specification
Feature
addsfit Max Specs
Stall Force
26 – 35 lbs.
Stroke Length
12 / ~10 mm
(advertised / actual)
Percussion range
1700 – 3300 rpm (advertised and actual)
Speeds
9
Attachments
5 included
Weight
2.34 lbs.
Noise (decibel)
40 – 55 dB (advertised)
50 – 68 dB (actual)
Battery Life / Capacity
3-4 hours / 2500mAh
(varies by speed and pressure)
Pros
High max. percussions
Great quality attachments
Detachable battery
Reasonable stall force
Affordable
Cons
Overstated amplitude
So-so ergonomics
Noise above average on top speed
Warranty
1 year + 2 year extension once registered
Current Price
$119.98
$89.98 with

MASSAGE25

coupon
Buy at addfsit.com
addsfit Max Specifications as advertised by addsfit, VS. our measurement where it was possible.
---
First Impressions
This massage gun was made to be an alternative to the Hypervolt guns. addsfit didn't hide that fact. Out of the box you will find a nice carrying case branded with the addsfit Logo – nicely done. When you open the case, there's the device, the attachments, and a charger – wall charger.
The device looks like the first Hypervolt device – the Hypervolt silver. It has the same characteristics and even the gray color looks a bit like silver. Together with those black parts it looks unmistakably Hypervolt-ish.
The other thing that is perhaps different is the control panel and the addsfit logo printed on the top part and somewhere on the black handle. There's even the green Hypervolt LED ring near the bottom of the handle.
The device itself is made of plastic – good quality plastic. It's well put together and feels sturdy and durable. There are no visible screws to indicate a poor patch-up job. This is another device with a pouch for carrying the attachments.
---
Controls
Again, just like you'll find on Hypervolt, this addsfit Max massage gun has the main switch at the bottom of the handle. Once the main switch is turned on, the device can then be activated using the main operating button at the back of the device. Beside the main button are two + and – buttons for changing the speed gears.
A good example is the setup on Ekrin devices where the main button acts as the speed button as well. It's not easy to go from speed 4 to speed 2 without having to stop the device and start from 1.
It can be a tedious process if the device has many speed gears. The addsfit Max percussion massager has 9 speeds.
---
LEDs
When you switch on the device, the greed LED ring lights up. This is reminiscent of the first Hypervolts.
There are white LED bars above the main button – these indicate the speed gears. There are also 5 LEDs below the button that show the current battery charge. The last button lights up in red to indicate "low battery."
There are no extra features to tell you about on this device. There are no pressure sensors, OLED displays or Bluetooth connectivity. But there is a nice user manual and a letter from the addsfit founder.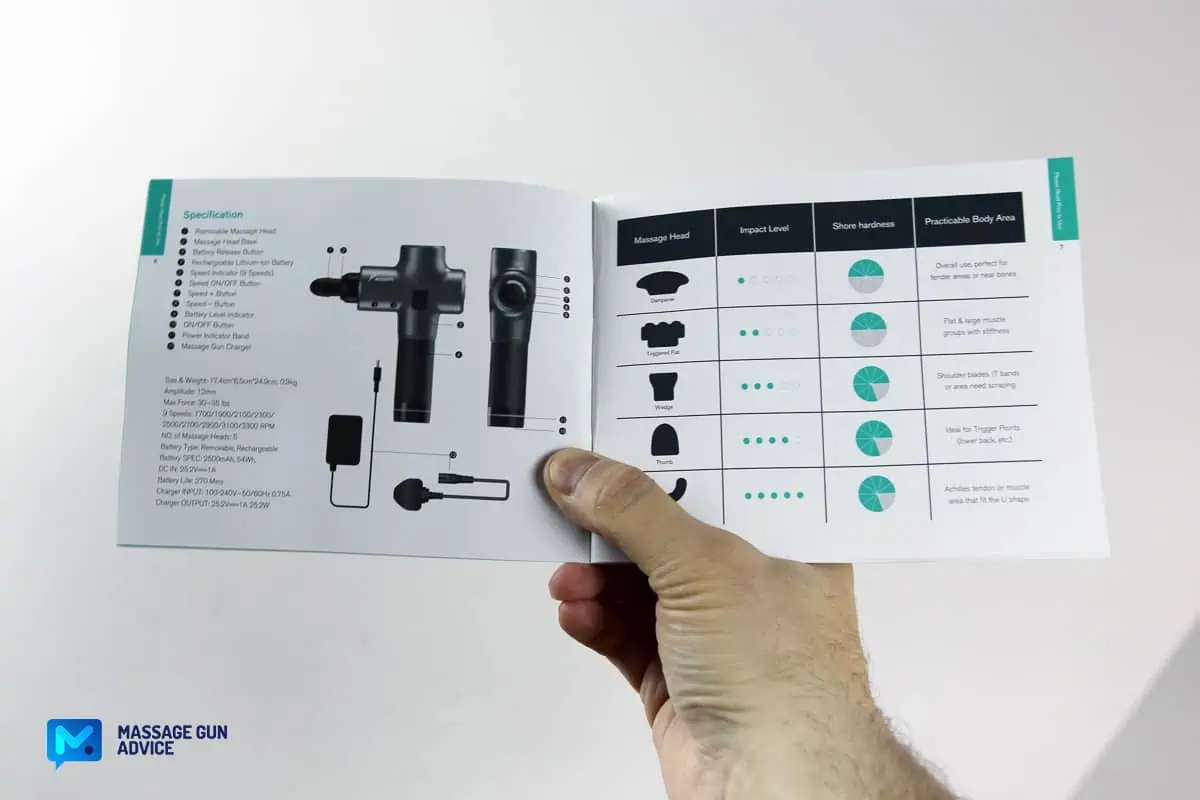 ---
Attachments
For a device that was unveiled in 2019, the attachments are amazing. Well, it's been 3 years of massage guns innovating and coming out with new ideas that stand out. However, addsfit has impressive attachments.
There are 5 attachments here. They're not made of hard plastic – the go-to material for most brands. These are made of nice and sturdy silicone. addsfit says they're antibacterial and skin-friendly. We'll not argue because they feel super-comfy to use, and they look top-quality too.
Attachments Mounting System
Another impressive thing about the attachments is the mounting system. Instead of the normal push and pull (employed mostly by cheap massage guns and often needs extra force and leads to damage of attachment gaskets), this one works in two ways:
There is a hard plastic bit that has to be pushed into the device – you only do it once, and it's easy.
And then you can insert the heads onto it.
This method is awesome because it requires very little effort to do it, the attachments remain intact for a long time – no gaskets are required for this system, and it means the attachments are smaller and easier to store.
Here's how the attachments look like and what they can do for you:
The flat head – We'll call it the flat head because it looks more like the flat head than the ball head. Our guess is that it does the same job as a ball head would but can double up as the flat attachment as well. It has a slight give to it and should be used on large muscle groups; calves and hamstrings. You can also use it to massage your arms.
The flat head with bumps – This one should do the job as the "flat attachment." It's firmer and will be more aggressive. You can use it on your quads, hamstrings, and glutes.
The cone attachment – It looks like the cone that comes with Theraguns. It's for trigger point massage. You can use it on your calves, feet, and other parts when needed.
The fork attachment – It is used to massage the spine area. It can also be used for trigger point massage.
The wedge or shovel attachment – It also looks like Theragun's wedge. You can use it on your legs after running, bicep after some curling exercises, and arms and neck – it will be aggressive, so use it moderately.
---
Size, Weight, and Ergonomics
It's a full-sized device and looks like the original Hypervolt. The only thing that looks different is the control panel. It has the traditional T-shape, but that's understandable because back then, the designs weren't as diverse as they are today.
Either way, we prefer angled handles to this T-shape design. This strains your arm during a massage. It's not very comfortable massaging your lower back with this device.
Since this is a Hypervolt clone, they weren't likely going to come up with a different design. Plus, this was the typical massage gun design in 2019. New brands have moved on from this; Ekrin (check their 365 or B37 guns for example), Opove Apex, and Achedaway Pro to name a few.
The addsfit massage gun weighs 2.34 pounds or 1063 grams with the flat attachment mounted. That is the typical weight for massage guns in this category but not the lightest.
Even so, this is the original Hypervolt clone, and you know how heavy that device is. However, we didn't have to use a lot of strength to hold it when massaging. We noticed that weight is well balanced to support a smooth massage experience.
The handle diameter is okay for the average person. For people with small hands, this may not fit perfectly.
PRO TIP If you are a woman and you are looking for a massager that will be easier to hold in your hand, check our Best Woman Massage Gun guide here.
The rubberized handle may offer some help with the grip. The rubber doesn't go all the way to the top of the device. If you prefer holding it there, you should know there's no rubber.
Verdict

The T-shape design was nice and all back in 2019, but now it's not the perfect configuration for a decent massage gun, especially after what brands have done to innovate. Best massage gun brands like Ekrin started the slanted handle design, and now everyone is jumping on the bandwagon, so to speak.
---
Performance
We know the original (silver) Hypervolt had so-so performance specs. We are just wondering how this addsfit max (its clone) performs. Is it better? Let's find out.
---
Amplitude
Stroke length or amplitude is how far the attachment moves. It determines how hard the hits are. There's always something suspicious when a device is advertised as having a 12mm amplitude and more than 3200RPM. We tend to take that with a grain of salt. From our experience, devices with long amplitudes tend to have fewer percussions per minute. The combination of long amplitude and many percussions is often rare.
We had to measure the amplitude of this device and find out for ourselves. And we were right. It's not 12mm but rather 10mm.
Is that disappointing? Not really. We knew this device copied the original Hypervolt, and there was a high likelihood of similar features. Another thing, there isn't much difference between 12mm and 10mm – it feels the same.
Obviously, you are getting vibrational therapy rather than a percussive one with this kind of device.
Don't expect hard hits like you would have if you had a Theragun. Think of this as an entry-level gun that is easy on your wallet – 10-11mm amplitude is standard for those.
Besides, a gun like this can still do a pretty decent job. The only question that remains is, is the stall force overstated as well?
---
Stall Force
Well, stall force is the device's ability to withstand the pressure exerted on it. If it doesn't stall, it's a strong device. If it easily stalls, it's a weak device.
How do things look here for the addsfit Max massage gun?
addsfit is straightforward with this information. Most brands don't say what the stall force of their devices is. addsfit assigned this gun 26-35lbs. Using it, we could tell that this device has a stall force somewhere around 35lbs. We are not sure the first gear will give you 26lbs. of resistance, though.
Just to do a bit of a comparison, Ekrin 365 feels stronger than this gun. However, Ekrin 365 has 40lbs. of stall force. With 35lbs. addsfit Max isn't too far away.
The original Hypervolt also feels a tad stronger than this gun. But that Hypervolt has only 3 speed gears compared to addsfit Max's 9 speed gears.
We'd say the right device to compare with addsfit Max is Mebak 3 (we recently reviewed it). The performance feels the same. However, addsfit Max looks more professional and has better attachments.
Our Take

Our verdict on the stall force is that it's decent enough for a device of this caliber. Besides, with a stall force like this and the high rate of percussions, this device can perform decently even with the low amplitude. Stalling it, especially at top speed, is not easy.

Also, for a budget gun, this is an acceptable setup. If you have a few extra dollars to spend and want something better, there are awesome alternatives you can look at.
---
Percussions and Speeds
addsfit boldly advertises the Max gun as being able to rev up to 3300RPM. We know many brands can come forward with a similar claim or even more (perhaps 3400RPM or more), but very few stay true to what they promise.
We use our tachometer to ensure the percussions are what the manufacturer says they are. Surprisingly enough, the addsfit Max is incredibly accurate according to the advertised range.
Advertised range: 1700/1900/2100/2300/2500/2700/2900/3100/3300 – first speed to 9th speed.
Actual measured range: as above, really – we double checked on each speed.
So, we have a device that is granted to be vibrational but delivers very intensive punches. It also revs faster than some hyped rivals out there.
Therefore, for its price, this is an interesting proposition. It's also the reason we put it at the top of our massage guns under $100 list.
There's just one minor criticism: the 9-speed setup. There are about 200RPM partitions for each gear. That, in our opinion, is too close, and certain levels will feel pretty much the same. We prefer 5 to 6 speed gears. However, since the device delivers what it promises, we can live with the 9 speed gears.
---
Noise
We have mixed feelings here. It's not a very loud gun per se, but being an outdated design by 2022 standards, don't expect a hushed experience.
Since it has a low amplitude (but revs faster), the first few gears are quiet. Expect the noise to progressively increase as you increase the speed gears. We noticed it's quite loud at the top speed. It's not that irritating rough-like noise – acceptable but we wouldn't call it quiet.
But perhaps this is where those extra percussions haunt a device like this. Because the device is set up to vibrate highly, the noise is also bound to be high at those top speeds.
Fortunately, you don't need to hit top speed to feel the vibrations. It's well balanced in terms of noise and vibrations between speeds 6 and 7.
For measured decibels, expect around 50dBs on the first gear and about 67-68dB on the highest gear.
If you want something quieter, you will have to look at the alternatives below. Some are quieter, but they will cost you slightly more.
---
Battery
It's a 2500mAh capacity battery. We'll call it a standard battery capacity for this kind of device. It's advertised to last for 6 hours.
However, that may be slightly overstated, especially when using the gun at top speeds and applying pressure. We estimate you will run out of juice after about 3-4 hours of continuous use when you apply moderate pressure.
There's one great feature that we like. One that 90% of its competitors don't have – the detachable battery. We know that the first Hypervolt had a detachable battery, and this one does as well. That means you can use an extra battery while the other charges.
There are two battery LED indicators:
The one on the main panel, as we described earlier, and
The LED ring on the handle – when it's green, it means the battery is fully charged. It lights red when the battery is near empty.
It charges quickly. You will need 2-3 hours for it to charge fully. Watch out for the LED ring. When it lights green, you can remove the device from the charger. Though being a wall charger, the charger isn't as bulky as the one we recently saw with the Opove M3 Pro Max (that was a great gun, though).
---
Who Is It Best For Then?
Anyone who wants a massage gun to use at home and doesn't want to break the bank for the celebrity massage gun. This is a proper entry-level massage gun for folks who are just starting with massage guns.
It's awesome for those who don't need a hard-hitting, powerful massage gun. Also, if you prefer a vibrational therapy massage, this is the device for you.
However, it may not be the best pick for:
Those who want a true deep tissue massage experience
Those who prefer an aggressive massage and need more stall force and high amplitude.
Athletes who may find this kind of setup too weak (you better check here). Bodybuilders and weightlifters as well.
Those who are looking for a Theragun alternative in addsfit. This is not a Theragun-like setup. Have a look at our alternatives below for suggestions.
---
Price and Warranty
The price varies depending on whether you use a coupon. We have seen the device selling for $100 when used with a coupon.
The last time we checked it went for $119.99 (normal price). If you apply the MASSAGE25 coupon, you get 25% OFF, making it $89.98. Buy it right here.
The warranty is good for a device in that price range. It's still the 1-year warranty, but addsfit encourages buyers to register the device for free on their website and get 2 more years of cover. You get 3 years of warranty. That is awesome but not as good as Ekrin's lifetime warranty – check out the alternatives below.
---
Addsfit Max Best Alternatives
So, here are some awesome alternatives that may cost more but have better features than addsfit Max.
---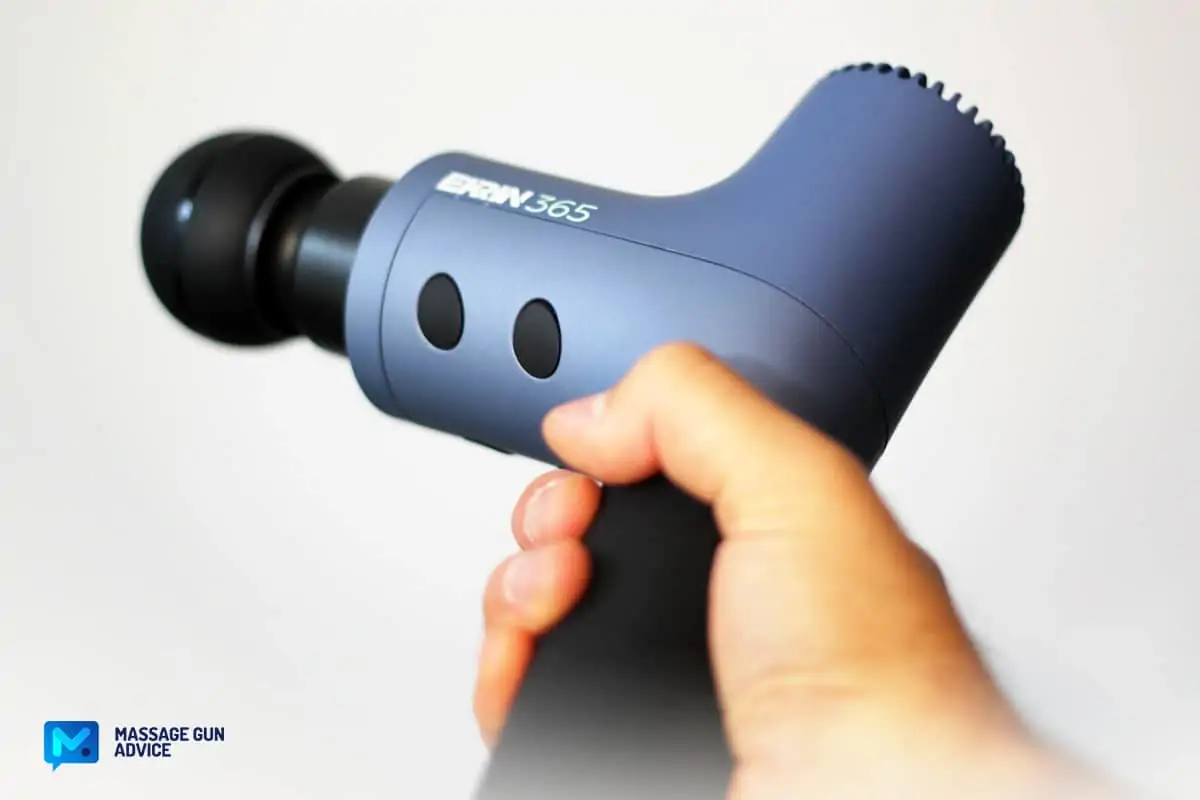 Premium Option – Ekrin 365
This is an all-inclusive option that beats addsfit Max in a few areas. However, it comes at a slightly higher price.
In terms of performance, it has about the same amplitude, but Ekrin 365 has more stall force (up to 40lbs.).
In percussions per minute, addsfit Max has a tad more hits than Ekrin 365 – 3200RPM maximum percussions for Ekrin 365. However, Ekrin 365 has a pressure sensor to help you monitor how much pressure you apply on different parts of your body.
Considering Ekrin 365 is a sub $150 or even sub $200, it's an awesome feature to have.
Ekrin 365 is even better than the Mebak 3 gun in terms of other features.
For instance, it has a new ergonomic design. The addsfit Max feels a little outdated in comparison. Ekrin 365 also feels more premium, is made of softer materials, and feels top-quality.
It's also lighter than the addsfit Max – it weighs just 1.7 pounds. It's quieter and doesn't vibrate as much as addsfit Max does – especially at top speed.
It also has better ergonomics with a thin angled handle – it's easier to hold even by folks with small hands.
An even safer bet is the lifetime warranty you get when you purchase Ekrin 365. You get a product from a US company with US customer support.
Ekrin 365 usually costs $179, but with the MGA20 coupon, you can get it for $143 (a 20% discount). That makes it slightly more expensive than addsfit Max but totally worth every extra dollar.
MORE INFO: In our hands-on Ekrin 365 Review.
---
Budget Option – Taotronics TT-PCA003
This is a typical budget massage gun. Even though it costs less than $100 (after a recently huge slash-off), it's a quality massage gun.
It's perhaps not as high-quality as addsfit Max, given the plasticky body and so-so attachments, but it holds its when you need it to.
It's more compact compared to the addsfit Max – it looks similar in size to Mebak 3. The stroke length here is advertised as 12mm, but, just like addsfit Max, it's overstated. The correct measurement is 10mm.
The stall force is on par with addsfit Max's – 25-28lbs. That means the device can be used for a soothing vibrational massage. It can also work to relieve muscle soreness and provide relaxation. It won't go deep tissue, given the performance specs.
It has 10 speeds with a percussion range of 1400-3200RPM. That is a wide range that perhaps justifies the 10-speed setup. It has a 2500mAh capacity battery.
The attachments aren't as good as addsfit Max's. They are made of hard plastic with a cushioned head and an EVA-foam-covered ball head.
As for the price, it's super affordable – just $49; down from $145.99 previously. A superb option for those on a budget. Get it right here.
However, the warranty is just the 1-year. We cannot compare it to Ekrin 365 above because the quality of materials used, the smoothness in operation, and ergonomics are miles apart. However, we know that not everyone wants to spend more. Taotronics is a decent choice in that case.
MORE INFO: In our hands-on Taotronics PCA-003 Review.
---
addsfit Max Massage Gun Review – the Bottom Line
Finally, as we end this addsfit Max review, we have to point out that as much as we're not fans of T-shaped massage guns, we have a thing for addsfit Max.
It was designed almost 3 years ago as an alternative to the then super-innovative Hypervolt 1. However, it seems to have stood the test of time. It still looks stylish and delivers what it's meant to do.
It has a shorter than the advertised amplitude, which is a bit disappointing and suited for a vibrational massage. However, it is the same stroke length as the Hypervolt and revs even faster.
We'd say it's a reasonably priced massage gun with some of the best attachments we have ever seen.
You can go for Ekrin 365 as a more powerful alternative if you have the budget. It has a fresh 2021 design, and the quality is premium. Taotronics, on the other hand, is the best fit for you if you're on a budget.
Feel free to ask as more questions or just drop a comment below. Cheers!
---
Quality

Effectiveness

Usability

Accessories

Price Value
Summary
addsfit Max is an old massage gun by 2022 standards. However, it still has a lot to offer. For starters, it has maintained its elegance and balance. The stroke length falls a bit short of the advertised value but it doesn't take away the gun's usefulness. It's a decent proposition for novice massage gun users, but there are better alternatives, albeit slightly more expensive.
Was this article helpful?
Thanks for your feedback!
Post Update History
Here's a quick rundown of all the tweaks and edits we've made to this article to keep it accurate and up-to-date!
Current version last updated on:
•
Written by:
Greg Szostak
Disclaimers
The views and opinions expressed on this website are those of the authors. Any content provided by our bloggers or authors are of their opinion and are not intended to malign any religion, ethnic group, club, organization, company, individual or anyone or anything.
All product names, logos, and brands are property of their respective owners. All company, product and service names used in this website are for identification purposes only. Use of these names, logos, and brands does not imply endorsement.
It is our policy to make every effort to respect the copyrights of outside parties. If you believe that your copyright has been misused, please provide us with a message stating your position and we will endeavor to correct any misuse immediately.
Some of the links in this post are affiliate links. As an Amazon Associate, we earn from qualifying purchases. This means if you click on the link and purchase the item, we may receive an affiliate commission, at no extra cost to you. This helps us keep this website alive. Learn more here.
Amazon Disclosure
massagegunadvice.com is a participant in the Amazon Services LLC Associates Program, an affiliate advertising program designed to provide a means for sites to earn advertising fees by advertising and linking to Amazon.com. As an Amazon Associate, we earn from qualifying purchases. Amazon and the Amazon logo are trademarks of Amazon.com, Inc. or its affiliates. Please refer to our Privacy & Affiliate Policy for details.