Mebak 3 Massage Gun Review – Loved By Users On Amazon But Is It Worth It?
Disclaimer: Our content is unbiased, non-sponsored and fact-checked. If you buy via links on our site, we may earn a commission. As an Amazon Associate, we earn from qualifying purchases.
---
Hello, today we'll do the Mebak 3 massage gun review. Once in a while, we love to take a look at what's selling on Amazon, and this is one of those times.
We stumbled on the Mebak 3 percussion massager and were impressed by the amount of engagement it has. We noticed thousands of reviews, with almost all being 5 stars. We also quickly went through the comment section to make sure it had sold. There is feedback from customers who have bought the device since it became available in 2019.
As always, we don't give credit to any massage gun until we have tested several things, including build, ergonomics, and performance (where we check the stroke length, stall force, percussions, battery, and noise levels).
Here's a sneak preview: the gun has some pretty decent specs and we can't wait to tell you all about it but it's not all roses either.
So here it goes…
---
---
Mebak 3 Massage Gun Review
Mebak 3 Specifications

Feature
Mebak 3 Specs
Stall Force
55 / 40 lbs.
(advertised / actual)
Stroke Length
12 / 10.5mm
(advertised / actual)
Percussion range
640 – 3200 rpm (advertised)
1200 – 2900 rpm (actual)
Speeds
5
Attachments
7 included
Weight
1.85 lbs.
Noise (decibel)
40 – 55 dB (advertised)
50 – 64 dB (actual)
Battery Life / Capacity
2-3 hours / 2600mAh
(varies by speed and pressure)
Pros
Decent stall force
Low weight
Pressure Sensor
Well equipped
Works while charging
Cons

Overstated specs

Warranty
1 year
Current Price
Check at Amazon
Mebak 3 Specifications as advertised by Mebak, vs. our measurement (where it was possible).
---
Size, Design and Ergonomics
It's always good to find a full-sized massage gun that a lot of people have fallen in love with. Even when the manufacturer is not that well known, it gives you the feeling of having stumbled on a hidden gem.
The Mebak 3 looks like those earlier Hypervolts. The handle is shorter here though, making the gun a bit short. We like it. We think it's easy to maneuver with this configuration. Another thing we like is that even though it's shorter, you can still reach and massage your lower back.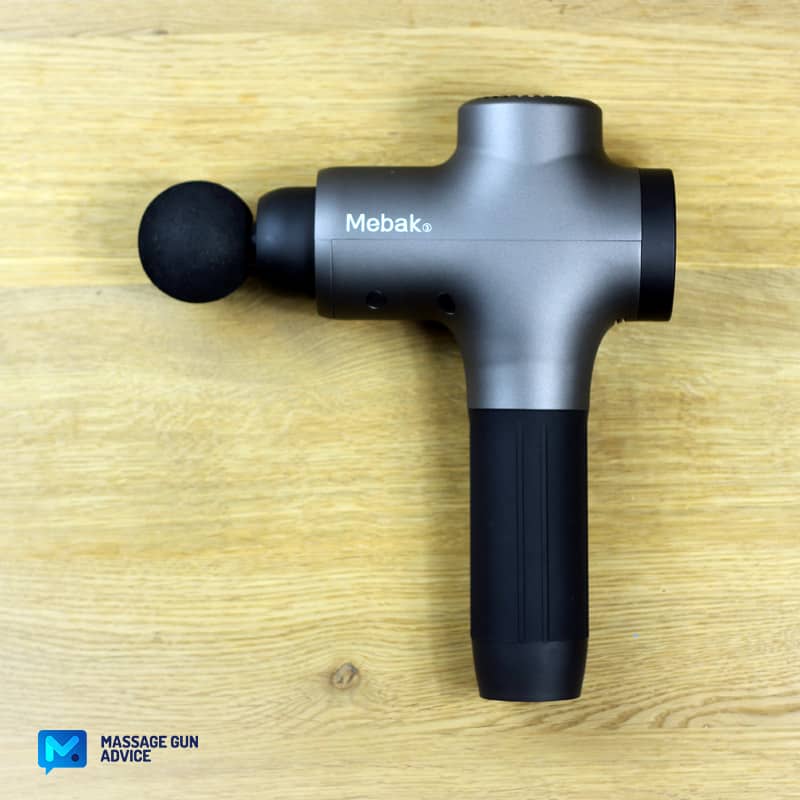 The device weighs 1.85lbs – we're glad it's below the 2-pound threshold; lots of devices are heading in that direction. It feels well balanced, and you can instantly tell that most of the weight is on the handle.
We also like the handle diameter. It's not the smallest (especially for those with small hands), but it feels comfortable enough to hold. The handle has a rubberized grip, but only a small section of the handle. We wish they'd extended the rubber a bit further up the device. Nonetheless, it will still serve you well.
---
Controls
As we said, this device looks a lot like the first Hypervolt silver, and the controls are a bit similar as well.
There is a main switch at the bottom of the device, and a control panel at the back of the device. Once you turn on the switch, you then activate the device by tapping the activation button on the touch screen.
The button looks like a fingerprint marker. It's located at the center of the button – hard to miss. Consecutive taps will increase the speed.
There are 5 LEDs on the right side of the control panel to indicate the speed levels and 5 on the left side to indicate pressure applied.
The pressure sensor LEDs have different colors. The first two are green, the next two are orange, and the last one is red.
---
Attachments
The Mebak 3 massage gun comes with 7 attachments – generous, to say the least. We often find that 5 attachments are good enough to massage the whole body. However, it does help to have 1 or 2 different attachments to give you additional options.
There are the usual suspects, round (or ball), flat head, bullet head, fork, and cushion head. The two extra ones include one they call bump head, and a shovel head, which we've seen included with other massage guns before.
The bump attachment looks a lot like the flat head, except it has small bumps at the top. The shovel head is also a bit thicker than we're used to seeing with other massage guns. We would say it almost looks like the flat head, except it has a smaller contact area at the top.
The ball attachment is covered with a thinner layer of EVA foam – it's the only one with this covering and has a slight give to it.
The cushion head is made of rubber-silicone and has a nice soft feel for massaging tender and bony areas.
The fork head, when inserted into the gun, does not hold into position. It might spin or rotate – be cautious when using it, especially around the spine.
PRO TIP Learn more about how to use a massage gun properly.
---
Performance
So much for the preliminaries. Let's see if this massage gun can really compete against the best in the business.
---
Amplitude
Also known as stroke length, it's the distance the massage gun head travels as it moves back and forth.
For this gun, Mebak says it has a 12mm amplitude. We did our own measuring (several times), and we could only come up with 10.2mm or, at best 10.5mm. We know that's probably nothing, but when it comes to deep tissue massage, those few micro-millimeters can make a difference.
In our experience, anything below 10-11mm doesn't really go as deep tissue as anything equal or above that number. We'll say that the Mebak 3 gun is rather vibrational than deep percussive.
Anyway, what does that mean for you as the user? Well, it means you can do the basic massage gun stuff. Like get a soothing massage when you've had a long day and want to relax, relieving soreness in muscles, increasing blood circulation, and perhaps warming up the muscle before a workout.
However, don't expect deep tissue massage, especially if you have big muscles. You'll need a gun with a higher amplitude. Those hit harder and can penetrate deeper into the muscle tissue.
If we were to make a comparison, we'd say it falls in the same category as the first Hypervolt – Hypervolt Silver. The new Hypervolt 2 has a 12mm amplitude. Even the smaller Theragun mini (a mini massage gun) has a better amplitude – 12mm – than this gun.
---
Stall Force
What about the stall force though? After all, we know that sometimes a low amplitude complemented by a higher stall force makes for a good massage gun.
Mebak is transparent here and gives the stall force for each speed gear; the first gear has 30lbs. then 40lbs. then 45lbs. then 50lbs. and the last gear has 55lbs.
On paper, that's great and right up there with devices like Hypervolt Plus and Ekrin B37S (really powerful devices). We couldn't believe it had all that power. We checked, of course.
We ran a test using Theragun Elite, Ekrin B37, and Hypervolt 2 just to be sure. To be honest, this is quite a powerful gun and hard to stall even on first gear. We continued the test on the higher gears as well, and we have to say, the results were pretty impressive.
We still don't believe it's as powerful as Mebak says it to be though. In our estimation, we believe the first gear can withstand about 15 pounds of pressure, while the highest gear should withstand about 40 pounds.
It was easier to stall than Theragun Elite and about 30% less powerful than Ekrin B37 – which has 28lbs. on the first gear and 56lbs. on the highest gear. We would say it's about the same as Ekrin 365 in terms of stall force.
That said, don't focus so much on these figures. You should perhaps wait until you have the device in your hand and judge by its performance. Yes, it may not be as powerful as Mebak suggests, but it's good enough to provide a good massage. It doesn't stall easily. It will be okay for 85% of users.
Even with the low amplitude, you can still press it hard against the skin to get a deep tissue massage.
---
Percussion Range and Speeds
We like the percussion range on this device. Even before we started using the device, we couldn't believe the 640-3200 RPM percussion range. It's something you rarely see with massage guns (that low range, especially).
We took our digital laser tachometer and did some tests to determine the hits per minute. We measured 1200 RPM for the first speed gear and about 2900 RPM for the highest speed gear. So our measurements were as follows (gear 1-5 in that order): 1200, 1600, 1800, 2200, and 2900. As you can see, the figures don't agree with what we saw in the product specs.
Nonetheless, this shouldn't be cause for concern because 1200-2900 RPM is typical massage gun percussion range (especially for devices with this kind of amplitude).
We also like that the lowest gear starts with fewer percussions. The wide range allows for a wide range of usage. Since we have used many massage guns, we found it hard to believe that a massage gun can have that kind of range (600-3200). But either way, no harm done, now you have real figures.
---
Our Take on Mebak 3's Performance
This is a fairly powerful device with decent stall force. You can press it a little harder against the skin and it won't stall. The advertised stall force is a little overstated, and it might not be that strong, but it's not far from it either.
We still feel the 10.5mm stroke length is vibrational and some users may be disappointed – especially when you buy it thinking it has a 12mm amplitude. Nonetheless, it's not so bad given how much stall force you get, especially at top speed.
Mebak also overstated the percussion range. It's probably a marketing ploy that we have seen other massage gun brands do. Either way, 1200-2900 RPM is still pretty good range – especially when it includes a 5-speed setup.
---
Pressure Sensor
The Mebak 3 massage gun comes with an embedded pressure level indicator – a rare thing with massage guns at this price point. The only other device that costs this low but has a pressure sensor is the recently unveiled Ekrin 365. However, even that device is a tad bit expensive.
The more you press the device against your body, the more the LEDs light up. It's a nice feature to have when you want some consistency in pressure applied.
However, it works better when you are massaging another person. If you plan to use the device on yourself, the feature won't be too valuable, especially when you have to massage your back (you can't really see the LEDs).
Anyway, it's a nice feature to have in a fairly affordable massage gun, and we're sure those who like it will appreciate it.
---
Noise
The amplitude on this device already tells you that it's not a loud device. It's decently hushed and good enough to use in a quiet environment.
The advertised noise levels are 40dB to 50dB or 35dB to 50dB on their Amazon description – low speed to high speed – but when we measured using our dB meter, we recorded 50dB at the lowest speed and about 64-65dB at the highest speed.
This isn't loud either, just to be clear. The device doesn't have unpleasant rattling. There are very few vibrations to the holding hard when using it – nothing too uncomfortable to bear.
---
Battery
The battery has 2600mAh capacity and is advertised to last for about 2-3 hours if used non-stop. We believe for once this is correct and not overstated. You might get more time on the battery if you don't apply too much pressure or use the device on high speed gears.
It's not a removable battery.
There is a 10-minute auto-shut-off feature, apparently to save on battery power. However, you have to switch it off from the main switch at the bottom if you don't want the battery to drain out. We made that mistake and had to recharge it. Perhaps future Mebak devices will address this.
Lastly, about the battery, you can use it while it's charging! This is something we haven't seen with many massage guns. This device could double up as a corded massage gun as well.
---
Who is the Mebak 3 Best For?
The Mebak 3 is a good entry-level massage gun. It's good for everyday use at home. This is a good device if you are just starting with massage guns and need something decent enough.
It's also suitable for those who don't want a hard-hitting massage gun (women, the elderly, etc.). If you sit behind a desk for long hours and need something to massage your neck and shoulders after a long day, this could be your gun. If you are an amateur runner who needs a massage gun to warm up your leg muscles before a run or treat soreness after, this is your gun as well.
However, if you want an actual deep tissue massage, you might have to look elsewhere. Also, if you prefer an aggressive massage (i.e., more stall force and high amplitude), this may not be the gun for you.
The same goes for demanding athletes, bodybuilders, and weightlifters as well. If you prefer a Theragun-like setup but can't afford a Theragun, this may not be a good alternative. We suggest you check out the other options we have listed below.
---
Price and Warranty
Last time we checked, this device sold for just a little over $100 on Amazon when you apply a coupon – given on Amazon. That is an attractive price point for what you're getting with this device.
You can check the current price here to see if anything has changed.
However, there's just a 1-year warranty, which is a bare minimum – many brands do this. We aren't so sure whether this device can hold it together for long.
But, if you're concerned, you can check out guns that offer longer, even lifetime, warranties. We have some already suggested for you below.
---
Mebak 3 Best Alternatives
---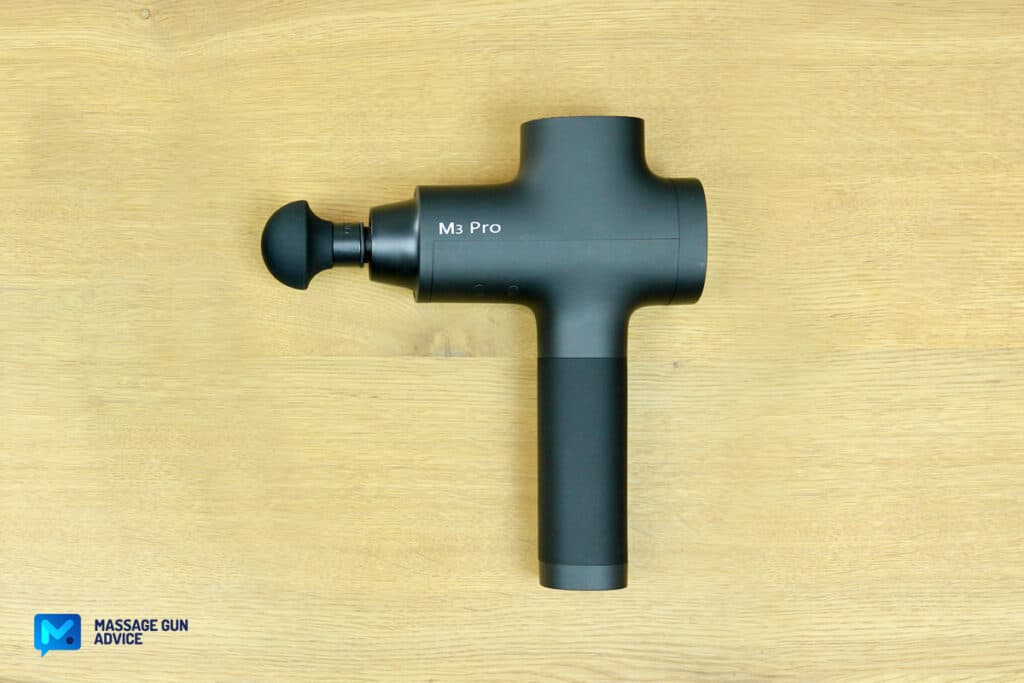 Opove M3 Pro 2
This is Opove's best known massage gun. Opove has been selling massage guns for a while now.
This Opove gun looks very similar to the Mebak 3 massage gun. However, it has far better performance features in comparison.
For instance, the stroke length is a verified 12mm. That makes it a good percussive device.
The stall force is 40lbs., which makes it more powerful device. You will be able to press it hard against the body, and it won't slow down.
It comes with 6 excellent attachments. The battery time is better with this gun. Instead of just 3 hours, you get 4 hours when you use it normally – moderate speed and moderate pressure.
But Mebak 3 has a pressure sensor while Opove doesn't. But as we have already mentioned, it's a nice feature to have as an embellishment but nothing more. You probably can live without it.
Another difference is that Opove is quieter. We only recorded a maximum of 63dB of noise (at the top speed). It ranks high amongst quietest percussions massagers.
In terms of price, Opove M3 Pro 2 costs a reasonable $119.99 (was $199 – a massive discount). Get it here at opove.com.
MORE INFO: Read our full Opove M3 Pro 2 review.
---
Ekrin 365
This is another awesome alternative with superior features over the Mebak 3. However, you will have to spend a bit more cash to get it.
The performance features are about the same as Mebak 3 – slightly higher amplitude and about 40lbs. of stall force at the highest speed.
However, it's a tad lighter, weighing about 1.7 pounds. It also has more percussions per minute – up to 3200 RPM (verified). It has a pressure sensor as well for a sub $150 massage gun.
It feels more premium with better build materials than Mebak 3 (and Opove). It feels softer to touch. The handle on this one is longer and slightly slanted to offer a natural grip. The handle is also thinner – fantastic for folks with small hands.
The lock mechanism for the attachments is also better on this device. The push-and-pull system on Mebak takes a bit more force. Here you push and twist to secure the attachment in position. The fork attachment doesn't rotate or spin. Don't expect to use this device as you charge it like you would with the Mebak 3.
We believe Ekrin 365 is a safer bet. You get an American-made device that is true to its specs and comes with a lifetime warranty. You also get US-based customer support.
NEW DEAL Ekrin 365 is currently out of stock, but you can get a better deal if you pre-order now. Use the PREORDER25 code at the checkout to get 25% off the price – pay only $134.99. You can read all the information here.
Ekrin 365 usually costs $179.99, but you can get it for $143.99 if you apply the MGA20 coupon – gives you a 20% discount. It's $40 or so more, but you get a top-quality device.
---
Mebak 3 Massage Gun Review Conclusion
We come to the end of our Mebak 3 massage gun review and have to say we liked what we saw with that device.
It's a decent device, and we can see why customers on Amazon have rated it so highly. It offers good performance features, and there are decent accessories included with it.
However, on paper, it sounds more powerful than it actually is. Good thing we were able to test and ascertain a few things, as we have stated above.
We have also listed two alternatives that you can check and get a better understanding on what can you buy at that price range. We believe they might just edge the Mebak 3 in a few areas.
Thanks for reading!
---
Mebak 3 Massage Gun Rating
Quality

Effectiveness

Usability

Accessories

Price Value
Summary
Mebak 3 is a good, entry-level massager that deserves high rating in quality of build and materials. It's not the best thing we have ever seen, but it's decent. We have a bit of an issue with the overstated amplitude and stall force, but we love that it's still strong enough. The ergonomics are decent enough as well. This is a good device that costs way better for what it offers. Plus, it works while charging and can be used as a corded device – a rarity.
---
Disclaimers
The views and opinions expressed on this website are those of the authors. Any content provided by our bloggers or authors are of their opinion and are not intended to malign any religion, ethnic group, club, organization, company, individual or anyone or anything.
All product names, logos, and brands are property of their respective owners. All company, product and service names used in this website are for identification purposes only. Use of these names, logos, and brands does not imply endorsement.
It is our policy to make every effort to respect the copyrights of outside parties. If you believe that your copyright has been misused, please provide us with a message stating your position and we will endeavor to correct any misuse immediately.
Some of the links in this post are affiliate links. As an Amazon Associate, we earn from qualifying purchases. This means if you click on the link and purchase the item, we may receive an affiliate commission, at no extra cost to you. This helps us keep this website alive. Learn more here.
Amazon Disclosure
massagegunadvice.com is a participant in the Amazon Services LLC Associates Program, an affiliate advertising program designed to provide a means for sites to earn advertising fees by advertising and linking to Amazon.com. As an Amazon Associate, we earn from qualifying purchases. Amazon and the Amazon logo are trademarks of Amazon.com, Inc. or its affiliates. Please refer to our Privacy & Affiliate Policy for details.