Best Corded Massage Gun – Exploring Wired Percussion Massagers
What to Know: We independently review products we recommend. If you click on links we provide, we may earn a commission. Learn more.
---
We found ourselves scratching our heads recently when someone asked us what we think about corded massage guns. Our first thought was; who even thinks of having a corded massage gun?
We believe corded massage guns have existed for a while now but we also know that they are probably not as efficient as the cordless ones.
However, there are some advantages to having one and before you decide to look for the best corded massage gun, let us tell you what we think about them. We have included our recommendation which you can check out.
Otherwise read on to find out more about wired percussion massagers.
---
---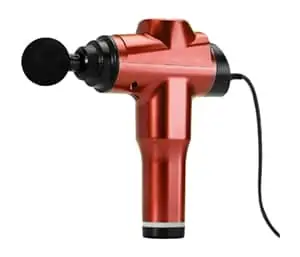 For those in a hurry:
If you are unwilling to go far into the article, here is one recommendation that we believe has everything you need from a corded percussion massager.
SHIKE massage gun: It's a basic device with no bells and whistles. Has the generic configuration – T-shape – and includes a long cord. It has enough power and equipment to get you going about your massage business.
---
Corded Massage Gun… What?
Yes, why not? There is so much to gain from having one. Think about it:
No dependence on battery, which means you can use it anytime you need to.
The device is lighter. Without the battery weight to worry about, these devices are super light. Whatever the ergonomics on any such devices, with less weight, you can easily go about your massage without your wrist tiring. Some cordless massage guns overdo their batteries and end up being too heavy – Hypervolt Plus is a good example, weighs over 3lbs.
Durability. Batteries tend to lose capacity at some point. Sometimes it happens within a few months as we've witnessed with some devices. A wired device can deliver uncompromised performances for a while as long as the motor is good enough. Since motor technology is not rocket science, these devices can serve you for a long time.
Simplicity. You don't need battery indicators or chargers with a corded massage gun. Most have simple designs.
Because they are simple, they are also cheaper compared to cordless massage guns. Our best pick is reasonably cheap.
But…
It can be tough dealing with cables. The wire tangle mess is a menace.
Less portability. You will always be limited by the length of the cord. You'll probably need to have a power socket every time you use it.
Less balance. Since these devices have no battery (which tend to be built within the handles of cordless massagers), most of the weight is shifted to the head where the motor is. This may hinder the device's maneuverability.
If you are a busy chiropractor you need at least a couple of devices in case one fails. Or one with removable batteries like Hypervolts or Theragun Pro and Achedaway Pro. Something with power.
---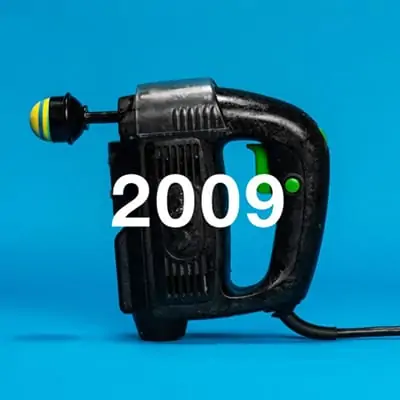 Fun Fact
Did you the very first Theragun (Theragun prototype) was a corded massage gun?
That was back in 2009 (photo credits: Therabody, theragun.com)
---
Can Cordless Massage Guns Be Used While Charging?
That seems like a simple solution but we are yet to see a massage gun that can be used while charging. The many we've tested have not been able to do this.
To be honest, we have no idea why manufacturers don't make them that way – would be a problem solved. There are probably some technical limitations that make it impossible.
If it was doable then busy therapists would enjoy it.
---
Who might want a corded massage gun?
Therapists – provided they don't use devices with replaceable batteries.
Elderly folk perhaps. These devices are simple enough, plug and massage kind of thing. They are also less weighty.
Folks on a budget – But we know of cordless massage guns that cost as little as $40.
Old-school folks – people who love the oldies and probably like things simplified.
---
Corded Massage Guns – What is available?
In our research, we only stumbled on the old design guns. Some of them are no longer on sale.
We are glad they are (to be honest). That is because if you happened to buy a device like Suboton, you'd probably need ear plugs while using it – those early guns were hammer drills that rattled way too loudly. Cordless massage guns saved our ears!
But we found one corded percussion massager worth recommending.
---
SHIKE Massage Gun – Best Corded Massage Gun
Although it's a basic corded massage gun, SHIKE is a relatively modern device and can be an alternative to some of the entry-level cordless massage guns. It has a hushed motor that will not be a discomfort while you use it.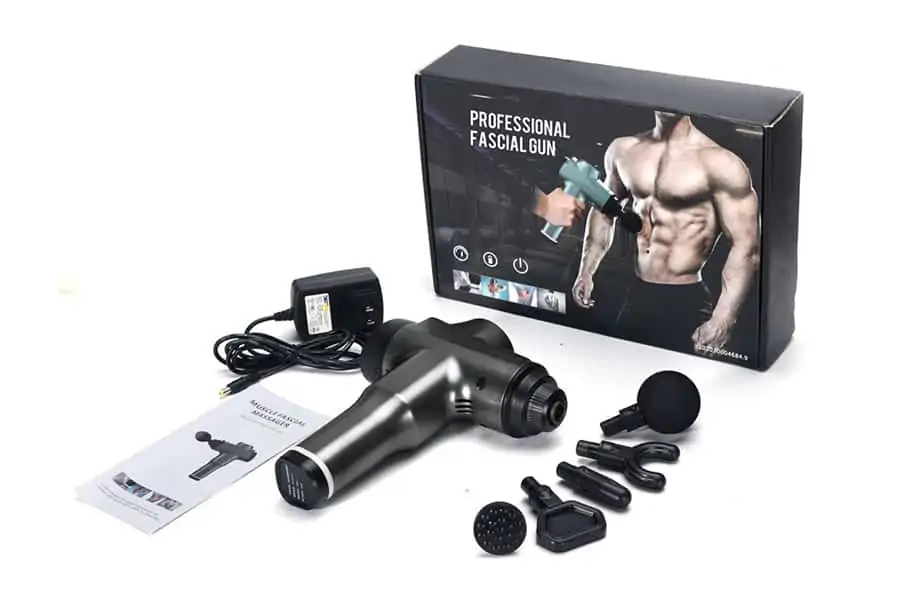 Don't expect many fancy features here because it's a very basic device. It also has a very low stall force – our estimation is that it is nothing more than 20-something lbs. It has a 10mm amplitude or maybe 9mm. That means it won't offer the power that you get from some of the top guns like Theragun or Hypervolt.
But it's a fraction of the price of a decent cordless massage gun.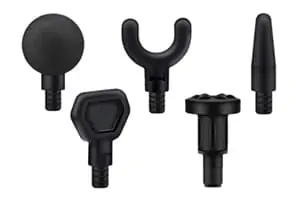 What you get:
A decent enough device that actually percusses and doesn't just vibrate on the skin.
It can take a fair amount of pressure (can be pressed hard against the body).
A device that can ease muscle soreness, improve fascia release, get blood flowing well, treat muscle stiffness, and provide overall relaxation.
It's well equipped with 5 attachments – the standard ones are all here.
It has 6 speeds to cycle through.
The cord is long enough – 80-inches long.
Incredibly affordable device, well under $ 100.
We only found SHIKE as a worthy recommendation. Nothing else is out there worth giving the praise. SHIKE also competes well in the market because of how well it's priced.
---
What about all those corded neck massagers that call themselves "percussive" devices?
We've seen some products on Amazon that look more like neck and back massagers (wand massagers) than real percussion massagers. Many of them cannot percuss at all.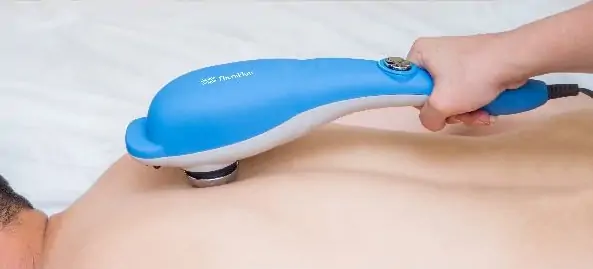 They have simply jumped on the percussive therapy bandwagon even though they have nothing percussive to offer. Everyone now thinks they can ride on the percussive wave that's dominating the market lately.
We know that percussive devices are mainly used by therapists and chiropractors who have recommended them to people. These devices have gone mainstream because people are aware of how good they are at providing DIY muscle recovery.
These wand massagers try to capitalize on this current wave but many of them just aren't as percussive. Rather they are vibrating devices with no meaningful amplitude or stall force. The best they can do is a surface-level massage.
We are not doubting their ability to do what they are meant to do – we have seen reviews from some satisfied customers. Some of these include;
While these may be effective in doing what they are meant to do, they are nowhere near the standards of real percussion massagers that can provide deep tissue massage.
The only thing they have is a high vibrating frequency but nothing else – stall force and amplitude lacking. We'd rather go with a simple T-shaped corded massage gun like SHIKE than any of these devices.
---
Wired Massage Gun Conclusion
As we have seen, there are only perhaps a handful of corded massage guns that are recommendable. For our case, the best corded massage gun is this SHIKE massager.
This type is simple and does not have many bells and whistles. They can do what they are meant to do if used effectively. Also, they are not as expensive as some top of the shelf cordless massage guns.
Beware however of devices that claim to be percussive when they are not. Remember a corded percussion massager is better than a cheap vibrating tool.
Was this article helpful?
Thanks for your feedback!
Post Update History
Here's a quick rundown of all the tweaks and edits we've made to this article to keep it accurate and up-to-date!
Current version last updated on:
•
Written by:

Luke Deszczulka
Disclaimers
The views and opinions expressed on this website are those of the authors. Any content provided by our bloggers or authors are of their opinion and are not intended to malign any religion, ethnic group, club, organization, company, individual or anyone or anything.
All product names, logos, and brands are property of their respective owners. All company, product and service names used in this website are for identification purposes only. Use of these names, logos, and brands does not imply endorsement.
It is our policy to make every effort to respect the copyrights of outside parties. If you believe that your copyright has been misused, please provide us with a message stating your position and we will endeavor to correct any misuse immediately.
Some of the links in this post are affiliate links. As an Amazon Associate, we earn from qualifying purchases. This means if you click on the link and purchase the item, we may receive an affiliate commission, at no extra cost to you. This helps us keep this website alive. Learn more here.
Amazon Disclosure
massagegunadvice.com is a participant in the Amazon Services LLC Associates Program, an affiliate advertising program designed to provide a means for sites to earn advertising fees by advertising and linking to Amazon.com. As an Amazon Associate, we earn from qualifying purchases. Amazon and the Amazon logo are trademarks of Amazon.com, Inc. or its affiliates. Please refer to our Privacy & Affiliate Policy for details.