Lifepro Dyna Mini Review – A Well-Executed, Everyday Companion Massage Gun
Disclaimer: Our content is unbiased, non-sponsored and fact-checked. If you buy via links on our site, we may earn a commission. As an Amazon Associate, we earn from qualifying purchases.
---
Welcome to this Lifepro Dyna mini review. This isn't the first Lifepro gun we're reviewing; we've tested and reviewed a few.
Lifepro is a reputable brand with a number of fitness and sports recovery products in their catalog. We have loved many of their devices (like DynaFlex or Sonic), not just because they are top quality, but also because they tend to be pretty affordable.
Today we will look at their smallest gun yet; the Lifepro Dyna Mini. We have it in our mini massage guns category. But is it worth any consideration?
Let us find out.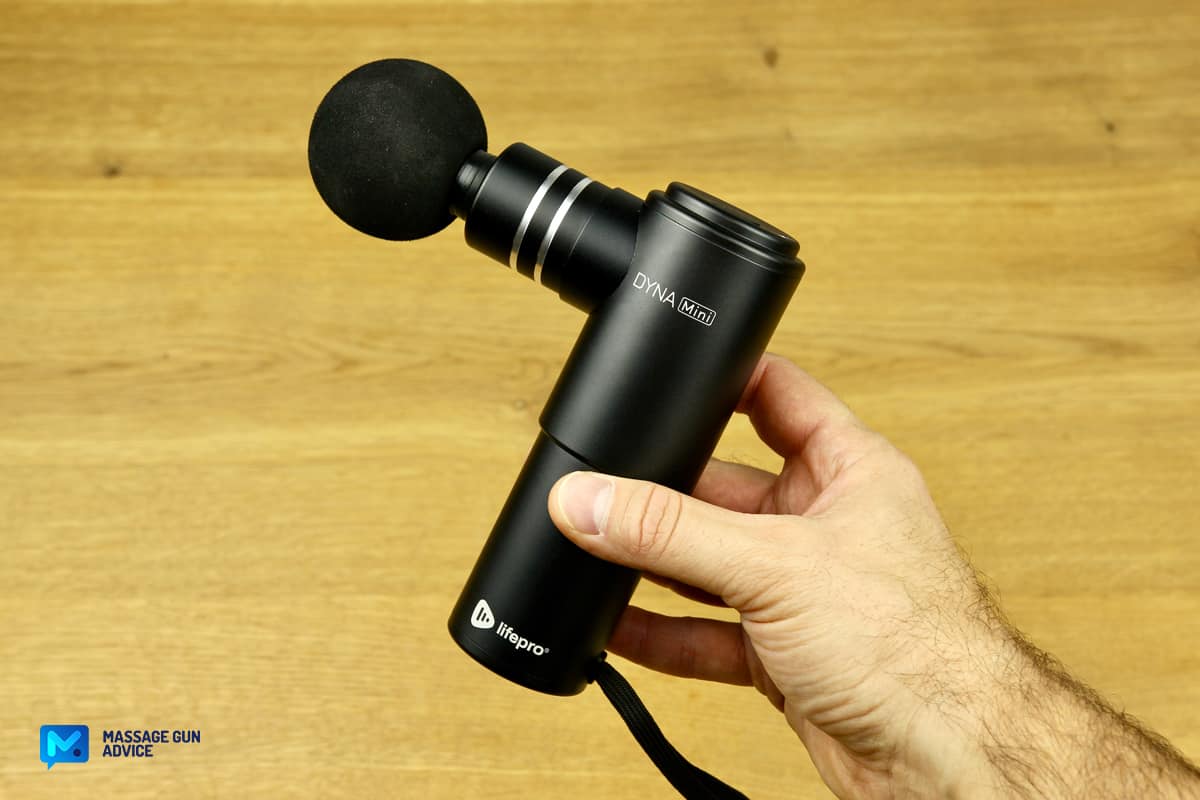 ---
---
Lifepro Dyna Mini Massage Gun Review
---
Lifepro Dyna Mini Specifications
Features
Lifepro Dyna Mini
Stall Force
10-15 lbs
Stroke Length
6 mm
Percussions Range
940 to 2980 rpm
(advertised: 900-3200 rpm)
Speeds
4
Battery Life / Capacity
up to 4h / 2500 mAh (non-removable)
Attachments
4
Weight
1.14 lbs
Noise
47.3 to 54 dB (advertised: 45 – 55 dB)
Main Pros
Stylish design
Wide range percussions
USB-c charging
Main Cons
Low amplitude
So-so stall force
Tad heavy
Warranty
One year
Price
$81.00 $89.99
Discount Code
MGA10
(10% Off)
Where to buy with discount
Buy at lifeprofitness.com
Lifepro Dyna Mini Specs (according to lifeprofitness.com​1​)
---
Design, Size, and Ergonomics
The gun comes in a small, nice box – you can straightaway tell how small it is based on the size of the packaging. Inside the box is a carrying case, which is a good touch from Lifepro; we've always come to expect a case with any of their guns.
Before we talk about the device, it's worth mentioning that the case we got has a fabric-like design with a leather strap. Our case is blue with a brown strap. We fumbled slightly with the zipper for our case, but we're hoping we're the only ones.
Inside the case are a few things; the gun, 4 attachments, a USB-C charging cable, and a simple but awesome user manual.
The device inside is definitely a mini massage gun. It's small and compact. It's highly portable too, measuring 5.6 x 3.5 x 1.7 inches.
But don't let the size fool you. This isn't a toy. It weighs a respectable 1.14 pounds (518 grams) with the flat attachment mounted. Why is it so heavy (per se)? We are guessing it's because of the aluminum case (and battery size, more on that later). Devices with a metal casing tend to be considerably weighty.
The cold feeling you get when you have it in your hand is noteworthy. Just to compare it (in terms of size) with other minis; it's perhaps the same size as the Recoverfun Mini (however, it's lighter) and the Bod and Brad Q2. It's a tad smaller than the Ekrin Bantam.
The shape and design are familiar; we'd call it a classic look. It's small with a short vertical handle. If you have seen the Recoverfun Mini, this one is similar. There's probably a slightly noticeable difference with the extended handle at the top missing from the Dyna Mini. There are plenty of Amazon devices that look like this as well.
If you are not a fan of thick rounded handles, look away because this one is perhaps one of the thickest handles we have seen on a mini. What's worse (or slightly worse, if you like everything else), there's no rubber on the handle. We are used to seeing some rubber on handles. We saw it with the Bob and Brad Q2 device. With no rubber, you get sweaty hands when you hold the device for long.
We also love an angled handle massagers, even for minis. We adore the Bantam for this reason. Since Lifepro chose not to rubberize the handle, a slight tweak to the ergonomics would've sufficed.
Either way, other features are awesome. For instance, the overall build quality looks great. There are no visible screws, and the device looks seamless. A non-slip wrist wrap is at the bottom of the handle to keep it from accidentally dropping. This is a nice touch we haven't seen with many guns.
You can choose between blue and black colors. Our unit is black. The blue one maybe better matches the case.
Our Take
Overall, we feel this is a quality device. The ergonomics could've been better, but it's nothing you can't live with.
---
---
Attachments
There are 4 attachments with this mini massage gun – somewhat rare with many other minis on the market.
They include:
The ball head – This one is a typical one made of EVA foam. It's harder than we would've liked though – there is very little give to it. Also, it's not the best to use on clothes. It can work on large muscle groups.
The bullet head – This one, as expected, is made of hard plastic, however, we noticed it has soft tip. It's best for releasing muscle knots and targeting trigger points​2​.
The fork head – Also called the spinal head, this one is made of hard plastic as well. And like the bullet one, it also has a soft tips (the two prongs that go on either side of your spine). You can also use it to massage your Achilles​3​ too. Or you can use it as a double-tipped bullet head.
The flat head – This one is also made of hard plastic. You can use it on large muscle groups.
Our Take
It's somewhat rare to find a mini device with nicely varied tips. The Dyna Mini has a fantastic setup – just what you need. We like the tips with slightly softer tips. Many massage guns out there don't have this.
---
Performance
How much does this mini gun have to give in terms of amplitude, stall force, and percussions per minute?
---
Amplitude
Also called stroke length, this is the distance the massage gun head covers as it percusses.
Lifepro advertises the amplitude for the Dyna mini as 6mm. We measured it to confirm, and indeed, it's 6mm.
This means you are getting a highly vibrational gun – don't expect hard punches with this gun. But this is hardly a bummer; many minis have a similar amplitude. Think of Recoverfun Mini.
But we love a better stall force than this, even for a mini. This is why we tend to praise Ekrin Bantam for its 10mm stroke length. You might be paying more for it, but you're getting your money's worth, at least as far as the amplitude is concerned. Keep in mind that the Bantam is only a bit larger than this Dyna Mini.
Also, if you are hoping for a Theragun mini alternative in this gun, then you will be disappointed. Theragun mini has a 12mm amplitude (twice the size). Even Hypervolt Go 2 has a 10mm amplitude.
But a low amplitude paired with enough stall force can work the magic. How much stall force is here though?
---
Stall Force
Stall force is a massage gun's ability to withstand pressure.
Lifepro doesn't mention how much stall force their device has. We had to do our own estimation.
Our guesstimate is between 12-15lbs. of stall force. Which is meager to say the least. But we had a feeling it's not as great as Ekrin Bantam given the very low amplitude.
Either way, we figured Lifepro probably meant to sell this device to customers who need a complimentary device – something to use on the go. You can use it to massage your knackered neck and shoulders, hands, feet, and smaller muscle groups.
At higher speeds, you can use some pressure when massaging your forearms, shoulders, and calves.
We noticed the percussions don't slow down on small muscle groups, which is fantastic. But you won't have much joy using it on larger muscle groups.
---
Percussions
Low amplitude guns tend to percuss really fast. It's especially important when they have a low amplitude and stall force. The vibrations play a vital role in ensuring you get an effective massage. The percussions override the pain signals to the brain. They also increase heat in the muscle tissue helping the muscle to relax, thus easing tension.
The advertised percussions for the Lifepro DynaMini massage gun are 900-3200RPM. This is a typical range for many guns. Our tachometer gave slightly different readings, registering 940-2980RPM.
This is a wide range and good enough for a mini gun. Don't worry about the missing 200RPM, they won't make a huge difference, we promise!
There are 4 speed gears to cycle through.
---
Our Take on Performance
The Lifepro Dyna Mini has a low amplitude that feels vibrational. However, it percusses really fast and has just about enough stall force to do what it's meant to do. The percussions don't slow when you apply some pressure on small muscle groups.
This is a decent setup for a mini massage gun. It will provide relief to pain areas like the neck and shoulders as well as small muscle groups. You can use it on your back too.
However, for bigger muscles, you'll need something much stronger. The Bantam has more power in the same size.
---
Noise
You expect a 6mm amplitude gun not to buzz too hard. This one doesn't. It's quiet enough. The sound is smooth with no crackling or rattling.
The advertised noise levels are given as 45-55dB. Our dB meter gave us 47.3-54dB. Impressive! It's especially quiet on lower gears. Higher gears aren't noisy either.
---
Battery
Another impressive aspect of this massage gun is its battery. The 2500mAh capacity battery isn't common with mini massage guns. This is a tiny device and such a big battery is a bit of a surprise.
But maybe that's why it feels a bit weighty, besides the metal caging.
That said, expect impressive performance as well. It can do up to 4 hours on lower speeds and up to 2 hours if you use higher speeds and apply some pressure. There's an auto-shut-off feature that kicks on after 10 minutes. It saves power and prevents the battery from overheating.
The USB-C charging method is convenient and awesome. You can use a power bank to charge it on the go. We just don't like where they placed the charging port. Putting it at the top of the device feels odd (and somewhat ugly). We are used to those being at the bottom of the handle.
There are LEDs that indicate the battery charge. However, they are also the same ones that indicate speed. This is great for a cleaner design but a bummer when you can't tell how much of the battery is left when the device is running. But with time, you will get the hang of it.
Our Take
Overall, we love that there's plenty of juice on this thing. We also love the convenient USB-C charging and the modern approach to things. Good job, Lifepro.
---
Who is it Best for, Then?
The Lifepro DynaMini will treat sore muscles, improve blood circulation, and is great for lymphatic drainage​4​.
It's a great everyday mini device. It will be great for people who work behind the desk, folks who go to the gym – it can be a great one for warming your muscles before a workout​5​.
If you prefer a less-punchy gun, this one is for you as well. It's also a good massage gun for women and folks with small hands. The elderly people will also love the overall size and its performance.
But, because of its so-so power, it may not be the best choice for demanding users. You'd rather go for Ekrin Bantam or get Theragun mini.
That said, it's still a great device that percusses really well. It's also decently priced.
---
Warranty and Price
The Dyna mini comes with a lifetime warranty. Apart from Ekrin, Lifepro provides a lifetime cover for all their devices.
It only goes for $89.99. You can use the MGA10 coupon at checkout that gives you a 10% discount. It's only $81.00 than. No brainer.
This is an awesomely priced gun. You are getting a well-done device that percusses really fast. Even better, this is the only under $100 gun with a lifetime warranty. It's a good deal – you're getting great value for your money.
---
Best Lifepro DynaMini Alternatives
There has to be other guns that can give the Dyna Mini a run for its money, right? Here are the ones we picked…
---
Ekrin Bantam
We can't talk enough about how good Ekrin Bantam is. It's better than the Dyna Mini in more ways than one.
First, Ekrin is the better brand of the two – we voted it the best massage gun brand.
The gun itself is larger than the Dyna Mini. But this also means it's better to hold. It has an angled handle that is also rubberized.
In terms of power and performance, it's monumentally better. It has a 10mm amplitude, which means it has 40% more punch than the Dyna Mini.
It also has over 30lbs. of stall force – better than even some of the larger devices out there. It has more percussions – up to 3200RPM.
It has a similar number of attachments. These are slightly harder but feel more premium. It also comes with a USB-C charging system. You also get a lifetime warranty.
It goes for $149, but you can get a 20% discount using the MGA20 coupon. You can then buy it for only $119. So it's not much more for a much better device.
Read More Here is a full Ekrin Bantam review to check out.
---
Bob and Brad Q2
Bob and Brads' Q2 massage gun slightly betters Lifepro's Dyna mini.
For starters, it has better ergonomics and therefore better to hold. It has a rounded shape and a rubberized handle that feels nice to hold.
It has more power as well. Expect about 25lbs. of stall force and a 7mm amplitude. However, the percussion range is narrower – 1800-3000RPM, but still good enough to do the job.
It comes with 5 attachments (1 more than the Dyna mini). We love this setup, plus there is a cushioned head that you can use on bony and tender areas.
It's also cheaper. It goes for about $66. You can buy it at Amazon here.
However, it only comes with a 12-months warranty.
Read More Feel free to check our detailed Bob and Brad Q2 review.
---
Lifepro DynaMini Review Summary
Before we end our Lifepro Dyna mini review, it suffices to say that this is one of the most well-executed minis out there. Yes, it will be vibrational because of the small amplitude and a lower stall force, but we feel the fast percussions can compensate for it.
It's a good everyday device but not the best for demanding athletes and users. It's compact and has plenty of battery juice. It's very affordable and offers great value for money. It's even better with the lifetime warranty.
However, we do feel some competitors offer better value. One of the listed alternatives is more expensive but better in many ways (the Bantam). The other has a better ergonomics and is slightly cheaper (the Bob and Brad Q2). PS. don't forget to use our discount coupons.
Until next time, bye.
---
Lifepro Dyna Mini Rating
Quality

Effectiveness

Usability

Accessories

Price Value
Summary
The Lifepro Dyna mini is a superb mini massage gun if you want a nice companion device. It has a low amplitude and stall force but percusses fast enough to do the job. It's also very attractively priced.
---
References
2.

Moraska AF, Stenerson L, Butryn N, Krutsch JP, Schmiege SJ, Mann JD. Myofascial Trigger Point-focused Head and Neck Massage for Recurrent Tension-type Headache.

The Clinical Journal of Pain

. Published online February 2015:159-168. doi:

10.1097/ajp.0000000000000091

3.

Szymczyk P, Węgrzynowicz K, Trybulski R, et al. Acute Effects of Percussive Massage Treatment on Drop Jump Performance and Achilles Tendon Stiffness.

IJERPH

. Published online November 17, 2022:15187. doi:

10.3390/ijerph192215187

4.

Konrad A, Glashüttner C, Reiner M, Bernsteiner D, Tilp M. The Acute Effects of a Percussive Massage Treatment with a Hypervolt Device on Plantar Flexor Muscles' Range of Motion and Performance.

J Sports Sci Med

. 2020;19(4):690-694.

https://www.ncbi.nlm.nih.gov/pubmed/33239942

5.

Cullen MFL, Casazza GA, Davis BA. Passive Recovery Strategies after Exercise: A Narrative Literature Review of the Current Evidence.

Curr Sports Med Rep

. Published online July 2021:351-358. doi:

10.1249/jsr.0000000000000859
Disclaimers
The views and opinions expressed on this website are those of the authors. Any content provided by our bloggers or authors are of their opinion and are not intended to malign any religion, ethnic group, club, organization, company, individual or anyone or anything.
All product names, logos, and brands are property of their respective owners. All company, product and service names used in this website are for identification purposes only. Use of these names, logos, and brands does not imply endorsement.
It is our policy to make every effort to respect the copyrights of outside parties. If you believe that your copyright has been misused, please provide us with a message stating your position and we will endeavor to correct any misuse immediately.
Some of the links in this post are affiliate links. As an Amazon Associate, we earn from qualifying purchases. This means if you click on the link and purchase the item, we may receive an affiliate commission, at no extra cost to you. This helps us keep this website alive. Learn more here.
Amazon Disclosure
massagegunadvice.com is a participant in the Amazon Services LLC Associates Program, an affiliate advertising program designed to provide a means for sites to earn advertising fees by advertising and linking to Amazon.com. As an Amazon Associate, we earn from qualifying purchases. Amazon and the Amazon logo are trademarks of Amazon.com, Inc. or its affiliates. Please refer to our Privacy & Affiliate Policy for details.