Can You Use a Massage Gun on Your Face? What Physiotherapists Say
What to Know: We independently review products we recommend. If you click on links we provide, we may earn a commission. Learn more.
---
Like many people, you might be wondering: can you use a massage gun on your face? While we don't recommend DIY massage gun for face treatments, there are some workarounds and new devices that just might make it possible.
In this article, we discuss the important do's and don'ts of facial massage, and explore the exciting new TheraFace PRO device.
Keep reading for all the important information.
---
---
Why Trust Us & Disclaimer
This article has been written by a practicing physiotherapist, Dr. Alex Stone, DPT. It has not been reviewed by a medical doctor (MD).
You are responsible for your health and health choices. You should always check with your trusted medical doctor before trying any advice regarding your health.
That said, rest assured that the information in this post is trustworthy as we always review several sources to ensure we're providing the most correct and up-to-date information possible.
---
Why Facial Massage?
Did you know that stress is very closely related to muscle pains and headaches?
Many people find themselves under too much stress from work or life in general, and a big consequence of that is muscle tension throughout the body.
Many of us understand that muscle tension in the neck and shoulders can cause neck pain and headaches, but most people aren't aware that muscle tension can also be held in the muscles of the face.
Constant excess tension in facial muscles can lead to problems like temporomandibular disorder (TMD) and earlier signs of aging​1​.
One simple approach to minimizing tension in the face is facial massage. Facial massage comes in many forms, but it's traditionally done using finger pressure at various points on the forehead, temples, and jaw to help the muscles of the face relax​2​.
---
Let's briefly talk about some anatomy before we go any further.
Important Muscles of the Face
While there are over 20 muscles in your face (40, if you count both sides), a few key muscles are prone to cause problems with excessive tension​3​.
Masseter
This large muscle is located on the side of your jaw, and is responsible for closing your jaw. It's essential for activities like talking and chewing, but under excessive tension it can lead to jaw clenching, contributing to jaw pain and headaches.
Frontalis
This thin muscle is located along the front of your forehead, and its job is to raise your eyebrows and wrinkle the skin of your forehead. We use it all the time to communicate our emotions, but overuse can cause tension problems and excessive wrinkling of the forehead skin.
Temporalis
This fan-shaped muscle is located on the side of your head, just above your jaw. Its main job is to help the masseter with coordinated closing of the jaw. Much like the masseter, excessive tension will contribute to jaw pain and headaches.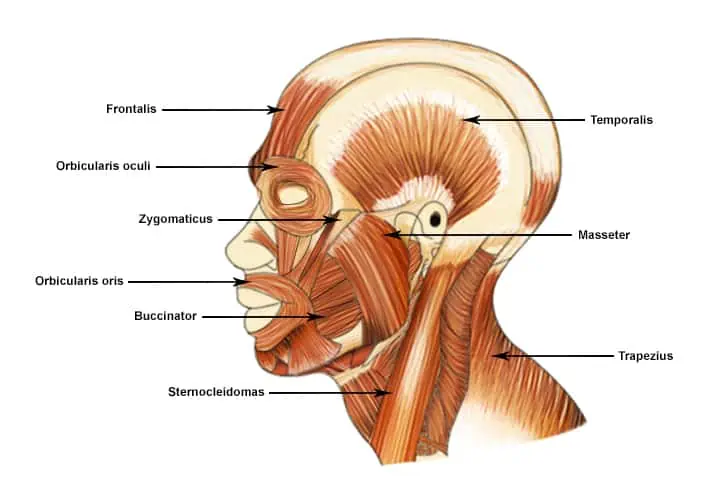 It's worth noting that there are some other major players in jaw tension and headaches, but because those muscles are internal (inside the mouth), we won't talk about them here.
---
So, what about percussive therapy on face?
Is it Bad to Use the Massage Gun on Face?
Many people have been reaching for their massage guns and punching their faces in attempts to relieve their jaw tension and headaches. We're here to tell you that we don't recommend it, and you may end up doing more harm than good.
Massage guns are powerful devices designed to give deep-tissue massage for large muscle groups, and they're just too powerful to safely and gently massage the muscles of your face.
Many devices simply have too much amplitude – the amount of distance traveled by the head during each percussion – to massage your face without risking injury.
In fact, we specifically advise against using one of the most popular brands for this purpose: Theragun.
Can You Use Theragun on Face?
Using Theragun on face is not a good idea. Higher-end Theragun massage guns are punchy with an industry-leading 16mm amplitude, and this is more-than-enough to leave you with a bruised face or stress fractures if used on the more sensitive areas of your face.
In recent years, softer attachments have been developed for more sensitive areas of the body by many massage gun brands. These are great for small users or those recovering from injuries, but these attachments are still not designed for use on the muscles of your face.
Even if a whole-body massage gun device claims that it's safe for use on your face, we haven't seen one yet and we can't recommend safely using it for that purpose.
Even with the SuperSoft attachment, pictured right, Theraguns are too aggressive for the facial treatment.
The 16mm head travel distance is just too much for the face – don't risk an injury.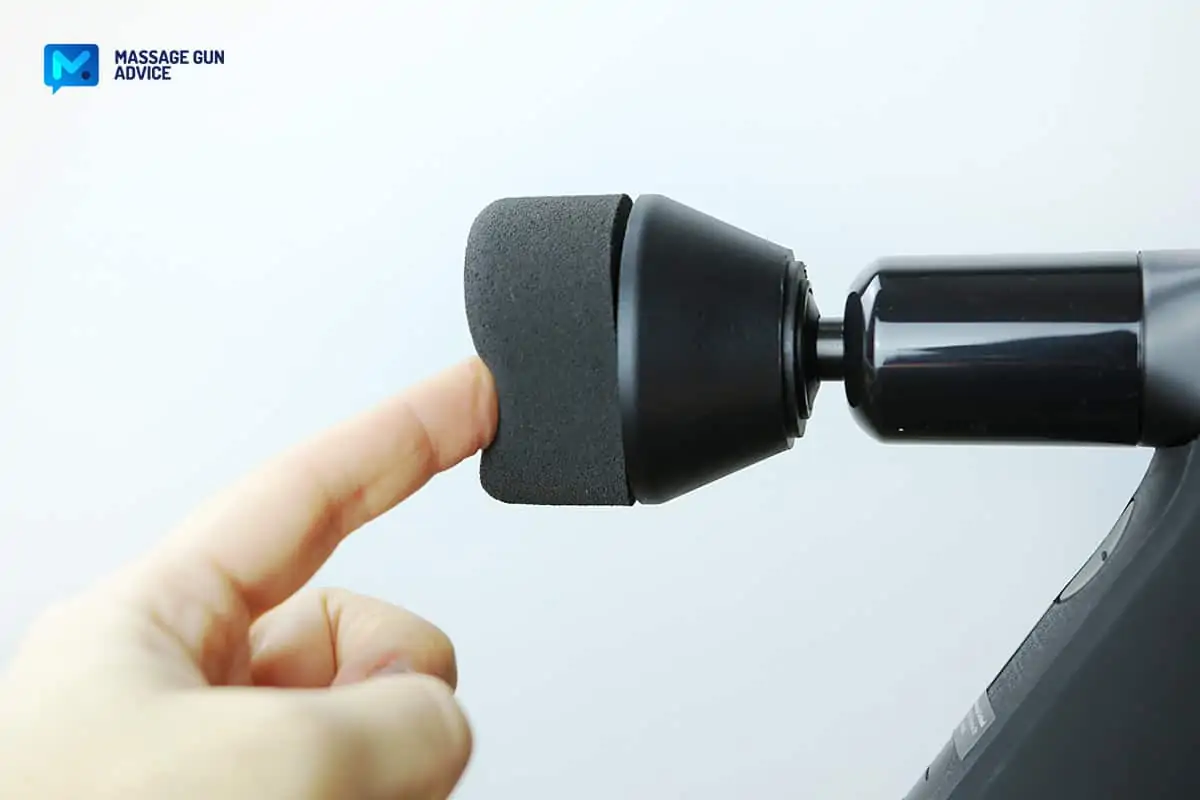 At this point you might be thinking: "What about a miniature massage gun? Those are less powerful and probably won't hurt my face, right?"
Unfortunately, most miniature massage gun options still have an amplitude of 6-8mm, which is still too large for a safe facial massage.
Additionally, the massage gun attachments of these devices still aren't designed for the specific purpose of facial massage, and are too firm/large to get the job done safely.
Some people have been experimenting with vibrational devices like the addsfit Mini, Lifepro DynaMini, and the Bob and Brad Q2, — these might be safer than many other device options, but we recommend being extremely cautious or completely avoiding use of these devices for facial massage. Safety first!
---
So if massage gun on face isn't recommended, where can you start?
Best Face Massage Techniques
Don't worry, you can still significantly reduce muscle tension in your face by performing manual facial massage. Here are some basic techniques for massaging the major face muscles listed above:
Masseter
Start by finding the bony notch just in front of your ear. Using your index and middle fingers, go just below that notch and apply light pressure inward. For increased pressure, use your thumbs.
Frontalis
Rest your index and middle fingers just above your eyebrows. Applying light pressure to your forehead, move in small circles. Slowly work your way up toward your scalp, then return to the starting position and repeat.
Temporalis
Return to the notch in front of your ear, then move slightly upward to the temples. Using the tips of your middle three fingers, apply light pressure and move in small circles.
TIP For best results, be sure to visit your trusted massage therapist who specializes in facial massage.
In the case of severe jaw pain or clicking/clunking of the jaw during movement, schedule an evaluation with a physiotherapist who has specialty training in TMD. They can perform special manual techniques to improve your symptoms, and teach you techniques to relieve pain and tension at home.
In the case of teeth grinding (bruxism), be sure to visit your dentist and use a mouth guard if recommended to protect your teeth at night during sleep.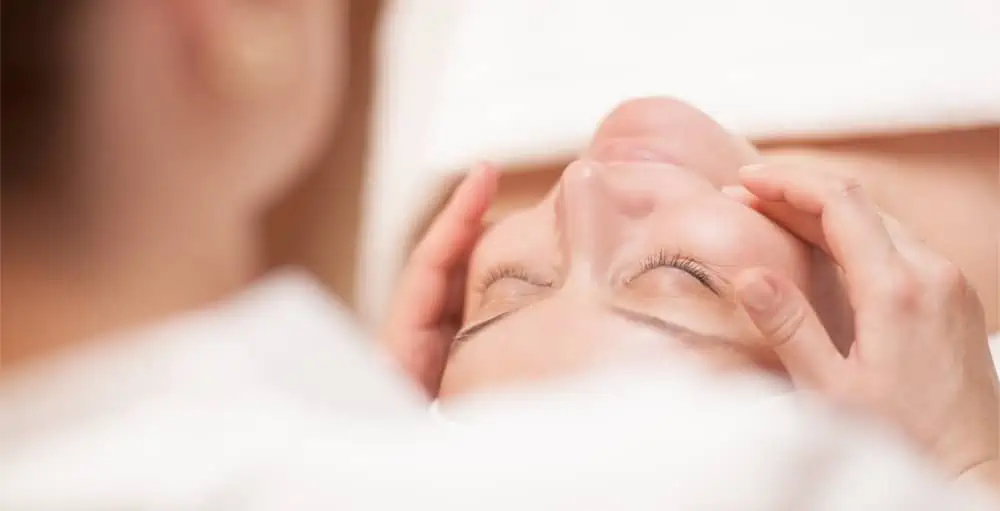 ---
But there may be a new device that finally checks all the boxes for facial massage.
TheraFace PRO – The New Face Massage Gun
The all-new TheraFace PRO from Theragun is the first and only massage gun specialized for use on your face.
We recently did a comprehensive TheraFace Pro review and were seriously impressed by how capable this device is. It's a cleverly-designed all-in-one spa device that really screams premium in our opinion.
Aside from percussion massage, the TheraFace PRO performs LED light therapy, microcurrent treatment, facial cleansing, and hot/cold therapy (sold separately).
Even better, this device can perform percussion massage and other treatments (LED therapy, hot/cold) simultaneously, saving you some serious time and effort during your self-care routine.
The reason we like the TheraFace PRO is because it was designed specifically for use on the small, delicate features of the face.
Specifically, this device has an amplitude of 3mm, versus the 12mm amplitude of the Theragun mini and 16mm amplitude of higher-end Theragun products (Prime, Elite, and Pro).
Smaller amplitude has been paired with three smaller, softer attachments to better contour the features of the face – this is a first for the industry and it makes a difference. Interestingly, the percussions-per-minute haven't changed on this device, and it boasts the same 1750-2400 percussions per minute as its predecessors.
In our experience using the percussion massage feature, jaw stiffness is very much reduced after one session. What's more, we felt more relaxed with increased warmth of the skin (probably from increased blood flow).
As with other body parts, best results come with regular use of the massage gun. To make it easy, Theragun has added some routines for the TheraFace PRO in their app, which we think are worth checking out.
Out of the box, the Theraface PRO is light (only 0.61 lbs), compact, and very quiet. The device feels premium in the hand, and is designed with great attention to detail.
Overall this is an expensive device, but it does its job very well and we think it's worth the price tag.
It's likely that competitors will mimic this device and create more affordable options in the future, but for now this is the best and only way to go for a device that offers safe and effective facial massage.
LEARN MORE Jump to TheraFace Pro Review – A Theragun For Face
---
Massage Gun on Face – Final Words
We hope this article clears up some of the confusion regarding the 'massage gun on face' debate. While there are many great uses for traditional massage guns, facial massage is not one of them, and should be avoided entirely for safety.
Instead of breaking out the big guns, we recommend trying some gentle options using your hands. If you've tried that and need some more help, be sure to visit a massage therapist, physiotherapist, or your trusted doctor.
For those willing to invest in their skin care routine, we recommend the new TheraFace PRO for a premium all-in-one massage + facial device.
Have you tried this device out? Tell us about your experience in the comments!
Thanks for reading!
---
References
1.

Graff-Radford S, Abbott J. Temporomandibular Disorders and Headache.

Oral Maxillofac Surg Clin North Am

. 2016;28(3):335-349. doi:

10.1016/j.coms.2016.03.004
Was this article helpful?
Thanks for your feedback!
Post Update History
Here's a quick rundown of all the tweaks and edits we've made to this article to keep it accurate and up-to-date!
Current version last updated on:
•
Written by:

Dr. Alex Stone, DPT, CSCS
Disclaimers
The views and opinions expressed on this website are those of the authors. Any content provided by our bloggers or authors are of their opinion and are not intended to malign any religion, ethnic group, club, organization, company, individual or anyone or anything.
All product names, logos, and brands are property of their respective owners. All company, product and service names used in this website are for identification purposes only. Use of these names, logos, and brands does not imply endorsement.
It is our policy to make every effort to respect the copyrights of outside parties. If you believe that your copyright has been misused, please provide us with a message stating your position and we will endeavor to correct any misuse immediately.
Some of the links in this post are affiliate links. As an Amazon Associate, we earn from qualifying purchases. This means if you click on the link and purchase the item, we may receive an affiliate commission, at no extra cost to you. This helps us keep this website alive. Learn more here.
Amazon Disclosure
massagegunadvice.com is a participant in the Amazon Services LLC Associates Program, an affiliate advertising program designed to provide a means for sites to earn advertising fees by advertising and linking to Amazon.com. As an Amazon Associate, we earn from qualifying purchases. Amazon and the Amazon logo are trademarks of Amazon.com, Inc. or its affiliates. Please refer to our Privacy & Affiliate Policy for details.