WODFitters Massage Gun Review – Checking Out the Mighty Mini, Pro, and XCEL Models
Disclaimer: Our content is unbiased, non-sponsored and fact-checked. If you buy via links on our site, we may earn a commission. As an Amazon Associate, we earn from qualifying purchases.
---
Due to its popularity and demand, there has been a flurry of massage guns produced in the market today from small and large businesses alike. In this WODFitters massage gun review, we shall find out why these massage devices from a small yet successful fitness company are worth considering.
What started as a Kickstarter campaign now has become one legitimate player in the fitness market. From training bands to protective equipment to apparel WODFitters is a brand that can go toe to toe with the best of them.
And, their massage guns are no exception. We shall review not one, not two, but three of their massage guns in the market today and find out if they suit your needs and style. Read on!
---
WODFitters Massage Gun Review
We're going to review the:
Check out how they differ from each other and see which one best fits your massaging preferences.
---
WODFitters Mighty Mini, Pro and Xcel comparison
---
WODFitters Mighty Mini and Pro Review
WODFitters' Mighty massage gun model comes in two different sizes and we agree that this is quite a neat idea. We're talking about the Mini and the Pro models. Let's talk more about them.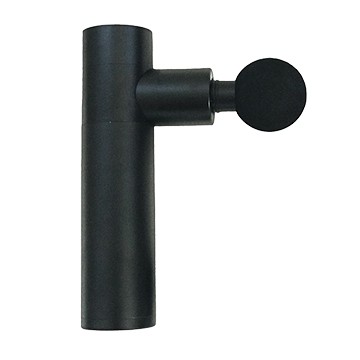 ---
What's in the Box?
Aside from the main unit, the package comes with 4 different attachments or massage heads. These massage heads make sure that you get to reach or massage effectively all muscle groups in your body as well as joints.
You get a large ball head which you'll most likely often use for larger muscle groups like your back, arms, or hips. A flat head suitable for overall body relaxation massage, a fork head for muscles or joints with difficult angles and so you use the fork to massage them efficiently, and a bullet head for joints, palms, trigger points, and deep tissue massage.
And of course, the package comes with the unit's charger and it all comes in a travel pouch which we think that brand could improve on as it's not the most convenient container for the devices to travel with.
One great aspect of these WODFitters massage devices is that they are both designed for USB-C charging. As we all know, USB-C is fast-charging and that's very desirable for massage guns for oftentimes we want our unit ready right away for that nice relaxing massage session.
The brand boasts 11 hours of battery life for both the Pro and mini models. But do take note that the said runtime would be if you utilize your unit in the slowest possible speed setting.
If you use your massage gun at varying speeds from weakest to strongest then it may be safe to say that the unit's battery life will run for about 5 to 6 hours.
Charging it once a week ain't bad. Also, please do take note that you may buy these units separately or both in one great deal. If you often need a massage then you can save yourself some money and bank on convenience.
You may bring the mini with you for it is lightweight and compact while leaving the Pro model at home so if your mini runs out of battery you have something to use at home right away.
For full disclosure, these units are not cheap but due to awesome deals and discounts available for you right now, you may own them at a price of an entry-level massage gun. Specifically, use the "SUPERDEAL" coupon on this website– it gives a whooping $200 off the regular price.
---
Key Massaging Features
All right, let's talk about the massage gun's performance. Please do take note that both offer exactly massaging features and that they only differ in size.
These massage guns are ideal for a nice relaxing massage or semi-intensive massage. With a stall force right about in the low 30 pound category plus an amplitude of about 10mm this unit is perfect for sore muscles, chronic body pain, or post-workout massage.
This unit is not for deep massages or deeper tissue penetration at all. If you need those, then you'd be better off looking for units that possess about 40 to 60 pounds of stall force. That's not what these units are built for.
These WODFitters Might massage guns though can run on varying levels, 4 to be exact. They can both operate at a range of 1800 to 3200 RPM so you get to choose the intensity of your massages.
Four is a rather standard number of speed levels for entry-level massage devices and pair that up with the massage heads then you might find some surprising settings that you'd like.
---
Design and Build
One huge advantage perhaps of these WODFitters massage guns is that they are made out of metal and not plastic like other massage gun brands prefer to utilize.
The aircraft-grade aluminum ensures that these units are quite durable. But, the downside to this is that the aluminum body actually adds more weight to the massage guns.
That's perfectly fine with the Mighty mini for it is still pretty much lightweight but the Pro model gets a bit uncomfortable to wield especially in longer sessions.
Both units also have a power-tool shape with a not so ergonomic angle to work with at all so they look and feel bulky with the mini model slightly more comfortable and sustainable to wield especially if you have smaller hands.
Aesthetics-wise, these massage guns look sleek and stylish with a somewhat simple interface, 4 LEDs for the speed levels, the power button, and the charging port all in one place. It is a one-click control unit as massage guns should be.
---
Noise-Level
Both units actually operate at relatively low noise levels. Due to its compact build and design, it only emits about 30 to 55 dB of noise so it's pretty much something that you can bring in public maybe in your office or the gym and you won't disturb anyone with it.
---
WODFitters Xcel Review
The WODFitters Xcel massage gun is the new product in the market for the bran.
And to us, while it's more expensive, it's a welcome improvement for those who are looking for more power and a better ergonomic design and have a few bucks more to spare.
---
What's in the Box?
The travel bag comes with an adapter (for charging), the unit, and 4 attachments similar to the Mighty massage guns.
---
Key Massaging Features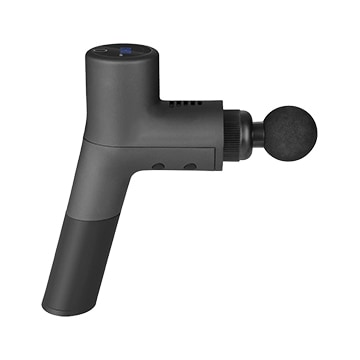 This is where the WODFitters Xcel differs from the mighty massage guns models.
This unit is definitely more powerful with about 35 to 38 pounds of stall force and at the same time, about 12mm of amplitude.
The powerful motor also is capable of working on 5 different speed levels with the lowest being 1400 RPM and the highest at 3200 RPM.
This gives you more range and with the 4 attachments, you may explore and find the setting that fits your needs best.
This unit has a pretty decent battery quality. It can run for about a week if you use it for 20 minutes a day.
But, a major downside to use is that it's no longer USB-C charging. While that takes away some level of convenience, it also does not charge just as fast as the mighty massage guns.
---
Design and Build
The WODFitters Xcel also differs in terms of body design and construction. This time, this unit is made out of hard plastic and this makes it relatively lightweight at only 2 pounds.
This is one aspect that this unit stands out. It's got a better and more ergonomic angle now so you may use it easily with the better application.
In fact, this device look very similar to one of our favorite massage guns, the Ekrin B37 and the high-end Ekrin B37s, both of which we praised for great ergonomics.
---
Noise-level
This unit operates more silently than the mighty models. It's rated at 20 to 50 dB depending on the intensity level you're in, but expect about 28 to 58 dB, which is still a very good result. For comparison, a normal conversation is about 60 dB. You get the point.
---
Who are WODFitters Massage Guns for?
As discussed, neither of these massage guns from WODFitters have 40 pounds of power nor amplitude exceeding 12mm. So, these units aren't made for deep-to-the-bone tissue penetration.
If you're someone who's got dense muscles then most likely you are going to need more intense massages so these units likely aren't for you. While the brand advertised that pro athletes will appreciate it, we actually don't think so.
If you're a serious bodybuilder or weightlifter then this isn't the massage gun for your post-workout massages. In that case, you'd better look at the Achedaway Pro, aforementioned Ekrin B37 or at the below mentioned Lifepro Sonic.
But, these massage guns are great for home or personal use, and will be perfect for office workers or anyone who sits in front of a computer all day long, anyone suffering from chronic body pain, or the casual gym-goer. These massage guns are perfect for bringing in your place of work for quick massage sessions in between breaks.
Our Verdict
These are pretty good massage guns for the price. They are durable, features meet expectations, and enough powerful to treat those sore muscles and body pains. They won't wow you and their original prices are too expensive for what it's got to offer but with code 'SUPERDEAL' you can get $200 OFF as it stands, it's a decent buy and you won't regret it for sure.
Please do take note that if you buy now, you get a lifetime warranty for all WODFitters massage guns. They are currently, as of writing, offering some huge discounts that you may take advantage of.
---
Best Alternatives
Here are a two massage guns that we think are not only the WODFitters' toughest competition but overall good alternatives.
These two units will give you a better perspective on how the WODFitters massage guns stack up against the competition.
---
LifePro Sonic
The LifePro Sonic massage gun is a way more inexpensive option discounted or not. But you'll be surprised that this unit offers one of the strongest stall force across all massage guns available today at whopping 70 pounds.
It has an amplitude of 12mm and the build quality is just as excellent as that of the WODFitters massage guns. This unit comes with similar 4 attachments too but a nicer travel case.
Backed by the lifetime warranty, the LifePro Sonic is a powerful option at a very low price point of just $119.99. Still, you can get it 10% cheaper at $107.99 by using "MGA10″ coupon during checkout.
So, one would think that if you want to try out massage guns first then this is the unit to consider purchasing instead.
---
Ekrin Bantam
The Ekrim Bantam is one of the best entry-level massage guns there is in terms of overall quality. Its build is superb and guaranteed to be durable plus its design is very ergonomic.
This unit has a battery life of 6 hours but its biggest strength is that it's more travel-friendly and compact than any of the units in the market. At only 1.1 pounds, you may take it anywhere and use it anytime.
Don't worry about power for it comes with 35 pounds of stall force and 10mm stroke length or amplitude. It also comes with a solid travel case, 4 attachments and a lifetime warranty.
So, if you're looking for an affordable massage gun that you want to take with you anytime and anywhere, then perhaps look into the Ekrin Bantam.
Find out more at ekrinathletics.com
---
WODFitters Massage Gun Review – the Bottom Line
The brand made sure that they make products that fit everyone's preference. Although they aren't the most powerful massage guns, the units are more than just desirable for their endurance and consistency.
Wrapping up our WODFitters massage gun review, if you're looking forward to a nice relaxing massage after a hard day's work then these devices are for you.
Go take a second look and treat yourself now! You will thank us later!
Disclaimers
The views and opinions expressed on this website are those of the authors. Any content provided by our bloggers or authors are of their opinion and are not intended to malign any religion, ethnic group, club, organization, company, individual or anyone or anything.
All product names, logos, and brands are property of their respective owners. All company, product and service names used in this website are for identification purposes only. Use of these names, logos, and brands does not imply endorsement.
It is our policy to make every effort to respect the copyrights of outside parties. If you believe that your copyright has been misused, please provide us with a message stating your position and we will endeavor to correct any misuse immediately.
Some of the links in this post are affiliate links. As an Amazon Associate, we earn from qualifying purchases. This means if you click on the link and purchase the item, we may receive an affiliate commission, at no extra cost to you. This helps us keep this website alive. Learn more here.
Amazon Disclosure
massagegunadvice.com is a participant in the Amazon Services LLC Associates Program, an affiliate advertising program designed to provide a means for sites to earn advertising fees by advertising and linking to Amazon.com. As an Amazon Associate, we earn from qualifying purchases. Amazon and the Amazon logo are trademarks of Amazon.com, Inc. or its affiliates. Please refer to our Privacy & Affiliate Policy for details.