Vybe V2 Review: As Powerful As It Is Loud
Disclaimer: Our content is unbiased, non-sponsored and fact-checked. If you buy via links on our site, we may earn a commission. As an Amazon Associate, we earn from qualifying purchases.
---
The Vybe brand was first known to be under the Exerscribe umbrella and when it delved into the business of making massage guns the Vybe V2 was their first offering. In this Vybe V2 review we shall find out if this model still deserves your consideration.
We now know that there have been various entry-level and superior massage guns released in the market recently so we will try and narrow the list down for you with our comprehensive Vybe v2 review.
If you haven't heard about the Vybe V2, it was released way back in 2018 as 'Exerscribe Vybe massage gun' and rose to prominence for it was a "better" alternative to the Theragun models. But with the flurry of new ones coming out today, is it still worth it? Let's find out!
---
---
Vybe V2 Review
Ever since the Vybe brand has released two other massage guns, the Vybe Pro and Vybe Premium. Let's see how this unit fits in the scheme of things.
Vybe V2 Specifications
Key Feature
Vybe V2
(formerly Exerscribe Vybe)
Stall Force
60 lbs
Stroke Length
16 mm
Percussions
500-2400 ppm
Battery Life
2 hours
Weight
3.5 lbs
Attachments
3
Noise
>80 dB
Pros
Stall force
Stroke length
90 degree rotating arm
Multiple grips
2 batteries
Cons
Very loud!
Heavy
Warranty
1 year
Retail Price
Check at
Amazon or Vybe store
Vybe V2 Specs
---
What's in the Box?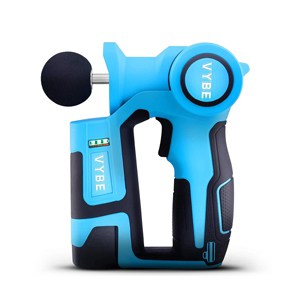 First of all, the Vybe V2 (formerly known as Exerscribe Vybe) is still one of the most affordable massage guns in the market in its category.
We can tell you upfront that it's still got a lot to offer and even better than some massage guns in the market today in terms of a few key aspects.
But also, it's got a lot of downsides to it that may not bode well for other buyers today especially if they've shopped around and seen some new units already.
So, what's in the box of this pioneer and affordable massage gun?
Inside its sleek travel case are the unit, its charger, and 3 massage heads or attachments. The attachments include a large ball, a small ball, and a cone.
The large ball is what you'll most likely use most of the time and great for penetrating your hamstring, quads, and glutes. The small ball is ideal for treating soreness in your biceps, triceps, and calves. Lastly, the cone is for deep tissue massage and perfect for working on muscle knots and hard-to-reach trigger points.
As versatile as that sound standard massage guns nowadays will have at least four different attachments with the package.
It's also worth to mention that the unit will also come with 2 batteries.
---
Key Massaging Features
This is where things would look a bit up for the Vybe V2 as it's a unit that can go toe to toe with the most powerful massage guns in the market even today, such as the Theragun Pro, or one of our favorites: the Achedaway Pro.
We guess that the brand really put a premium on power when they designed this way back in 2018 for this one has a whopping 60 pounds of stall force that's rare for its price.
It also comes and operates with an amplitude or stroke length of 16mm which is also quite impressive, especially for an entry-level-priced massage gun. Furthermore, this massage device has 6 varying speeds or intensities with a range of 500 to 2600 RPM.
While that's not so much range, the 6-speed levels are quite impressive as most today would only have 3 or 5 at most except for the premium units that are priced likely twice as much.
This unit is no doubt to be super strong and a lot of people will surely appreciate what it can do and how deep the massages can penetrate. These aspects are the reason why we would think that this massage gun is still worthy of any consideration even today.
---
Design and Build
The Vybe V2 actually looks a bit innovative in terms of design but also is very bulky. Its arm can rotate for 90 degrees and that gives it quite an edge when it comes to reaching and massaging some hard-to-reach areas of your body.
It's got a great feel to it with a nice grip on its handle plus it's really ergonomic. It can be held in multiple ways and you can really take advantage of its deep percussion capability and strong power.
When it comes to its overall construction, the device is actually quite durable for it's made of sturdy plastic which is typical of units released way back.
But, the thing is, it's pretty heavy at 3 pounds. And if you're not aware, there are massage guns nowadays that are as light as 1.1. The standard weight would still most likely be in the 2-pound category but 3 pounds would add additional strain to your hands especially in longer sessions.
It's also important to take note that the battery of the Vybe V2 is removable so you can switch the two batteries up. This is actually a big plus.
---
Other Features Worth Considering
Battery
As far as battery power goes, each pack will run for 2 hours. So given that this unit has 2 batteries with it then you'll have 4 hours of operation per charging technically.
Even with that, that's pretty much on the low-end of the spectrum when it comes to battery power. Maybe that's quite decent when it was released but right now it's standard that units have about 5 to 6 hours of battery power and that's even when operating on its highest speed setting.
Some units can run for an awesome 10 to 11 hours at their lowest speed setting.
Noise Level
What about the Vybe V2's noise levels? Well, this is one of the biggest gripes of users for this unit. It's very noisy!
We're not even going to tell you how much decibels it is operating in, and we're going to repeat, it's one noisy massage gun, so noisy that it can be a deal breaker for some.
We actually advise that you wear earplugs when you use it and we are not kidding. It's not even an excuse that it's an older unit for some units from its generation are pretty silent operators.
We guess, that that's what you give up for operational power and amplitude maybe?
---
What do People Say About It?
So, you don't just get our opinion we scoured the internet as well for some user feedback. The Vybe V2 has got good ratings online overall. In Amazon, as of press time, it stands at 4.4 out 5 stars and has 72% 5-star ratings. That's pretty decent.
People are saying that while yes it is loud but it's quite effective. And, these are recent comments not way back in 2018. It's quite effective for gym-goers, those who go casually or do intense workout routines alike.
It's also quite effective in helping to treat some injuries. It just helps in the overall recovery. People are also saying that it's priced quite well and we agree.
---
Who is it for?
So, is the Vybe V2 massage gun the right one for you? Most of the enthusiasts of this massage device are serious bodybuilders. Those who have dense muscle structure that needs deep and sometimes painful massages for an average Joe.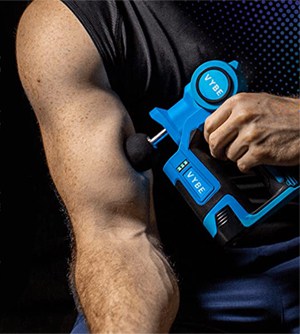 This is to ensure that the massage would then be effective. If you're looking forward to a nice and mild massage then this isn't the unit for you.
You'd be better off with massage guns that operate in say maybe 30-40 pounds of stall force.
This is for weightlifters and pro-athletes that need more power to their massage devices.
Take note though, that due to how noisy it is, it won't be ideal for use in public places where you may disturb other people.
Our Verdict
The Vybe V2 is an entry-level quality massage gun that's got great power and a durable build. It's an older model but still can compete with current ones in those regards.
As powerful as it is, it's still a massage gun for personal use so please take note of that. Other than that, if you're looking for something more innovative then you need to check recently released devices for we assure you that they may have more to offer.
Don't want to invest more than say $150 for a massage gun just yet? Fine, this is still a great buy for that price point.
---
---
Vybe V2 vs. Vybe Pro vs. Vybe Premium
Vybe V2
Vybe PRO
Vybe Premium
Noise Level
80+ dB
60 dB
50-60 dB
Strength
Extra Deep Percussion
Strong Pressure
Comfortable Percussion
Moderate Pressure
Deep Percussion
Light Pressure
Features
6 Speeds, Adjustable Arm, Swappable Batteries, Power Push Button, Lightweight, Travel Case
9 Speeds,
Lightweight,
Travel Case
5 Speeds,
Multi-Grip Capability,
Lightweight,
Travel Case
Percussive Force
60lbs + 16mm Amplitude
33lbs + 12mm Amplitude
30lbs + 10mm Amplitude
Included Attachments
3 Attachment Heads: Large Ball, Standard Ball, Cone
8 Attachment Heads:
Knot Blaster, IT-Band Blade, Fork, Knot Buster, Wishbone, Large Ball, Knob, Trigger Cone, Knot Blaster
4 Attachment Heads:
Large Ball, Fork, Flat Head, Bullet Head
Battery
2 Hours
(2 interchangeable)
3 Hours
(Built-In)
4 Hours
(Built-In)
Buy Now
Buy at Amazon
Buy at Amazon
Buy at Amazon
Vybe V2 vs. Vybe Pro vs. Vybe Premium
---
Vybe V2 vs Theragun PRO and others
Let's see how the Vybe V2 compares against other powerful competitors.
---
Stall Force (lbs.)
Vybe V2 is on par with the Theragun Pro and just a step behind the 80+ lbs. Achedaway Pro.
Stroke Length (mm)
Vybe V2 has the same, 16mm amplitude as the Theragun Pro.
---
Best Alternatives to Vybe V2
The next couple of massage guns that we are going to discuss should give you a better perspective of how the Vybe V2 stack up against the competition today. Here are some worthy competition.
---
OPOVE M3 Pro Max
The OPOVE M3 Pro Max is just about a few dollars more expensive than the Vybe V2 with subtle and more modern changes or features to it.
This unit has got a stall force of also 50 pounds but amplitude of 15mm. To be honest, there's very little difference with the units in those aspects and they feel similar.
So where do they differ? The OPOVE M3 Pro Max will have a range of up to 3300 RPM which is significant enough to get your attention.
The unit though only has 4-speed adjustments but comes with 5 different attachments.
Where else do they differ? The OPOVE M3 Pro Max is much lighter at only 2.3 pounds. Overall, its build or design is better than the Vybe V2 as it won't be as bulky. In terms of construction well, they are both sturdy that much we can say.
Perhaps two other aspects that the OPOVE M3 Pro Max has the edge over the Vybe V2 are noise levels and battery life. The former operates at only 45 to 63 dB which is quite silent and has a battery life of up to 4 hours depending on the speed level you'll be operating.
The Opove M3 Pro Max normally retails for $220, but you can take advantage of its current discounted price and save $51, or 24%.
So, pay a little bit more, for more premium features.
---
LifePro DynaSphere
LifePro is another successful brand in this market and with the DynaSphere they come into the picture. This unit comes with a few different dynamics.
It is stronger at 66 pounds of stall force which is quite impressive but it operates at 13mm of stroke length with a range of 1200 to 2800 RPM.
These aspects will give a slightly different feel to your massages, as this one will provide slightly less punchy yet pretty intense massage. But don't us wrong, it's still a very strong gun for demanding users.
Its battery life is also at 4 to 7 hours but it's got 5 different attachments for an even wider range of muscle groups that you can work on. It can also operate at 6 varying speed levels.
In terms of pricing, it's right about within the category of the Vybe V2 and cheaper than the OPOVE M3 Pro Max. As of press time, Lifepro Dynasphere costs $119.99 but you can get a 10% discount if you apply the MGA10 coupon during the checkout.
Also, it weighs 2.1 pounds, is backed with a Lifepro's famous lifetime warranty, and has a convenient USB charging point which makes a huge difference for most buyers.
---
Vybe V2 Review – the Bottom Line
We hope that our Vybe V2 review has shed some light on your quest of finding the right massage gun for your needs. We understand how it can be quite a difficult decision especially since we're given so many choices today.
So, should you still go with a pioneer and go for power as opposed to some modern features? Read our review again if you think you missed something and start pampering yourself with a nice relaxing (albeit a bit loud) massage the Vybe V2 percussion massager can provide you with.
Vybe V2 Rating
Quality

Effectiveness

Usability

Accessories

Price Value
Summary
Vybe V2 may not look slick and modern, but it delivers some serious power. Designed for professional athletes and demanding users alike, the V2 delivers plenty of punch, providing immediate relief to muscle soreness and pain. The only problem? It's a bit bulky, heavy and most importantly way too loud to become a viable alternative to those modern, more user-friendly massagers.
Disclaimers
The views and opinions expressed on this website are those of the authors. Any content provided by our bloggers or authors are of their opinion and are not intended to malign any religion, ethnic group, club, organization, company, individual or anyone or anything.
All product names, logos, and brands are property of their respective owners. All company, product and service names used in this website are for identification purposes only. Use of these names, logos, and brands does not imply endorsement.
It is our policy to make every effort to respect the copyrights of outside parties. If you believe that your copyright has been misused, please provide us with a message stating your position and we will endeavor to correct any misuse immediately.
Some of the links in this post are affiliate links. As an Amazon Associate, we earn from qualifying purchases. This means if you click on the link and purchase the item, we may receive an affiliate commission, at no extra cost to you. This helps us keep this website alive. Learn more here.
Amazon Disclosure
massagegunadvice.com is a participant in the Amazon Services LLC Associates Program, an affiliate advertising program designed to provide a means for sites to earn advertising fees by advertising and linking to Amazon.com. As an Amazon Associate, we earn from qualifying purchases. Amazon and the Amazon logo are trademarks of Amazon.com, Inc. or its affiliates. Please refer to our Privacy & Affiliate Policy for details.