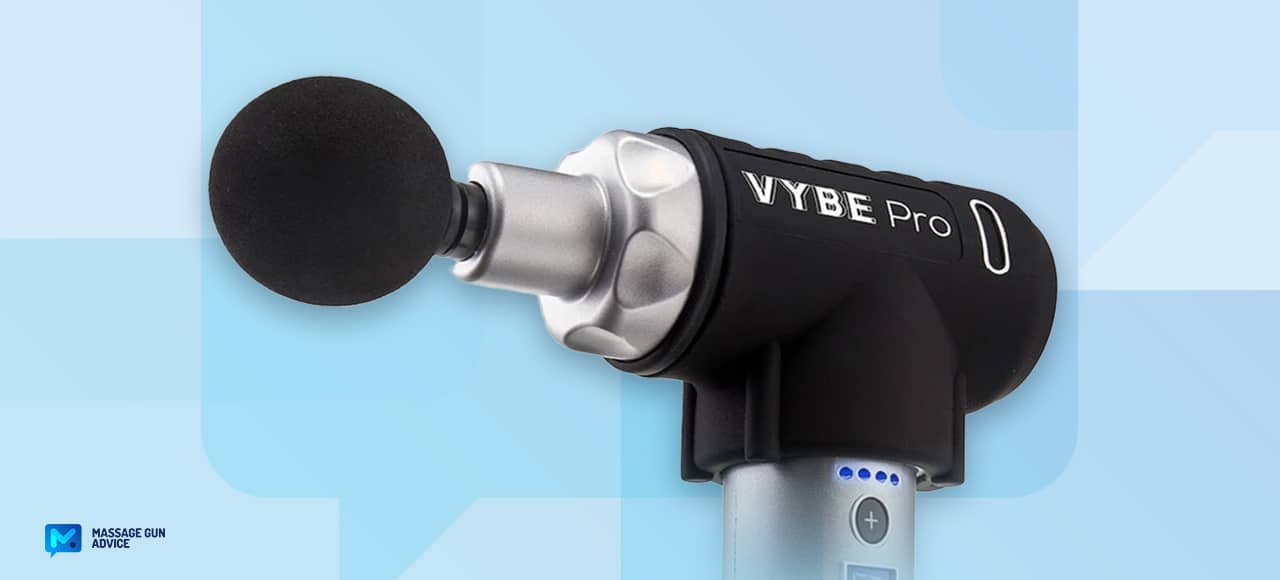 Vybe Pro Massage Gun Review: A Very Decent All-rounder
Disclaimer: Our content is unbiased, non-sponsored and fact-checked. If you buy via links on our site, we may earn a commission. As an Amazon Associate, we earn from qualifying purchases.
---
Hello and welcome to yet another post on our massage gun review blog. In this comprehensive Vybe Pro massage gun review, we'll be discuss one of the latest additions to the Vybe massage gun portfolio, the Vybe Pro.
Vybe massage guns are well-known for good quality, solid performance and price low enough so that they can compete with the best massage gun brands out there.
But is the new Vybe Pro good enough? Is it a better purchase than either Theragun or Hypervolt, the two industry darlings? Read on to find out.
About Vybe Percussion
As far as we know, The Vybe brand was originally under the Exerscribe umbrella, until it reportedly got acquired by Thrasio, one of world's largest acquirer of successful consumer brands.
The goal for team behind Vybe was to provide consumers with affordable massage tools that will provide the same amount of relief if not even better amongst top competitors.
You can find Vybe products on almost all the best massage gun review articles so the new Vybe Premium is definitely worth checking out. It is one versatile massage gun and has great all-around features anyone can appreciate.
Vybe Pro is also a significant upgrade from the previously released Vybe V2, which was as strong as it was loud (read more in our Vybe V2 review).
Let's dive into Vybe Pro review then.
---
Vybe Pro Massage Gun Review
Vybe Pro Specification
Key Feature
Vybe Pro
Stall Force
33 lbs
Stroke Length
12 mm
Percussions
1800-3400 ppm
Battery Life
4 hours (2000 mAh)
Weight
2.31 lbs
Attachments
8
Noise
60 dB
Pros
Wide percussion range
9 speeds
8 heads (inc. metal ones)
Cons
Could be lighter
Warranty
1 year
Retail Price
Check at
Amazon or Vybe store
Vybe Pro Specs
---
What's in the Box?
Included in the package would of course be your Vybe Pro massage gun, one sleek & sturdy travel case, and 8 massage heads that are interchangeable and super-therapeutic.
The sturdy travel case makes sure that you can take your massage gun anywhere and relieve yourself with muscle soreness and pain anytime.
The multiple massage heads will make sure to target multiple muscle groups in your body for the best results.
You will have the knot blaster to relieve tense spots, an IT-band blade to strip soft tissues, a fork for back therapy, a knot buster to release stubborn knots.
There's also a large ball to massage large muscles, a small knob for targeting small muscles, trigger cone to relieve trigger points, and lastly, an arrowhead for deep tissues and tension points.
---
Key Massaging Features
Key massaging features are important to highlight for this determines the power rendered by the Vybe Pro massage gun. That means power or its variation determines the range and versatility of this massage tool.
Will it be effective enough for you, or is it what you've been looking for? How intense can it get? Two key aspects we first need to take a look at are stall force and stroke length also known as amplitude.
Stall Force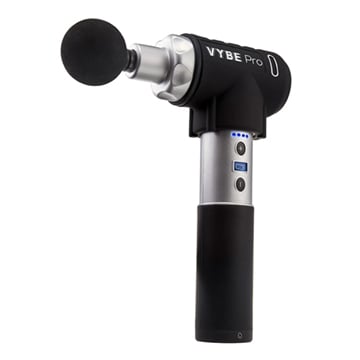 The Vybe Pro massage gun's stall force is listed at 33 pounds. While you may initially say that that's a bit on the low-end, it really does not feel like that with this massage gun.
Its stall force for us feels more like in the mid-30s level and it can get pretty intensive and that applies to whichever massage head you'd go with.
We can say upfront that this massage gun is perfect for everyday home usage plus, it pulsates to your muscles really well.
The well-balanced stall force is one of its strongest features and also makes it suitable for anyone to utilize. But is it for pro athletes or bodybuilders who would require stronger stall force? Probably not quite enough to be honest.
But that's not really a knock into this product as weightlifters and serious athletes usually demand more from their massage tools, to begin with.
Stroke Length and Percussions
The amplitude or stroke length of the Vybe Pro massage gun is 12mm. This is just fine. Of course, it's less compared to more powerful products, but it is also above 10mm many massage guns come with. Here, 12mm gets the job done.
Trust us when we say that it can get pretty intense especially with its percussions reaching 3400 and to give you some perspective, one of its toughest competitors the Theragun Prime has 16mm amplitude but its percussions only go for 2400. Same goes for the Achedaway Pro with same 16mm and similar percussion range.
So, if you're going to ask us, we are quite pleased with how the Vybe Pro massage gun massages! It also brings with it 9 intensity levels or speed settings to boot!
We've also scanned through multiple reviews online for the product and so far it's been a rockstar kind of massage gun with very high ratings.
We've confirmed our findings and people agree that as a massager, this gun is pretty effective and quite powerful. As for the head attachments, you can really feel the difference that they make in terms of application.
And, the different intensity speeds or levels just make it a massage tool for anyone.
---
Key Parameters Comparison
Let's see how Vybe compares with the most popular competition.
---
Stall Force (lbs.)
Stall Force isn't on par with the most powerful guns out there, but it's still decent.
Stroke Length (mm)
Stroke Length is rather average as compared to other popular massage guns.
---
Design and Build Quality
Unfortunately for the Vybe Pro massage gun as much as we appreciate the quality of its motor, its design and build are a bit on the downside. When people see it, what immediately registers in their minds is that it looks like a power tool.
Yep, it's a bit bulky and also feels a bit heavy for our liking with a longer handle. But don't get us wrong, this massage gun is sturdy and looks really solid with no denying that the handle itself makes it easier to wield.
It's made up of rubber, hard plastic, and some metal parts that while we won't say are extremely durable, these parts will last as long as other massage tools that you can buy in this price category.
Overall, the materials used for the massage gun body and the attachments alike feel good as it massages you but the plastic parts can use some improvements in terms of quality as they are well-documented to break prematurely.
What we like about the Vybe Pro massage gun too is that it's no longer prone to overheating. Early 2020 devices were often overheating, but fortunately this has been largely addressed. While the device can get pretty warm when using extensively, it's no longer "hot hot".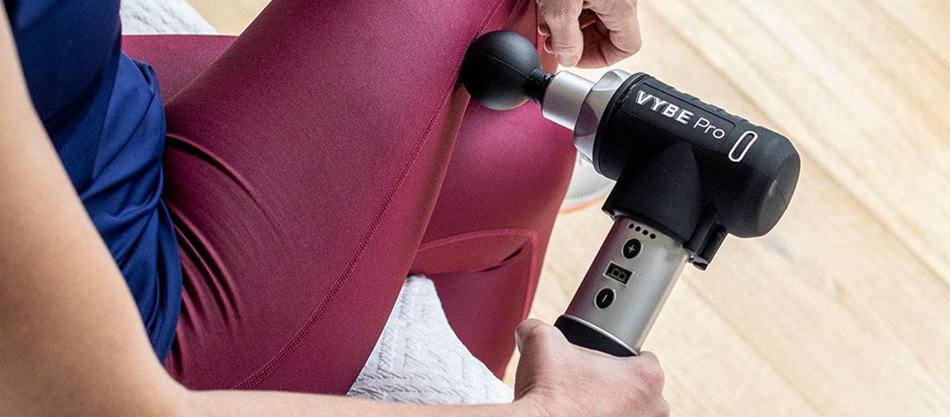 ---
Battery
Another upside of the Vybe Pro massage is its battery. It's one of the reasons why it's been getting a lot of positive feedback. And what's responsible for that is a lithium-ion battery that can run for 3 to 4 hours, depending on how you use the gun.
The battery is quite consistent and looks to last for a long time too, which is an non-less important. We've seen some devices that experienced significant battery deterioration just after a few months of using it (looking at you, Legiral Le3).
At 2000mAh, it's got a battery indicator but unfortunately, it's not USB charging compatible and the battery is not removable.
For us, the runtime is quite enough for a few minutes of regular or daily use and you only have to charge it once a week on average. Well, most likely.
---
Vybe Pro Noise
You'd be pleased to hear or not hear that the massage gun only runs at a relatively silent 55 – 69 dB, depending on which bear you're in. It's not the quietest one but satisfying enough or worthy enough of the massaging power that it brings.
It is quieter than cheaper brands for sure that can get pretty annoying. It's got a 24V brushless motor that's responsible for all that massaging power.
And of course, this unit is of the cordless variety so it's as portable as they come.
---
What we Think About It
We actually like it. It's quite a decent massage gun but if we can be honest, we'd like it more if the price point is a little bit lower. But, as it is, we recommended it to anyone.
It's pretty comfortable to wield and lightweight enough so you won't sustain any additional strain.
The discreet percussion and extra-speed options are also quite a nice add-on to its massaging capabilities.
It's got plenty of punch and it's great if you just finished a workout session to ease those muscle aches and pains.
It's also proven to improve blood circulation and the decent battery life and low-noise operation add some great value to it.
But as also mentioned, this massage gun should've been designed to be more compact as there are a few models within its competitors that are easier to handle. We just think that the extra-bulkiness is not worth it or does not really add anything to how it functions.
We do appreciate though and tell you upfront that this brand has very good customer service support and your device itself comes with a one-year warranty.
Great entry-level, all-around and consumer-grade massage tool.
---
To Whom Do We Recommend It?
As mentioned above, due to the power and intensity that this massage gun brings it could be for anyone looking to soothe those sore and aching muscles. And we remind you, this unit does pack a lot of punch.
So if you're someone who can't handle more than 3000 percussive strokes then this is not for you. It may be too intense for some but that's what the varying or adjustable speeds or intensity is for.
If you are someone who suffers from chronic body pain or fatigue then this is for you. It can be intense but in a good way. And, that's quite rare to find from affordable massage guns like this one.
If you suffer from head, back, neck, and body pain either from working out, playing sports, or just simply having to sit in front of a computer all day then this is a must-try.
It's precise, it's consistent, and it's flexible. For joint or muscle relief, we highly recommend it. Who it ain't for? It's probably not for those who require more amplitude and stall force like pro-athletes nor body-builders as they require more intense or premium-priced devices.
---
Vybe Pro vs Theragun Prime
| Feature | Vybe Pro | Theragun Prime |
| --- | --- | --- |
| Stall Force | 33 lbs | 30 lbs |
| Stroke Length | 12 mm | 16 mm |
| Speed Options | 9 | 5 |
| Battery Life | 4 hours | 2.5 hours |
| Noise | 60 dB | 60 dB |
| Weight | 2.3 lbs | 2.2 lbs |
| Attachments | 8 | 4 |
| Warranty | 1 year | 1 year |
| Latest Price | Check at Amazon | Check at Theragun.com |
Vybe vs Theragun
What better way to give you an overview of the massage gun landscape than to compare the Vybe Pro massage gun with its toughest competitors.
Let's start this Vybe Pro vs Theragun comparison with perhaps the closest one to it in terms of overall quality, the Theragun Prime.
In terms of pricing, the Vybe Pro is still a bit more affordable than the Theragun Prime. And we can tell you upfront that even the entry-level variant of the latter brand which is the Theragun Prime has got higher amplitude at 16mm. The 12mm stroke length of the Vybe Pro is like the Theragun Mini's.
For most likely a hundred more bucks with a couple of other Theragun models you'll get more stall force at 40 to 60 pounds respectively.
So needless to say, these more expensive Theragun models are fit for the target market that the Vybe Pro isn't suitable for, pro-athletes, body-builders, and weightlifters. Well, that's if you can spend more.
Another advantage of Theragun models is that they have BlueTooth connectivity that the Vybe Pro does not. And lastly, Theragun models are better designed, easier to handle, and more ergonomic mainly because of their triangle-shaped design.
---
Vybe Pro vs Hypervolt
| Feature | Vybe Pro | Hypervolt | Hypervolt Plus |
| --- | --- | --- | --- |
| Stall Force | 33 lbs | 57 lbs | 57 lbs |
| Stroke Length | 12 mm | 12 mm | 14 mm |
| Speed Options | 9 | 3 | 3 |
| Battery Life | 4 hours | 2.5 hours | 2 hours |
| Noise | 60 dB | 60-65 dB | 60-65 dB |
| Weight | 2.3 lbs | 2.5 lbs | 2 lbs |
| Attachments | 8 | 5 | 4 |
| Warranty | 1 yr. | 1 yr. | 1 yr. |
| Current Price | Check at Amazon | Check at Amazon | Check at Amazon |
Vybe vs Hypervolt
When it comes to Vybe Pro vs Hypervolt comparison, the Pro slightly resembles the Hypervolt models in terms of shape and design. So, they are built slightly bulkier too but relatively easier to handle.
And of course, the Vybe Pro is still the more affordable way to go with the Hypervolt models BT and BT Plus go for $349 and $399 respectively as of writing.
In terms of massaging capabilities, the Vybe Pro does have a similar stroke length with the Hypervolt at 12mm but is inferior in terms of stall force with the latter having 57 pounds of it which is again suitable for individuals that demand a lot of intensity with their massages.
The Hypervolt models also come with BlueTooth connectivity and a built-in pressure sensor that makes their devices a lot smarter. The pressure sensor also enables Hypervolt models to be more consistent which is perfect for repetitive massage sessions.
More Info: Interested in Hypervolt vs. Theragun comparison? We've got this one covered we well.
---
Best Vybe Pro Alternatives
We've discussed a couple of close competitors of the Vybe Pro massage gun, but let's discuss a couple more models that many considers as the best alternatives for the Vybe Pro massage gun itself.
The Vybe Pro massage gun had a clear advantage with the Theragun and the Hypervolt models, the price. But this time, with these next two models, it does not have that much upside in terms of pricing.
---
OPOVE M3 Pro Max
If you've had a chance to read our full OPOVE M3 Pro Max review then you already know that this is powerful gun, and we mean 50 whopping pounds of power.
That's almost a third more that the Vybe Pro has got to offer and you combined that with the 15mm amplitude of this model then the Vybe Pro definitely gets the short end of the stick with this one.
Not just power, this unit also provides deeper and more intense massages. And, it weighs 2.3 pounds – same as the Vybe Pro! It's reasonably compact, easy to use and needless to say, it's quite popular.
It's also quieter at only 45 to 63dB of operating noise. Similar battery power at 4 hours (2500 mAh capacity) and same 1 year warranty.
Opove currently charges only $169 for the M3 Pro MAX, so 24% less than the regular price ($220). Go right here to take advantage of the nice $51 discount.
So, what are the Vybe Pro's advantages over this model? Well, the most obvious would be the lesser attachments that come with the OPOVE M3 Pro Max at only 5 and 4 adjustable speeds.
---
Ekrin B37
Slightly more expensive but still cheaper than say a Theragun or Hypervolt is a model from a very popular brand, the Ekrin B37.
This unit is actually more compact and lightweight than the Vybe Pro and it has got obvious better ergonomics for its handle has a 15-degree angle so you may wield it rather easily.
This is also one powerful and versatile unit. It's got a stall force of 57 pounds, same 12mm amplitude, but can run slower at only 1400 percussions which makes it more suited for deeper tissue massage.
It's also built from premium quality materials with a great battery that lasts for 8 hours and a lifetime warranty.
If you want more range and have a few more bucks to spare then this isn't a bad decision to go for at all.
If you decide to buy it, use 'MGA20' coupon to bring the price down by 20% to $183.99.
---
Vybe Pro Review – Bottom Line
If there's anything that we learned from our Vybe Pro massage gun review is that you don't always have to pay a premium price to enjoy a premium quality massaging tool.
Sure, there are lots of other good alternatives as well, as the ones mentioned above, but still, the Vybe Pro massage gun is versatile enough to cater to a lot of preferences.
It's ergonomic, efficient, and most of all packs a lot of power. So go grab one and treat yourself to a nice relaxing massage.
---
Vybe Pro – Our Rating
Features Rating
Quality

Effectiveness

Usability

Accessories

Price Value
Summary
Versatile enough to cater to a lot of preferences, Vybe Pro is a very decent proposition that combines good performance with some neat design. With the 33 lbs of stall force and respectable 12mm stroke length, this device provides all-around relief for stiff and sore muscles and is worth recommending.
Disclaimers
The views and opinions expressed on this website are those of the authors. Any content provided by our bloggers or authors are of their opinion and are not intended to malign any religion, ethnic group, club, organization, company, individual or anyone or anything.
All product names, logos, and brands are property of their respective owners. All company, product and service names used in this website are for identification purposes only. Use of these names, logos, and brands does not imply endorsement.
It is our policy to make every effort to respect the copyrights of outside parties. If you believe that your copyright has been misused, please provide us with a message stating your position and we will endeavor to correct any misuse immediately.
Some of the links in this post are affiliate links. As an Amazon Associate, we earn from qualifying purchases. This means if you click on the link and purchase the item, we may receive an affiliate commission, at no extra cost to you. This helps us keep this website alive. Learn more here.
Amazon Disclosure
massagegunadvice.com is a participant in the Amazon Services LLC Associates Program, an affiliate advertising program designed to provide a means for sites to earn advertising fees by advertising and linking to Amazon.com. As an Amazon Associate, we earn from qualifying purchases. Amazon and the Amazon logo are trademarks of Amazon.com, Inc. or its affiliates. Please refer to our Privacy & Affiliate Policy for details.