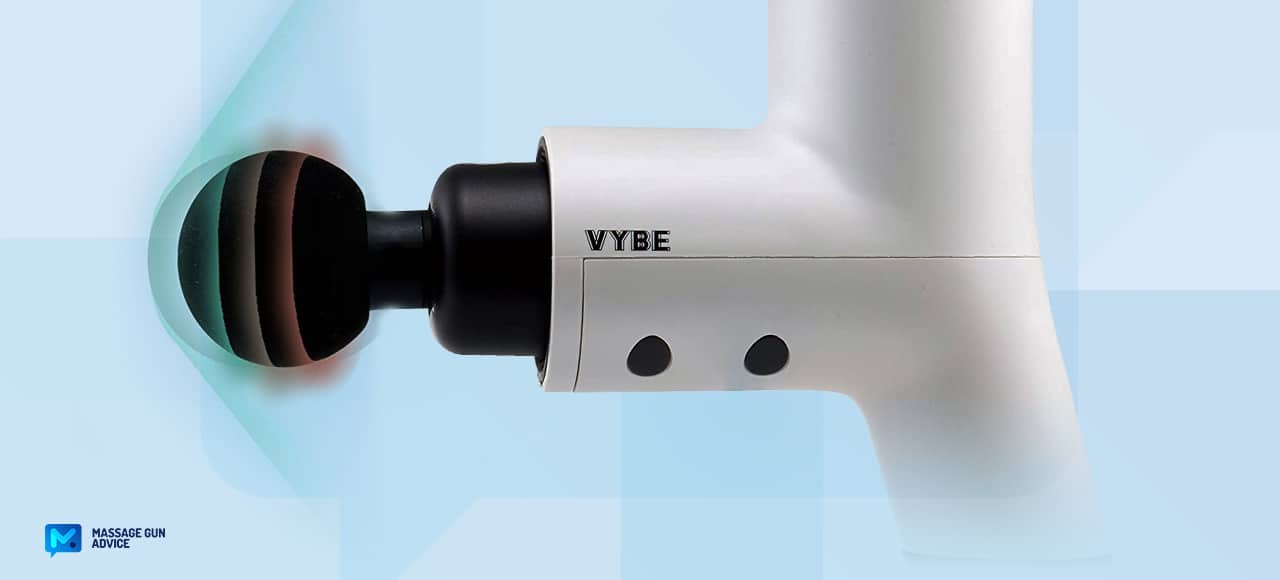 Vybe Premium Review: Is It Better Than The Competition?
Disclaimer: Our content is unbiased, non-sponsored and fact-checked. If you buy via links on our site, we may earn a commission. As an Amazon Associate, we earn from qualifying purchases.
---
Hello and welcome to our very own Vybe Premium review. If you've been researching massage guns there's a chance that you've come across one of Vybe's products.
Formerly a part of the Exerscribe brand, Vybe was created as a means to tackle the demands of the massage gun market.
The company's first product on the market was then-called simply the 'Exerscribe Vybe'. It was a very powerful but at the same time very loud gun, later renamed to Vybe V2. It was (and still is) a pretty hardcore gun for rather hardcore users, yet proved to be a very successful product.
Once Vybe got acquired by Thrasio, they've decided they also needed some new, more "civilized" entry-level models, and so they've released two other products: the Vybe Pro and the Vybe Premium.
We recently covered the former one in our Vybe Pro review, and now it's time for the Premium.
In this Vybe Premium massage gun review, we will explore this entry-level massage gun and maybe find out if it fits your massaging needs or you'll be better off with an alternative.
Does it really offer premium quality relaxation at an affordable rate? Who is it best for? How does this unit stack up against the competition?
Let's find out!
---
Vybe Premium Review
One thing you are probably not aware of is that the massage gun market can be pretty tough. And of course, we know how important it is to make a well-informed decision for these devices, in general, aren't cheap.
Upfront, we can tell you that as we reviewed this unit, we were starting to think that maybe the Vybe premium is just a clone of the Ekrin B37 and B37s.
The latter if you're not aware are two of the popular massage guns models today and does not stray far from the Vybe premium in terms of pricing, similarly designed, but offers relatively superior features overall.
So, is it an inferior duplicate of the Ekrin models? Let's check, starting from the specs:
---
Vyber Premium Specifications
Key Feature
Vybe Premium
Stall Force
30 lbs
Stroke Length
10 mm
Percussions
1200-3200 ppm
Battery Life
4 hours
Weight
2.19 lbs
Attachments
4
Noise
50-60 dB
Pros
Ergonomics
Percussions range
Ease of use
Cons
Not unique design
low stall force
low amplitude
Warranty
1 year
Retail Price
Check at
Amazon or Vybe store
Vybe Premium Specs
---
What's in the box?
The slightly revamped Vybe Premium massage gun comes with four interchangeable precision attachments. This includes:
a large ball,
a fork,
a flat head,
and a bullet head.
These attachments or massage heads ensure that you can get through multiple muscle groups and soothe those joint and muscle pains after say maybe a workout or long day's work in front of a computer.
The bullet head makes sure to target those hard-to-reach points as well as muscle knots. The large ball will penetrate deep pain in your hamstring, glutes, and quads.
The flathead or what you call the know blaster will alleviate tense spots, stubborn knots, and just a wide variety of aches all over. And lastly, the fork or what you can call the wishbone is best for pain treatment and soreness right on your biceps, triceps, and calves.
The unit operates with a 24V DC brushless motor which is now quite prevalent in modern massage guns for its efficiency and anti-overheating properties. Plus it operates on relatively lower noise levels.
Everything, including the charger are then are wrapped up neatly in a travel case ensuring that may bring this massage gun anywhere with you.
---
Key Features
When we talk about massaging features we put forward two key aspects, the stall force, and the amplitude or what you call the stroke length of a massage gun.
Stall force tells us what is the amount of pressure, in pounds, that can be applied when pressing a massage gun to the body before its motor stalls.
Amplitude, on the other hand, describes how far the massager's head travels back and forth, and is usually expressed in millimeters (mm).
Unfortunately, these are two aspects that Vybe Pro is lacking for its price.
It's got a stroke length of 10mm and a stall force of 30 pounds. Which if you research a little bit is a bit on the lower end when it comes to the price point this massage tool is in.
Take the very similar looking Ekrin B37 for example. It's got a whopping 57 pounds of stall force and an amplitude of 12mm. Surely these aspects work hand in hand to provide the best massaging experience and give the gun versatility and range.
So why compare the Ekrin massage gun with the Vybe Premium? Well, that's because they are very similar when you look at both, have similar price points but if you check out the specs of both devices, you'll be quick to realize that you might get some better value for the money by sticking to Ekrin.
What else do you need to know about the Vybe Premium's massaging capabilities? We also have to highlight that aside from the four attachments it actually has got more range and is quite versatile with 5-speed adjustments or intensity levels.
It can actually operate up to 3200 RPM which is strong enough and can offer deep penetration even with its aforementioned stall force or amplitude.
What do people say about it though?
It's actually doing pretty well on its online reviews. For some, it's quite effective when it comes to treating multiple aches and pains plus some injuries like the dreaded plantar fasciitis.
It's not that popular though even compared to the other models out of the Vybe brand but the ratings are high enough for it to be a serious contender in this market.
---
Design and Build
Perhaps the biggest improvement we see on the Vybe Premium is its design and build quality. This unit is just better when it comes to its construction quality and ergonomics.
People are saying that it's easier to use and is indeed quite portable. It looks quite distinct and does not look like or feel like a power tool.
It's definitely less bulky than the Vybe V2 and lighter. It's only 2.18 pounds and that's one huge improvement that helps to make this massage gun more compact and easier to wield and no additional strain on your hands or arms.
We definitely appreciate the fact that it's got a 15-degree angle now like the Ekrin models and it's easier to apply to your aching joints and muscles. It can even be handled or gripped in multiple ways so you may reach different muscle groups.
The plastic heads and pretty durable and you know outright that it's going to endure some wear and tear plus it's made of hard plastic. It's got a speed level indicator and one button operation that adds to how ergonomic it is.
When it comes to build quality, it's super similar to the Ekrin massage guns which can be both a good or a bad thing for it.
---
Battery
When it comes to battery power then you might be a bit underwhelmed with the unit's 4 hours. To give you some perspective Ekrin B37 has got 8 hours (still depending on the speeds it operates in) so that's potentially twice as much.
That should be fine though as you may only get to charge it once a week if you use it for say maybe 15 to 20 minutes a day. The battery is built-in which means that it cannot be removed and not USB charging compatible. The unit has a convenient battery level indicator.
---
Other Features Worth Mentioning
When it comes to noise-levels when operating, the Vybe Premium massage gun emits 50 to 60 decibels. Quiet enough plus the parts don't contribute a lot to the noise even if you've been using it for a while now which is a huge plus if you'd ask us.
This can be a product of an overall better build or construction as discussed above. This massage gun is overall quieter than the rest of Vybe's lineup, covered by a one year warranty, and we can assure you that it's backed up by a pretty good customer support team too.
---
Who is it for?
All right, it's verdict time. So, who would benefit the most from the Vybe Premium massage gun? The brand calls its massaging capabilities as deep percussion but light pressure.
And, we think that's quite accurate. It's not the most powerful massage gun for sure but it's still perfect for a variety of uses.
For us, this massage gun is perfect if you're just looking to soothe those muscle and body pains after a hard day's work in the office.
Even those in physical labor can appreciate what this massage gun can do. This is also quite enough for post-workout massage and perfect for helping treat some known injuries for its milder penetration.
Anyone can also operate it rather easily even kids for it's easier to handle. It's effective in diffusing fatigue, promoting flexibility, and facilitate an individual's mobility.
Who it isn't for? Well, for sure, it's not for those who expect much deeper, or should we say pain inducing massage power from a massage gun. If you're a pro athlete or serious bodybuilder then you might be better off looking with the alternatives we've listed below.
Also, this is for home use only and may not be ideal for professional use like say in clinics.
Our Verdict
Overall, this is one decent entry level massage gun but with its current price point, there's just a lot of other better options out there for you.
It's less versatile and powerful if you compare it to the Ekrin B37 without having to spend significantly more money for the latter. Plus, if you demand more from your massage gun then you'll be better off with the Ekrin.
Currently, the Ekrin B37 retails at $229.99 but with the 'MGA20′ discount coupon, it can be yours for $183.99, that's only $14 more for way better specs and a lifetime warranty!
For comparison, Vybe only offers 1-year warranty for their products.
Here's the direct link to Ekrin B37, in case you'd like to give this unit a chance.
---
Vybe Premium vs Pro vs V2
Vybe V2
Vybe PRO
Vybe Premium
Noise Level
80+ dB
60 dB
50-60 dB
Strength
Extra Deep Percussion, Strong Pressure
Comfortable Percussion, Moderate Pressure
Deep Percussion, Light Pressure
Features
6 Speeds, Adjustable Arm, Swappable Batteries, Power Push Button, Lightweight, Travel Case
9 Speeds, Lightweight, Travel Case
5 Speeds, Multi-Grip Capability, Lightweight, Travel Case
Percussive Force
60lbs + 16mm Amplitude
33lbs + 12mm Amplitude
30lbs + 10mm Amplitude
Included Attachments
3 Attachment Heads: Large Ball, Standard Ball, Cone
8 Attachment Heads: Knot Blaster, IT-Band Blade, Fork, Knot Buster, Wishbone, Large Ball, Knob, Trigger Cone, Knot Blaster
4 Attachment Heads: Large Ball, Fork, Flat Head, Bullet Head
Battery
2 Hours
(2 interchangeable)
3 Hours
(Built-In)
4 Hours
(Built-In)
Price
Check at Amazon
Check at Amazon
Check at Amazon
Vybe V2 vs. Vybe Pro vs. Vybe Premium
---
Vybe Premium Best Alternatives
We know that we've constantly compared the Vybe Premium to the Ekrin B37 but these next two are also great alternatives worth mentioning.
This is to give you a better perspective of where does this device stands in the scheme of things.
Let's start with the OPOVE M3 Pro Max.
---
OPOVE M3 Pro Max
You'll be surprised to hear that this unit is actually more powerful thus giving it more range and is not that significantly expensive with our featured massage gun either.  
Its stall force is at a whopping 50 pounds so you can be sure that it will penetrate deep and strong enough to cater to a wide variety of muscle groups and pain.
This device is highly recommended for weightlifters, pro athletes, or serious bodybuilders that have denser muscles that a mere 30 pounds of stall force can't even start to penetrate.
You throw in the 15mm amplitude of this massage gun, then you probably won't think twice to just purchase it instead. I mean what's not to like about bit. It comes with 5 attachments too and has 4 speed settings.
It's also a tad lighter at only 2.3 pounds, has a battery life of about 4 hours depending on the speed it constantly operates at, and it's also quiet at 45 to 63 dB.
The Opove M3 Pro Max currently retails for $169. This is almost 25% less than its regular price of $220. Get it at opove.com while the $51 discount lasts.
To wrap up, this is one of the most powerful massage guns in the market and something that you can call at an entry-level price point when discounted. Find out more in our Opove M3 Pro Max Review.
---
Lifepro Sonic Mini Quiet
Another popular brand in the massage gun landscape is LifePro. Like Ekrin, they've been known to churn out top-quality products.
If you're looking for a smaller, quieter, and sleeker massage gun then perhaps the Sonic Mini Quiet is for you. It costs a few bucks less than the Vybe Premium and operates at 40 dB.
It's got quite an impressive 55 pounds of stall forced though which is good enough for athletes to utilize plus a slightly higher 11m stroke length. It's got a 6 hour battery life to boot, lifetime warranty, and one of the best customer support teams backing it all up for the brand.
With its size and design you can take it anywhere with you wherever you go so you can treat yourself to a nice massage anytime. It weighs 1.6 pounds and comes with 6 different attachments to give it more versatility.
And lastly, it's got 5 speed adjustments with the range of 1200 to 3200 RPM. Easy to use and easy on the budget.
How much is it? This unit costs $149.99 only and with the 'MGA10' discount coupon it can be yours for only $134.99, cheaper than the Vybe Premium.
---
Vybe Premium Massage Gun Review – Final Thoughts
I think we made it clear in this Vybe Premium percussion massager review that while this model is pretty decent the brand has to do a lot of innovation and work on their price point should they want to catch up against their competition.
We highlighted that while this is one of the best massage guns to have ever come out of the Vybe brand, there is still a lot of room for improvement or innovation here.
As of today, however, we really think that the Ekrin models are superior in most aspects and that you'd be better off with them or the alternatives we presented.
So make that decision now, we're sure you're looking forward to that nice relaxing (or intense) massage!
Vybe Premium Rating
Quality

Effectiveness

Usability

Accessories

Price Value
Summary
Vybe Premium is one decent entry-level massage gun, able to relax and soothe those aches and body pains. But while it is undoubtedly the best massage gun in brand's portfolio, its limitations and slightly higher price point than its toughest competition is just holding us back to declare it as the top product in its price category. 
Disclaimers
The views and opinions expressed on this website are those of the authors. Any content provided by our bloggers or authors are of their opinion and are not intended to malign any religion, ethnic group, club, organization, company, individual or anyone or anything.
All product names, logos, and brands are property of their respective owners. All company, product and service names used in this website are for identification purposes only. Use of these names, logos, and brands does not imply endorsement.
It is our policy to make every effort to respect the copyrights of outside parties. If you believe that your copyright has been misused, please provide us with a message stating your position and we will endeavor to correct any misuse immediately.
Some of the links in this post are affiliate links. As an Amazon Associate, we earn from qualifying purchases. This means if you click on the link and purchase the item, we may receive an affiliate commission, at no extra cost to you. This helps us keep this website alive. Learn more here.
Amazon Disclosure
massagegunadvice.com is a participant in the Amazon Services LLC Associates Program, an affiliate advertising program designed to provide a means for sites to earn advertising fees by advertising and linking to Amazon.com. As an Amazon Associate, we earn from qualifying purchases. Amazon and the Amazon logo are trademarks of Amazon.com, Inc. or its affiliates. Please refer to our Privacy & Affiliate Policy for details.