OYeet Nex Massage Gun Review – Small, Effective, Designish.
Disclaimer: Our content is unbiased, non-sponsored and fact-checked. If you buy via links on our site, we may earn a commission. As an Amazon Associate, we earn from qualifying purchases.
---
Welcome to our OYeet Nex massage gun review. Here's one of those we consider a hidden gem in the market that is crowded with hundreds of such devices. It's a mini massage gun from a not-so-popular brand but we like it!
OYeet Nex has all the special specs that we like to talk about. It's pretty at first sight, but as you already know, we don't just go for pretty, we love devices that deliver what they are meant to deliver – in this case provide a percussive massage.
Let's dive in!
---
---
Meet O'Yeet Massage Gun Brand
OYeet as a brand has a motto that says "we exist to provide everyone with accessible solutions to maintain daily wellness". Hopefully their massage gun fits perfectly into that slogan.
O'Yeet is well-known for their popular Gopower blender and shaker bottle. Looking at their website, which is nicely done, a step above the low-budget private label brands, they have received accolades for their proficiency in designing awesome products. Both iF and Red Dot awards.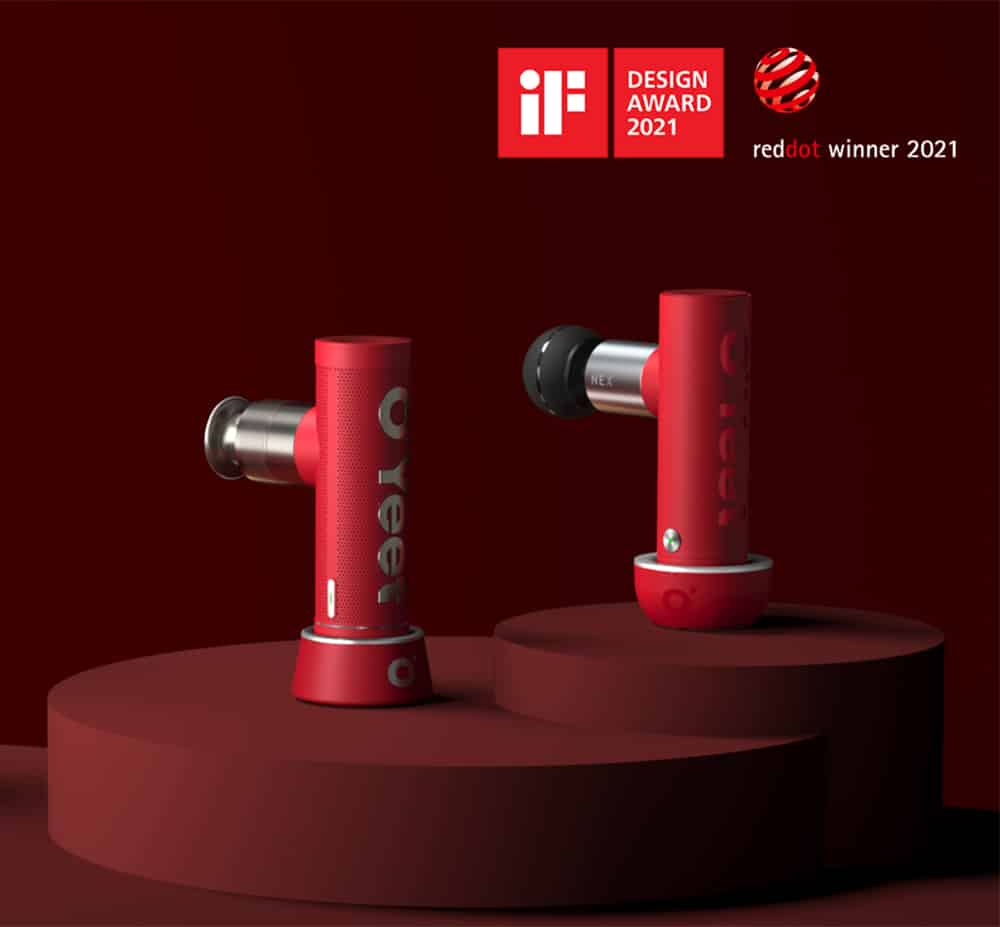 They ushered in Nex as their first massage gun in November 2020, a nicely designed device with interesting parameters.
They have another massage gun planned for this year sometime in June or July – the Nex Pro. It has just been funded on Indiegogo and we can't wait to get our hands on it and tell you about it.
That said, OYeet's focus seems to be on entry-level devices – small, compact, portable and uniquely designed.
Today we'll review the Nex massage gun. Where does it rank among other mini massage guns? Can it rival some of the best, especially Ekrin Bantam?
---
OYeet Nex Massage Gun Review
OYeet Nex Specifications
Features
OYeet Nex
Stall Force (max)
~40 lbs
Stroke Length
10.5 mm
Percussions
1750-3500 ppm
Battery Life
4 hours
(non-removable battery)
Noise
50 – 55 dB
Number of Attachments
4
Weight
1.3 lbs
Speed options
3
Warranty
2 years
Price
$129.99 $89.99
Get it at oyeet.com
O'Yeet NEX Specs
---
First Impressions and Design
You know how we love to go on about product packaging, especially for massage guns. We love our devices packaged nicely and since it's 2021, no one can really blame us for it – we need a carrying case for any massage gun (sorry Hyperice!).
Fortunately this device comes with a carrying case. A really nice one, study and looks really well done. The whole packaging is in a nice box. Inside is the case with the product inside and the attachments.
We also found a bunch of informational booklets. Remember how we talked about the same thing with Hypervolts? Well, Hypervolts gave us a lot of "cards".
These are nicely done booklets with colorful pictures. Even our beloved Ekrin only had a tiny few paged brochure for their B37 massage gun. Theragun is the most expensive gun in the market, but even they do not include such nicely done booklets.
That said, the booklets include standard information on the attachments – how to use and how long to use each one. There are also booklets that let you know how to use the device.
---
The Device
It's a nice little device that reminded us of Wodfitter's Mighty Mini. The difference here is that the Mighty Mini is metallic. This one is all plastic on the outside.
Another slight difference is that this one has a rounded bottom – we think they made that way because of how it charges (has a charging dock, although there is a USB cable that comes with it). The build quality is awesome, it looks study and will last for a while if used properly.
It has a ventilation on top – nothing new here, most devices have the ventilation on the same spot. The power button – which also acts as the main operation button, is at the bottom end of the nicely rounded handle.
Here's how it works:
Press and hold to turn it on
Tap the button to cycle through the speed gears
If you tap the button the 4th time, you engage the cyclic mode, where the gun cycles through all 3 speeds.
Press and hold to turn off the device
The device comes with 2 color options, red and gray – 5 bucks if you can guess which one we went for!
Either way the body design is nicely done and whichever color you go for doesn't make it any less valuable.
---
Attachments
We also found the attachments inside the packaging, and we have to say OYeet did a nice thing including 4 attachments.
We say this because industry giants (Theragun and Hypervolt) don't go beyond 2 for the mini versions of their massage guns.
Here's a bit on the heads:
Soft Ball: This is a standard massage gun head that will work especially on large muscle areas. It's also the go-to massage attachment if you are looking to have a general massage.
Fork: This one specifically works on the spine area. It looks unique enough with its two prongs that go either side of the spine as you massage.
Soft Flat: Our favorite massage gun attachment. This one can be used to work on literally any area of the body including hands and feet. It's perfect for quads and pecs as well.
Bullet: This one is used for deep tissue treatment especially when you want to focus on trigger points – ligaments.
OYeet chose to go soft on quite a few of the attachments. For instance instead of going for hard plastic all around for the flat attachment, it has a soft top – probably made out of soft rubber.
The round attachment is soft as well – we expect as much. The bullet head is hard enough to do what it's meant for.
---
Size, Weight and Ergonomics
Being a mini massage gun, we would expect the Nex massage gun to be pretty light, but is it as lightweight as some of the best in the business? Well, it is indeed very light; it weighs just 1.3lbs.
That is lighter than Theragun Mini (1.46lbs) and same as Mini rex, one of our favorite mini guns. Lifepro Dynaflex Mini is also a light device (1.4) but just a pinch heavier than this massage gun. It's slightly heavier than the Ekrin Bantam though (1.1 lbs).
That said, we love the compact size (6.1 x 3.5 x 1.8 inches). That makes it a very handy companion if you have to travel with it. We believe you can easily fit it in your pocket.
The handle is rounded but not angled. We have seen many massage gun brands going with the angled handle especially in 2021, as they seek to solve the ergonomics quagmire.
But we are not going to complain about the nature of this one. Even though we love the angled handle, especially what we saw with the Ekrin Bantam, we still love how the handle diameter is perfect even for guys with small hands.
---
Performance
We expect the performance for most mini massage gun to be as reduced as the size of these devices. However, we always measure the strength of any massage gun we review against the brands that have already proven themselves.
So how's the performance for this one?
---
Stall Force
How much force is needed to stall the motor of this device? One thing that got us interested in this massage gun is how much power you can get out of it. When we saw the advertised stall force – 40lbs. we couldn't resist the urge to get it and test it.
It is indeed powerful enough. We just couldn't get the 40lbs. that they claim it has. We have to say it's between the lower and mid-30s. To be precise, we'll say it's around 35lbs. which is really something. Ekrin Bantam has the same stall force, and it's the most powerful mini massage gun we've tested.
30+ lbs is an impressive stall force for a mini massage gun. You still won't be able to get a deep to the bone massage gun, but that's not why you'd want a mini massage gun.
We believe that for a semi-intensive massage to get you relaxed or warm the muscles before a workout or running, this device is just perfect. At high speeds, this device is quite powerful and in our tests, it performed better than WODFitters Mighty mini and the Minirex – two very powerful miniaturized massage guns.
---
Amplitude
What about the stroke length? How far does the massage gun head travel as it gives you the percussions?
Again, it's to be expected that most mini massage guns don't have long amplitude. The best in the business is Theragun Mini and it has 12mm amplitude. Most devices in the category usually will not go over the 9mm mark.
That places the OYeet Nex massage gun in very good company with its 10.5mm amplitude. We don't know why they decided to go with that figure, but we must say that it is indeed impressive for a compact massage gun.
Obviously you need something longer if you want to hit deeper into the muscle tissue – especially if you have demanding needs. However, 10mm amplitude is impressive for a small massage gun. We recently reviewed Hyperice's Hypervolt Bluetooth and it only has a 10mm amplitude. For what it is meant for, this device will do the job.
---
Percussions/Speeds
The intensity on this device is also quite impressive. It has a percussion range of 1750-3500rpm. That means that the highest speed is way over the standard 3200rpm for most devices.
It has 3 speeds that you can cycle through. This is typical for mini massage guns as well. In fact, we are glad there are not too many for this device!
There is also a fourth dynamic speed gear called the cyclic mode. This allows the device to cycle automatically through all 3 speeds.
---
Battery
We couldn't find the information on the battery capacity, which is a bit of a bummer to be honest. Sometimes it's important to know how much juice you're working with.
We did our own estimation and we'll say it's somewhere between 1500-1800 mAh capacity. That's decent capacity for a small compact device.
A single charge will allow you up to 240 minutes of continuous use.
There is an LED indicator integrated with the handle that indicates the battery charge level. If the light is a solid green, then you know that the device is fully charged. It takes about 4 hours for it to fully charge.
Something interesting however, is that this device has a charging dock. That is in addition to a USB cable which you can also use to charge the device.
The device has an auto-shutoff feature that turns the device off after 10 minutes. We would've loved at least 15 or 20 minutes, because sometimes 10 minutes may not be enough for a full massage session.
---
Noise
This is a quiet device, as it should be. Even though it's advertised as revving at only 45dB, our own measuring gave us 50 dB for the lowest speed and 55-56 dB for the highest speed.
That is still pretty hushed – no need to increase the TV volume when you use it on high speeds.
---
Pricing, Warranty and Where to buy?
The best place to buy this device would be through OYeet's own store where the normal price ($129.99) is slashed greatly to $89.99, which you can check right here.
You can also get the device on Amazon, but you'll have to part with the regular price money.
The device has a 2-year warranty. This is not as bad because many unknown brands don't even offer you a warranty. It's not the lifetime warranty as Ekrin or Lifepro has, but we'll take it!
---
Who is it Best For?
This is a mini massage gun and can work at best as an entry-level device. It's great for personal or home use or for those on the go and need a massage gun – small and portable. You can also carry and use it in the office.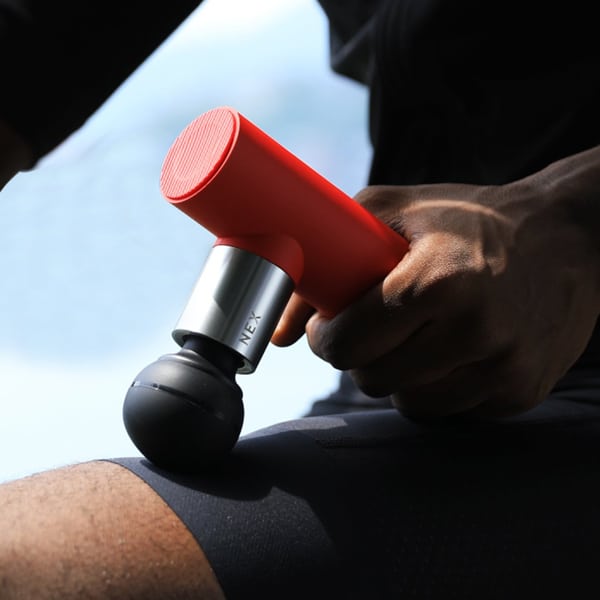 It's strong enough to treat sore muscles, warm up the muscles or even break up scar tissue. You can use it for your day-to-day post-training massage needs. Seniors will also find this device useful.
Although it doesn't feature the same, 12mm amplitude Theragun Mini has, it has significantly more stall force to make up for that, so it's actually quite powerful for a mini massage gun.
For an everyday Joe, this device has all you need to get you started. If you need more power, however, you can always look for full-size alternatives, which often offer better specs – amplitude above 10mm and stall force above 40 lbs.
---
OYeet NEX Alternatives
---
Ekrin Bantam
Ekrin Bantam is the massage gun we praised countless times in our reviews. It has similar specs to the Nex massage gun.
For instance, it has the same 10mm amplitude and the same 35lbs. of stall force, which makes it one of strongest, if not the strongest, mini-massage guns out there.
The Bantam is lighter, only weighs 1.1lbs. it's superbly built to last and has improved ergonomics with the slanted handle. Ekrin have confidence in their products, as they offer an industry-leading lifetime warranty and also superb customer support for a lifetime.
However, the price for the Bantam is slightly higher. It usually goes for $159.99 but you can use the MGA20 coupon that works in their own store and get it for $127.99 – 20% off.
You can also read our full Ekrin Bantam Review for more information.
---
Addsfit Mini Pro
If you are looking for something almost similar to the Oyeet Nex massage gun then the Addsfit Mini Pro gun could just be what you need. It has an almost similar configuration but looks even sleeker.
It has a 10mm amplitude – similar to the Oyeet Nex – and an almost similar stall force. While the OYeet's stall force isn't disclosed, this one has a proven stall force of 28.6lbs. That is good enough to get you a proper massage when you need it.
Another thing that we cannot forget to mention is the extensible handle. You can take advantage of it when massaging your lower back.
It comes with a carrying case and has 5 massage heads that are nicely varied and enough to massage different body areas.
It revs up to 3300rpm – just 200rpms less than Oyeet Nex. It has an even more powerful battery that can last for 5-6 hours. It's quiet as well registering almost the same decibels as the Oyeet Nex.
It costs $129.99 or $103.99 if you apply our MGA20 coupon for a sweet 20% discount. Get it at addsfit.com right here.
TIP: Check out our detailed Addsfit Mini Pro review.
---
OYeet Nex Massage Gun Review Conclusion
The thing we like most about the OYeet Nex massage gun is the compact size and the great overall quality. The materials used are awesome.
It has a great build and can vibrate at a really high intensity – more than most mini-sized devices. Even more importantly, the stall force and amplitude are great for a device that small. It will provide faster recovery after a workout, break up lactic acid, and improve blood flow – no doubts about it.
We must admit we love the battery power for such a small device. We also love that you can charge the device using either the charging dock or the USB.
Still there are alternatives worth checking out as we highlighted above. More choice isn't a bad thing!
Goodbye, and thanks for reading this Oyeet Nex massage gun review to its end.
OYeet Nex Massage Gun Rating
Quality

Effectiveness

Usability

Accessories

Price Value
Summary
For a mini massage gun, the OYeet Nex massage gun has the best specs taken care of.  It has an impressive amplitude and above the standard stall force to do what it's required to do. It's well equipped too, and the overall quality is very high. Buy with confidence. 
Disclaimers
The views and opinions expressed on this website are those of the authors. Any content provided by our bloggers or authors are of their opinion and are not intended to malign any religion, ethnic group, club, organization, company, individual or anyone or anything.
All product names, logos, and brands are property of their respective owners. All company, product and service names used in this website are for identification purposes only. Use of these names, logos, and brands does not imply endorsement.
It is our policy to make every effort to respect the copyrights of outside parties. If you believe that your copyright has been misused, please provide us with a message stating your position and we will endeavor to correct any misuse immediately.
Some of the links in this post are affiliate links. As an Amazon Associate, we earn from qualifying purchases. This means if you click on the link and purchase the item, we may receive an affiliate commission, at no extra cost to you. This helps us keep this website alive. Learn more here.
Amazon Disclosure
massagegunadvice.com is a participant in the Amazon Services LLC Associates Program, an affiliate advertising program designed to provide a means for sites to earn advertising fees by advertising and linking to Amazon.com. As an Amazon Associate, we earn from qualifying purchases. Amazon and the Amazon logo are trademarks of Amazon.com, Inc. or its affiliates. Please refer to our Privacy & Affiliate Policy for details.