Disclaimer: Our content is unbiased, non-sponsored and fact-checked. If you buy via links on our site, we may earn a commission. As an Amazon Associate, we earn from qualifying purchases.
---
Today we're going to take a deep dive into one of the more popular massage guns on the lower price spectrum. Welcome to our NoCry massage gun review.
When it comes to massage guns, ergonomics plays a key role in how we decide if it's good or not. An ergonomically-designed massager will keep your hand comfortable and cramp-free – so you don't need another massage for it.
Out of the many devices we've come across, the NoCry percussion massager caught our attention for its interesting design and features. We knew we had to write a NoCry Massage Gun review for our own to test out whether it lives up to its promises.
Read on to find out what we think of it.
---
---
NoCry Brand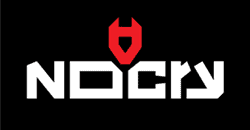 Established in 2014, NoCry is a relatively new e-commerce company of Estonian origin.
It offers a wide variety of products ranging from protective wear to power tools and massage guns – quite an interesting mix.
The brand primarily sells its products on Amazon, but it also has an official website where you can browse their entire selection. This sets them apart from most Amazon-only sellers.
Currently, NoCry only offers one massage gun model. And that's what we're here to review today.
---
NoCry Massage Gun Review
To give you an overview, here are the main features of this massage gun. Take a look at these before we proceed with the NoCry Massage Gun review.
---
NoCry Massage Gun Specifications

Features
NoCry Massage Gun
Stall Force
55 lbs
Stroke Length
10 mm
Percussions
1400-3200 ppm
Speed options
5
Battery Life
4-6 hours (2550 mAh)
Attachments
4
Weight
2.2 lbs
Noise
55 – 60 dB
Pros
Good stall force
Quiet operation
Excellent ergonomics
Reasonable price
Cons
Short stroke length
Not USB-C compatible
Warranty
4 years
Buy now
Buy at Amazon
NoCry Massage Gun Specs
---
First Impressions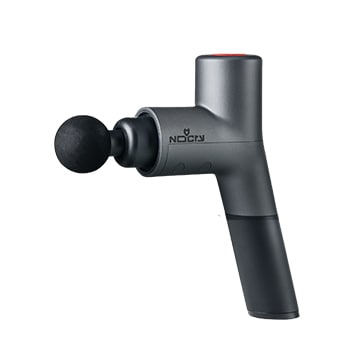 When we first saw the NoCry Massage Gun, we instantly thought of the Ekrin B37 – from its angled handle to its screen-less design.
The only difference is that it has a gray upper half with a red top – which isn't as stylish as Ekrin's green-and-black color scheme.
Nevertheless, we're excited to test it out and see whether it performs as well as the Ekrin B37.
---
What's Included
For its price, we were quite impressed with the number of accessories already included in the package.
Out of the box, we pulled out a convenient carrying case that's padded and has the NoCry brand printed at the front. The carrying case has a molded interior that fits the massage gun and attachments in place. This feature keeps the items from moving around when you're carrying the case upright.
Aside from the gun itself, the case contains 4 attachments – a ball head, a flat head, a fork, and a bullet. The ball head is made of high-density EVA foam. While this is soft and comfortable, foam tends to deteriorate. We believe silicone would be better in terms of longevity.
As for the flat, fork, and bullet heads, these are all made of hard plastic material. These heads pack quite a punch, so we're not complaining – especially with the flathead.
The NoCry Massage Gun also comes with an instruction pamphlet. Out of the massage guns we've reviewed, this pamphlet has the most advanced and complete information. Everything you need to know is discussed in the pamphlet.
---
Size
At 2.2lbs, you might think that the NoCry Massage Gun is a bit heavy. It's of the same weight as most massage guns like the Ekrin B37 and Theraguns, so it's quite the average weight.
But what sets it apart is its well-balanced weight distribution. Unlike other top-heavy models, this massage gun feels better on the wrist – thanks to its well-spread weight.
This full-sized massage gun also features a less bulky design, so carrying it won't be a hassle.
---
Ergonomics
As for the ergonomics, we love the 15-degree angle on the NoCry Massage Gun. This is similar to the Ekrin B37's, which is more forgiving on the wrists. This angle also offers a better reach, especially if you're giving yourself a massage.
We also love how it's designed to improve how we hold the massage gun. You can hold it in different ways, so you can find the grip that's most comfortable for you.
Speaking of comfort, the NoCry Massage Gun offers an unmatched grip. It has a silicone-rubber grip to prevent slips and offers great shock-absorption. We didn't feel much of the vibrations, so we know that it can be used for long periods with ease. This keeps your hand from going numb if you're using it for a long time.
But, we must note that the handle has quite a large diameter. Users with smaller hands may have a hard time gripping it, so keep that in mind.
---
Build Quality
We must admit – we're quite impressed by the NoCry's build quality.
It offers a sturdy feel that gave us the impression that it's not made of cheap plastic. It's easy to tell that it's one durable device, so that's a big bonus.
While it doesn't have an LCD screen, it is designed in a way that users can tell the battery status and speed settings through LED lights. And we have no issues with that.
In fact, we're not fans of LCD screens in massage guns at all. We like when things are kept simple for ease of use and faster switching.
Overall, it has a slick look with obviously great proportions. Not bad, considering its reasonable price.
---
Performance
Now, let's head on to the most important section of this NoCry Massage Gun review – its performance.
Amplitude
Let's start with the amplitude, or how far the head travels from the base of the gun. This determines how deep the head travels to give you that satisfying massage.
The NoCry Massage Gun comes with a 10mm stroke length, which unfortunately is not what we expected to see. Other massage guns of the same size have stroke lengths ranging between 12 and 16mm, and that makes 10mm look insignificant.
Nevertheless, a 10-mm amplitude, when combined with a higher stall force (this gun has it), is great for relaxation, improving blood flow, breaking lactic acid, and treat sore muscles. If you prefer deeper and more powerful massages, then you need one with a longer amplitude.
Stall Force
We'll now talk about the stall force. This refers to the pressure you exert that's enough to stop the motor from running. The higher the stall force, the deeper the muscle penetration (because the device can be pressed harder to the skin without stalling)
The NoCry Massage Gun has a stall force of 55lbs, which is very close to one in the Ekrin B37. This is quite impressive, especially considering its size.
Also, we must note that NoCry's stall force is progressive. This means that its lower speed levels come with lower stall force, and this increases as it reaches the 5th speed. The maximum, 55lbs is available only in the last gear, but there's a reasonable power from gear 3 onwards.
Because of its higher stall force, you can still experience deep massage, despite the shorter stroke length.
Percussions
As for the percussions, the NoCry Massage Gun has an impressively wide range of 1400 to 3200 rpm. This is spread across five speed levels, which is quite impressive.
That guarantees that you can enjoy soft beats at lower speeds and grows more intense as you switch them up.
We find this impressive because even the Theragun starts at 1750 – and that reflects how versatile the NoCry is.
Because of its no-screen design, you know what speed you're in through the 5 LED light indicators above the main button. We find this quite a practical design.
NoCry Performance Parameters Comparison
Let's compare NoCry Percussion Massager against other popular competitors.
---
Stall Force (lbs.)
Stall Force: NoCry offers respectable 55 lbs. of stall force. Nearly the same as the Ekrin B37 and Hypervolt Plus.
Stroke Length (mm)
Stroke Length: 10mm stroke length is the weakest point of the NoCro. Almost exact-looking Ekrin B37 has 12mm – and this 20% makes a difference.
---
Noise
The NoCry Massage Gun is rated at 35 to 55 dB, but upon checking, it can go slightly over 60 dB if you're using the higher speed levels. But even then, the noise isn't as bothersome, so you can comfortably enjoy TV time or hold a conversation without raising your voice.
While it's not the quietest massage gun in the market, it's one of the few noiseless ones. And that's a good thing.
---
Battery
The NoCry Massage Gun comes with a 2550 mAh battery that allows it to run for up to 6 hours. While the maximum duration depends on the speed settings you're using, this is still quite impressive since other brands can only run for up to 2 or 3 hours.
However, it doesn't come with a brand-name battery – compared to the Ekrin B37's Samsung batteries – so we're wary about its long-term performance.
Since it doesn't come with a screen display, you can determine the battery status through the LED lights below the center button. When only one light remains, you know it's time for a recharge.
Another concern we have about the battery is that it doesn't charge via USB-C. That can be quite limiting.
---
Other Review Notes
Because the NoCry Massage Gun doesn't have an LED or touch screen, we can only operate it through a single button located at the top of the massage gun.
As a tip, pressing the button and holding it for a few seconds turns it on o off, while doing a quick-press will allow you to change between speeds. So even without a screen, you won't have a problem operating it.
---
---
NoCry Percussion Massager: Who is it Best For?
All things considered, we find the NoCry Massage Gun to be quite versatile.
It has a powerful stall force that will be perfect for athletes who need to soothe sore post-workout muscles. Because of its handy size and well-balanced weight, you can easily take it to the gym for your pre or post-workout rituals.
Aside from athletes and people with high muscle mass, the NoCry Massage Gun will also be great for family use.
Its speed levels will help you find the perfect settings to give a relaxing massage for the whole family. If you love a stronger massage gun than the average mini-gun, this is definitely for you.
Overall, the NoCry Percussion Massager is a very decent massage gun. The only thing is that it has some serious competition, and the before-mentioned Ekrin B37 is probably the most lethal one for NoCry.
For a about the same price, Ekrin does come with a better stroke length and a lifetime warranty – we'll get to that in a minute. Still, we like the NoCry, it's a solid massager.
---
Price and Warranty
NoCry is currently available on Amazon and its current price can be checked here. Considering its performance and ergonomics, we think that this is already a good deal.
Also, NoCry offers a 4-year warranty for its massage gun. While it's not a lifetime warranty like the Ekrin's or Lifepro's, it's still better coverage than the other massage gun brands offering 1 to 2-year warranties only.
---
NoCry Massage Gun vs. Ekrin B37
The similarities between the NoCry Massage Gun and the Ekrin B37 are undeniable. Nevertheless, they do have their differences. We'll discuss all of them briefly below.
Let's start with the similarities.
The NoCry and the Ekrin B37 look identical. They both have the same 15-degree handle and overall aesthetics that you would think they're the same. The only difference is in their color scheme, with NoCry having gray and black while B37 has green and black.
At 2.2lbs, both are of the same weight, and both feel very well balanced.
Both units come with four attachment heads.
Both come in a convenient carrying case.
With that settled, we'll not point out the differences.
The biggest difference is the 12mm stroke length on the B37, as compared to the NoCry's 10mm. As a result, the former delivers deeper punches into the muscles, making it perfect for people who love a high-impact, deep tissue massager.
Another difference lies in the battery. The Ekrin B37 has a Samsung battery, which is known for its quality. That ensures long-lasting performance. While they both have a 2550-mAh capacity, we cannot confirm if NoCry uses the same brand of battery, so we'll have to give this one to Ekrin.
NoCry only offers a 4-year warranty, while Ekrin offers a lifetime warranty paired with lifetime customer support. While a 4-year warranty is quite decent, you get better value in the long run if you have a lifetime warranty.
Ekrin is a brand that's known for producing massage guns. Unlike NoCry, you can vouch for Ekrin's build quality because its business lies in producing and perfecting massage guns.
Despite all the upgrades that Ekrin B37 has to offer, it is still more expensive than the NoCry Massage Gun. The B37 generally retails for $229.99, but if you use promo code

MGA20

, you enjoy 20% off and pay only $183.99. Last time we checked, that was only a few dollars above NoCry's retail price.
Also, Ekrin offers a pre-order coupon in case it's sold out. By using coupon code

PreOrder25

, you enjoy 25% off and pay only $172.49.
Verdict: All things considered, both the NoCry Massage Gun and the Ekrin B37 offer superior massage guns at affordable prices. But if you can spend a few dollars more, then the B37 will be a better choice. It simply offers more bang for your buck.
---
NoCry Massage Gun vs. Theragun

When it comes to top-tier massage guns, Theragun always comes to mind. Because of its known quality and performance, Theragun is often used as the basis for a lot of model comparisons.
In this section, we'll discuss the similarities, advantages, and differences between the NoCry Massage Gun vs. Theragun (Pro, Elite and Prime models).
We'll start with the similarities.
The NoCry Massage Gun offers five speeds, which is similar to the Theragun Elite.
These units are around the same weight.
Ergonomics is good on both devices.
Apart from these, there are no other similarities between them. Not it's time to discuss the differences by highlighting their advantages over the other. We'll start with Theragun's advantages over NoCry.
The biggest difference between these two is that Theragun massage guns come with a 16mm stroke length. Compared to NoCry's mere 10mm, Theragun packs a much harder punch.
The Theragun Elite has an OLED screen that displays speed settings and battery levels. NoCry has no screen display at all.
The Theragun Elite has a built-in reactive force meter so you can tell how hard you're pushing.
Almost all Theraguns, except the Mini, has built-in Bluetooth connectivity to allow pairing with its dedicated app. This helps you keep track of massage settings for easier control. NoCry doesn't have such features.
Now, we proceed to NoCry's advantages over Theragun.
While the Theragun has a better stroke length, NoCry has a better stall force. At 55lbs, it is almost 50% stronger than the Elite and twice as powerful as the Theragun Prime. And that's impressive.
NoCry also has a wider percussion range at 1400 to 3000 rpm – compared to Theragun's 1750 to 2400 rpm. This allows you to enjoy soft massages to powerful punches.
NoCry has an impressive battery life at 4 to 6 hours while Theraguns only last for around 2 to 2.5 hours. Of course, it still depends on the settings you use for each device.
Also, NoCry registers its noise level at around 7 to 9 dB lower than Theraguns.
NoCry offers a longer 4-year warranty compared to the Theragun Pro's 2-year warranty. Other Theragun models only have a 1-year warranty, so NoCry undoubtedly has the upper hand.
And as to cost, there's no doubt that NoCry is the more affordable option. The Theragun Elite is at $399, so there's quite a large price gap.
Verdict: There's no doubt that Theragun has established itself as a trusted brand offering premium massage guns. But because of the higher price range, it's not always the most practical choice. If you can't get the Ekrin B37, you'll also get a good performance from the NoCry Massage Gun without spending too much.
---
NoCry Massage Gun vs. Hypervolt
Another popular name that's known for being a premium massage gun brand is Hypervolt. To give you an idea, here are the similarities and differences between NoCry Massage Gun vs. Hypervolt.
The Hypervolt BT and BT Plus models share some similarities with the NoCry Massage Gun.
They have the same maximum stall force of about 55 – 56 lbs.
They have percussion that can go up to 3200 rpm.
They both weigh around 2.2 lbs.
They share the same noise levels.
But despite these similarities, there are glaring differences between these two brands.
Take the stroke length for example. The Hypervolt BT has a stroke length of 12mm while the BT Plus is at 15mm. Both of these are longer than NoCry's 10mm.
Hypervolts are Bluetooth-enabled devices, while the NoCry is not.
Hypervolts comes with 5 attachments, which is one more than the NoCry's 4 heads.
NoCry offers better ergonomics in terms of design. Operating the Hypervolt feels like you're using a power drill.
NoCry offers 5 speed levels, so it offers more range options compared to Hypervolts' 3 speeds.
NoCry can run for up to 6 hours which is twice as long as Hypervolts. But, Hypervolt comes with replaceable batteries, which offer more convenient charging options.
NoCry comes with a convenient carrying case, while Hypervolts have none.
Hypervolt comes with a 1-year warranty, while the NoCry Massage Gun comes with a 4-year warranty.
Hypervolt BT retails for almost twice as much (check the price here), while BT Plus retails for about a hundred more (current price here). NoCry is the more affordable option no doubt.
Verdict: Hypervolt is known for its build quality and impressive technology, but NoCry offers a performance that's at par with this premium brand (minus the amplitude). Unless you need a more intensive, deeper massage the NoCry Massage Gun will be a great, more affordable alternative.
---
One More Alternative To NoCry
---
Lifepro Sonic Pro
From everything we've discussed, you know our thoughts about the NoCry vis-à-vis the Ekrin B37. Another viable alternative you might consider is the Lifepro Sonic Pro.
With a stroke length of 12mm, you know that it goes deep into the muscle like the Ekrin B37. But its key feature is its stall force – a very impressive 70lbs! That's why we believe it would be a great alternative to the NoCry if you prefer a more powerful punch.
If you're interested in the Lifepro Sonic Pro, here are some of its other key features.
It has a percussion range between 1200 and 3000 rpm that's spread throughout 15 speeds. This is quite an interesting range, but the 15-speed level design can be frustrating to navigate through.
It comes with 8 useful attachments.
It has a better 2600 mAh battery, but the performance is similar to the NoCry's 2550 mAh.
It comes with an LED Screen for more accurate readings.
Its overall design is similar to the Hypervolt's, which reminds us of a power tool. As a result, the Lifepro is not as ergonomic.
It is backed by a lifetime guarantee.
Also, the Lifepro retails at a more affordable price than the NoCry Massage Gun! If you use the Lifepro coupon code MGA10, you only get to pay $116.99 – and that's a great value.
---
NoCry Massage Gun Review: Bottom Line
All things considered, NoCry is a surprisingly good massage gun – it's easy to see why we couldn't find a negative NoCry Massage Gun review.
With its superior ergonomics and undeniable performance, this massage gun is a reasonable choice if you're considering the Theragun and Hypervolt.But, with its 10mm amplitude, we still think the exact-looking Ekrin B37 offers better value for money, and same goes for the LifePro Sonic Pro.
NoCry Massage Gun Rating
Quality

Effectiveness

Usability

Accessories

Price Value
Summary
Although we feel like NoCry massage gun lacks in a few aspects under the hood, it boasts a perfectly-balanced design, impressive stall force and superior ergonomics. For the price and its 4-year warranty on top of that – you're surely getting a great deal. The only drawback? There are massage guns that currently offer better specs and lifetime warranty for about the same price..
Disclaimers
The views and opinions expressed on this website are those of the authors. Any content provided by our bloggers or authors are of their opinion and are not intended to malign any religion, ethnic group, club, organization, company, individual or anyone or anything.
All product names, logos, and brands are property of their respective owners. All company, product and service names used in this website are for identification purposes only. Use of these names, logos, and brands does not imply endorsement.
It is our policy to make every effort to respect the copyrights of outside parties. If you believe that your copyright has been misused, please provide us with a message stating your position and we will endeavor to correct any misuse immediately.
Some of the links in this post are affiliate links. As an Amazon Associate, we earn from qualifying purchases. This means if you click on the link and purchase the item, we may receive an affiliate commission, at no extra cost to you. This helps us keep this website alive. Learn more here.
Amazon Disclosure
massagegunadvice.com is a participant in the Amazon Services LLC Associates Program, an affiliate advertising program designed to provide a means for sites to earn advertising fees by advertising and linking to Amazon.com. As an Amazon Associate, we earn from qualifying purchases. Amazon and the Amazon logo are trademarks of Amazon.com, Inc. or its affiliates. Please refer to our Privacy & Affiliate Policy for details.