Lifepro Sonic LX Review – Is It a Professional-grade Massage Gun?
Disclaimer: Our content is unbiased, non-sponsored and fact-checked. If you buy via links on our site, we may earn a commission. As an Amazon Associate, we earn from qualifying purchases.
---
Welcome to this Lifepro Sonic LX review. We know all about Lifepro and their catalog of massage guns. They are a well-known fitness brand, selling all kinds of fitness equipment. They have the largest number of massage guns in their collection – we are yet to see anyone else rival them. We have tested and reviewed some of them. Some we have included in our guide articles as great devices.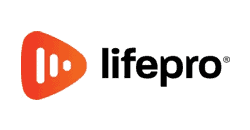 We recently got our hands on the Sonic LX Professional and we couldn't wait to tell you about it. One thing is clear, it has "Professional" in its name. Is it "salesy" language, or is it actually good enough for professionals?
Come along, we have some great alternatives as well.
---
---
Lifepro Sonic LX Review
Lifepro Sonic LX Professional Specs

Key Feature
Lifepro Sonic LX Professional
Stall Force
33 lbs.
Stroke Length
12 mm
Percussions
1800 – 3400 ppm
Speed options
9
Battery Life
about 4 hours
(2000 mAh, non-removable)
Noise
60 – 65 dB
Weight
2.3 lbs
Head Attachments
7
Warranty
Lifetime
Price
$199.99 $179.99
10% OFF with

MGA10

coupon
Lifepro Sonic LX Professional Specifications
---
First Impressions
The package comes with a nice zippered carrying case with everything packaged nicely inside. The contents include the gun itself, up to 10 attachments, and the wall charger.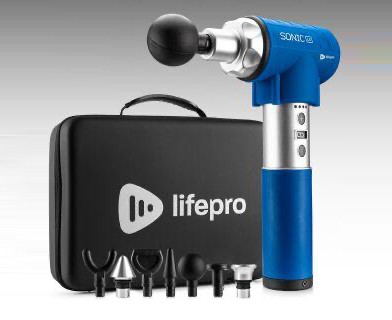 It has the T-shape design that we have seen employed by many brands – Hypervolt prototype. It's not our favorite design, to be honest.
However, there is some uniqueness to the Sonic LX Professional T-shape design – we could say, "it looks more pro" than many other guns with a similar shape.
That aside, we were impressed by the sturdy build. We love the rubber parts, but we think the plastic parts aren't as top quality, especially after what we saw with Theragun Elite.
Lifepro didn't overthink the LCD display here, choosing to make it simple with a single-digit display – speed gear indicator. Other indicators are the 4 LEDs above the LCD that show the battery charge status.
There are 4 color options to choose from – black, blue, red, and silver. By the time we bought our device, only blue and black were available.
---
Weight, Size, and Ergonomics
The Sonic LX Professional is a full-sized massage gun. At first sight it looks pretty large and bulky – the handle doesn't help if you are looking for something compact. The handle is long and perhaps makes the device unattractive (to say the least).
Perhaps that's why the weight is a tad more than Ekrin B37 – 2.3lbs and not 2.2lbs. Nonetheless, that is just about the normal weight for most devices in this category. We are actually glad it's lighter than the original Hypervolt and the new Hypervolt Plus.
We have to say that the long handle has a negative impact on the weight balance of the device, especially when using it. The only time you will enjoy the long handle is perhaps when you have to massage your back, the reach is good enough.
The handle diameter is also good enough but may present a bit of a challenge for those with small hands. However, we like that they added lots of rubber around it to make the gripping comfortable.
Ergonomically, the device could've done with a bit more innovation. Even though the rubberized handle gives the desired grip, its length and the fact that it's a 90-degree handle makes it tough when you have to have a long massage session.
We loved what Lifepro did with their Sonic X device – the slanted handle makes all the difference when it comes to improving the ergonomics.
---
Attachments
If you love plenty of attachments to work with, then you will love the Sonic LX Professional. It has 10 massage gun heads – some of them are similar, and just made of different material. Here is some information on those attachments:
Ball: The go-to attachment for most parts of the body but it's typically used to massage large muscle groups.
Bullet: It's the head used for pinpoint treatment as well as massaging small muscle groups like the hands and feet.
Fork / Spine: As the name suggests, it's used to massage the area along the spine. It's also used around the neck area and the Achilles.
Flat: It's our favorite massage gun head used to massage large muscle groups, quads, hamstring, and pecs.
Cone: We first encountered this one with Theragun. It works pretty much the same way as the bullet attachment. For trigger points and pinpoint muscle treatment.
Air Cushion: It's the tinkering of the flat head with a cushion added to make it soft. It works tender and bony areas.
Wedge / Shovel: This one massages the shoulder blades, but can also be used to massage the arms and palms.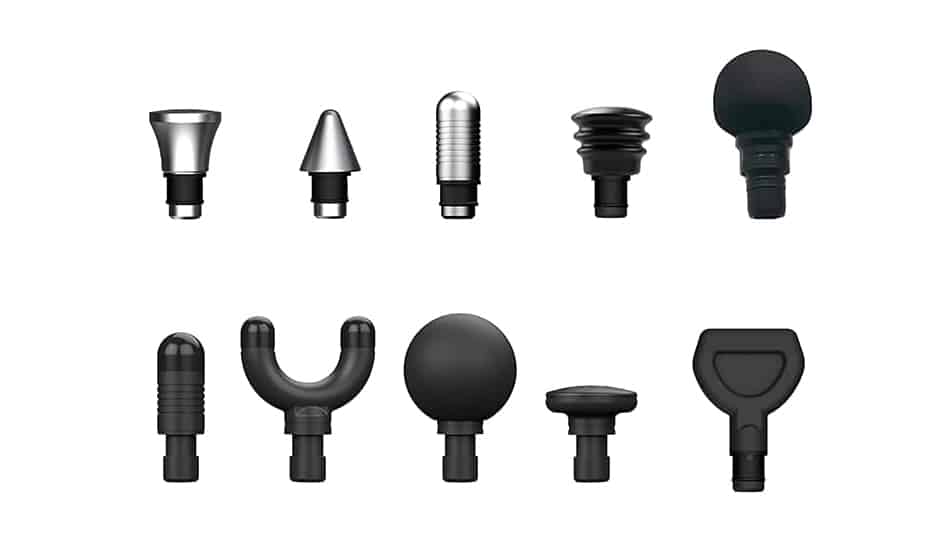 The remaining 3 are metallic variations of the bullet, cone and, flat head attachments. However, our device came with 7 attachments with two being metallic – cone and flat head. The set of 10 attachments includes 2 ball attachments, one made of rubber and the other made of foam.
All the attachments, apart from the ball ones are made of hard plastic – the typical material used for most attachments.
---
Performance
This is where we find out whether the Sonic LX Professional lives up to the name. How does it perform?
Amplitude
The distance traveled by the massage gun head as it moves back forth as the gun revs. It's also known as the stroke length. It's an important aspect of any massage gun and determines what you can get from a particular device. If the distance is too short, then the best you can hope for is vibrational therapy. If it's long enough though, you can anticipate a percussive therapy.
So what does the Sonic LX Professional have?
Well, it has a 12mm amplitude. Not the longest in the business, but we have said time and again in our articles that 12mm combined with the right stall force is good enough to provide a percussive therapy.
We can also add that anything below 12mm for a full-sized massage gun will probably not be able to provide decent percussive therapy. That's why we have praised Ekrin B37 and B37S – 12mm with enough stall force.
With the LX Professional percussion massager, you're certain of decent hits on the skin. But is there enough stall force to push hard against the skin with this amplitude?
---
Stall Force
Stall force is the amount of pressure it takes to stall the motor of a massage gun. It works hand in glove with amplitude. Like we just mentioned above, a good enough amplitude with a strong stall force to match makes for a very good percussion massager.
So what about the stall force on Sonic LX Professional?
Well, it's 33lbs. surprisingly unimpressive (at least on our part). We were so convinced when we saw this gun, we thought we'd be looking at a much bigger number.
We tested it on our muscles anyway, and we have to say it's surprisingly decent though . It really feels like a solid mid 30s stall force. A lot of other massage guns out there promise a lot and deliver very little.
This is enough stall force for everyday home use. When using it, the massage gun has a real pulsating effect on the muscle – it doesn't just bounce on your skin.
The awesome (just enough) amplitude and the decent stall force should do a good job getting rid of muscle soreness and tightness. However, it's important to mention that while it feels strong enough with 33lbs. of stall force, it still may not be strong enough for a thorough deep tissue massage (on those largest muscles).
Therefore, bodybuilders, pro athletes, and weightlifters may have to get a device with much better numbers in both amplitude and stall force – something with 16mm and at least 45lbs. stall force.
That said, we still have to give props to this device for what it has to offer. It may not be the strongest gun out there – even Lifepro has other massage guns stronger than this one, the Sonic X is one such device – but it delivers for what it's meant to do.
---
Percussions
The Sonic LX Professional has a percussion range of 1800-3400rpm. This is better than what most massage guns come with.
We are used to many devices only revving up to 3200rpm maximum. Our beloved Ekrin B37S revs up to 3200 hits per minute. With up to 3400rpm, you are assured of good intensity with this device. We just wish the range started a bit lower (somewhere in the region of 1200rpm). That allows you to start real slow before you can crank it up for more intensity.
Nevertheless, we are glad we have a Hypervolt prototype that revs more than any Hypervolt. It also has better intensity than the Sonic X. It has 9 speeds to cycle through. At first we thought 9 speeds was too many but we guess with the wide percussion it's probably justified.
---
Noise
It's a quiet massage gun – at least quiet enough by massage gun standards. It's not as quiet as some of the top massage guns we have had – Achedaway Pro is really quiet (especially given the amplitude it has)
Lifepro places the noise level at 60dB to 65dB, which is true because we got a maximum of 66dB in our measurement. The device rattles quite a bit when pressed against the body which makes the noise a bit unpleasant but you can live with it.
There are also some vibrations transferred to the handle. You won't be too irritated though because the rubberized handle takes care of it.
---
Battery
The battery here has a 2000mAh capacity and can deliver up to 4 hours of continuous operation. When it comes to battery capacity and power, there is a mixture of results.
Our guess is that different brands use different batteries. While some may have a similar capacity, the operation time per single charge varies. We have been impressed by batteries that can last for 6 to 7 hours of continuous operation. You should have enough done in 4 hours though with this massage gun.
There are 4 LED lights to indicate the battery charge level. This device does not have a removable battery – you'll have to get a Hypervolt Plus, Achedaway Pro, or Theragun Pro to enjoy that privilege.
It also has a wall charger and is not USB-C compatible – we rarely see full-sized massage guns with a USB-C charger.
---
Warranty
Expect a lifetime warranty with this device as with all other devices from Lifepro. There is also a 30-day money-back guarantee if there is something about the product that you don't like.
You will also get friendly customer support. Maybe you can even order this device along with the Sonic X, compare them against each other and then send one back. How cool would that be?
---
Price
For $199.99 you can get this massage gun. It gets cheaper if you use our MGA10 coupon that gives you a 10% discount – you then buy it for $179.
At that price, it's way cheaper than some of the premium guns like Hypervolt Plus and Theraguns. Even the entry-level Theragun Prime (only the amplitude is better) is way more expensive.
But there are even better deals with the alternatives below.
---
Sonic LX Professional – Best Alternatives
Here are some alternatives to consider…
---
Lifepro Sonic X – Same Amplitude but more Stall Force
Here's the one we've been mentioning through our Lifepro Sonic LX review. It's a nicely constructed massage gun with ideal features for massage gun lovers.
When we first go this massage gun, we had Ekrin B37 in mind, that's because it looks very similar to Ekrin Athletics' maiden massage gun.
Unlike the Sonic LX Professional, this one has better ergonomics and feels comfortable to hold. It has a 15-degree angled handle.
The Sonic X massage gun has better performance features compared to its LX Professional counterpart. For instance, while it has the same 12mm amplitude as the LX Professional, it has 56lbs. of stall force to go with it.
This means that bodybuilders, pro athletes, and weightlifters have something to use. With such features, this massage gun can hit deep into the muscle tissue.
It comes with 4 attachments which are also nicely varied and enough to massage the whole body. It has a percussion range of 1400-3200rpm – so it actually starts at a lower speed if you need a soothing massage.
You get a powerful battery that can go for 6 hours straight.
It costs $174.99 but with MGA10, you can get it for $157.99 – 10% off. It's a better deal!
TIP Read our complete Lifepro Sonic X review →
---
Opove M3 Pro Max
This one has a similar design as the LX Professional but with very interesting performance features.
For starters, it has a 15mm amplitude. That is almost Theragun range – the 1mm difference is inconsequential. It also has 50lbs. of stall force. That means that you have a really powerful massage gun at a very affordable price here.
It has a percussion range of 1500-3300ppm. Great amplitude but great intensity as well. It has 4 speeds to cycle through with a manual and auto mode as well. In auto mode, the intensity adjusts automatically.
It weighs the same as the LX Professional and comes with 5 nice attachments to massage the whole body. The maximum decibel measurement on this one is 63dB – so really quiet.
It has a 1-year warranty and not a lifetime one like the Lifepro devices. However, Opove has been around for years and is a proven brand.
It normally costs $220 but for a limited time, you can get it for $169. It may be a superb option for those who want more amplitude.
TIP Read full Opove M3 Pro Max review →
---
Lifepro Sonic LX Massage Gun Review Conclusion
Before we end our Lifepro Sonic LX Professional review, we have to add that this is a very decent massage gun with plenty of punch for the average person. It's a good device for post-workout pain relief and blood circulation routines. It has a decent battery and is not very noisy.
However, it lacks proper power (stall force) for professionals, especially those with more muscle mass that need strong deep hits.
For a slightly lower price, we would've rated it highly but at this price point we feel there are better alternatives – better value for money. Luckily one of the best alternatives is a Lifepro's own device – Sonic X, which we encourage you to check out as well.
---
Lifepro Sonic LX Rating
Quality

Effectiveness

Usability

Accessories

Price Value
Summary
A decent device for an everyday person that wants a good massage gun. However, even though the amplitude isn't bad, the stall force falls short of decent power to push it hard against the skin for a deep tissue massage. It has a unique approach to the T-shape design and it's well equipped. It has a decent battery but costs slightly more than some better alternatives.
---
If you have any further questions, feel free to ask us a question or write in the comment below. Take care!
Disclaimers
The views and opinions expressed on this website are those of the authors. Any content provided by our bloggers or authors are of their opinion and are not intended to malign any religion, ethnic group, club, organization, company, individual or anyone or anything.
All product names, logos, and brands are property of their respective owners. All company, product and service names used in this website are for identification purposes only. Use of these names, logos, and brands does not imply endorsement.
It is our policy to make every effort to respect the copyrights of outside parties. If you believe that your copyright has been misused, please provide us with a message stating your position and we will endeavor to correct any misuse immediately.
Some of the links in this post are affiliate links. As an Amazon Associate, we earn from qualifying purchases. This means if you click on the link and purchase the item, we may receive an affiliate commission, at no extra cost to you. This helps us keep this website alive. Learn more here.
Amazon Disclosure
massagegunadvice.com is a participant in the Amazon Services LLC Associates Program, an affiliate advertising program designed to provide a means for sites to earn advertising fees by advertising and linking to Amazon.com. As an Amazon Associate, we earn from qualifying purchases. Amazon and the Amazon logo are trademarks of Amazon.com, Inc. or its affiliates. Please refer to our Privacy & Affiliate Policy for details.