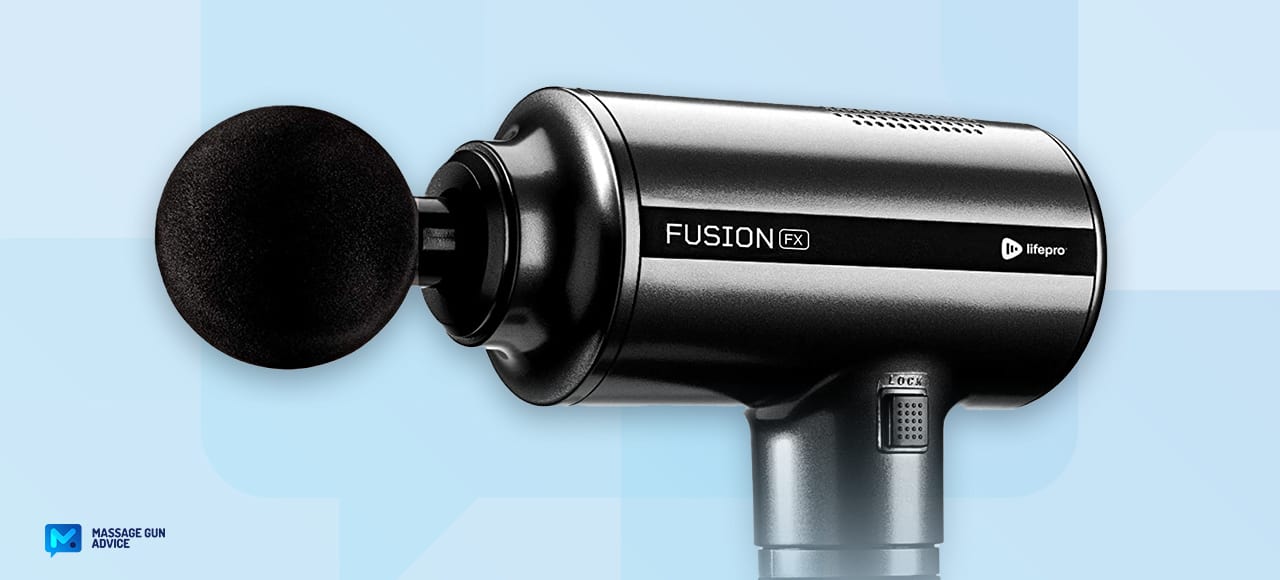 Lifepro Fusion FX Review: A Heated Massage Gun With Some Cool Features
Disclaimer: Our content is unbiased, non-sponsored and fact-checked. If you buy via links on our site, we may earn a commission. As an Amazon Associate, we earn from qualifying purchases.
---
In the midst of all these massage guns coming out in the market today, a brand must make sure to stand out by means of innovation. In this Lifepro Fusion FX review, we'll explore how the LifePro brand takes this device to a whole new level.
They are arguably one of the first brands to incorporate the heating element into the mix and by far, it has paid off.
They have two heated models, the recently reviewed Lifepro Fusion X and FX and while we will primarily be discussing the latter, we'll make sure to illustrate their subtle differences.
Are you prepared to be pampered and relaxed? We sure are! Go find out how!
---
Lifepro Fusion FX Review
Fusion FX Heated Percussion Massage Gun Specs
Key Feature
Lifepro Fusion FX
Stall Force
30 lbs
Stroke Length
10 mm
Percussions
1600-3200 ppm
Battery Life
3-5 hours (2600 mAh)
Weight
2.16 lbs
Attachments
5
Noise
60-75 dB
Pros
Heated component
Massage Modes
Great build quality
Accessories
Removable Battery
Cons
So-so Amplitude
Warranty
Lifetime
Retail Price
$229.99
Lifepro Coupon
Apply coupon 'MGA10′ here for 10% OFF
(the price will be $206.99)
Lifepro Fusion FX Specs
The LifePro brand has been known for not only delivering high-quality massage guns but also providing good customer support and giving lifetime warranties for their products.
---
What's in the Box?
The package comes in a sleek, gray travel case, and inside comes the unit itself, its charger, some documentation, and a postcard to let you know that if you register the device right away then you'll get a $50 vibrating massage ball for free.
Aside from those, you will get 5 different attachments.
Four of which are your standard massage heads, the large ball head, fork head, bullet head, and flat head.
The fifth one, another ceramic flat head attachment is the massage head that you can utilize for heated massages.
---
Key Massaging Features
As mentioned, this is one innovative massage gun and we'll discuss how. It's not only that it's got a heated massage option but it's got a few settings not found in any other massage devices that you will appreciate too.
Heated Massage
First, let's discuss the heating part. As mentioned, the only attachment that you may heat up is the ceramic flat massage head. It's got a heating range of 113 to 131 degrees F.
With a click of a button, you may switch from heated to non-heated massage right away.
The heated flat head does effectively penetrates your muscles thus making it more soothing and relaxing.
It also improves blood flow which the brand takes pride in as a more affordable alternative to getting a hot stone massage.
You may heat the ceramic flat head for about 10 minutes before using it. The ceramic attachment though will not heat up continuously as you're using the massage gun.
Stall Force, Amplitude, RPMs
When it comes to stall force, this unit has about 30 pounds of no-stall power, which means that when press hard to the body, the motor will be able to withstand a pressure of 30 lbs. before it stalls.
This is the right amount of stall force for an entry-level massage gun but, interestingly, it didn't feel like it lacks power. It feels pretty powerful, especially with the heating function turned on.
So, to sum up, the stall force in Fusion FX is good enough to provide quick relief to sore muscles or break down the lactic acid. It just might not be enough for a true, deep to the bone massage in case you have more muscle mass than an average person.
Moving forward, the Fusion FX operates with 10mm of stroke length, or amplitude. It's got 5 intensity levels with a range of 1600 to 3200 RPM as well.
While the stroke length of 10mm in massage guns is not overly impressive (we'd wish it had at least 12mm), the RPM range (or percussions range) is just perfect, and far greater than what you can get from Theragun (1750 – 2400).
New Feature – Massage Modes
What makes this model unique aside of the heating element itself, and especially when compared to the slightly more affordable Fusion X (also a heated gun), is that it has got 3 pre-programmed modes: a continuous mode, variating mode, and the increasing mode.
The continuous mode, as the name implies, makes sure to keep a steady pace with the intensity that you've set up. The variating mode creates a pulse-like effect by switching real fast from its slowest pace to its fastest.
And lastly, the increasing mode slowly elevates or should we say, oscillates from slowest to fastest speed giving your massages an even more relaxing effect.
We also appreciate the massage gun having a pause button (which is also to turn the device on) where you can stop midway on your massage and start it up again without having to go through all of the settings once more.
There are a few not so desirable stuff that we've observed with the LifePro Fusion FX massage gun though. We noticed that overall, speed levels 4 and 5 do give a significant amount of additional intensity especially if you use the continuous mode.
Maybe it's a design flaw. The inconsistent part is that if you go with the oscillating mode or variating mode, you get to feel that somehow it gets more intense.
For us, having the option to switch from heated to non-heated massage is already a huge advantage for this massage gun especially if you take a look at its price.
Also, take note that the ceramic flat head does only get hot to a point where it's still comfortable and adds significant effectiveness to the massage. So no, you won't get scald even if you charge it for 10 minutes. It's just at the right temperature we sure you can enjoy.
So is it a better alternative than a hot stone massage? Not really, but it's as close as it can be, and it's definitely way more affordable and convenient.
---
Design and Build
We are also quite pleased with how this unit is designed. It's definitely got that premium feel to it so sometimes you'd think that it's one of those expensive massage guns.
It may not have the narrowest handle or body overall but it's got a nice rubber grip to it plus the handle itself is detachable which consequently detaches its battery.
That is quite convenient so you may disassemble it to make it more compact for travel.
It may have more than just one button but they are easy to understand, operate, and quite intuitive. You have the pause or start button, heat button, mode selection, and speed adjustment button.
You'll then have icons to indicate which mode you are currently on if the unit is being heated, and of course, your speed level indicators. The base of the handle also indicates your current battery level by color.
It's just a great way to make use of the body of a massage gun for function and ergonomics purposes. Speaking of which, it's got a pretty ergonomic design too which makes it more effective for application.
---
Other Features Worth Considering
The unit with all that functionality only weighs 2.16 pounds which still makes it pretty lightweight. It's indicated that it operates at 60 to 70 dB but it's not as noisy as we expected it to be.
The 2600 mAh battery runs for at most 5 hours when you operate it at low speed levels but will run out at about 3 if you mix it up. While that is relatively low compared to some other units at its price point, we sure can't blame it with everything that's going on with the unit as it operates.
---
Pricing
The LifePro Fusion FX can be yours for just $229.00, and there are either black or blue models to choose between. Make sure to watch out for discounts to get them at a cheaper rate.
One discount you can apply right away is the 'MGA10' coupon. When applied in Lifepro's own store, it's going to slash the price by 10% to $206.99.
---
What do People Say About It?
We made sure to validate our reviews about this massage gun and gather more feedback from people who have bought and tried it.
And so far, we've been right. One common feedback among reviewers is that the unit really does what it advertises to do so. Also, it yields great value for money for people who are not really expecting that with its set of features that it can be bought at its current price point.
It's like getting a premium priced massage gun say maybe over $300. Also, it's very effective for massaging larger muscle groups like hips, back, arms, and shoulders. It's got the right amount of pressure plus the heated massage does add a lot to its effectiveness.
It's also perfect for muscle recovery and relieving general knots or bumps.
---
Who this Product is For?
This product is for people who are always on the go. People who always find themselves wanting to take a break and relax with a nice back rub or massage. People who are always busy at work and need some muscle or pain relief.
If you sit down all day and find yourself groaning from back, neck, or head pain, then this is for you. It's also one great device for massaging yourself after a workout.
PRO TIP: Take note that this is for home or personal use only and not for professionals. Also, as far as its stall force and amplitude are concerned this unit is not the perfect choice for demanding athletes (who should rather look at devices like Achedaway Pro)
Our Verdict
No doubt, this is one of the best massage guns in its price category even if we say that it's pricier than Ekrin or Theragun units. It just offers more and it's got a well-thought-out design.
The unit is also relatively durable and would be perfect for a nice massage after a long day's work. This is a great investment nevertheless, highly recommended, and great value for your money dollar for dollar.
What cold it work on? Maybe get more attachments that you can heat up so you can go for more muscle groups with the heated massage, and also, work on that intensity inconsistency.
---
Lifepro Fusion FX Vs Fusion X
All right, let's discuss everything that you need to know about the LifePro Fusion FX's more affordable counterpart, the LifePro Fusion X.
Here's a quick comparison table:
Key Feature
Lifepro Fusion FX
Lifepro Fusion X
Stall Force
30 lbs
30 lbs
Stroke Length
10 mm
10 mm
Percussions
1600-3200 ppm
1600-3200 ppm
Battery Life
3-5 hours (2600 mAh)
3-5 hours (2600 mAh)
Weight
2.16 lbs
2.16 lbs
Attachments
5
5
Noise
60-75 dB
60-75 dB
Heating Capability
113-131°F
3 pre-programmed modes:
heated, continuous, and variable
113-131°F
Retail Price
$229.99
$169.99
Use coupon 'MGA10'
to get 10% OFF
Use coupon 'MGA10'
to get 10% OFF
Lifepro Fusion FX vs X Comparison
Well, first of all, in terms of Lifepro Fusion FX vs Fusion X pricing, the Fusion X is currently sold at $169.99, or $152.99 with a 10% discount the 'MGA10' coupon gets you.
In terms of build, the Fusion FX's shape is more traditional compared to the X's oval-like shape design. Both units though are quite similar in terms of all other features like the stall force, amplitude, weight, noise, ad battery life.
They also operate at the same heating capacity range at 113 to 131 degrees F. The one major difference is that the FX's adjustable modes. The Fusion X though still operates at 5 different speed levels.
We can say that the 3 pre-programmed modes are what sets these two models and unless that really makes a huge difference for you and you have a few bucks more to spare, then go for the Fusion FX. Otherwise, go with the Fusion X, it's much cheaper.
---
Lifepro Fusion FX Review – Final Thoughts
In this LifePro Fusion FX heated massage gun review, we made sure to point out the difference that having the option to switch from heated to non-heated massage brings.
This massage device has enough power to soothe those body pains and muscle soreness but at the same time, amp it up with heating effectively.
It's surely a more affordable alternative to a fancy massage plus it offers so much more. That said, there's also a more affordable version available, which is the Fusion X, also worth checking out. We did a full Lifepro Fusion X review a while back, so feel free to read it as well.
And don't forget you can cut off extra 10% from the regular price of any Lifepro device by using 'MGA10' coupon at checkout.
Lifepro Fusion FX Rating
Quality

Effectiveness

Usability

Accessories

Price Value
Summary
The Lifepro's Fusion FX massage gun has enough power to soothe those body pains and muscle soreness but at the same time, amp it up with heating effectively. The FX is ergonomic, functional and versatile, so you couldn't possibly ask for more. If you want to try something new then the Fusion FX is a great choice.
Disclaimers
The views and opinions expressed on this website are those of the authors. Any content provided by our bloggers or authors are of their opinion and are not intended to malign any religion, ethnic group, club, organization, company, individual or anyone or anything.
All product names, logos, and brands are property of their respective owners. All company, product and service names used in this website are for identification purposes only. Use of these names, logos, and brands does not imply endorsement.
It is our policy to make every effort to respect the copyrights of outside parties. If you believe that your copyright has been misused, please provide us with a message stating your position and we will endeavor to correct any misuse immediately.
Some of the links in this post are affiliate links. As an Amazon Associate, we earn from qualifying purchases. This means if you click on the link and purchase the item, we may receive an affiliate commission, at no extra cost to you. This helps us keep this website alive. Learn more here.
Amazon Disclosure
massagegunadvice.com is a participant in the Amazon Services LLC Associates Program, an affiliate advertising program designed to provide a means for sites to earn advertising fees by advertising and linking to Amazon.com. As an Amazon Associate, we earn from qualifying purchases. Amazon and the Amazon logo are trademarks of Amazon.com, Inc. or its affiliates. Please refer to our Privacy & Affiliate Policy for details.