Disclaimer: Our content is unbiased, non-sponsored and fact-checked. If you buy via links on our site, we may earn a commission. As an Amazon Associate, we earn from qualifying purchases.
---
Welcome to this brand new review post on our blog. Today we'll be doing a Legiral Le9 Pro review. It's yet another massage gun we've seen on the market retailing for a bargain.
As some of our readers might have noticed, we've recently reviewed the Le3 model, which was a predecessor to the Le9 Pro. We tested it quite extensively, and wrote an in-depth Legiral Le3 review to help our readers decide if it was the right massage gun for them.
Recently, however, we decided to try other products in the Legiral line, and we acquired the Le9 Pro from Amazon. It's a fresh release as it was only released in December 2020.
When we reviewed the Le3, our initial impression was that it was superior to the Le6. At the very least, it represented more value for money.
However, the Le9 is a lot better than both the Le3 and Le6 in a lot of aspects. That said, it does have some major drawbacks that we think prospective buyers should know about. We'll discuss all of them in this full Legiral Le9 review.
And now, without further ado…
---
Legiral Le9 Pro Massage Gun Review
Legiral Le9 Pro Specification
Key Feature
Legiral Le9 Pro
Stall Force
35 lbs
Stroke Length
16 mm
Battery Life
2-6 hours (2400 mAh)
Weight
2.7/4.4 lbs (device/package)
Attachments
6
Noise
35-65 dB
Pros
Long 16mm amplitude
Variable Pressure-Dependent Speeds
Improved build quality
Accessories
Cons
Heavy
Relatively Low Stall Force
Warranty
1 Year
Price:
Check at Amazon
Legiral Le9 Specs
---
Legiral As a Brand
Legiral is one of those massage gun brands that just sort of spring on the public. While its products are making waves on Amazon, the brand itself is quite unknown. It's not a Theragun, but it is something. The Le3, in particular, is one of the best selling massage guns on Amazon.
Speaking of Amazon, Legiral seems to primarily exist as a seller there. They don't have a website elsewhere.
From a bit of research we also realized that the company hasn't always been selling massage guns. They released a rangefinder in 2019. We're not sure how well it did but, if we were to venture a guess, we would say not very well, since they later switched to massage guns and have stuck there since.
They first released the Le3 massage gun, and then the rest followed. Now their Amazon store is focused entirely on massage guns.
---
What's Inside?
Our favorite part of an assessment is the unboxing. We're always as giddy as children, excited to see what goodies the unboxing will reveal to us. This one wasn't any different, and Legiral had some serious goodies for us!
Inside you'll find the device itself. Of course! That's the main course, isn't it? Apart from that, there are six attachments.
First, there are 2 ball heads: large and small. These ones are for basic massage therapy, where you're looking to relieve some tension and stress and don't particularly want to go very deep. They are also capable of removing surface knots, depending on the speed you get to. The round heads are particularly good if you want to massage the most sensitive areas of your body, or if your whole body is sensitive and doesn't lend itself very well to deep tissue massage.
We also have a flat head. This one is quite useful for intense therapy when you want to get deep into the muscles. The fact that it is flat also provides a wide surface area to help spread the effect over a wider area of muscle.
There is a bullet head, which is used similarly to the flat head, only it goes a level deeper. The bullet head is for the deepest and toughest knows you have in your body. If you're a massage therapist, or an athlete, or just want to do the deepest possible tissue massage you can on yourself. This is the go-to head.
Next, there is a u-shaped head. This one was fashioned especially for the spine. You can use to even out knots in your back spine and neck. We love using heads of this type on our necks, as they feel especially good.
Finally, there is the air compression soft head. This one works just as it suggests, by blowing air into the soft head, which then acts as a cushion against your body. This one is even softer than the ball heads and can be used for the most sensitive of parts (or the most sensitive of individuals).
One thing we like about the massage heads is that there are 6 of them. This is a big plus for the Le9, since many massage guns come with just 3 or 4 heads.
We also noted that the flat head in the Le3 was replaced with an air cushion in the Le9. The actual flat head that comes with the Le9 is different from the one we say in the Le3.
We also made a note of the rubber on the two foam ball heads. If you read our Le3 review, you'll notice that we complained about the quality, pointing out that it was too thin and was likely to wear out quickly. Well, the quality hasn't changed in the Le9. It still looks like it will likely deteriorate over time.
Another thing that comes in the box is the case for the Le9 Pro. If you remember, the Le3 also came with a case, so no surprises here. No surprises as to the quality of the case either. It's pretty simple, and a bit cheap. Nothing special. That said, having a simple and cheap case for your massage gun is better than having no case at all. It makes it portable so you can travel around with it.
There's also a booklet in the box explaining what each attachment does. Don't worry though. In the world of massage guns things are pretty similar. If you had no problem operating the attachments on the Le3 you'll have no problems here.
There is also a charger for the battery in the box. It's great to have a charger, but it would be nice if it was a USB charger, as that would make for easier charging. The one that comes in the box is non-USB.
Oh, and of course it's all made in China. We don't mind, but we thought we'd let you know in case you're sensitive about where in particular your goods are coming from.
---
Size, Ergonomics, Build Quality
We said the Le9 Pro has superior build quality to the Le3. We meant it. It is a significant step above the Le3, with a sturdier feel and more heft in the hand.
That said, it can feel a little weird when you've been carrying it for a while. Okay, it can feel very weird when you've been carrying it for a while. There is so much weight on this thing you can use it as a makeshift dumbbell! We complained a little about weight with the Le3 but this one is even heavier at 2.7 lbs for the gun itself (the whole package weighs about 4.4 lbs)
It also has no LCD. The Le3 had an LCD display. The funny thing is that we don't miss it. The LCD there wasn't the very best and it got laggy at times.
Overall, though, this massage gun looks sleeker and nicer than the LE3. I mean, the product description on Amazon says it all:
Delicate electroplating lacquer body shows elegant touch and reflects light like a mirror. Matte polishing grip brings comfortable feel and prevents slipping.
Does that not make you just want to try it?
The grip is also pretty good, making it comfortable in the hand. It has okay ergonomics as a result. However, the weight ruins everything.
We think it could be better, especially for a smaller person. It can feel like a jackhammer sometimes, as it is a bit awkward to hold and feels too heavy to use for too long.
---
Performance And Our Impressions From Using It
Let's talk performance, shall we?
Stall Force & Variable Pressure
The stall force on the Le9 Pro is a slight improvement over the Le3. While the Le3 had 30 lbs. of stall force, the Le9 Pro has 35 lbs. There is an ace up the Le9's sleeve, though. The main difference between it and the Le3 is that it comes with a variable pressure control system.
That means the more pressure you apply, the more torque the motor gets, which leads to a deeper impact strength. It's pretty cool!
We also think 35 lbs. of stall force is okay for most purposes. Not everyone needs a device that will penetrate to the bone. That said, we have to point out that, compared to the size and weight of this massage gun, 35 lbs. is on the low end of the spectrum when compared to similarly sized massage guns.
It also presents a sort of upper limit on the variable pressure control system. You can apply more pressure and the device will increase the percussion speed, but only up to a point. There's a point beyond which applying more pressure will actually cause the gun to stop.
If you have very dense muscle mass, or simple lots of muscle mass, you might want to go deeper than what the Le9 Pro can deliver. In that case, there are better alternatives delivering 40-60 lbs. of stall force (e.g. Ekrin B37 or the latest B37s).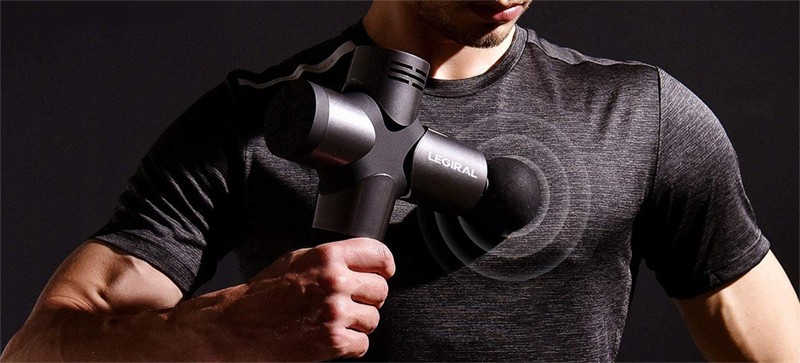 Speeds & Percussions
As far as speed is concerned, the Le9 Pro has 4 built-in speeds. This seems like a far cry from the 20 built-in speeds on the Le3. However, bear in mind that you don't need so many different speeds with the variable pressure control on the Le9.
Besides, the adaptive speed associated with the pressure control system has 30 levels on its own, ranging from 1300 rpm to respectable 3300 rpm. We actually prefer it this way.
Speaking of percussions, it's worth to note that the Le9 Pro has slightly different percussion range. While the previous Le3 model had 1200 rpms on the first gear, with up to 3200 rpms on the highest one, the new Le9 Pro has a hundred more on the lowest gear and also a hundred more rpms on the top one, so that's 1300 to 3300 versus the 1200 to 3200 previously.
There's no way for you to feel the change, so it doesn't matter that much. We think the rpms have slightly changed simply due to the fact they've now added the variable pressure system to the motor, nothing else.
Amplitude
Another important feature to look for in a massage gun is the stroke length, or amplitude.
The real power of a massage gun is a combination of its stall force, percussions and amplitude. The stall force is a measure of how much force the head hits with, while the amplitude is a measure of how much distance it travels through.
The Le9 has an amplitude of 16 mm, which is nothing but impressive. This is on par with the Le3, and is actually an improvement when you consider the higher stall force.
Actually, it's the 16mm amplitude that is the Legiral Le9 Pro's key selling point. Only a handful of massage guns out there have that long stroke, one of them being a high priced Theragun Pro.
The catch, however, is that the Theragun has an impressive 60lbs of stall force – and this is what makes it so powerful: the ability for a deep, 16mm stroke to reach the deep muscles AND the powerful motor that doesn't stall easily when more pressure is applied.
Therefore, while the Legiral Le9 Pro has an impressive 16mm of stroke travel, in our opinion, it's simply not being used to its fullest with only 35 lbs of stall force delivered by its motor. If it was 12, or 14mm, most probably you wouldn't even feel a difference.
---
Noise
Noise is another one of the key aspects we pay a lot of attention to. The Le9 Pro is advertised as a quiet device, with a noise range between 35 dB and 65 dB, depending on the gear.
In practice, this is actually a similar noise range to the Le3, and may even be slightly louder at higher speeds – hard to say, really.
What this means is that this is a fairly quiet device, so the noise level shouldn't disappoint you.
The only concern we have is the one regarding the (potentially) increasing noise levels over time. When we used the predecessor, the Le3, we noticed that quality was a big determining factor in long term noise levels. Parts would get loose, causing the massage gun to get louder over time.
We have the same concern for this one, though we're giving it the benefit of the doubt since we haven't had it for very long. Time will tell.
---
Battery
The Le9 Pro comes with a 2400 mAh lithium battery, which is slightly smaller capacity than the 2500 mAh on the Le3.
It's advertised as capable of running for 6 hours at low speeds and taking 2-3 hours to fully charge. We found the running time to be closer to 4 hours (we used a variable system a lot), but the charging time was just as fast as advertised.
There is a 4-level battery level indicator on the massage gun, which, if you think about it, is less accurate than the 0-99 battery level indicator that was on the LCD on the Le3. That said, it does the job and we didn't really like that LCD anyway.
Initially, the battery life is pretty good. If you use it every day for 20 minutes, it should last for well over a week, if not over 10 days. That said, note that battery life depends on what speed you use. It will drain faster at higher speeds.
The variable motor, when used with self-adaptive pressure-sensitive speed levels, uses more power as well. So, while it is a great feature, it impacts the battery. Just a thing to note.
---
Who Is It Best For?
So who is this massage gun for? We think it's best for use at home. While it's portable, it's more of a cow than a bird in the massage gun world. It's way too heavy at 2.7 lbs. and there are more portable options with the same level of performance that are almost 3 times lighter.
The battery is also non-removable, and it won't work while plugged in, so this isn't a good option for busy chiropractors and therapists, unless they're using it as a second or third device.
The motor, although powerful enough for an everyday use, isn't powerful enough to make it a versatile device for therapists. 35 lbs. is nowhere near the 60 lbs. delivered by the Theragun Pro, or the 57 lbs. delivered by the Hypervolt Plus, or the 56 lbs. delivered by the Ekrin B37/37. Even the Ekrin Bantam delivers the same 35 lbs. while being lighter and cheaper than the Le9.
---
Recommended alternatives to Legiral Le9
---
Ekrin Bantam
Unless you can pay a little it for more the fantastic B37 massager, or it's newer brother B37s that features the similar variable pressure system as found in the Le9, the smallest Bantam seems to be a viable alternative to Legiral devices:
It comes with the same stall force as the Le9 (35 lbs.), while being WAY smaller and lighter.
It only weighs 1.1 lbs., compared to the Le9's 2.7 lbs.
It has 10mm stroke length, so lower than the 16mm in case of the Le9 Pro, but as we said above, you likely won't feel a difference in this case.
It has better ergonomics and is more comfortable to hold.
It has superb build quality
It comes with a lifetime guarantee (vs. Le9's 1 year warranty)
It's cheaper than Le9 with a coupon (you get 20% off the retail price with the 'MGA20' coupon).
---
LifePro DynaFlex Mini
It has slightly lower amplitude (9 mm) than the Le9 (16 mm), but is delivering significantly more stall force (45 lbs. vs. 35 lbs.). This is more power – you'll feel it!
It only weighs 1.4 lbs., almost two times less than the Legiral Le9 Pro (!)
It has superior build quality (LifePro is known for this)
It has the perfect size. While it's not a mini device (contrary to what the name suggests), it is very compact, and not as bulky as Legiral.
As we discussed in our Lifepro Dynaflex Mini review, the ergonomics of this thing is pretty awesome – it has a rotating arm, allowing extended reach.
It comes with a 6 attachments of very good quality (two of them are metal ones), and a traveling case.
As Ekrin, this one a also comes with a lifetime guarantee.
It's significantly less expensive than the Le9. It currently retails for $79.99. However, with the

MGA10

coupon you can get an extra 10% off the price, which brings it down to cool $71.99.
LifePro's customer care is just outstanding
---
Legiral Le9 Review – Bottom Line
And with that we come to the end of our Legiral Le9 review. We think this massage gun is a step forward in the right direction when compared to the Le3.
It's not the most powerful massage gun out there, but it's good enough to provide relief from stiffness, back problems, and soreness. It also has some really good features!
That said, we think it's just too heavy for what it does. It's even heavier than the Le3, which we already felt was an elephant in the room. At this size, a massage gun should have 40-50 lbs. of stall force available, making it a more versatile device to justify the weight (and also the 16mm stroke length).
While it's 2-3 times cheaper than most high-end devices, such as the Hypervolt or Theragun, we think there are better devices available, even at this price point. The aforementioned Ekrin Bantam and LifePro DynaFlex are two examples.
We still think it's worth a try, especially for first timers, so don't be afraid to do so. Until next time, happy massaging!
---
Legiral Le9 Pro Review Summary
Quality

Effectiveness

Usability

Accessories

Value for Money
Legiral Le9 Pro Review Summary
We think the Legiral Le9 Pro massage gun is a step forward in the right direction when compared to the brand's most popular Le3. It's better looking, feels sturdier and has some neat features like the newly added pressure-based self-adaptive speed. We'd only wish it was lighter and had an ability to deliver more power to fully utilize its impressive 16mm stroke length.
Disclaimers
The views and opinions expressed on this website are those of the authors. Any content provided by our bloggers or authors are of their opinion and are not intended to malign any religion, ethnic group, club, organization, company, individual or anyone or anything.
All product names, logos, and brands are property of their respective owners. All company, product and service names used in this website are for identification purposes only. Use of these names, logos, and brands does not imply endorsement.
It is our policy to make every effort to respect the copyrights of outside parties. If you believe that your copyright has been misused, please provide us with a message stating your position and we will endeavor to correct any misuse immediately.
Some of the links in this post are affiliate links. As an Amazon Associate, we earn from qualifying purchases. This means if you click on the link and purchase the item, we may receive an affiliate commission, at no extra cost to you. This helps us keep this website alive. Learn more here.
Amazon Disclosure
massagegunadvice.com is a participant in the Amazon Services LLC Associates Program, an affiliate advertising program designed to provide a means for sites to earn advertising fees by advertising and linking to Amazon.com. As an Amazon Associate, we earn from qualifying purchases. Amazon and the Amazon logo are trademarks of Amazon.com, Inc. or its affiliates. Please refer to our Privacy & Affiliate Policy for details.