Legiral Le3 Review – Is This Popular Massage Gun Right For You?
Disclaimer: Our content is unbiased, non-sponsored and fact-checked. If you buy via links on our site, we may earn a commission. As an Amazon Associate, we earn from qualifying purchases.
---
Welcome to our very own Legiral Le3 review. As may known, massage guns are all the rage, and have been steadily gaining popularity in the last 12 months.
With athletes, celebrities, and professionals singing praises for the benefits of using massage guns as part of your physiotherapy regime, or simply to break down lactic acid build-up after a particularly intense bout of workouts, people are flocking to this new device.
As a result, lots of new players have come onto the market, and new massage gun brands are popping up every day. Today, we're going to take a look at one of these players – Legiral.
The Legiral LE3 recently caught our attention, the reason being that it's the number one selling massage gun on the online marketplace Amazon, with 5 stars and five figure number of reviews.
As usual, when something piques our interest, we try it for a while and then write a comprehensive review about it for our readers. By the end of this Legiral Le3 review, you should have a clear idea of whether this popular massage gun is right for you.
---
---
Legiral Le3 Massage Gun Review
First, let's take a look at some of the key features the Le3 comes with:
---
Legiral Le3 Specs
Key Feature
Legiral Le3 Specs
Stall Force
~30 lbs max.
Stroke Length
16 mm
Battery Life
2-6 hours
Weight
2.05 lbs (just device)
Attachments
6
Noise
35-55 dB
Pros
Long 16mm amplitude
20 speeds to choose from
2500 mAH battery capacity
Accessories
Cons
Bulky, feels heavy
Stall force on the lower end
Increasing noise over time
Warranty
1 Year
Price:
Check at Amazon
Legiral Le3 Specification
---
About Legiral
To be fair, Legiral is a relatively unknown brand. It's not like Theragun, which is like the Apple of massage guns. We didn't even know the Legiral brand existed until we stumbled on the LE3 percussion massager, and that was only because it was doing so well on Amazon.
At the moment, it seems Legiral is primarily an Amazon seller. From a bit of research, it seems the company hasn't always been about selling massage guns.
They made an attempt to market a rangefinder device back in 2019. It's unclear how well they did, but we'd like to guess not very well since they later released the L3 massage gun. Fast forward to 2021, and their entire Amazon store is focused exclusively on massagers.
It should also be pointed out that Legiral Le3 isn't their only percussion massage device. They have the Le6 model, which is even less expensive, and less powerful, and the brand new Le9 Pro, which we recently reviewed as well.
UPDATED 05/30 They now also released the Le7 and the Le4 mini gun, both of which we're going to review soon.
---
What Comes Inside the Box?
In the box you get 6 attachments. Nice. This is more than you usually get from other, similar brands.
Heads include two ball attachments, a small one and a large one, a pointed tip, a spinal tip, and two flat tips. The fact that you get so many heads certainly makes up for the fact that the head angle cannot be adjusted. The tips are versatile and can help you reduce the lactic acid in your muscles as well as fight inflammation.
What about their quality? Well, while the four hard-plastic tips feel decent quality, the ball heads themselves are made of rubber foam which, unfortunately, isn't of the best quality.
This isn't a deal-breaker by no means, but bear in mind the foam will deteriorate over time (we've seen this happening before, with other similar massagers).
The package also comes with a simple case for easy portability. It's OK, but a little on the cheap side. Again, not a deal-breaker, but we just wish it felt more substantial. On other hand, it's all pretty expected, considering the amount you're paying for the whole package.
You also get a charger for the non-removable battery and a booklet explaining what each attachment does.
---
Size, Ergonomics, and Build-Quality
The build quality is fairly decent, but not anything to write home about. It's made of plastic and honestly feels a bit cheap in the hand.
Something else we have to mention is that you get two choices. You can either get a silver one or a black one with carbon fiber finish.
Now, we bought the carbon fiber one and, unsurprisingly, it turns out that it's not real carbon fiber. So keep that in mind when you're making a purchase to avoid being unduly disappointed.
The ergonomics could definitely be better on this gun, especially for women, as it feels like a jackhammer and is rather awkward to hold.
The massage gun alone weighs 2 lbs and 5 oz, to be precise. This makes it rather heavy, and leaves your wrists prone to fatigue when you use it extensively.
It also feels like too much bulk compared to the performance you get from the gun, which we will talk about below.
The fact that the device isn't light, combined with its T-shaped, 90-degree handle indeed make hand and wrist get tired during longer sessions.
Although we realize that the Legiral's shape isn't really unique, and even the Hyperice has been using same jack-hammer shape in their Hypervolt guns, in this particular case, given the size o the device and its weight, a slightly angled handle would definitely be a better design choice.
Speaking about the handle, one redeeming quality of this particular massage gun is the handle is non-slip (the grip is great) and on the top of it there's an embedded LCD display that gives you information about battery levels (0-99 range) and the speed you're using.
---
Intensity and Effectiveness When Using
Straight out the gate, the Le3 has just 30 lbs. of force. That means at best you're getting entry level performance out of this device. If you put more pressure than that, the device will stop, so there is a hard limit to just how much you can achieve.
Still, 30 lbs. is just fine for most people. Not everyone who goes out to buy a massage gun is looking for something that can penetrate to the deepest of their muscles.
Most people are just tired of the lactic acid build up that comes after working out and want to be able to reduce it. Others want to deal with a little bit of inflammation here and there, while more still just want to feel good.
A nice, droning percussion massage device hitting away at your sorest muscles helps you relax and feel good in the evening after a long day of working.
And this machine is also quite effective. Once you go above the speed of 12, you can really feel it working on you.
That said, if you have very dense muscle mass, such as if you're a professional athlete, or just happen to be a naturally muscular person with heaps of muscle mass, you may want something that can go deeper than this.
In that case, you can find plenty of better alternatives on the market, capable of delivering up to 60 lbs. of stall force to your muscles. The only caveat here is that they are usually more expensive.
As far as the Le3 is concerned, the numbers are what you should be focusing on. We have already discussed the stall force, but there are two more numbers that you should pay close attention to in order to get a sense of the performance of this massage gun.
In fact, these are numbers you should look at when dealing with any massage gun in order to gauge its performance.
---
Stroke Length
The first number is the stroke length, or amplitude. The Le3 has a stroke length of 16mm, which is impressive. This is actually more than most other percussion massage guns can offer in this price range. This clearly is Legiral Le3's key selling point.
But there's a catch. While 16mm of amplitude would be a boon with a powerful enough motor, this one isn't, since you only get 30 lbs. of stall force from the Le3.
With a more powerful stall force of 40 to 60 lbs., 16mm of amplitude would really feel substantial. Thus, as far as we're concerned, the Le3 would do better with the opposite: a lower amplitude in exchange for an increase in power.
But don't worry too much about it. This kind of performance limitation, or simply a trade-off, is actually quite common in this price range.
Most massage guns priced around here and made in China share parts, including the motor. As long as you're spending this kind of money, you're likely to run into this kind of problem.
---
Percussions
The other number you should be looking at is the speed of the percussion massage device. This is measured in percussions per minute, or PPM.
The Le3 has impressive 20 different speed levels. The lowest possible setting is at 1200 PPM and the highest is at 3200 PPM. When you combine that with the different massage heads, you get the opportunity to focus your work on particular pressure points and muscle groups.
The twenty different levels work well for different purposes. The first few gears are pretty good for arousing and activating muscles. From the 5th gear to the 8th gear, you're looking to relax your fascia. From the 9th fear to the 12th gear, you have enough force to break down the lactic acid that has been building up in your muscles.
Gears 13 through 20 are very powerful gears (relative to the power of this device, which isn't much in the grand scheme of things) and, if you only apply more pressure, you're working for deep tissue massage (until the device stalls).
---
Noise
Noise is one of the key aspects we pay attention to. It's very important as it is key in determining the comfort associating with using a particular percussion massage device. Just a year ago, most massage guns were really noisy (Vybe V2 was our "favorite" one in that aspect).
People complained and things started to change. Currently, manufacturers do whatever it takes to drive noise levels down.
The Le3, which uses brushless motor, is advertised as a quiet device, with noise levels ranging from 35 dB to 55 dB. 35 dB is practically whisper level. In practice it is definitely quiet at the lower speeds, and much quieter than many other massage guns at this price level.
However, at high speeds, especially those above 12, it gets much louder. If you're using it while watching the television, you're more than likely going to need to step up the volume.
Another thing we noticed is that over time, as the parts got loose, it became even louder. After about 3 months of operation, we were actively avoiding the higher speeds because the noise was frustrating at times.
I mean, don't get us wrong; It's not that dramatic. However, if you have sleeping kids, or if even a little noise drives you crazy, you may want to get yourself a quieter one, or at least one that performs consistently over time.
---
Battery
The Legiral Le3 comes with a respectable 2500 mAh lithium battery. It is advertised to be capable of running for 6 hours at low speeds.
At high speeds we found that it could last up to about 2-2.5 hours. That said, charging it back to full is fairly quick at just 2 hours. This should be more than enough for most people.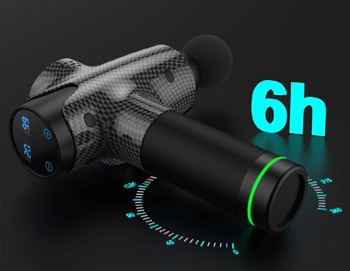 One thing we appreciate is the battery level indicator on the LCD display embedded in the handle. You can always tell how much power you have left and charge it in time.
Initially, we found the battery life to be pretty good. If you use it every day for say 10-15 minutes, it should last for over 10 days, if not over 2 weeks.
However, if you use very high speeds the battery life gets severely reduced. As expected, it drains faster at higher speeds.
What we didn't like was the deterioration in the battery performance over time. After a few months of nearly everyday use, the battery didn't last as long as it used to.
We estimated it to be a 30-40% reduction in performance. It still works for a few days, which is enough for most people, but it isn't as good as it used to be.
PRO Tip: The device won't work when plugged and the charger is not USB-compatible.
---
Other Review Notes
There are other things to note when using the Legiral Le3:
Turning this thing on is a little awkward. You have to switch it on then press the plus button. It would be pretty cool if it just remembered your last setting.
Controlling the speed can sometimes feel a bit wonky. Sometimes we would press and nothing would happen.
The device tends to vibrate at higher speeds, which you can feel with your hand. Depending on your preferences, this may feel more than a little uncomfortable.
---
Who is it Best For?
The Le3 is advertised as "perfect for a physical therapist or chiropractor" but in our opinion it's best for personal use at home. Here are the key reasons:
The battery isn't removable and the gun won't work while plugged in. This is likely a no-go for busy therapists and chiropractors, who often tend to work for many hours a day. They and their patients certainly won't have the time to wait for the battery to get fully charged.
The motor isn't nearly powerful enough to make this device sufficiently versatile for therapists. 30 lbs. of stall force is nowhere near the 60 lbs. of stall force provided by the Theragun Pro, or the 57 lbs. of the Hypervolt, or the 56 lbs. provided by the Ekrin B37 (or B37s). Even the Ekrin Bantam is more compact, lighter, and cheaper, and provides 5 lbs. more of stall force.
This gun shuts off after 10 minutes. Legiral says it's to protect your muscles. Sure, that's true, but we suspect the real reason is to protect the motor from overheating. We did notice the device gets rather hot when used extensively.
This device is not as portable as advertised. It's an extra 4.1 lbs. to carry around, and it's not the most compact either. Considering it has same, or even less powerful motor than some of the mini massage guns, such as the Theragun Mini, or the aforementioned Ekrin Bantam, it's just too big for what it offers.
---
Best Alternatives to Legiral Le3
If you're shopping for the massage gun and would like to compare the Legiral Le3 against some other noteworthy devices in that price range, here go the two options we can wholeheartedly recommend.
---
Ekrin Bantam – Much Better
We really loved this alternative, as you may have figured from all the praises we've sung in our other reviews.
Ekrin, as a brand, is known for their outstanding customer support and superb quality products.
If your budget isn't ready for the excellent B37 or B37s massager, their latest release, called 'Bantam', would be your next best choice. Here's why:
Bantam is more powerful at 35 lbs. of stall force yet a lot smaller and more portable.
It's also very light at just 1.1 lbs. compared to the 2.05 lbs. of the Legiral Le3.
The Ekrin Bantam provides superior ergonomics and is better to hold than the Le3.
We love the build quality on this massage gun. It is superior to the Le3.
You get a lifetime guarantee, which you don't with the Le3.
The best part: with the MGA20 coupon, you get 20% off the retail price. With that discount applied it costs $119. Last time we checked, it was a dollar cheaper than the Legiral Le3!
Get Ekrin Bantam right here.
MORE INFO: In our hands-on Ekrin Bantam Review.
---
Taotronics – Much Cheaper
Taotronics has been on our radar for quite some time. No other company has that many affordable models in the menu.
The Taotronics TT-PCA003 is yet another great alternative with a slew of advantages over the Legiral Le3.
It's lighter than the Le3, at only about 2 lbs. It doesn't feel as bulky as Legiral, too.
It has a good build quality and very decent performance
Here's the best part. It only costs $49.99 – less than Legiral
All in all, it's less expensive than the Legiral, and you get a lighter, and slicker-looking device with a similar performance. Highly recommended.
Check our Best Massage Guns under $100 post when we featured this Taotronics as one of our top picks. You can buy it at Taotronics.com.
MORE INFO: In our hands-on Taotronics Massage Gun Review.
---
Legiral Le3 Review – Conclusion
To conclude this Legiral Le3 review, while it may not be as powerful as some high end massage guns that make entire legs ripple with each hit, it's good enough to provide relief for those with stiffness, soreness, and back problems, among others.
It's also a decent massage gun to get as a first device. If you never had a massage gun and feel intrigued to try one, this might actually be a good choice.
That said, the biggest draw back of the Legiral Le3 is its bulky size, breathtakingly unimpressive build quality, and increased weight, especially when compared to its performance capabilities. We also have some concerns over the long term performance and the increasing noise levels.
Yes, it's 2-3 times cheaper than most high-end devices, such as the Hypervolt and the Theragun, but even at this price point, there are simply better built devices available.
The aforementioned Ekrin Bantam and Taotronics are two examples. They both come with lifetime guarantees (vs. Legiral's 1-year), and are simply more portable and comfortable to use.re
Ultimately, whether you get this entry level device or not depends on your preferences. Our advice is shop around a little and see what else is available. However, if you're just looking to try out massage guns, and aren't going to nitpick, then this Legiral is a good pick.
Lastly, if you still aren't sure if this is a good massage gun for you, shoot us a message and we'll do our best to help decide, suggest other alternatives etc. You can ask us a question here.
---
Legiral Le3 Review Summary
Quality

Effectiveness

Usability

Accessories

Price Value
Summary
While not really unique, nor providing the best value for money,  Legiral Le3 is a pretty good, entry-level massage gun. Featuring an above-average stroke length, reasonably quiet operation and a bunch of vibration speeds to choose from, it's a potent, functional device to expedite your recovery process or provide relief for sore muscles after a hard day.
Disclaimers
The views and opinions expressed on this website are those of the authors. Any content provided by our bloggers or authors are of their opinion and are not intended to malign any religion, ethnic group, club, organization, company, individual or anyone or anything.
All product names, logos, and brands are property of their respective owners. All company, product and service names used in this website are for identification purposes only. Use of these names, logos, and brands does not imply endorsement.
It is our policy to make every effort to respect the copyrights of outside parties. If you believe that your copyright has been misused, please provide us with a message stating your position and we will endeavor to correct any misuse immediately.
Some of the links in this post are affiliate links. As an Amazon Associate, we earn from qualifying purchases. This means if you click on the link and purchase the item, we may receive an affiliate commission, at no extra cost to you. This helps us keep this website alive. Learn more here.
Amazon Disclosure
massagegunadvice.com is a participant in the Amazon Services LLC Associates Program, an affiliate advertising program designed to provide a means for sites to earn advertising fees by advertising and linking to Amazon.com. As an Amazon Associate, we earn from qualifying purchases. Amazon and the Amazon logo are trademarks of Amazon.com, Inc. or its affiliates. Please refer to our Privacy & Affiliate Policy for details.