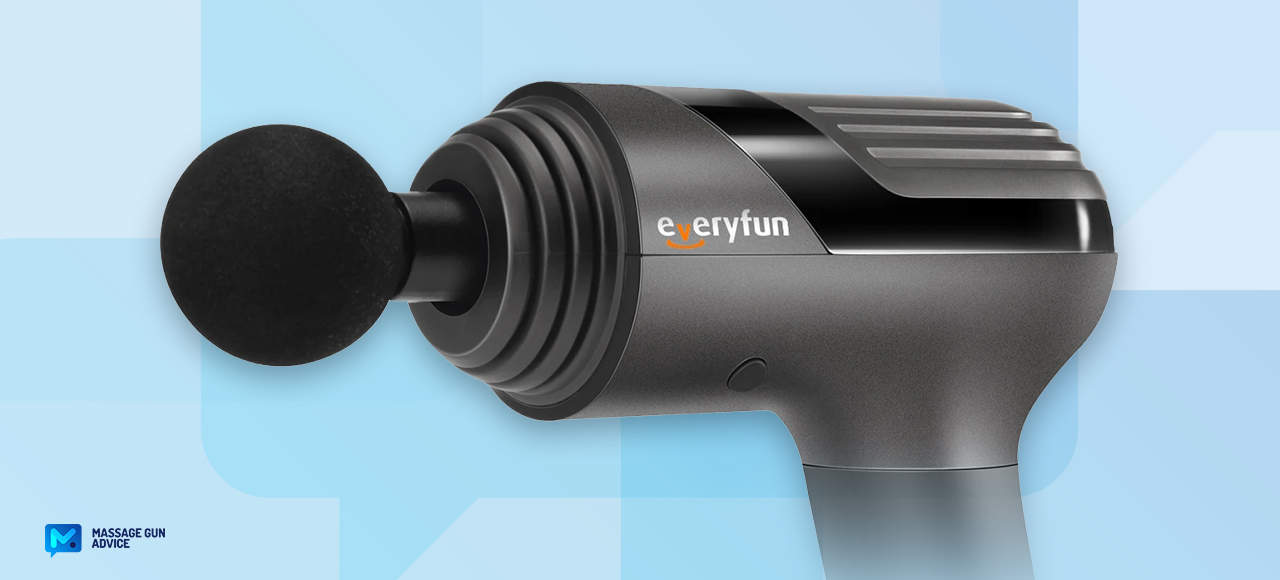 Everyfun M3 Pro Review – Surprisingly Strong, Yet Affordable Massage Gun
Disclaimer: Our content is unbiased, non-sponsored and fact-checked. If you buy via links on our site, we may earn a commission. As an Amazon Associate, we earn from qualifying purchases.
---
Hello and welcome to yet another post on our blog dedicated to massage gun reviews. This time, we'll be sharing our thoughts on the Everyfun's latest release, the M3 Pro percussion massage gun.
Everyfun M3 Pro is one of the latest massage guns to show up, and its specs looked good on paper. Therefore, we were quick to purchase it, and after trying it for a while, we are aware of its merits and demerits.
Basically, it's a go-to massage gun for those looking for an affordable device that exceeds their expectations. Well, should you buy it? Let's look at the Everyfun M3 Pro review for crucial details before you opt to invest in this model.
---
---
Everyfun M3 Pro Review
Before understanding better what this massage gun does, let's cover its key features.
Everyfun M3 Pro Specifications

Key Feature
Everyfun M3 Pro
Stall Force
~50 lbs
Stroke Length
12 mm
Percussions
1800-3200 ppm
Battery Life
up to 10 hours (3200 mAh)
Weight
2.31 lbs
Attachments
5
Noise
65 dB max.
Pros
Quite powerful
Amazing battery life
Ergonomic handle
Cons
Quite heavy
Plastic parts on a cheaper side
Warranty
15 months
Retail Price
Check at Everyfun Store
(coupon MGA5 gets you 5% OFF)
or
Check at Amazon

Everyfun M3 Pro Specs
---
About Everyfun
Everyfun comprises a research team of 30 competent staff working incredibly hard to ensure all their products meet their customers needs.
Everyfun is clearly doing a great job, as numerous customers can affirm that their products are highly efficient. Also, did you know they have taken root in over sixty countries? Impressive, right?
Everyfun M3 Pro, released in 2020, is one of the latest massage guns. Moreover, it performs well compared to some older models.
---
What's Included
Everyfun M3 Pro comes in a sturdy case that includes various components.
The box has five attachments, which is impressive for a product within its price range. Each of these heads works differently to meet diverse needs.
We love its ball head though it features only one option, unlike models like the Legiral Le3. It works well for your arm muscles and calves, but you can use it for almost all tensioned areas on your body. As much as it features foam rubber, which may not be the best, we like that it offers better quality than similar massage guns, such as the aforementioned Legiral Le3 or Le9.
We found that the box included a forkhead that is quite handy especially if you have been sitting in an awkward position for a long time. It works quite effectively, relieving tension down your spine.
You also get a flat head, which is basically for thumping your muscles. This head is efficient if you want to realign and relax sore muscles.
When you want a deep tissue massage, we would advise you to use the air cushion head. Everyfun designed it to mount on the flat head, making it gentler, which is a smart feature. The grooves give that extra amp when you want an intense sensation.
Finally, you'll find a spiral head that will thoroughly massage your body in small sections. Although it works great when relaxing knotted areas, it can be quite painful. If you aren't a seasoned bodybuilder, it's best not to use this at full speed.
Other accessories include the charger and a pouch.
---
Size, Ergonomics, and Build Quality
There's nothing grand about the construction of Everyfun M3 Pro, although its performance makes up for it.
The plastic exterior consisting of nylon 66 and glass fiber feels a bit cheap, and we would have loved it more if better quality material was used instead.
Also, another feature that we found pretty annoying is the clicking sound it produces as soon as you start the unit. It just didn't had that premium feel.
Apart from the few issues we have highlighted, Everyfun M3 Pro is still a durable massage gun, and its intense massage action is enough to overlook these shortcomings.
Let's talk about the ergonomics then. Here, we can't say how much we appreciate the angled handle.
Sure, it may not be the best one we've seen, but the slight tilt at 15 degrees makes it a lot easier to maneuver compared to Jack-hammer-style guns. With this gun, conditioning your neck and upper back is not complicated. The grip is firm, and the anti-skid surface allows you to use the device easily.
However, ease of handling is not about design. With the weight at 2.3 pounds, we found the unit quite heavy. Though not as heavy as massage guns like Vybe 2 at 3.5 pounds, having a lighter weight would make handling more hassle-free.
---
Performance, Effectiveness, Intensity
Boasting of a stall force peaking at 65 pounds as per manufacturer descriptions, Everyfun M3 Pro is an ideal massage gun to tame the most rugged muscles.
However, we are not sure it hits the 65-pound mark but agree that it offers a powerful performance of not less than 50 pounds.
So, it is a great unit for dense muscles, guaranteeing a deep, soothing after-effect.
Combining its powerful stall force with its top speed offers an invasive operation.
You wouldn't want to ram this unit deep into your muscles, should you be the average type of person. But if you want a massage gun that can really get into all your sore spots, Everyfun M3 Pro's performance is all you need. It's quite gentle if lightly pressed onto the muscles.
---
Stroke Length
Everyfun M3 Pro features a 12mm amplitude. Therefore, there isn't anything special about this level. That said, while it may not grind as much into your muscles as a 15-16mm amplitude would, the 12mm head travel feels just fine, really.
However, we love that the massage gun includes a 70-watt motor with one of the most powerful stall forces to cater to the average amplitude.
If Everyfun would upgrade the M3 Pro's stroke length to around 15-16mm and pair it with the other specs, we believe it will provide an almost impeccable performance – such as the one found in the Achedaway Pro, the most powerful gun we've seen in a while.
---
Percussions
Everyone M3 Pro features five different speeds, which is just okay – trust us, you really don't need 30 levels and clicking through them all while you do your 10-minute massage session.
The lowest level you can set the massage gun is at 1800ppm, with the highest level being at 3200ppm.
It's therefore not the most flexible gun you will find, with other products like Sonic LX Professional hitting 3400ppm, but it still way more than what Theragun will deliver (2450 ppm)..
At the starting speed, you can give a slight jab to your muscles. We recommend you set this level for your kids since other levels might not be so gentle.
However, we still feel that 1800ppm is quite high for a start. It would have been better if the M3 Pro had its lowest level at 1200-1400ppm.
The second speed is essential when you want a more invasive massage to release tension in your fascia.
Lactic acid tends to build up pretty fast if you aren't used to working out often, and we found its third speed level adequate to calm the resultant pain.
Speeds four and five are suitable for anyone who is looking for an intense muscle massage. If you want your sore muscles to recover, you should try its peak speed.
---
Noise Aspects
Indeed, Everyfun M3 Pro is much quieter than some massage guns like the Vybe 2. However, it comes as a disappointment since it isn't as silent as advertised.
Without the heads, this unit lives up to its expectations. However, once you connect your heads, we found out that it works at about 55-65 dB, which is still pretty good.
Speeds one and two produce a relatively low sound. On the other end, speeds four and five are quite noisy and may not be suitable for use near a sleeping person.
Some massage guns tend to get noisier with time, like what happened with the Legiral Le3 after three months of use.
---
Battery Info and Performance
We were in for a treat upon looking at the battery life. While most massage guns of its standard have a 2000-2500 mAh battery, Everyfun M3 Pro features six LG batteries with a 3200 mAh capacity. This is an outstanding capacity!
This battery should last up to 10 hours, according to the manufacturer. With this in mind, you can use it for about a month before recharging with daily sessions lasting 15-20 minutes.
Of course, battery life also boils down to what speed you are using it. You wouldn't expect it to last as long at peak performance, would you? Still, this is a great result.
As far as charging is concerned, we found its charge time slightly longer than others, at four hours. But this is fully acceptable and expected considering the extended battery life.
The only aspects we feel should have been better are the detachability of the batteries and charging options. Although it doesn't support USB charger, it comes with a dedicated one.
---
Other Review Notes
There are a few additional issues to note about Everyfun M3 Pro:
It includes a nice carrying case that fits all the necessary components, allowing a neat organization.
The included user manual is detailed and easy to understand. It provides detailed diagrams of different muscles, which heads are ideal for them, and how to use the gun to soothe them!
You have four colors available to select which you prefer. These include the blue, red, silver, and black-striped designs.
---
Price / Value
Everyfun M3 Pro has a $169.99 list price in their official store. However, you can use the MGA5 coupon for a 5% discount.
You can also check the brand's Amazon listing right here for the current price.
Most massage guns come with a year's warranty. As much as the 15-month warranty on the M3 Pro is an upgrade, it falls immensely short of other models offering a lifetime guarantee.
---
Who Is it Best For?
This massage gun is ideal for you if you do intense workouts or are a serious athlete. Why? It offers deep tissue massage, and there's enough power to provide such.. With the stall force in the 50-60 lbs. range, and peak percussion at 3200ppm, it can handle almost any tense muscle.
Therapists can also largely benefit from this massage gun because of its sturdiness and versatility. You have different speeds and heads to soothe various muscles. Another benefit is its extended battery life, which serves many patients before recharging.
RELATED: Best Massage Gun for Athletes
---
Best Alternatives to Everyfun M3 Pro
If you love Everyfun M3 Pro but still want to see how it compares to other massage guns in its price bracket, here are our two best suggestions.
---
OPOVE M3 Pro Max
Massage guns are continually on the rise, and brands are getting more competitive. OPOVE M3 Pro Max is one example we like to refer to when we discuss viable alternatives to other massage guns.
Here are some impressive features making OPOVE M3 Pro Max a suitable swap for Everyfun M3 Pro:
It features an almost identical stall force of up to 50lbs hence powerful.
It has slightly extended percussion ranging from 1800-3300ppm.
has more stroke length at 15mm. It, therefore, has a significantly longer travel than Everyfun M3 Pro – more punchy.
weighs same 2.3lbs and it's hassle-free to hold and use.
We find this alternative more convenient for spaces demanding silence given the 43–63 dB noise level, slightly less than the Everyfun
The Opove M3 Pro Max costs $169 at opove.com. That is 24% less than the normal price ($220) – a decent $51 discount.
For more details, refer to our OPOVE M3 Pro Max review.
---
LifePro DynaSphere
LifePro continues to impress us with its increasing number of quality massage guns.
LifePro DynaSphere stands out amongst its products as the best alternative for Everyfun Pro. After all, we recently named it one of the best massage guns under $100.
You know why?
It's stronger, with 66lbs needed to stall at the highest gear.
It has a slightly higher amplitude than Everyfun at 13mm.
LifePro Dynasphere's percussion ranges from 1200-2800ppm. A 1200ppm start is more appropriate than 1800ppm as per our review above.
It has six speeds giving you more options. Attachments are five like Everyfun's, and it also includes a carrying case.
Lifepro has a USB output, making its battery a very convenient power bank.
With Lifepro Dynasphere, you enjoy a lifetime guarantee!! Their customer support is also great.
It retails for $119.99, but with the

MGA10

coupon, you can get it for $107.99 (-10% off). It's totally worth it.
For more details, read our recent Lifepro Dynasphere Review.
---
Everyfun M3 Pro Review – Bottom Line
It's time to wrap up this Everyfun M3 Pro review. Would we recommend you to get it? Yes, it's a good gun and we were quite pleased with it. Sure, it's not the best one out there, but it's a solid buy.
It has a surprisingly powerful performance. With its stall force at over 50lbs (if not 65lbs as advertised), it is more suited for athletes and demanding users.
Everyfun M3 Pro boasts of great battery life, and its quiet operation is a big plus. The price is very attractive indeed, but it's quite heavy, and the build quality isn't the best as well.
Also, there are some other options that we'd consider as well, such as aforementioned OPOVE M3 Pro Max and LifePro DynaSphere. And some of those give a lifetime warranty, while this model does not.
Get the M3 Pro either from Everyfun's official store or from Amazon right here.
---
Everyfun M3 Pro Rating
Our Rating
Quality

Effectiveness

Usability

Accessories

Price Value
Summary
While it isn't made from highest-quality materials, thanks to its higher than usual stall force and good percussion range, the Everyfun M3 Pro definitely makes up for its shortcomings. Its five speeds with the robust performance at the peak are what any serious athlete or bodybuilder needs.
Disclaimers
The views and opinions expressed on this website are those of the authors. Any content provided by our bloggers or authors are of their opinion and are not intended to malign any religion, ethnic group, club, organization, company, individual or anyone or anything.
All product names, logos, and brands are property of their respective owners. All company, product and service names used in this website are for identification purposes only. Use of these names, logos, and brands does not imply endorsement.
It is our policy to make every effort to respect the copyrights of outside parties. If you believe that your copyright has been misused, please provide us with a message stating your position and we will endeavor to correct any misuse immediately.
Some of the links in this post are affiliate links. As an Amazon Associate, we earn from qualifying purchases. This means if you click on the link and purchase the item, we may receive an affiliate commission, at no extra cost to you. This helps us keep this website alive. Learn more here.
Amazon Disclosure
massagegunadvice.com is a participant in the Amazon Services LLC Associates Program, an affiliate advertising program designed to provide a means for sites to earn advertising fees by advertising and linking to Amazon.com. As an Amazon Associate, we earn from qualifying purchases. Amazon and the Amazon logo are trademarks of Amazon.com, Inc. or its affiliates. Please refer to our Privacy & Affiliate Policy for details.